RankTracker review
Use this all-in-on tool to find keywords, track website ranking, analyze SERPs and audit your website using RankTracker's vast amount of data.
4.5

Publish date:

April 28, 2021

Author:

Sam Underwood
Visit site
---
---
Pros
Intuitive interface for veteran users and beginner-friendly for new SEOs

Provides a workflow and checklist for guided search engine optimization

Offers its self-help resources in video format

Full rank tracking functionality with all the features you'd expect

Has many features that aren't just rank tracking

Seven-day free trial to fully test the features

Affordable pricing

Several add-ons to customize the solution

Functional agency features

Multiple support channels and live chat feature

Unlimited users

Free SERP simulator
Cons
They do not have a very good refund policy. So, use the free trial to decide what pricing plan to choose

Keyword and backlink databases are comparably smaller than SEMrush and Ahrefs

No API access support

Lacks integrations
---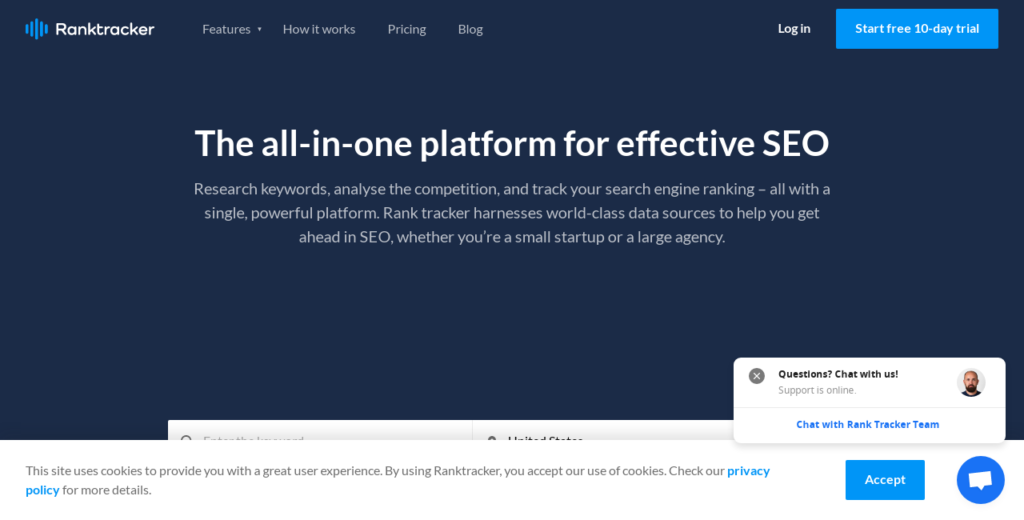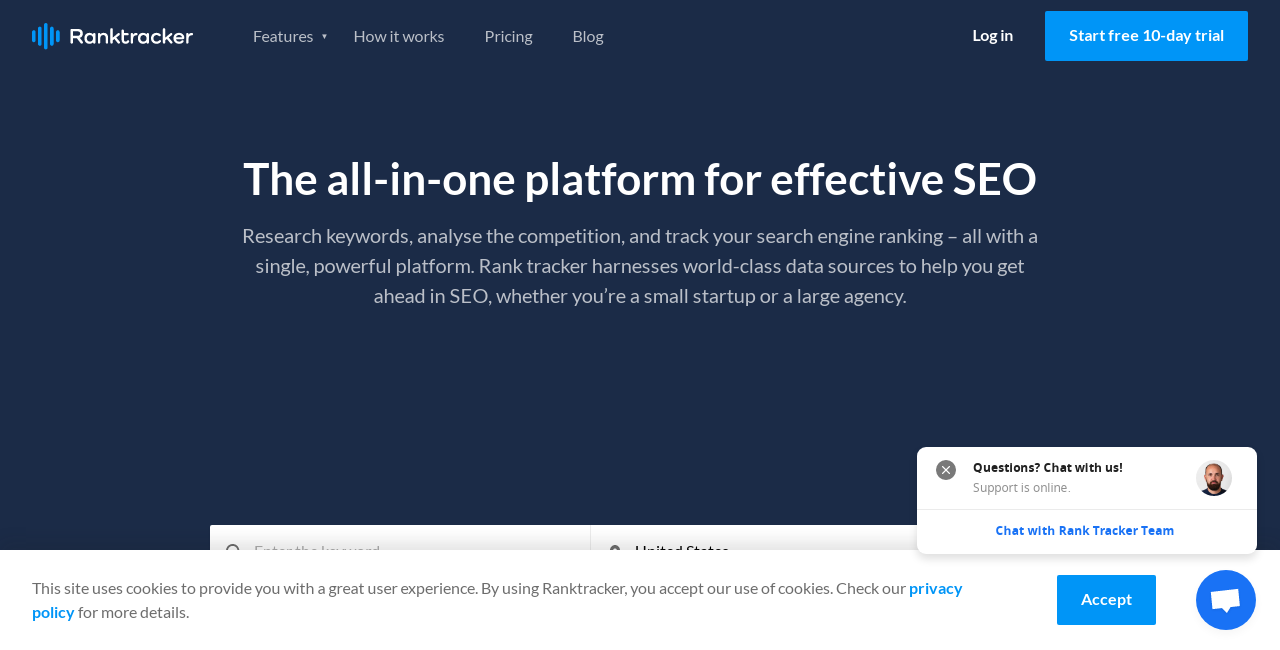 Do you need a dependable and efficient tool to monitor keyword performance and track website rankings?
Then, Ranktracker could be the perfect solution.
It is a powerful tool that helps businesses observe keyword performance and track their rankings across various search engines (including those of their competitors). It also offers an easy-to-use dashboard that overviews your website's visibility, position, and traffic.
You can do much more with this tool.
This article provides a comprehensive and unbiased review of this SEO tool to help you decide if it's right for your business. We explored the features, design, support, value and roadmap to see where it shines and the areas needing more improvements.
We also compared it with competitors and alternative tools.
Join us to see what we found.
The TL;DR version
What is Ranktracker?
Contrary to what the name suggests, Ranktracker does more than track rankings.
It's an all-in-one SEO platform designed to help businesses increase their online visibility and drive website traffic. So, in addition to tracking search engine rankings, the tool allows users to conduct keyword research and competitor analysis all in one place.
The app creators are Felix Rose-Collins and Max Rose-Collins, two notable names in SEO. Felix, in an interview with Best Startup UK, revealed that the tool "processes data in real-time for each and every query," unlike alternatives that fetch their data from databases.
Ranktracker has received several notable recognitions from various market-leading software review websites. Examples include the G2 spring 2023 Higher Performer badge, the 2023 Capterra Established Player Shortlist and the 2022 Top Performer Shortlist in the SEO software category.
The tool is an excellent addition to any SEO tech stack. Let's look at some of its key features.
Key features
Here are the key features that make Ranktracker stand out:
Keyword research
Keyword finder: Discover other high-traffic keywords that you may have overlooked.
Backlink analysis
Backlink checker: Analyze your competitors' backlink data to learn about their strategies and improve yours.
Backlink monitor: Monitor your progress against your competitors' backlink strategies by tracking gained and lost backlinks.
Technical SEO
Website audit: Scan your website to identify technical issues that could negatively impact your rankings.
Rank optimization
Rank tracker: Track how your pages move up or down on search engines in response to the keywords you're targeting.
SERP checker: Identify SEO opportunities for your site through location-specific search results. Plus, see how well you can rank for specific keywords.
SEO checklist: Follow a simple, step-by-step optimization process for your website's SEO.
Analytics and productivity
Dashboard: Get an overview of important SEO metrics such as SERP position, traffic, backlinks, and more.
Reports: Create and customize reports that show rank changes over time—filter keyword data by selecting relevant tags like location, search volume, and traffic.
Addons: Customize your package to get all the needed features without upgrading your pricing plan. Build a robust and scalable SEO tech stack.
Notifications: Getting daily email notifications to stay on top of your projects. Don't miss out on any new updates.
Agencies
Manage users: Add users to your team to enable seamless collaborations and upgrade and downgrade privileges.
Manage accounts: Manage your subscriptions and payment methods effortlessly. Also, see your resources used to learn when to upgrade or buy an addon.
Rank tracker
The Rank tracker is one of the tool's key features.
It lets you track your keyword rankings in all the major search engines, including Google, Yandex, Bing and Yahoo. You can also see your search performance across different locations, devices and languages, as well as your competitors.
The good thing is you don't need to log in regularly to monitor your progress.
The tool sends daily email notifications, updating you on your SEO campaign performance and keyword position changes. Also, this report can give you actionable insights to maximise your website traffic and sales potential.
One of the users said Ranktracker gives a very detailed overview of his website's ranking and its changes over time. Plus, understanding his competitors informs him on ways to focus his SEO efforts.

He recommends Ranktracker to anyone serious about tracking their website rankings.
And here's how to use this feature.
Add your domain
First, log on to your account and click the Ranktracker module.

You'd see all your current projects. Next, click the "Add Project" button to add a new one.

Now, enter your website URL on the next screen and specify what you want to track.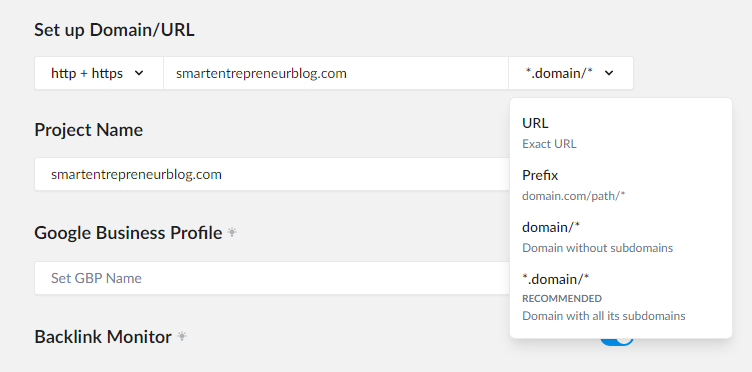 The tool allows you to track the exact URL, the entire domain, including all the subdomains or just the domain or a sub-directory.
You can also specify whether you wish to track your Google Business Profile on the SERP, monitor your backlinks or both.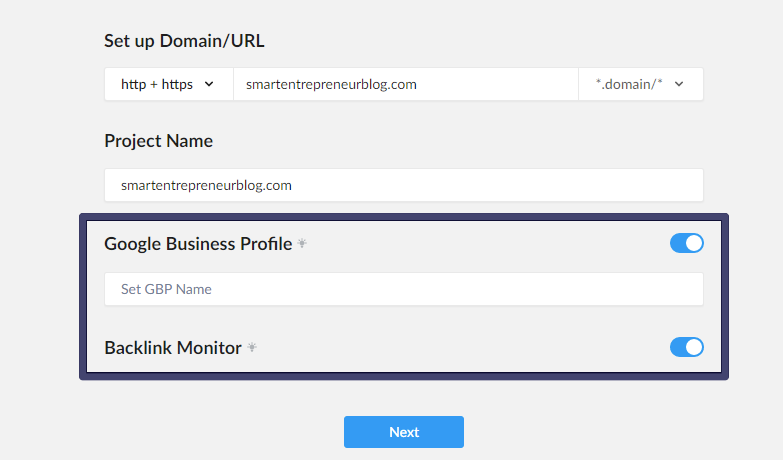 Click the "Next" button to add your keywords.
Add your keyword
Type all your keywords in the Keywords box, one per line.
However, you can save time by uploading them as a CSV file using the Upload File option. Or by adding previously uploaded lists through the Add from List button.

Alternatively, add the search terms you wish to track from the suggested keywords.
You can see the following:
The locations the keyword currently ranks for
Their organic positions
The search trends for the last 12 months
Estimated monthly search volumes
The ranking pages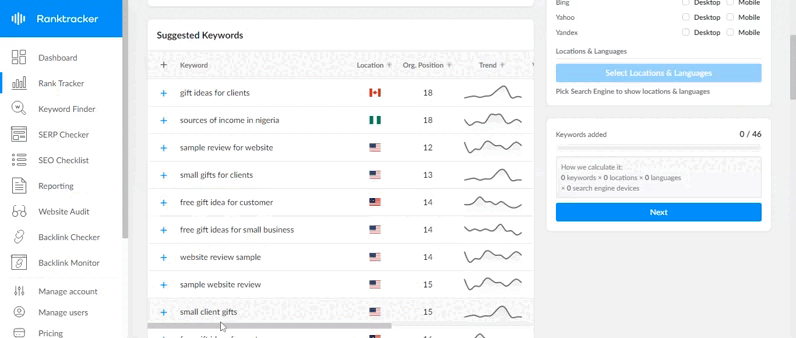 After adding your keywords, select your preferred search engines and the devices you want to track your keywords on. Also, pick your location and language.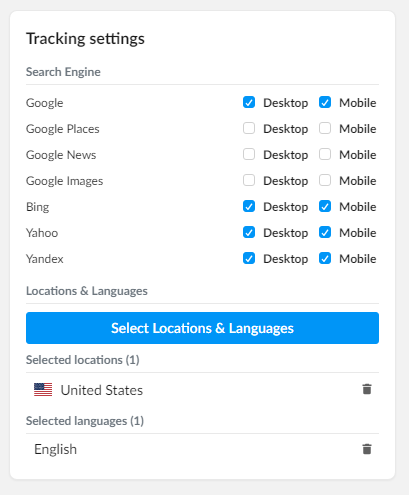 Review your selections, then click the "Next" button to add your competition.
Specify your competition
You can add up to 20 competitors per domain.
However, the free trial allowed us to add only two competitors. So, to begin, first, click the Add Competitor button, enter the competitor's domain address or URL and then specify whether you want to track the whole domain or just a part of it.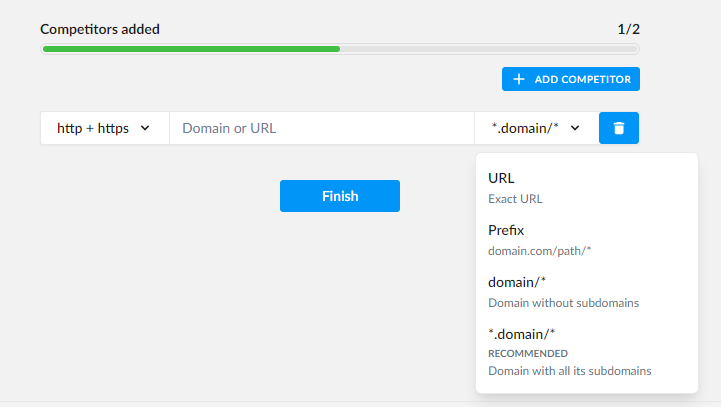 Finally, click the Finish button to complete setting up your project.
Ranktracker takes less than five minutes to pull up all your data, providing a birds-eye view of your SEO campaign performance. You can use the tabs to navigate through the reports.
Overview
It shows your organic visibility, the percentage of all the possible clicks for the tracked keywords that your website gets. Also, you see your average keyword position, estimated monthly traffic from the tracked keywords, and the number of SERP features your website landed.
When you scroll down, you'll see all your tracked keywords and their organic search performance on all the search engines you specified. In addition, it shows their organic, absolute and local pack positions.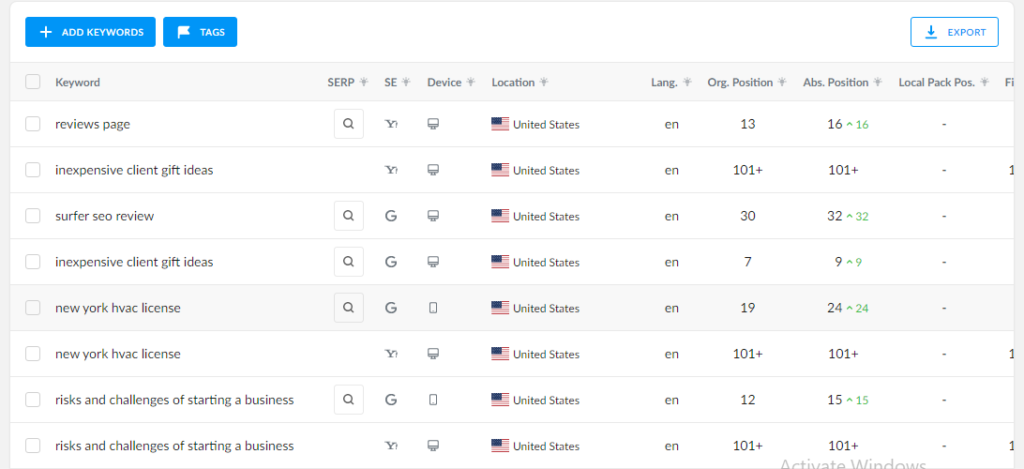 You'll see the search volume for each keyword, including their estimated traffic, SERP features, and keyword difficulties, measuring how difficult it is to rank them in the top ten results and the page URLs.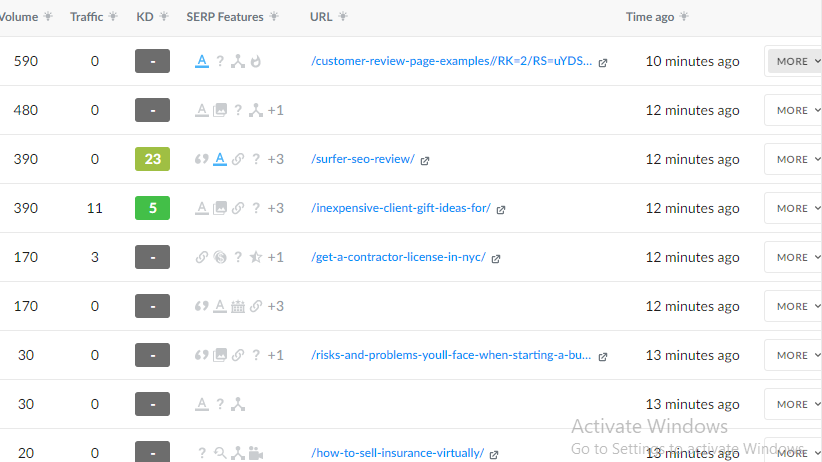 When you click the More drop-down for any keyword, Ranktracker shows you the historical data for organic position, traffic, search volume and SERP features. You can also click the SERP tab to view that keyword's live SERP search result pages.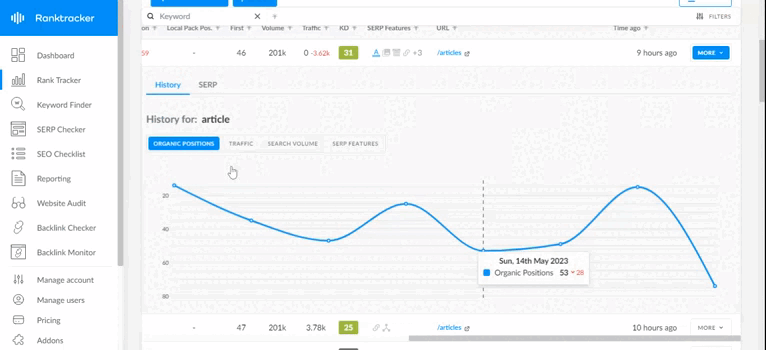 Also, you can click on any keywords to get more detailed information on its performance.

Competitors
Open this tab to see how you perform against your competitors. It displays your data side-by-side with your competitors, showing how you stack up.

You can also compare the search performance for each keyword. Ranktracker lets you evaluate your website against your competitors on the following parameters:
Organic positions
Absolute positions
Local pack positions
First organic position
Estimated traffic
SERP features
Pages
Use this tab to see your top-performing pages and track their metrics.
It lets you see the referring domains for each page, the number of tracked keywords found on the URL and the average position for those keywords. You also see the organic position of the highest-ranked keywords, the search volume for all the tracked keywords and your estimated monthly traffic.

You can add more keywords and export your data as PDF, Excel or CSV. It also lets you save your data on-cloud to re-use them on any new project without importing them.
Metrics
This tab shows your keywords' organic position, difficulty, and cost-per-cost (CPC).

With these metrics, you can see how much advertisers bid on Google paid search for a click, allowing you to decide whether to invest in these keywords.
Grossing
This report shows changes in ranking positions for tracked keywords over time on mobile and desktop. The tool shows you position changes for the previous day and the last seven and 30 days. You can also see your all-time changes.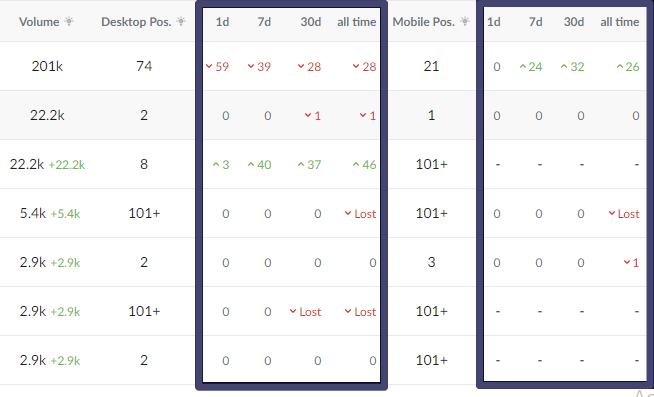 These insights show you your ranking volatility, so you can see how your SEO efforts impact your rankings.
Discover
This tab shows your keywords search trend for the last 12 months, including the CPC, estimated search volume and your current ranking position.

With this report, you can see at a glance if a keyword is worth investing in and when to target them.
Savings
This report shows how much you have saved with organic traffic versus pay-per-click.
Ranktracker probably uses the average CPC for your tracked keywords to estimate how much you would have paid if you had used a paid search to generate them. So, with this insight, you'll see how much your SEO campaigns save you.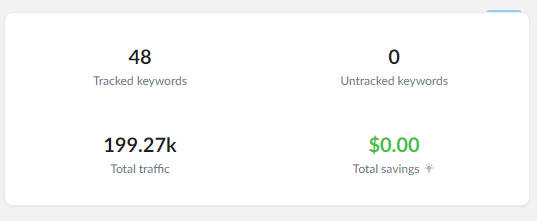 You can also see the estimated traffic for each page and how much value they bring to you.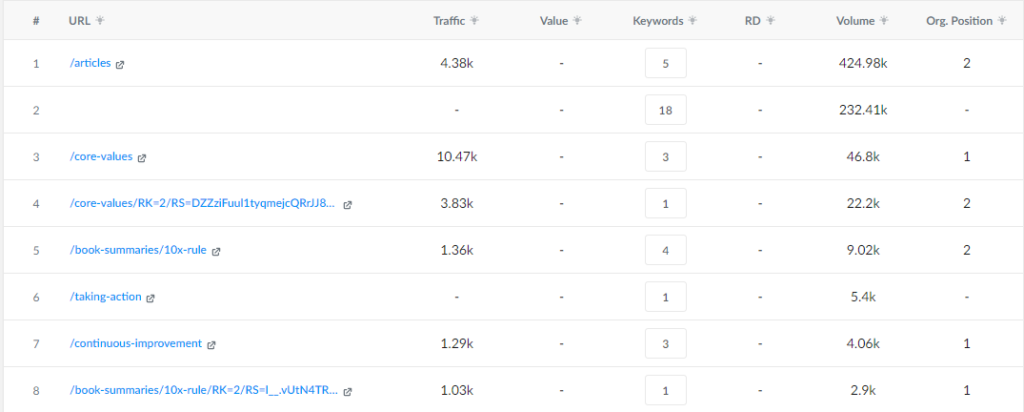 It would have been more helpful if Ranktracker also showed the dollar value of the organic traffic. With this data, you can compare your SEO campaign costs with the estimated CPC cost to see if it's wise to continue investing in SEO.
Movements
See your daily keywords movements up and down the SERP on mobile and desktop.
You can filter with the "New," "Lost," "Up", and "Down" tabs to quickly see new keywords, lost keywords and those that dropped or gained ranking positions.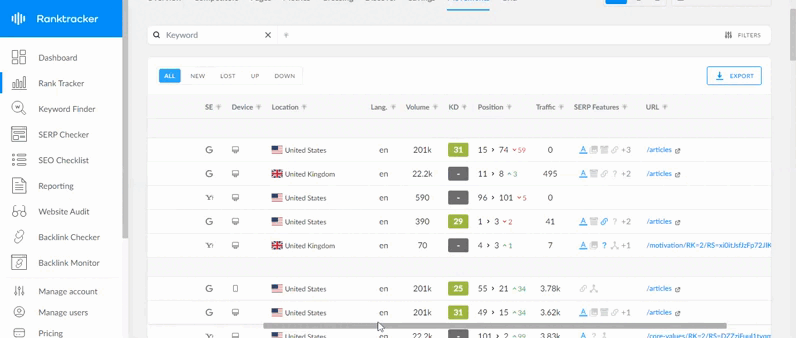 Grid
Use this report to see a grid view of your daily keyword movements.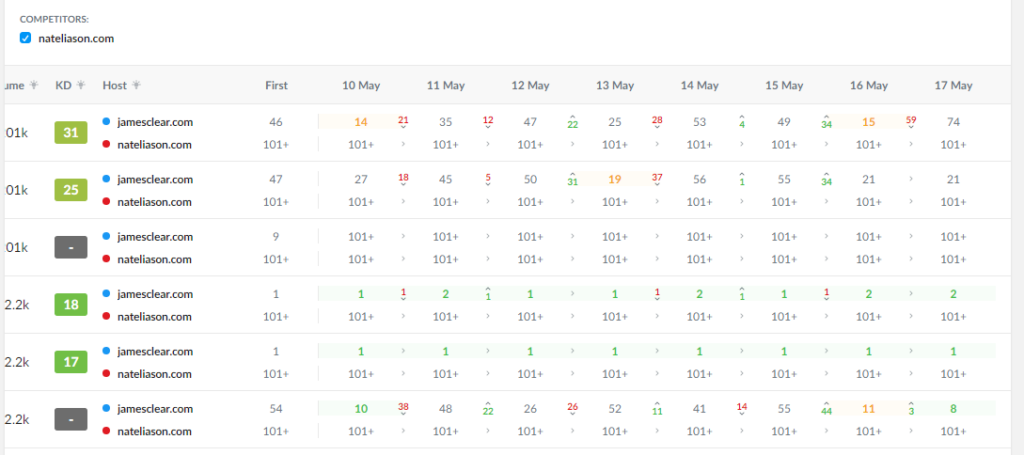 It makes it easier to monitor your daily keyword positions. You can specify a competitor to compare your performance with theirs.
SERP Checker
The SERP checker shows you detailed search engine results for any keyword.
It helps you see how your website ranks across different locations and devices without a VPN or proxy servers. The tool is helpful for businesses that operate internationally or serve multiple cities. And it's free.
So you can use it even without subscribing to any plan.
This tool lets you see all the SERP features for any keyword. The insight helps you know the keywords to optimize your pages to improve your chances of landing SERP features. Furthermore, SERP Checker enables you to find your competitors' weak spots.
And this tool can even do more.
Ranktracker's co-founder and CEO, Felix Rose-Collins, said they employ a unique data retrieval method to ensure that the SERP Checker offers unparalleled performance.
According to him, the company "expend resources and time to continuously improve their algorithm for maximum accuracy."
To use this tool, log on to your account and open the SERP Checker tool. Next, enter the keyword for which you wish to get results and specify your location and device.
Ranktracker loads the results when you click the search icon.

You'll see top-level metrics, such as:
SERP features impact: Evaluates the impact of SERP features on search result engagement.
SERP snippets data: The snippets returned on the search results page for that keyword.
Number of results: Total results returned by search engines—excluding mobile search results.
Keyword difficulty: The difficulty level of ranking for a keyword in the top ten Google search results for the specified location.
These metrics are handy when prioritizing the keywords to invest in for your SEO efforts.
Next, scroll down to see a table previewing the SERP for that keyword. The table displays the websites ranking in the top ten results.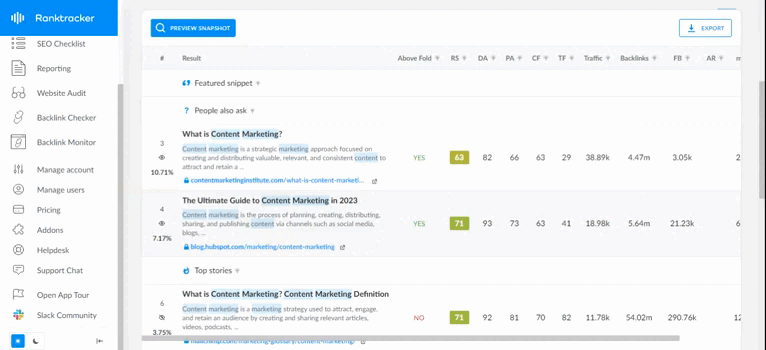 Also, you'll see various metrics that can help you uncover your competitor's weaknesses and spot opportunities to outrank them. Here are some key metrics to look out for:
Above Fold tells you if the result is visible above the screen fold. Websites above the fold get most of the organic clicks. This insight helps you prioritize your competition.
Rantracker Score (SC) calculates the rank scores for each website using the number of backlinks pointing to the domain and page.
Domain Authority (DA) shows you how authoritative a domain is. This metric helps you gauge the likelihood of a domain ranking in the top ten result pages.
Page Authority (PA) metric predicts how well the page can rank on the SERP. Pages with higher PA values tend to rank in the top ten results.
Citation Flow (CF) tells you how influential a URL will be. Ranktracker pulls their data from Majestic. The tool calculates the CF based on the number of backlinks to the page.
Trust Flow (TF) tells the trustworthiness and quality of your backlinks. It uses the number of backlinks from trustworthy websites to calculate this metric.
The traffic shows the estimated monthly organic traffic to the pages. Pages above the fold tend to have higher traffic.
Backlinks show the total number of inbound links to the domains. With this metric, you can estimate the number of backlinks you need to beat the competition.
Facebook (FB) tells you the number of shares each website gets. The metric helps you gauge their social signal strength.
Use the Preview Snapshot button to explore the live SERP. Also, you can export the report as PDF.

One of the things we love about this tool is that it estimates the percentage of impressions each page gets from their ranking positions.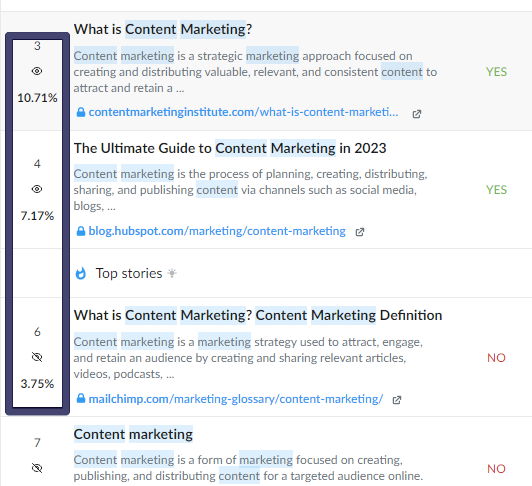 Also, the Above Fold metric tells us the minimum SERP position to target.
For instance, instead of expending resources and time, competing hard to land the first SERP position, you can aim to outrank the page in the lowest above-screen-fold position. This approach gives you a quick win.
Dashboard
The Ranktracker dashboard provides a data overview from all its tools in one place.
It saves you the stress of opening each tool to access its metrics, providing a 360-degree view of your SEO campaign performance. For instance, you can see key Rank tracker metrics, like your domain visibility metrics, the average keyword position, and estimated monthly organic search traffic.

Additionally, the dashboard displays the number of SERP features the domain has. You also see the number of your keywords rankings daily in the following positions for the last eight days:
Top three
Fourth to tenth
Eleventh to fifty
Between 51 and 100
It also shows the number of tracked keywords ranking outside the top 100. With these insights, you can track your daily keyword position changes.
Ranktracker allows you to download this report in PNG or JPG.
Besides the rank tracker metrics, you can also see how your top keywords move up and down the search results page. This keywords volatility insight lets you discover when something goes wrong with your SEO. It also helps you gauge your SEO efforts or see if your domain was a victim of a Google algorithm update.
The dashboard also shows your website audit score, including the number of essential and not-too-important issues to fix. Furthermore, it lets you see how much your organic search campaign saves you using the cost-per-click (CPC) for your tracked keywords.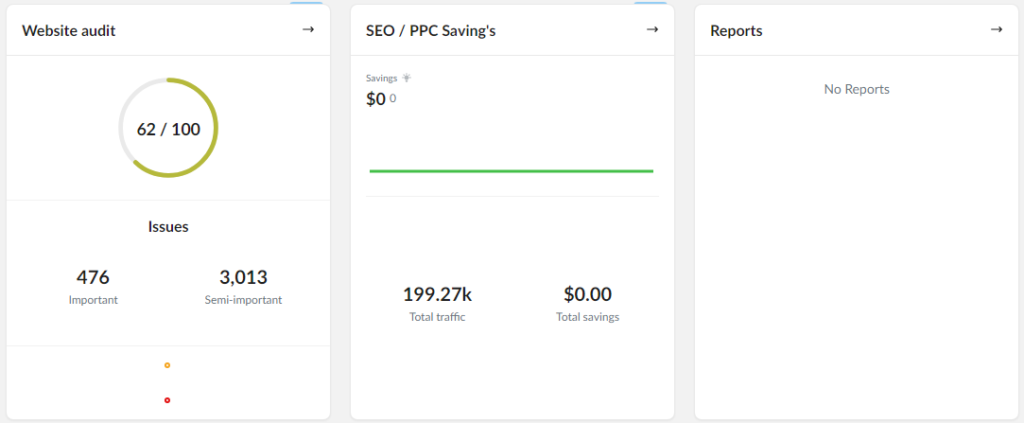 Also, the dashboard allows you to access your reports in one place.
Finally, you can see how far you have gone with your SEO checklist. The dashboard also shows your keyword research history and saved keyword lists. As a result, you can quickly access any of them without launching the Keyword Finder tool.

In addition to providing all the critical metrics for each tool in one place, Ranktracker lets you access all the tools from the dashboard. It's one of the things I love about the platform. It also allows you to create and delete a project on the dashboard.
Keyword Finder
The Keyword Finder Tool lets you discover the best search terms to power your content strategy and paid search marketing campaigns.
Most shopping experiences begin with a search engine. So identifying the right keywords that searchers use can put you ahead of the competition. And this is where Ranktracker's Keyword Finder comes in.
This tool promises to assist you in finding global and country-specific keywords, discovering SERP feature opportunities and seeing any keyword's search trend. Ranktracker has a regularly updated keyword database of over 3.5 billion search terms that make these possible.
And here's how to use this tool.
Begin with a seed keyword
First, log on to your account and click on Keyword Finder to open the tool.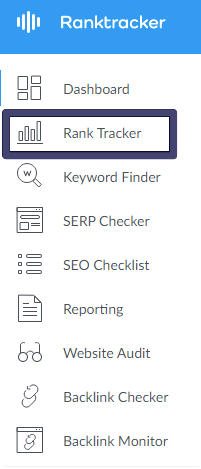 You'll see your keyword search history and lists on the next screen. Click on any of them to access your previous records. However, to begin a new keyword research, enter your seed keyword in the keyword search field first.

Next, pick a location and language to specify your preferred search engine.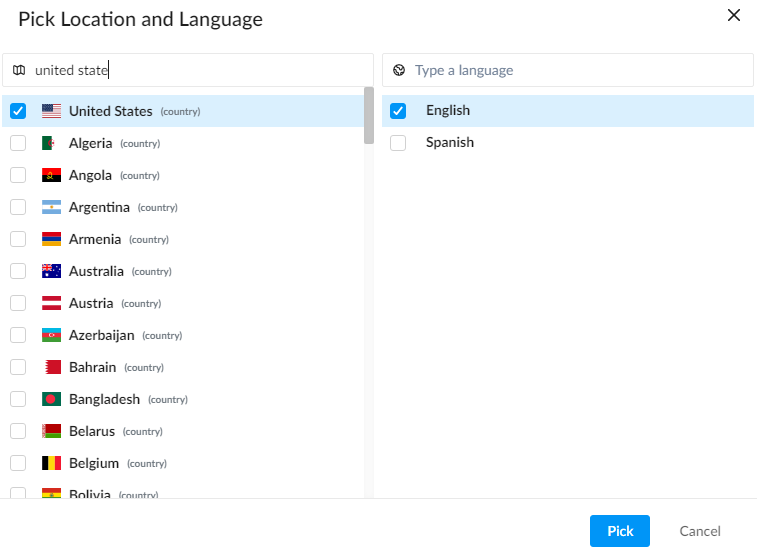 Finally, click the search icon to begin your new keyword discovery.

Alternatively, you can find search terms by domain instead of entering seed keywords.
Ranktracker can crawl a URL to identify all the keywords the page targets. This feature lets you spy on your competitors to uncover their keyword strategy. It saves you the stress of brainstorming for seed terms to use for keyword research.
To begin, click the "By Domain" tab on your Keyword Finder dashboard.

Next, enter the URL you wish to analyze, pick your location and language and then search.
Ranktracker will crawl the website, fetching the keyword data in a few seconds. You'll see the keywords the website ranks for, the URL of the ranking pages, and keyword difficulty. You'll also see the organic keyword positions, search trends, volume and CPC.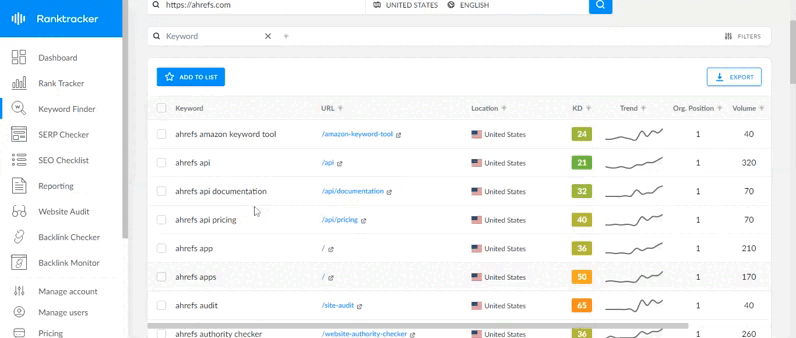 The tool lets you choose the metrics you want to see in the keyword research report. To do this, scroll to the end of the report and click the gear icon to configure the table columns.

Toggle on all the metrics you want to see.
Additionally, Ranktracker displays an enlarged chart of the search trend, showing the monthly search volume and the live SERP when you click the 'More' button.

Add keywords to a list
Ranktracker can generate hundreds of search terms from a single seed keyword, thereby letting you select relevant ones.
So, the tool allows you to create a list of keywords you want to monitor. Then, you can use these lists to group keywords with common attributes or desirable metrics, such as low keyword difficulty, upward trends or high search volume.
To add keywords to a list, go through the keywords and select the ones you want. And when you are satisfied, click the blue 'Add to List' button at the top left.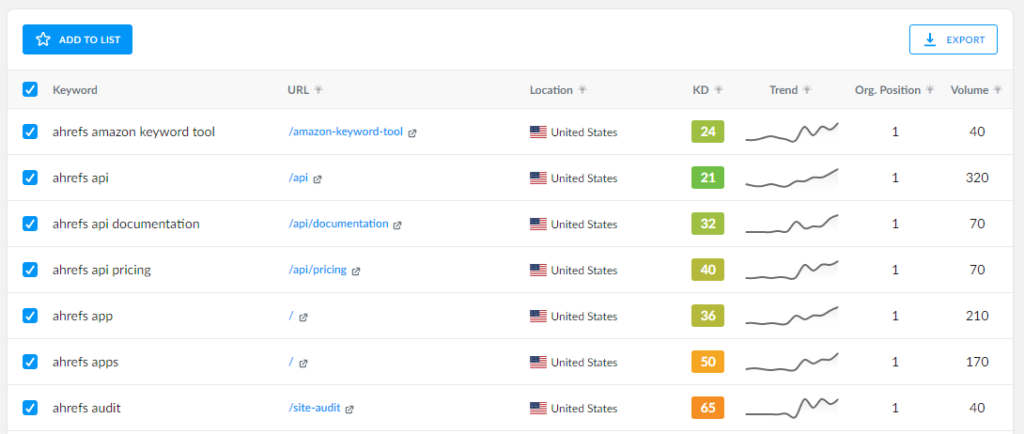 After that, you can search for a list and select an existing one or create a new one.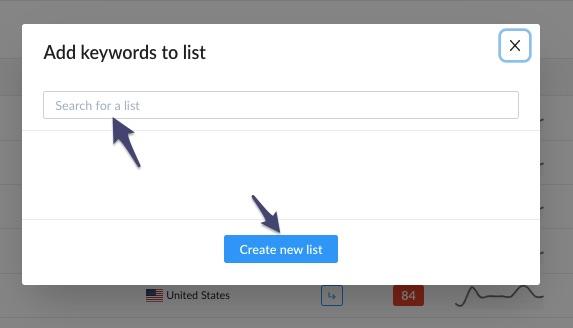 Once done, you can access these lists by clicking the 'List' button.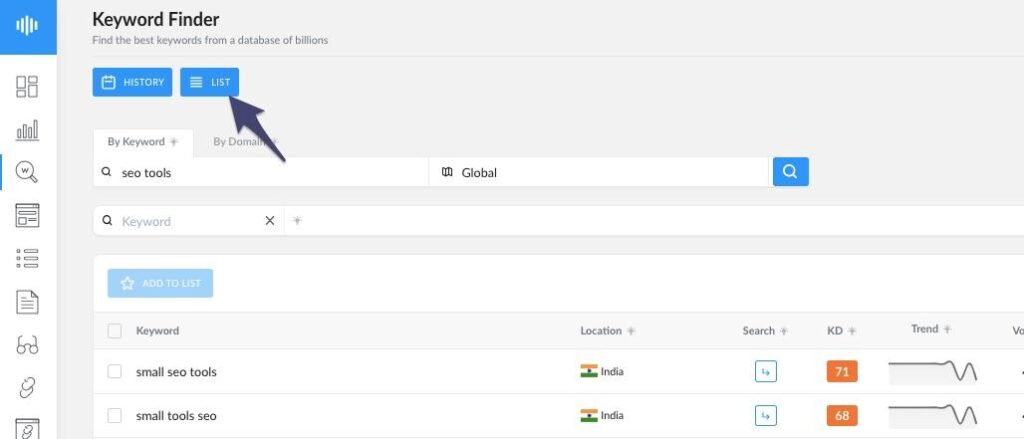 Export your keywords
You can export your keywords in a few seconds. Click the 'Export' button at the top right and select your export format. Ranktracker allows you to export your file as a PDF or CSV file.

Confirm your export format to initiate the download process.
Backlink Monitor
Ranktracker lets you monitor all your backlinks in one place.
You can see who has linked to or stopped linking to your website. It also shows your backlink progress over time, allowing you to see how many links you have gained or lost over a specified period.
You can also see the domain authority of the linking domains, the anchor texts they use and whether they are dofollows to evaluate the backlink's value. You'll see the broken backlinks and the most linked pages.
Another thing we love about this tool is that users can track multiple websites at once and get a backlink breakdown for each domain. With this feature, you can find backlink opportunities for any domain.
Ranktracker starts monitoring your backlinks and updates them regularly when you create a project. To access your backlink monitoring report, log on to your account and open the backlink monitor tool.
Go to your projects and click any domain to analyze its backlinks.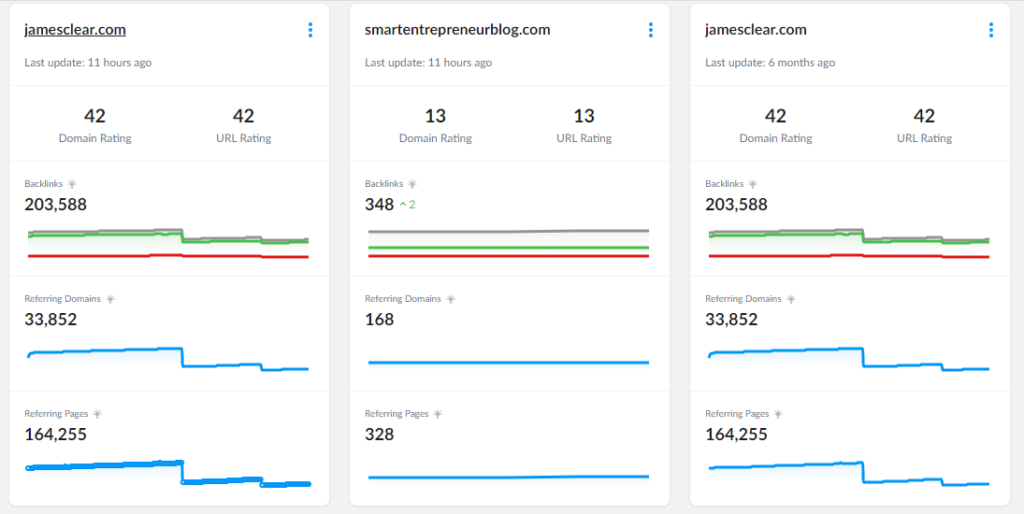 The reports you can access are discussed below:
Backlink Monitor Summary
This report is the first you'll see when you open a backlink monitor project.
It provides you with top-level insights into your backlink profile. For example, you'll see your domain's total backlinks and the percentage of dofollow links, the referring domains and IPs.

You'll also see the backlink and referring domains' history. The tool shows you this data over time (hence the 'monitor' in the name). Just hover over the graph to see the historical data.
Below that, you'll see two other graphs showing the new backlinks your website landed, the referring domains, and those it lost. Next, please scroll down to see these backlinks, referring domains, and their respective domain ratings (DR).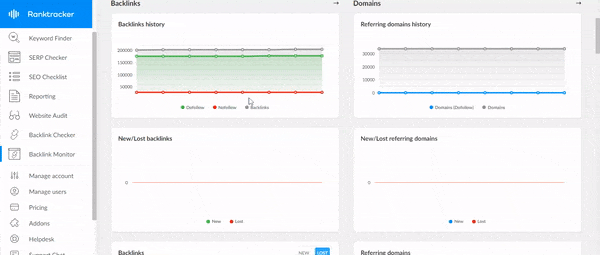 Other parts of the backlink monitor summary are:
Anchor texts
This report shows the top anchors by backlinks and the number of backlinks that used them. You can also see the percentage of your backlinks using the anchor.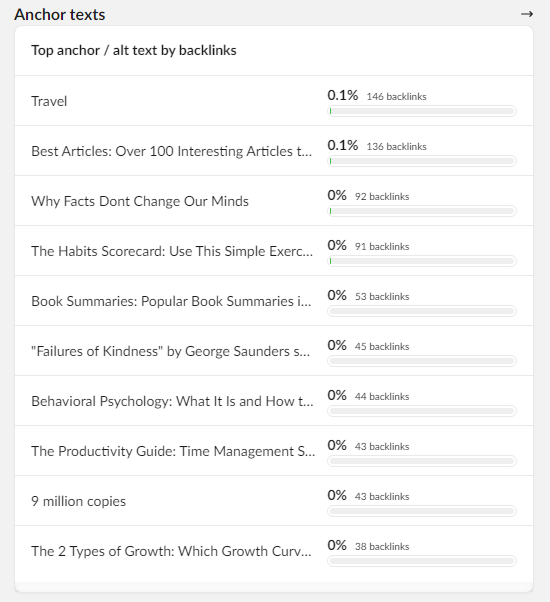 Ranktracker also shows the top anchor texts by domain and the proportion of the referring domains using that anchor.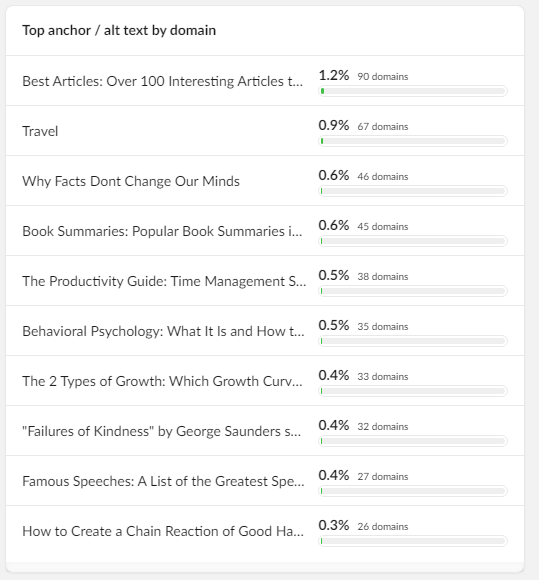 Linked page
Use this report to see the pages that get the most backlinks and the proportion of your backlinks that point to them. You can also see data for top-linked pages by domain.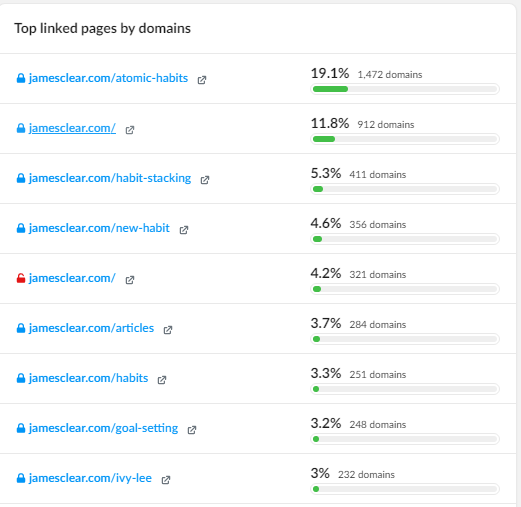 Referral links
This report shows the referring links' key properties. For instance, you see the link attributes like dofollow, noopener, nofollow, sponsored, UGC and others. Also, Ranktracker shows you the referring platform type, such as CMS, Wiki, blogs, ecommerce and others.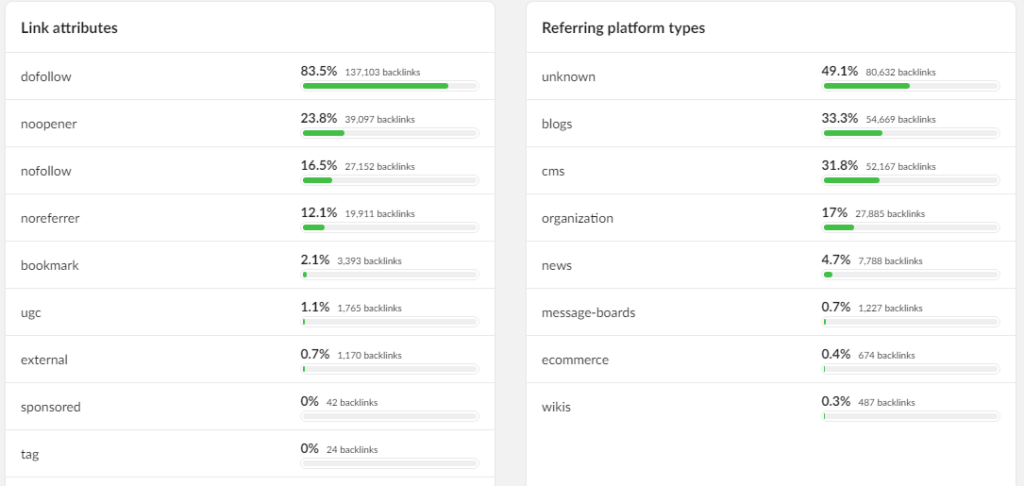 The tools also show the link semantic location (part of the website linked to) and the referring TLDs. You can also see the percentage of your backlinks that share these characteristics.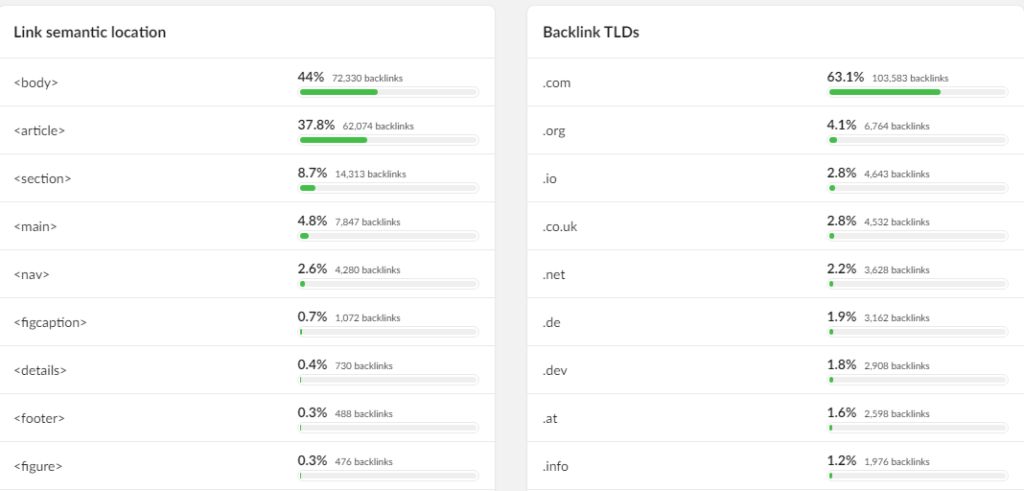 Backlinks
This top-level report provides detailed information on your backlinks.
It lets you see your backlink history. The tool also displays all your new and lost backlinks on a table, showing the domain and URL ratings, spam score and the linked page. You can also see the anchor texts.

You can filter your data and export the report as PDF and CSV files.
Referring domains
Use this report to see your referring domain history and lost and new referring domains.

You can also see all the domains linking to your page, including their domain rating, total backlinks, broken links and the number of referring and broken pages. The tool also shows the spam score for each referring domain.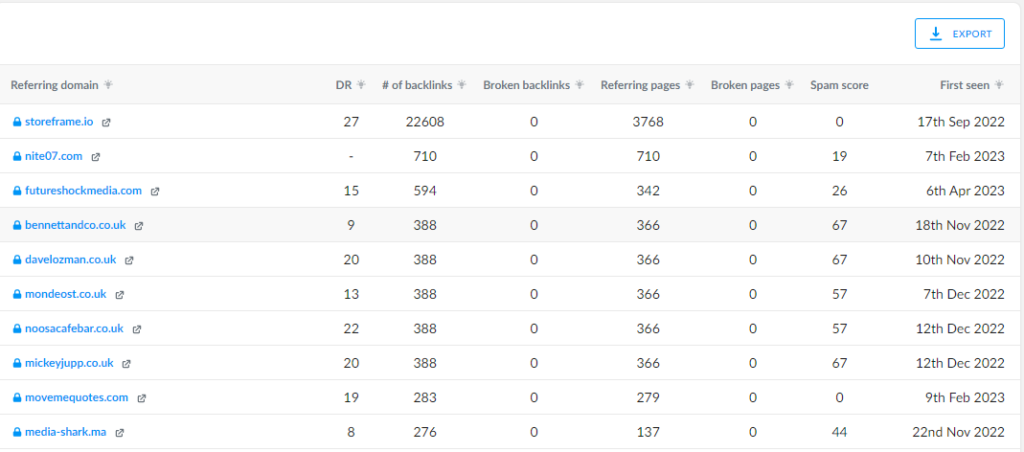 Referring networks
Referring networks are the network addresses the backlinks come from. In the previous reports, Ranktracker showed the referring network history for the website and all the network addresses your backlinks came from.
Ranktracker shows the total backlinks for each network address and the number of broken links, referring pages and broken pages. You'll also see when it first finds a backlink from the network.

Anchor texts
See all your anchor texts in one place, including the total backlinks using the anchor.
You'll see the number of broken backlinks, referring domains and referring and broken pages for each anchor text. The tool also shows a spam score. However, it's unclear if this score is for the anchor text or the referring domains.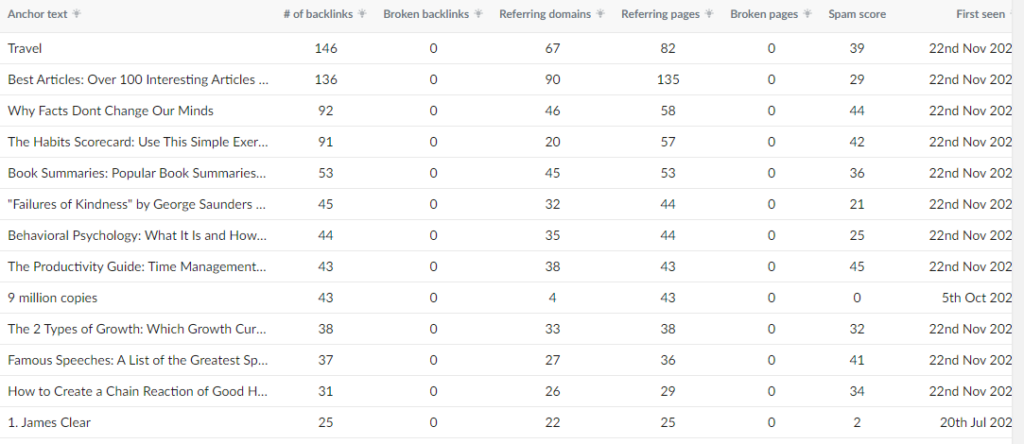 Domain pages
You can analyze the backlink profile of your website pages with this report. It shows if the page has a broken backlink. You can also see the HTTP status code of the page, its URL rating (UR), total backlinks and backlink spam score.
Other data points include:
Page spam score
Total referring domains
Total referring pages
Referring IPs,
You'll see data dating back to when the tool first discovered a backlink to the page.
Also, you'll see more information about a page's backlink profile when you click the 'Details' button, like link attributes, referring platform and backlinks types. Others include semantic link location, backlink TLDs and content summary, showing the H1s, H2s, H3s and H4s.
Linked pages
Use this report to see all your linked pages, including the total backlinks, referring domains and number of dofollow backlinks.
One other thing we love about the tool, apart from its in-depth reports, is how it allows users to see their backlinks up till the previous year. You can specify the time range of the data you want. The available options include:
One week
One month
Three months
Six months
Year

Insights from these historical data help you see how your outreach campaigns and link-building efforts pay off over time.
Website audit
Ranktracker helps you thoroughly audit your website in a few clicks.
It gives you data on various issues that could negatively impact your site and how to fix them. The audit tool analyzes over 100 data points to evaluate your website's SEO health. However, it won't give you the same in-depth data as a specialized auditing tool.
Albeit, it's one of the best all-in-one-SEO-tool site auditors we have seen.
If you plan to save money with all your SEO tools in one place, then this is a great option. The site auditor is ideal for users who want to monitor their websites despite having little tech experience.
One of its users, Micheal M., a chief executive officer, said the tool helps them see their website's SEO rating and any issue they need to fix or adjust. According to him, the Keyword Finder, SERP Checker and Website Audit tools are amazing and well-detailed.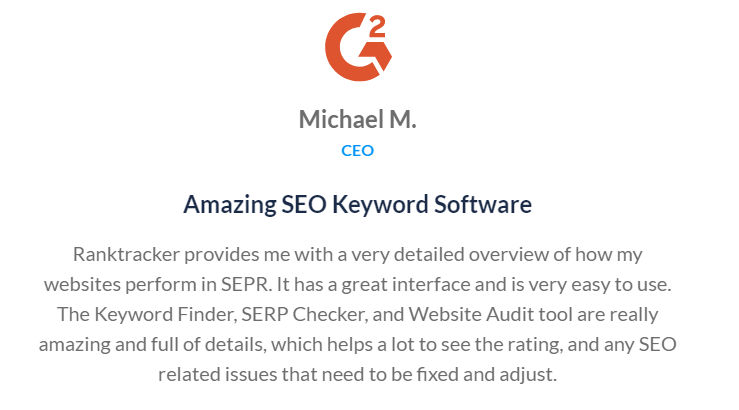 First, log on to your account to use this tool. Then, click the Website Audit tool to get to all your website audit projects. You can re-audit a website or start a new project.
Ranktracker automatically audits your domain when you start a project. So you don't need to go through the stress of running an audit. However, you can re-audit a website anytime you want.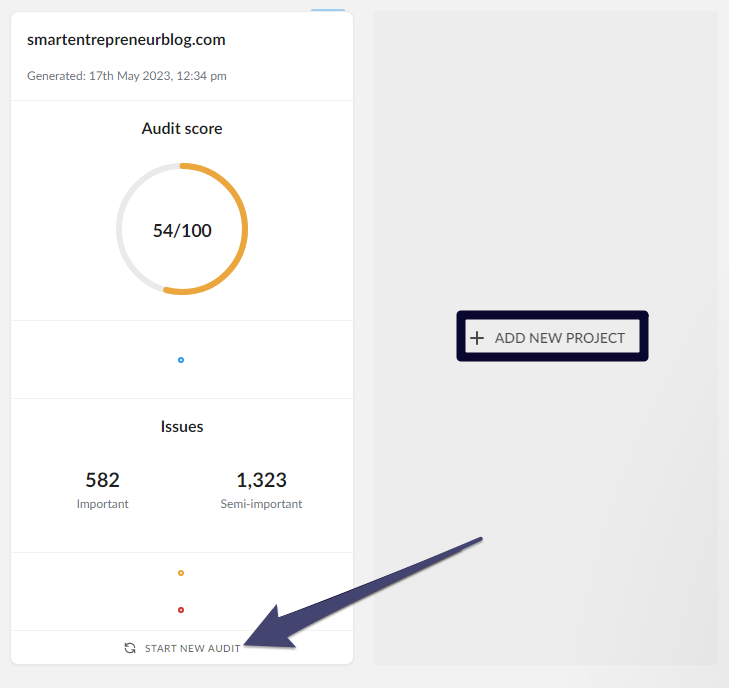 Click on any website audit project to access the audit report.
Next, you'll see your audit report summary, including the SEO health score, number of crawled pages, crawled date and the number of identified important and semi-important issues. Finally, click the 'Open Report' button to access the complete audit report.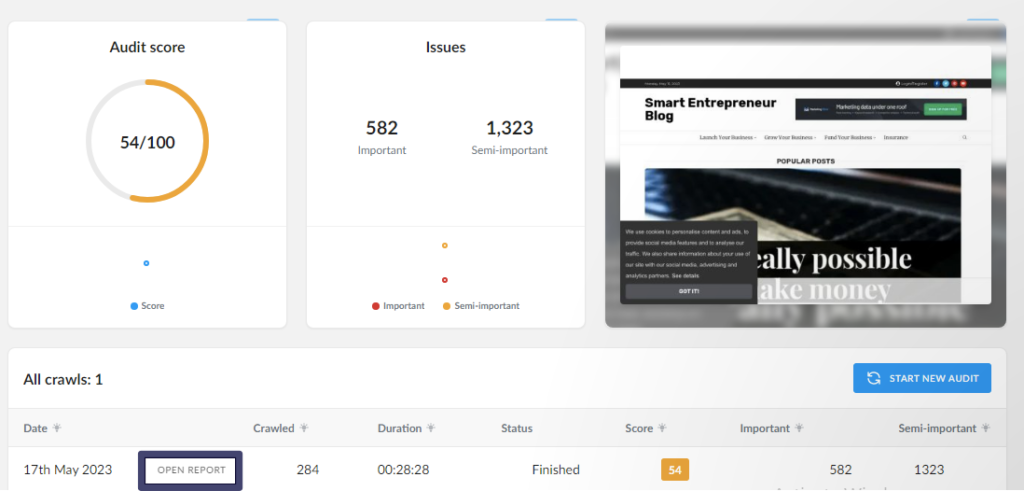 Ranktracker offers eight different reports:
Audit Report
Issues
Pages
Resources
Links
Optimization
Compare crawls

The reports are in-depth and intuitive. Use the top navigation bar to go through them.
Now, let's briefly explore what you'll see in each report.
Audit Report
This report gives you a high-level view of your technical SEO optimization.
It shows your audit score and server characteristics, including server location and SSL details. You'll also see your index status, showing the number of indexed pages by Google, Bing and Yahoo and your backlinks indexation report.
The report also shows your backlinks overview, referring link attributes, and the referring platform types, such as blog, CMS, eCommerce and news sites.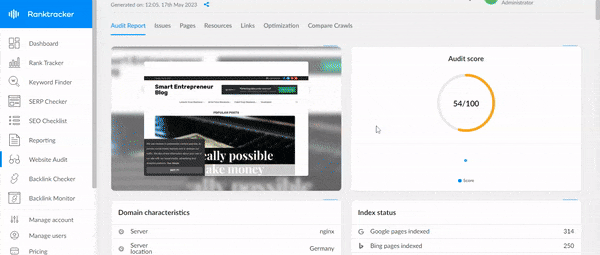 One of the things we love about this report is that it shows you all your SEO issues and guides you on how to fix them. And it has a live link that makes it possible to share the report with anyone, even with those that are not on your Rantracker team.
Issues
This report displays all your SEO issues in one place. And you can filter the report depending on the problems you wish to fix.

Next, scroll down to see all the affected pages, their status codes and on-page scores. Then, click the 'Details' button to see more information about the issue without leaving the page.

Pages
This option gives you the audit report for all your pages.
You'll see the page's URL, status code, on-page score and the number of inbound and internal links. It also shows you if the page is indexable.

When you open the 'Details' tab, you'll see additional information such as duplicate content URLs, page keyword densities and network requests. It also lets you open the Resources report on a new tab to see the page resources usage.
Resources
This report gives you insights into your website's resources.
It shows you the resource URLs, their status codes and sizes. You'll also see the resource types and if they are cachable by browsers. Additionally, you can see all the resources each page uses by opening the 'Details' tab.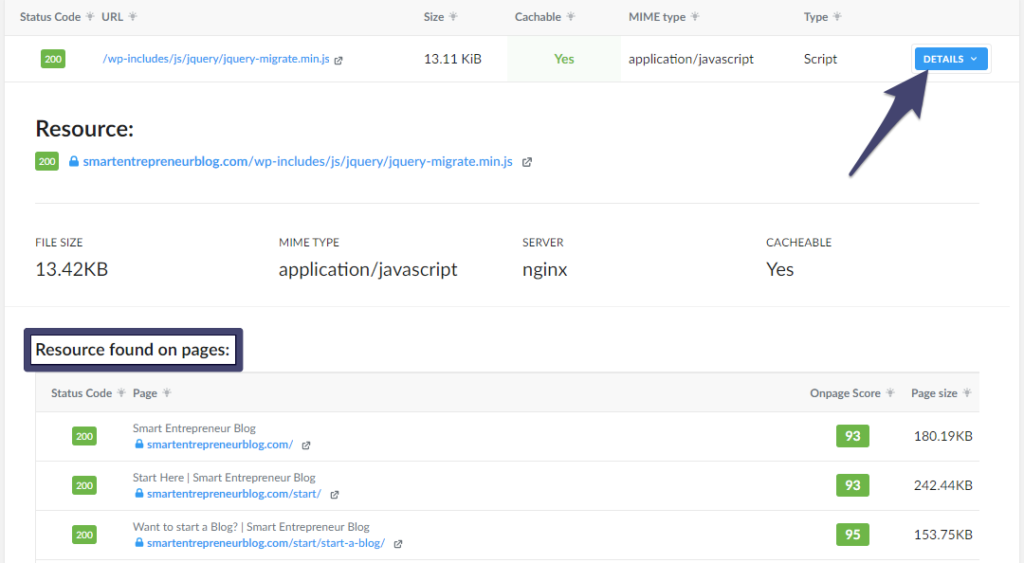 Links
This report tells you the URLs all your pages link to. It also helps you discover broken links and see all your internal, external and dofollow links. Additionally, you can use this report to see your link types:
Anchor
Image
Meta
Alternate
Canonical
Redirect
You can streamline your searches with the filters.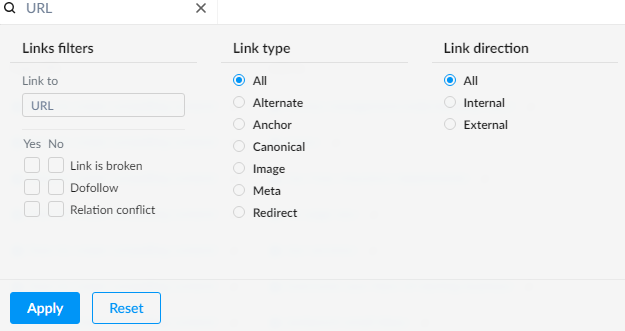 Optimization
Use this report to see your performance metrics for both mobile and desktop.
Ranktracker shows your optimization score and how your website fares on core web vital metrics like First Contentful Paint, Largest Contentful Paint and Cumulative Layout Shift. You'll also see key page speed metrics like Time to Interactive, Total Blocking Time and Speed Index.

Additionally, the report lists all your optimization issues and gives you insights on how to fix them.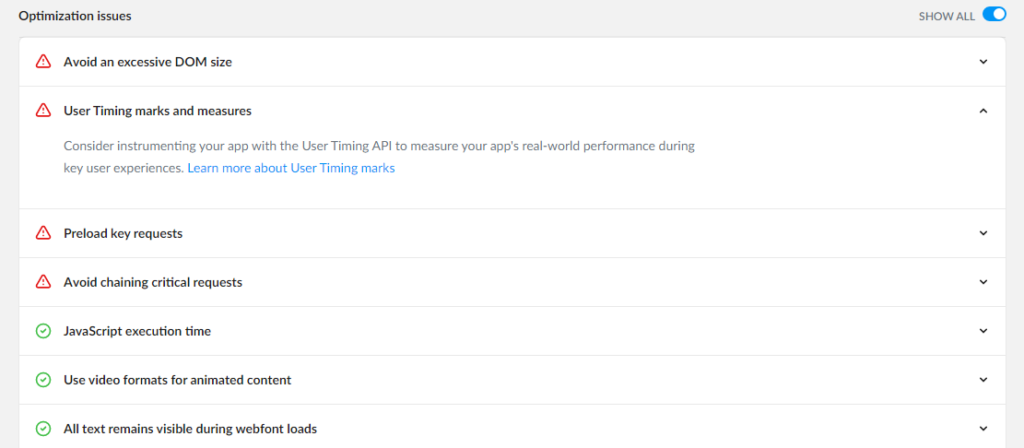 Finally, scroll down to see your network requests, including the URL, request time, transfer size, resource size, status code and resource type.
Also, you can specify how many rows you want per page.
Compare Crawls
You'd need to audit your website more than once to see this report.
It helps you track your SEO health over time and measure your optimization efforts by comparing the different audit reports. For instance, you can compare your last month's audit with a recent one to see how your optimization activities impact your SEO health score.
Most SEO audit tools don't have this capability, making Ranktracker one of the best in the market.
SEO Checklist
The SEO checklist walks you through practical steps to optimize your website for search engines. Plus, you have all your SEO fundamentals in one place.
So, with this feature, you won't miss any important steps while optimizing your website.
The checklist categorizes the whole process into six steps:
Setting up
Researching keywords
On-page SEO
Content strategy
Off-page SEO, and
Social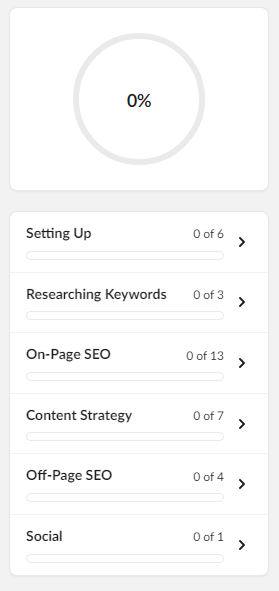 The setup checklist helps you optimize your website for the best possible results. Afterwards, you can use the 'research keyword' steps to find the perfect keyword for your content and boost your SERP ranking.
The on-page SEO checklist helps you structure your site correctly and ensure your copies, headings, images, and links comply with SEO best practices. The content strategy checklist guides you to write engaging content and optimize it to generate massive organic traffic.
Use the off-page SEO checklist to streamline your backlink-building process and set up effective outreach campaigns. You can also use the task guidelines from the social checklist to leverage social media to boost your SEO efforts and drive traffic from the channel.
Ranktracker updates your overall progress as you complete the tasks. You'll also see your SEO optimization progress for each checklist, including the number of completed tasks.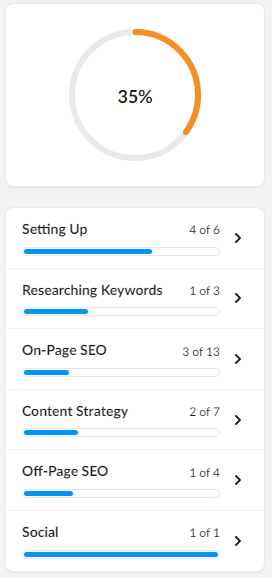 The SEO checklist is an excellent addition to the tool. It won't replace having your in-house SEO process, but it's a great way to ensure you have caught all the growth tactics.
Reporting
The reporting feature helps you set up scheduled reports for the domains you track. When you select the report function, the platform displays all the domains in your account.
Click the '+ New' button for the domain you wish to create reports for.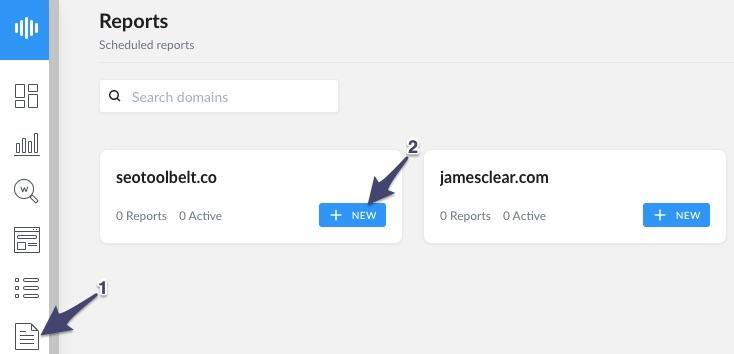 Then, you can customize your report in the right panel.
First, add your logo and pick the sections you want in your report. Next, enter the report name on the left panel. Now choose how often you want Ranktracker to update the report.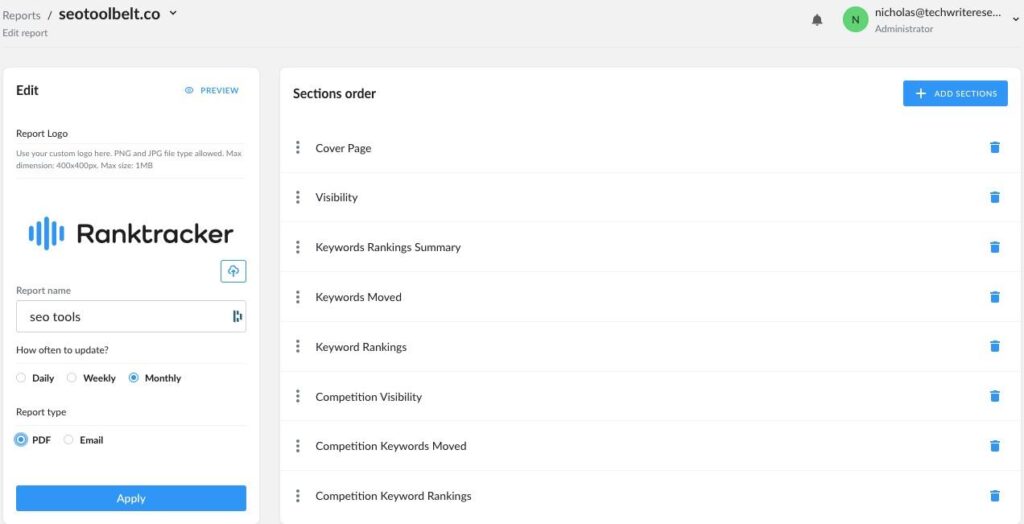 Finally, specify whether to receive the report as a PDF or email.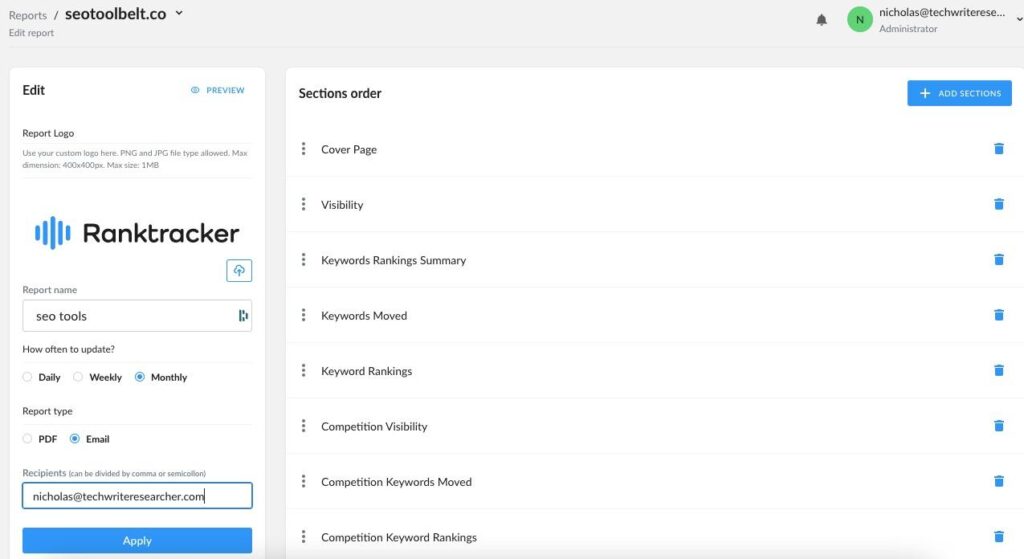 Now, click the 'Apply' button to complete the setup.
Ranktracker is currently rebuilding the reporting system to offer more comprehensive insights. When it launches, you'll now be able to schedule and generate on-demand mega reports.
Backlink checker
Backlinks are one of Google's most important ranking signals.
So, acquiring as many as possible helps you boost and consolidate your search rankings. And one of the best ways to do that is to look at competitors' backlink profiles to see what works for them and replicate the strategy.
That is where Ranktracker's Backlink Checker shines.
The tool draws from a database of over 2.7 trillion links, making it one of the most extensive backlink checkers today. However, its indexed backlinks are still over 12 trillion less than what Ahrefs currently boasts.
Albeit, Ranktracker compensates for this with an intuitive and affordable solution. For instance, you can access this feature on Ahrefs for at least $99 monthly, while the former charges $24 monthly for its most basic plan.
To use this feature on Ranktracker, log in to your account, enter the domain you wish to get results for and specify your preferred backlink data rows.
Then click the search icon to fetch the data.

Next, the tool provides top-level backlink metrics on the domain. You'll see:
The total backlinks
Percentage of DoFollow links
Number of referring domains
The number of linking IPs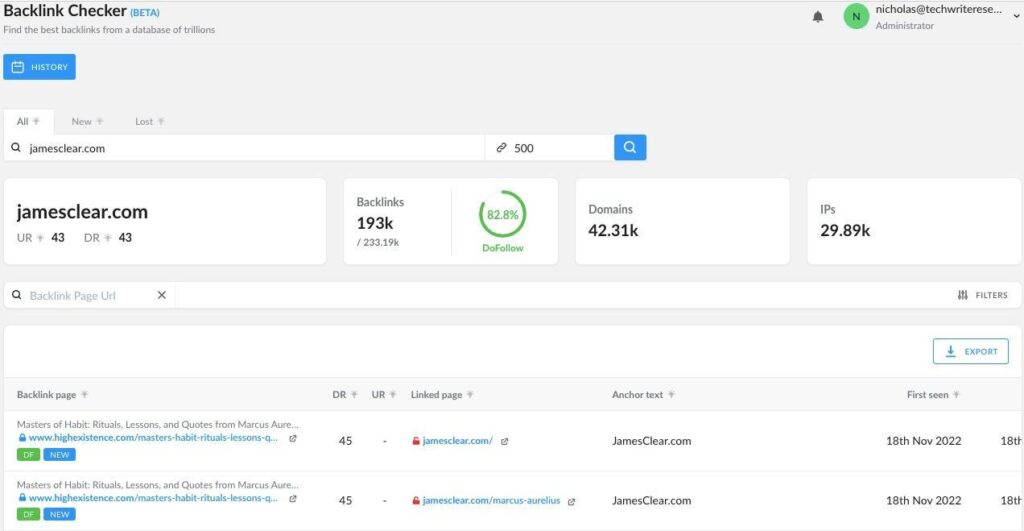 Now, scroll down for an in-depth look at the domain's backlink profile.
Ranktracker shows you the linking pages, their domain and URL ratings, and the linked pages. You can also see the backlink anchor texts and whether the backlinks are DoFollow or NoFollow.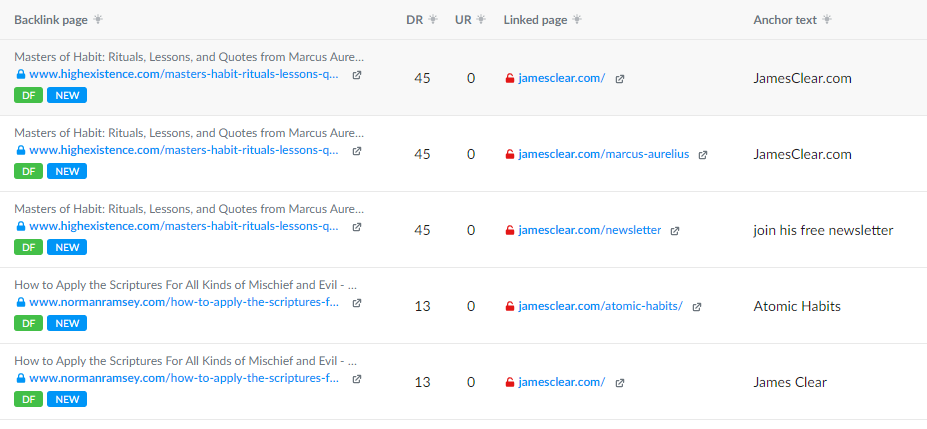 Ranktracker automatically saves your data on the cloud. So, you can always access your report via the 'History' button.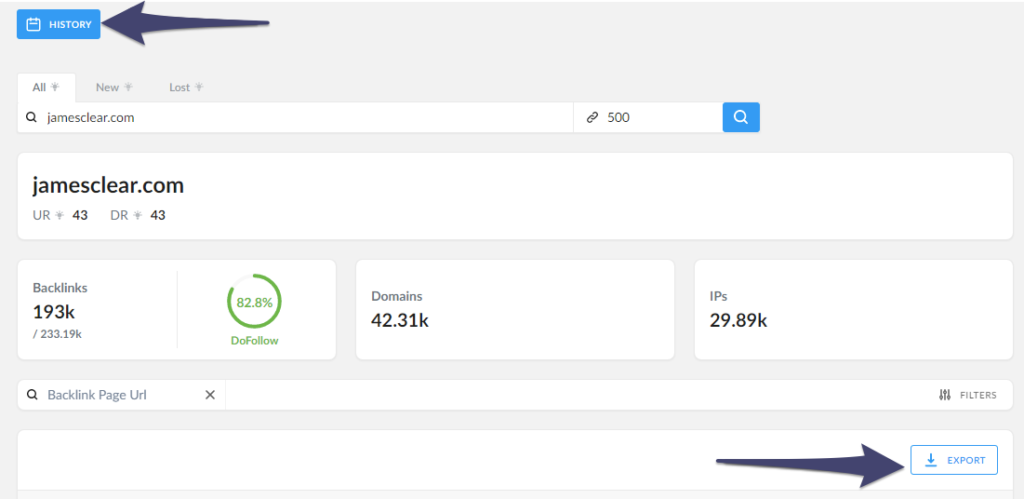 However, it's unclear how long Ranktracker saves this report. So, we recommend you export your data and save it on your computer.
Add-ons
Ranktracker addons let you build a scalable SEO tech stack based on your team's needs.
It enables you to pay for only what you need. For instance, you can buy the backlink checker row addon to match your current usage. And this saves you the need to upgrade your subscription, enabling you to maximise your marketing budget.
Ranktracker currently supports addons for all its key features. So you'd always have options to customize your solution.
And luckily, this feature is easy to set up. First, open your dashboard and click the Addons module.

Next, go through the addons and choose what you need.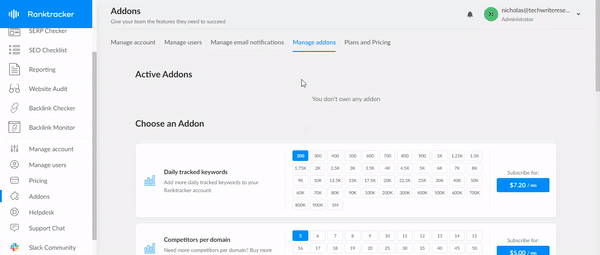 The available options include:
Daily tracked keywords
Competitors per domain
Monthly keyword finder lookups
On-demand keyword difficulty checks
Monthly SERP checker checks
Backlink checker rows
Pages audited monthly
Agency features
Several features make Ranktracker suitable for enterprise users.
For instance, the product allows you to add unlimited users and domains to your account. And this enables you to take on as many clients' projects as possible. Also, Ranktracker offers add-ons that let you customize your package to build a scalable stack.
Additionally, it lets you set up email notifications to get daily alerts.

Also, Ranktracker supports white-label reports. This feature lets you upload your logo and customize your reports to reflect your corporate branding. In addition, you can automate your reports, sending them daily, weekly or monthly to your customers.
You can also get support in 28 languages.
However, Ranktracker doesn't support Zaiper integration and API access. So, you might need help connecting the app to your tech stack.
Customer Support
The help desk allows users to get help by searching the help centre. When you start typing your query, the platform provides suggestions.

Ranktracker categorizes documentation based on the type of tool you're using, making it much easier to find what you're looking for.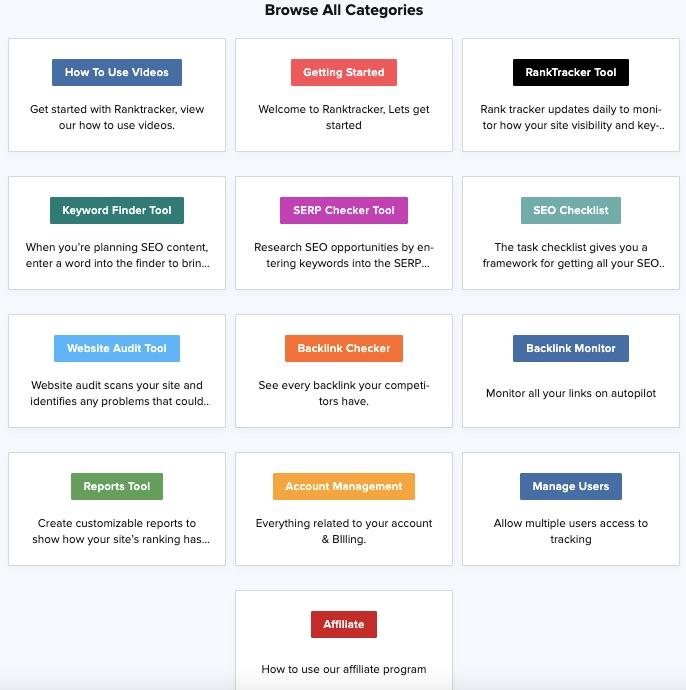 You can also get more help through the LiveChat feature. However, it's unavailable around the clock, but you can leave your message to get a reply later.
Additionally, Ranktracker has a large online community on Slack, with over 1,000 members, including the app creators. You can join the community to learn from other Ranktracker users, network and get assistance from community members.

Design / UX
Ranktracker's dashboard offers quick and convenient navigation. And its user interface provides a comparable experience to SEMrush or other top-notch SEO tools with excellent UX design.
Moreover, Ranktracker prioritizes ease of navigation. For instance, all key features are accessible from the sidebar.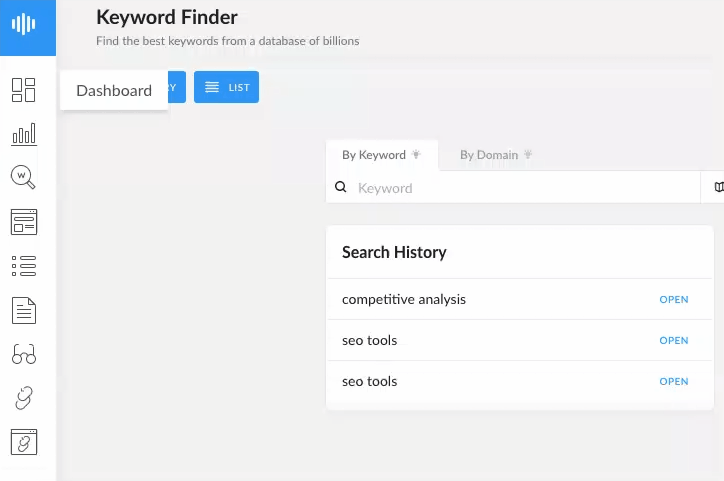 It also has an intuitive setup process.
You only enter the domain or URL that you wish to track, choose if it's an HTTP or HTTPS, name the project, and initiate tracking.

The design eliminates clutter and maximises whitespace, decreasing sensory overload from using feature-rich SEO tools. For instance, reports and dashboards employ thin-line fonts and ample whitespace between data columns.

It keeps the dashboard uncluttered. Reports are helpful and customizable.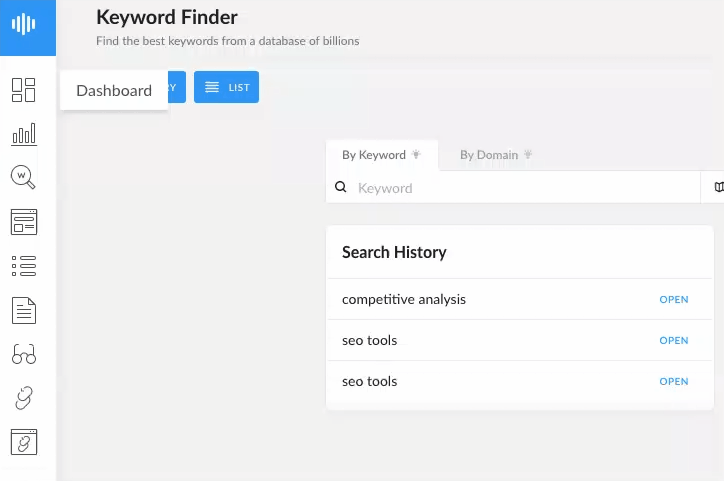 Click on dashboard elements, and Ranktracker instantly provides a top navigation pane. In addition, it helps you access other dashboard elements with one click. Breadcrumbs are also available.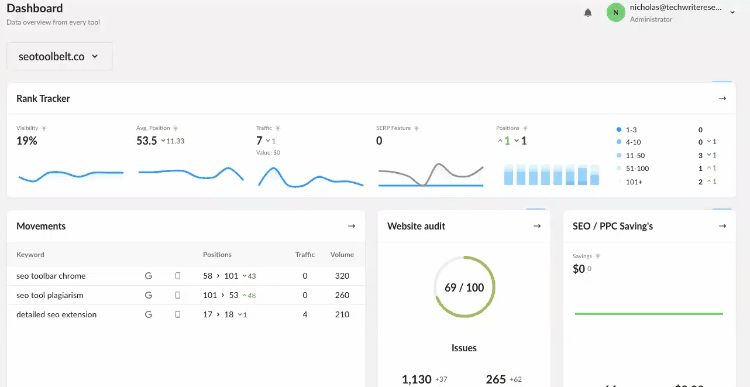 You can also switch to night mode to cut glares and reduce eye strains at night. Also, the tool lets you collapse the sidebar to create more whitespaces and spread out dashboard elements.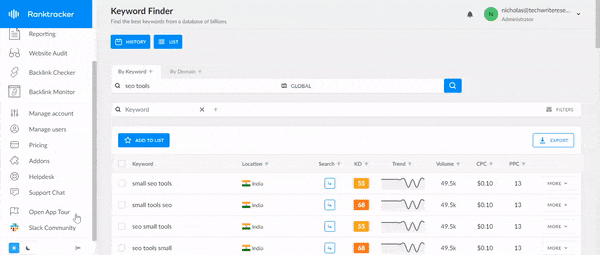 Let's be honest. Many rank trackers are functional, but their design needs improving. However, Ranktracker stands out with its well-planned design and UX.
Ranktracker Pricing
Ranktracker gives you a seven-day free trial to explore its features.
But before we get into what each plan offers, let's explore some of what you'll get with Ranktracker regardless of your pricing plan.
Features
Functionalities and reports
Rank tracker
– Google, Bing, Yahoo, and Yandex tracking
– Over 107,200 locations tracking
– SERP features analysis
– Keywords analysis report
– Shareable tracking links
– Estimated traffic and search volume
– Rank tracking overview report
Keyword finder
– Over 3.5 billion keywords database
– PPC tracking
– Keyword difficulty checker
– Search trend report
– Global and country-specific search volume
SERP checker
– Desktop and mobile tracking
– SERP feature snippets report
– Top ten results tracking
– Real-time SERP check
– Global and country search tracking
Backlink checker
– Over 2.6 trillion backlink database
– New and lost backlink tracking
– Backlink analysis report
Web audit
– One-click site audit
– Over 100 audit parameters
– SEO health score
– SEO issues
SEO checklist
– Website setup checklist
– On-page and off-page checklists
– Keywords research checklist
– Content strategy checklist
Ranktracker pricing plan differentiators
Ranktracker offers four pricing plans. You can choose to pay monthly or annually. However, opting for the latter lets you save 20% per year.
Features
Starter
Double Data
Quad Data
Hex Data
Pricing plans
$ 19.20/mo
(Annual plan)
$ 47.20/mo
(Annual plan)
$ 87.20/mo
(Annual plan)
$ 167.20/mo
(Annual plan)
$ 24.00/mo
(Monthly plan)
$ 59.00/mo
(Monthly plan)
$ 109.00/mo
(Monthly plan)
$ 209.00/mo
(Monthly plan)
Daily tracked keywords
100
500
1,000
2,000
Competitors per domain
2
5
10
20
Monthly keyword finder lookups
100
500
1,000
2,000
Keyword suggestions per search
100
125
250
500
Keyword difficulty checks
50
250
500
1,000
Monthly SERP checker checks
100
250
500
1,000
Monthly page audits
1,000
2,500
5,000
10,000
Backlink checker rows
50,000
150,000
300,000
600,000
Traceable projects
10
Unlimited
Unlimited
Unlimited
Users
Unlimited
Unlimited
Unlimited
Is pricing fair?
Ranktracker starts at $19.2 monthly on the annual plan. I believe the tool is worth the price, especially if you plan to use it for your small business.
At this price:
You can add up to ten domains to your account
Track 100 keywords daily and audit 1,000 pages monthly.
Monitor up to two competitors per domain; that's 20 competitors altogether
Track and export up to 50,000 backlinks.
And more
The average starting price on comparable tools like Ahref, SE Ranking, SpyFu, and SEMrush is $57.5 monthly on the annual plan. At $38.3 less for almost similar features monthly, Ranktracker is a bargain.
Ranktracker vs SE Ranking
Features
Ranktracker
SE Ranking
Notes: Ranktracker vs SE Ranking
Winner
Rank tracker
✔️
✔️
Ranktracker has a database of over 3.5 billion keywords. However, you can track only a maximum of 2,000 keywords daily.SE Ranking has a smaller database size at 304 keywords.

However, it compensates for this by allowing you to track up to 20,000 keywords.
SE Ranking
Keyword finder and suggestions
✔️
✔️
This tool lets you discover up to 2,000 new and related keywords monthly. It also offers up to 250 suggestions per search.

SE Ranking allows you to add up to 200,000 related keywords to your database monthly. Also, you can export up to 100,000 rows per report and have access to historical keyword data for any month.
SE Ranking
SERP checker
✔️
✔️
Ranktracker allows you to run only 1,000 SERP checks monthly. However, with SE Ranking, you can analyze the SERP of 3,500 keywords per month.
SE Ranking
Backlink checker
✔️
✔️
You can check up to 600,000 backlinks, including your competitors' links, with Ranktracker.

SE Ranking lets you check and monitor the status of 800,000 backlinks per account. In addition, you can also analyze up to 300 domains for backlinks.
SE Ranking


Backlink tracker


✔️


✔️
Ranktracker doesn't provide explicit information on the number of backlinks you can monitor with the tool.

However, it seems you can track up to 600,000 backlinks with this tool because users can export 600,000 rows of backlink data.

SE Ranking allows you to track the status of up to 800,000 backlinks.
SE Ranking

SEO checklist

✔️

✖️
Ranktracker provides an actionable SEO checklist to guide your search engine optimization.SE Ranking lacks this feature.
Ranktracker
Content Management
✖️
✔️
Ranktraker doesn't have a content management feature.

But with SE Ranking, you can find content ideas and create up to 120 articles monthly with A.I.
SE Ranking
Google Analytics Integration
✖️
✔️
Ranktracker doesn't integrate with Google Analytics, unlike SE Ranking, which supports both Google Analytics and Search Console integrations.
SE Ranking



Web-based reporting and dashboard



✔️



✔️
You can set up a dashboard on Ranktracker and access reports with your browser. These reports give you insights on ranking, keyword finder, SERP analysis, site audit, and backlinks.

SE Ranking has a more comprehensive reporting capability. With this tool, you can create unlimited manual reports, schedule 50 reports, and access unlimited templates to create custom reports.
SE Ranking
Mobile-based reporting and dashboard
✖️
✔️
Ranktracker doesn't have a mobile app. However, the company is currently working on one and plans to roll it out by 2023 third quarter.

SE Ranking has a mobile app, allowing it to provide mobile-based reporting.
SE Ranking
White label tools
✖️
✔️
Ranktracker doesn't support white labelling, meaning you can't personalise it for your agency.

However, with SE Ranking, you can customize the interface, create custom login pages, and onboard up to 10 clients.
SE Ranking
Keyword grouper or clustering
✖️
✔️
SE Ranking lets you group and segment keywords in a few clicks, eliminating mistakes and saving you valuable time.

Ranktracker doesn't natively support this feature. But as a walk-around, you can segment your keywords by creating different projects.
SE Ranking
Competitor analysis
✔️
✔️
Both tools allow you to track up to 20 competitors.

However, with SE Ranking, you can track up to 200,000 keywords and export 100,000 rows at a go as CSV.
SE Ranking
Above average ratings on G2 and Trustpilot
✔️
✔️
Ranktracker has 4.4 out of 5-star ratings on G2 from 101 reviews and 3.8 on Trustpilot from 22 reviews, averaging 4.1 from 123 reviews.

SE Ranking's G2 rating is 4.8 from 1,169 reviews and 4.2 rating from 491 reviews on Trustpilot.
SE Ranking
Supports multiple languages
✔️
✔️
Both Ranktracker and SE Ranker offer multi-lingual support. However, while support is available in 28 languages on Ranktracker, SE Ranking offers only ten.
Ranktracker
SERP simulator
✔️
✖️
Ranktracker allows you to simulate the SERP to optimize your page's title and meta description. Unfortunately, SE Ranking doesn't offer this feature.
Ranktracker


Supports multiple user accounts


✔️


✔️
You can add unlimited users to your Ranktracker account with all the pricing plans except the starter plan, which allows only two users.

SE Ranking supports a maximum of five users per account. However, the starter plan allows only a user.
Ranktracker
API support
✖️
✔️
Ranktracker doesn't support API access. But SE Ranking does, meaning you can pull data from your account into your application.
SE Ranking
Website audit
✔️
✔️
Both tools have built-in website audit capabilities. However, you can get more with SE Ranking.

For instance, it lets you audit up to 3.2 million pages against over 120 parameters per account. Also, you can monitor page changes on up to 200,000 URLs monthly.

Conversely, Ranktracker allows you to audit a maximum of 10,000 pages monthly.
SE Ranking
Local SEO
✖️
✔️
Ranktracker offers limited local SEO capabilities. It only lets you track your keywords by location and language. You can also monitor your Google Business Profile locations.

But SE Ranking lets you integrate Google Business Profile, monitor business listings, manage reviews, and run local marketing audits.
SE Ranking
Traffic analysis
✔️
✔️
Ranktracker doesn't have a dedicated tool or module for traffic analysis. However, when you create a project, you can see the estimated monthly organic search traffic for your tracked keywords.

But with SE Ranking, you can analyze any website's traffic on the fly.

SE Ranking
Social media analytics
✖️
✔️
Ranktracker doesn't offer social media analytics. However, SE Ranking provides this feature and also lets you schedule Facebook and Twitter posts from your account.
SE Ranking
Lead generator
✖️
✔️
You can't generate leads with Ranktracker. However, as an agency, you can install a SE Ranking widget on your website or landing pages to generate leads from prospects.
SE Ranking
Free SEO tools
✔️
✔️
Ranktracker and SE Ranking offer free SEO tools. But with the latter, you can access up to 12 tools, unlike Ranktracker, which provides only one.
SE Ranking
SE Ranking beats Ranktracker in the comparison above.
However, this might not be enough to make an informed decision. So, here, we shined more light on each tool to uncover areas they have a clear advantage.
Ranktracker's unique selling points
Ranktracker shines brightest than SE Ranking in the following areas:
Its keyword database size is over 11 times larger than SE Ranking's, making it more accurate for keyword analysis.
With Ranktracker, you can gain actionable insights on optimizing your pages to rank high on search, minimising the need to hire SEO professionals.
Support is available in 28 languages, unlike SE Ranking, which supports only ten.
You can add unlimited users to your account, allowing you to collaborate seamlessly.
SE Ranking unique selling points
SE Ranking offers more far-reaching capabilities. Let's see the areas it shines highest:
Despite having a smaller keyword database, the tool allows you to track up to 20,000 search queries, which is ten times more than what Ranktracker offers.
You can analyze 200,000 more backlinks than Ranktracker with this tool.
SE Ranking natively supports content management.
The tool offers white-label, branded reports, and API access, meaning you can deploy it for enterprise uses.
SE Ranking beats Ranktracker in site audit by a country mile. With this tool, you can audit 320 times more pages than Ranktracker.
SE Ranking has built-in local SEO, social media management, and lead generation capabilities, which Ranktracker lacks.
The tool has a mobile app, which keeps you updated on the go.
SE Ranking gives you access to historical keyword and domain data.
The custom plan makes the tool highly scalable.
Verdict: Ranktracker vs SE Ranking
Ranktracker comes with functional features you'll find helpful as a small business or marketing team.
However, it shouldn't be on the table if you are looking for an SEO tool for an agency with a large customer base.
SE Ranking shines brightest in that area. Also, with the custom plans, you can get what you want without paying for things you don't need.
But if you are more concerned about saving costs, Ranktracker is an excellent choice. The starting plan goes for almost half the price of SE ranking.
Ranktracker alternatives
Several Ranktracker alternatives are available besides SE Ranking. Let's quickly explore them.
FAQs
What payment methods does Ranktracker offer?
The platform accepts payment from PayPal and other major credit cards. These include Mastercard, Visa, Discover, UnionPay, and American Express.
What currency would you subscribe with?
You can select any currency from the payment page. Ranktracker automatically switches to your local currency when you click the subscribe button.
Are there any hidden charges or setup fees?
The platform doesn't add hidden charges, setup fees, or contracts. You can cancel your subscription or switch plans whenever you like. However, PayProGlobal, the platform's payment solution provider, may add taxes to the final fee depending on the user's location.
What is Ranktracker's refund policy?
Unfortunately, they don't provide refunds. Therefore, you can take advantage of their seven-day free trial to decide whether it's the right platform for you.
Can I track competitors' keywords?
Yes, you can track your competitors' keywords on Ranktracker. First, create a project for your competitor's domain. Then, open the Ranktracker tool to see the search terms they rank for.
Can Ranktracker track keywords on multiple search engines?
You can track your keywords on multiple keywords, such as Google, Yahoo and Bing, with Ranktracker. First, create a project and specify the search engines you want to track your keywords.
How frequently does Ranktracker update keyword rankings?
Ranktracker updates your keyword ranking daily. However, you'll be able to see the first few hours of creating a project.
Summary
Ranktracker promises to help you rank higher on the search and drive more organic traffic.
The tool helps you find keyword opportunities, audit your website, track your rankings and explore the SERP. It also lets you spy on your competitors, monitor your backlinks, discover SERP feature opportunities and leverage an in-app SEO checklist to optimize your website.
The app has one of the best features we have seen. And the creators plan to roll out more soon.
Ranktracker best suits freelancers and businesses that want to scale their SEO campaigns. It also has several agency features that make it ideal for enterprise users.
And the good thing is this app is unbelievably affordable.
Please share your experience using this software. Also, feel free to ask us any questions or provide feedback.
---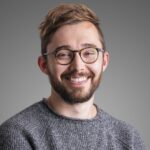 Sam Underwood
Sam is an international Ecommerce SEO Consultant with experience implementing enterprise-level SEO strategies.