RankTracker review
April 28, 2021

11 minutes

Sam Underwood
Use this all-in-on tool to find keywords, track website ranking, analyze SERPs and audit your website using RankTracker's vast amount of data.
Visit site
---
---
Pros
Intuitive interface for veteran users and beginner-friendly for new SEOs.

Provides a workflow and checklist for guided search engine optimization.

Offers its self-help resources in video format.

Generates ongoing data so you always have the newest and most relevant data.

Handle all your SEO needs in one place.

Supports a seven-day free trial.
Cons
The documentation is too long, with a lot of fluff.

Outdated documentation with disparities and inconsistencies with its current features.
---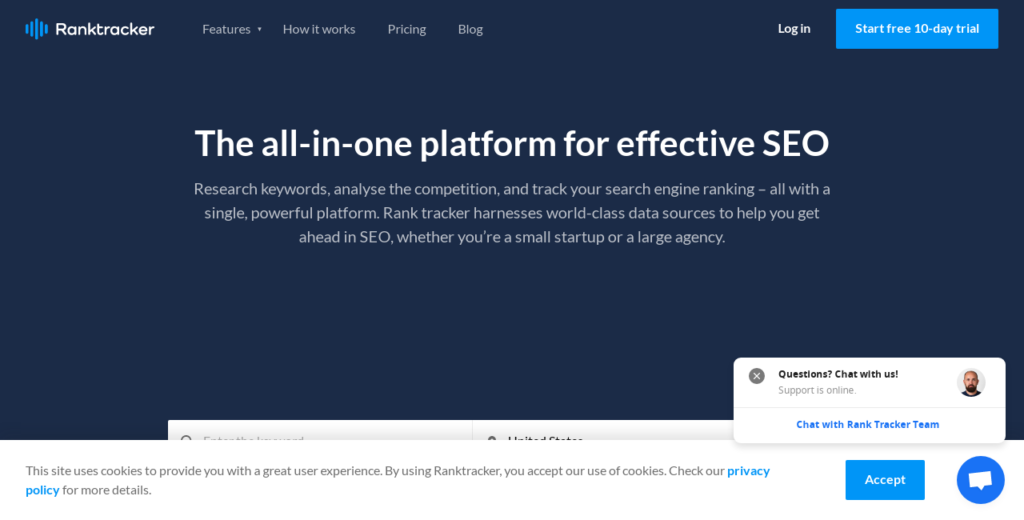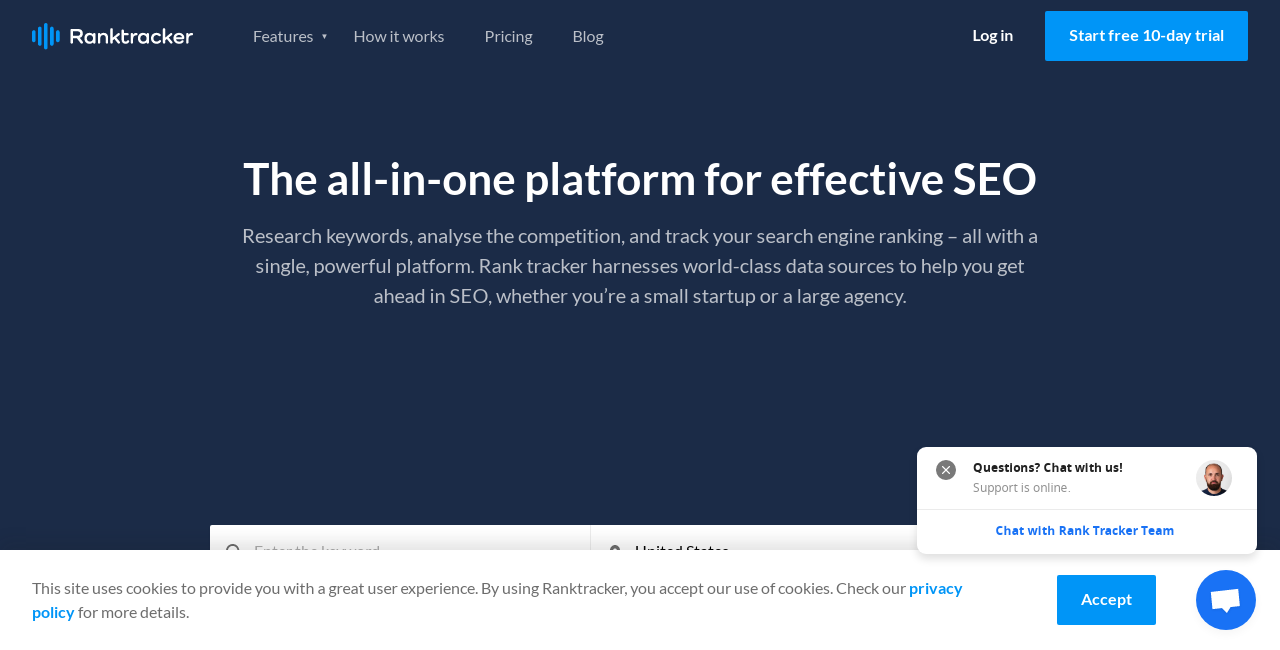 RankTracker helps businesses monitor keyword performance and track how websites rank across search engines. The dashboard gives an overview of the visibility, position, and traffic that help users make actionable decisions.
The RankTracker's database offers relevant keywords with key metrics like search volume, keyword difficulty score, and more.
Design/UX: 4.5/5.0
Features: 4.5/5.0
Customer support: 4.0/5.0
Value for money: 4.5/5.0
Overall: 4.5/5.0
What is RankTracker?
Contrary to what the name implies, RankTracker does more than track rankings.
It is an all-in-one SEO platform that allows you to track search engine ranking, research keywords, and analyse competition all in one place.
Both big and small businesses can use this tool. Just like enterprise users, brick and mortar stores can use the RankTracker for their local SEO needs to improve sales, make better business decisions, and boost website performance.
Let's look at some of the key features of the software.
Overview of key features
RankTracker offers complete SEO solutions that empower users without prior SEO knowledge to execute expert-level SEO feats. Some of the key features include:
Dashboard – The keyboard shows an overview of important SEO metrics such as position in SERPs, traffic, backlinks, and more.
Rank tracker – This feature shows you how your site moves up or down on search engines as a result of your chosen keyword.
Keyword finder – This tool takes advantage of robust keyword databases to provide top quality SEO solutions.
SERP checker – This feature helps you track keywords by location and helps you monitor the keywords your site is ranking for in local search.
Website Audit – This tool scans through a website to identify technical issues that influence its ranking.
Backlink checker – Shows you all your competitors' backlinks data so you can adapt their strategies to improve yours.
Backlink Monitor – This tool allows users to see sites that are linking or have stopped linking to them.
SEO checklist – This tool walks you through a simple, step-by-step optimisation pathway for your website.
Reports – The platform allows you to create and customise your reports to show rank changes over time.
Filter – The platform allows users to filter their keyword data by selecting relevant tags like location, search volume, traffic, and more.
Customer support – The platform provides robust documentation, videos, and checklists. However, you can contact support through LiveChat if you need further assistance.
Design / UX
RankTracker's dashboard allows for easy and quick navigation. For a feature-rich tool, RankTracker's user interface compares with the experience you'll get from SEMrush or other all-in-one SEO tools with high-quality UX design.
Here' what to expect:
You'll find a dropdown menu from the setup page. Click that dropdown to choose a specific page or an entire domain to set up your tracking. You have four Domain and URL options:
URL
Prefix
Domain
.domain/
Enter the domain or URL and choose if it's a http or https.

Your domain name or URL becomes the project name automatically, but you may choose to change this name.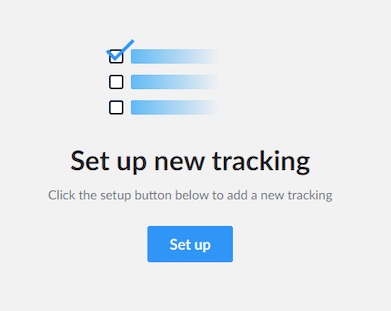 You can toggle on the backlinks monitoring feature if you plan to monitor backlinks for this website or page.
Click 'Next' to access a text field to add your keywords.

You can choose to type in each keyword or click 'Add from list' to use pre-listed keywords. Also, you have the option to upload your keywords.
This tool also lets you choose from suggested keywords based on searcher locations, as well as organic keyword position, traffic volume, and URL.
Finally, the platform displays the tracking settings at the top right-hand of the keyword dashboard. Users can select search engines and devices to track their keywords and target location.
Under this section, you'll see the summary of the keywords, locations, languages and search engines you selected. Click 'Next' to go on.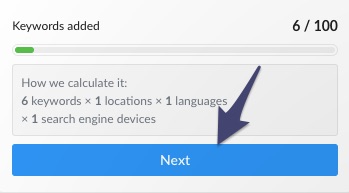 For the last part, the platform prompts you to add competitors.

A field appears for you to enter the competition. Then, click 'Finish' to complete the setup.

Features
RankTracker offers keywords from its database to help users with their SEO. Beyond rank-tracking, the platform offers a vast array of features.
Let's explore them.
Dashboard
The platform offers a setup wizard upon account creation. However, if you don't complete the process, the dashboard will prompt you to set up new tracking before you start using the dashboard.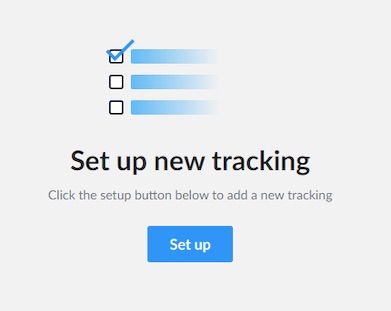 This dashboard gives an overview of all the tools that the platform offers.
Visibility
The tool shows visibility based on the percentage of search engine users who land on your website from your target keywords. Steady or increasing visibility shows that your position on SERP is good. However, if the numbers decline, you should change your target keywords to improve organic ranking.
Traffic
This metric allows you to monitor the exact number of visitors to your webpages daily, monthly, quarterly, and annually. This is useful for tracking local businesses and e-commerce sites because you can track peak periods for more sales.
Position
This feature allows users to track the changes in their site position on SERPs over time. Marketers and agencies can use this metric to show clients the progress they've made on their sites.
Average position
This metric shows the site's rank for a specific keyword. The number is an average search position across search engines. A page's average position data explains why your page's visibility is higher or lower than expected.
SERP features
RankTracker helps you track your pages' SERP features appearances by keyword. But this feature is typically relevant for pages that appear on the first page of a search engine.
Rank tracker
The use of rank trackers isn't limited to big businesses alone. Even small business owners use the tool to improve their local SEO or monthly sales.
It offers a competitive advantage to the user by showing them their campaign performance. It monitors the movement of your site as they go up or down the search engine's result page.
Rank trackers help you monitor your site's visibility, positions, and keywords that drive traffic to your websites.
Your rank tracker data updates daily, but you might witness changes each time you perform a new task. And you can set your rank tracker to monitor global or local data.

This feature lets you track your site ranking in real-time to prevent you from using outdated data. You can also customise the dashboard to show the data that you use often.
Keyword finder
The keyword finder tool helps SEO analysts, marketers, and web admins find the best keywords and search terms for ad creation and on-site optimisation.
RankTracker offers a database of about 3.5 billion keywords to provide the best SEO opportunity for your website.
Here's how it works:
Set a search location if you're targeting a local market, or leave it at global if your audience isn't local.
Click more to expand a keyword for more information on how the keyword has changed over time. It helps to observe seasonal trends and to monitor progress in campaigns.
This feature contains keywords that you can import into RankTracker through the keyword wizard. It starts with a search through the keyword finder tool.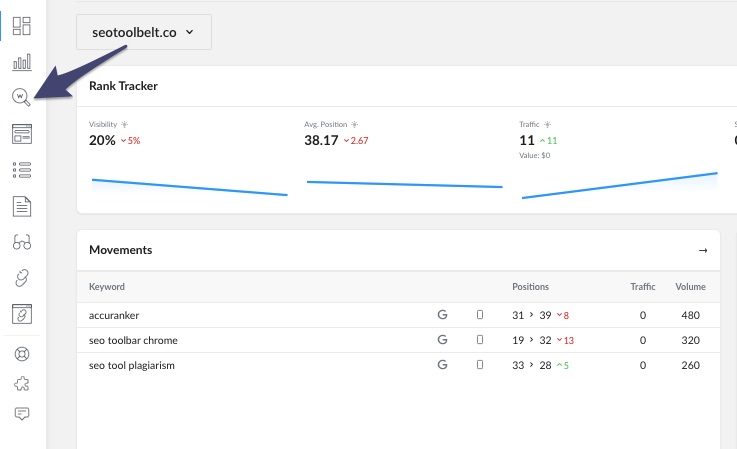 Selecting this tool takes you to a dashboard that allows you to fill in a keyword or domain, choose a location and click the search icon.

This will produce a list of keywords within the location you've chosen. You'll also see the keyword difficulty, trend, volume, CPC, and PPC.
The keyword difficulty score shows how hard it is for a keyword to rank on search engines. The competition is more when the difficulty level is close to 100, so keywords with lower numbers are ideal.

You can see more details about the trend by clicking the blue More button at the top right-hand corner of any keyword detail page.

To add keywords that you want to research to the list, check the boxes at the left side of each keyword.

Clicking 'Add to list' allows you to add to an existing list or to create a new list.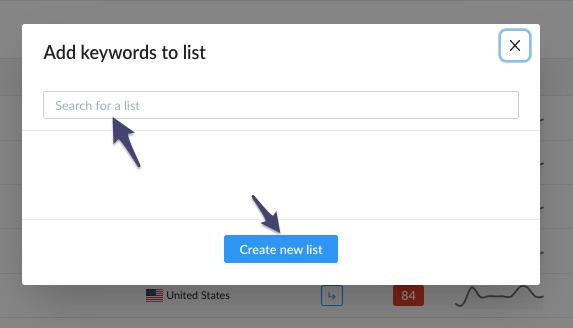 For a new list, click the 'Create new list' button. This will prompt you to enter the name of the list you want to create. Then, click the 'Create list and add keywords' button.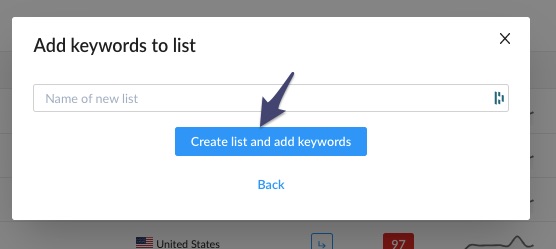 Subsequently, when you click 'Add to list,' you'll also see previously created lists. This allows you to add to them or create new ones.
You can access these lists by clicking the 'List' button beside history.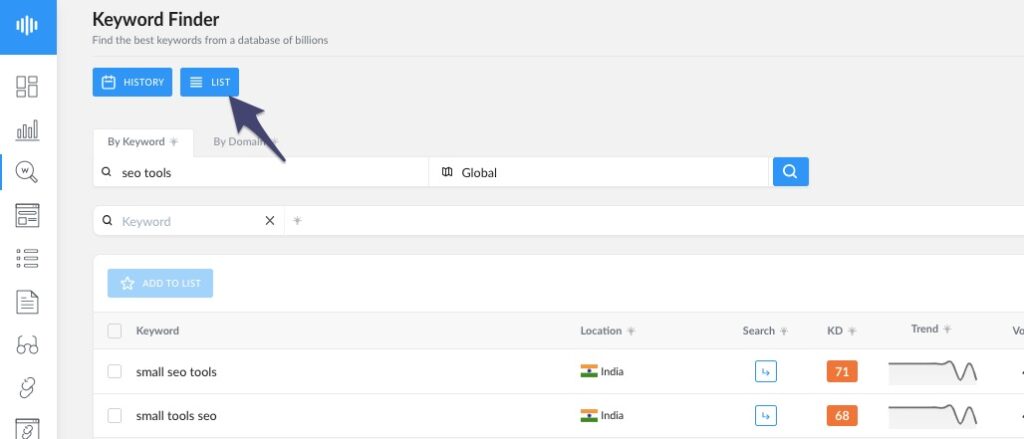 Choose the list you need from the popup by clicking on the link. This takes you to a page that contains the list of keywords it contains.

SERP Checker
You do not need to be a subscribed user to unlock RankTracker's Google SERP Checker. It shows the search engine results on your target keywords and helps you discover your competitors' weak spots.
Enter the keyword or keyphrase that you want to get search results for. Choose the country and device, then click the search icon.
The platform also allows users to search for multiple keywords separately.
This shows you the keyword difficulty of the keyword, its impact ovfty67n SERP features, and other metrics.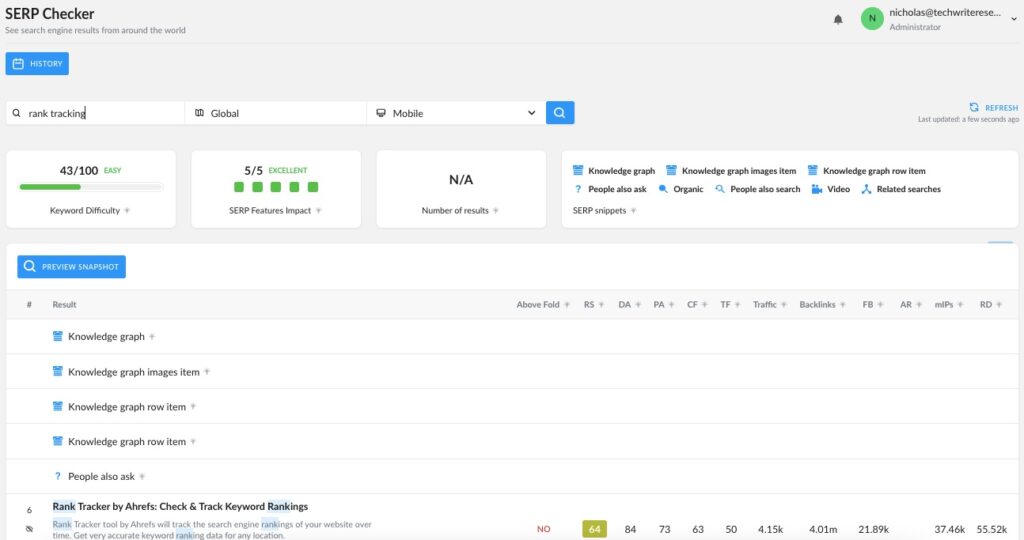 An intuitive SERP checker makes users more eager to use the tool.
Website audit
Website analysis often requires the help of several tools. However, RankTracker's website audit tool bundles all these tools to simplify the process of improving search rankings.
The feature gives a deep health check of the user's SEO through an audit score. It breaks down the problems and divides the issues found into important and semi-important.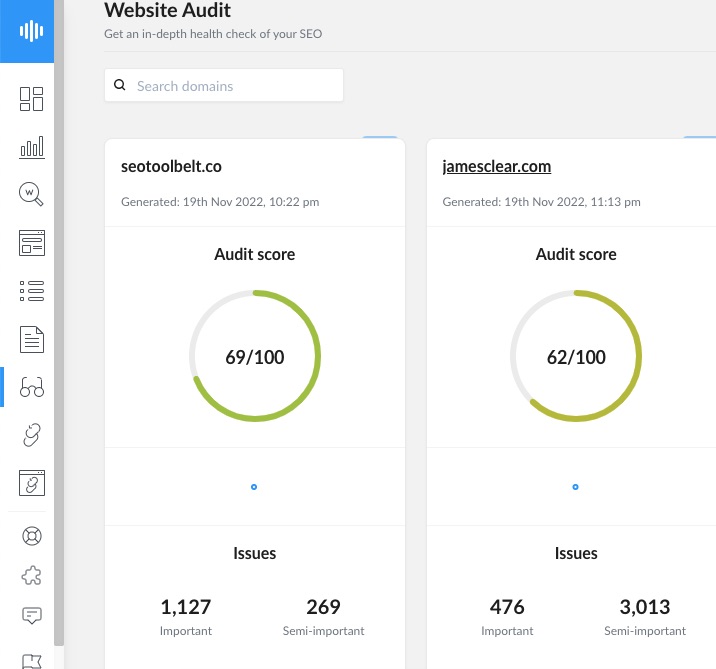 The tool also provides actionable steps that have gone through rigorous testing. It also shows a history of previous audits and past performances.
SEO Checklist
RankTracker's checklist offers a framework that walks users through actionable processes to optimise their sites SEO.The SEO checklist covers six groups, namely:
Setting up
Researching keywords
On-page SEO
Content strategy
Off-page SEO, and
Social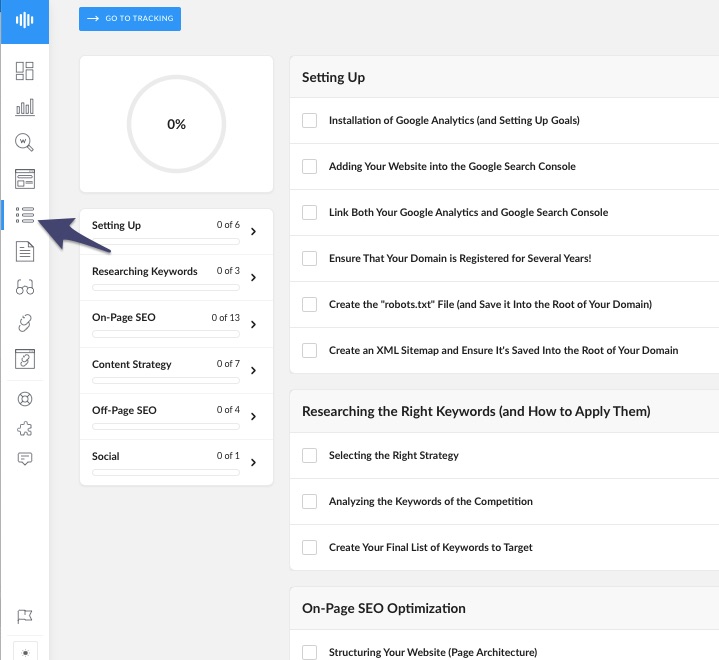 The setup checklist shows you how to optimise your website for the best results. Then you can follow the 'research keyword' steps to get the right keyword for your content to improve your position for SERPs.
Ticking each box on the checklist brings your content to become fully optimised.
Reporting
The reporting feature allows users to provide reports for the domains that they pre-added.
When you click the report feature, the platform shows all the domains that you added before. Click the '+ New' button for the domain.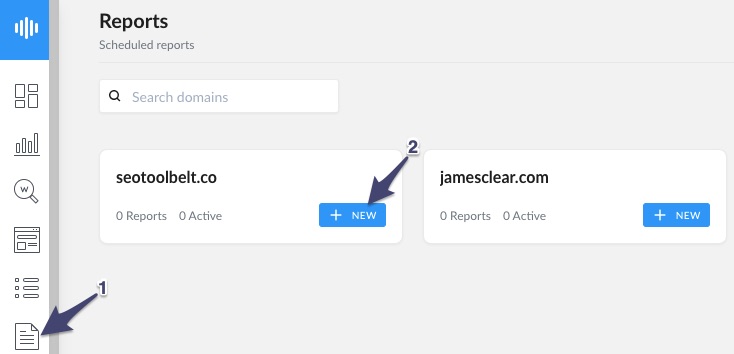 The report is customizable. You can add your logo and decide sections to add or remove from the report.
On the left panel, you can enter the report name and choose how often the report is updated. You can download it as a PDF file.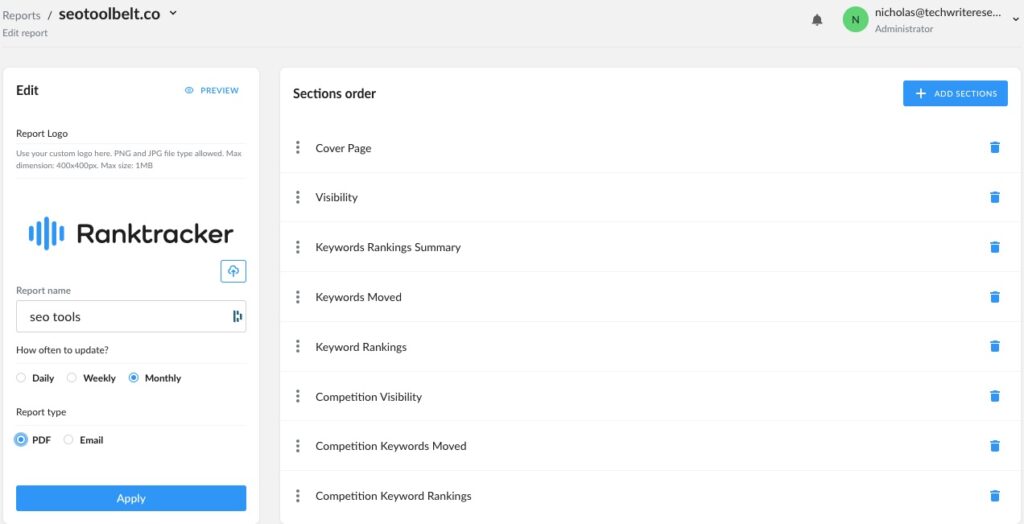 Or you can decide to receive the report through email.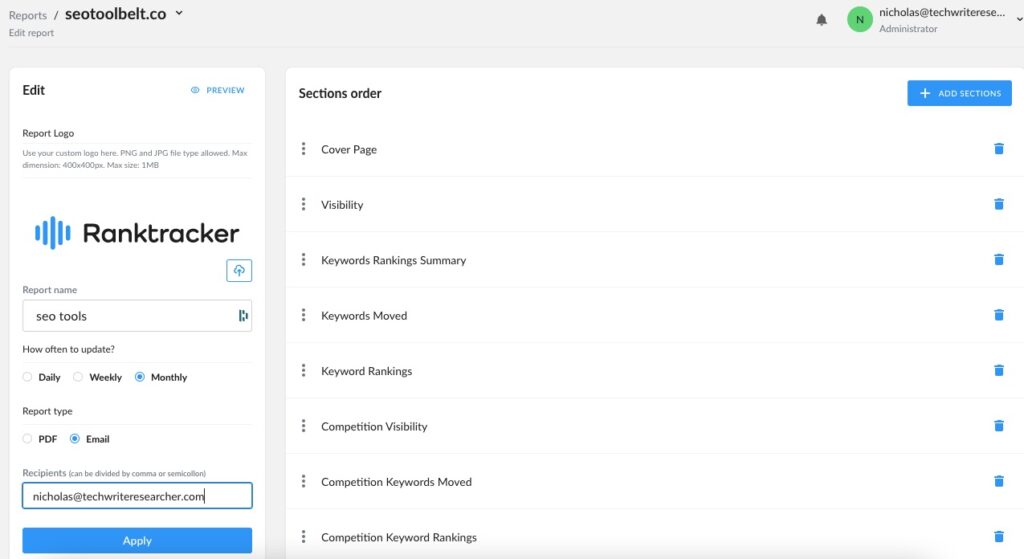 The right section shows that you can add and delete sections as well as arrange the order for all the sections.
Backlink checker
RankTracker provides an easy-to-use backlink checker tool that draws resources from a database of over 2.7 trillion links. It shows users who's linking back to their competitor an how elevant those backlinks are.

The tool breaks down the report into
Backlinks
Percentage of DoFollow
Number of domains, and
The number of IPs.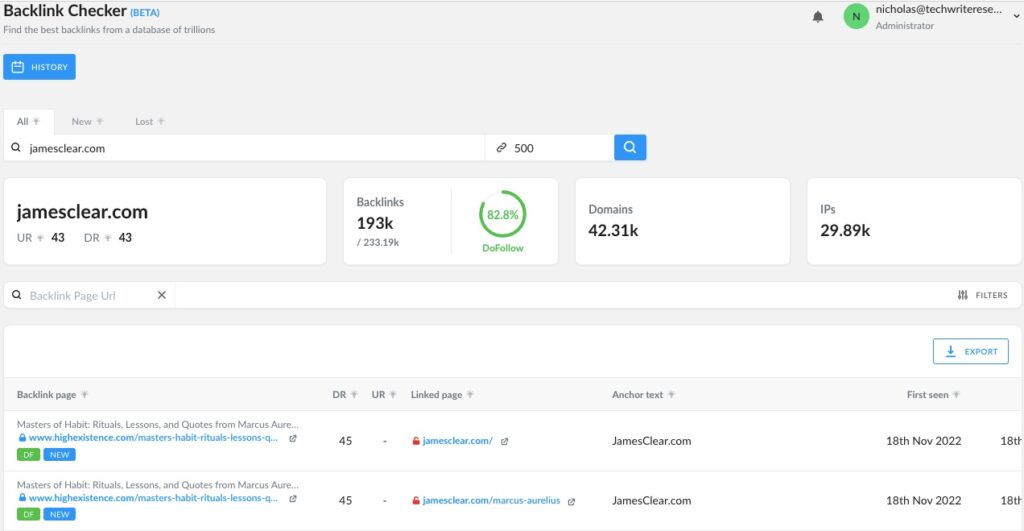 Below the breakdown, you'll see the pages that link back to the domain.
The platform's exclusive lost link data also allows users to get backlinks that help them outperform their rivals.
Backlink Monitor
Search engines like Google, Bing, Yandex and Yahoo index the web to provide quick results to your search queries. So the work of the backlink monitor is to pull from these indexes.
While in the backlink monitor tool, you can start monitoring any backlinks to a domain or URL by clickin the 'Add monitor' button.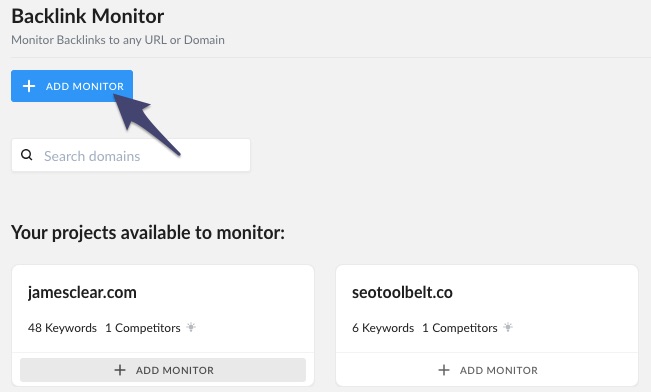 After filling the necessary fields, click the 'Finish' button.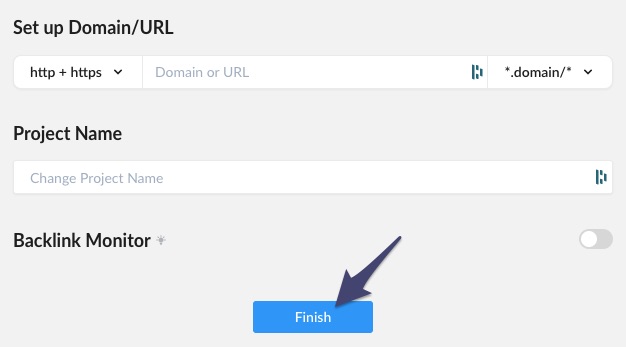 Turning on your backlink monitor shows that you intend to get in-depth analysis on webpages that are using your backlink.
The backlink monitor would show you
Status code
Broken backlinks
Each page's custom URL rating
Referring pages and domains
Spam score
Referring IP, and more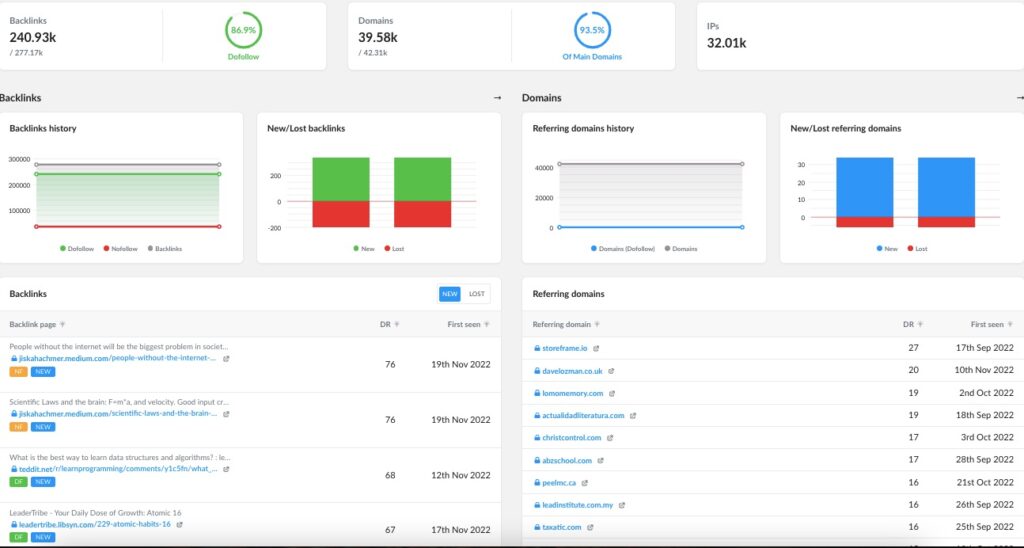 If you deal with backlinks manually, you might still have to
Take action with the information
Decide the best steps to take
Get high-quality backlinks
Gather enough backlinks to improve search ranking
Albeit, the platform handles all these processes for you.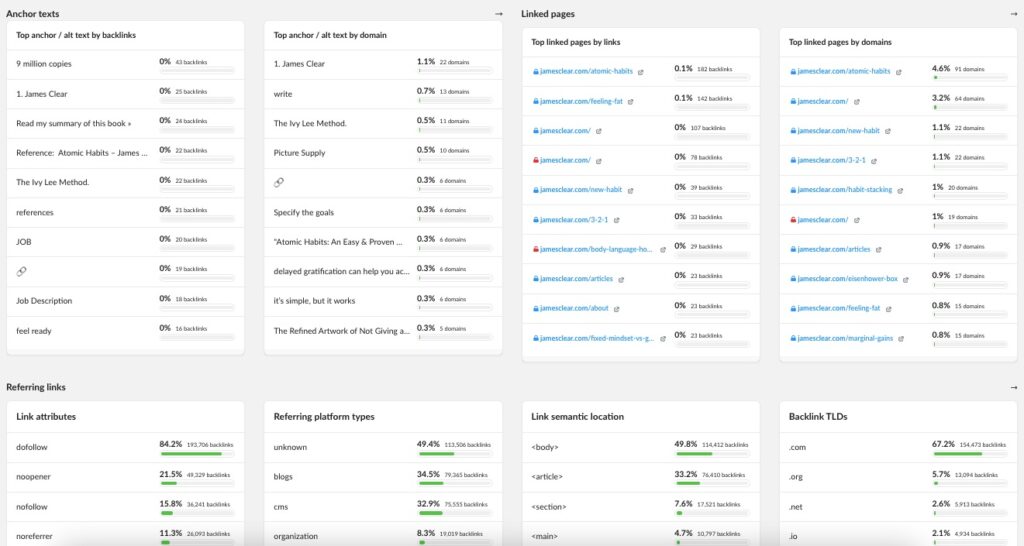 Customer support
The help desk allows users to get help by searching the help centre. When you start typing your query, the platform provides suggestions.

The platform also provides frequently read articles to help users with guides to help themselves.

The platform also groups processes that help complete a task into categories.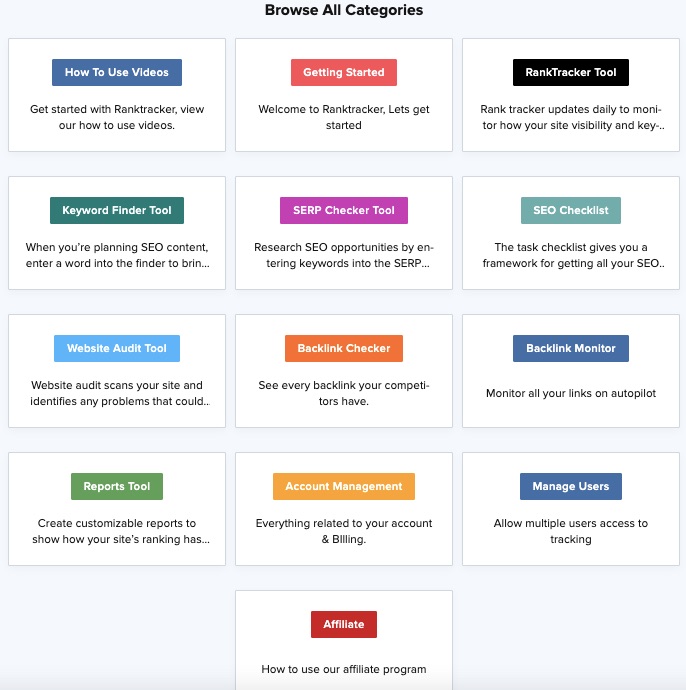 However, if you need more help, you can chat with RankTracker customer support through the LiveChat feature.
Pricing
RankTracker offers four pricing plans and allows users to choose between a monthly or annual payment type.
You can contact customer support for a quote if the plans don't meet your expectations.
Monthly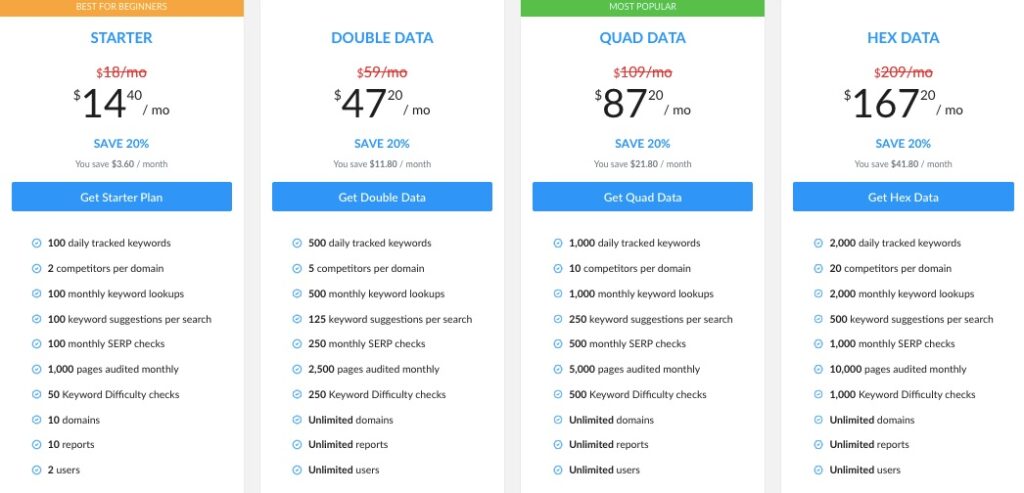 Starter ($14.40 per month): Tracks 100 keywords daily and monthly lookup
Double data ($47.20 per month): Tracks 500 keywords daily and monthly lookup
Quad data ($87.20 per month): Tracks 1,000 keywords daily and monthly lookup
Hex data ($167.20 per month): Tracks 2,000 keywords daily and monthly lookup
Annually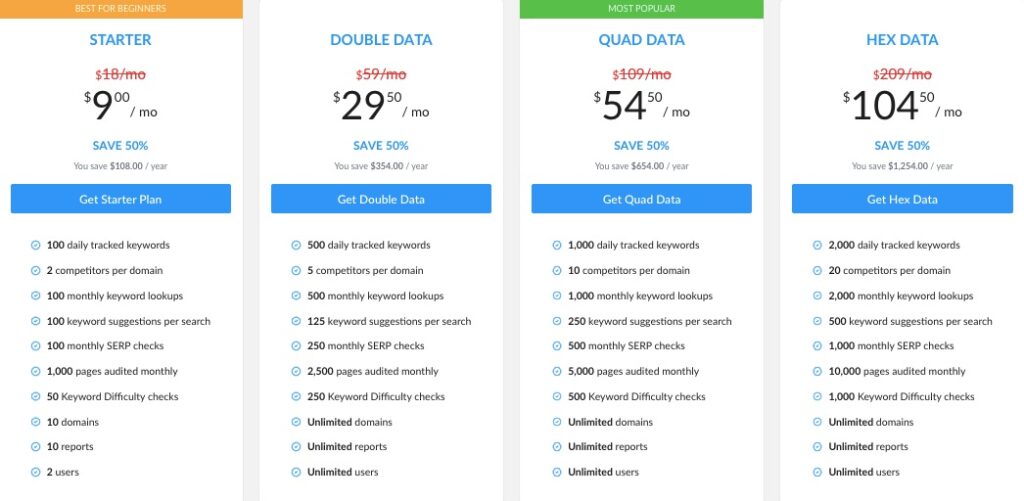 Starter ($9 per month): Tracks 100 keywords daily and monthly lookup
Double data ($29.50 per month): Tracks 500 keywords daily and monthly lookup
Quad data ($54.50 per month): Tracks 1,000 keywords daily and monthly lookup
Hex data ($104.50 per month): Tracks 2,000 keywords daily and monthly lookup
Is pricing fair?
Pricing is fair because you can choose to unsubscribe during the trial period if you don't like the offer. For a beginner-friendly all-in-one tool, RankTracker prices significantly lower than many of its competitors.
FAQs
What payment methods does RankTracker offer?
The platform accepts PayPal and other major credit cards like Mastercard, Visa, Discover, UnionPay, and American Express.
What currency would you subscribe with?
You can select any currency from the payment page.
Are there any hidden charges or setup fees?
The platform doesn't include any hidden charges, setup fees or contracts. You're free to cancel your subscription or switch plans at any time. Albeit, PayProGlobal, the platform's reseller, might add taxes to the final fee depending on the user's location.
What is RankTracker's refund policy?
The platform doesn't offer a refund policy during discounted promotions. So, you can use the cheapest plan to decide whether to continue.
Final thoughts
RankTracker is a user-friendly all-in-one SEO tool that makes beginners appear like professionals.
Although the tool is affordable, the platform allows users to experience the Double data and Quad data plans for free before deciding whether to continue.
---
Sam Underwood
Sam is an international Ecommerce SEO Consultant with experience implementing enterprise-level SEO strategies.