SEOTesting review
This tool runs split tests to see what aspects of SEO will work before taking the steps to implement them.
4

Publish date:

June 6, 2023

Author:

Nimit Kapoor
Visit site
---
---
Pros
Reasonably priced as compared to other SEO tools.

Google algorithm update annotations are displayed on graphs making it easy to analyze impact.

Google Data Studio connector is available for the tool.

The tool allows users to run SEO Tests on historical data.

SEOTesting has live chat that enables fast response times.

Integration with ChatGPT to generate content ideas.
Cons
Integrated with Google Search Console, so there is a 2-day time lag on data.

Only provides search data for Google - does not support other search engines.

Only useful for On-Page SEO

The tool only has monthly plans - you must talk to the support team for annual plans.

Limited toolkit - not comprehensive enough for big agencies.

Lacks features for conducting competitor analysis.
---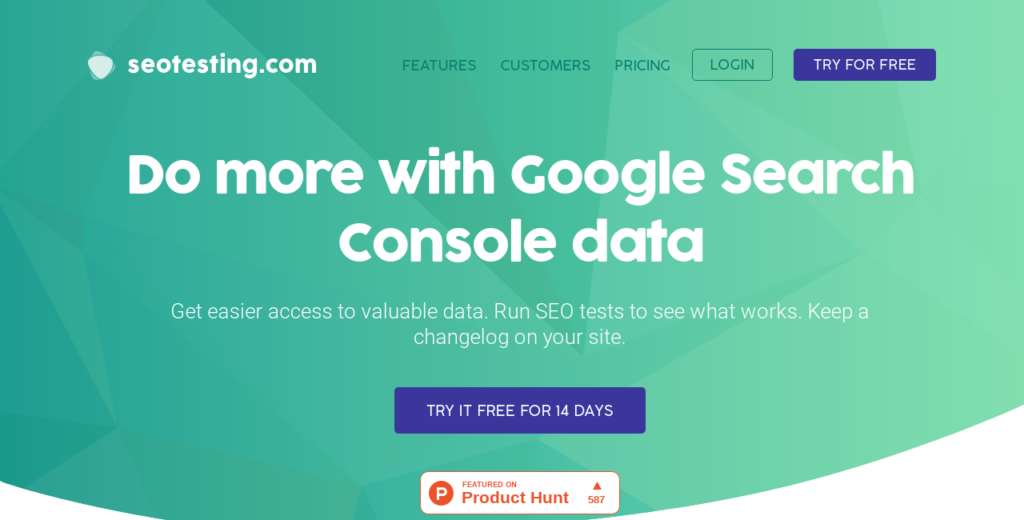 If you want to unlock the full potential of your Google Search Console Data and run effective SEO tests, SEOTesting is definitely worth exploring. It's a specialized SEO tool focusing on On-Page SEO and offering useful features.
In this review, I'll dive into how useful SEOTesting is, rating it on important aspects like features, design, value for money, and the level of support it offers. I will also provide you with some alternative options so you can make an informed decision when investing in an SEO tool.
The TL;DR version
What is SEOTesting?
SEOTesting is a powerful SEO tool designed to unlock valuable insights from your Google Search Console data. Its ability to run SEO tests and connect efforts to tangible results takes the guesswork out of optimization.
Additionally, the tool provides a variety of reports to identify untapped opportunities, pinpoint underperforming content, and drive significant improvements in organic click-through rates (CTRs).
While SEOTesting may not be an all-in-one SEO solution, it excels at its core functionality. It caters to in-house SEOs, consultants, agencies, and publishers who prioritize conducting SEO tests for better performance.
Key Features
SEOTesting offers a multitude of features designed to elevate your SEO Strategy:
SEO Testing – The software enables users to perform various types of SEO tests, such as time-based tests, group tests, SEO split tests, and URL switch tests. These tests provide valuable insights into the impact of website changes on organic search traffic and rankings.
Annotations – SEOTesting automatically displays Google Algorithm Updates annotations on graphs, facilitating analysis of their impact. Custom annotations can also be added to remember key events that influenced traffic.
Reporting – The tool offers a variety of reports to assist you in uncovering untapped opportunities, enhancing existing content for higher click-through rates, conducting comprehensive content audits, and identifying critical site issues that may have caused a decline in traffic. These reports empower you to make data-driven decisions and take actionable steps toward optimizing your website's performance.
Rank Tracking – SEOTesting provides a free rank-tracking tool for up to 500 keywords. You can opt for one of the paid plans to track a higher number of keywords. You also have the option to receive daily email alerts for rank changes for your selected keywords.
ChatGPT Integration – The tool allows users to generate content ideas by using existing keywords as seed keywords with the help of ChatGPT. This feature is particularly useful for effectively forming topic clusters and expanding content strategies.
Third-Party Integrations – SEOTesting integrates smoothly with Google Data Studio, enabling the creation of custom reports based on SEO test results. It also offers a Google Chrome extension for real-time viewing of GSC data while browsing your site.
SEO Testing
As the tool's name suggests, SEOTesting was designed to make it easy for users to conduct various tests to measure the impact of website changes on organic search traffic and rankings. With the ability to conduct time-based tests, group tests, SEO split tests, and URL switch tests, SEOTesting is one of the best SEO tools available for this purpose.
Aleyda Solis, a well-respected SEO consultant, has called SEOTesting "the most straightforward platform to help run SEO tests."
Agencies or freelance SEOs can use the SEO tests to showcase the website's performance before and after they were onboarded to work on the website. This can be a valuable way to demonstrate the value of their services to potential clients.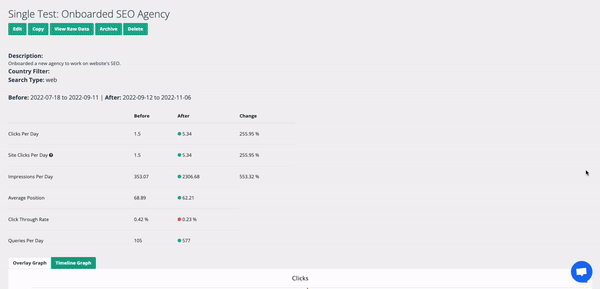 The tool has several features that enhance its SEO testing capabilities. These features include:
The ability to conduct tests on historical data. This means that you can measure the impact of website changes that have already been made.
The ability to conduct tests at the page, query, or site level.
The ability to conduct tests to measure the impact of URL redirects. This can help you understand how redirects affect your website's traffic and rankings.
Annotations
The tool automatically displays confirmed Google Algorithm Updates annotations on graphs, making it easy to analyze their impact. You can also add custom annotations to remember key events that influenced traffic.
These annotations appear on every graph but can easily be toggled off.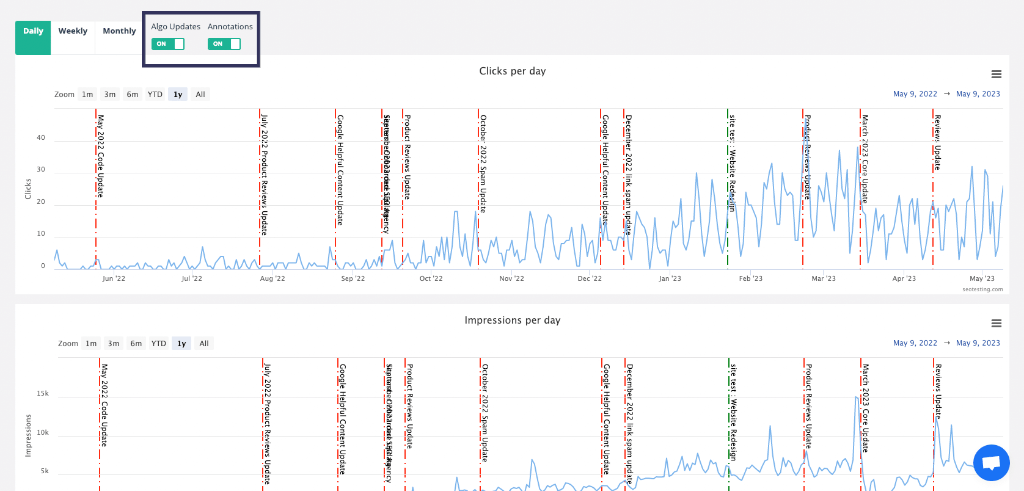 Adding a custom annotation is extremely easy. You have to enter a title, description, URL, and date. You can also upload a .csv file with multiple annotations.
Some situations where you might want to use custom annotations are:
To track the launch of a new product or service
To mark the beginning of an SEO campaign
To note a change in website design or content
This makes it easy to make informed decisions about website and SEO strategies.
Reporting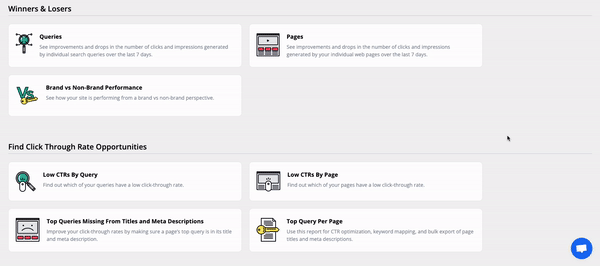 SEOTesting is a powerful tool that provides 19 different reports across 5 main categories:
Winners & Losers: These reports show how many clicks and impressions your website has received for individual search queries and web pages over the past 7 days. They also allow you to compare your website's performance for brand and non-brand keywords.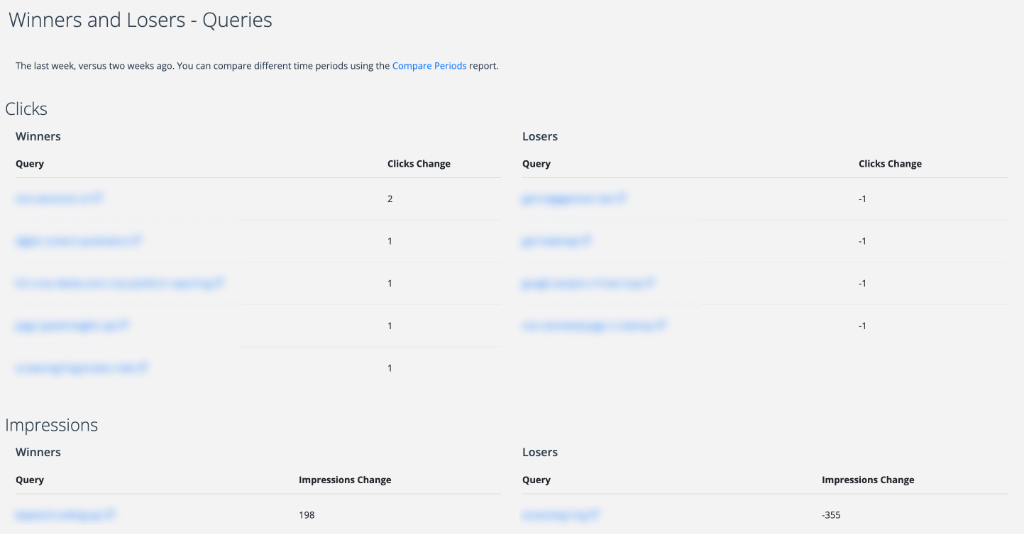 Find Click-Through Rate Opportunities: These reports are a great way to identify which search queries and pages have low click-through rates (CTRs). The "Top query per page" report shows you the top queries for each page on your website based on either clicks or impressions over a certain time period. You can get these reports for the top pages per Google Search Console or paste your URLs.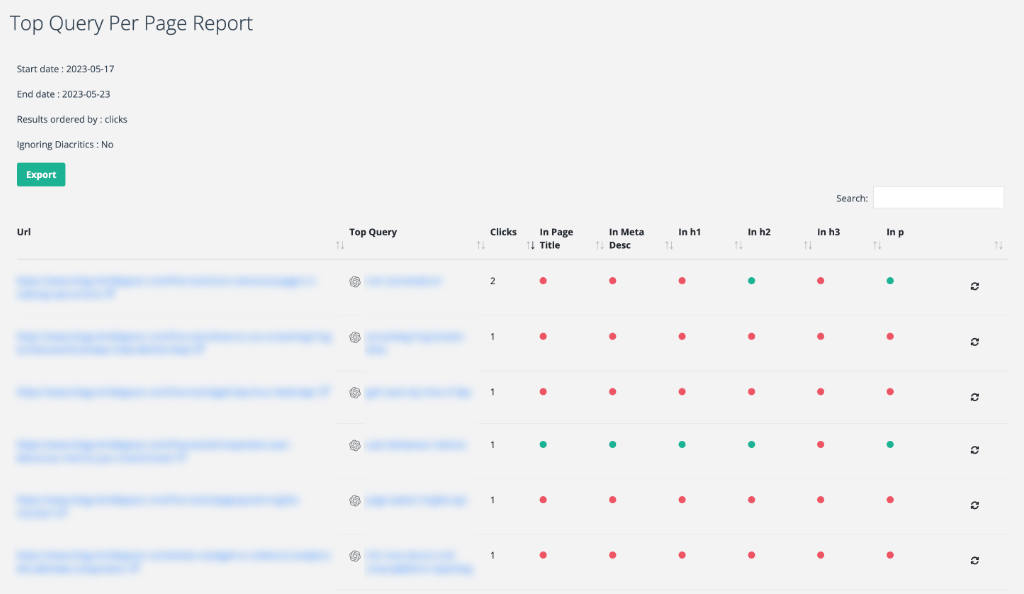 Content Reports: In this section, you will find various reports such as "Striking Distance Keywords," "Long Tail Keywords," and "Questions to Answer." These reports are designed to assist you in identifying valuable opportunities that are within reach. Using these reports, you can pinpoint keywords on the verge of reaching the first page of Google's search results and can be optimized with minor adjustments. Additionally, you can discover long-tail keywords and questions for which your website is already ranking, allowing you to develop a content strategy focused on those areas. Furthermore, the section includes other reports that aid in identifying pages experiencing a decline in traffic and requiring significant improvements in order to achieve higher rankings.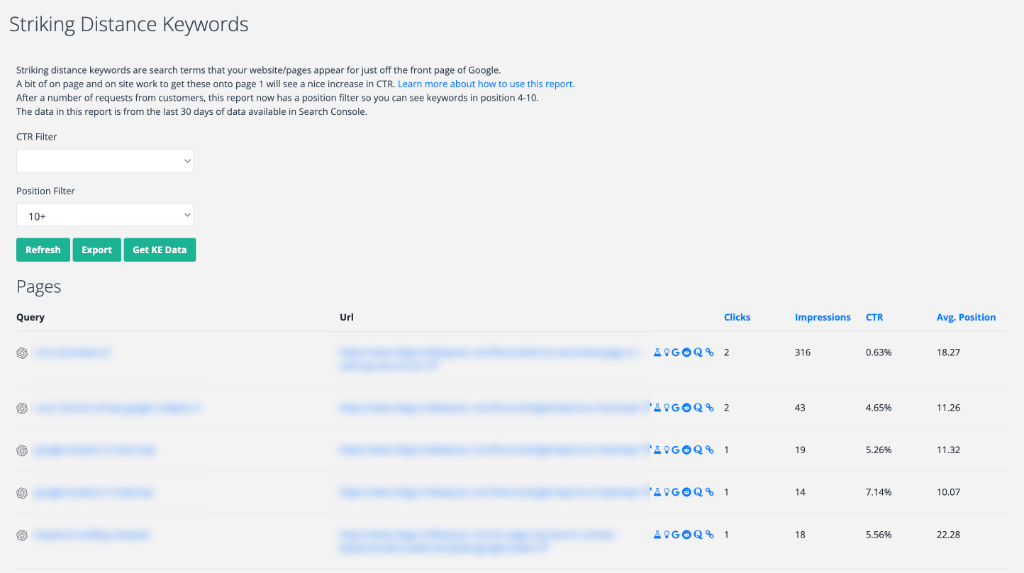 All Data: These reports provide all the data collected for your site's queries and all pages.
Keyword Cannibalization: This report assists you in determining if multiple pages are competing for the same keyword ranking.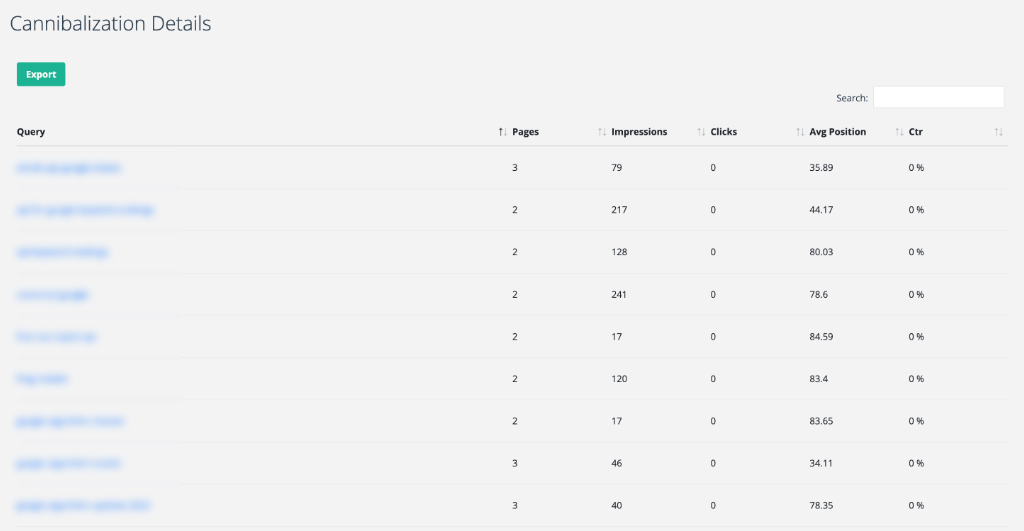 Rank Tracking
SEOTesting allows users to monitor the ranking of selected keywords through its paid app and a separate free rank tracker app.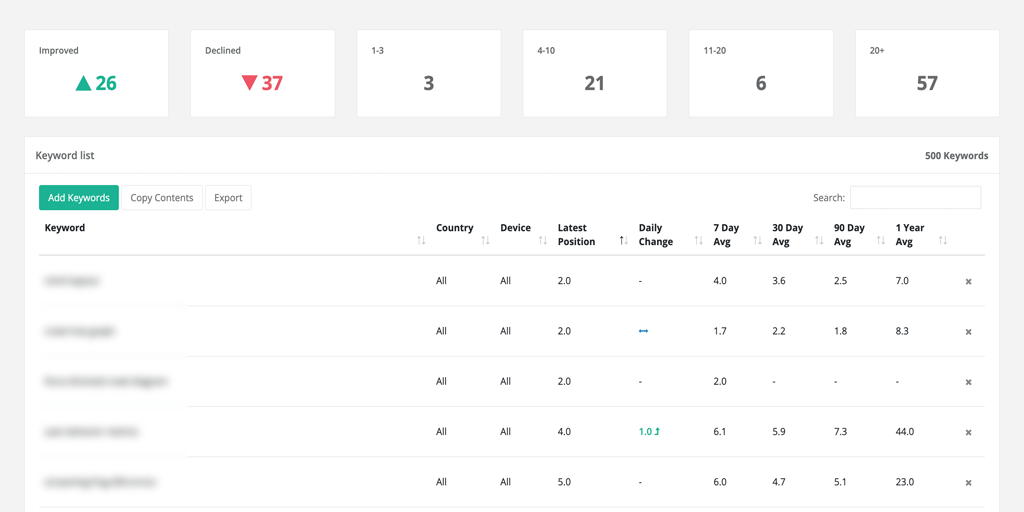 SEOTesting free rank tracker app

SEOTesting paid rank tracker
While the free rank tracker app is limited to tracking up to 500 keywords, its user interface and features surpass those of the paid app. For instance, the free rank tracker app allows users to import keywords from Google Search Console, whereas the paid app requires manual entry of keywords and associated landing pages.
Furthermore, the free rank tracker app includes the display of rank buckets, which is not available in the paid version.
I think it's quite counterintuitive to have the free version outperform the paid one.
ChatGPT Integration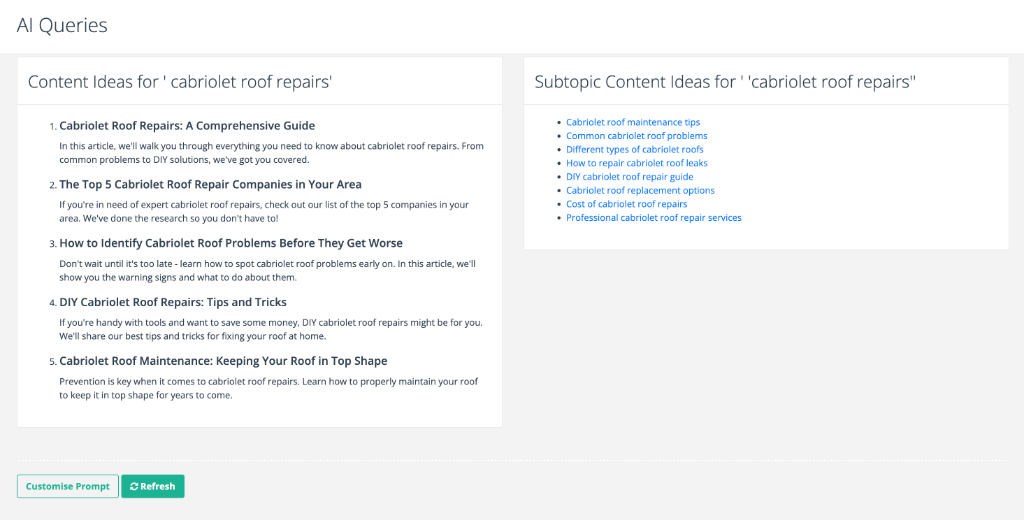 From the "All Queries" report, users can select any keywords as a seed keyword to generate new content and sub-topic suggestions using ChatGPT.
What's unique about this feature is that it allows the users to customize the ChatGPT prompt if they wish to.
Third-Party Integrations
SEOTesting has developed a seamless integration with Google Data Studio, enabling you to effortlessly create personalized reports using the SEO test data you collect.
Additionally, integration with Keywords Everywhere is also available, although it may not be immediately apparent. Within the New Keywords, Search Intent Keywords, Questions To Answer, and Striking Distance Keywords reports, you will be able to use Keywords Everywhere to find competition metrics, estimated monthly search volume, and other data related to query-based reports.
Furthermore, the company offers a Google Chrome extension that grants you access to Google Search Console data as you navigate your website and conduct on-page analysis.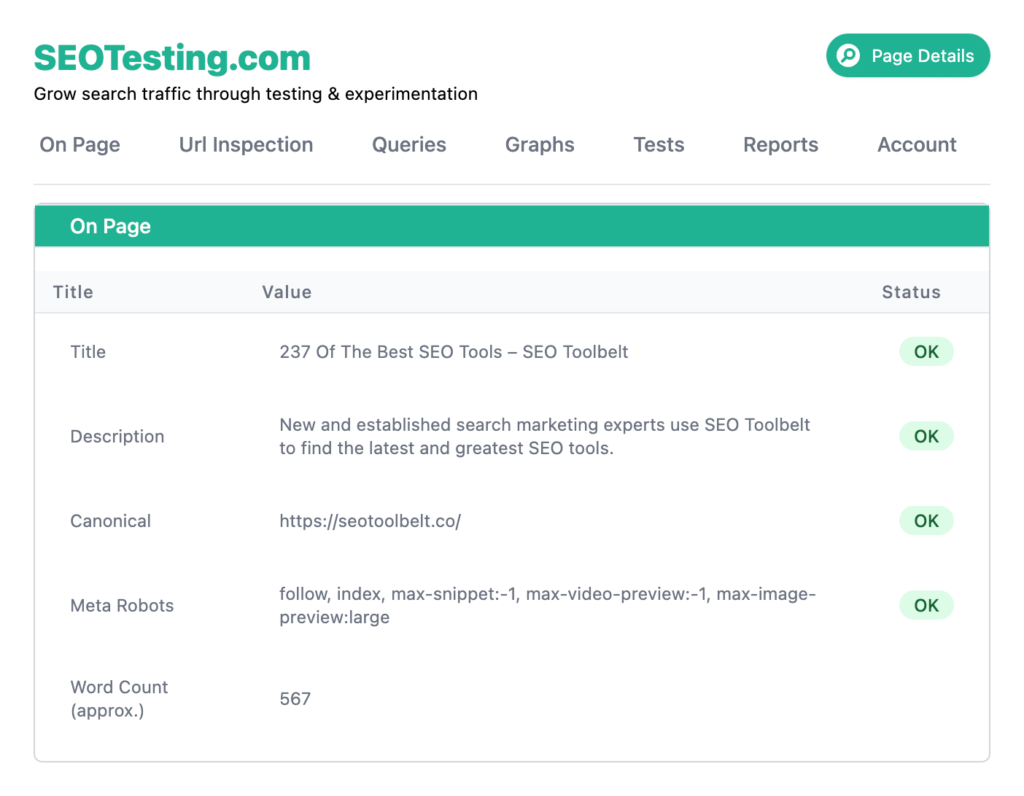 Customer Support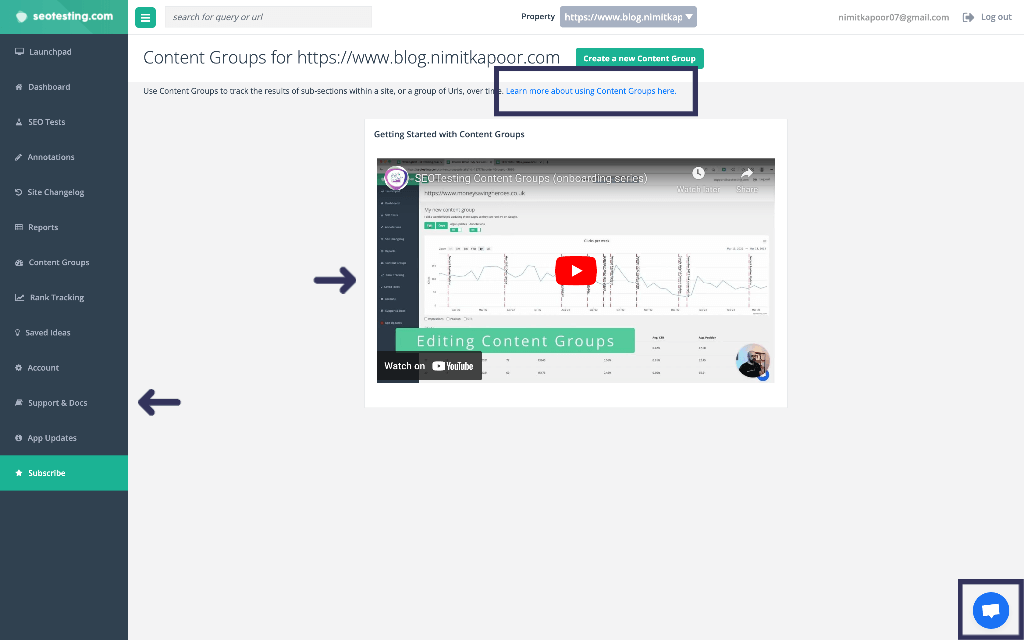 SEOTesting really excels when it comes to its documentation. They have done a great job explaining each feature of the tool, and the documentation is easily accessible from the navigation.
In each section, they provide a short description of the feature and a link to the relevant documentation. Some features, like custom annotations and content groups, even have video tutorials right there in the section. This way, you can watch and learn how to use those features to their full potential. Their YouTube channel has around 120 tutorial videos as well.
Furthermore, they have a chat widget in the bottom right corner, making it easy to ask for help. The chat support is available from 9 am to 5 pm UK time. If you reach out outside of these hours, they will get back to you via email.
Overall, SEOTesting ensures that you have all the information and support you need. Their documentation is top-notch, they provide handy video tutorials, and the chat widget is there for any questions or assistance you may need.
Pricing
SEOTesting has 3 different pricing plans billed monthly.
| Plan | Sites | Price (USD per month) |
| --- | --- | --- |
| Single Site | 1 | $40 |
| Team | 5 | $100 |
| Agency | 20 | $300 |
SEOTesting provides a 14-day free trial, allowing users to explore the tool and its full range of capabilities thoroughly.
The company does not currently offer annual plans. If you specifically require an annual plan, you must contact them directly. Additionally, if your website count exceeds 20 or falls between the numbers offered in the existing plans, you can contact them to customize a plan tailored to your needs.
One advantage of SEOTesting is that it does not charge per-user. This means you can add additional users without incurring any additional costs.
Considering that the tool is designed only for SEO testing and on-page SEO, I think the starting price of the tool is quite high compared to other alternatives. For example, an Ahrefs plan is $79, and there are many more features than SEOTesting provides.
However, I understand the pricing. There is a relatively high cost for storing all your GSC data, and they do continuously add new features.
Competitors
While numerous SEO tools are available in the market, it's worth comparing SEOTesting, Jetoctopus, Sitechecker, and Big Metrics since they offer similar functionalities.
Tools
Features
Pricing
UX/Design
Support
SEOTesting
SEOTesting is designed keeping SEO tests in mind. It also provides additional reports to help users identify and fix on-page SEO issues.
Compared to tools like Sitechecker, SEOTesting's pricing, starting from $40/month, is relatively higher considering its limited toolset.

It also does not offer discounted annual plans. 
SEOTesting has a bit of an outdated user interface.

Currently, the app is quite easy to navigate because of the limited amount of features that the app provides. However, design is certainly one area the app could improve.
SEOTesting takes the lead in terms of support. Their chat widget proves highly valuable for prompt assistance, while their comprehensive documentation covers all features in detail.
Jetoctopus
Jetoctopus offers two products: the Log Analyser, which identifies issues like crawl budget wastage and page experience, and a GSC module similar to SEOTesting, providing valuable insights from Google Search Console (GSC) data.
Jetoctopus is the priciest option among the tools, starting from $171/month. Even though Jetoctopus provides an array of additional features, including a log analyzer and integrations with Google Search Console (GSC) and Google Analytics (GA), the pricing of the tool seems disproportionately high considering its rich feature set.
Jetoctopus boasts a user-friendly and visually appealing UI, making it effortless for users to navigate and utilize its various features. The clean and simple graphs are also less intimidating, making it easier for users to understand and interpret the data.
Online support is available with Jetoctopus. The company also has a How-to guides section on its blog that teaches the user how to perform certain tasks using the tool.
Sitechecker
Sitechecker is the most feature-rich tool among the four. It integrates not only with Google Search Console (GSC), but also with Google Analytics, providing users with convenient access to all relevant data in one place. In addition, Sitechecker offers a wide range of extra features for enhanced website monitoring, including page speed monitoring, website uptime tracking, monitoring of robots.txt file changes, analysis of internal links, and meta tag management.
Sitechecker stands out as the top choice for value for money, as it offers pricing starting from $39/month, which is comparable to SEOTesting. What sets Sitechecker apart is that it provides competitive pricing and includes a generous array of additional features that enhance its value proposition.

However, it's worth noting that it provides a demo account, but there's no free trial where you can explore the tool using your own site data. 
Sitechecker's UI is also sleek and intuitive, with easy navigation and access to various features.
SEOTesting has a chat widget available so users can instantly get answers to their questions. The tool provides quick access to the documentation and the Facebook community. However, the community is not highly active. 
Big Metrics
Big Metrics shares many similarities with SEOTesting, offering similar features and reports. However, Big Metrics sets itself apart with two additional features: a predictive analytics report and a content editor. The predictive analytics report allows for insights into future performance, while the content editor enables users to add target keywords and create optimized content within the editor and collaborate with content teams.
Big Metrics charges users $49 per month per site. Even with this price, there are restrictions on the number of custom reports and SEO Tests that users can have per site, making SEOTesting a better choice compared to Big Metrics.
Big Metrics' UI appears to be an area for improvement as well.
Big Metrics falls short in terms of customer support. The app lacks a chat widget, doesn't provide documentation links, and the product's support email is difficult to locate.
Alternatives
If you want to conduct SEO tests and measure the impact of website changes, then SEOTesting is a great choice. However, there are still some alternatives that allow you to extract valuable insights from GSC Data:
Duplicate Content

Sitechecker

Sitechecker surpasses SEOTesting in terms of its extensive feature set. With offerings such as integration with Google Search Console (GSC) and Google Analytics (GA), page speed monitoring, site audits, and a backlink tracker, Sitechecker caters to users seeking a comprehensive solution beyond just SEO testing.

Reporting

Big Metrics

Big Metrics is another alternative to SEOTesting that sets itself apart with some additional features like the predictive analytics report and the content editor. However, if these features are not essential to your requirements, SEOTesting remains a better choice considering factors such as pricing and support.
FAQs
How accurate is SEOTesting?
SEOTesting is exceptionally accurate as it integrates and extracts data directly from Google Search Console. However, it's important to note that there is a 2-day time lag, which means the data may not be the most up-to-date.
Is SEOTesting good for SEO?
SEOTesting is great for conducting SEO tests and measuring the impact of website changes but it is not an all-in-one SEO tool and would need to be used in conjunction with other tools.
Is SEOTesting suitable for large agencies?
Large agencies requiring plans for more than 20 sites can contact the support team, and the company claims to be able to accommodate everyone by building tailored plans for them.
Is SEOTesting easy to use?
SEOTesting is quite user-friendly, with relevant documentation readily available throughout the app and easy access to all features via the navigation menu.
Summary
SEOTesting is an excellent choice for conducting SEO tests and measuring the effects of website modifications on organic traffic and impressions. The tool's supplementary reports aid in identifying quick wins and enhancing site traffic with minimal effort.
However, SEOTesting is not an all-in-one SEO tool and may need to be supplemented with other tools.
We hope this review of SEOTesting has provided valuable insights. Have you used it before? We'd love to hear about your experiences!
---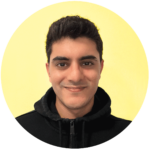 Nimit Kapoor
Nimit Kapoor is a Digital marketer with a passion for fostering brand-customer relationships through innovative strategies and analytics.
Skills:
Technical SEO, SEO strategy, Content strategy