Generate title tags in bulk
AI title tag generator
Don't like writing title tags? Well, now you don't have to. With this tool, we'll generate title tags for thousands of pages using AI, saving you the hassle.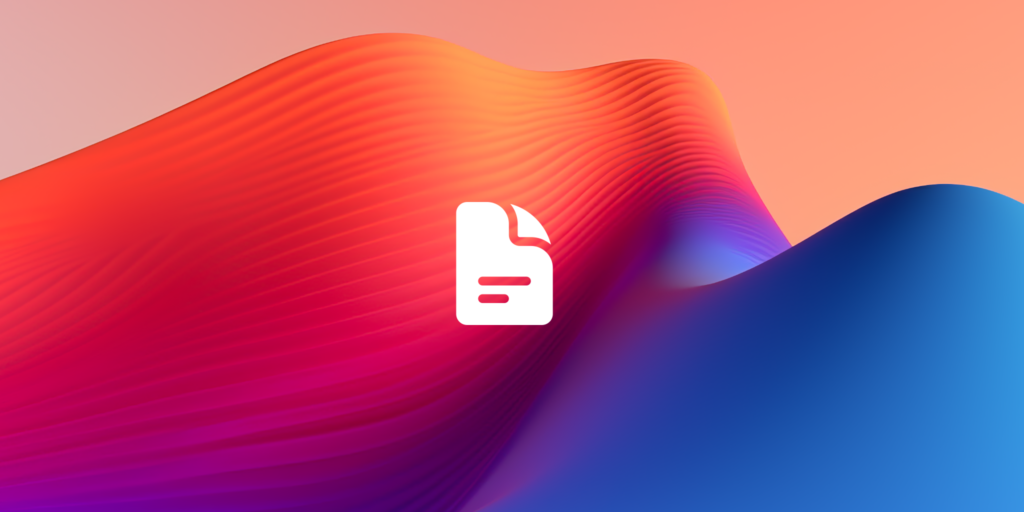 Using our AI title tag generator
September 7, 2023

4 minutes

Sam Underwood
Creating effective title tags has always been essential for SEO and user experience. They communicate the essence of your page's content to search engines and users, influencing click-through rates and how well you rank. But, with many pages on a site, crafting unique and effective title tags can be daunting. This is where our AI Title Tag Generator comes into play.
Our tool is designed to simplify and enhance the process of creating title tags using AI. Here's how you can leverage it for maximum results.
Key benefits
Efficiency: No need to manually craft title tags for each page. Generate individual or bulk title tags in moments.
Flexibility: From creating a single title to thousands, get results tailored to your exact needs.
Optimal Length: Automatically shorten title tags that are too lengthy, ensuring they fit search engine guidelines.
Customization: Tailor your title tags with optional fields like brand name and language, providing more specificity to your audience.
Security: Save your API key securely to your account, eliminating the need for repetitive entry.
1. Generate an individual title tag
The form-based generator is perfect for single title tag creation. To use this:
Enter your page name, page type, and target keywords.
Optionally input your brand name and select the language if applicable.
Click "Generate" and voila! The AI will provide you with a compelling title tag. Plus, depending on your requirements, you can generate 1 to 5 example title tags for a single page.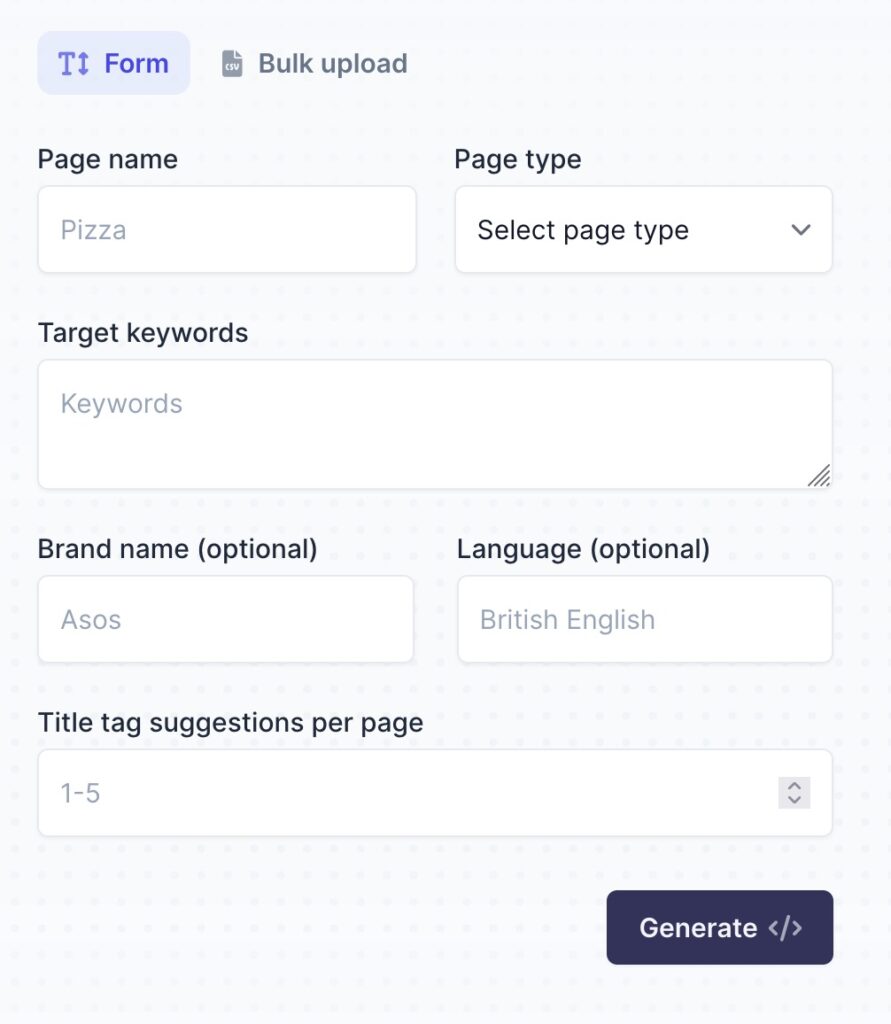 2. Save your API key
Don't want to input your API key every time? No worries. Securely save your API key to your account for future use.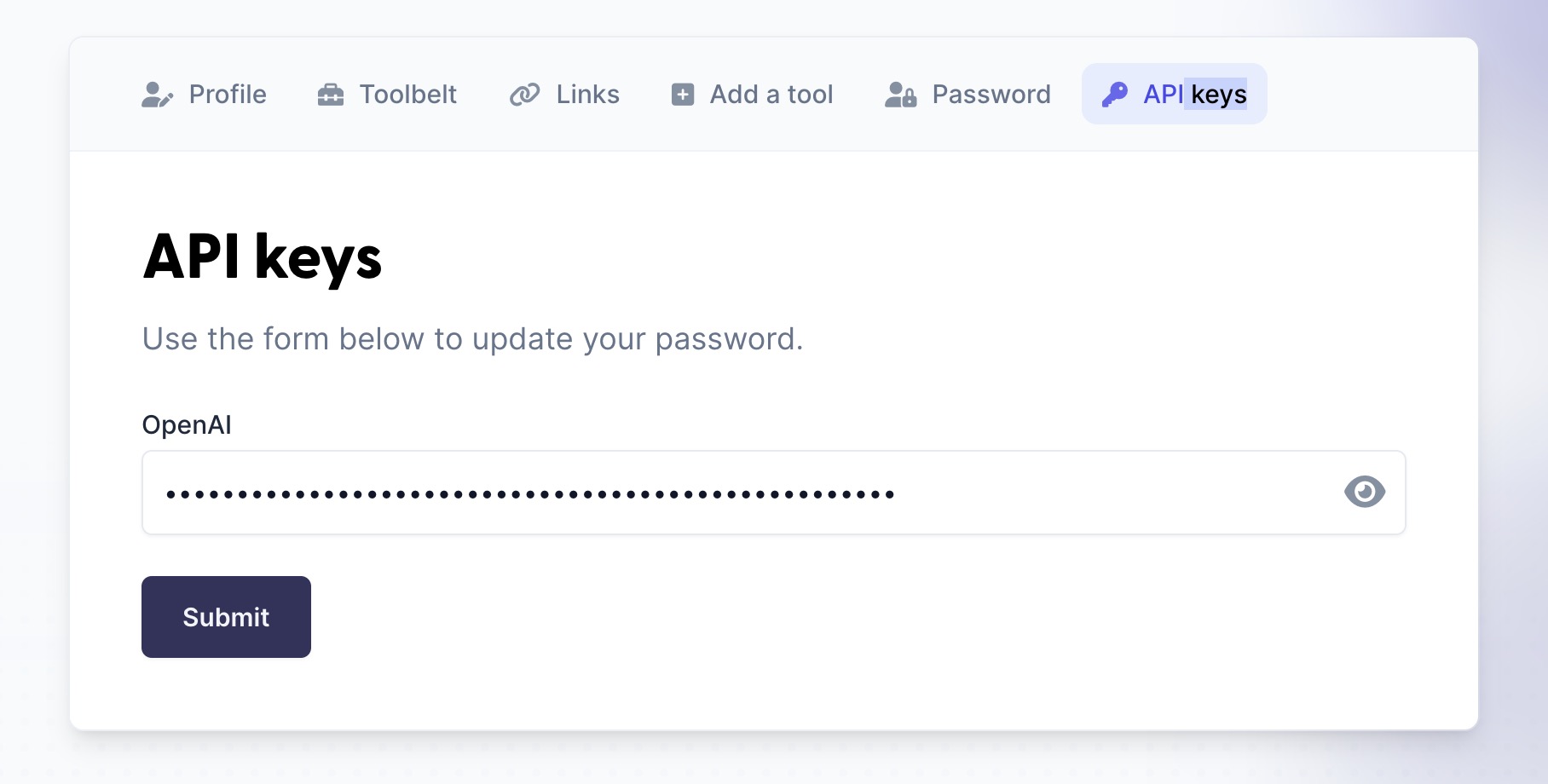 3. The power of bulk generation
Got a lot of pages? Our bulk generate option is what you need:
Create a CSV file with columns: Page Name, Page Type, Keywords, Brand Name, Language.
Upload this CSV file.
Toggle the paid API and sign up timing options. Toggling these to on will increase how quickly we query the API, allowing you to generate thousands of title tags quickly.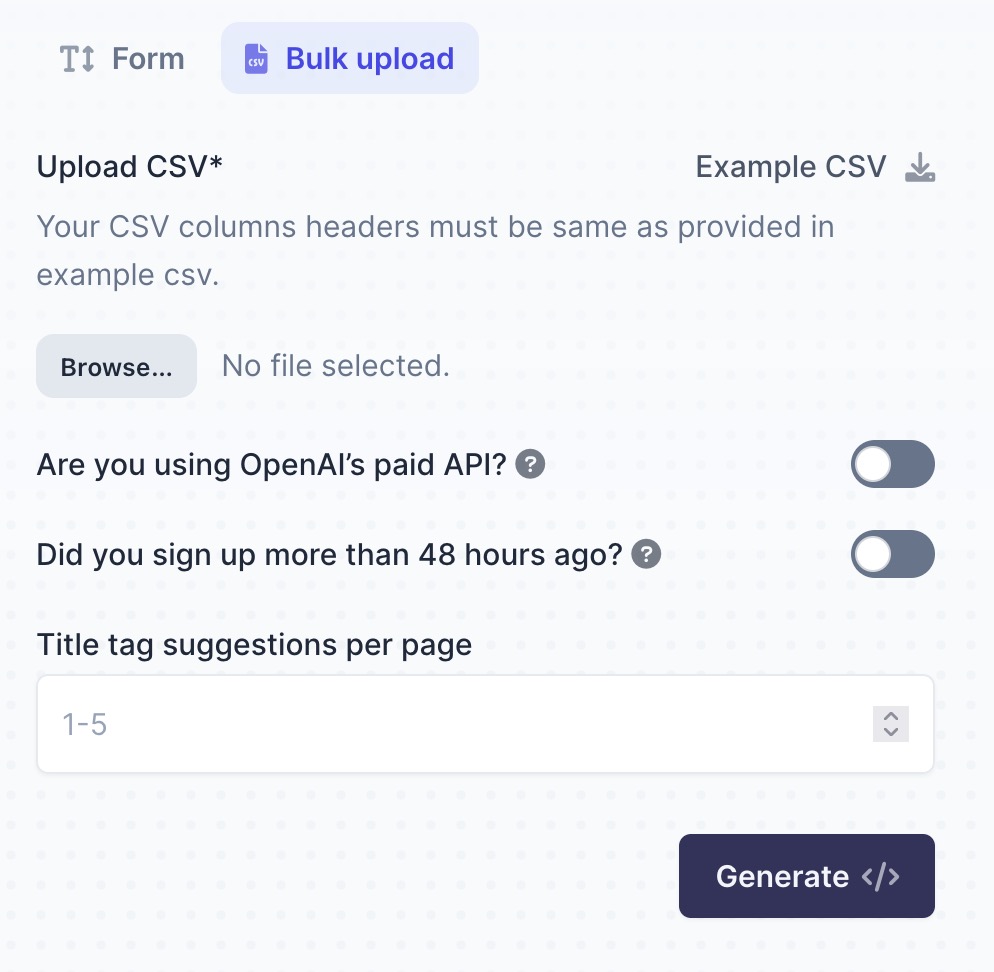 4. Perfect length every time
Title tags need to be of an optimal length to display correctly in search engine results. If you find any of your generated title tags are too long, don't fret. Use our AI-shortening option, and it will trim them down while retaining the essence. Note this option will only show if we detect the AI has generated titles tags that are too long.

5. Download and implement
Once the AI finishes generating your title tags, you can download them in a CSV format. Implement these on your website and watch the magic happen!
Paid alternatives
If you're looking for some paid options, we recommend starting by looking at our curated selection of AI SEO tools. Here are a few highlights:
Content writing

Surfer SEO

Surfer SEO is a tool that analyzes on-page SEO factors, offering insights and recommendations to optimize web content for better search engine rankings by comparing it to top-ranking pages. You'll also find AI features throughout the tool, like in their content writer

Keyword research

Keyword Insights

Keyword Insights is a tool designed to streamline your content strategy. It employs AI to provide a plethora of keyword suggestions, arranges them into relevant topic clusters, and aids in the creation or enhancement of content, all aimed at improving SEO.

AI SEO tools

Frase

Frase is an AI-powered content optimization tool that helps digital marketers and SEO professionals research topics, create content briefs, and optimize articles to improve organic search rankings efficiently.

AI SEO tools

Writesonic

Quickly generate SEO-optimized, plagiarism-free content for various platforms. Free start, no credit card needed. Trusted by millions; endorsed by prominent brands. Leverage GPT-4 for enhanced results.
FAQs
Can I generate title tags for non-English pages?
Yes, our tool allows you to select the language, ensuring you get title tags tailored to your target audience.
How do I know if my title tag is too long?
We'll automatically display a 'Fix long titles' button if any generated title tags exceed the recommended length. You can select this option to use AI to shorten them.
Can I generate multiple title tag options for A/B testing?
Absolutely! You can choose to generate between 1 to 5 example title tags for each page, allowing you to A/B test and determine which performs best.
I'm worried about security. How safe is it to save my API key?
Your security is our priority. When you save your API key to your account, it's stored securely, ensuring that only you have access.
I want a feature that you don't have…
Final Thoughts
Remember, while AI is powerful and efficient, always double-check to ensure that your title tags align with the content and intent of your pages. The combination of human intuition and AI prowess will ensure that your title tags stand out in the vast sea of search results.
Harness the power of AI and make title tag creation a breeze with our AI Title Tag Generator. Try it out today!
---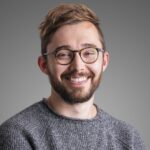 Sam Underwood
Sam is an international Ecommerce SEO Consultant with experience implementing enterprise-level SEO strategies.
Related tools
You may also like...