The best
SEO content writing tools
Improve your content's readability and SEO with our expert-approved tool list.

Date published:
April 3, 2021
The power that content has on SEO performance should not be underestimated. It's critiqued by search engines to determine your position on the SERP,  so it's key that you get it right. 
It's not only for search engines. When someone lands on your site,, capturing the audience's attention can keep them reading page after page. Content that is lacking or irrelevant can cause them to bounce right off. 
In this article, we're bringing you the best SEO content writing tools to improve your content. 
Why use an SEO content writing tool?
Search engines are looking out for unique content that is also compelling to the audience. Even the best writers struggle to tick all the boxes without the help of a tool.
Some benefits of using an SEO content writing tool include: 
Better topic coverage
Identifying topics to create content on isn't difficult. However, when it comes to writing the content, you're probably focusing on covering the key parts rather than the bigger picture.
SEO content tools are great for suggesting topics to cover but also putting forward ideas to ensure you've answered all potential questions a user might have around that topic.
Improve writing and readability
Grammatical errors are easy to make, and when you're so used to reading you're own writing,  they can be hard to pick up on. Before publishing content, it's always best to run it through even a basic content tool to make sure any spellings and grammar errors are fixed.
Many content tools also have a feature that will re-write segments of content to make them more succinct and easier to read. 
Ensuring that content is both free of errors and easy to read instantly makes it not only better quality but appears more trustworthy too. 
Discover common questions
Covering questions that real people are commonly searching for makes for relevant content that has a better chance of performing well. 
While you can access this information on the SERP using People Also Asked, SEO content tools provide it under one roof so you don't have to leave the page while creating content. 
AI writing to speed things up
Using AI is an efficient way to generate content. All you need to do is provide some context and AI will do the rest.
We wouldn't recommend using AI without reviewing and editing the content it creates, by a human. While it can generate content, errors still occur and will need fixing before setting the content live. 
Best for grammar: Grammarly
Poor grammar can quickly diminish your authority on a subject as well as deter your audience from continuing to read the article. Running your content through a grammar check is one of the key things we suggest before publishing. 
Grammarly is one of the best on the market for making both basic and advanced suggestions. From spelling checks to rephrasing sentences, Grammarly can make massive improvements to your content. 
The Grammarly icon will appear whenever there is the option to create content, from WordPress editor pages to email. The icon will spin as it analyses texts making it easy to see if it's working. Another perk is that Grammarly will begin to analyse your text as you type, meaning you don't need to activate it beforehand.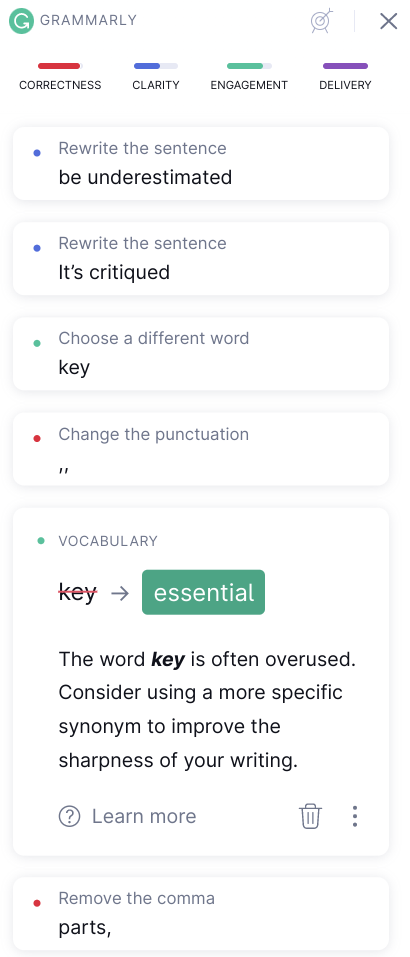 One negative of Grammarly is that it can take time when editing large sections of text. In some cases this causes it to have a little meltdown and needs you to reopen the page.
As Grammarly checks grammar only, it's best used alongside other tools. However, it checks Grammarly incredibly well and provides valuable suggestions, which is why we featured it here.
Key features
Recommendations on how to change to the active voice
Rephrases sentences to be more succinct
Three English writing styles to choose from (English, American, Australian)
Plagarism detection
Integrates with many apps
Pricing
Frase offers three plans, the most basic one being free. The paid versions have significantly more features than the basic and start at $30 a month. There is the option to pay monthly, quarterly or annually with discounts applied for the latter.
Worthy mentions
While the five content tools above are our favourite, if we weren't trying to keep our list concise, we could go on and on. 
Below we'll share two more SEO content tools that are certainly worth a mention and would work best with another content tool.
LanguageTool
This is a great tool to check extracts of content, quickly. Using three colour codes to differentiate grammar, spelling and style issues, you can quickly identify what content needs amending. 
The three areas that LanguageTool can assist with are:
Grammar, style and spellings
The free account provides basic grammatical information, while you'll need to upgrade to pro to access all their features.
How we reviewed
Our review system for choosing the best content writing tools are based on the following points: 
User questions
Competitor analysis

Competitor heading structure
Competitor question answered

Topic analysis
WordPress integration (for easy publishing)
Editor experience
AI features
Grammar
Most of the above fall under the content optimisation category. If you want to make certain that your content is as optimised as it can be, ticking the box next to each of these is vital. 
AI features is a nice to have. While you can get very far without it, it can be a huge time saver by generating content. Editing time is still required, but AI content is getting better and better so this time will be minimal.
Possibly the most basic but valuable feature is grammar checkers. You'll be surprised at what you miss, reading content by eye, and how much these checkers pick up on. 
Summary
Even the most confident SEO writers will benefit from using an SEO content writing tool. It's difficult to capture everything required to get your content performing as best it can on the SERP. 
SEO content tools not only make sure you're content is readable and grammatically correct, but they'll also help with generating content ideas and ensuring you cover an entire topic.
---
Sam Underwood
Sam is an international Ecommerce SEO Consultant with experience implementing enterprise-level SEO strategies.
More SEO content writing tools
Not quite found what you're looking for in our SEO content writing tools guide? Here are more tools for you to consider.
Paid

Use Surfer to quickly generate content plans for any domain. Write high-quality, SEO-friendly content to imporve your organic traffic.

Surfer SEO

Content writing, Content briefing, Keyword research, Site Auditing

Paid

Businesses and non-professional writers can benefit from AI content generators. These generators offer a wide array of tools for automated content creation. These tools range from slogans for branding to email templates and blog content.

Botowski

Content writing

Paid

Use Frase's AI tools to create optimised content that will generate more traffic and increase conversion rates.

Frase

Content briefing, Content writing

Paid

Using AI and machine learning, Marketmuse is the tool to use to perfect your content strategy.

MarketMuse

Content writing, Content briefing

Paid

Entity-based SEO Platform, to help you rank higher & stay ranked longer.​

InLinks

Content briefing, Content writing, Structured Data

Paid

Get more traffic, improve your website's usability, and increase your conversion rates with the Ryte Suite: the leading all-in-one platform for Website Quality Assurance and SEO.

Ryte

All-in-one, Content writing, Log File Analysis, SEO crawler, Site speed, Split Testing

Paid

Clearscope is an AI tool that helps your content work harder, and drive more traffic with little extra leg work.

Clearscope

Content writing

Paid

YourTextGuru gathers data for creating optimised content for your website's SEO.

Yourtext Guru

Content briefing, Content writing

Paid

Use this tool to optimise your content, helping you to rank higher on the SERP.

TextOptimizer

Browser extensions, Content writing

Free

Keyword Surfer is a 100% free chrome extension. Search volume checker for related keywords, similar keywords, visibility and backlinks correlation chart!

Keyword Surfer

Browser extensions, Content briefing, Content writing, Keyword research

Conductor

All-in-one, Content briefing, Content writing, Keyword research, Rank tracking, Reporting, SEO crawler