SE Ranking review
An all in one tool for competitor research, keyword tracking, auditing websites and monitoring backlinks.
4

Publish date:

September 25, 2023

Author:

Sam Underwood
Visit site
---
---
Pros
A great pick for a budget-friendly SEO tool

Custom and automated reports.

Site audits to find and fix SEO issues.

Detailed reports

Useful for social media management

Great value without compromising quality

Customizable enough to customise pros and newbies

Highly accurate

Clear representation of data
Cons
Customer support is not available 24/7

Customer support is very slow to respond.

The design of the tool could be improved

Smaller link and keyword database size then higher cost SEO tools
---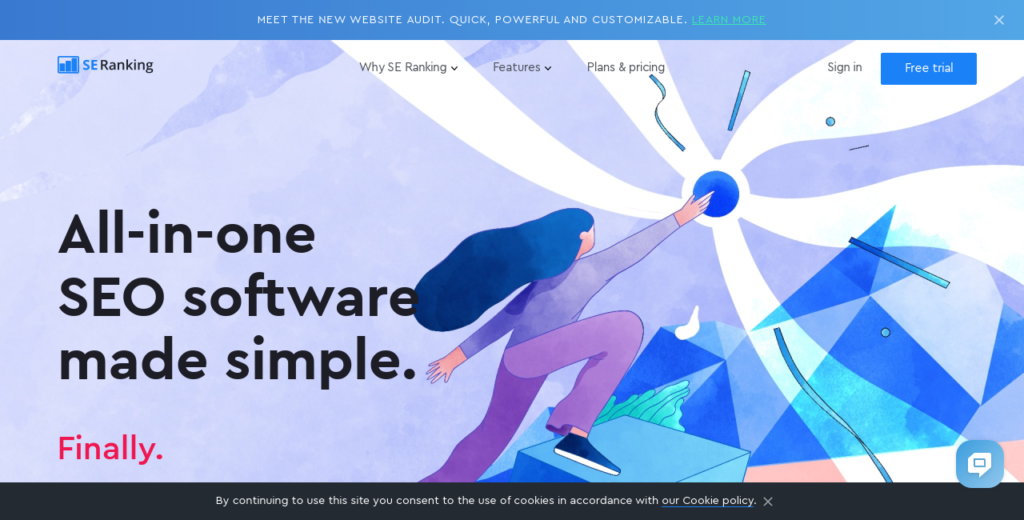 It's no news that paid search can get you up the SERPs. However, getting there organically is more sustainable. As one of the most sought-after tools in SEO, SE Ranking offers an all-in-one, affordable solution.
We'll deep-dive into the features, user experience, customer support, and pricing of SE Ranking to understand its pros and cons and know if it's worth your money.
What is SE Ranking?
While its name alludes to SE Ranking as a rank-tracking tool, it's also an all-in-one SEO tool to help you boost your online presence and search performance.
From monitoring your SEO progress to gaining an in-depth understanding of your competitor, SE Ranking is a robust search optimization tool.
Overview of key features
Rank tracking: View your site's historical and current keyword performance across popular search engines.
On-page SEO checker: Audit your site's content to spot what's doing well and needs improvement.
Backlink checks and monitoring: Track your backlink or your competitors' backlinks to spot link opportunities and manage bad links.
Competitor analysis: Discover your competitors'' keywords, SERP ranking, backlinks, performance, and strategies, and use what you find to improve your site.
Keyword research: Discover profitable keywords that your ideal audience uses to find solutions on search engines.
Report builder: Use templates to build your reports or create custom reports you can schedule to deliver to specific email addresses monthly.
Social media management: From monitoring social accounts to creating publishing schedules, manage your social media accounts in one place.
Website audit: Complete technical SEO audits to improve your site speed, implement hreflang, fix crawl errors, manage keyword cannibalization, check HTTPS status codes, manage XML sitemaps, implement schema markups, and more.
Marketing Plan: Gives you a checklist that helps you manage your campaigns.
Design/UX
SE Ranking is easy to navigate and use whether you are a beginner or seasoned SEO expert.
The features on the top navigation help you develop your SEO strategy. When you click anyone, they show their menu at the left. Each navigation menu item expands to give you a list of performance metrics to track for the project you're working on.
Each site you monitor is listed as a project, and you can move between different sites by clicking the white space under 'All project.' This area may be empty or contain the name of the last project you monitored.
The dashboard allows for easy navigation, so it's user-friendly.
Account setup
The initial setup on SE Ranking takes you through a five-step guided process and couldn't be simpler.
First, add the details of the website you want to track and set your permissions for the project.
Second step: Add keywords.
You can add the keywords manually or rely on the 'Suggest keyword' button to supply you with relevant keywords with their search volumes. Remember to choose the country you want to get data from.
You can change the country to get more keywords from other places you're also targeting.
If you don't know the best keywords to pick, the platform advises that you perform competitive research. Click the link that says 'Competitive research' and enter all the necessary fields.
The next step is where you add search engines to track the keywords on. Choose the country and language. And if you want to streamline your search further, you can choose a location.
Click 'Add search engine' to list them.
Although Youtube is one of the search engines you can collect data from, you have to create a separate project to track it.
In the fourth step, you can add up to five competitors to your project. Like the keyword process, you can do this manually or use the suggestions provided.
Now, let's connect to an analytics tool such as Google Analytics to see your traffic sources.
SE Ranking's use of checklists and suggestions makes it intuitive and user-friendly for newbies. But, it also allows experts to execute their crafts without errors.
You might decide to create a project on the dashboard without completing these steps. But after adding keywords, the tool will redirect you to the project settings to add search engines.
At this point, you'll find yourself in step three and still enter all the information from step one to that point.
When you complete the process, it takes you to the project dashboard where you can:
Track rankings
Analyze traffic
Check out your competitors
Carry out audits
Monitor backlinks
Analyze performance on social media
Plan your marketing
Features
As an all-in-one SEO tool, it's unsurprising that SE Ranking has a number of features.
We've reviewed those features so that you'll understand how they work and what benefits you can get from them.
Rank tracker
SE Ranking lets you see your site's keyword positions on SERPs across popular search engines like Google, Bing, Yahoo, and Youtube. However, to monitor Youtube ranking, you'll have to create a separate project.
Using this tool to track ranking doesn't require any form of expertise. It allows you to input keywords manually or pick from suggested keywords that your potential clients search for.
Its flexible dashboard allows you to tweak settings to decide how much data you want to gather.
Depending on your settings, SE Ranking tracks ranking automatically. Plus, you can streamline your search down to cities in over 40 countries which can be priceless for a small business trying to scale.
Website audits
In addition to showing your site's performance on search engines, SE Ranking shows you why it isn't doing better. The bot crawls 1000 pages in about a minute to show the following:
Page indexation status
Domain metrics
Page load time
HTTP status
JavaScript
CSS
And, page breakdown like meta tags and links.
The platform allows you to specify areas that you want to monitor and simplifies the result on the dashboard.
It also offers fixes for the identified issues.
On-page SEO checker
SE Ranking's on-page SEO checker runs an audit of any specific page on the chosen website to give a detailed report of its optimization status. It tells you if your meta description contains your target keywords and has the right length.
It also shows you the following:
Keyword density
URL
Title tag
Media files
Page experience
Header tags
Usability
Text content, and more
Each report suggest fixes that can help you improve the page. And, they're grouped based on priority. As you take action, you'll begin to see an increase in the checker's score.
It also gives you a detailed breakdown of your content parameters and compares them to other pages ranking for the same keywords.
However, you must be subscribed to a plan to start enjoying this feature.
Backlink checks and monitoring
Outsourcing your backlink-monitoring tasks to SE Ranking is a great way to monitor your link changes. It carries out periodic checks and informs you of the quality of the links that come back to you.
Use the backlink feature to manage your backlink profile and deep dive into who is linking to your competitors.
With SE Ranking, you'll not only view active, new, and lost backlinks, but break them down into anchor texts used, as well as active, new, and lost referring domains.
The tool measures your backlink quality through:
Domain quality score
Alexa rank
Social share
Page trust
External links
Then, it goes further to show you the location of the websites that link back to you.
Competitive research
The Competitive research tool is a stand-alone tool that doesn't require you to create a project. It helps analyze any website's performance in their organic or paid search.
It's ideal if you are looking to:
Expand your sites keyword list
Do a breakdown of key players in any given niche
Choose guest posting sites, or
Get an overview of a sites backlink profile
The process requires only three simple steps.
First, enter the website or URL you'll like to analyze. Choose the region you want to get the data for. Then hit 'Analyze.'
This tool supports three location types. The worldwide option helps you analyze global metrics. And you can analyze data In each continent and at the country level.
When you complete this process, the tool takes you straight to 'Overview,' where it displays the result.
SE Ranking updates their platform regularly, so you might see a pop-up like the one in the image below. Refresh and continue tracking.
The platform allows you to access your competitors' organic strategies and paid promotions. You'll see the specific keywords they use to drive the most traffic to their sites and their most profitable ads.
Keyword grouping tool
Keyword grouping helps you create clusters of keywords based on their search result similarities.
It helps you with
Planning your site structure
Deciding pages to promote
Knowing how many more pages to add to your site
Deciding where to update content
Apart from restructuring your website, the grouper saves you time, clean up your semantic core, and minimize error.
Keyword research
SE Ranking has an extensive keyword database of more than two billion search queries and suggestions from search engines. And since this is not static data—they update it every month—it shows that this is a reliable keyword research tool.
After entering your current keywords, the overview tab provides you a snapshot of that keyword in terms of these metrics:
Keyword difficulty
Search volume
Cost per click
Keyword ideas
Organic search results
Keyword ranking dynamics
You can get a more detailed report by clicking the keyword suggestions tab.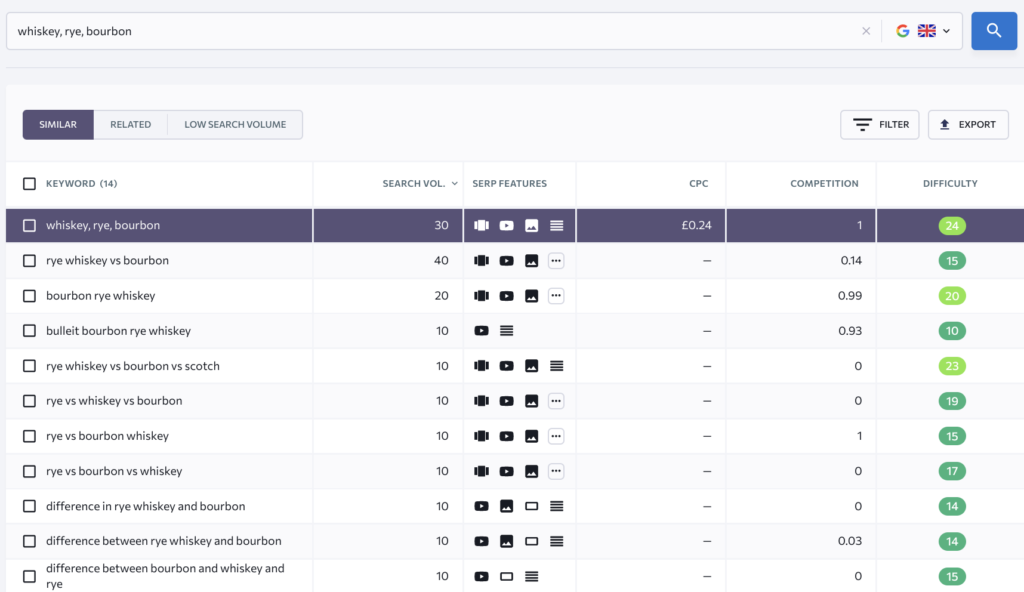 Knowing the keywords that work helps you direct your effort to what works.
Although SE Ranking's keyword research tool offers many features, it doesn't compare to the depth of data you'll get from SEMrush and Ahrefs. SEMrush has a larger keyword database and offers more granular competitor keyword analysis than SE Ranking.
Marketing plan
The marketing plan provides a detailed checklist for an effective SEO campaign. So, whether you're creating a new website or optimizing an existing one, you'll get a comprehensive strategy based on SEO best practices.
The to-do list contains the following features:
Semantic core and keyword research
On-site optimization
Mobile optimization
Content strategy
Off-site optimization
Social media strategy
Your own tasks
However, you must subscribe to get a clearer picture of what that entails.
You will also find this feature in SEMrush, but extended to include local SEO and agency solutions.
However, SE Ranking has the upper hand with this feature because Marketing Plan is a rare feature in SEO tools. Plus, you won't find it in leading optimization solutions like Ahrefs, SERPStat, AccuRanker, and many others.
Report builder,
Although SE Ranking offers templates for creating reports, it also allows you to customize yours.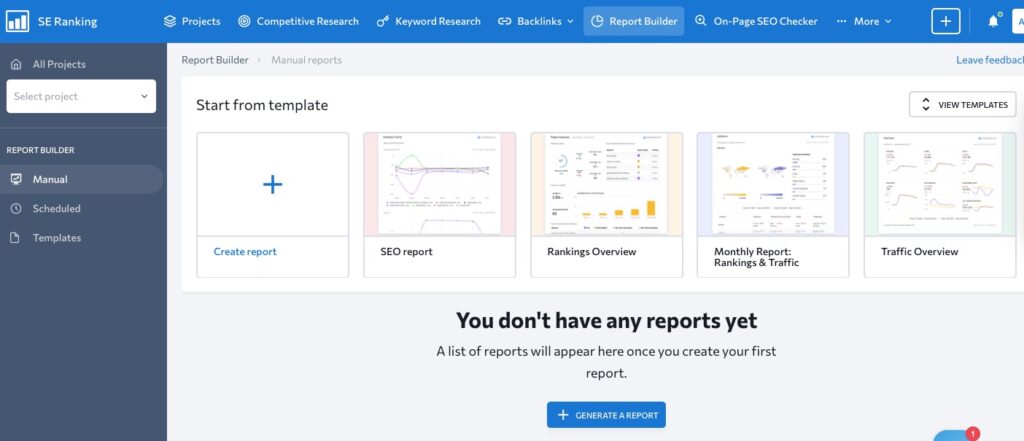 When you choose 'create report,' you'll get all the tools to build one.
The toolbar on the left-hand side also acts as a checklist, so you won't be omitting important parts of your report.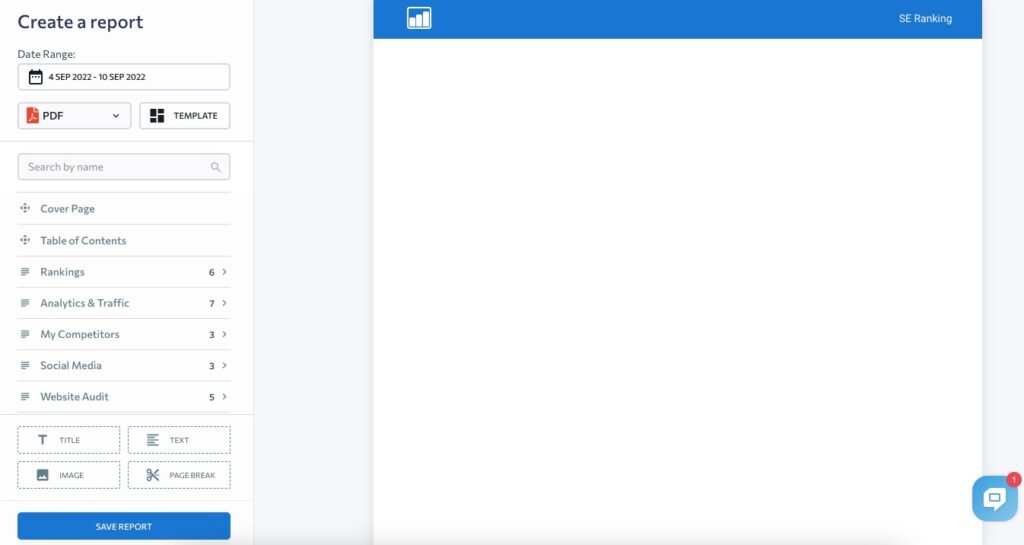 The templates and checklists feature is a nice addition to SE Reporting's report builder.
But compared to SEMrush and dedicated report builders like Google Data Studio and Supermetrics, SE Ranking might fall behind. The other reporting tools offer third-party data integrations, but SE Ranking doesn't have this capacity.
Social media management
Social media management has fast become a part of SEO. Social media engagement translates to brand searches on Google, reviews, and brand mentions across the web.
So it's an excellent addition to your SEO tool belt.
In SE Ranking you can get this feature in just a few clicks. This tool lets you manage your Facebook and Twitter updates from one account. It helps you streamline social media management by auto-posting your updates to the added social media accounts.
It shows you the type of content your audience engages with and tells you the best times to post updates.
Although SE Ranking limits your options to Facebook and Twitter, it's ahead of other all-in-one SEO tools that do not offer social media management features.
However, SEMrush has the upper hand; it lets you do more:
Access everything SE Ranking's social management feature does
Connect to Instagram, Facebook, Twitter, LinkedIn, and Pinterest.
Analyze competitors' social media tactics.
Manage social media ads
Get performance analytics
If you prefer to stick with Facebook and Twitter and manage your ads separately, then SE Ranking will do.
Customer support
You can contact customer support through live chat and email. It's not the fastest of live chats as it can take about 45 minutes for a customer service agent to reply to your message.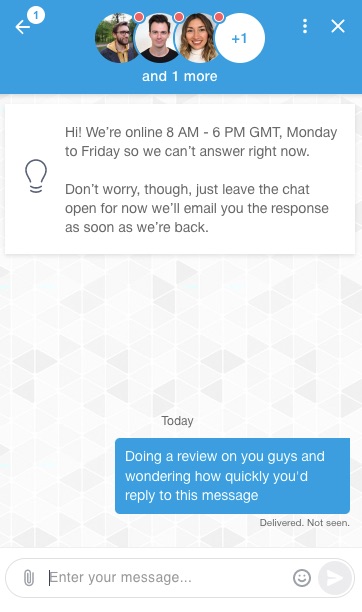 I'd expect live chat responses to come quicker—even instant. But this support channel runs only during work hours. After about 12 hours, I received a reply: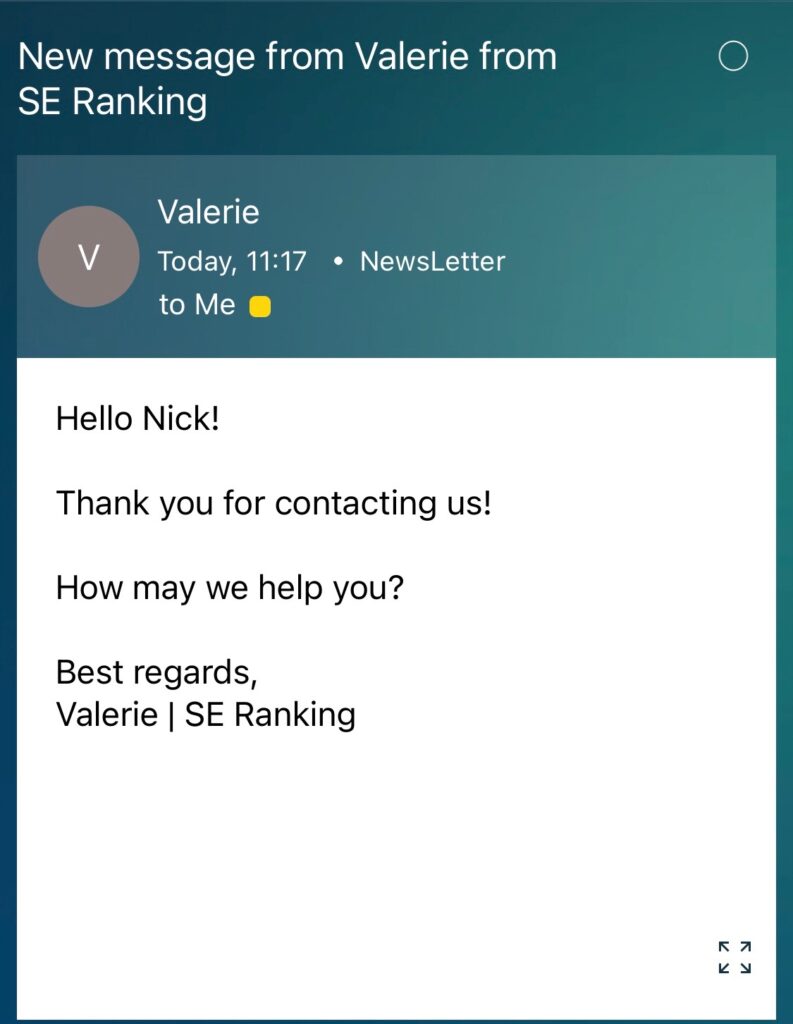 This has become standard practice for SEO tool providers who offer live chat support.
Pricing
You can start a 14-day free trial to get the hang of this tool. Apart from the Marketing Plan feature, which you can't use with a free trial period, the platform lets you access other features but might limit your usage of some of them.
SE ranking has a unique pricing structure. So, I've created a detailed pricing breakdown here.
You can get discounts by spacing your rank-checking frequency and increasing your payment duration.
In other words, you'll pay less for checking less frequently and subscribing for longer periods. See the image below:

However, you'll pay more if you plan to track more keywords on any of the plans you choose.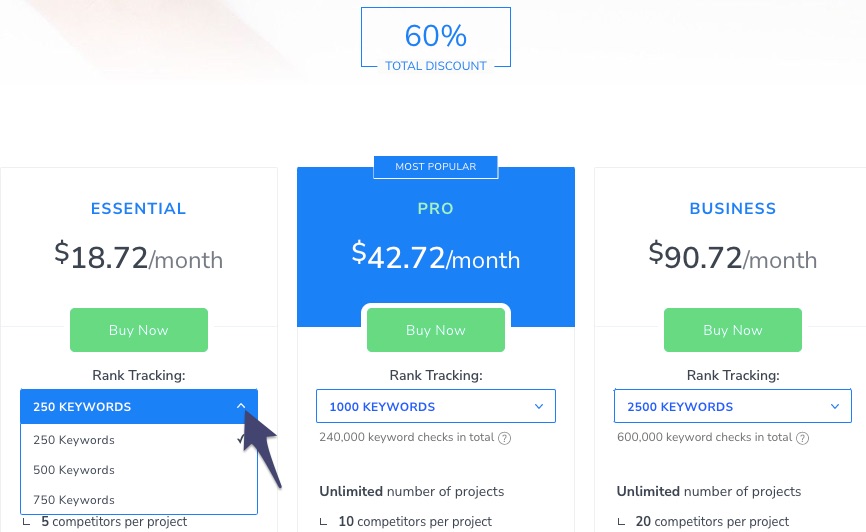 You can choose from three plans:
But they have multiple payment plan combinations.
Understandably, SE Ranking is designed to fit budget users, so it has a pricing structure to attract that audience. However, it has a rather complex pricing structure.
If complicated pricing plans are a turn-off for you, then you might prefer SEMrush, Ahrefs, SERPstat, and others.
Monthly
The pricing plan ranges from $31.20 to $899 per month if you choose to pay monthly.
Essential $23.40 to $69.00 per month
Pro $53.40 to $149.00 per month
Business $113.40 to $899.00 per month
However, as mentioned earlier, prices vary with changes in certain parameters.
Annually
You can save up to 60% when you pay annually.
Essential $18. 72 to $55.20 per month
Pro $42.72 to $119.20 per month
Business $90.72 to $719.20 per month
Is pricing fair?
It depends on what you're looking for. If you don't mind skipping some of the more detailed and extensive features of tools like SEMrush or Ahrefs, then SE Ranking is an excellent option. This tool also offers a lot of the features you might find in competitor tools.
Plus, SE Ranking gives users free white labeling for all pricing plans. So you can brand the tool as yours when using it for clients.
For what it offers, this all-in-one SEO tool is worth its price.
Summary
Overall, SE Ranking is a great addition to your SEO tool belt. If you're on a budget but still want to benefit from a top-quality, all-in-one SEO tool, SE Ranking is a valuable option.
---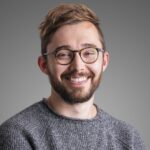 Sam Underwood
Sam is an international Ecommerce SEO Consultant with experience implementing enterprise-level SEO strategies.