Keyword Surfer review
Keyword Surfer is a 100% free chrome extension. Search volume checker for related keywords, similar keywords, visibility and backlinks correlation chart!
5

Publish date:

April 28, 2021

Author:

Sam Underwood
Visit site
---
---
Pros
You don't need to create an account to use the tool

It lists most of the keyword research metrics in one place

It's 100% free

The tool is user-friendly and easy to navigate

It's perfect for quick searches and competitor analysis

It loads search results fast

It recommends similar keywords for your web content
Cons
No Firefox extension

It doesn't support every country

It doesn't provide data for some keywords

It doesn't measure keyword difficulty

Content word count is not always accurate
---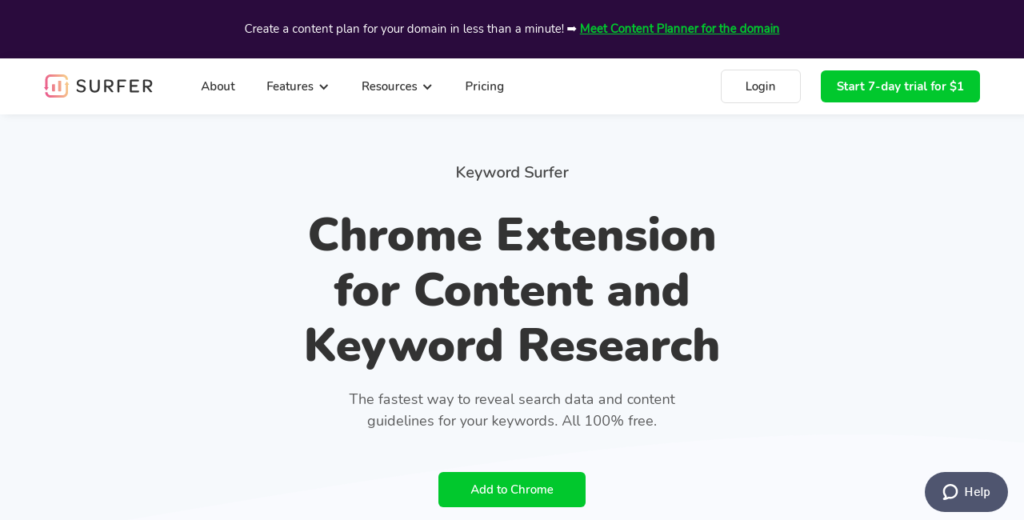 Keyword Surfer is a keyword research tool from Surfer SEO. It shows the word count of competitors' pages, the number of keywords, cost per click, estimated monthly web traffic, and more.
This review will explore Keyword Surfer's best features, user experience, customer support system, benefits, and downsides.
The TL;DR version
What is Keyword Surfer?
Keyword Surfer is a free Chrome extension developed by the Poland-based company, Surfer. Its primary purpose is to provide SEO insights and keyword data directly on Google's search results page, catering to digital marketers and content creators.
By automatically running with every Google search, Keyword Surfer displays relevant terms, their average search volume, CPC, and more, enabling users to estimate content traffic and generate keyword ideas.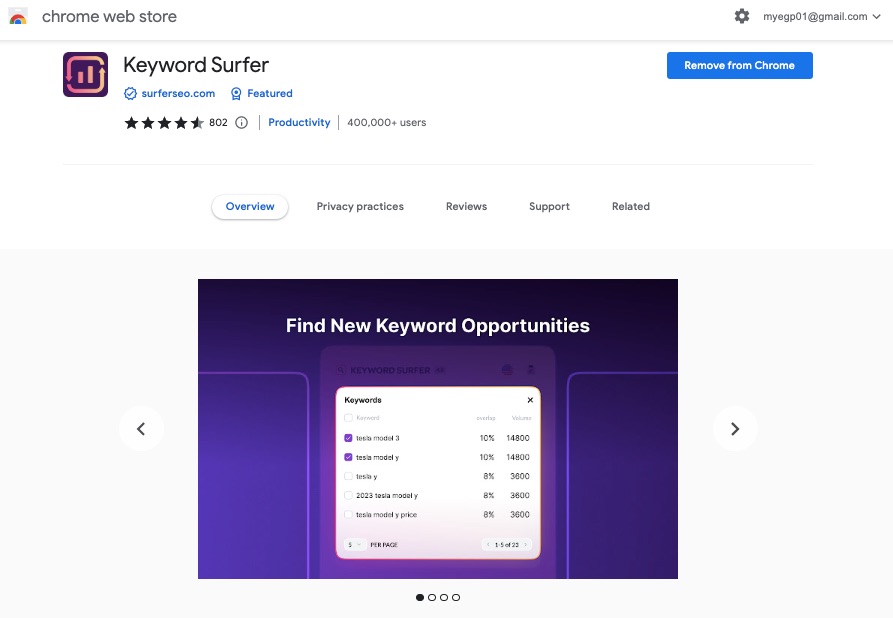 The user-friendly layout and fast loading speed ensure seamless navigation within Google's SERP. Recognized for its valuable insights and convenience, this tool has become popular among professionals in various industries and markets.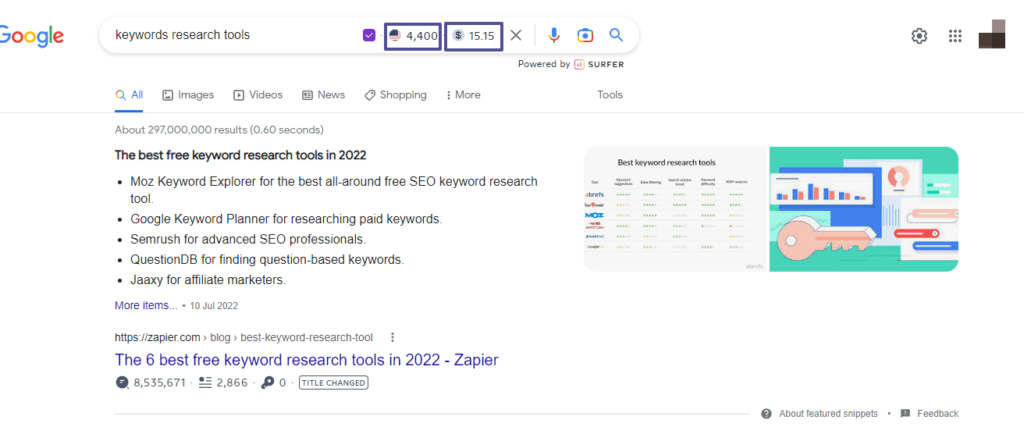 Key features
Keyword Surfer offers various features that help users identify high-volume keyword phrases and optimize their SEO content strategies. Here are its most notable features:
Keyword Widgets: Get an at-a-glance view of competitors' performance through icons and widgets.
Growth Flow Widget: Personalized recommendations and keyword ideas to boost SEO efforts.
Keyword Counter: Measures keyword density and displays competitors' target phrase usage.
Word Count: This shows the total word count in competitors' content.
Keyword Ideas: Generates keyword suggestions with search volume and similarity scores.
Data Download: Copy and export selected keywords in CSV format.
Supported Countries: Provides datasets from 70 countries.
Collections: Add and monitor keywords before exporting as CSV.
Traffic Metrics: Displays competitors' monthly domain traffic.
Google Ads CPC: Measures cost-per-click (CPC) data using Google AdWords tool for ad campaigns.
Paid Surfer Features: Additional SEO tools for keyword research, SEO audits, outline generation, content edits, and optimization.
Keyword Counter
Keyword Surfer's Keyword Counter feature allows you to measure the number of times your competitors use an exact keyword in their posts and articles. By understanding the keyword density in competitors' content, you can make informed decisions when optimizing your content strategy.
Seeing the data from this tool is simple; you need to:
Perform a Google search for your target keyword.
Locate the Keyword Counter section in the Keyword Surfer sidebar on the search results page.
Observe the number of times the exact keyword appears in each competitor's content, displayed next to a key icon and the word count.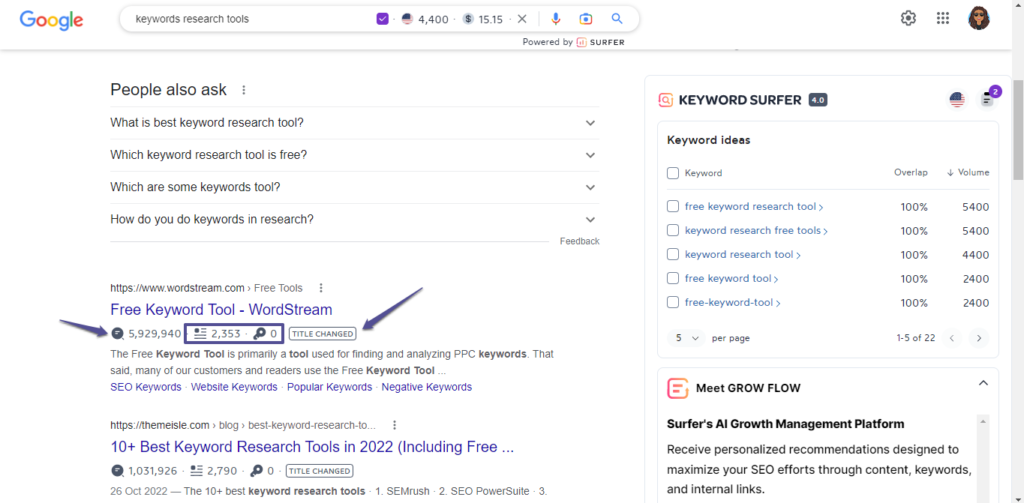 A limitation of the Keyword Counter feature is that it only counts the exact keyword matches and doesn't account for variations or synonyms. This means you'll need to do additional research to get a complete picture of your competitor's keyword usage.
Word Count
Keyword Surfer's Word Count feature helps content creators gauge the word count of top-ranking articles on Google search results. By understanding the average word count of successful content in their niche, you can better understand how in-depth your article needs to be.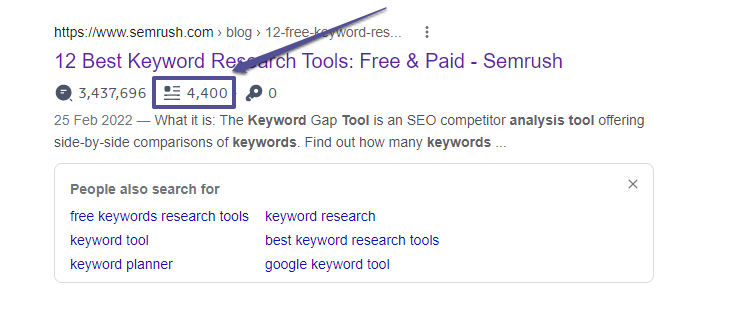 We found some discrepancies between the word counts displayed by Keyword Surfer and the actual word count of articles. For example, Keyword Surfer reported that an article has a word count of 4,400, while other Word Counter Extensions reveal a lower number, such as 4,030. This inconsistency may lead to doubts about the data's accuracy and reliability.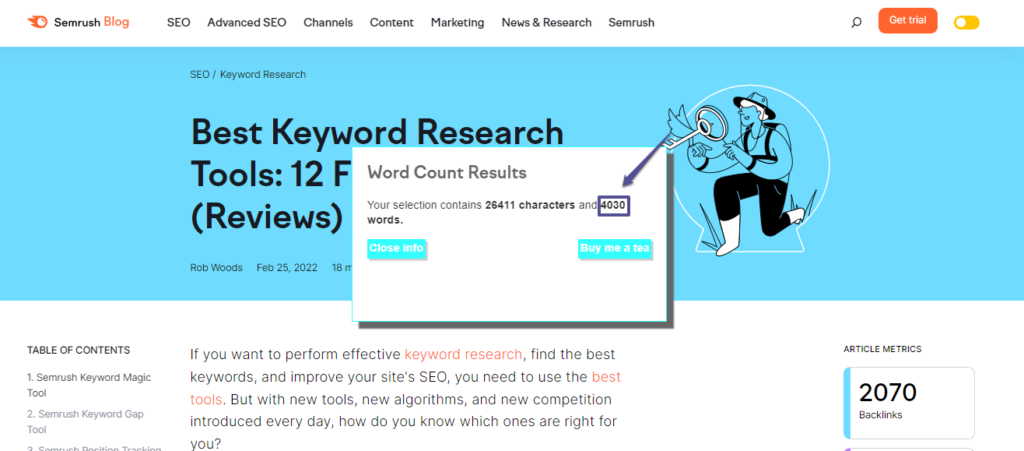 However, this is common among word-counting tools. They often include words outside the main article body, such as text in sidebars and menus. It may seem easy, but each page on the web is different, making it challenging to accomplish.
Keyword Ideas
Keyword Surfer's Keyword Ideas feature generates a list of keyword suggestions for your content or web pages based on the search phrase you enter on Google. Keyword Surfer enables users to optimize their content for maximum search engine visibility by providing relevant and similar keyword ideas they could target on their page.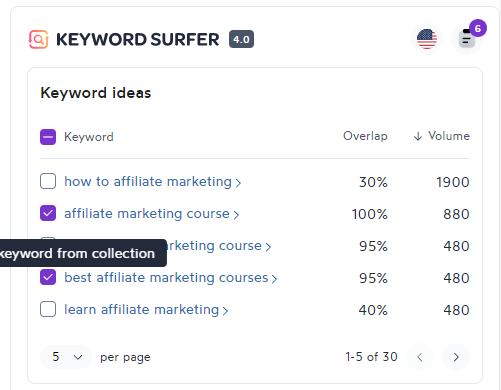 What sets Keyword Surfer's Keyword Ideas feature apart from other tools is its integration with Google search results. While other tools may offer similar keyword suggestions, Keyword Surfer provides this information directly within the search results page, eliminating the need to switch between multiple tools or tabs.
However, it's important to note that this feature may not be as comprehensive as some other keyword research tools, as it does not provide information on keyword competitiveness, SERP features, and more. Still, this is valuable data to have while you're searching.
Data Download
Keyword Surfer's Data Download feature allows users to select and save keywords and search data to a clipboard before exporting them in CSV format. This data can then be analyzed in an Excel spreadsheet, providing valuable insights to improve content strategy.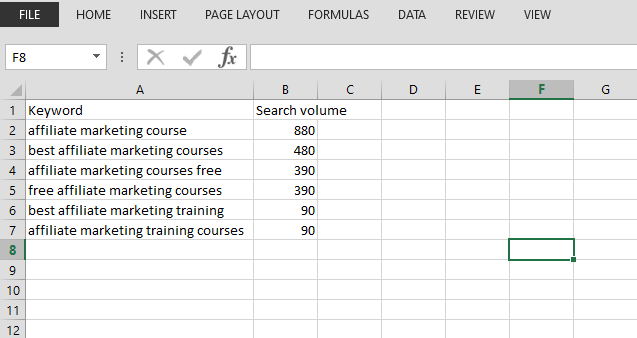 While this is convenient, it won't be as helpful as using a fully featured keyword research tool like SEMrush.
Collections and keyword overlap
The software allows users to store keywords in easily accessible folders for efficient monitoring. You can monitor the overlap score and search volume for each keyword that you add. Additionally, you can export the folders in CSV format when you need to analyze the data.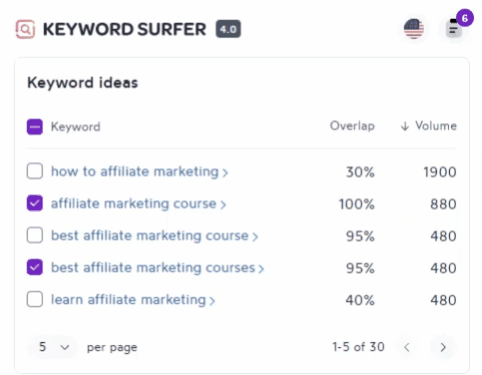 Keyword research

Keyword Insights

If you're looking for a purpose-built tool for finding the best way to group keywords based on overlap, our recommended tool is Keyword Insights.
Traffic Metrics
Keyword Surfer shows the monthly traffic for competitors' websites. However, the results represent the entire domain, not individual web pages.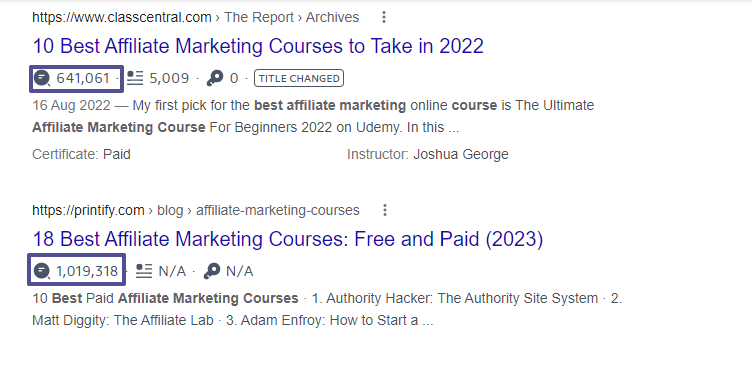 You can use similar keywords for websites with high traffic and adopt some of their strategies to increase your content's visibility.
Google Ads CPC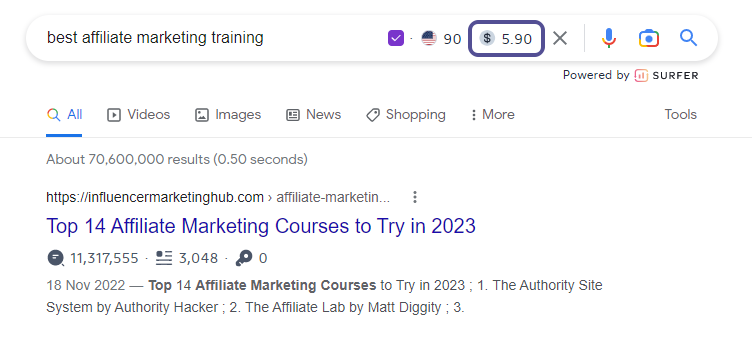 Keyword Surfer's Google Ads CPC feature lets users discover CPC data and monthly search volume directly from Google's search results page. By providing information on the cost-per-click of specific keywords and phrases, users can optimize their paid advertising campaigns and improve their return on investment.
Other Surfer Features
If you're looking for more than what the free tool offers, we recommend checking out Surfer SEO's paid tools.
Here are some of the highlights of Surfer SEO's paid offering:
Grow Flow
Grow Flow is a standout feature offered by Surfer that helps users enhance their website's growth and improve search rankings. By providing weekly essential task suggestions, this feature aids in optimizing your content for better SEO performance.
You can access this feature on Surfer's dashboard or on Google search result pages. Detailed breakdowns of your website's performance can be found in the reports tab.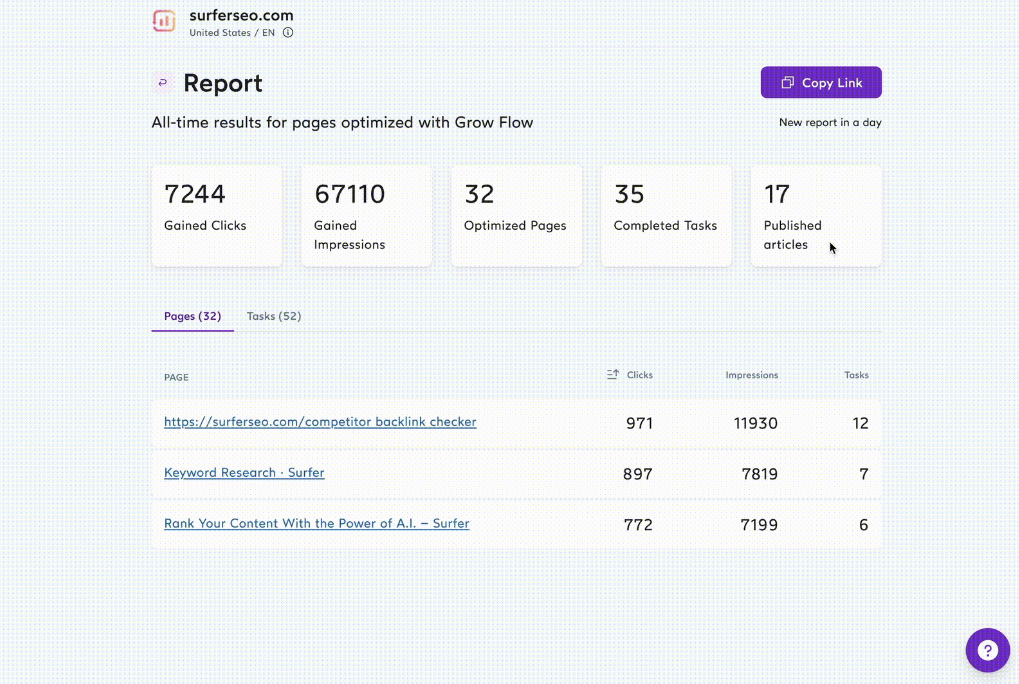 To get started using this feature, follow the step-by-step walkthrough below:
Sign up for a Surfer SEO plan: To access the Grow Flow Widget, you must sign up for any Surfer SEO plan, as this feature is available only to premium users.
Access the widget: Once you've signed up, navigate to the Grow Flow Widget in the Surfer dashboard or view it on a search result.
Review weekly recommendations: The tool will present weekly suggestions tailored to your website's needs. These recommendations may include the following:

Adding missing keywords to articles or existing web pages to improve performance
Including relevant links with untapped potential
Keyword suggestions for creating authority-based content

Implement the recommendations: Work on the provided recommendations and apply them to your content strategy.
Some of its recommendations include:
Add missing keywords to articles or existing web pages to improve performance
Include relevant links with untapped potential
Keyword suggestions to create authority-based content
Grow Flow differentiates itself from other tools by offering personalized, actionable recommendations to enhance your website's SEO performance. As a premium feature, it's only available to users who have subscribed to a Surfer SEO plan. Furthermore, the widget is tailored to Surfer's recommendations, which may not always align with every user's specific goals or strategies.
Despite these limitations, the Grow Flow Widget remains an invaluable feature for users looking to optimize their content and improve search rankings. Its personalized recommendations and visually appealing design make it a standout offering that adds significant value to Surfer's suite of SEO tools.
Content Editor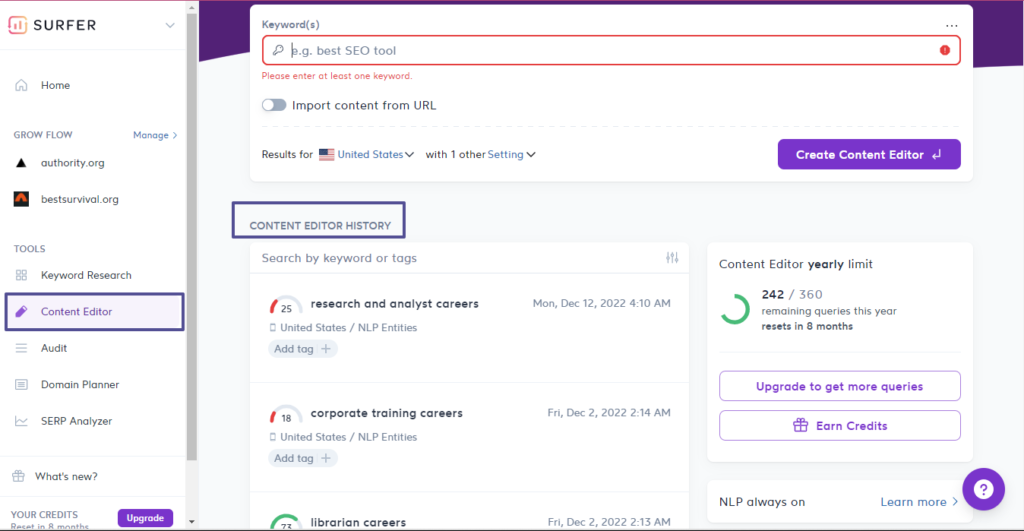 This tool helps writers create well-structured articles optimized for users and search engines. Surfer SEO offers real-time feedback on-page optimization, including its Content Score feature.
Surfer SEO uses AI technology to analyze your content's prominence against competitor pages. You can adjust your writing quality with instant feedback to improve your rankings.
In addition, Surfer supports multiple languages, so you can write articles in any language you prefer.
Keyword Research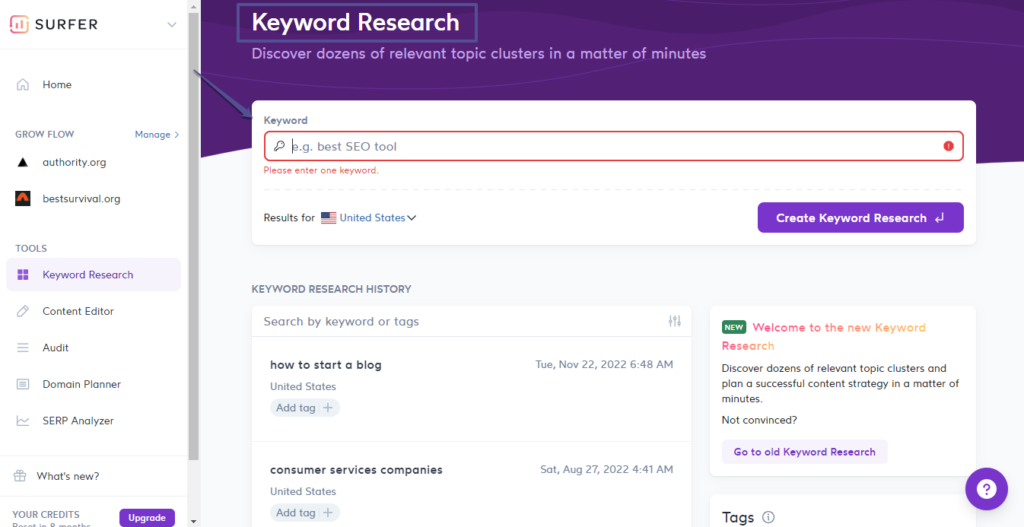 Surfer helps you find relevant topics for your content calendar for topic clustering. You can also get suitable suggestions by inputting your seed keyword or phrase. This tool saves you time by eliminating manual research and provides high-ranking keywords that match your target.
SEO Audit
The audit tool is designed to uncover missed SEO opportunities and secure quick wins. It can also optimize existing content to improve its rankings.
Surfer displays your page's SEO metrics and compares them to your target keyword. Additionally, the tool provides insights on content length, keyword density, NLP sentiment, missing backlinks, heading numbers, meta tag structure, and more.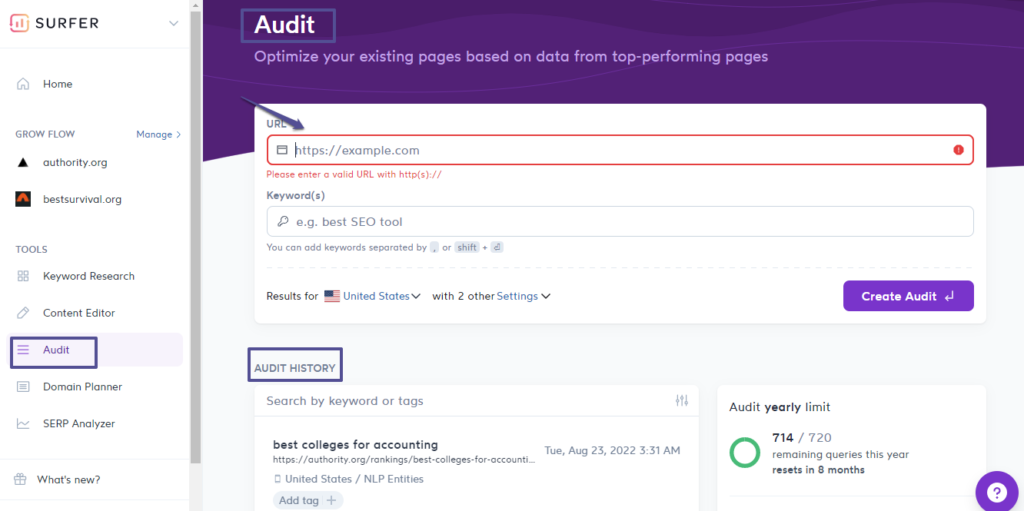 Outline Generator
Surfer's AI tool analyzes your topic and suggests an outline for your next article. You can find this function at the bottom of the Keyword Surfer extension when you search for topics on Google.
The tool takes your Google search phrase and generates an outline for your article, including H1 to H4 headers. You can then choose the relevant sections or headings and incorporate them into your content to ensure it remains cohesive.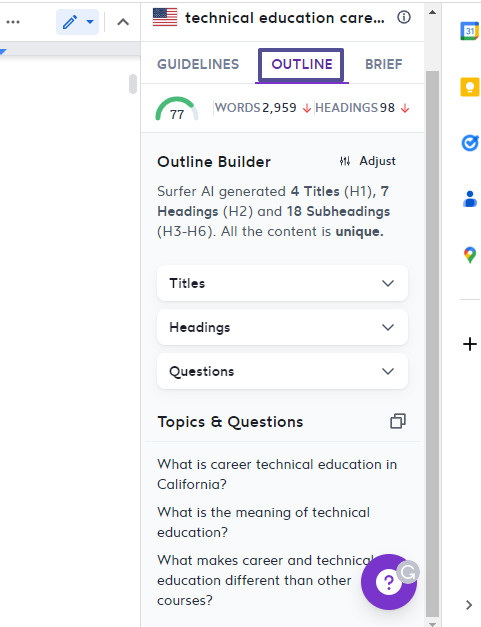 Integrations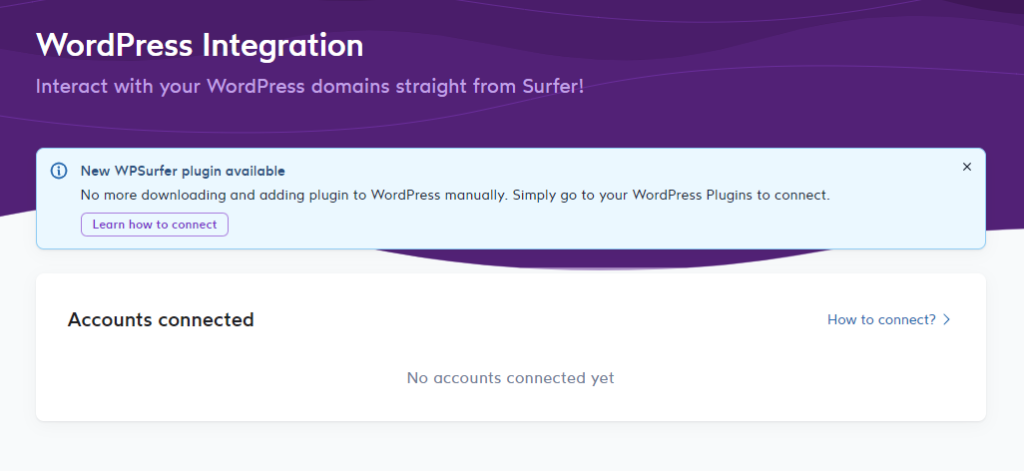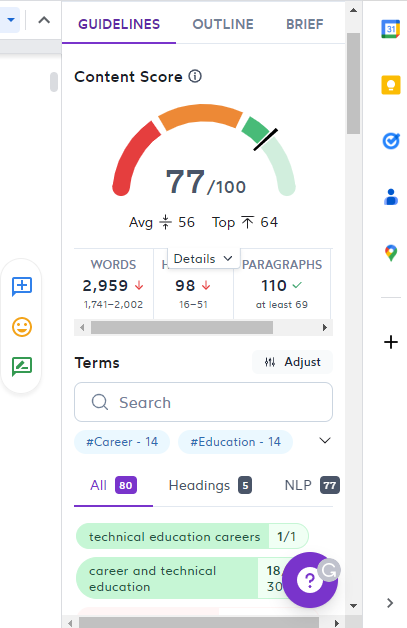 Design / UX
Keyword Surfer's modern design and easy-to-use user experience help users optimize their sites.
The extension's features are displayed on Google's search pages in a way that doesn't make the results page too cluttered. The Surfer dashboard avoids unnecessary features and instead focuses on specific tools and does them well.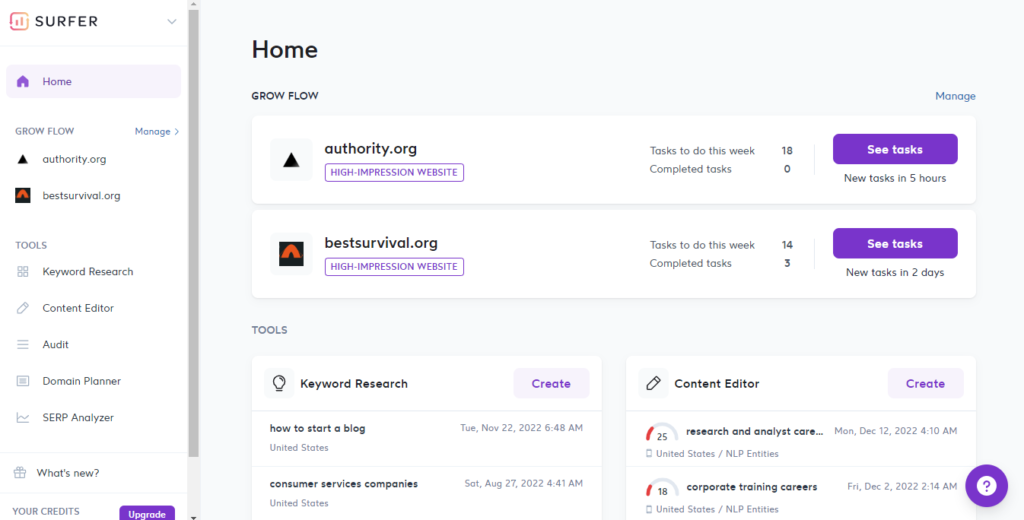 Surfer has a brilliant UX and design, and it's one of the standout features of using their tools.
Customer support
Surfer offers excellent customer support and a comprehensive Help Center. The platform covers all the basics with the following:
An extensive knowledge base
Educational materials, including an SEO master class
A blog
A Facebook community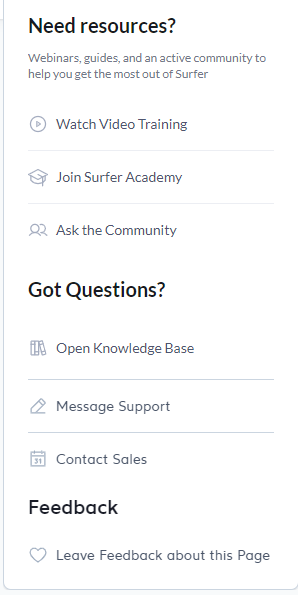 You can find resources on Surfer's various features, tools, billing, payments, and more.
Surfer boasts an efficient customer service response time, with agents typically responding to messages within minutes. You can contact them through a live chat on the website or in the app.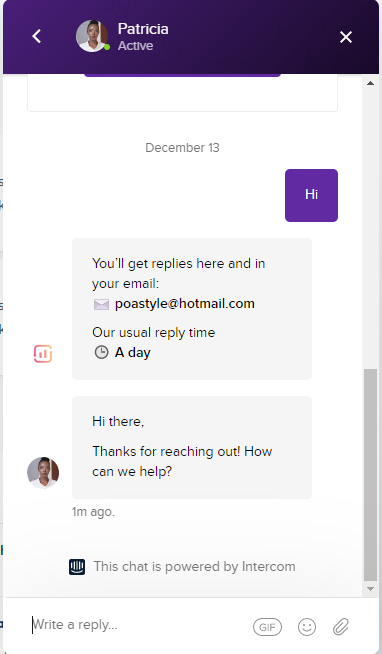 Pricing
Keyword Surfer is a free tool. However, Surfer SEO offers extra features for a price.
Here's a brief breakdown of Surfer SEO's pricing.
| Plan | Monthly Cost | Annual Cost |
| --- | --- | --- |
| Free | $0 | $0 |
| Basic | $59 | $49 |
| Pro | $119 | $99 |
| Business | $239 | $199 |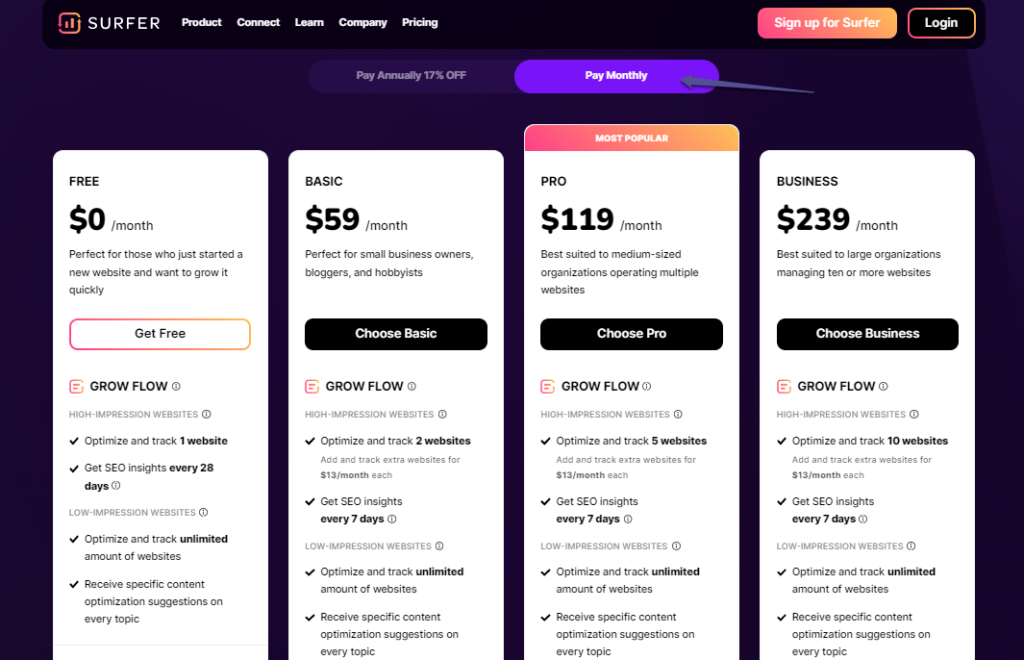 Surfer shaves 17% off the monthly price when you pay yearly, saving you a lot.
Alternatives
Browser extensions

Ahrefs SEO Toolbar

If you subscribe to Ahrefs, the Ahrefs SEO Toolbar is a better choice than Keyword Surfer. It offers a more comprehensive set of features and better data.

Keyword research

Keywords Everywhere

If you're searching for a premium version of Keyword Surfer, Keywords Everywhere is the perfect choice. It integrates third-party data into multiple platforms beyond Google search. Additionally, it offers useful features such as bulk data retrieval and trend data.
FAQs
Who uses Keyword Surfer?
SEO strategists, content writers, digital marketers, and other content publishing companies use Keyword Surfer to discover high-opportunity keywords. This chrome extension helps users produce content that performs optimally on Google's SERP.
How to use Keyword Surfer?
To use Keyword Surfer, add its extension to your Google Chrome browser. After installing the tool, type any topic or phrase into Google's search bar and wait a few seconds for the results.
Keyword Surfer will display the monthly search volume, CPC, word count, and the number of exact keywords.
You can add relevant phrases and keywords to a clipboard and export the data.
Does Keyword Surfer do keyword research?
Yes, it does.
This tool can help you discover relevant search data for your keywords.
Can I use Keyword Surfer for free?
Yes, you can.
Keyword Surfer is a free tool with a Chrome web browser extension.
Is Keyword Surfer good for SEO?
It's certainly helpful. The tool primarily works for keyword research and doesn't dive deeper into SEO and content optimization. Surfer SEO handles all of that and more.
How do I remove Keyword Surfer?
To remove Keyword Surfer's extension from your web browser, click the "Extension" icon and delete the tool from Chrome.
Final thoughts
Keyword Surfer is a good alternative to Keywords Everywhere. First, it is free, and you can combine it with Surfer SEO's other tools to enjoy extensive keyword research and SEO strategies.
Although it underperforms in some areas (e.g., it doesn't have long-term trends data), it does well as a standalone keyword analyzer and research tool.
---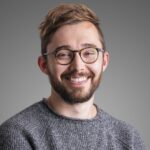 Sam Underwood
Sam is an international Ecommerce SEO Consultant with experience implementing enterprise-level SEO strategies.