Rytr review
Use this tool to generate high-quality content for various use cases, such as blogs, emails, and social media.
4.5

Publish date:

September 25, 2023

Author:

Nimit Kapoor
Visit site
---
---
Pros
The application features a UI designed with beginners in mind, ensuring a seamless and straightforward experience.

The tool has in-built SERP analysis and third-party integrations with Semrush for detailed keyword analysis. The tool also has a browser extension available.

Rytr provides API access, allowing users to integrate it with their own applications.

Rytr enables users to create custom use cases and generate content personalized content efficiently.

Rytr has an in-built plagiarism checker and readability meter to ensure that the AI-generated content is both plagiarism-free and easily readable.

Rytr allows content generation in 30+ languages.
Cons
The quality of AI-generated content is not always up to the mark and may require thorough editing before it can be published.

Rytr is only suitable for short-form content.

Rytr is still using GPT-3. Whereas, competitors like Writesonic have moved on to GPT 3.5 and 4 for superior quality content.
---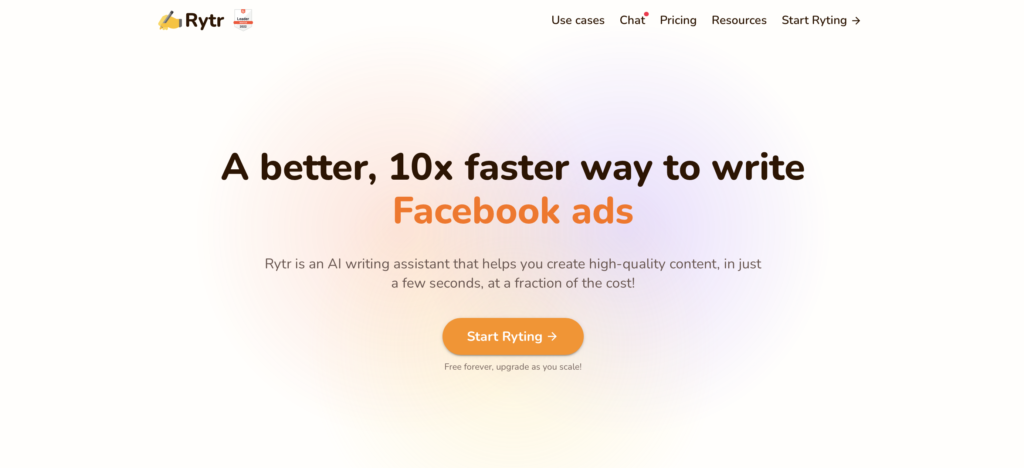 Amidst the plethora of AI-writing assistants in the market, Rytr stands out as a strong contender that could be the right fit for your content marketing needs.
In this comprehensive assessment, we'll thoroughly examine what features Rytr has to offer, and assess its cost-effectiveness, support, roadmap, design, and more. We'll also put it against other tools in the market to identify its strengths and weaknesses so you can decide whether you want to invest in it.
Let's delve straight into it.
The TL;DR version
What is Rytr?
Rytr is an AI-powered content writing assistant designed to cater to the diverse content marketing needs of in-house teams, business owners, bloggers, agencies, and freelance writers. Having been introduced in April 2021, Rytr has rapidly grown its user base, attracting over 7 million copywriters and marketers (also known as "Rytrs").
Rytr has been consistently recognized in the G2 rankings and has received several awards, such as the Winter 2022 Leader, Summer 2021 Market Leader, and Fall 2021 Leader in the AI-Writing Assistant category. Moreover, Rytr boasts an impressive average rating of 4.9 out of 5 on reputable sites like Trustpilot, G2, and Appsumo.
Rytr was acquired by Copysmith, another AI-powered content generation tool, in October 2022.
Key Features
Rytr offers an extensive array of features for different use cases, allowing content writers to significantly expedite the content generation process. Let's delve into some of the remarkable functionalities this tool has to offer.
Use Cases
Rytr uses the term "Use cases" to represent a variety of AI content generation templates, simplifying the process for users to create content according to their specific needs. Here are some examples of the use cases on offer:
Blog Generation: This use case empowers users to effortlessly generate blog or article ideas and outlines within minutes. By simply selecting the desired language, tone, and a few seed keywords, users can create a foundation and then easily expand each section of the outline as needed.
Social Media & Search Marketing: Rytr offers a variety of use cases, enabling users to generate Facebook, Twitter, LinkedIn, and Google Search Ads and organic posts efficiently. With just a few clicks, users can obtain multiple variations of Ad Headlines, Ad Copy, and CTAs for their marketing efforts.
Website Content: Rytr has thoughtfully created various use cases, including Landing Pages & Website Copy, Testimonials & Reviews, and Tagline & Headline, to ensure that all the website content requirements are covered.
Video Generation: The tool offers a range of use cases specifically designed to meet the needs of YouTube video creators, encompassing channel descriptions, video idea generation, and video description templates.
SEO: The tool has a few use cases, such as Keyword Generator, Keyword Extractor, SEO Meta Description, and SEO Meta Title to provide users with a foundation that they can build on.
Text Editing: Users can also Append, expand, reword, improve, and shorten content.
E-Commerce: With just a few inputs, such as language, tone, product name, and a brief product description, this feature enables users to craft engaging product descriptions within minutes.
Custom Use Cases
One of Rytr's standout features is its capability to enable users to create personalized use cases, like Recipe Generator or Speech Generator, effortlessly through a simple input field and example output. This feature spares users from having to write prompts repeatedly for their custom needs.
Rytr Chat
Rytr also caters to users who prefer generating content through chat. With its chat functionality, users can provide prompts directly in the chat interface instead of using predefined use cases. Moreover, they have the flexibility to add further instructions during the conversation to modify or expand the generated content.
Integrations
Rytr provides integrations with Semrush for enhanced keyword suggestions. It also has an in-built SERP Analysis integration that users can turn on and get suggestions on keyword clusters. Moreover, Rytr also provides an API and a browser extension allowing users to use Rytr directly on platforms like Gmail.
Image Generation
In addition, Rytr enables users to generate royalty-free and copyright-free images based on text prompts. These images serve as excellent visual assets for blog posts, articles, and social media content.
Other Use Cases
Rytr boasts an extensive array of diverse use cases that cater to a wide range of needs. These encompass everything from crafting cover letters and emails to generating job descriptions and poems.
Use Cases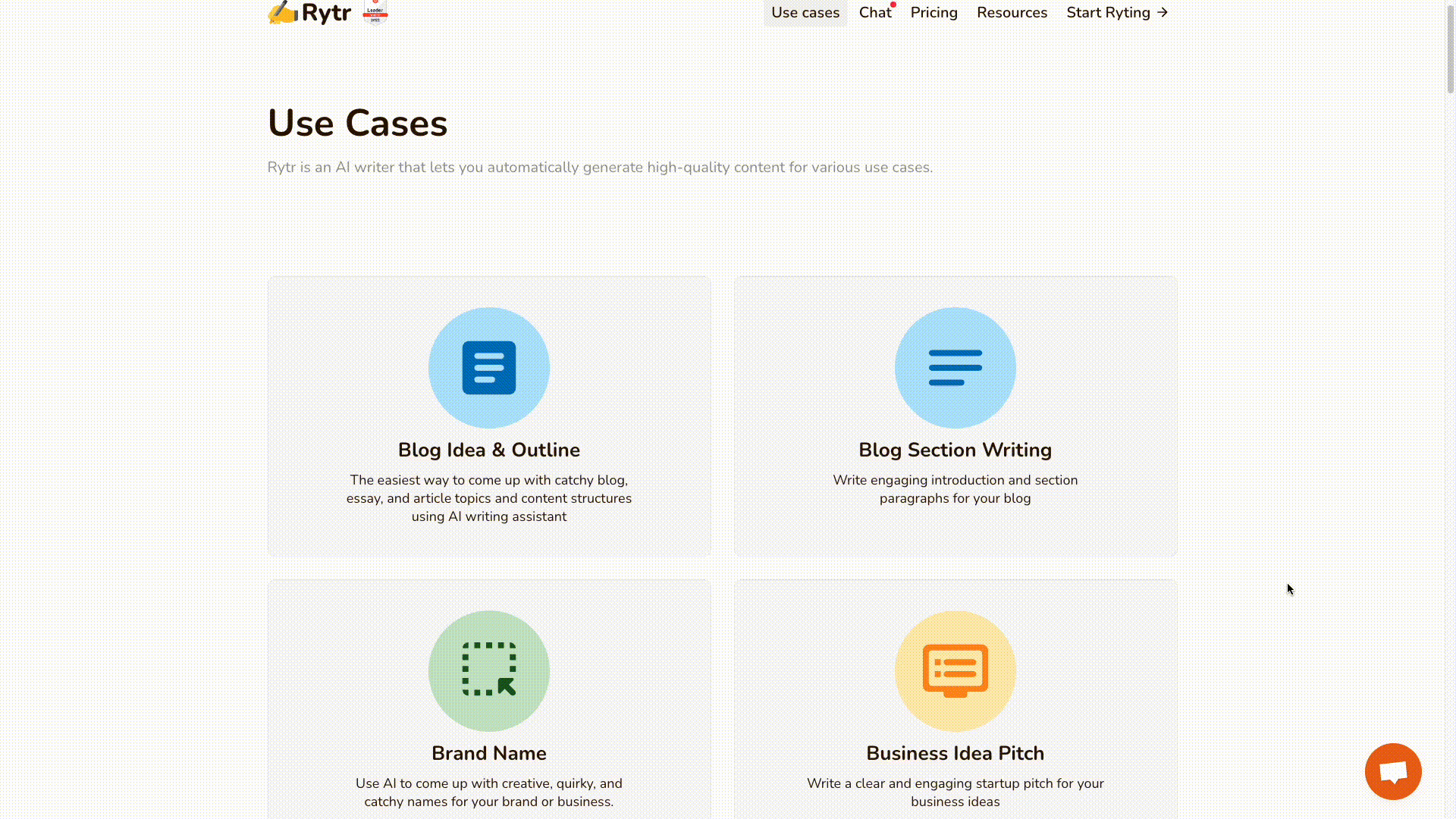 Rytr boasts an impressive collection of 43 unique templates, catering to a diverse range of content generation use cases.
Blog Generation
To facilitate blog generation, Rytr offers templates for both blog ideas & outlines and blog section writing. To generate a blog idea or outline, simply choose your desired language, tone, provide a primary keyword, specify the number of variants needed, and set the creativity level.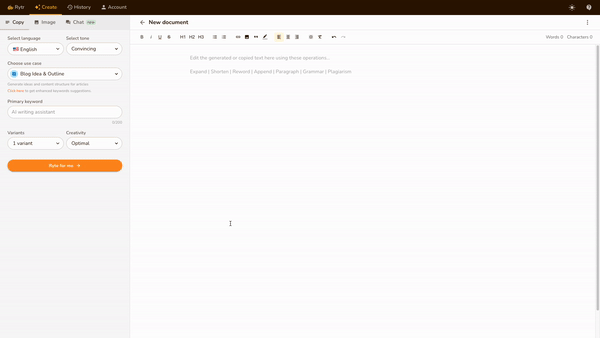 To expand each section, you can use the blog section writing use case template. You can use the section topic and section keywords generated previously by the blog idea or outline use case.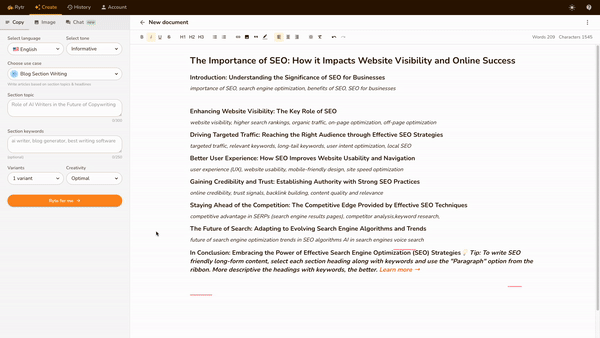 While the quality of the output is acceptable, I think there are a few drawbacks compared to similar AI-writing tools:
The user is required to expand each section individually, which can become quite cumbersome, particularly for long-form articles.
The tool lacks the option to specify the desired number of words for each section, resulting in credits being used up quickly.
Social Media & Search Marketing
Rytr provides users with a selection of 3 distinct use case templates tailored for Social Media & Search Marketing.
The templates can be found in the Use Case Dropdown. However, since all the use-cases are presented in a single dropdown, locating the specific one you need might be a bit challenging. It would greatly improve user experience if Rytr could categorize the use cases into different sections, making it easier for users to find the most relevant one for their task at hand.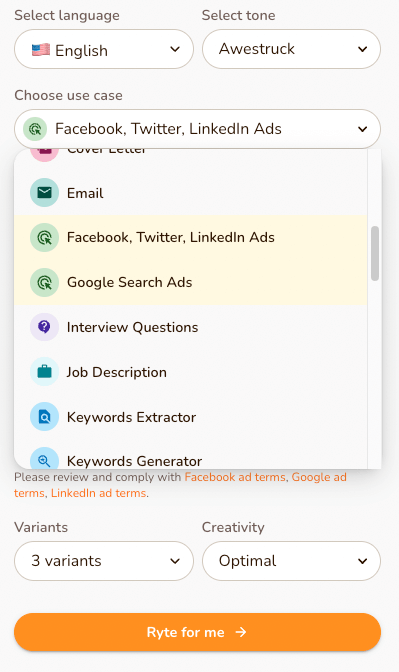 Once the required template is selected, you just have to provide a product name and a short description to generate ads or post ideas.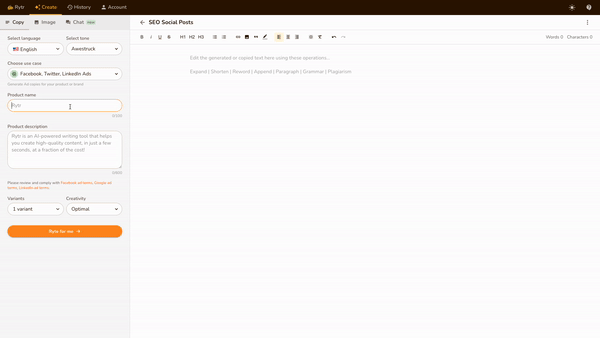 Website Content
The landing pages & website copy use case in Rytr proves useful for swiftly generating content for landing pages with minimal user input on the product or service. While it's a valuable addition, it falls short compared to other tools like Writesonic, which not only generates section copies but also delivers a complete landing page design.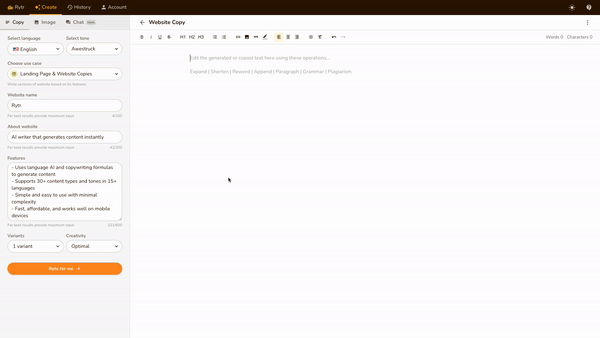 Rytr's landing page & website copy use case solely offers textual content without any visual design or CTAs.
SEO
Rytr offers several useful use cases that facilitate the creation of SEO-optimized articles. One such case is the Keyword generator, which allows users to generate a list of relevant keywords and related questions. These keywords can then serve as seed keywords for other use case templates.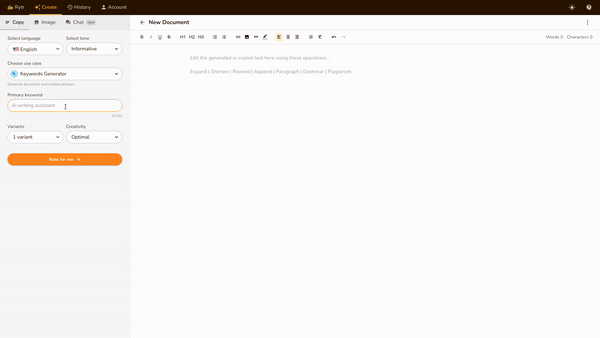 Rytr does not provide any search metrics for the keywords. As a result, it is best utilized in conjunction with other keyword analysis tools like Semrush or Ahrefs.
Rytr also provides templates for generating SEO Meta Titles and Descriptions. However, I've observed that the AI-generated meta descriptions tend to be quite lengthy, which is not ideal. Nonetheless, users can utilize Rytr's quick text-editing features to shorten the descriptions and align them with best practices.
Other Use Cases
Rytr offers an extensive and diverse array of use cases, satisfying a wide range of content needs for its users. Some of these valuable use cases include:
Brand Name, Business Pitch, and Business Ideas
Copywriting Frameworks – AIDA and PAS
Cover Letter
Emails
Interview Questions
Poem and Song Generator
Youtube Video Ideas, Channel, and Video Description
Testimonial & Review
Story Generator
With these comprehensive templates at their disposal, users can confidently tackle various content creation tasks.
Custom Use Case
This is an immensely valuable feature that allows users to create custom use cases for content types they frequently need to generate but don't have a pre-made template for them.
However, it's worth noting that generating custom use cases is only available to users on a paid plan.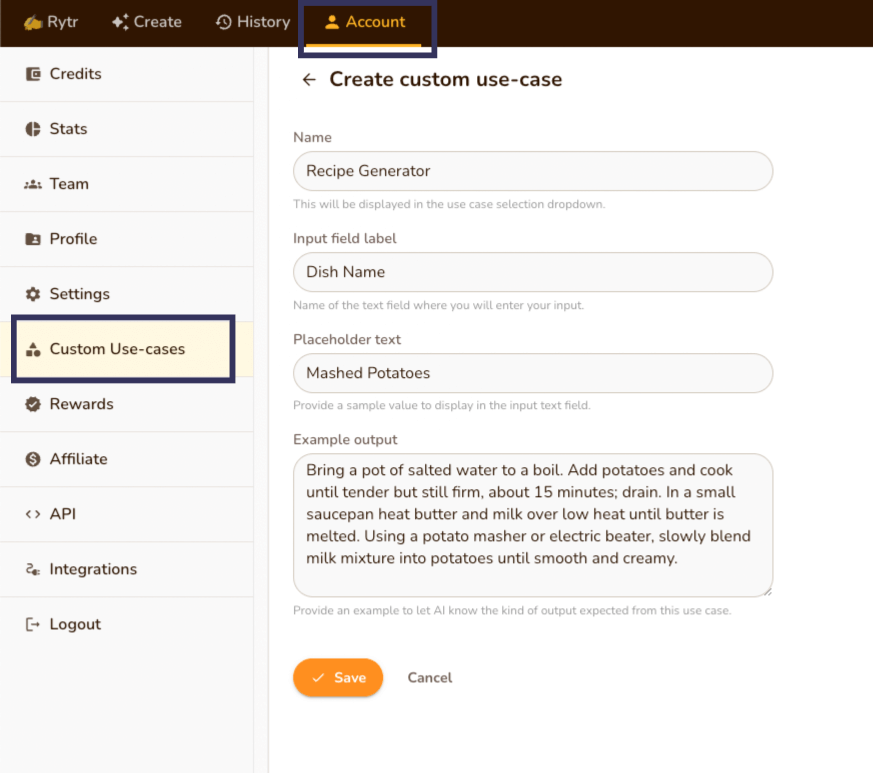 To create a custom use case, users simply need to provide a name, input field label, placeholder text, and example output. The submitted use case is then sent to the Rytr team for approval, and once approved, it will be added to the list of use cases for users to utilize.
Rytr Chat
Through the Rytr chat, users can conveniently offer prompts directly within the chat interface, eliminating the need for predefined use cases.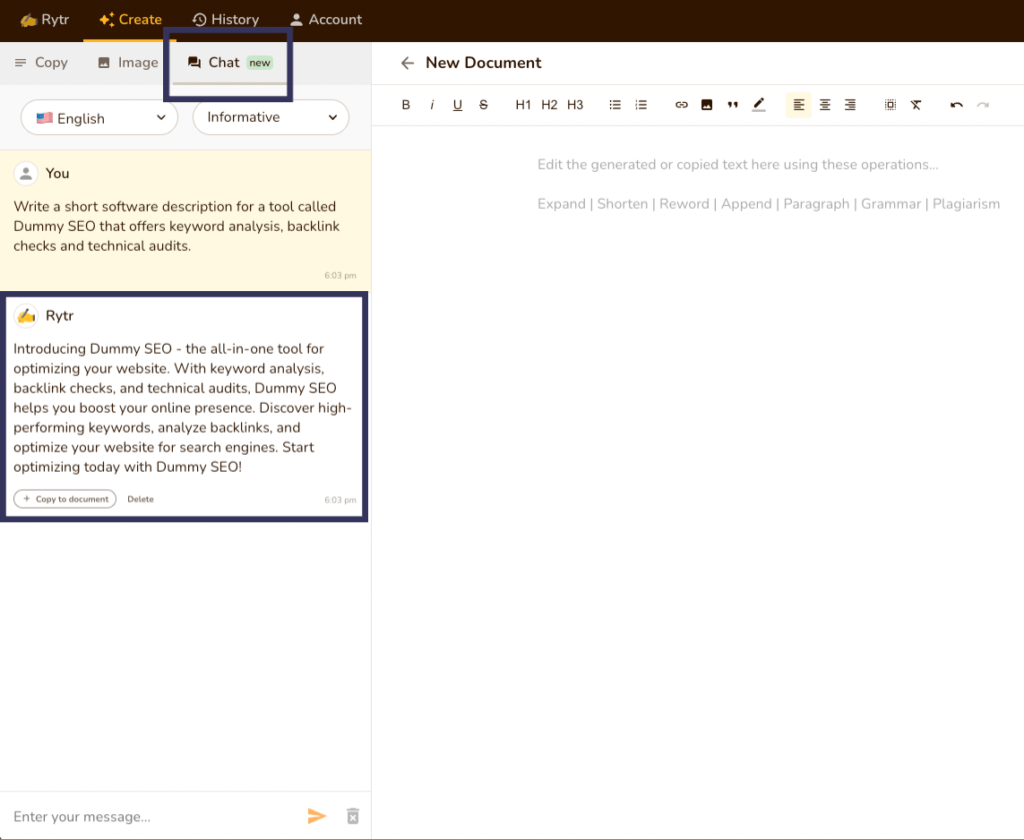 It's a more interactive approach to content generation, allowing users to tailor the precisely to their requirements by providing detailed instructions on how the content should be modified.
Once the user is satisfied with the output, they can copy it directly to the document.
Integrations
Rytr offers seamless integrations with both Semrush, which enhances keyword suggestions, and an in-built SERP Analysis feature that provides users with valuable insights on keyword clusters. Users can conveniently enable these integrations through the "Integrations" section of the platform.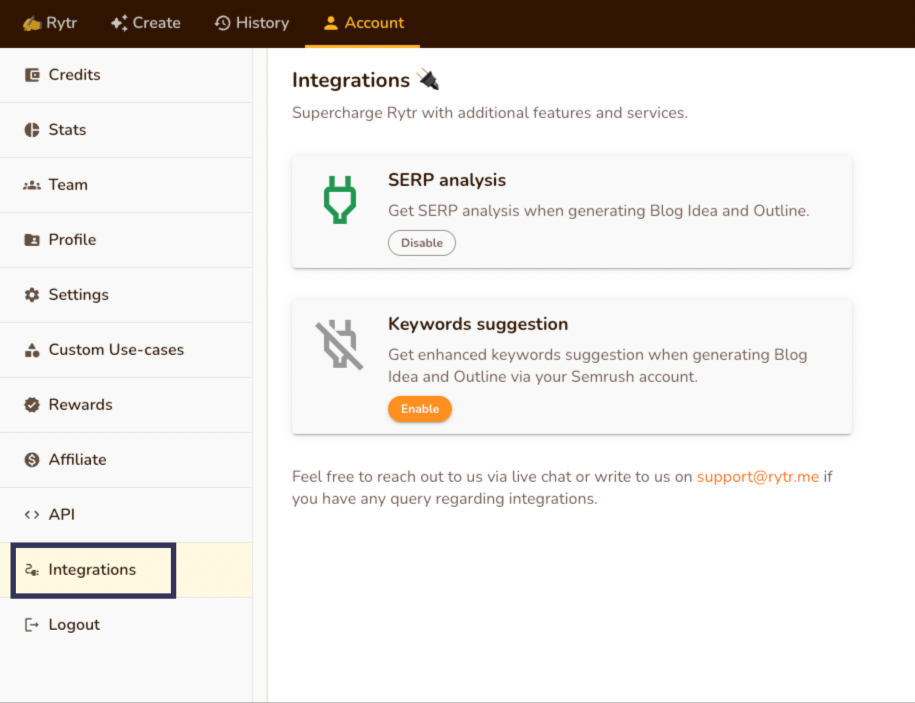 Furthermore, Rytr extends its capabilities beyond its interface by providing an API and a browser extension. With the API, users can integrate Rytr directly into their own applications or workflows. As for the browser extension, it allows users to access Rytr's functionalities directly from platforms like Gmail.
Image Generation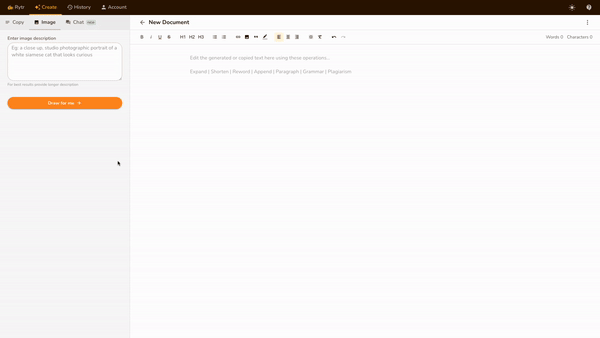 With this feature, users can generate images based on text prompts, ensuring that they have unique images for their blog posts, articles or social media content. A valuable enhancement to this functionality would be to incorporate an option for users to specify the resolution and size of the AI-generated image according to their preferences.
Customer Support
Rytr ensures users have convenient access to diverse customer support options. Apart from live chat assistance, users can rely on community forums, extensive guides, resources, and tutorials for resolving queries or finding solutions.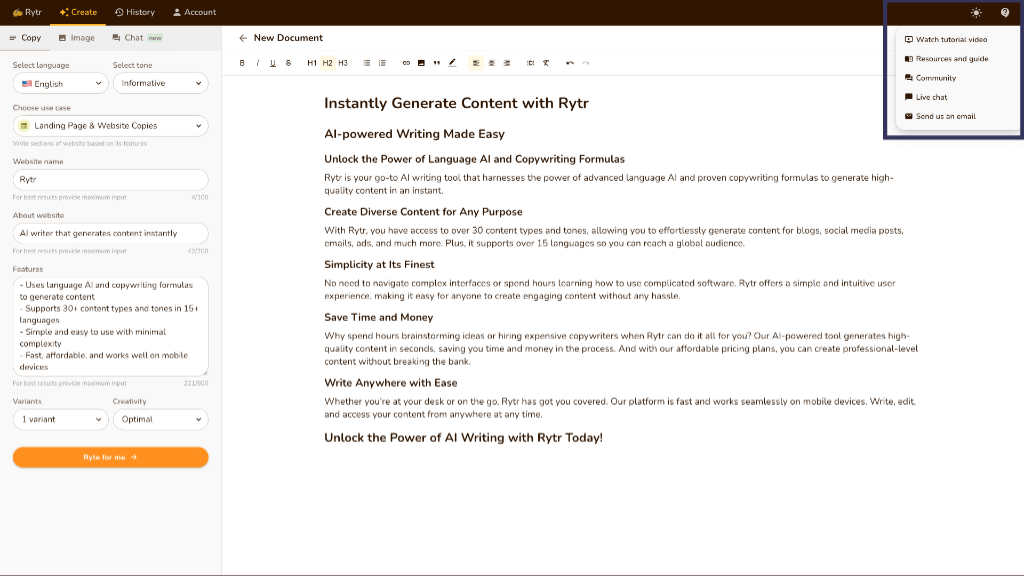 Users can easily access these customer support options by clicking on the help icon in the top navigation.
Rytr's knowledge base offers comprehensive information and instructions for each feature. Additionally, the Rytr community platform resembles Slack, with dedicated channels for APIs, general discussions, opinions, and more. However, community moderation might need improvement, as it contains numerous random posts from users advertising their businesses.
Pricing
Rytr offers three different pricing plans:
| | Free Plan | Saver Plan | Unlimited Plan |
| --- | --- | --- | --- |
| Price | Free | $9/month | $29/month |
| Characters | 10,000 characters per month | 100,000 characters per month | Unlimited characters per month |
| AI-Images | 5 Images per month | 20 images per month | 100 images per month |
| Custom Use Cases | Not Available | Available | Available |
| Dedicated Account Manager & Priority Support | Not Available | Not Available | Available |
Users can also get 2 months free on annual plans. However, unlike some other tools in the industry, Rytr does not provide a customized Enterprise plan.
Users can also increase their monthly quota by 10,000 credits by writing reviews on LinkedIn, Facebook, Twitter, App Sumo, G2, and Trustpilot.
For the Rytr API, the users can get started with a complimentary 10k API credits and after that it's pay for what you use model with no usage limits.
Competitors
Tools
Pricing
Features
Quality of Output
Integrations
Rytr
At first, Rytr's pricing of $9/month might seem to be considerably cheaper compared to its competitors in the industry. However, at $9/month, Rytr only offers 100,000 characters per month while the competitors offer either 100,000 or unlimited words at a slightly higher price point.

For unlimited characters, users will have to subscribe to the unlimited plan, which is $29/month.
Although Rytr has the least number of use cases, the tool makes up for it with its custom use case capability.

Additional Features:

1. Provides API access
2. Built-in plagiarism checker and SERP Analysis.
Rytr uses GPT-3 for content generation. Compared to other tools like Writesonic, Rytr also lacks the ability to generate long-form content easily.
Rytr provides integration with Semrush for enhanced keyword suggestions. The tool also has a browser extension that can be used on various platforms like Gmail.
Writesonic
Writesonic's pricing starts at $19/month for 100,000 words. The tool also has an extremely flexible pricing structure.
Writesonic has an extremely comprehensive set of templates for different scenarios. It also allows users to set their own brand voice and tone and then generate content that aligns with their brand.

Additional Features:

1. Provides API access
2. No-code Chat Bot
Writesonic uses GPT 3.5 and GPT 4 for content generation. The users can easily switch between the two models.
Writesonic provides integrations with WordPress, Zapier and Surfer SEO.
Copy.AI
Copy.AI has a starting price of $49/month. However, the tool provides unlimited AI words at that price point.
Out of these tools, Copy.AI has the least number of integrations and also lacks image generation capability.

Additional Features:

1. Provides API access
Copy.AI uses GPT 3 for content generation.
Copy.AI provides API that can be used in other applications. Their website does not list any other third-party integrations.
Jasper AI
Jasper has a similar price point as Copy.AI and provides unlimited AI words.
Jasper AI provides more use cases compared to Rytr and also provides better collaboration features than most other tools in the industry.

Additional Features:

1. Jasper Campaigns that allows users to build multiple assets for their marketing campaigns – all in one go.
2. Provides API access.
Jasper AI uses major LLM models, such as GPT-4, Anthropic, Google's PalM, etc.
Jasper can be integrated with Surfer SEO.
Copysmith.ai
Copysmith starts at a price point of $19/month for 20,000 words.
Copysmith provides templates for various content marketing requirements.

Additional features:

1. Provides API Access
2. Campaign Builder
Copysmith uses GPT-3 for content generation.
Copysmith provides the most number of integrations with tools like Zapier, Microsoft Word, Google Ads, Frase, Hootsuite, Woocommerce and more.
Alternatives
Content writing

Jasper AI

Jasper AI is another great tool offering unlimited AI-generated words at a slightly higher starting price. Moreover, Jasper provides users with enhanced control over the output and allows users to generate multiple assets for their marketing campaign with a single prompt.

AI SEO tools

Copy.ai

Copy.AI stands as a strong contender to Rytr, utilizing GPT-3 for its AI Content creation. Despite a higher introductory price than Rytr, Copy.AI distinguishes itself by including 5 user seats in its basic plan, a feature Rytr lacks.
FAQs
How's the quality of AI-content generated by Rytr?
The quality of content for short-form purposes is satisfactory. However, when it comes to generating long-form content, Rytr can become cumbersome as you need to address and expand each section individually.
Is Rytr suitable for large agencies?
For large agencies that require collaboration capabilities and multiple user seats, we would recommend other tools like Jasper AI or Writesonic, since Rytr does not provide these functionalities.
Can I add additional team members in my Rytr Plan?
Additional team members cost $9/month on saver plan, which basically is the same price as another subscription. For unlimited plan, it costs $19/month for every additional user. Currently, there are no collaboration or workflow functionality available between team members.
Summary
Rytr stands as a strong contender among AI-writing assistants in the market. With its extensive collection of use-case templates, it caters to nearly all the content requirements of its users. Furthermore, the custom use case feature empowers users to create customized templates for their unique needs.
While Rytr offers a reasonably priced solution compared to other tools in the market, it may lack certain functionalities present in its competitors.
We hope that this review assists you in making an informed decision about whether Rytr is the right tool for you.
---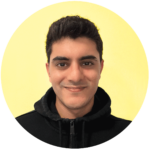 Nimit Kapoor
Nimit Kapoor is a Digital marketer with a passion for fostering brand-customer relationships through innovative strategies and analytics.
Skills:
Technical SEO, SEO strategy, Content strategy