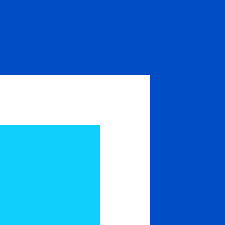 Scalenut review
A versatile tool that offers templates, Cruise Mode for easy long-form content, SEO tools, Cluster Builder, and authority building.
4.5

Publish date:

October 30, 2023

Author:

Nimit Kapoor
Visit site
---
---
Pros
Scalenut's AI-writer is more than just an AI writing assistant; it provides additional features, such as, SERP Ideas generation, SEO Score, and article briefs

Scalenut distinguishes itself from other AI-writing assistants in the market with its content research capabilities, including FAQs, citations, and competition analysis.

The tool's user-interface is highly intuitive and beginner-friendly.

The tool provides integrations with Google Search Console, Semrush, WordPress and Copyscape. The tool also has a browser extension available

Scalenut offers a marketplace where users can easily hire talent at affordable rates to meet their content requirements.

Scalenut provides multiple free AI-SEO and AI-Content tools on its website that users can access without signing up for the software.
Cons
Users must upgrade to the top-tier Pro plan to add an extra user seat. For more than two users, a custom enterprise plan is required.

Scalenut does not offer a custom AI template generator, a feature commonly found in most competing software.

The keyword data supplied by the keyword research tool alone is insufficient. To conduct comprehensive keyword research, integration with other tools like Semrush is necessary.

The tool currently only offers AI-content generation in English.

The tool does not provide an API unlike its competitors.
---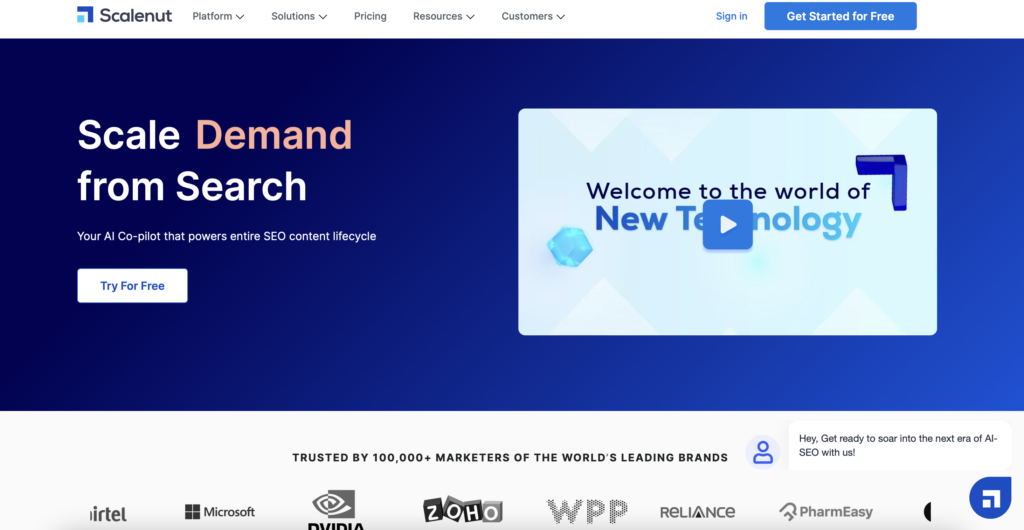 If you're seeking a solution for managing all your content creation tasks, your search ends here. Scalenut provides a seamless experience for conducting keyword research, generating outlines, creating content, and analyzing performance all within a single app.
In this extensive evaluation, we'll conduct a thorough examination of Scalenut's feature set and assess factors such as its cost-effectiveness, support, roadmap, design, and more. We'll also compare it with other tools in the market to identify its strengths and weaknesses, helping you make an informed decision about your investment.
Let's get started.
The TL;DR version
What is Scalenut?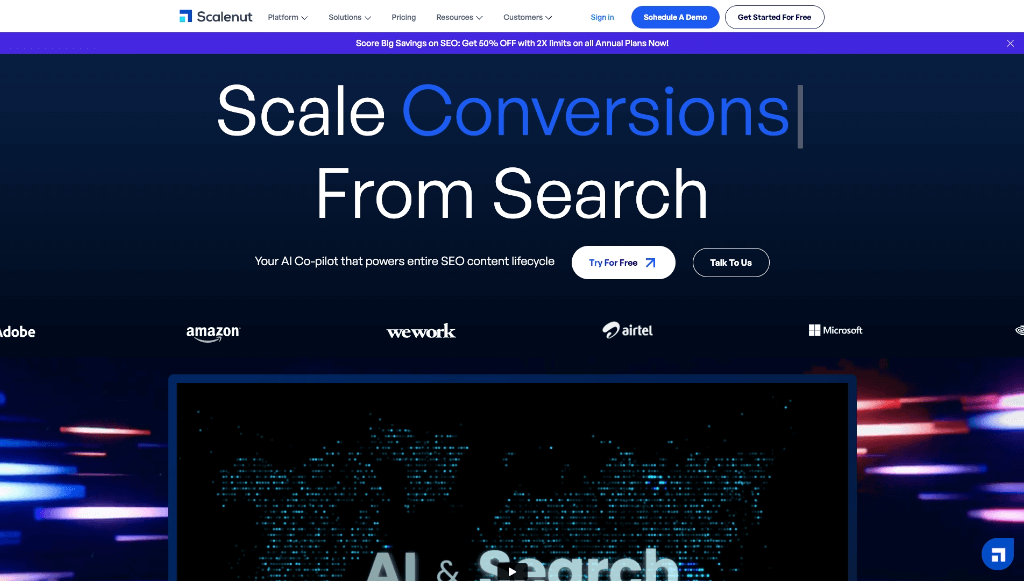 Scalenut is a versatile all-in-one content generation tool powered by AI. It's purpose-built to serve in-house teams, agencies, SEO strategists, and content creators, meeting their diverse content marketing requirements. Within a single application, Scalenut enables users to perform keyword research, create briefs, generate articles, and conduct competitive research, streamlining the content creation process.
Since its inception in 2020, Scalenut has achieved remarkable success, boasting a user base of over 1 million users.
Scalenut has also received several prestigious awards, with notable recognition as the Content Creation Momentum Leader and the Content Creation High Performer Europe in the G2 Spring Awards 2023.
Key Features
Scalenut is packed with a multitude of features that set it apart from competitors and help users manage their entire content creation process.
Article Writer
Scalenut's article writer stands out as one of the finest in the industry. You have an option to choose between cruise mode or a standard editor for a more hands-on approach. With Cruise mode, you can create an article in just 5-simple steps. If you want to write the article yourself with a bit of AI-assistance, the standard editor is at your disposal.
The article writer also provides users with the ability to discover reliable information using Scalenut SERP ideas and incorporate these insights seamlessly into their content pieces.
Content Optimizer
Scalenut enables users to enhance their content for improved SERP rankings by providing an SEO score, which is based on various factors like keyword usage, meta tags, URL structure, keyword density etc.
The tool even provides detailed suggestions on how to improve the SEO score for the given article.
Content Research
Scalenut's Content Research functionality empowers users to craft content guided by a wealth of competitor data, real-time SERP insights, and current social trends. It helps users integrate search intent into their content pieces by offering a comprehensive list of semantic key terms, related questions, statistics, and valuable insights from competitors' content.
Keyword Planner
This feature allows users to create related keyword clusters, serving as a foundation for their content. The tool not only generates these clusters but also offers essential keyword data such as search volume, keyword difficulty, and CPC. This data proves valuable in guiding users to decide which clusters to focus on for generating their articles, enhancing their content strategy with informed choices.
Traffic Analyzer
This feature enables users to streamline their content strategy by analysing data on top-performing and losing keywords and webpages. Users can also monitor traffic distribution and click-through rates allowing them make data-driven decisions.
Marketing Copywriter
Marketing copywriter provides users with AI-templates to create high-quality content on the go. It boasts a diverse collection of around 40 AI templates tailored to various content types, spanning from product descriptions to YouTube video scripts.
Article Writer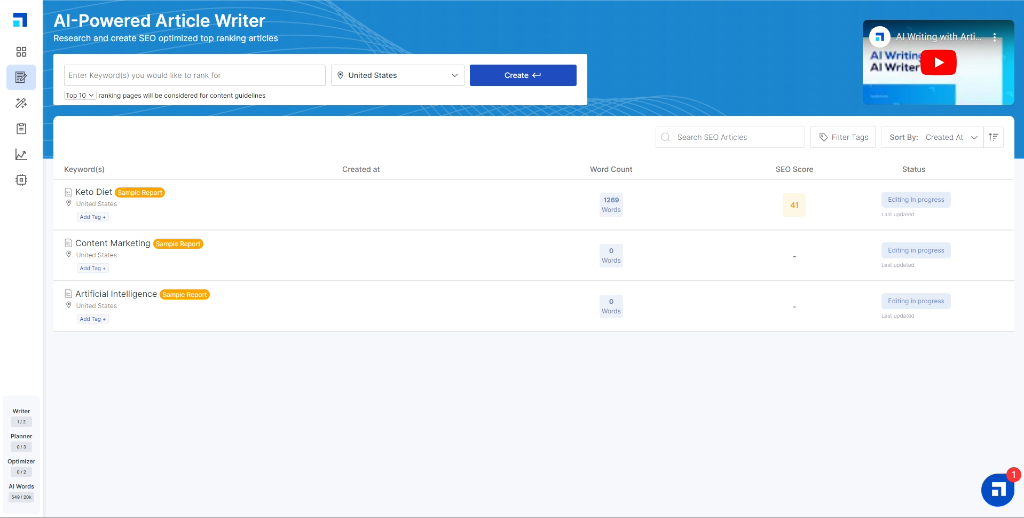 The Article Writer feature allows users to craft SEO-optimized articles effortlessly. The user-friendly dashboard displays all articles generated in Scalenut, providing crucial details like word count, SEO score, and article status
Users can organize easily by adding tags to categorize their articles. However, it would be more convenient if users had the option to create folders and arrange articles within them, as opposed to managing a lengthy list directly on the dashboard.
Cruise Mode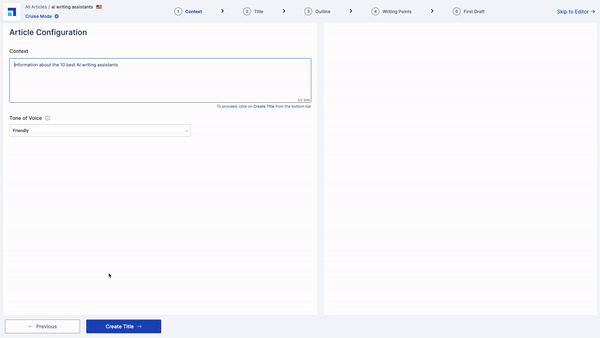 Cruise mode is the easiest and the fastest way to produce extensive content within Scalenut. This streamlined process involves 5-simple steps, beginning with the input of keywords and the location for the article. Here's how it works:
Start by providing context and setting the desired tone of voice for the Scalenut AI to build upon.
In the second step, you can provide a title for the article, with the tool also presenting a list of top-ranking articles on SERP that can serve as inspiration or be customized.
The subsequent step involves creating an outline for the article, where Scalenut automatically generates outlines and calls to action (CTAs) that you can further develop.
In this step, Scalenut offers writing points based on the outline from the previous step, accompanied by relevant SERP statistics on the topic that can be seamlessly incorporated into your article.
The final step involves generating the initial draft of the article. During this phase, users have the flexibility to make any desired changes or regenerate specific sections of the article if they find them unsatisfactory.
Editor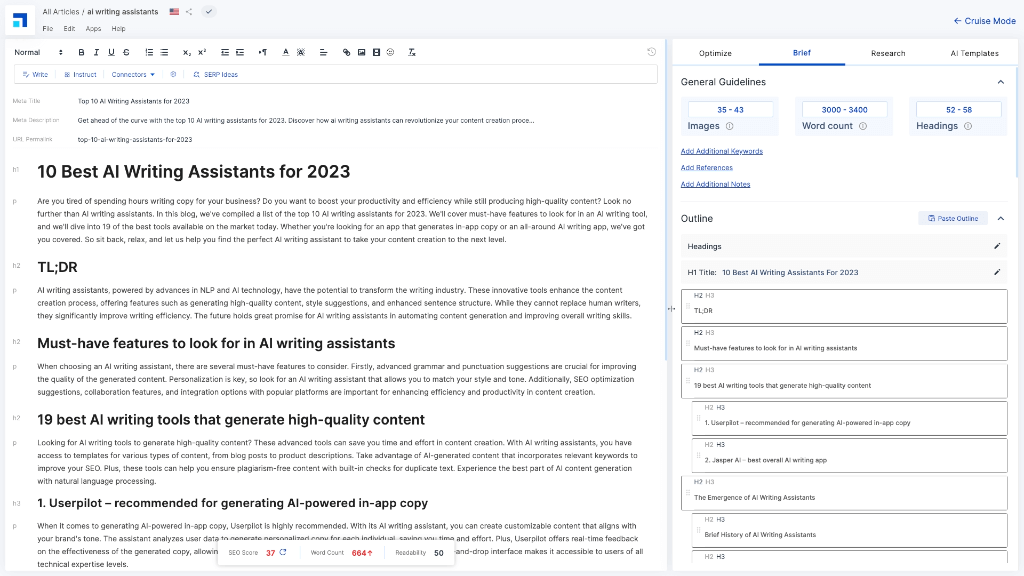 Users have the option to either import the article generated through Cruise mode into the editor or initiate their content creation process directly within the editor.
The editor gives users much more flexibility regarding article formatting and adding videos or images within the article. Furthermore, users can expand specific sections of their article using AI. To do this, they can highlight the text they wish to elaborate on and click the "Write" button. Scalenut's AI will then add more content based on the selected text.
In addition, users can leverage the SERP ideas feature to generate topic-specific SERP ideas and incorporate them into their articles, further enhancing the depth and relevance of their content.
Content Optimizer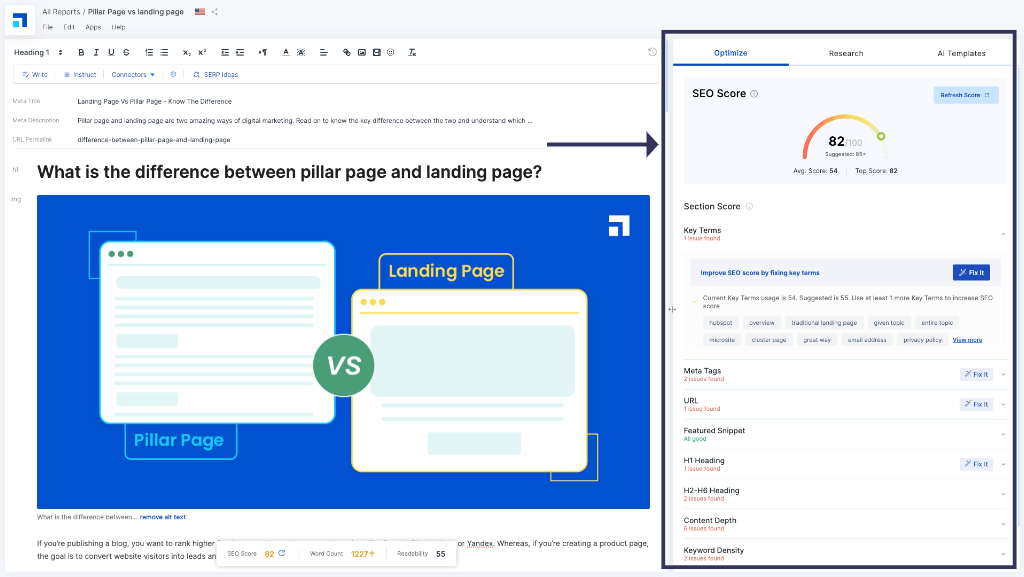 Scalenut offers users the capability to enhance their existing content to improve its search engine results page rankings. To obtain an SEO score, users can easily input a URL, specify their target keywords, and select the desired location.
Scalenut's SEO score is determined by several factors, including the utilization of key terms, meta tags, URL structure, featured snippets, headings, content depth, keyword density, and links. Each of these elements can be expanded to get precise suggestions for boosting the SEO score.
Certain issues related to meta tags, key terms, URL structure, and headings can be easily addressed by utilizing Scalenut's AI. For existing articles, users can access the content optimizer section and get the SEO score by entering the article's URL. However, for newly generated articles within Scalenut, the SEO Score feature is conveniently integrated directly within the editor.
Content Research
The content research tab can be conveniently accessed from the editor while composing an article. Within the research tab, there are five distinct sub-categories:
Key Terms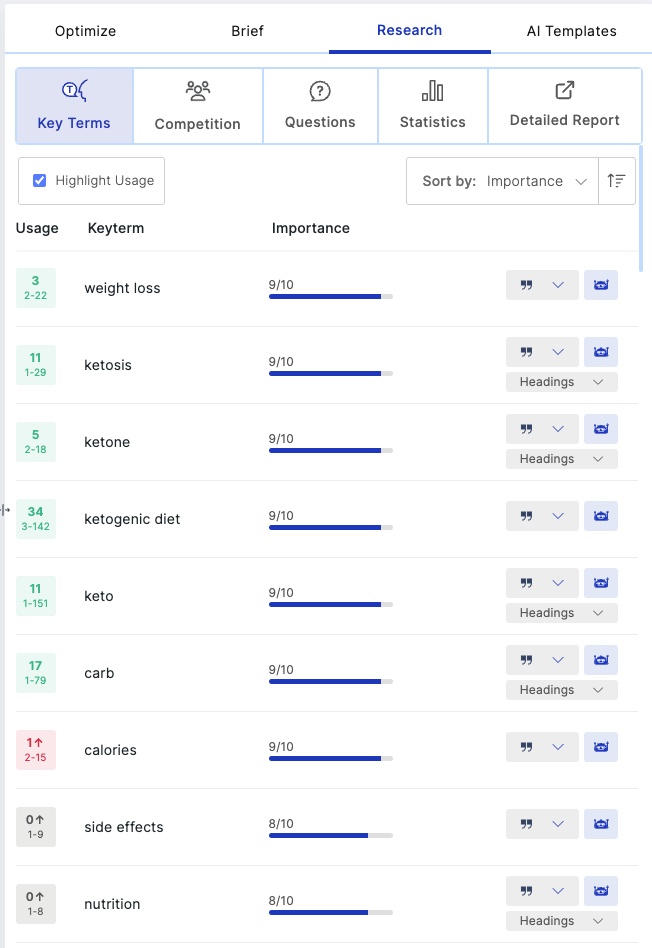 In the Key Terms section, users can find an NLP-powered list of key terms and phrases closely associated with the search term, along with supplementary details like the current and recommended usage of these terms and their significance. Additionally, users can examine how leading search results incorporate a specific term into their content and effortlessly generate text for a chosen term by simply clicking on the AI button.
Competition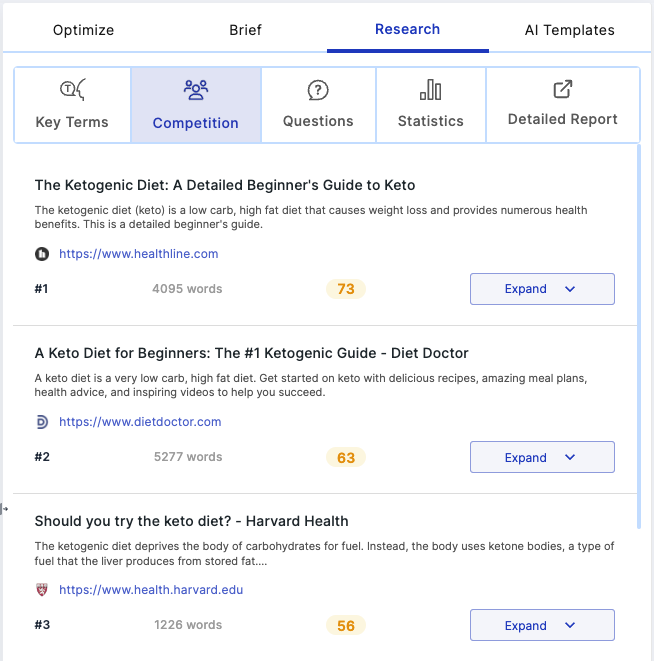 Within the Competition section, users can access valuable competitive insights derived from the top 30 ranking URLs. This list provides information on the top articles, their word counts, and SEO scores. Furthermore, users can expand this list to view the entire outline and heading structure of the content.
Users can also copy the entire outline from a competitor or select a few sections they wish to include in their content, subsequently generating content for those specific sections.
Questions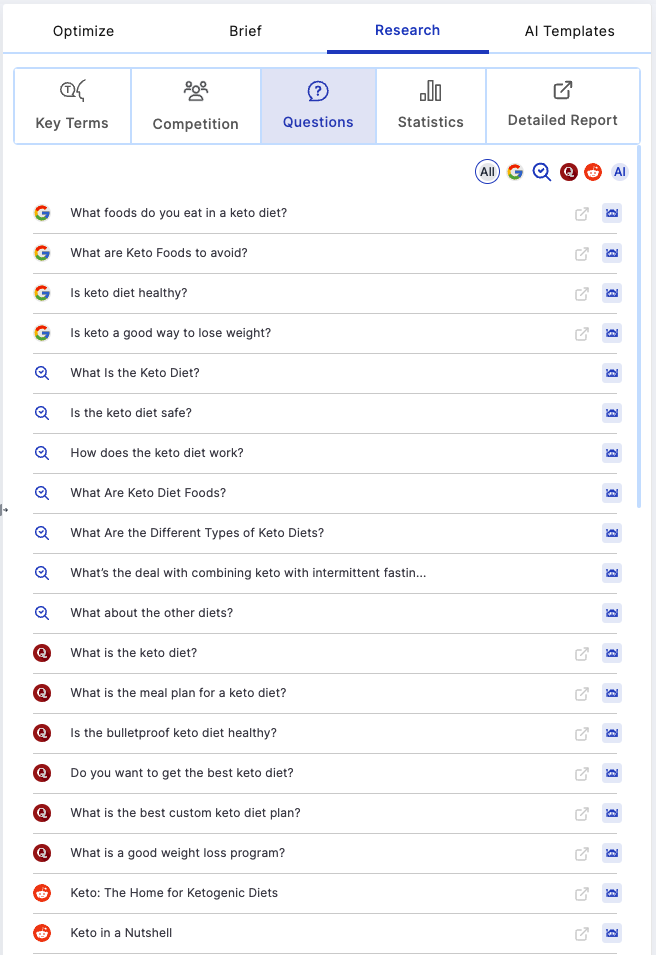 In the Questions section, users are presented with a list of questions sourced from five different sources: Google's "People also ask" sections, SERP-questions, Quora, Reddit, and AI-generated questions. This feature empowers users to seamlessly integrate these questions into their articles, enhancing their comprehensiveness and expanding their potential to rank for additional terms and phrases that they might not have otherwise considered covering.
Statistics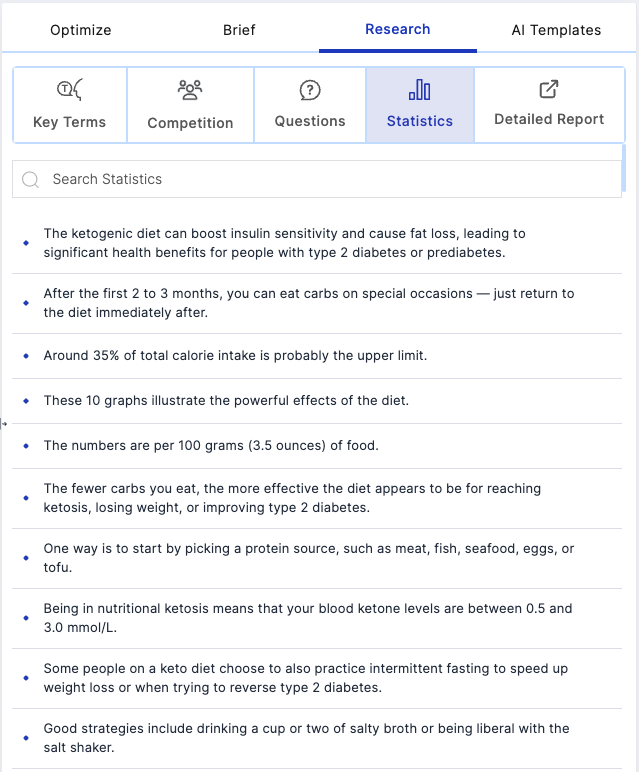 The Statistics section offers users valuable statistics related to their chosen topic, which can be seamlessly integrated into their own articles. Additionally, it provides the source of these statistics, which proves useful for creating external links.
However, it's worth noting that while this functionality is beneficial, there may be instances where the provided statistics are somewhat vague or incomplete, necessitating further research before they can be incorporated into the content.
Detailed Report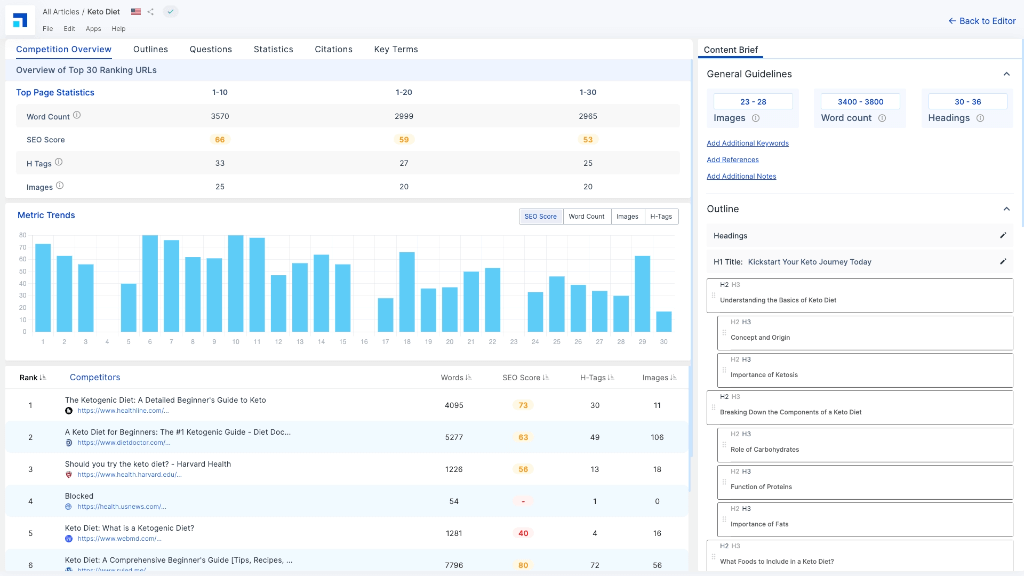 As its name implies, the Detailed Report section provides users with an in-depth analysis of the top 30 ranking URLs for their selected keywords. It offers comprehensive insights, including average statistics for the number of images, word count, headings, and SEO scores of articles within the top 1-10, 11-20, and 21-30 rankings.
This data serves as valuable guidelines for understanding the competitive landscape and optimizing their own content accordingly.
Keyword Planner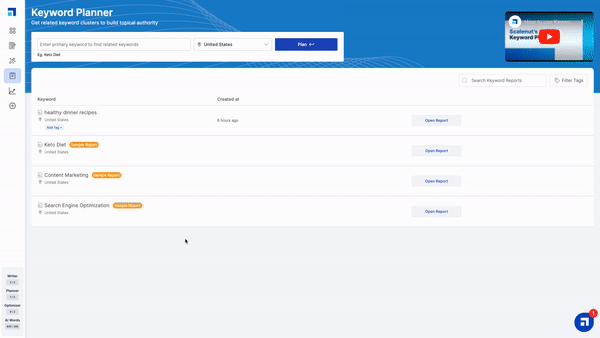 Scalenut's keyword planner enables users to create related keyword clusters to build topical authority.
To generate keyword clusters, users simply need to supply seed keywords and specify the location. Typically, the report is ready in approximately 2-3 minutes, and users receive email notifications once it's finalized. The Keyword Planner consists of two main sections: "Clusters" and "Keyword List".
Clusters
The clusters section provides clusters of related keywords along with the average keyword difficulty and total search volume for the cluster. To start the content creation process from here, all the user needs to do is hover over the cluster and click on "Create SEO Article".
Keywords List
The keywords list section shows the list of all related keywords, accompanied by information on search volume, relevance and the cost-per-click (CPC) for each of the keywords. While this data is valuable, we feel it's not sufficient to create a fully SEO-optimized article. Consequently, users may find it beneficial to complement this data with information from other tools such as Semrush and Ahrefs to further enhance their SEO strategy.
Traffic Analyzer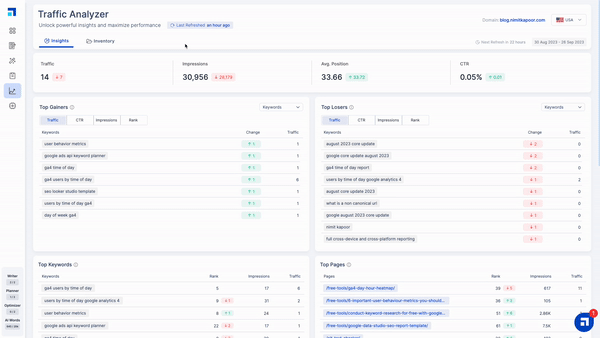 The Traffic Analyzer feature provides users with valuable insights into website performance. To utilize this functionality, users first need to integrate their Google Search Console property with Scalenut. Once this integration is established, the Traffic Analyzer report begins to display data.
This report comprises of two main sections:
Insights
The insights section offers a snapshot of website performance, including statistics like Total impressions, traffic, Average Position, and Click-through rate. Users also get insights on which keywords are the top gainers and top losers for the given period.
However, a major drawback of this report is the inability for users to adjust the date range; it is fixed at around one month and cannot be changed. This limitation hinders the ability to conduct meaningful comparisons or assess website performance over extended timeframes.
Inventory
The inventory section is essentially a list of all pages of the selected domain with performance data on Keyword count, Traffic volume, traffic share percentage, Impressions, current rank etc.
Marketing Copywriter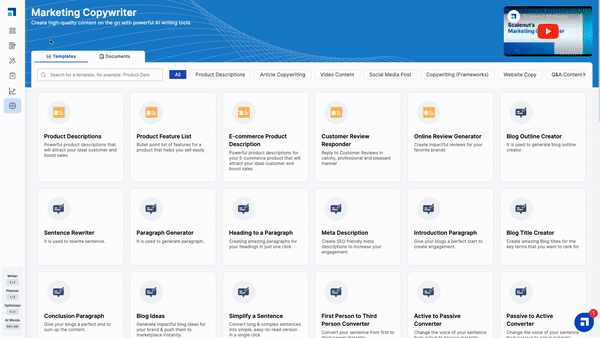 The Marketing Copywriter feature offers users a versatile selection of over 40 AI templates, categorized to cater to various use cases. Here are the different categories of templates provided by Scalenut:
Product Descriptions: This includes templates to generate Product descriptions, feature lists, customer review responses and online reviews.
Article Copywriting: This category includes 13 templates ranging from Blog Ideas and Outline creator to Active – Passive voice convertor.
Video Content: These templates are mainly for video creators to generate video script outlines, title, descriptions and hooks.
Social Media Posts: These templates make it easy for users to generate posts for platforms like LinkedIn, Instagram and Facebook.
Other: There are plenty other templates for generating website copy, FAQs, Emails, Ad Copies etc.
While Scalenut offers a substantial array of templates for various use cases, we feel it still lacks in comparison to other AI-writing assistants like Writesonic, which provide the added feature of generating custom use-cases.
Integrations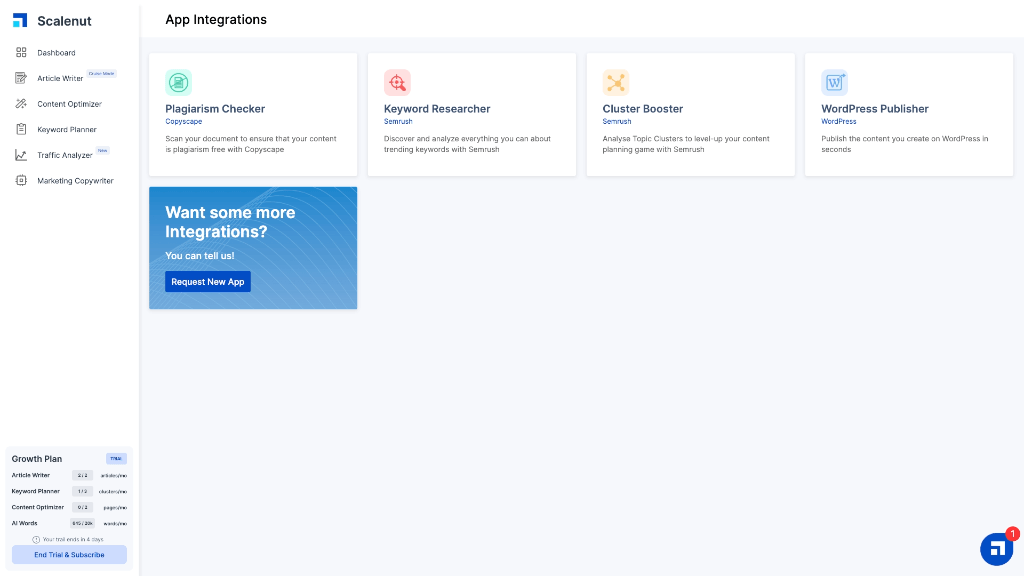 Scalenut enhances its functionality through integrations with various tools. It provides integration with Google Search Console, which is necessary for the Traffic Analyzer report. Users looking to bolster their keyword research capabilities can integrate with Semrush. Additionally, Scalenut offers integration with Copyscape for plagiarism checks and with WordPress for seamless post publishing directly from the tool.
Furthermore, Scalenut offers a Chrome browser extension for added convenience. However, it's worth noting that unlike some other AI-writing assistants, Scalenut does not currently provide an API.
Customer Support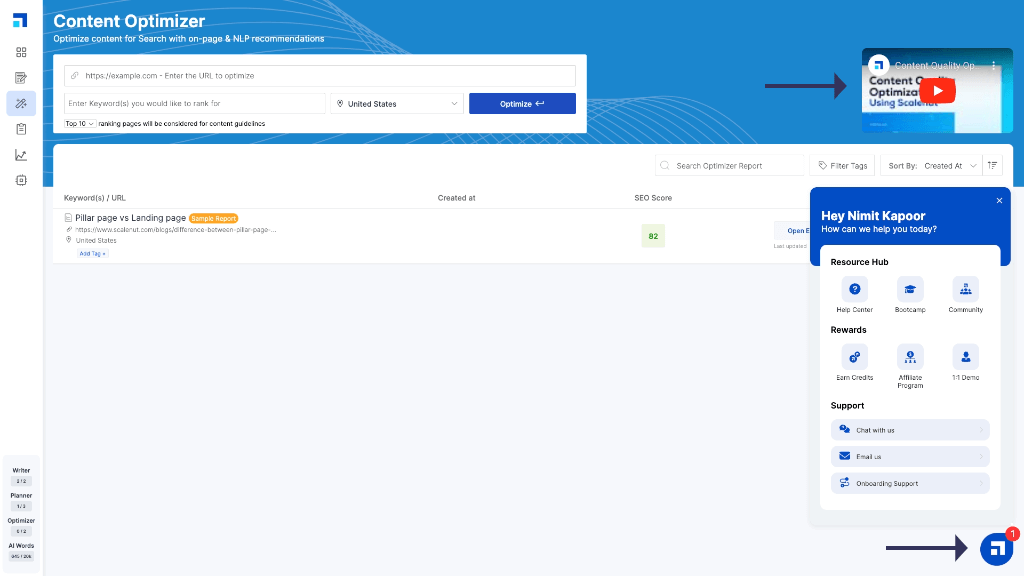 Scalenut provides an array of user support options, including live chat, email support, a Facebook community, bootcamp, a help center, and video tutorials that are easily accessible from the floating action button on the app.
Each feature on the Scalenut app provides easy access to video tutorials. While live chat operates during business hours, users can still get assistance via email. Scalenut also has a Facebook community of over 2,800 members.
Moreover, users can also access personalized onboarding support through 1:1 video calls with company representatives. This ensures that users make the most out of their 7-day free trial.
Pricing
Scalenut offers 5 different plan options:
Free, Essential, Growth, Pro and Enterprise. The paid plans start from USD 39/month.
| Description | Free | Essential | Growth | Pro | Enterprise |
| --- | --- | --- | --- | --- | --- |
| Price | USD 0/month | USD 39/month | USD 79/month | USD 149/month | Custom |
| AI Words | 2000 | 100000 | Unlimited | Unlimited | Unlimited |
| SEO Articles | 2/month | 5/month | 30/month | 75/month | Custom |
| Analyze Web Pages | Not available | Not available | 200 Pages/month | 500 Pages/month | Custom |
| Keyword Clusters | Not available | Not available | 30 clusters/month | 75 clusters/month | Custom |
| User Seats | 1 | 1 | 1 | 1 Additional Seat can be purchased @ $49/user | Custom |
| Integrations | Not available | Not available | Available | Available | Available |
Every plan includes – Cruise Mode, SEO Score, Competitive Research, AI-templates and automated outlines.
Users can save up to 40% on annual plans. However, Scalenut frequently runs limited period promotions where users can get 50% off + 2x limits on annual plans.
Users can also earn credits through Scalenut's referral program or by writing reviews on the G2 and Capterra platforms. The company also offers 2-months free if users create long-form content, such as, a blog post or YouTube video reviewing Scalenut.
Scalenut's pricing is quite reasonable and positions it as a competitive choice compared to other alternatives. While it may require some integrations for thorough keyword research, I find that Scalenut offers an impressively extensive toolkit at a competitive price.
Competitors
Numerous AI-powered content generation tools are available in the market. Let's examine how Scalenut measures up against the top competitors in this field:
Features
Pricing
Integrations
Scalenut
Scalenut stands out as one of the best AI-writing assistants in the industry, offering additional functionality:

1. Integrates with Google Search Console to provide insights on website performance.

2. Aggregates questions from multiple platforms – Google, Quora, Reddit etc.

3. Scalenut's competitor research capabilities are more advanced compared to other AI-writing assistants.
Scalenut's plans start from $39/month.

At this price point, users get to generate 5 articles/month and get 10,000 AI words.
Scalenut provides integrations with Semrush, Google Search Console, WordPress and Copyscape.

It also has a chrome browser extension available.
Frase
Frase does not provide a traffic analyzer capability like Scalenut, however, it has few additional features that Scalenut lacks:

1. Frase provides API Access.

2. Frase supports over 20 languages.

3.Frase provides backlink data for top search results.
Frase's starting price of $14.99 per month is the cheapest out of the 4 tools and allows users to generate up to 4 articles/month.

However, to add any other functionality, users need to purchase add-ons that can increase the subscription price considerably.
Frase provides integrations with WordPress, Google Docs and Google Search Console.
Jasper
However, to add any other functionality, users need to purchase add-ons that can increase the subscription price considerably. | Frase provides integrations with WordPress, Google Docs and Google Search Console. | | Jasper | Jasper boasts a bigger template library compared to Scalenut. Some of the additional features in Jasper that Scalenut lacks are:

1. Content creation in 30+ languages.

2. Provides API Access.

3. No additional payment per user in paid plan.
Jasper's pricing starts from $49/month, which is higher than the starting prices of Scalenut and Frase. However, unlike other tools, it provides unlimited AI-generated words at this price point.
Jasper has the most integrations available. It integrates with Webflow, Google Docs, Google Sheets, Google Big Query, Zapier, Make, Surfer SEO and Grammarly.
SurferSEO
Surfer SEO is great for long-form content. However, it lacks behind other AI-writing assistants when it comes to templates for different content needs.
Surfer SEO starts from $89/month but only allows the users to generate 2 AI Articles/month.
Surfer SEO integrates with Google Search Console and WordPress.
Alternatives
Content writing

Jasper AI

Jasper presents a compelling alternative to Scalenut, offering unlimited AI-generated words at a mere $10 price difference. It boasts a broader range of integrations with various tools and offers an extensive selection of templates, surpassing Scalenut if this is important to you.

AI SEO tools

Writesonic

Writesonic is another attractive alternative to Scalenut. Its starting plan, priced at $49 per month, includes three user seats, providing more flexibility than Scalenut. Writesonic also empowers users with greater control over their AI credit usage by enabling them to switch between GPT-3.5 and GPT-4. Furthermore, it offers a convenient no-code chatbot builder, expanding its utility beyond content generation.
FAQs
What is the difference between the Free Trial and Free Forever plan of Scalenut?
The free trial provides full access to all features of the tool for 7-days. Free Forever plan offers users limited features in comparison to the paid plans. In the free forever plan, users can get up to 2000 AI words and can generate up to 2 Articles/month. Users who do not purchase a paid plan at the end of the 7-day free trial are automatically switched to the free forever plan.
How is the quality of content generated by Scalenut's AI?
Like with any other AI-writing assistant, the content generated by Scalenut needs to be proofread and edited. The overall quality of the content is reasonable. However, we found that sometimes the tool picks up somewhat vague statistics from SERP.
Is Scalenut the right tool for large agencies?
Scalenut is a great tool for content creation and can easily be used by agencies of any size. However, large agencies would need to contact Scalenut for custom plans as the Pro plan also offers just 1 additional user, which might not be enough for large agencies.
Summary
Scalenut stands out as one of the top AI-writing assistants available, offering an intuitive interface that simplifies content creation tasks from keyword research to content analysis. Its rich feature set and robust competitive analysis capabilities are commendable.
However, some minor enhancements, such as allowing users to customize the date range in the traffic analyzer report, developing an API, and expanding the number of user seats in paid plans, could further improve its offerings.
---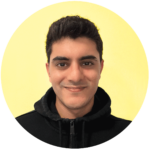 Nimit Kapoor
Nimit Kapoor is a Digital marketer with a passion for fostering brand-customer relationships through innovative strategies and analytics.
Skills:
Technical SEO, SEO strategy, Content strategy