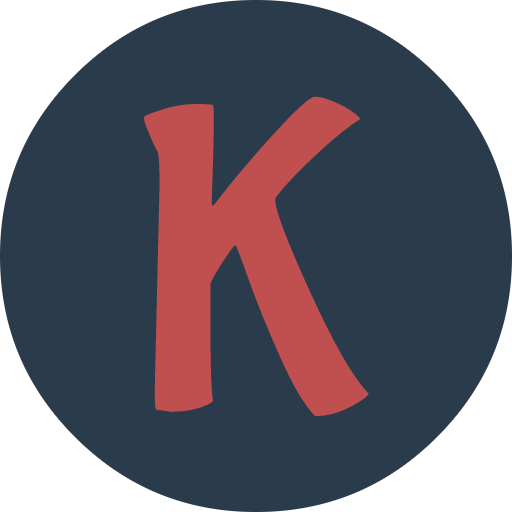 Keywords Everywhere review
An add-on for Chrome & Firefox enabling you to find the search volume, CPC & competitor information for different websites.
---
---
Pros
Shows useful data quickly

Provides useful resources that teach users to manage their credit

Gives historical data over a long period

It's customisable

The data on suggested keywords help you decide what to search for instead

Provides data across multiple search engines

The API key makes it flexible

It's easy and intuitive to use
Cons
You can easily use up credits if you don't learn to manage it

You can only contact support via email
---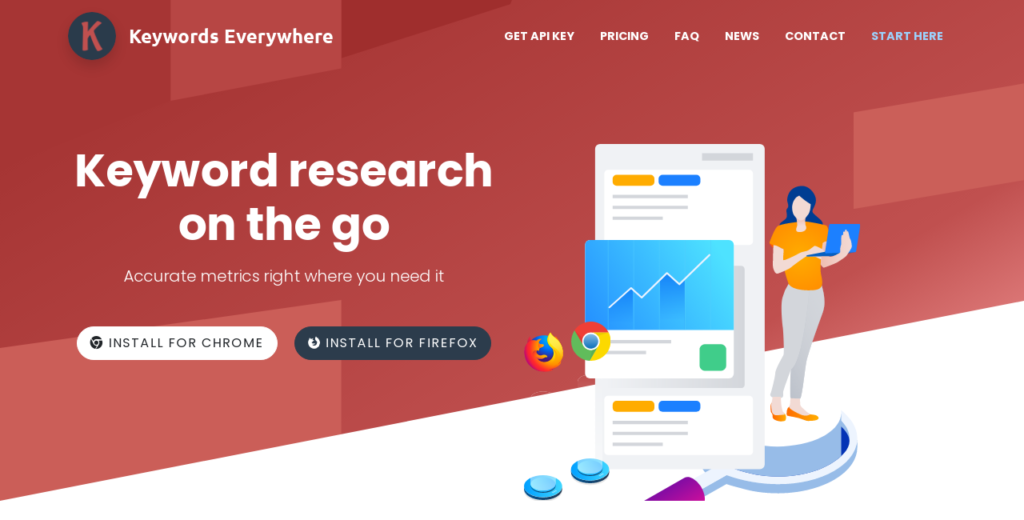 Keywords Everywhere brings keyword research to the same interface searchers use—the search engines. So you can instantly see and analyze the keyword performance data of any specific content. This tool helps you find backlinks, keywords data, and ranking performance of all pages on the SERP for any keyword.
This review takes a deep dive into how this tool works and reveals the features, support, pricing, and user experience so you can make better business decisions.
What is Keywords Everywhere?
Keywords Everywhere is a freemium Firefox add-on and Chrome extension. The tool conveniently shows essential SEO metrics and keyword research data on search engines and social media.
It offers a wide range of free features that allow you to get important SEO data after installation. However, you must get a valid API key to access premium features like volume data and CPC.
We'll discuss these features as we go into the review.
Overview of key features
When you turn on your Keywords Everywhere extension while using Google search, you'll see essential keyword data overlaying the SERP. The extension fetches and displays the keyword's monthly search trends for all web pages that appear on the SERP for that keyword. 
Keyword Widgets – Shows related keywords, long-tail keywords, and people also ask keywords. However, it doesn't give free users keyword volume data.
Trend Charts – Shows trend charts on YouTube and Google from 2004 to all users. But it doesn't include historical volume data in the free version.
YouTube Metrics – Show search insights, video insights, SERP metrics, and YouTube tags.
Traffic Metrics – Display the top 5,000 keywords for any domain or URL and their monthly estimated traffic.
Moz Link Metrics – Shows domain authority, spam score, DA trend, backlinks, total referring domain, and more.
On-Page Analysis – Gets the list of keywords within the page of any analyzed URL. Then shows their associated on-page keyword density.
Competitor Gap Analysis – Analyzes competitors to search for keywords they rank for but lack in yours.
Accurate Monthly Search Data – The extension shows accurate monthly search volume, competition, trends, and CPC.
Volume Data in Multiple Google Properties – Like Google Analytics, Google Search, Google Keyword Planner, Google Search Console, Google Trends, and Google Planner.
Volume Data in Multiple eCommerce Websites – The extension works on eCommerce sites like Amazon, Etsy, and eBay to show keyword-level volume data.
Volume Data in Multiple Search Engines – The extension also shows volume data on search engines like Google, Bing, YouTube, and DuckDuckGo.
Volume Data In Multiple SEO Tools – The platform overlays volume data in SEO tools like Soovle, Keyword Shitter, and Answer The Public.
Import Keywords – It allows one to import keywords to analyze CPC, search volume, and competitors
Trend Data – While on YouTube and Google, the extension allows one to see historical volume data in the trend charts.
Bulk Trends – Keywords Everywhere allows users to obtain trends from bulk data.
Features
The extension uses Google API to pull keyword-level data and overlay it on the search results page. Although Keywords Everywhere allows you to access many features for free, this review will show you how to use both the paid and free features.
Keyword Suggestion
Keywords Everywhere starts to work as soon as you start typing a keyword on a search engine.
Let's take Google, for instance. As you start typing, you'll see several suggested keywords associated with your search. The extension shows the relevant data for each suggested keyword.

After deciding what keyword to use, this data comes directly below your search term.

On-Page Analysis
The on-page analysis shows you the search engine optimization level and data of the page.
Keywords Everywhere's on-page optimization extends beyond search terms to show other keyword data for each page on the SERP.
For example, when you hover your mouse over the data beside each page detail, you'll get a drop-down that shows the monthly organic traffic number and total keywords for the URL and the domain, respectively.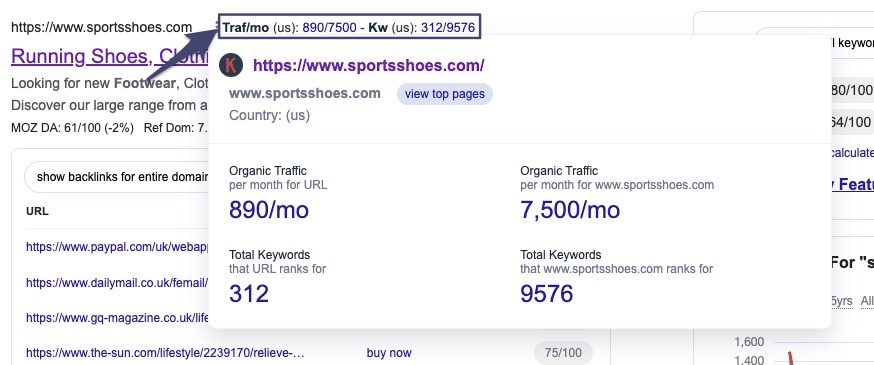 Under each of the listings on Google's SERPs, the extension displays:
Moz DA rating
Referring domain
Backlinks, and
Spam score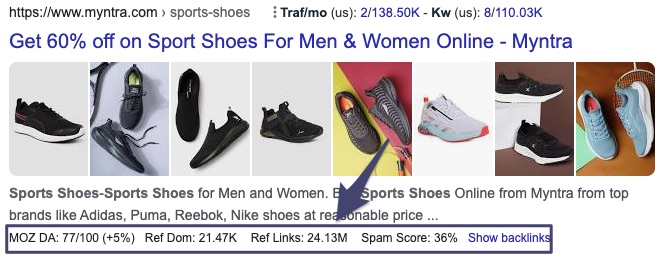 Backlinks and Moz Link Metrics
At the end of this data, you'll see a link that allows you to open up the backlinks to that page.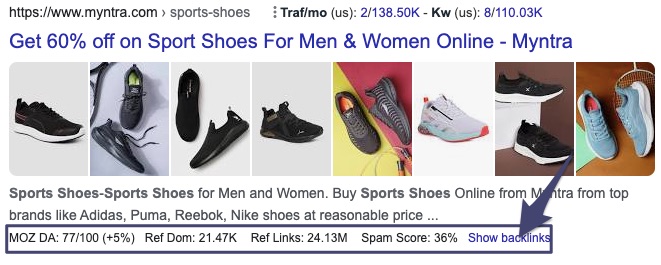 Click "Show backlinks" for a drop-down that shows you the referring links, the anchor text, and the Moz rating for each of the backlinks.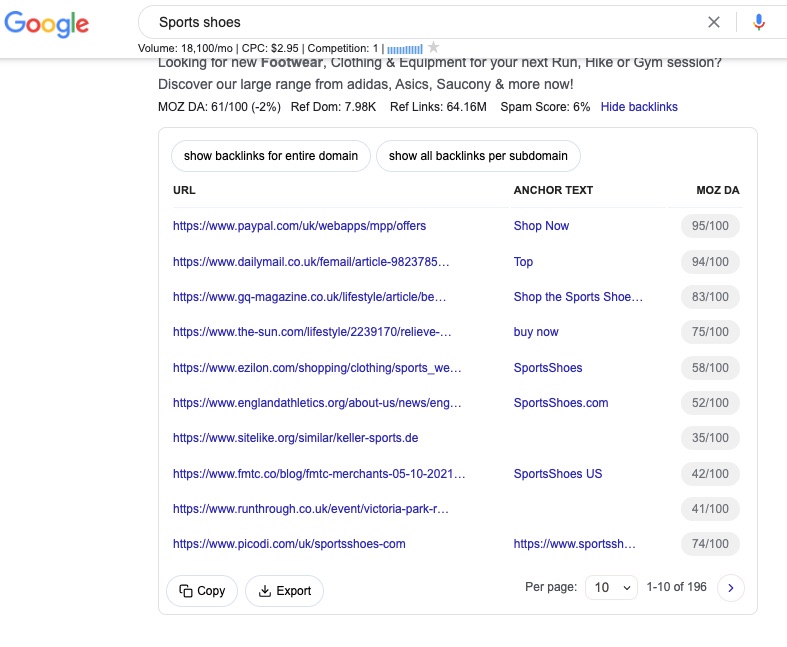 You can view additional backlinks for the page by clicking the arrow beside the number of pages or by increasing the number of backlinks to display per page.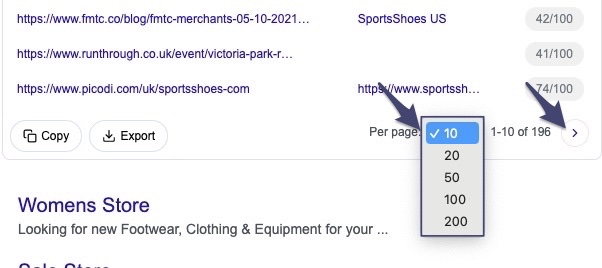 You don't have to be a paid user to access this data because it's free data from Moz.
The default view shows one backlink per subdomain. However, you can expand it to show backlinks for the entire domain or all the backlinks per subdomain.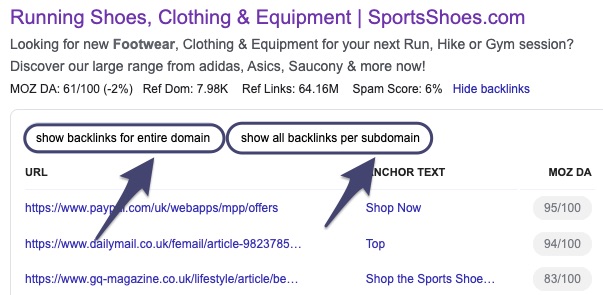 Keywords Everywhere update your backlinks data monthly. So, if you're using the extension to run a link-building campaign, you might need to wait a month to see your result.
Keyword Widgets
To the right of the SERP listings, you'll see some relevant widgets.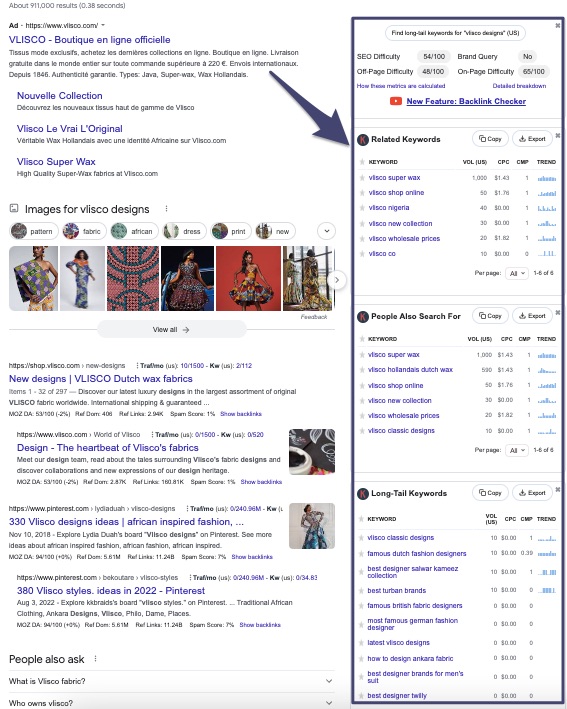 The first widget shows some important SEO scores. These scores include:
A button that shows long-tail keywords
SEO difficulty rating
Off-page difficulty rating
On-page difficulty rating
Brand query
The first button allows you to find long-tail keywords for your search term. 
This list shows keywords that can be used in place of your search term. Users can see keywords that might be ranking better than your search term.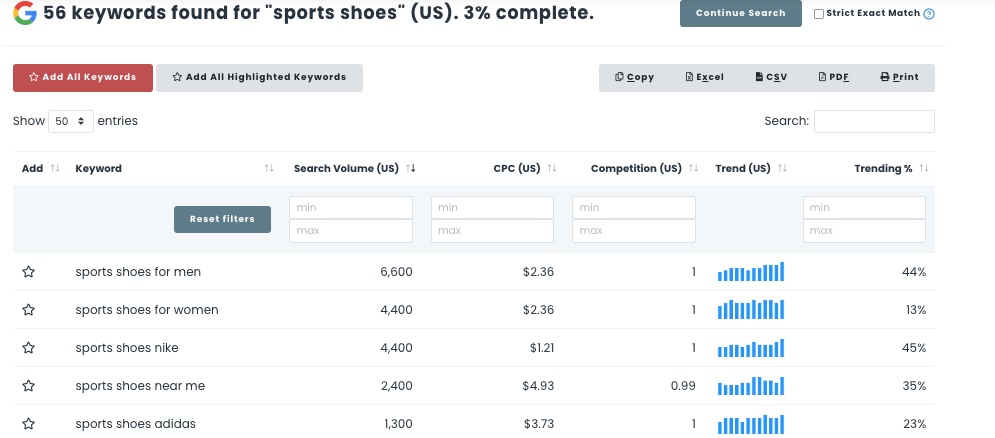 At the bottom right side of this widget, the extension shows a link that gives a detailed breakdown of the top-ten ranking pages.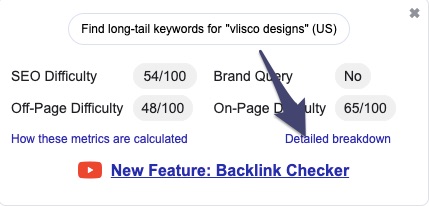 Once you click on this link, it shows the title, description, Domain authority, SERP highlights, and other keyword data.

Historical Google Trend Data
The second widget shows trend data over time. These trends track seasonality on the keyword in question.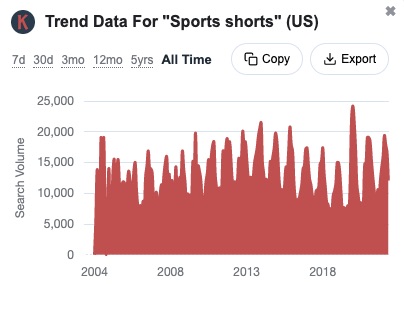 The third widget shows related keywords associated with your search term. You'll see search volume, CPC, competition, and trends to the right of these keywords. However, that space would be empty if it was a free version.
The next widget shows data from "People Also Search For" to suggest related search terms that searchers use.
The last widget shows additional long-tail keywords that allow for quick, easy, and extensive keyword research.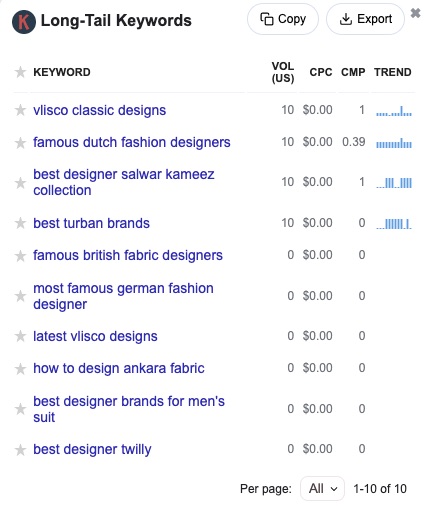 YouTube Metrics
Within Youtube, the extension shows the following metrics for each of the pages:
Number of subscribers
Percentage engagement
SEO score, and
Views per day

Like in the Google search, Keywords Everywhere shows data on the keywords in the search box. Directly below the search box, the extension shows the search volume, CPC, number of competitors, and trends over the past year for the chosen keyword.

The widgets on the right show more details about your keyword.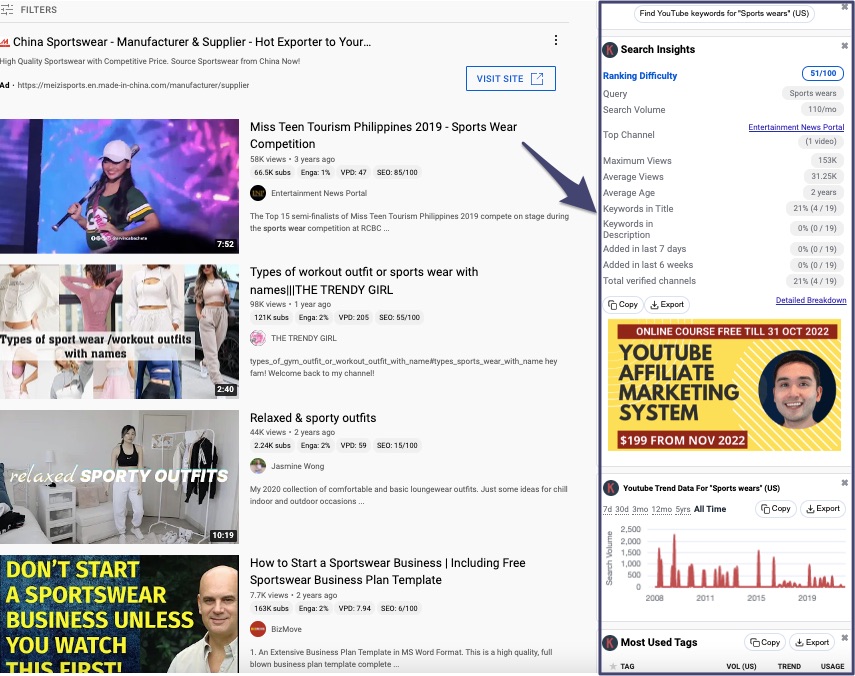 The first widget allows you to find YouTube keywords for your search term
When you click the button, it opens up on a dashboard and starts to import keywords that can be used as alternatives to your search term.
This download can continue till it shows the maximum keyword per page, or you can click the "stop search" button when you're ok with the number.
It also allows you to regulate how many keywords the extension displays per page.

Plus, you can use the reset filter to streamline your search by specifying the metrics of the data you want to see.

The second widget shows search insight, starting with "Ranking difficulty."
Other parameters include:
Top channel
Query
Search volume
Maximum views
Average views
Keyword titles and so on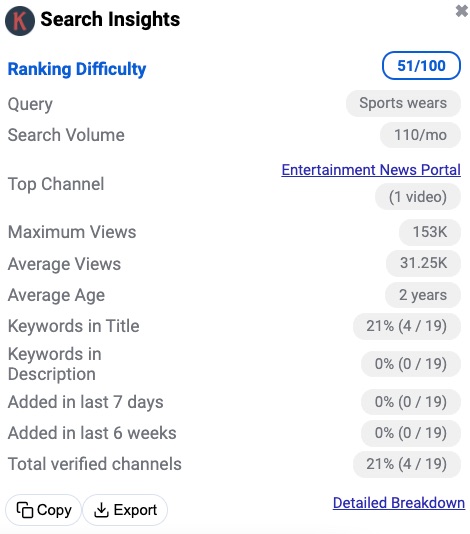 Clicking on the link to the "Top channel" takes you to that location. And like Google search, you can get a detailed breakdown of your search insight.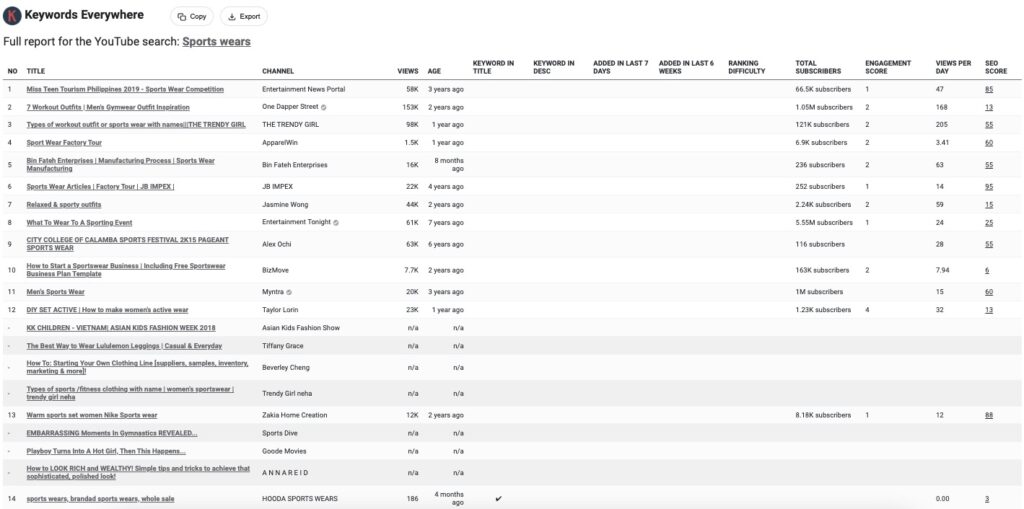 The resulting dashboard shows the following:
Title
Channel
Number of views
Total subscribers
Engagement score
View per day
SEO score, and more.
Trend Charts
In the third widget, Keywords Everywhere show YouTube trend data for your search term. You'll see how the search volumes have changed over a period of time.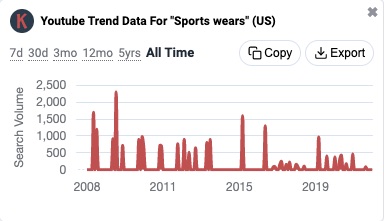 Note that you can choose the duration you want to see.
The platform allows you to streamline or expand your search by choosing from seven days, 30 days, 12 months, five years, and all time.
The last widget shows the most used tags, their search volumes, trends, and usage.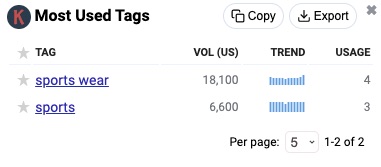 Bulk Keyword Data Tool
If you're an old user of Keywords Everywhere, you might know this tool by its former name, "Import Keywords."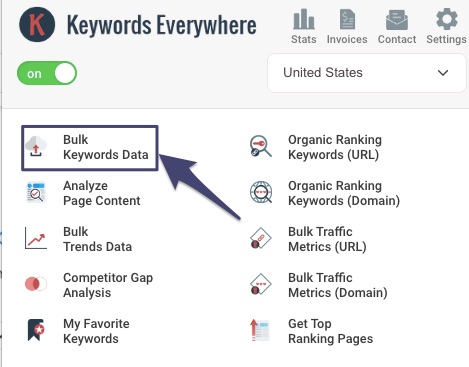 It allows you to enter keywords separated by a new line, semi-colons, or commas.
After entering your keywords, click "Get metrics."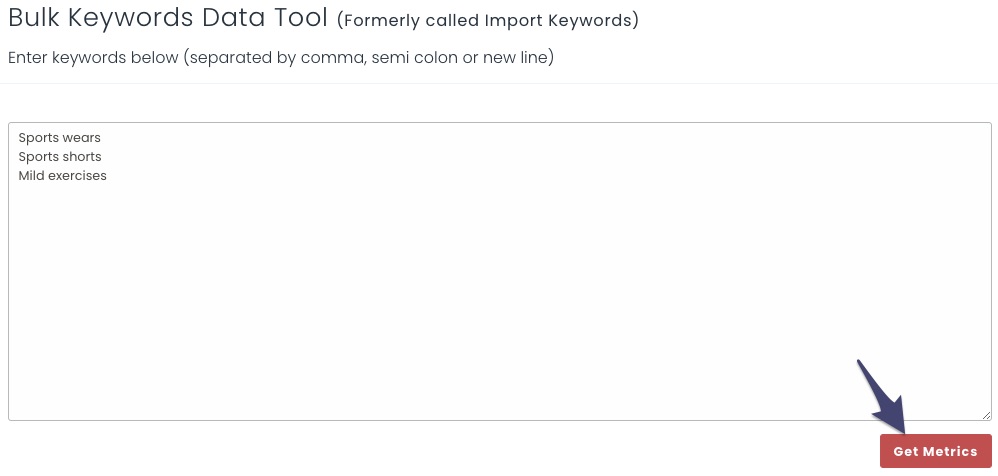 This action shows the necessary data associated with the keywords you enter. You may choose to
Add all or some of them to your favorite keywords
Copy them to another platform, or
Export them as Excel, CSV, or PDF files, print them out if you need a physical copy.
Bulk Trends
This feature works like the Bulk keyword data tool and gives the user more control over the credit they use.
However, it's best to use this tool if you're checking trend data for more than 12 months.
My favorite keywords
This section is made of keywords that you selected as favorite in previous searches.
Keywords Everywhere load the updated version of the keyword list each time you load the page. However, the extension deducts only one-fifth of the credit for the keywords in this section.
You can only access this feature if you're a paid user.
Analyze Page Content
The extension allows you to analyze page content by listing all the keywords found on the page and where they were found.
In the screenshot below, the extension found the keyword "shorts" in the page title and H3. It has a density of 10.98 and occurred 72 times on the page.
The report also shows that the monthly search volume is 201,000.
Free users can only go as far as density and occurrence, while paid users can access advanced metrics.
This report will likely use more credit because it shows more keywords. So, if you're working with limited credit, you can minimize your spend by using this feature only when you're analyzing a specific page.
The longer the page, the more credit you'll use up.
Competitor Gap Analysis
This feature allows you to analyze five of your competitors to see keywords they're ranking for, but you don't.
You'll enter your website in the first search box. Once you start typing, the platform starts to offer suggestions.
As you click the "Add competitor" button, new search boxes appear until you have five competitors. Then click "Find keywords for my website."
This feature shows free users only the keywords that the competitors rank for that they don't, but nothing more.
Paid users can see a further breakdown of the keywords.
Organic Ranking Keyword for URL
The organic ranking keyword feature allows you to check the top 5,000 keywords of any specific URL.
This will show you metrics like these:
Estimated traffic
SERP position
Search volume
CPC
Competitors
Trends, and
Trending percentage
You can also do the same for the whole domain.
Organic Ranking Keyword for Domain
When you click "Organic Ranking Keyword (Domain)." The dashboard will base your result on the whole domain.
Volume Data in Multiple Google Properties
The platform works on multiple Google properties to provide volume data. These include:
Google Search
Google Keyword Planner
Google Analytics
Google Search Console, and
Google Trends
Volume Data in Multiple Search Engines, eCommerce websites, and SEO Tools
Apart from Google, the extension also works on Bing, DuckDuckGo, and Yahoo. You'll also get relevant data on eCommerce sites like Amazon, Etsy, eBay, and Pinterest.
However, Google is the only platform that releases its search volume; others don't. When you use the other platforms, the extension overlays Google's data in those areas. In other words, it uses Google's data to make estimates on other platforms.
So if accuracy is important to you, you might want to focus on using Google with the extension.
Other SEO Tools
The extension works with other SEO tools like Soovle, Keyword Shitter, and Answer The Public.
Get Top Ranking Domains
This feature shows the top 1,000 pages for the website you enter.
The extension doesn't charge you credit for this data because it only gives the top pages for the domain, an overview of the total keywords, and traffic to the pages.
However, when you expand each link, it takes a credit per keyword shown.
For instance, when I clicked on the third URL, it opened up to show more data on the 13 keywords you'll find in the screenshot above.
Design / UX
Keywords Everywhere allows you to get data on any platform that supports the extension. You don't have to log in to a separate dashboard.
Once you start using a search term on supported search engines, social media, or eCommerce sites, you'll begin to see results. 
Although most of these activities cost credits, the platform offers several options that help you save on credit use.
Go to your settings.
This will take you to the settings dashboard, where you can take out your API key or disable relevant metrics.
The "supported websites" section lists all the websites that Keywords Everywhere is compatible with. Turn off whatever you don't intend to use at the moment.
Assuming you want to work on Google Keyword planner and don't want the extension to get data there, turn it off.
This stops the extension from deducting credits. You can also turn off widgets you don't want to get data from while online.
You can turn off a YouTube-specific widget to get data from only Google. You can also save credits by turning off the auto-suggestions in your miscellaneous settings.
Customer support
Although Keywords Everywhere makes arrangements for users to contact help when they're stuck, they seem to expect users to rely more on their user guides.
The contact page answers commonly asked questions. And you can watch relevant videos that answer your questions further.
Pricing
With Keywords Everywhere, your subscription lasts for a year except if you exhaust your credit before then.
$10 gives 100,000 credits
$50 gives 500,000 credits
$100 gives 1,000,000 credits
$200 gives 2,000,000 credits
$500 gives 1 million credits
$1,000 gives 10 million credits
Is pricing fair?
I consider the pricing fair since the tool allows you to control your cost and usage. It doesn't bill based on time. But unused credits expire after a year. Even a $10 credit plan has one year to expire.
This is better than the monthly-payments-pricing-model that most other SEO tools use.
FAQs
How to use Keywords Everywhere?
Install the Chrome extension or Firefox add-on.
You can start using Keywords Everywhere for free.
Whenever you need to upgrade to the paid version:
1. Click the "K" icon
2. At the bottom, click "sign up for an API key"
3. Enter your email address and agree to their terms and conditions.
4. Make payments
5. Receive the API key in an email.
6. Go back to the "K" icon and click "Settings." Then it will prompt you to enter the API key you just got and click validate.
7. Once it authenticates the API key it makes all the premium functions available to you.
What do I do if I don't see my credit after making a payment?
Expect your credit to appear in your account in about 20 minutes after payment. However, send a message to Keywords Everywhere if you experience a delay.
How does Keywords Everywhere's credit work?
One credit gives you volume and historical data for one keyword. So one credit grants you access to search volume, CPC, competitors, and trend data per keyword.
Keywords Everywhere does NOT assign one credit per search. It assigns credit for each keyword on a SERP.
For example, let's consider a Google search with five keyword suggestions, ten listed pages, and six keywords on the widgets. You'll use 10 + 5 + 6 = 21 credits.
However, on the "My favorite keyword" section, you only pay one-fifth of the credit per keyword each time you reload the page.
What do I do if the extension suddenly stops?
This might be a result of extension corruption. To solve this, uninstall and reinstall the extension. Each time you uninstall and install the extension, restart Chrome or Firefox.
Email support with the screenshot of the error page and your entire settings page.
 What do I do if the extension suddenly stops?
This might be a result of extension corruption. To solve this, uninstall and reinstall the extension. Each time you uninstall and install the extension, restart Chrome or Firefox.
Email support with the screenshot of the error page and your entire settings page.
What happens if my credit disappears after reinstalling the extension?
This issue occurs when you use the wrong API key. See your activation email message to retrieve the appropriate API key.
However, if you cannot find the email, request retrieval from the Keywords Everywhere support.
What is CPC in Keywords Everywhere?
CPC in Keywords Everywhere shows the cost per click value of the keyword in question. So if you were to run ads, you would have an idea of how much it costs.
Can I use Keywords Everywhere for free?
Yes. Once you install the extension or add-on on Chrome or Firefox, you can start using Keywords Everywhere. But you won't have access to premium features, as discussed in the article.
How do I get rid of Keywords Everywhere?
You can uninstall the extension at any time from your browser.
Final thoughts
Keywords Everywhere is a unique SEO tool and it's easy to use. It's best for sourcing content ideas as you'll see useful engagement data across competitors on the SERP.
---
Sam Underwood
Sam is an international Ecommerce SEO Consultant with experience implementing enterprise-level SEO strategies.