Mangools review
Mangools is a bundle of 5 simple but powerful SEO tools made for an effective SEO workflow. Loved by beginners, trusted by professionals. Try it for free!
4.5

Publish date:

April 28, 2021

Author:

Sam Underwood
Visit site
---
---
Pros
It has a modern and fresh UI/UX that provides a plethora of information compared to other tools out there

The most user-friendly keyword research tool you will ever find. The results are consistent and reliable, and you can even store your keywords via list functions

An SEO tool that allows you to search for competitors' keywords, tracks your ranking, and finds powerful links to help your marketing campaigns

Separate tools for each task to make it easier for the user. Plus, the data and analysis are highly reliable and accurate
Cons
SERPWatcher can take some time to find the results

Sometimes it lags in loading time

Sometimes, certain keyword phrases will not appear in your results

The profiler backlink may miss a link or two used in your content or website
---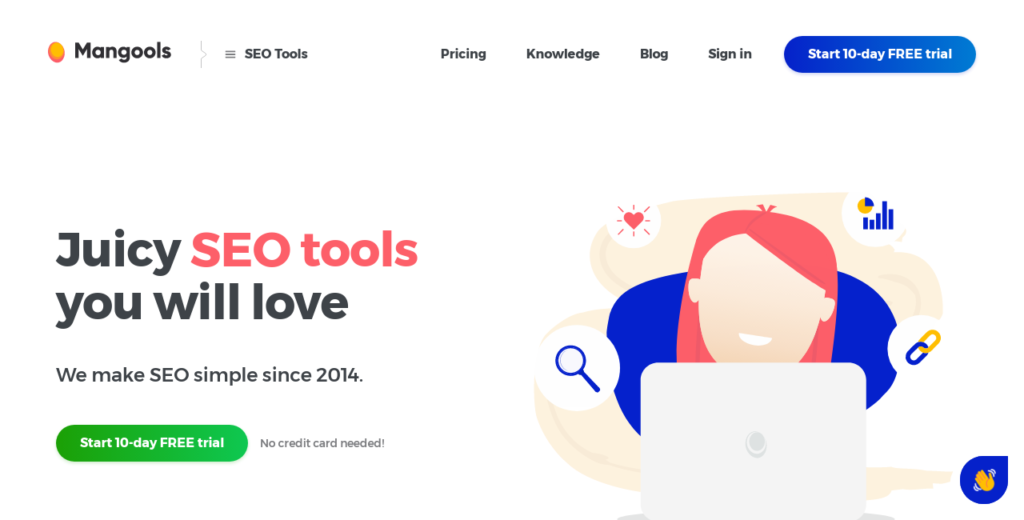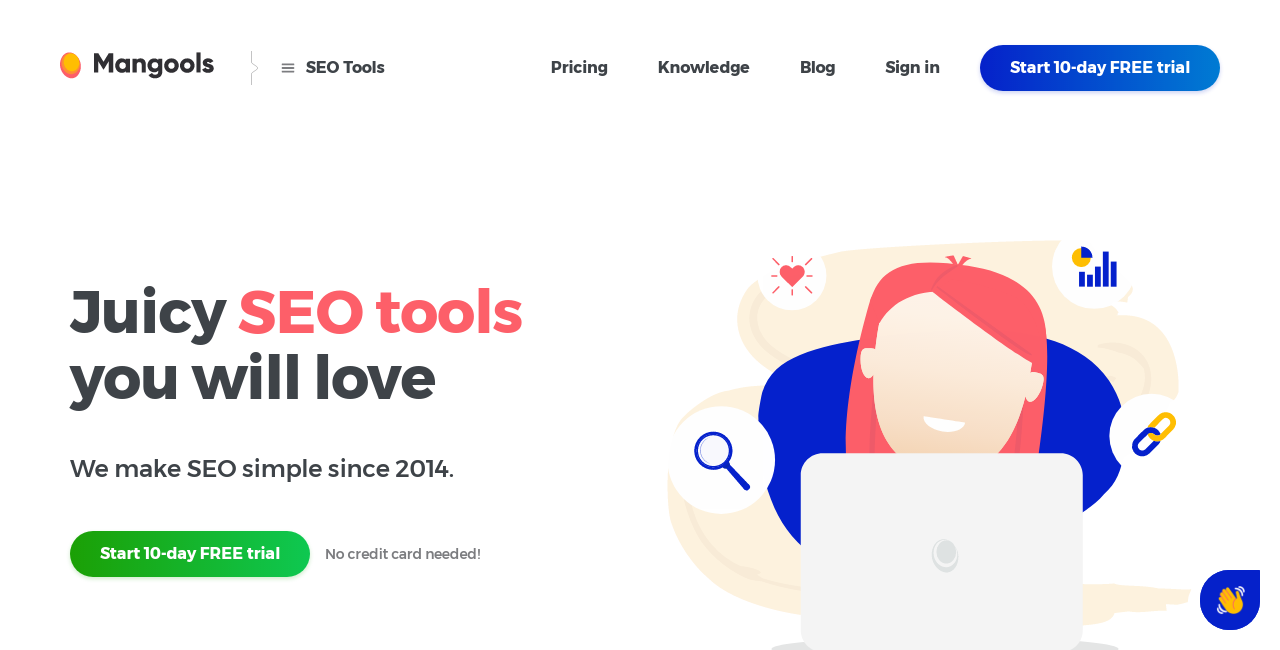 Search engine optimization is an effective strategy that helps boost your marketing and promotion efforts. Whether you are an SEO agency, a professional blogger, or a company looking to launch an online marketing campaign, you need to master SEO.
However, finding the right tool that enables you to streamline your campaign with SEO is critical to this approach. You can find various solutions out there, but not all of them offer an all-in-one approach to cater to all your SEO needs. This is where Mangools wins and gives its counterparts tough competition.
What is Mangools?
Mangools is a search engine optimization (SEO) toolset that is great for affiliate marketers, SEO or SME agencies, and bloggers. This optimization tool is particularly popular because of its user-friendly interface and design. Its key features include:
Competitor analysis
Keyword research
Rank tracking
SERP analysis
Backlink analysis
The keyword tool in Mangools can help you see competitors' rankings for top-searched keywords. You can even find keyword ideas along with historical search trends and volumes. You can see the results for over 50,000 locations and increase website content while attracting organic traffic.
Overview of Key Features
Mangools' search engine optimization toolset has several key features to help marketers, SEO agencies, and bloggers improve digital marketing strategies for the products and services.
For instance, if you are a marketer, the SERP analysis tool can help you in the following:
Realize how hard it actually is to rank a website on the first search engine result page.
You can even use SERP Preview with SERP features and authority metrics that influence a website's click-through rate.
Mangools' rank tracking tool allows you to check daily rankings, whereas aggregate metrics show your overall progress along with shareable interactive rankings reports and more.
You can run a backlink analysis using other tools to calculate the strength of the link used. Plus, it categorizes backlinks and displays a preview of your website to evaluate the potential of referral websites.
If you want to avoid using a barrage of individual applications, Mangools offers browser extensions for Firefox and Chrome.
KWFinder
This feature is a tool for keyword research that allows you to find the keywords best suited for your website content and web pages. Mangools' keyword finder will provide hundreds of suggestions in every search.
SERPWatcher
SERPWatcher is a feature that works like a tracking tool to determine keyword ranking. This way, you can keep an eye on the ranking of all keywords used in search results.
SERPChecker
This is an analysis tool for search engine results (SERP). You can use SERPChecker to see what websites rank the highest for the target words you are using on your website and content. You can run an analysis for each keyword in multiple locations globally. You can even run this tool to check your mobile rankings.
SiteProfiler
If you are wondering how your competitor's website ranks in SEO, then SiteProfiler will be able to help. It is a website analysis tool that provides a bird's-eye view of your competitor's websites.
LinkMiner
If you wish to analyze your competitor's backlink profiles, LinkMiner can help you do just that. Moreover, it will identify link-building opportunities for you.
SERP Volatility Checker
In SEO, SERP volatility means constant changes in your website's ranking position on Google's search result pages. With Mangools' SERP volatility Checker, you can observe fluctuations in your website's keyword ranking, especially whenever Google changes its algorithm.
Features
The goal behind Mangools' features is to allow marketers to track the rankings of keyword searches. Furthermore, you can measure your website's potential to receive organic traffic. You can develop your performance index using the SERP analysis of your current keywords and search volumes.
KWFinder
Mangools KWFinder allows you to find the best keywords to use on your website and its content. It will also offer additional options that you will not be able to find on any other keyword tool available in the market.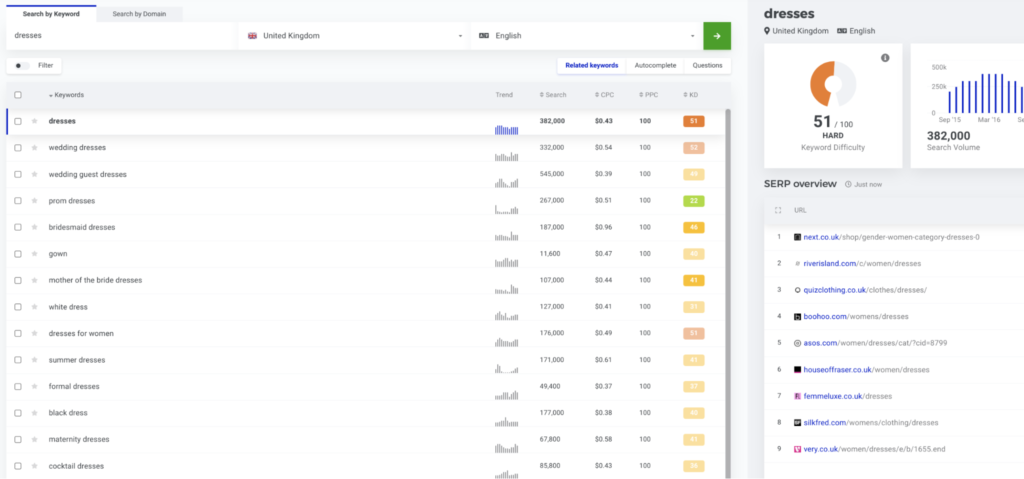 If you are still a basic user relying on a Keyword Planner by Google for your keyword research, Mangools can help you level up. This keyword finder tool is quite an upgrade from what you have been using so far.
Mangools' KWFinder provides other important details about each keyword, such as
Current trends
Cost per click
Search volume
Keyword difficulty
That said, you will be able to use the three options below when using the KWFinder features:
The Suggestions Option
This option gives you keyword suggestions. All you need to do is choose a keyword, and the tool will give you hundreds of suggestions on related keywords and variations of your keywords and key phrases.
The Autocomplete Option
In this option, you will receive the Autocomplete data directly from Google Searches. This will help you find the most relevant keywords consumers and users are actually using to search for a specific product, service, or information.
The Question Option
In the question option, you will get suggestions about questions people are currently asking in relation to your target keywords. This particular feature can help refine your content more efficiently, and you will also receive guidance on optimizing your content strategy.
The KWFinder is a great feature, as it will help optimize your website, content, and other published material such as blogs and testimonials for improved SEO rankings and increased visibility in search results.
SERPWatcher
SERPWatcher can benefit SEO agencies, marketers, as well as bloggers. It can help you track the ranking of your target keyword. Failing to measure the change in your keyword ranking will result in low traffic to your website. Therefore, you must always stay on top of any changes in the ranking. This way, you will always know when to improve or change your process and keywords.
Let us suppose that you want to check the ranking of a single keyword. In that case, you can easily look this information up in your everyday browser pane. However, what if you are trying to track the performance of a dozen or more keywords simultaneously?
This is where SERPWatcher by Mangools can help. As the name suggests, this feature will enable you to keep an eye on your website and how well the keywords in your content are performing. With SERPWatcher, you can track between 200 and 1500 keywords simultaneously.

The feature allows you to track unlimited domains. Furthermore, you will get a daily update on your keyword ranking. The tool's dashboard will give you a comprehensive summary of your website's overall performance and ranking.
Upon the first time tracking keywords across a specific domain, Mangools does advise you may have to wait up to 30 minutes to view the data. Therefore, expect a waiting period and use that time to use other areas of the tool.
SERPWatcher feature complements KWFinder as it allows you to use the strongest keywords. It is a useful feature that enables you to use the most-trending keywords and keyphrases to enhance the strength of your search engine optimization strategy.
SERPChecker
As you search Google for a keyword, it gives you search results based on what Google's algorithm thinks you want to see. This means other users searching for the same keyword may see an entirely different search result. This is even true when you are looking up keywords you wish to rank for.
SERPChecker is a useful tool that will allow you to see what other people searching for the same keyword can see. However, prior to starting your work on keyword ranking, you need to find relevant keyword competition out there.
This tool will help you see the number of people ranking for the target keyword you want to use. Plus, it will also inform you about the level of difficulty you might face when trying to rank for a certain keyword.

With SERPChecker, you will also be able to see comprehensive SEO metrics such as Page Authority, Domain Authority, Referring Domains, Citation Flow (CF), and Trust Flow (TF) for each web page that's ranking for the target keyword you wish to use.
SERPChecker is a feature for advanced users. If you are a small business simply looking to optimize your social media posts, website, and blogs with SEO and improve your ranking, SERPChecker is an optional feature.
SiteProfiler
You can use SiteProfiler to get a quick view of the profile of websites by your direct competitor. Of course, you can look at your own website's profile at the same time. This way, you can draw a side-by-side comparison of your website with the most relevant competitors in your niche.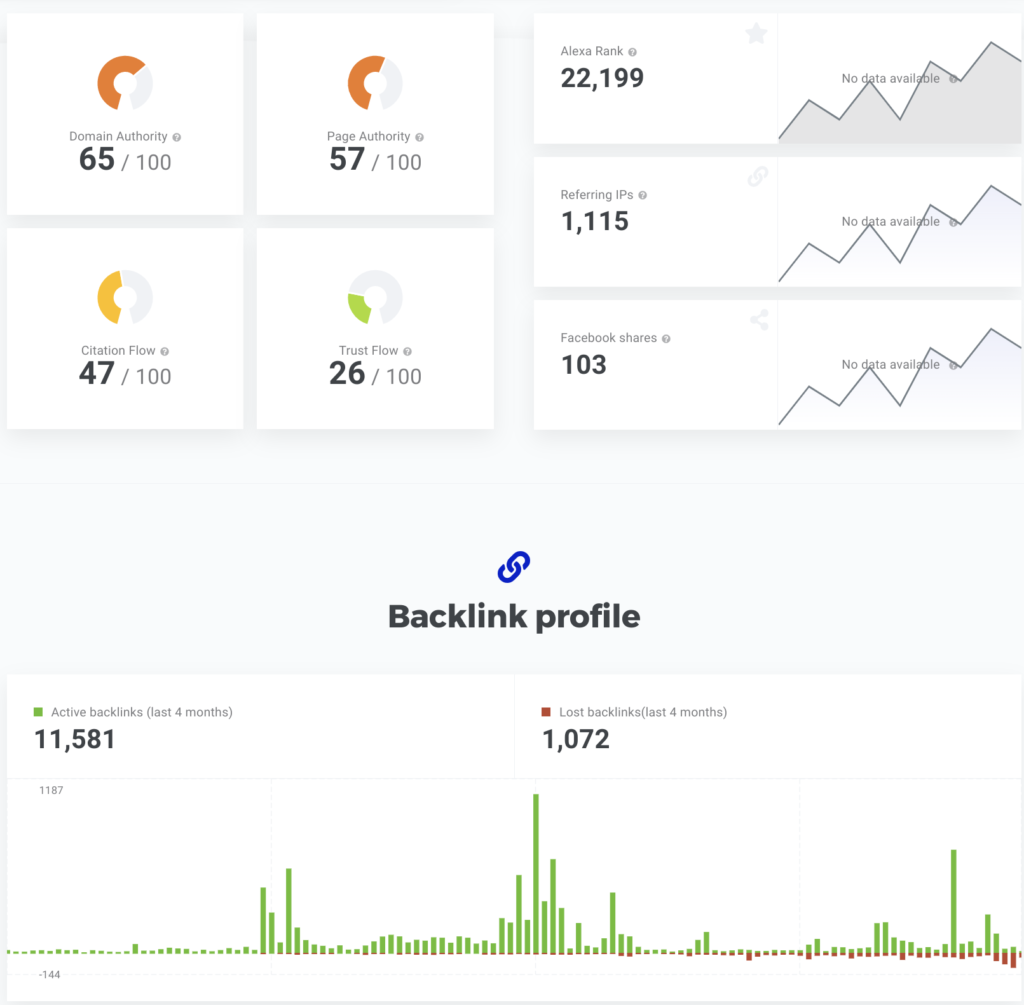 Additionally, this tool will provide you with critical information on all essential domain authority metrics in one place. These are as follows:
Domain Authority
Trust Flow (TF)
Citation Flow (CF)
Page Authority
You will also be able to view the Total backlinks graphs as well. However, the best part about SiteProfiler is its Anchor Texts box. This box will show you the exact anchor texts your competitors are using on their websites and web pages. Having this information will allow you to develop a strategy around using the best anchor text to increase organic traffic to your website.
In the end, SiteProfiler is a very powerful tool for competitive businesses, especially marketers, to design your marketing content and messaging by learning from other businesses in your industry. However, it's probably not a very useful tool for bloggers and social media content creators.
LinkMiner
You can use LinkMiner to develop an SEO strategy by reverse engineering your competitors' backlinks. This will give you a simple roadmap to follow and ensure higher traffic through search engine results.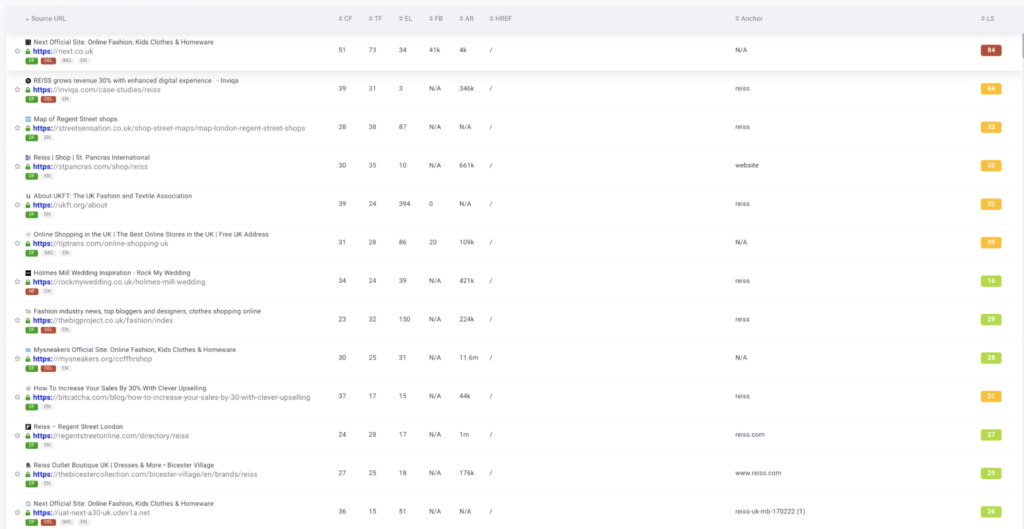 LinkMiner allows you to find pages containing a link that takes users to your competitors' websites. It will also help identify the links your competitors have lost. As you enter a URL into LinkMiner, it will show you all the links a particular web page has received from different web sources.
You will also be able to view the backlinks and track them to the root domain. All you need is to click on the "Change to Root" link found in the top right corner.
LinkMiner is a tool that will require certain expertise in marketing analysis. Therefore, it may not be a convenient feature for a user but rather an option for marketers to run a side-by-side analysis.
SERP Volatility Checker
In search engine optimization operations, SERP volatility is about the constant change in your website's ranking on Google's result pages. The SERP Volatility Checker will run a daily analysis on your website to check how your content and keywords are ranking on Google's result pages on a specific day.
This will help you notice any fluctuations in the ranking of your website's keywords. However, this mostly happens when Google makes changes to its search algorithm. Mangools has an intelligent design that can monitor these daily changes in keyword rankings.
You can even categorize the keywords and gauge your SERP volatility based on a scale from 0 to 10. If your SERP volatility score is high, it's likely that Google has introduced an algorithm update.
SERP Volatility Checker is a very useful feature that allows you to ensure that your website is always using the most relevant and trending keywords and key phrases. This will enable you to maintain a consistently high ranking on Google searches. Regardless of your industry and business size, this feature allows you to stay on top of Google's algorithm changes.
Design / UX
Most tools require users to be a little tech-savvy to understand the features. However, Mangools is one of the easiest-to-use SEO tools with a great UI/UX. You do not need to be an IT expert, so you can start using this tool right away.
From a design perspective, Mangools has a colorful layout which makes a nice change from the many tools that choose to follow a clean-cut design.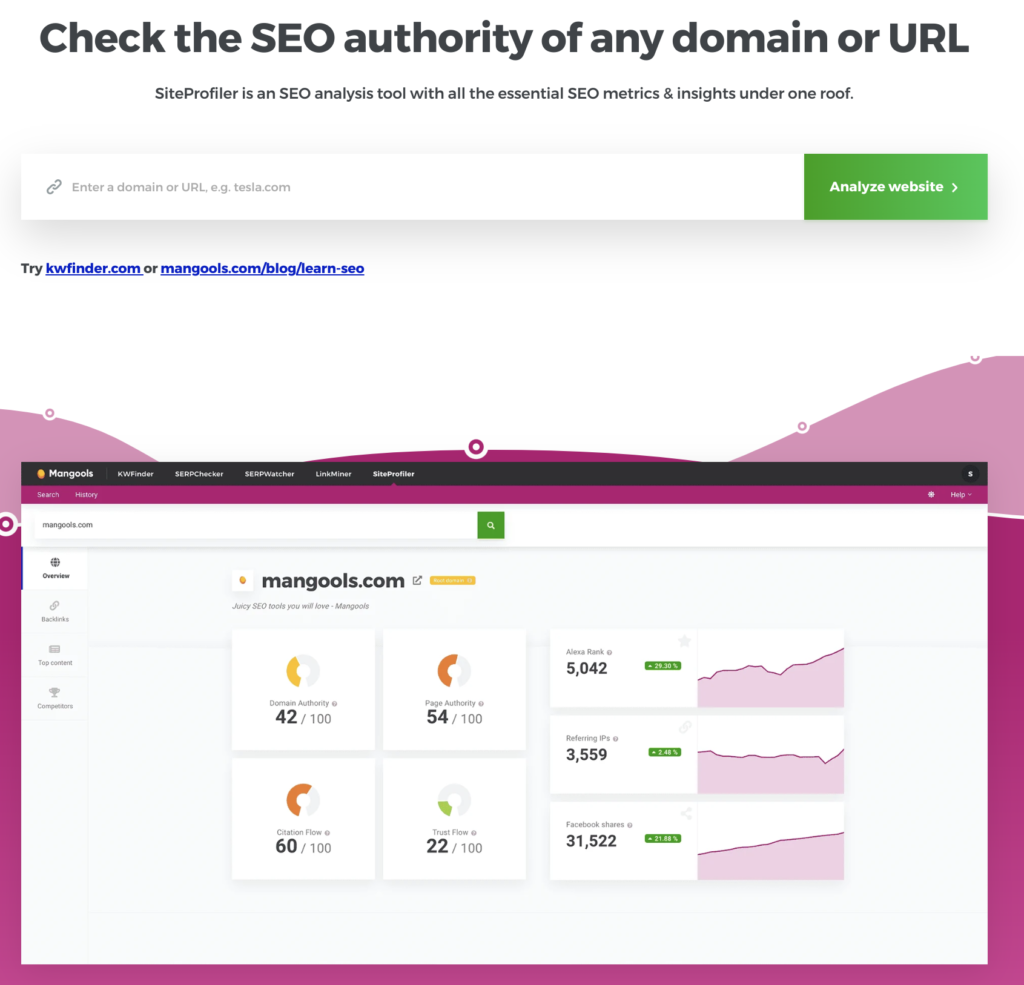 Each tool is assigned a colour so from the link tabs you can easily identify which is which.
Customer support
Mangools offers instant customer support to clients. Here is how you can get in touch with the team.
By sending an email
Use the live chat to get instant support
However, it would be a great option to get a direct phone number to speak to someone in person, especially if you wish to discuss the feasibility and API integration with an expert.
Pricing
Mangools offers a 48-hour money-back guarantee. Try it, and if you do not like it, you can get your money back. That said, you can avail both monthly and yearly payment plans.
Monthly
In a monthly price plan, you can get basic, premium, and agency packages. Find the breakup of the monthly plan in the chart below.
| | | | |
| --- | --- | --- | --- |
| | Basic monthly plan | Premium monthly plan | Agency monthly plan |
| Price | $29.90 | $39.90 | $79.90 |
| Keyword lookups/24h | 100 | 500 | 1,200 |
| Keyword suggestions/search | 200 | 700 | 700 |
| Competitor keywords/search | 25 | unlimited | unlimited |
| SERP lookups/24h | 100 | 500 | 1,200 |
| Tracked keywords daily | 200 | 700 | 1,500 |
| Backlink rows monthly | 100,000 | 500,000 | 1,200,000 |
| Site lookups/24h | 20 | 70 | 150 |
| Simultaneous logins | Not applicable | 3 | 10 |
Annually
The year plan pricing is as follows:
| | | | |
| --- | --- | --- | --- |
| | Basic annual plan | Premium annual plan | Agency annual plan |
| Price | $358.80 | $478.80 | $958.80 |
| Keyword lookup/24h | 100 | 500 | 1,200 |
| Keyword suggestions/search | 200 | 700 | 700 |
| Competitor keywords/search | 25 | unlimited | unlimited |
| SERP lookups/24h | 100 | 500 | 1,200 |
| Tracked keywords daily | 200 | 700 | 1,500 |
| Backlink rows monthly | 100,000 | 500,000 | 1,200,000 |
| Site lookups/24h | 20 | 70 | 150 |
| Simultaneous logins | Not applicable | 3 | 10 |
Is pricing fair?
The pricing seems fair compared to other SEO tracking tools. The best part is that you do get a 14-day trial to make sure that the tool has everything you need. Plus, you get a 48-hour money-back guarantee.
Final thoughts
Mangools has developed a great tool that provides accurate data and analysis for search engine optimization. Keyword searches allow you to discover the keywords your competitors are using. On the other hand, you can also track how your content is ranking for the keywords you've used.
In simpler terms, if you are looking for a tool that upgrades your website's SEO scores, you must try Mangools.
---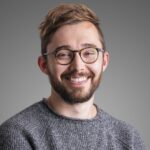 Sam Underwood
Sam is an international Ecommerce SEO Consultant with experience implementing enterprise-level SEO strategies.