Serpstat review
Smart and powerful tool for ✓ Backlinks Analysis ✓ Rank Tracking ✓ Keyword Research ✓ Competitor Analysis ✓ Site Audit.
4.5

Publish date:

April 28, 2021

Author:

Sam Underwood
Visit site
---
---
Pros
Fair pricing

Bulk upload and export of CSV files

The platform provides comprehensive information

Serpstat work with large enterprises with higher needs to create a custom plan

Integrate well with third-party tools to keep you on the platform

The dashboard is easy to navigate

Faster response time due to live chat
Cons
You can run out of credit while testing the free account

Serpstat takes a longer time to process sites with many pages

The live chat doesn't run for 24 hours
---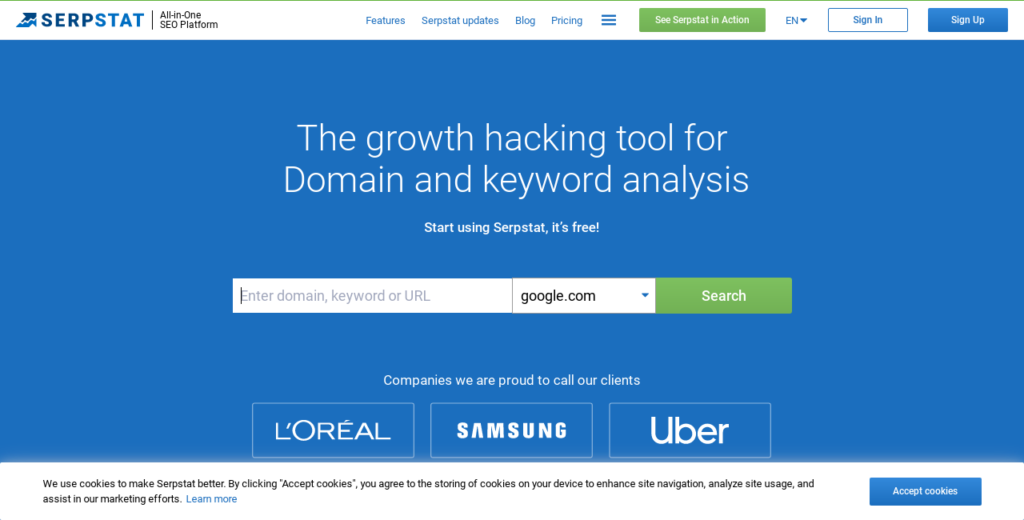 Are you tired of spending countless hours trying to improve your website's search engine ranking? Look no further than Serpstat, the all-in-one SEO tool designed to take your website to the top of the search results.
This article will provide a comprehensive and unbiased review of Serpstat, evaluating its features, design, support, value, and roadmap. We'll also compare it to its competitors and offer insights into alternative tools to help you make an informed decision.
Whether you're a seasoned SEO professional or just starting out, Serpstat is an indispensable tool to help you achieve your goals. Let's dive in and see what it has to offer.
What is Serpstat?
Serpstat is a multi-purpose tool for automating SEO processes. It began as a keyword research tool and has since expanded to become a growth hacking tool for marketing, SEO, content marketing, PPC, domain analysis, and keyword analysis.
The platform allows you to monitor your project and view past and current analytics reports in one place. Furthermore, it provides exclusive data that helps evaluate your marketing performance and effectiveness.
If you are knowledgeable with popular SEO tools like SEMrush and Moz, you will find Serpstat user-friendly. They share a similar user interface and functions.
Serpstat is suitable for anyone who wants to enhance their website performance, including digital agencies, freelancers, and in-house teams.
The TL;DR version
Overview of key features
Serpstat has over 30 features, but let's pick the best.
My project – Serpstat, shows you your organic and paid keywords and their performance on search engines.
Competitor analysis – This feature shows how your competitors get traffic for any keyword. You can also find ranking gaps to fill.
Rank tracker – The rank tracker helps you monitor your keywords by checking how they change position on search engines.
Site audit – This feature allows you to track the stats on your keyword by giving detailed explanations and generating personalized reports. It also offers recommendations on how to fix issues.
Custom reports – It reports all information collected for specific parameters of the site pages. Then allows you to export them in CSV files.
Keyword analysis – The software shows the frequency and position of the keywords in your chosen domain.
Backlink analysis – This tool identifies backlinks, malicious links, referring domains, and other backlink data.
Domain analysis – shows the keywords the domain ranks for and the pages that bring the most traffic.
Domain comparison – The software allows you to compare your domain to two or three other domains.
Indexing – The platform will enable you to submit up to 10,000 pages to search engines for indexing.
Content analysis – The platform offers title generation, description generation, and paraphrasing for content.
My Project
To begin a project with Serpstat, enter the domain name. Then, give your project a name.
This feature displays organic and paid keywords. Plus, you can observe the performance of organic and paid keywords in various countries.

Clicking the number in front of any country breakdown the results into parameters like
Keywords
Position on Google
Search volume
Keyword difficulty
Traffic
CPC
One handy feature in the projects area is task lists. These are ready-made templates that help you monitor your project, but you can also create custom ones so others in your team can run through the checklist for each domain you set up. This is useful, especially for those in agencies or new to SEO.
However, this feature is only available for users on a paid plan from Lite and above.
Competitor analysis
This feature lets you find your competitor's traffic source for any keyword, topic, or ad. By comparing domains, you can find ranking gaps from common keywords, missing ones, and key phrases that aid visibility.

Then, you can start building links effectively by analyzing your competitors' backlink profiles. Serpstat allows you to use these five main keyword parameters to run ads
Frequency
Cost
Difficulty
Number of results, and
Competitors.
You can check organic and paid search results for a domain and its competitors locally and globally. And the platform integrates with Google and Yandex to track ranks and lets you see the domain's position.
The sites on the list have similar keywords to your chosen domain. But you can change them by manually adding your direct competitors. In addition, Serpstat allows you to exclude some domains from the report, so follow the steps.
Rank tracker
Targeting the right keywords and topics is the foundation of receiving organic traffic. So, tracking your keyword visibility and performance is essential so you know what works.
Serpstat has a rank tracker that given it's an all-in-one tool, is quite impressive with some unique features.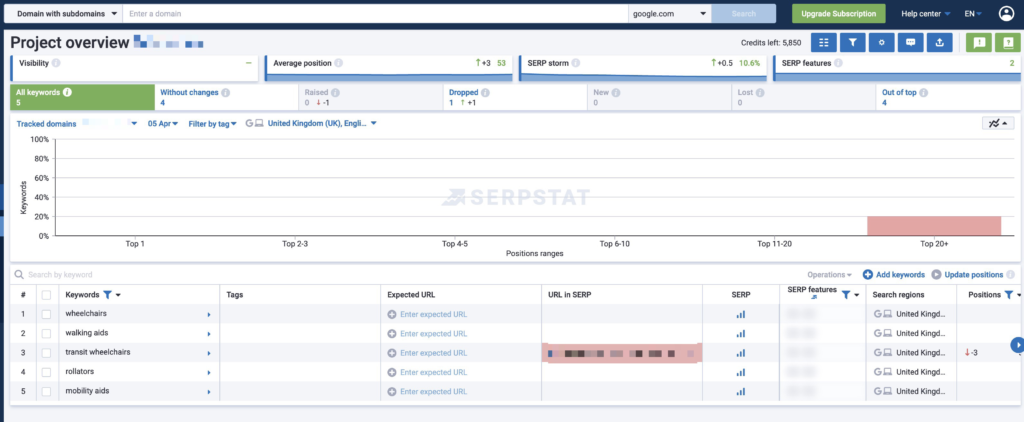 Some example features of the tool include:
SERP storm: A metric measuring the volatility of rankings for the keywords you track.
Expected URL: Add the URL you want to rank, and see if the correct URL does end up ranking for the keyword.
SERP features: See the SERP features showing for the tracked query.
Visibility: A metric measuring how visible you are in search results.
It also shows you the entire 1 – 100 history of a search result for any date you input.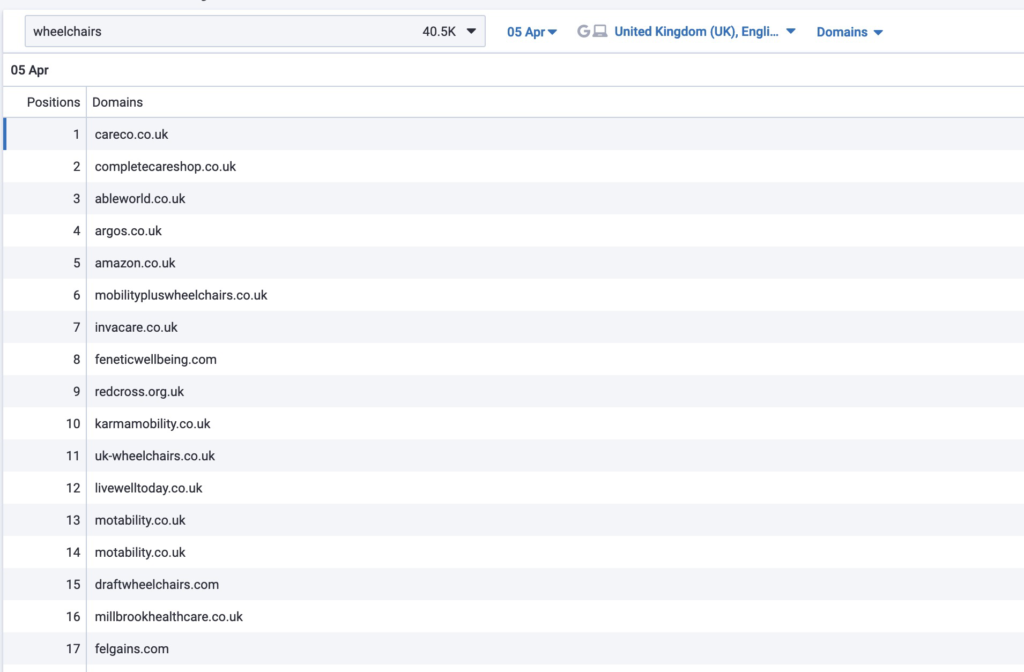 As well as data on how well your competition are performing:
You can set up rank tracking in "My project" by clicking "Start tracking."
The platform offers four modes of tracking. So, you can track the whole site, project domain only, URL prefix, or the exact URL.
Site audit
This feature allows you to analyze individual pages or your entire site. You can monitor key issues on your pages that could negatively impact their rankings.
It gives detailed explanations and allows you to generate personalized reports. Plus, you have recommendations for fixing issues.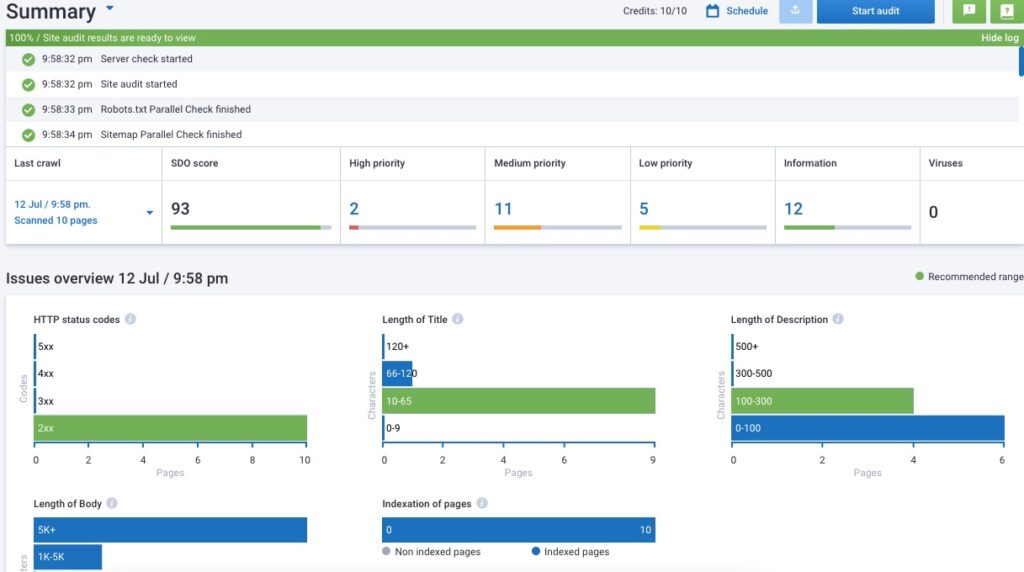 Custom reports
Another useful site auditing report is the custom overview report, which shows you all data collected for each URL.
This report appears as a table you can export as CSV Microsoft Excel or CSV Open Office.

Keyword analysis
This feature helps you discover keywords to target as part of your SEO strategy.
The software shows the frequency and position of your chosen domain's keywords in the top 50 on Yandex and the top 100 on Google.

You can find proven keywords from paid searches by spying on top content in your industry. Knowing what prospects are asking for gives you a competitive edge.
The software also allows the clustering of up to 50,000 keywords.
Filters allow you to specify the number of words you want on your long-tail keywords. They also let you choose the level of difficulty.
Other parameters include the way you want the keyphrases to appear. Here are five possibilities.
"Contains all (exact match)" means you don't want any modification to words on the phrase. So if you use "VR headset," it will show keywords in the exact word format and not variations like "VR headsets."
"Does not contain all (exact match)" means that keywords not in the exact format are also allowed.
"Contains one of (exact match)" means that one of the words added must retain its precise format.
"Does not contain one of (exact match)" means that the report would exclude any word formed from any of the terms in your added keyphrase.
"Contains all (broad match)" means the report will have all the keywords in different formats.
Backlink analysis
This tool examines and identifies backlinks, malicious links, referring domains, external links and domains, anchors, top pages, and link intersects.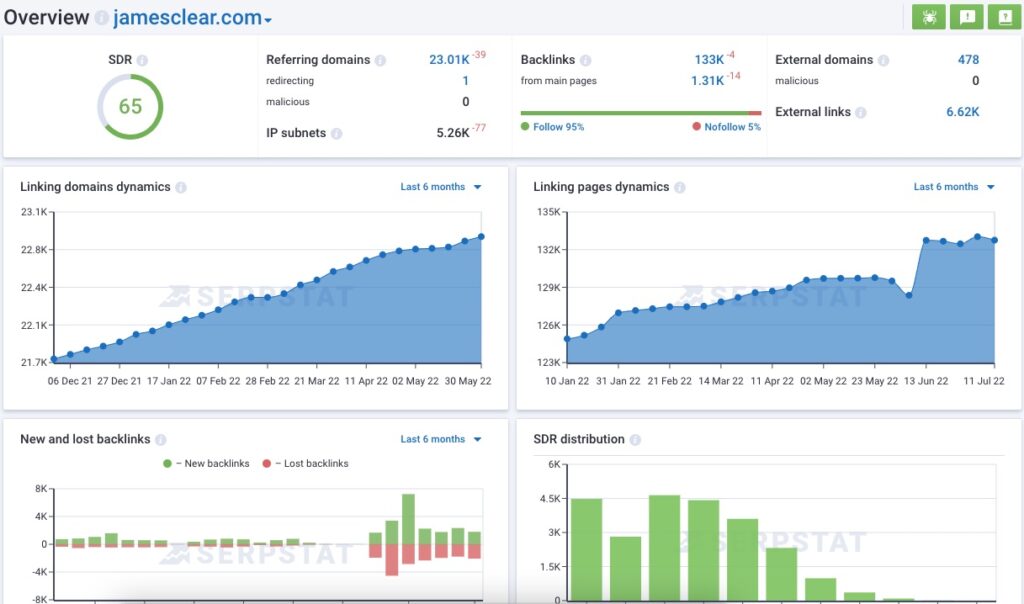 If you're checking backlinks for the first time on Serpstat, you'll enter the page address or domain in the Serpstat search box and click "search." After that, the rest of the process is easy.
However, you can access this feature from My Project if you've already created a project.
Domain analysis
The platform will analyze any domain you enter to create a personalized report. This report shows the keywords the domain ranks for and the pages that bring the most traffic. In addition, you'll see promoted keywords in Paid Search.
The overview gives you a bird's eye view of over 20 metrics, graphs, and widgets.
Visibility shows a page's frequency of exposure for a given keyword due to its position on search engines.
The platform allows you to filter various conditions and parameters.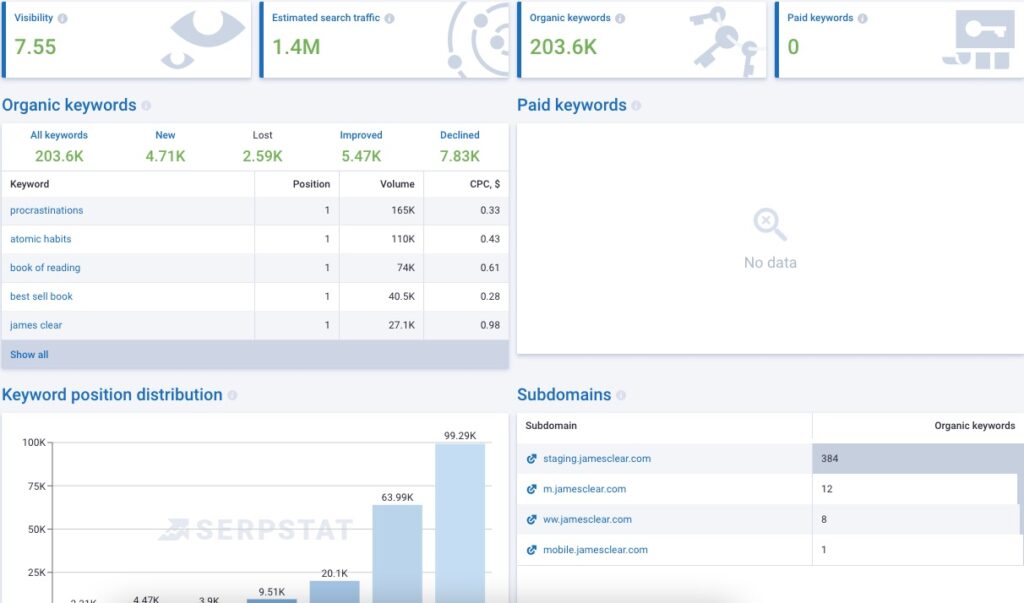 Domain Comparison
The software allows you to compare your site to two or three other domains. This report is complementary to competitor analysis, except that you can compare up to three domains to form results with related and unique URL keywords.

Indexing
Serpstat uses IndexNow to notify Yandex and Bing of changes to site content quickly. You must verify that search engines can find the pages you submitted on the host and that you own them.
If you don't find such a key, you can generate it below the page, as seen in the image below.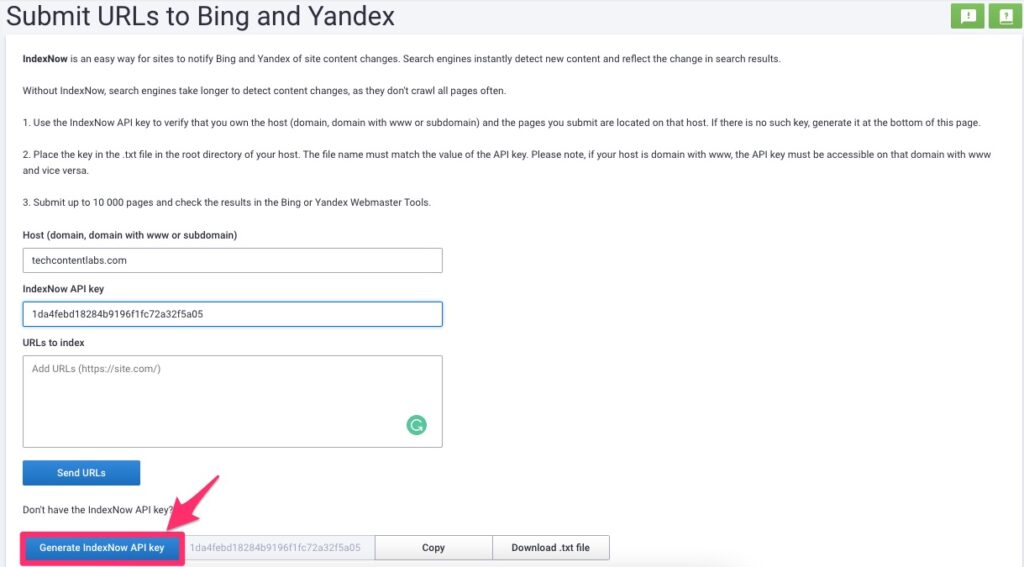 You can submit up to 10,000 pages and go to the Bing or Yandex Webmaster Tools to check the result.
The platform allows you to see which search engine an IP uses. In addition, you can enter up to 100 IPs in the search.
Content analysis
At this review's time, the title generator is in its beta phase, while description generation and paraphrasing only work for English content.
To generate a topic, choose the language of the content and add text from any of your website pages. Then click 'Generate title.'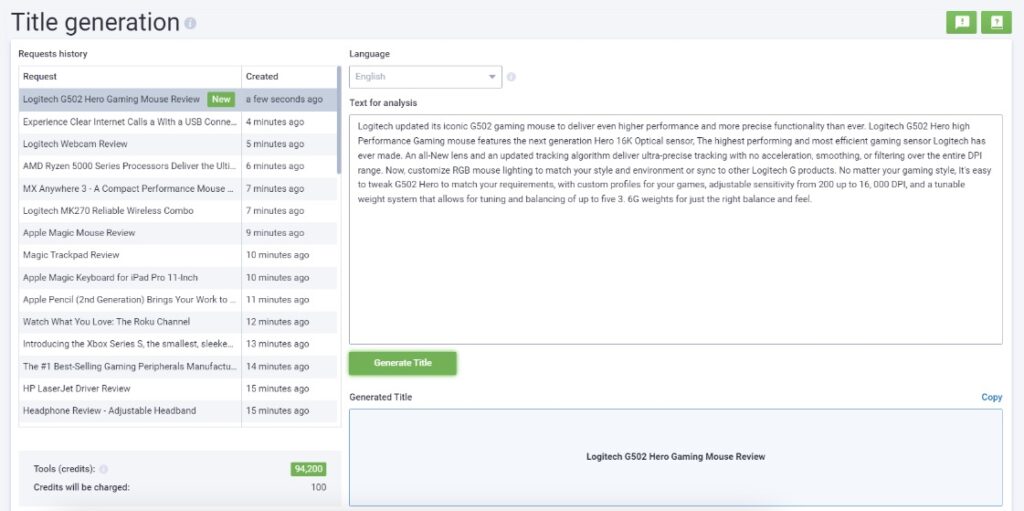 You can only generate descriptions and paraphrase the content in English for 100 credits per request.
So, to generate a description, the platform summarizes a longer piece of content into a shorter page description. This feature works well for product descriptions.
As for paraphrasing, the software uses Machine Learning generative model to rewrite content. It maintains the original message of your content while rewriting it to avoid plagiarism.
Serpstat credit and API calls
Serpstat uses an elaborate credit system to manage data calls. Credits are units of data you receive when using this SEO tool.
You can use credits for these operations:
API calls
Queries
Data export
Serpstat offers different modules for using its credits. The credits you use depend on the specific operations you run. You can use up one, three, 20, or even 100 credits in an operation, depending on what you do.
For example, Serpstat requires that you generate a token to use its API. So first, click your profile and select "My account." Then go to "Get API key," and your credit for various tasks will appear.
If you complete an operation that called 100 keywords using the API, you'd have spent 100 credits.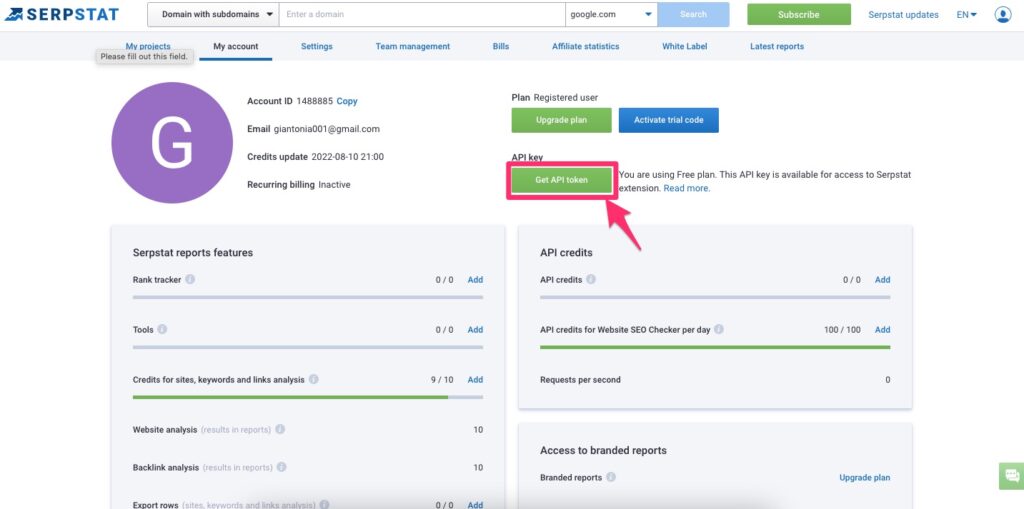 You can add more credit by clicking 'Add' beside your existing credit. However, you must upgrade to a paid plan to enjoy that option.
Also, how much credit you get depends on your pricing plan.
Customer support
Serpstat has a Live chat feature for users to get answers quickly whether they're paying or not. However, this doesn't run for 24 hours. A customer service person told me they work until 18:00 GMT+3.
Outside those hours users can email support.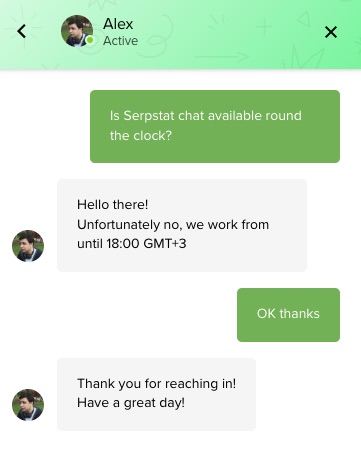 The onboarding process offers basic and advanced assistance for users to launch their first project on the platform. In addition, its extensive knowledge base gives access to User guides, use cases, FAQs, and the API.
You also have access to videos of webinars and updates to ensure you have answers to your questions.
They offer consultation and training for users to get actionable steps regardless of their experience level.
Paid users get personal consultations through Skype or Hangouts.
Design / UX
One of the larger downsides of choosing Serpstat is its design and UX. After using a tool like SEMrush, ContentKing, or many others, you'll immediately spot that SERPstat needs some design work. Common issues include a lack of whitespace, information overload, and busy menus. Unfortunately, this is something that seems to have gotten worse over time with the tool.
However, this downside may be worth it when you consider the pricing difference.
Pricing
Serpstat allows you to get a free account and gives you enough credit to explore the dashboard. However, you must upgrade to a paid plan to get work done.
At the moment, Serpstat is running a summer sale where you can get a 30% discount on any of the four pricing plans when you pay for six months or a year. This brings the Lite plan to as low as $48 from $69 and the Enterprise plan to $349 from $499.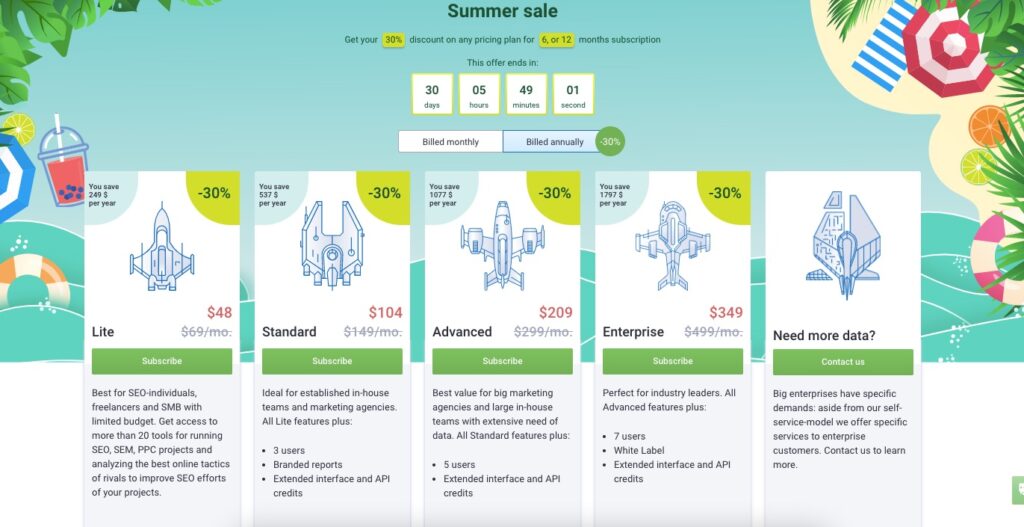 The Lite plan accommodates only one person. But, the other three plans allow more users, branded reports, and extended interface and API credits.
However, if your organization has higher needs than the four plans can offer, you can contact Serpstat to get your unique quote.
Is pricing fair?
Serpstat is an all-in-one SEO and SEM tool that covers plenty of grounds. So, based on the pricing, this tool offers high value for money. Comparable tools like SEMrush and Ahrefs start at $99.95 and $83, respectively. But Serpstat starts at $48 per month.
However, that low price comes with giving up some features. For example, you can't access round-the-clock customer service. Serpstat's chat works only during business hours.
Serpstat offers free credits to help users test drive the tool before they buy. Compared to SEMrush's free trial, which allows you to explore their tool fully, Serpstat's credit system leaves much to be desired.
Verdict: Serpstat offers excellent value for money for the features you get with its price point.
Final thoughts
Serpstat is a simple but powerful SEO tool that offers over 20 features in one dashboard. You can start with a free account to understand the platform, then choose a paid plan that meets your SEO needs.
---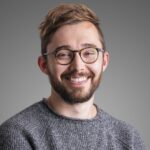 Sam Underwood
Sam is an international Ecommerce SEO Consultant with experience implementing enterprise-level SEO strategies.