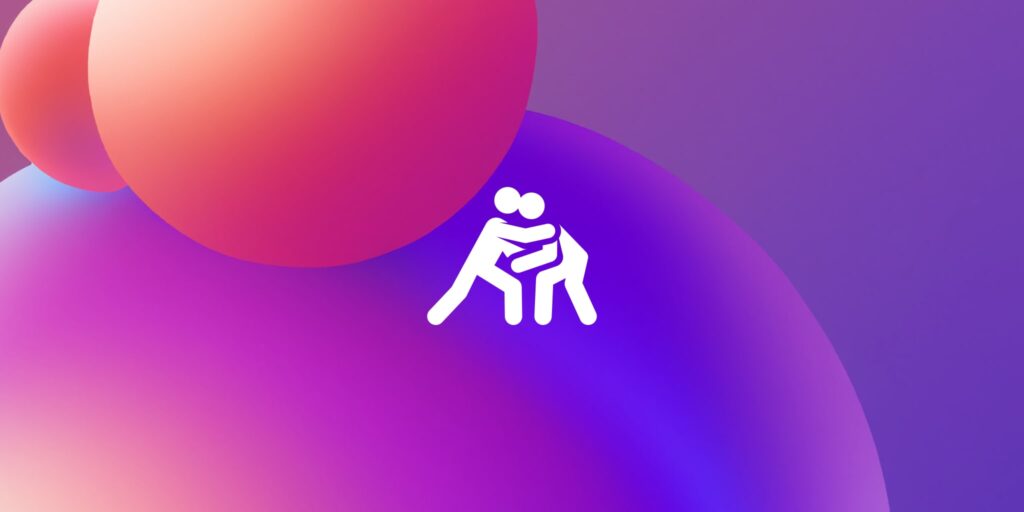 The best
SEO competitor analysis tools
March 28, 2021

10 minutes

Sam Underwood
To get ahead of your competitors, it's crucial to understand them. This means using competitor analysis tools to analyze their performance across important metrics like keywords, backlinks, devices, content pages, and rank changes. By understanding your competition, you can compete better against them.
This guide covers five top competitor analysis tools that can help you justify a bigger budget, develop better marketing strategies, and discover hidden opportunities.
Why use a competitor analysis tool?
Competitor analysis tools can provide a wealth of information, including valuable insights into your competitors, vital market signals, and untapped business opportunities. They can help you save time, money, and energy on market and competitive landscape research. The benefits of competitor analysis tools include:
Understanding your competition better
Justifying a bigger budget
Developing better marketing strategies
Discovering hidden opportunities
Let's explore the top three tools in the market, starting from the best overall—SEMrush.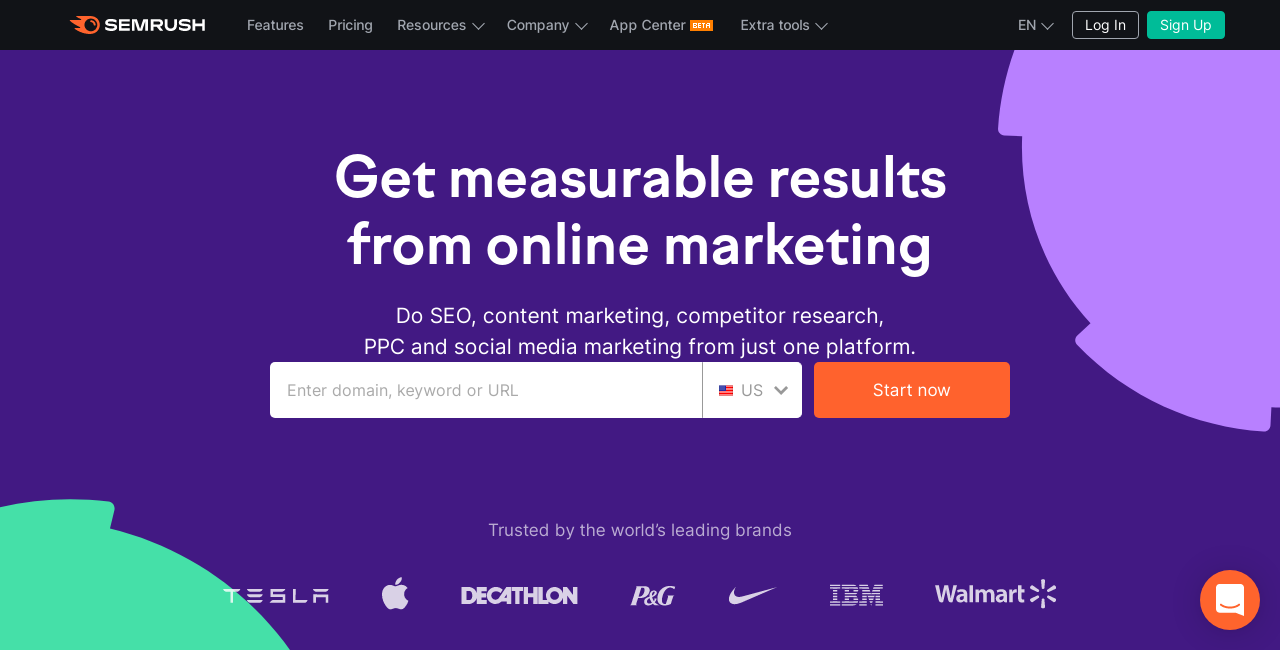 Best overall: SEMrush
SEMrush reveals your competitor's keywords, content, traffic, and ranking data.
Here's how SEMrush competitor analysis works.
Click Domain Overview under Competitive Research in the SEO drop-down menu.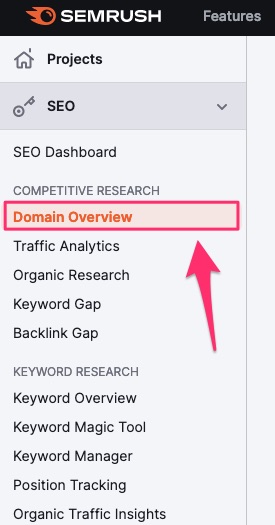 Enter your competitor's domain in the search box, set the country you want to target or leave it as 'Worldwide' and click Search.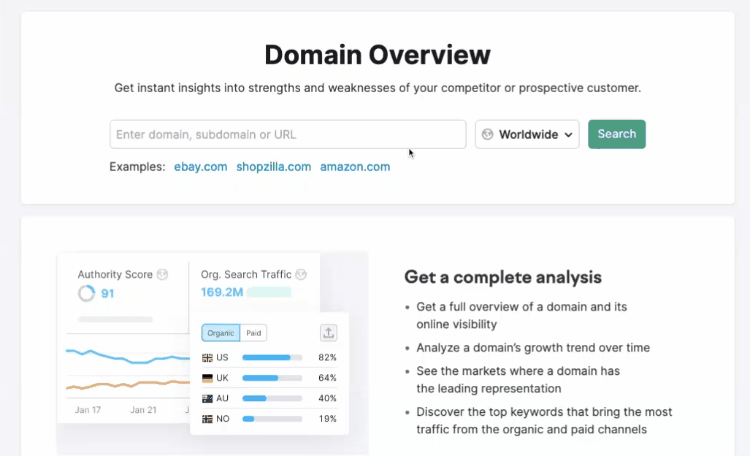 SEMrush provides a detailed breakdown of your competitors' performance across multiple metrics. You can review their organic and paid search performance in these areas:
Traffic over time
Keywords by rank
SERP featured snippets
Search intent
Comparative traffic and keyword positioning
Traffic and keyword country distribution
Branded and non-branded traffic distribution
Backlink data
One handy feature of SEMrush is that it groups your competitor's keywords by search intent.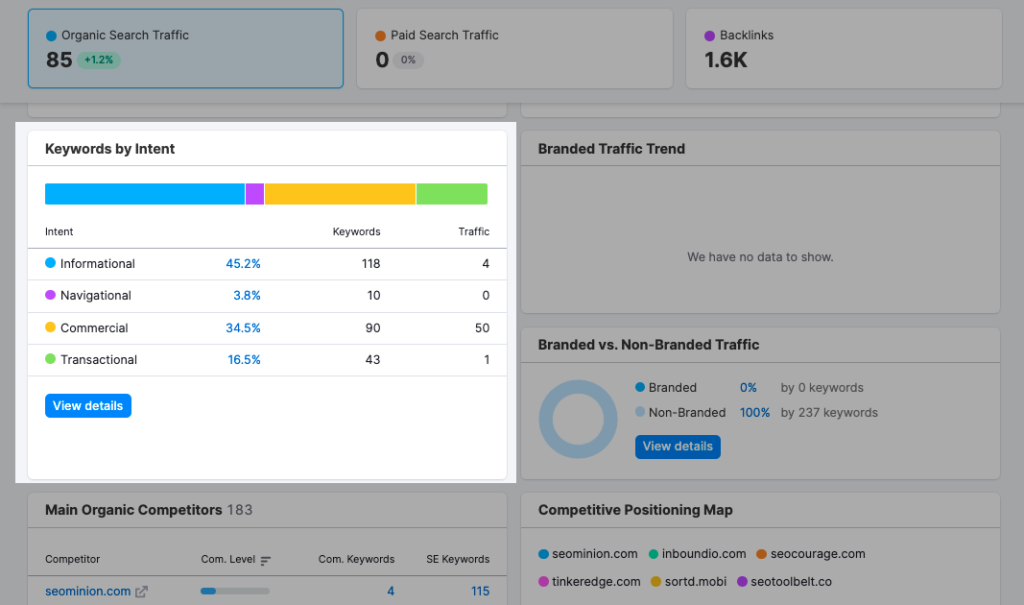 This feature helps you understand the relationship between the keywords for which your competitors are ranking and the traffic they are receiving.
Using this feature, you can gain insights into your competitors' top-of-the-funnel (TOF), middle-of-the-funnel (MOF), and bottom-of-the-funnel (BOF) traffic distribution.
Furthermore, this tool allows you to filter performance reports by device type to gain a better understanding of your competitors' desktop and mobile user data.

You can look at your competitor's historical data to find patterns in their keywords, traffic, and backlinks.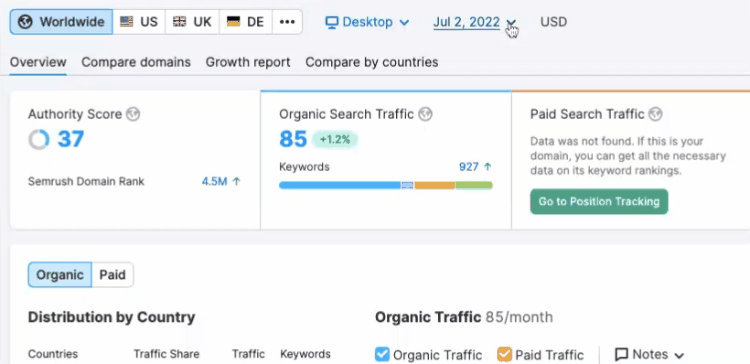 Also, SEMrush lets you compare your competitor's website data by country. You can compare up to five countries at once.

This feature helps you uncover your competitor's key markets.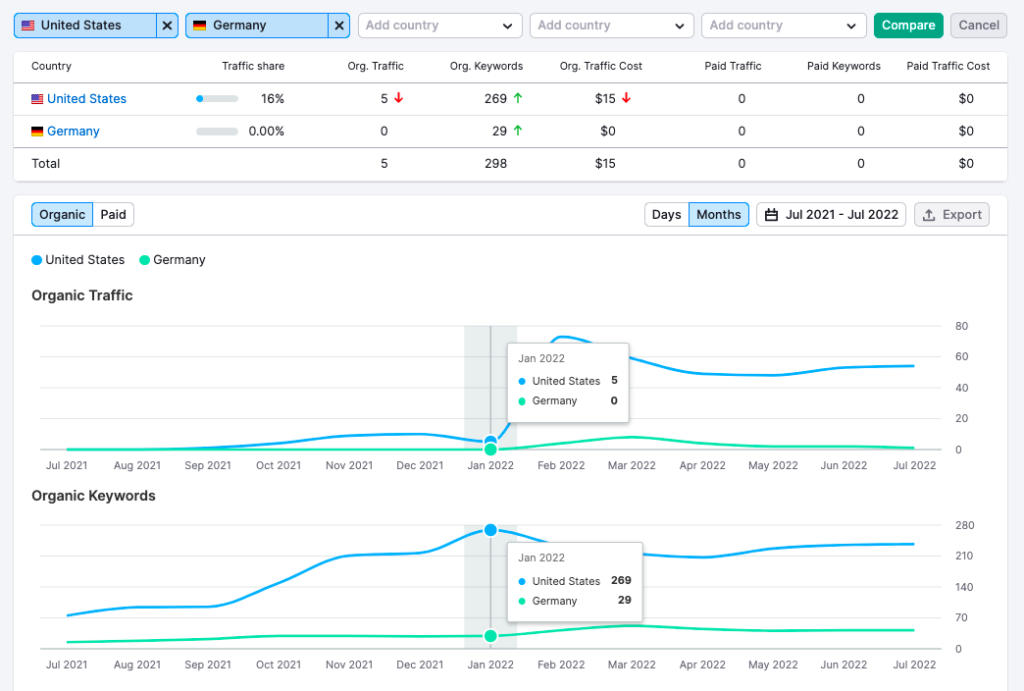 The Growth Report tab lets you filter your competitor's data by time periods.

You can filter the report by three or six months, over seasons, quarters, or years.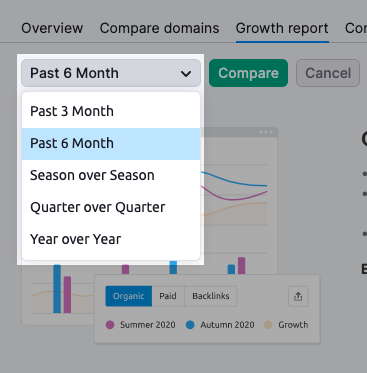 Finally, you can compare your competitor's performance data side by side with your website's or other competitors' performance. SEMrush allows you to compare up to five websites at once.
You can compare domains by type—root domains, subdomains, or subfolders.

You'll see data comparisons across traffic, paid search, backlinks, branded and non-branded keywords, keyword overlap, and top-performing pages.

Key features
Traffic analysis
Organic search
Paid search analysis
Keyword analysis
Backlinks analysis
Competitor historic data
Device-based analysis
Data comparison by country
Domain comparison
Auto-generated reports
Pricing
SEMrush offers three pricing plans—Pro, Guru, and Business.
However, they only offers seven-day free trials on the Pro and Guru plans. Both pricing plans feature over 50 tools, including tens of competitor analysis features you can test during the trial.
| | Pro | Guru | Business |
| --- | --- | --- | --- |
| Monthly | $119.95 | $229.95 | $449.95 |
| Yearly | $99.95 (per month) | $191.95 (per month) | $375.95 (per month) |
You must enter your credit card data to access the trial.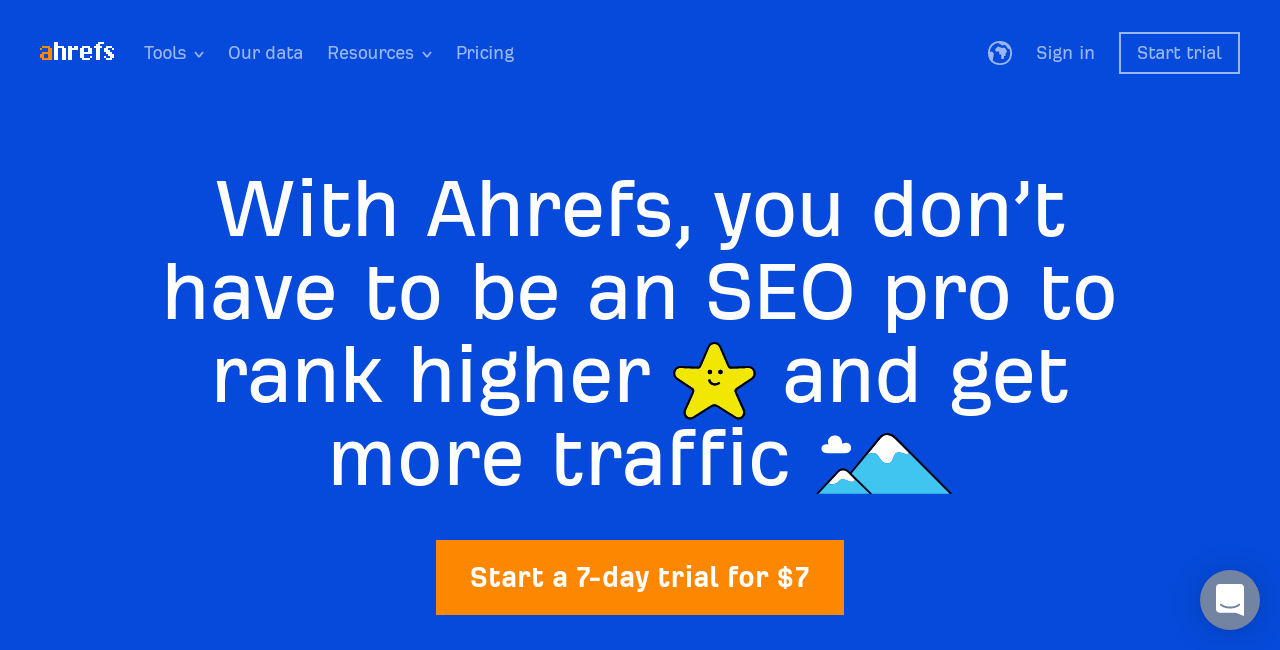 Close runner-up: Ahrefs
Ahrefs shines brightest as a backlinks competitor analysis tool.
Although Ahrefs gives you keyword and traffic insights, SEMrush offers more granular competitor data, in-depth performance reports, and richer comparisons.
Here's how Ahrefs competitor comparison works.
Log in and click on Site Explorer.

Enter your competitor's domain name and select the appropriate domain type.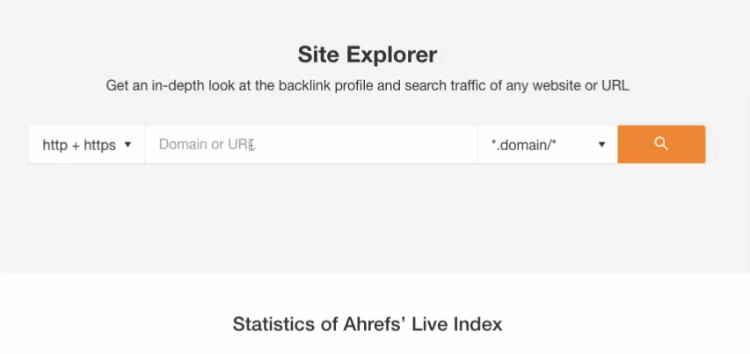 Click on the search button, and Ahrefs will return competitor analysis data covering a quick overview.

Below the overview section, you'll see the domain's backlinks profile, organic traffic trends, and paid search tabs.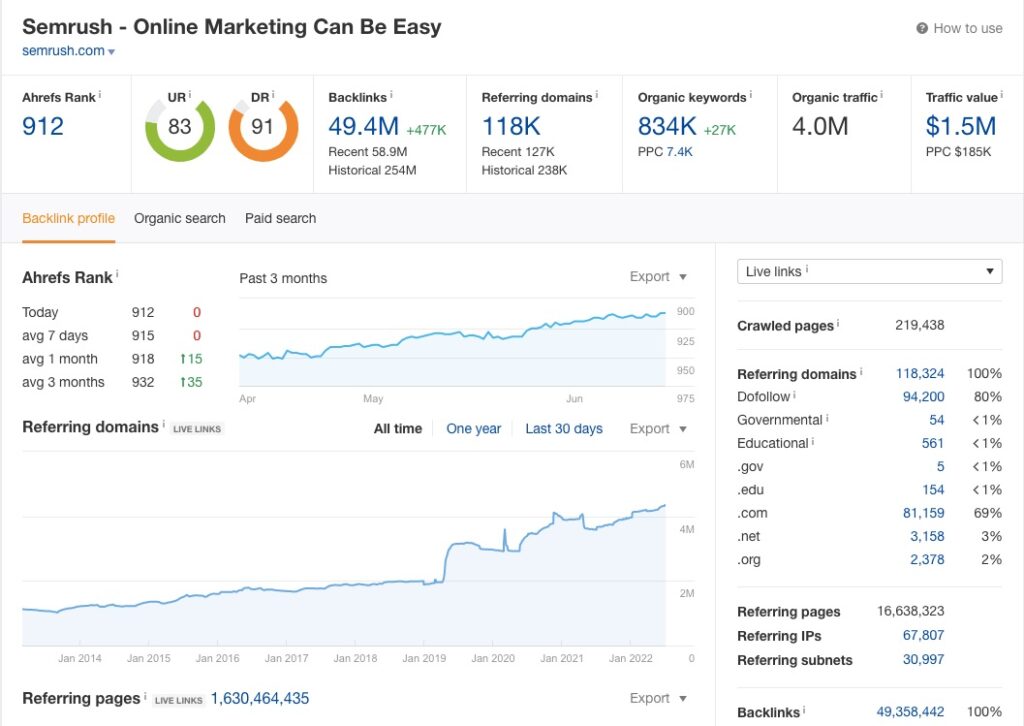 Ahrefs Backlinks Analysis
Ahrefs provides your competitor's live referring domain and pages trend over time. This graph gives a quick snapshot of whether your competitor is gaining or losing backlinks.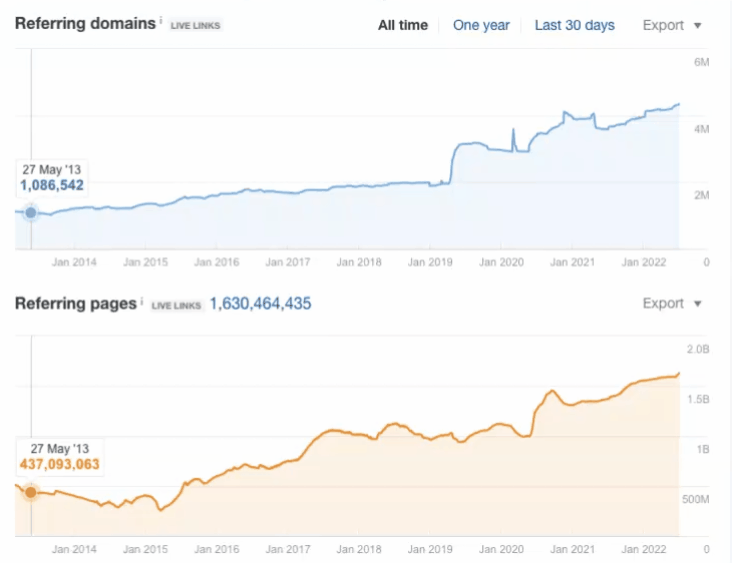 You can filter the referring domains and pages data by All Time, One Year, or 30 Days.
In addition, you'll find the competitor's domain and page backlinks gain and loss over time.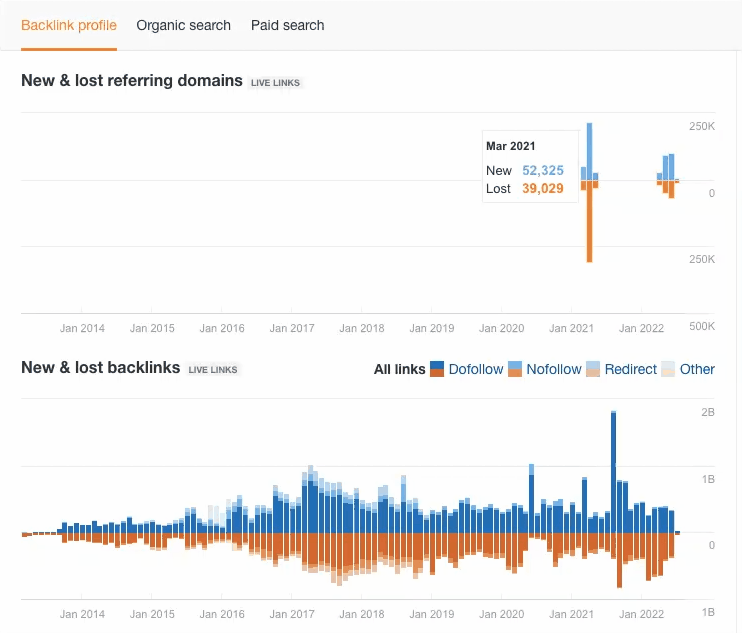 Ahrefs also provides the top-level domain (TLD) distribution of the site. This insight can inform your link-building strategy, helping you understand the country, industry, or types of websites that link to that competitor.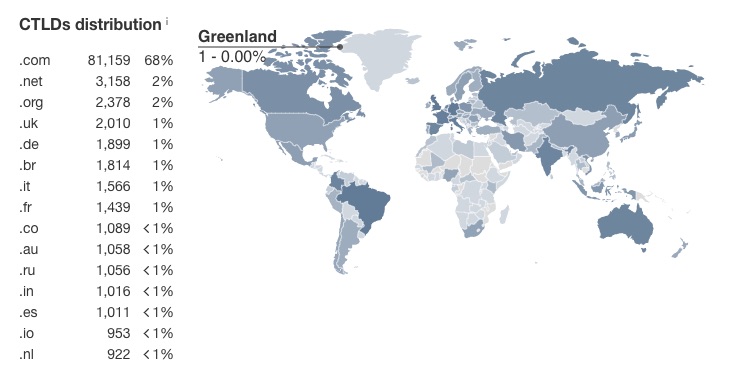 The last backlink metric shows you the site's anchor text distribution.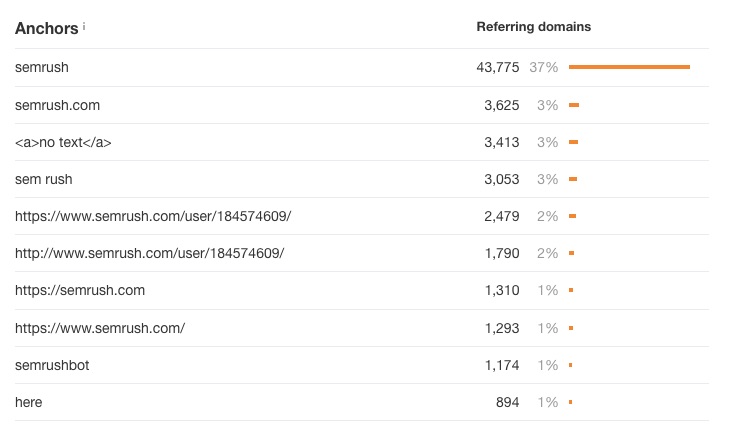 This tool lets you filter backlinks by
Live links,
Historical links, and
Recent links
Those filters sort the number of backlinks by the total number of backlinks, do-follow, no-follow, and others.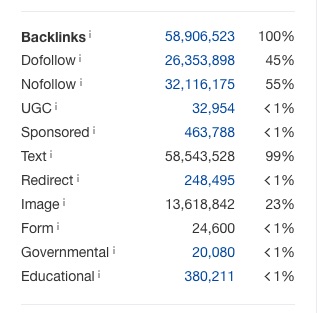 Ahrefs Organic Search
Under the Organic Search tab, Ahrefs provides SEO and paid search data covering these:
Organic traffic
Organic keywords
Traffic value
PPC ads
Organic positions
Top keywords
Top pages
This section allows you to filter search data by monthly or average traffic volume and countries.
It shows you the organic traffic and keyword ranking trend over time.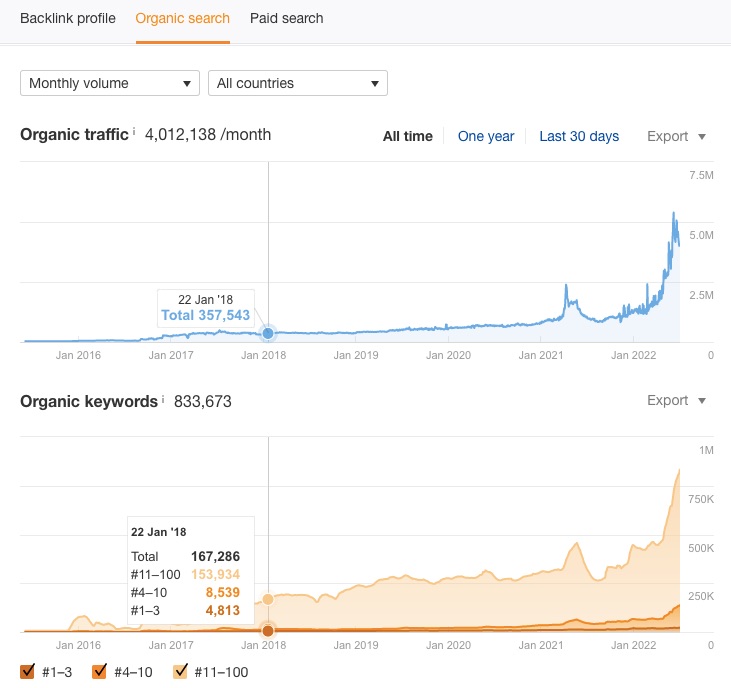 At the bottom of each page, you can click View Full Report to get a detailed report with filters.

Ahrefs Full Reports
Ahrefs lets you filter your competitor's backlinks data by
Anchors
Terms
Link types
Search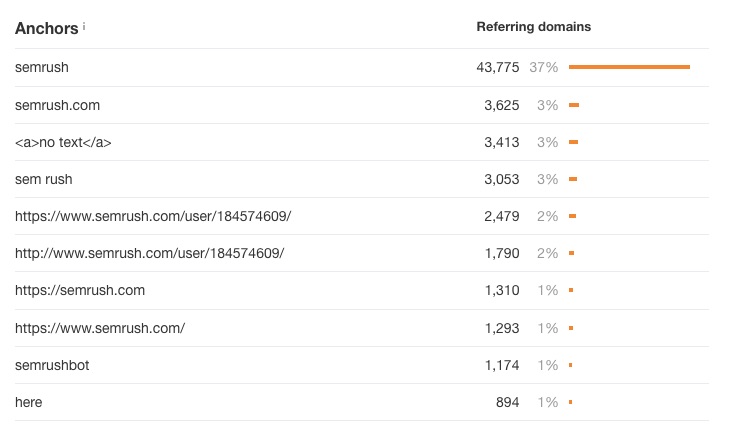 The organic search report allows you to filter your competitor's pages by their organic keyword search data, including:
Position
Volume
Keyword density (KD)
Cost per click (CPC)
Traffic from keyword
Words in keyword (for short-tail and long-tail keywords)
Include keywords
Exclude keywords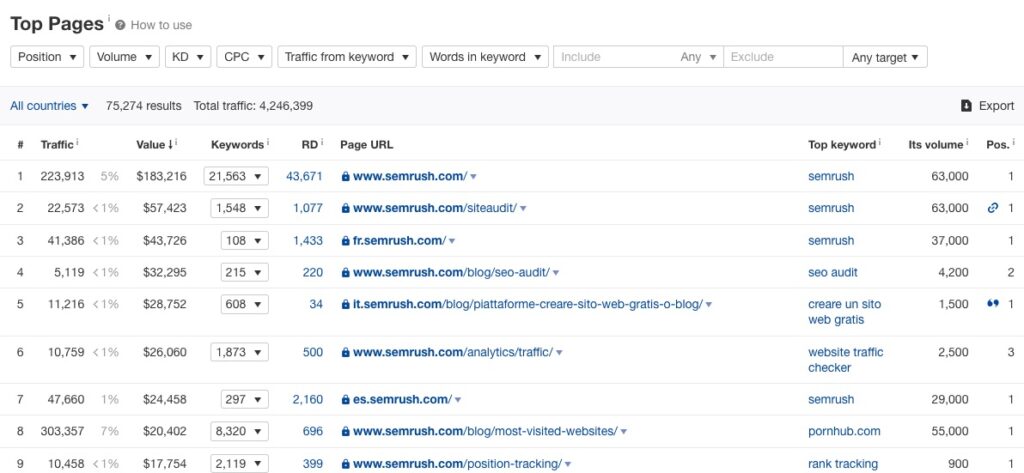 For example, I filled the From filter box and left the To filter box empty to filter my organic search data by keywords that generate 10,000 visitors or more.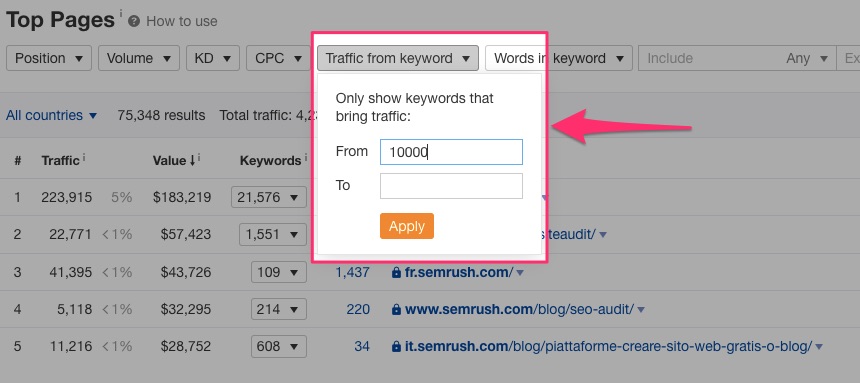 I then clicked on one of the results to see the details.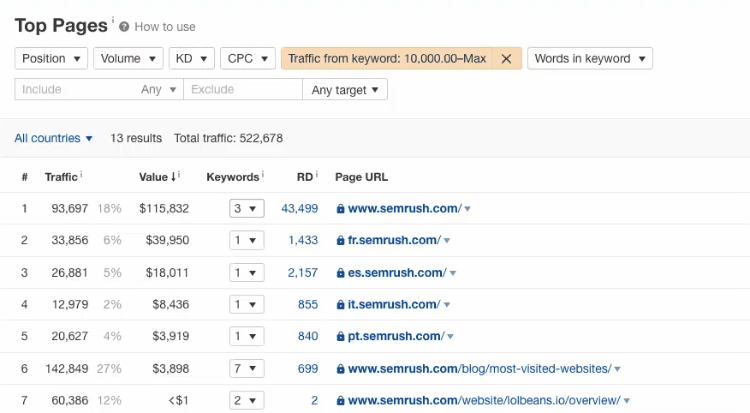 Here's what you find when you click on the Keywords drop-down menu.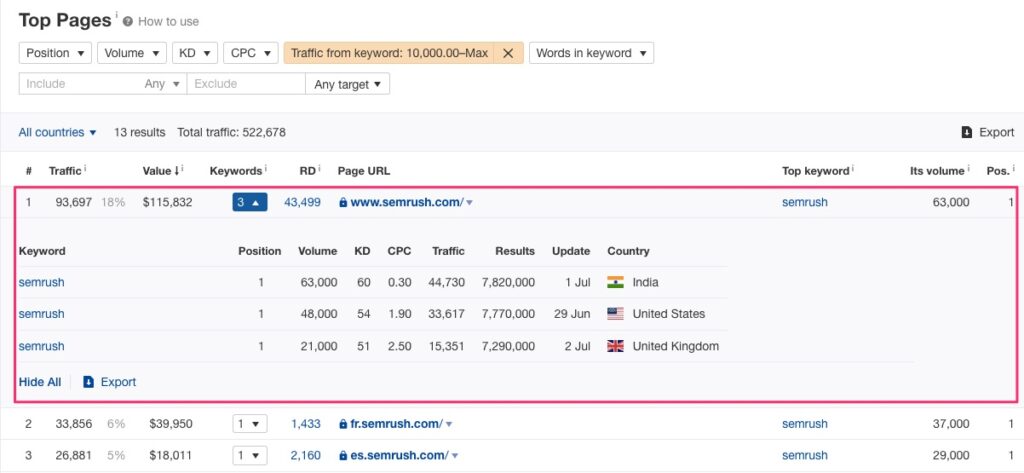 You can get a quick overview of each page on your competitor's site when you click Page URL.
You can follow a similar process for the backlinks and paid search tabs.
Other Ahrefs Competitor Analysis Features
Link Intersect is one of the most useful Ahrefs features. It helps you find link opportunities.
Click the More drop-down menu and select Link Intersect.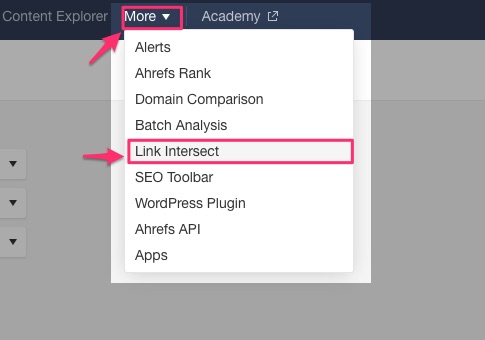 The feature lets you see the websites linking to a set of competitor domains. And it also allows you to filter for domains not linking a particular domain.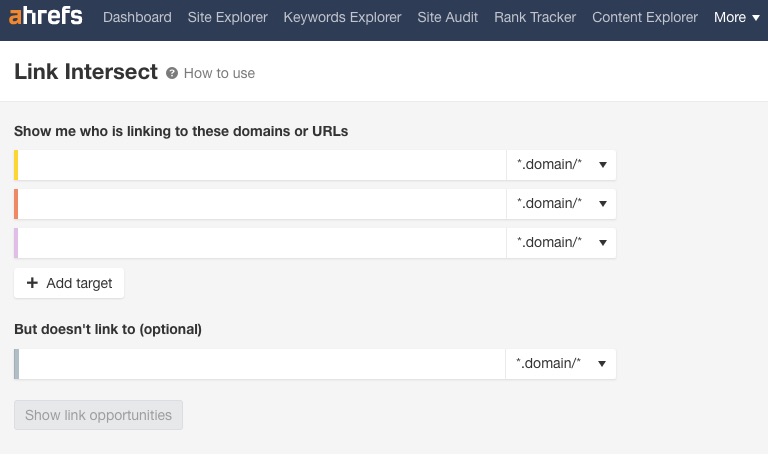 Another feature is the Domain Comparison. You can access it from the same drop-down menu where you get the Link Intersect feature.

The Domain Comparison feature allows you to compare five domains across multiple performance metrics, including these:
Backlinks
Backlink types
Referring domains
Referring IPs
Graphs of changes in the domains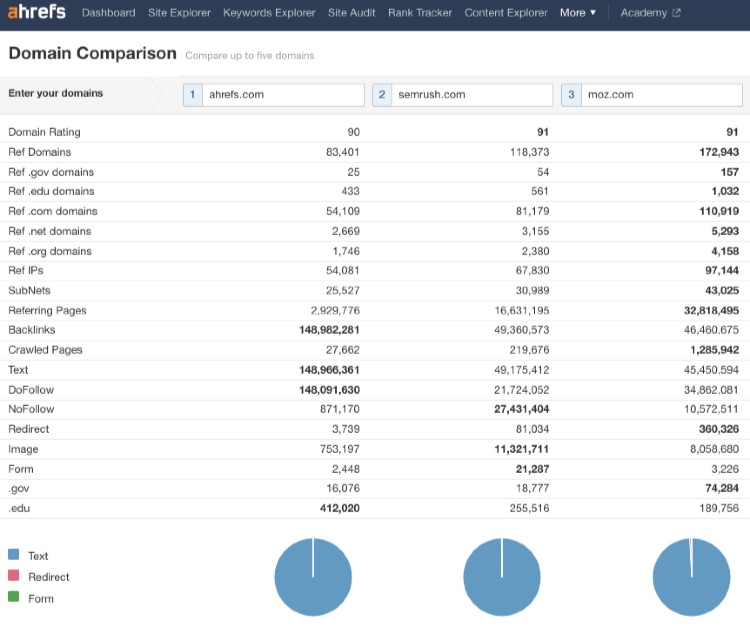 Key features
Backlinks analysis
Traffic analysis
Keyword analysis
Paid search analysis
Domain comparisons
Backlink comparisons
Pricing
Ahrefs offers four pricing plans—Lite, Standard, Advanced, and Enterprise.
Although Ahrefs doesn't offer free trials or discounts, you can use the Webmaster Tools with limited features.
| Plan | Monthly | Yearly |
| --- | --- | --- |
| Lite | $99 | $83 |
| Standard | $199 | $166 |
| Advanced | $399 | $333 |
| Enterprise | $999 | $833 |
Ahrefs does not offer refunds if they determine that you have used the tools after purchase. But you can request a refund within 48 hours of purchase.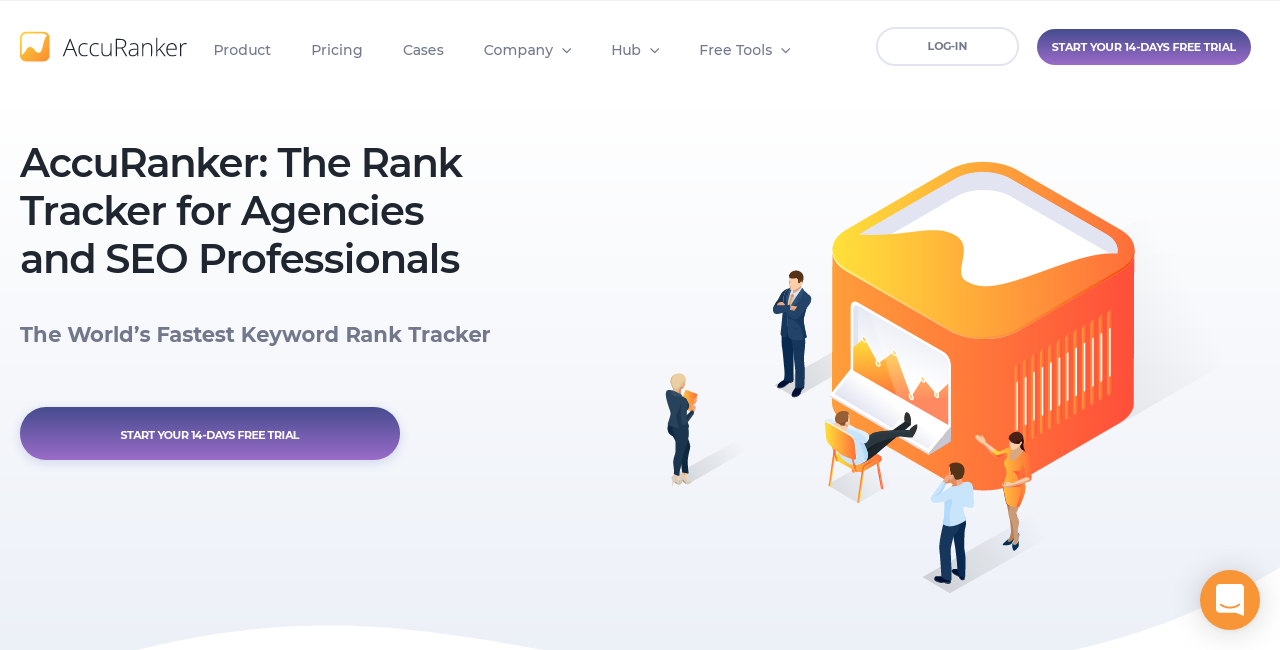 Best rank tracker: Accuranker
AccuRanker positions itself as a rank tracking tool for enterprise and agency users.
Here's how to use AccuRanker for competitor analysis. First, enter your email to sign up for the free trial and follow the prompts.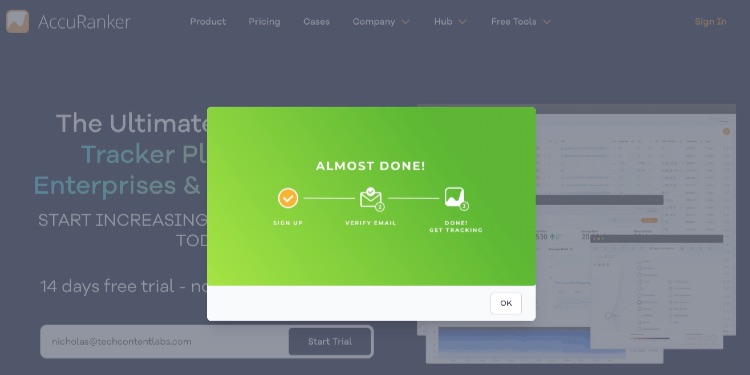 You can add multiple domains to your AccuRanker account if you have more than one site.
Click on Dashboard from the navigation menu.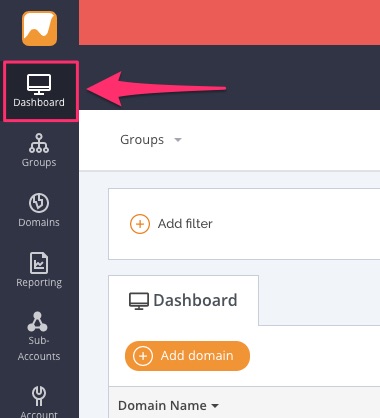 Click Add Domain button in the Dashboard to add your other domains.

Enter the details of the domain in the form that pops up.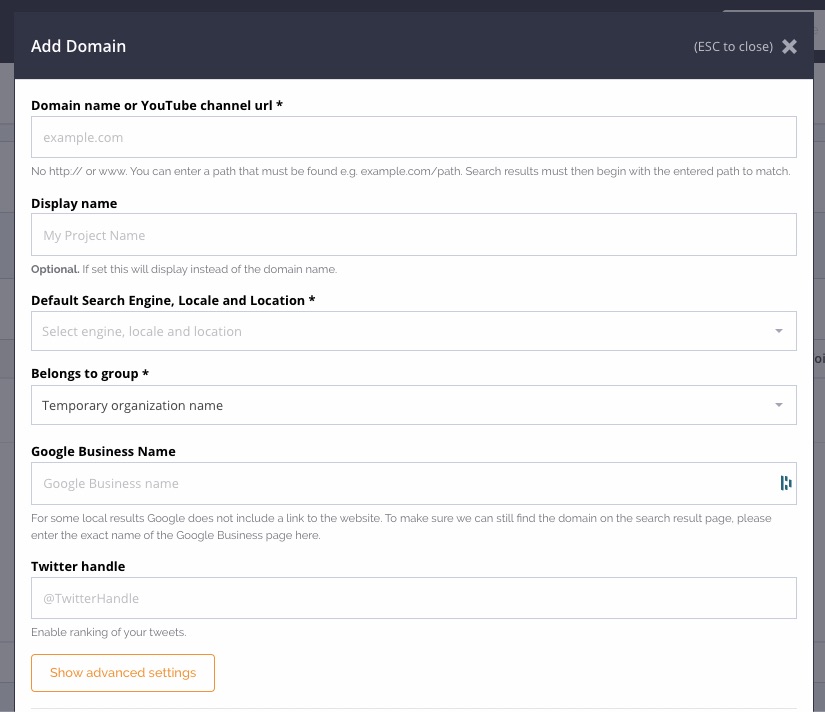 AccuRanker forces you to choose a specific data location. So under "Default Search Engine, Locale and Location," choose a country.
For this example, I'll choose the United States (English) from the drop-down menu that shows up when I start typing the country name.

Select the search engines for which you want to track ranking data for the domain.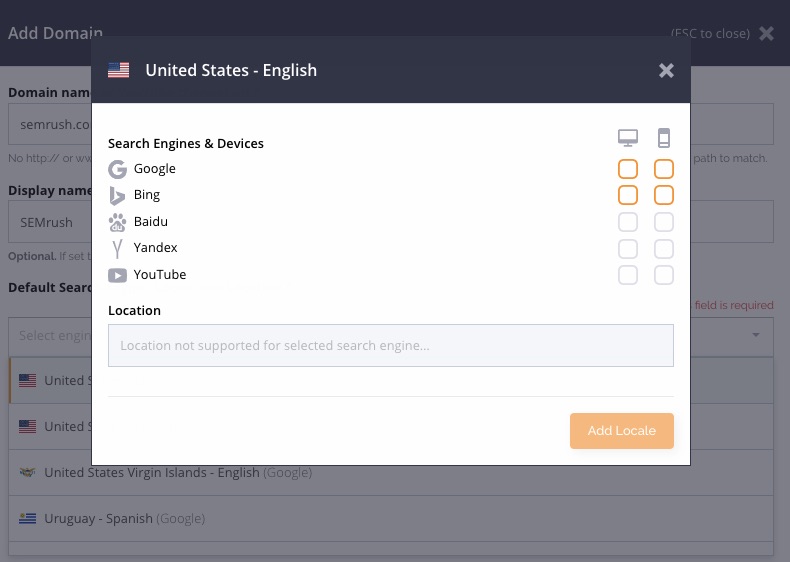 You have the option to add more filters and data controls like
Locations you want to track
Ignore local pack
Ignore featured snippets
Enable autocorrect
Click Add Locale when you're done.
You can edit or delete that data by clicking the edit or delete icons.

Use the Advanced Settings to add these parameters to your domain analysis:
Share of Voice
Subdomains
Exact match
Click Save.

A pop-up will follow where you'll add your site's keywords. You can add those keywords manually or import them from a CSV or your Google Search Console.
You can add more search engines, star keywords, use tags, or choose to ignore share of voice.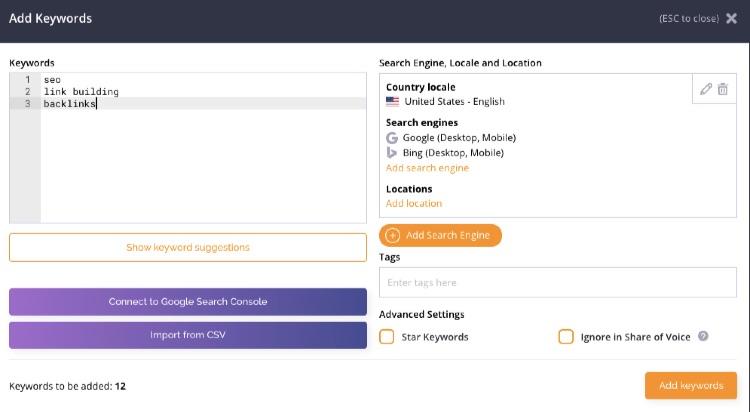 Add competitors to AccuRanker
Click the Dashboard or Domain navigation, and then click on the domain you want to analyze competitor data for.

Click on the Competitors tab and then Add Competitors.

Fill your competitor's data—especially the URL—into the pop-up form.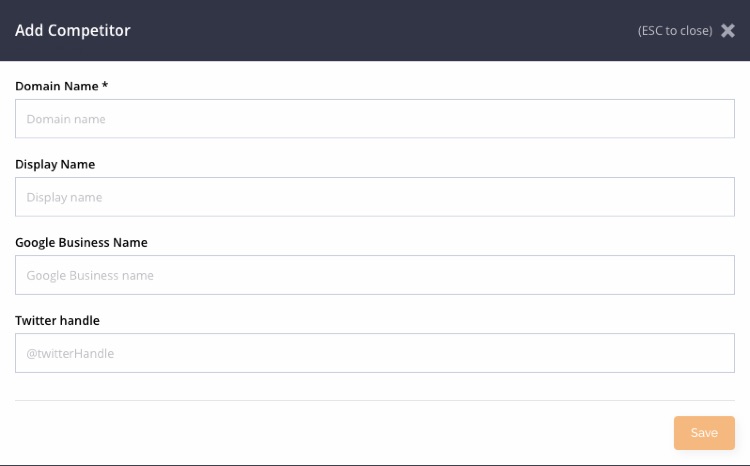 Click on Settings.

Set the column headers you'd use in your competitor analysis.
Click Update.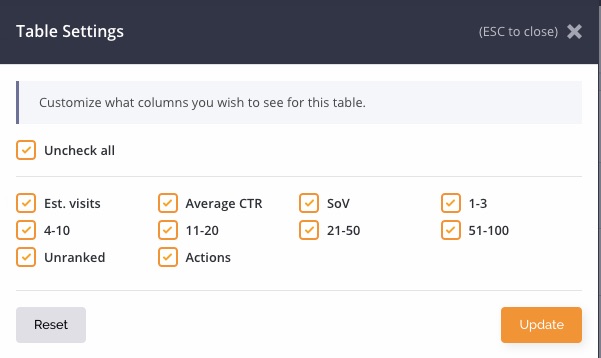 Wait five to ten minutes and refresh your page. You should now start seeing data from your competitor's website.

Competitor ranks and comparison
Right after the Competitor tab is the Competitor Ranks, this feature shows your competitors' rank based on the keywords you're tracking for your website.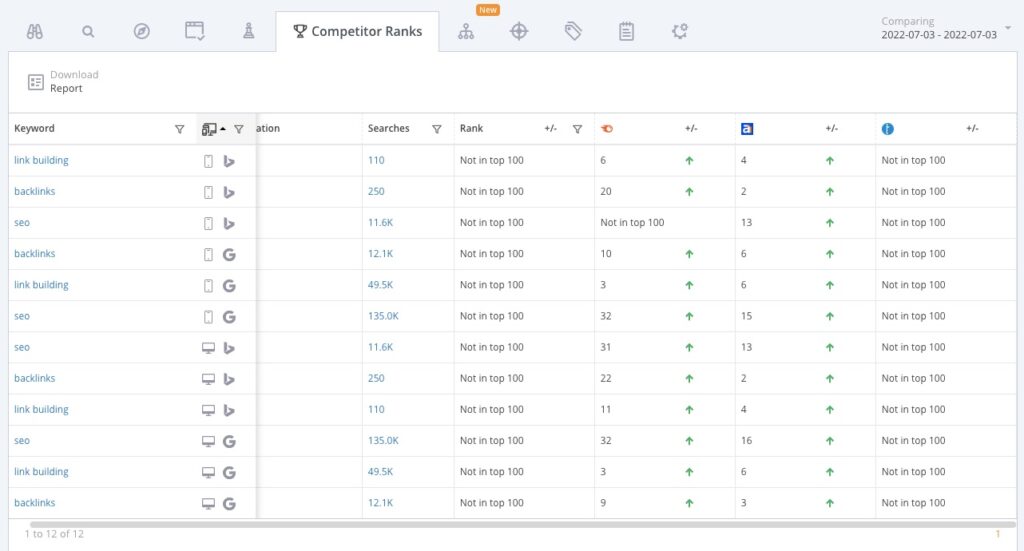 You can see metrics like these:
Rank changes for each competitor
Location
Keyword search volume
You can filter by search engine and device type.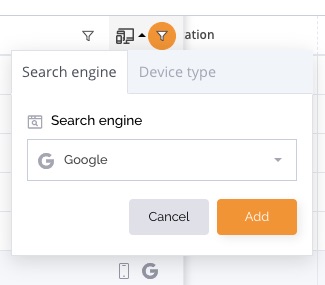 Search engine filters include Yandex, Google, Bing, and YouTube. Device filters include desktop and mobile.
You can see your competitor's historical keyword ranking data for each keyword across different search engines and devices.
Click the keyword.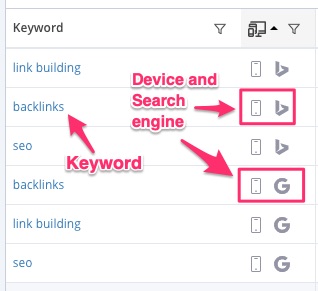 A pop-up box will show the historical ranking data of the keyword for each competitor on your list.
The image below shows the competitor's historical ranking for the keyword "Backlinks" for the competitors semrush.com, ahrefs.com, and tinkeredge.com.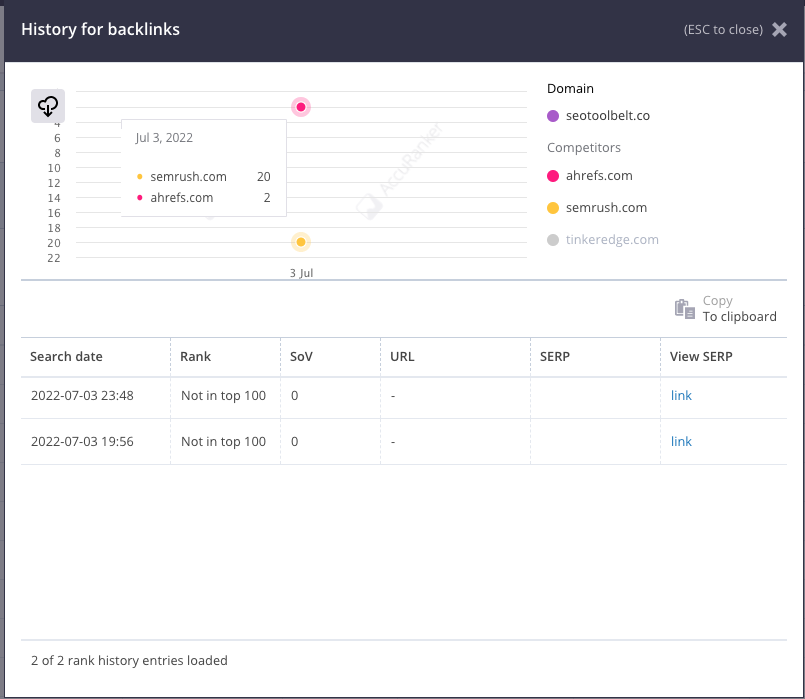 Key features:
Competitor rank tracker
Share of voice
Historic ranking data
Competitor rank comparisons
Competitor click-through rates
Ranking by search engine
Ranking by device
Pricing:
AccuRanker sets prices based on a user's number of keywords.
It offers from 1,000 keywords for $116 per month to over $2,492 for 50,000 keywords. Users who wish to track more keywords can reach out to AccuRanker for a special arrangement.
This tool offers 14 days trial and doesn't require a credit card.
Great alternatives
Besides SEMrush, Ahrefs, and AccuRanker, other SEO tools like Advanced Web Ranking (AWR) and Nightwatch can help you find valuable competitor data.
AWR focuses on market and keyword analysis, and Nightwatch excels in providing detailed geo-location ranking performance data.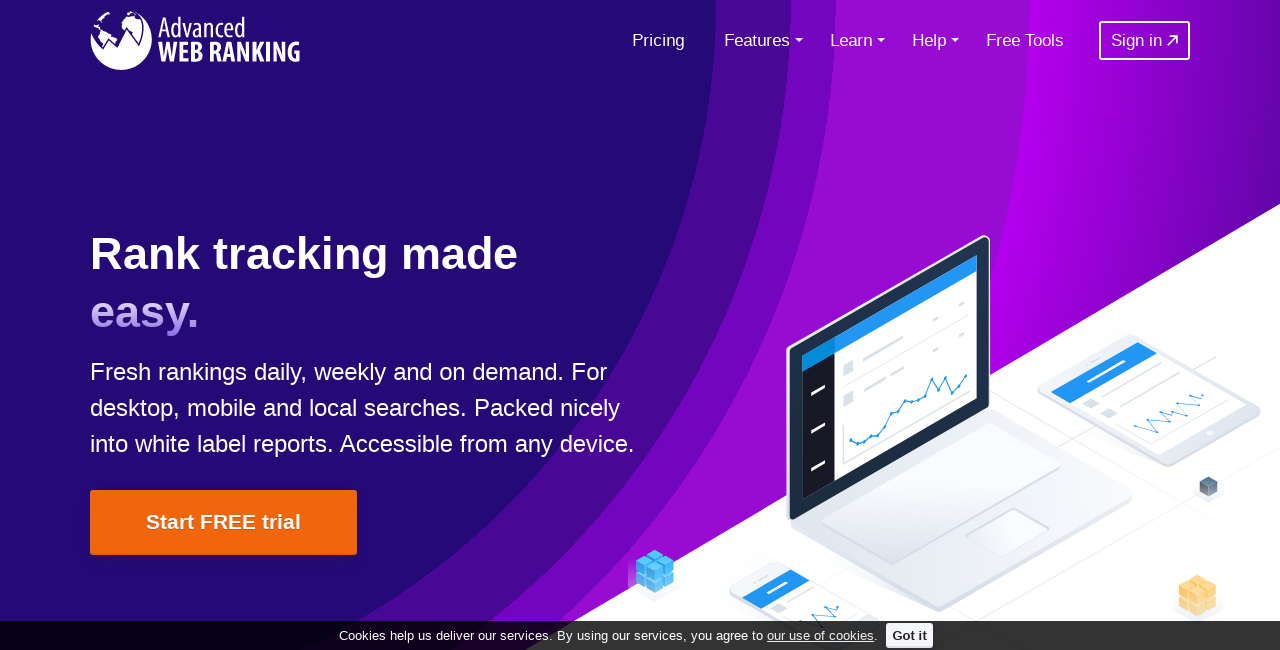 Advanced Web Ranking
Advanced Web Ranking provides geo-located ranking data across desktop, mobile, and local searches to in-house SEOs and agencies.
This tool helps users discover competitors and unearth insights on each of them, including keywords, market share, site visit data, and more.
You can try AWR free for 30 days.
Key features
Market share analysis
Click share
Keywords analysis
Competitor discovery
Search engines and website comparisons
SERP features report
Backlinks analysis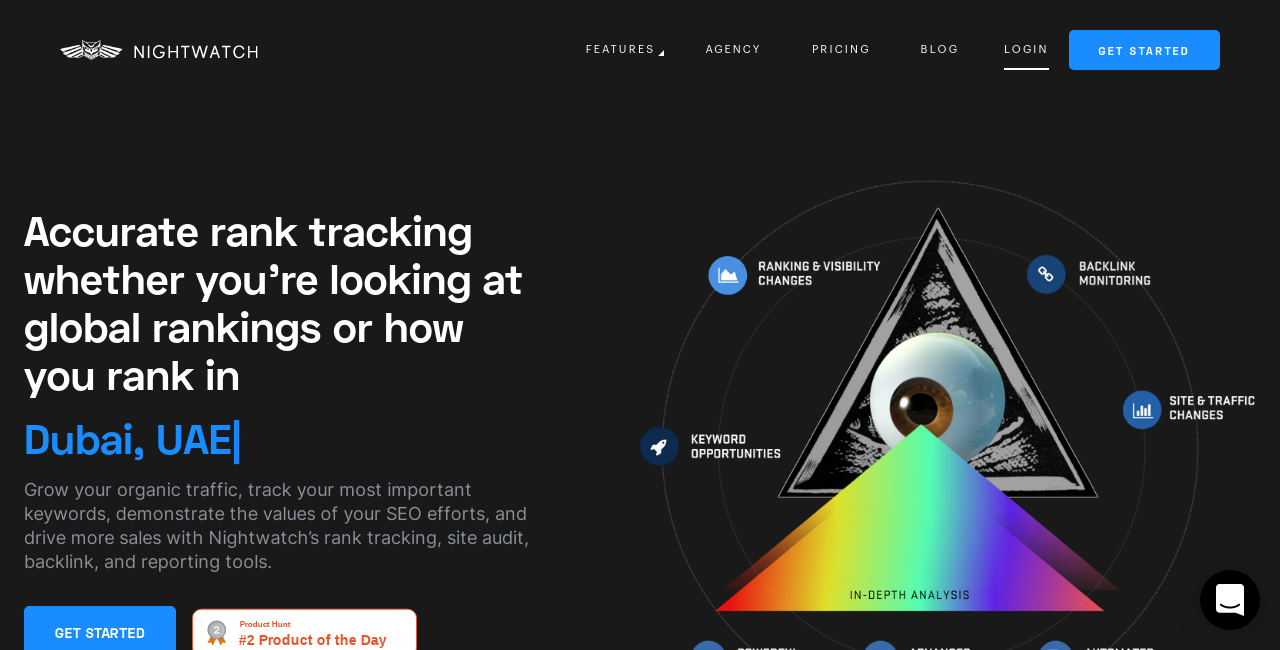 Nightwatch
Nightwatch provides granular SEO data up to Zip code level for keyword rankings across multiple search engines. In addition, it promises to help users discover missed SEO opportunities automatically.
Users can track five competitors on any of Nightwatch's pricing plans. You can add competitor domains manually or let the tool autogenerate the data.
Nightwatch offers a 14 day trial.
Key features
Rank tracker
SERP features
Competitor backlinks analysis
Performance comparisons
Automatic reporting
FAQs
What are competitor analysis tools?
Competitor analysis tools are search optimization software solutions that help you discover, monitor, analyze, and learn from your competitor's performance and strategies.
These tools help marketers remain competitive and informed on keyword, market, and user behavioral trends across devices, search engines, time frames, and geo-locations.
Can you use Google Analytics for competitor analysis?
Google Analytics does not grant access to your competitors' data. However, Google Trends and Keyword Planner can provide unattributed keyword data.
But those tools don't offer side-by-side SEO comparisons. Plus, Google tools are limited to keyword trends and don't provide performance metrics like competitor backlinks and ranking data.
How do you evaluate an SEO competitor?
Use a competitor analysis tool like SEMrush, Ahrefs, or AccuRanker to track and analyze your SEO competitors and discover their strengths, weaknesses, and strategies. And if you find any valuable insights, apply them to your business.
Final thoughts
All competitor analysis tools have strengths and weaknesses. But all-in-one tools offer the best experiences.
Why?
They help you channel your energy into getting business results instead of coupling tools.
That's why SEMrush is the best overall competitor analysis tool.
SEMrush covers organic search, paid search, and social media. It provides in-depth competitor data for keywords, backlinks, rank tracking, geo-location, and more. And you have advanced filters, multiple comparison options, and easy-to-use dashboards.
---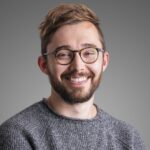 Sam Underwood
Sam is an international Ecommerce SEO Consultant with experience implementing enterprise-level SEO strategies.
More SEO competitor analysis tools
Not quite found what you're looking for in our SEO competitor analysis tools guide? Here are more tools for you to consider.
Paid

Semrush offers solutions for SEO, PPC, content, social media and competitive research. Trusted by over 7000000 marketers worldwide

SEMrush

All-in-one, Backlink Analysis, Competitor analysis, Link auditing, Link building tools, Local SEO, Site Auditing

Paid

An all-in-one SEO tools that can help you with backlink analysis, keyword research, site auditing and more.

Ahrefs

All-in-one, Backlink Analysis, Competitor analysis, Keyword research, Rank tracking, Site Auditing

Paid

Smart and powerful tool for ✓ Backlinks Analysis ✓ Rank Tracking ✓ Keyword Research ✓ Competitor Analysis ✓ Site Audit.

Serpstat

All-in-one, Backlink Analysis, Competitor analysis, Keyword research, Rank tracking, SEO crawler, Site Auditing

Paid

Mangools is a bundle of 5 simple but powerful SEO tools made for an effective SEO workflow. Loved by beginners, trusted by professionals. Try it for free!

Mangools

All-in-one, Backlink Analysis, Competitor analysis, Keyword research, Rank tracking

Paid

Research keywords, analyze competitors, and more - all within Google Sheets.

Keywords in Sheets

Competitor analysis, Keyword research

Paid

An all-in-one SEO tool that offers rank tracking, site auditing, keyword research, backlink analysis, and competitor analysis features.

Rank Ranger

All-in-one, Competitor analysis, Duplicate Content, Internal Linking, Keyword research, Local SEO, Rank tracking, Structured Data

Similar Web

Competitor analysis

Paid

AccuRanker is the world's fastest rank tracker - A must-have tool if you want to grow your organic traffic, and leave your competitors in the dust.

Accuranker

Rank tracking, Competitor analysis

Free

Morningscore is a comprehensive SEO tool. It's simple to use, but packed with data and tools. Simply put your website on the homepage. You'll get a special 30-day access for free.

Morningscore

All-in-one, Backlink Analysis, Competitor analysis, Keyword research, Rank tracking, Site Auditing

Paid

Use this all-in-on tool to find keywords, track website ranking, analyze SERPs and audit your website using RankTracker's vast amount of data.

RankTracker

Rank tracking, Competitor analysis

Paid

Discover keywords that your competitors are ranking for, for a greater chance of showing up on the SERP.

Keyword Zebra

Competitor analysis, Keyword research

Paid

Automatically discover missed SEO opportunities. Nightwatch's accurate data and reports help you get buy-in, justify bigger budgets, and land more clients. Monitor your keyword rankings, backlinks and audit your website with confidence. Welcome to Nightwatch.

Nightwatch

Rank tracking, Competitor analysis

Paid

Pro Rank Tracker is a complete SEO Rank Tracking & Reporting tool that keeps you updated with ranking changes across your website and video.

Pro Rank Tracker

Rank tracking, Competitor analysis

Paid

Advanced Web Ranking provides fresh daily, weekly or on demand geo-located rankings. Tailored for agencies and in-house SEOs. Try it free for 30 days!

Advanced Web Ranking

Competitor analysis, Rank tracking

Paid

Use this tool to track where you rank on the SERP. Receive automatic daily updates so you're always in the know of your SERP position.

WhatsMySerp

Competitor analysis, Rank tracking

Paid

Backed by the largest community of SEOs on the planet, Moz builds tools that make SEO, inbound marketing, link building, and content marketing easy. Start your free 30-day trial today!

Moz

All-in-one, Backlink Analysis, Competitor analysis, Keyword research, Site Auditing

Paid

The SISTRIX Toolbox is the premier tool used by SEO professionals. Data you love, from people you trust.

Sistrix

All-in-one, Backlink Analysis, Competitor analysis, Keyword research, Rank tracking, SEO crawler

Paid

Use this tool to track your top keywords and receive daily updates on their positions on the SERP.

Wincher

Competitor analysis, Rank tracking

Paid

Use this tool to track changes to the SERP and how your site is performing on it over time.

SERP Robot

Competitor analysis, Rank tracking

Paid

Use Searchmetrics to make informed search and content decisions, using their vast supply of data and analytics.

Searchmetrics

All-in-one, Competitor analysis, Keyword research, Rank tracking, Site Auditing

Paid

SERP tracking and analytics for SEO experts, STAT helps you stay competitive and agile with fresh insights.

STAT

Competitor analysis, Rank tracking

Paid

The cognitiveSEO tool provides a unique analysis process that delivers Unparalleled Backlink Analysis, Content Audit and Rank Tracking for Every Site.

CognitiveSEO

All-in-one, Backlink Analysis, Competitor analysis, Rank tracking, SEO crawler

SimilarWeb Extension

Browser extensions, Competitor analysis, Link building tools

Paid

Get all-in-one pack of SEO software - download the free edition of SEO PowerSuite. Powerful SEO tools and free SEO advice - get on the way to top 10 rankings for your site on Google and other search engines!

Link Assistant

All-in-one, Competitor analysis, Link auditing, Link building tools, Rank tracking, Site Auditing

Paid

Nozzle is a full serp monitoring tool that lets you track unlimited competitors, no questions asked.

Nozzle

Competitor analysis, Rank tracking

Paid

SEO solutions for agencies to help save them time and focus on what matters.

SEOMonitor

Competitor analysis, Rank tracking, Reporting

Brightedge

All-in-one, Competitor analysis, Content marketing, Keyword research, Rank tracking, SEO crawler