SEMrush review
Semrush offers solutions for SEO, PPC, content, social media and competitive research. Trusted by over 7000000 marketers worldwide
5

Publish date:

April 28, 2021

Author:

Sam Underwood
Visit site
---
---
Pros
SEMrush performs thorough website traffic and keyword analysis research

Provides data for organic SEO and paid marketing

Easy to navigate user interface

Provides detailed audience demographic data

Analyze multiple websites simultaneously

Simplifies keyword research with a minimal learning curve

Custom and SEO-optimized content brief templates.

Allows bulk upload and export of data files

Packed with over 50 tools for a complete all-in-one research experience
Cons
SEMrush Pro is quite pricey for small businesses just starting their SEO journey

Minor inaccuracies in Ad Spend data reports

Data size and the number of tools might overwhelm new users
---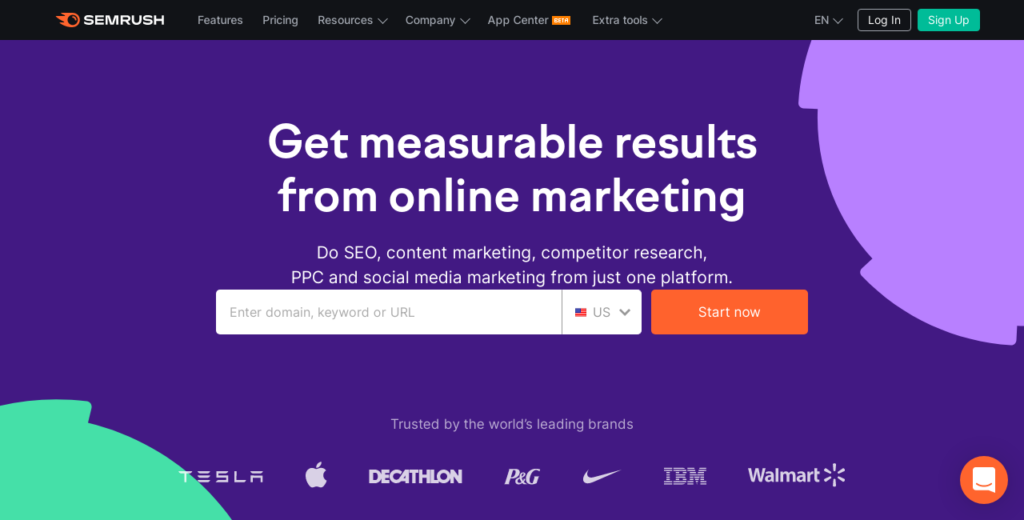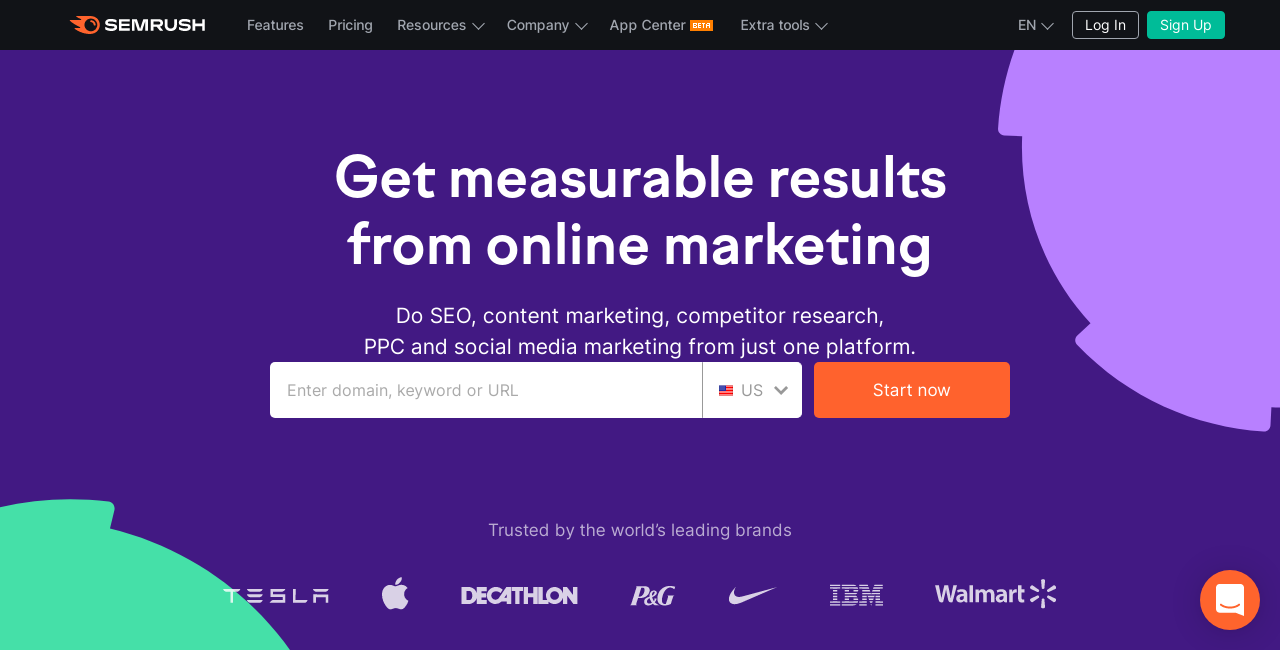 SEMrush is one of the top SEO tools on the market. It offers everything from keyword research to competitive analysis. Leading brands like eBay, HP, Quora, and Booking.com use SEMrush to make data-driven decisions.
This review will explore what SEMrush does well, its features, and areas that need improvement.
What is SEMrush?
SEMrush provides its users organic SEO, paid marketing, market intelligence, audience analysis, and competitive analysis tools. This comprehensive tool suite shows your competitors' ranking keywords, website traffic, leads, and content marketing campaigns.
You can discover opportunities, patterns, and trends in your niche and identify areas that need optimization in your business. The software shares feature, function, and design similarities with other SEO tools like Moz, Ahrefs, and Serpstat — but is significantly more feature-rich.
Despite that, if you are new to SEO or don't want to go through the hassle of learning a new tool, SEMrush is the perfect choice. It has one of the most user-friendly interfaces available.
So regardless of your needs, you can start tracking and improving your marketing performance in no time.
SEMrush works for enterprise and small users, from digital marketing agencies to freelancers to affiliate managers.
Overview of key features
SEMrush is a comprehensive SEO and digital marketing tool. It offers a range of features to help you succeed in your marketing efforts. Here are some of the top features:
Keyword research – SEMrush helps you research and find viable keywords that your target audiences use on the search engines.
On-page SEO – This SEO tool helps users improve their content pages' on-page SEO quality, including keyword density, meta descriptions, titles, and more.
Competitor analysis – SEMrush helps you uncover your competitors' top traffic sources, keywords, and engagement data to inform your marketing strategies. It gathers deep intel to help you beat your competition in both organic and paid searches.
Content marketing – SEMrush's content marketing solutions help users research topics, access a writing assistant, build content briefs, monitor brands, track posts, and do content audits.
Local SEO – SEMrush offers tools like list management, position tracking, site audit, and an on-page SEO checker to help you optimize for local customers down to the ZIP code.
Rank tracking – This software tracks your site's position on SERPs and can report rank changes across global markets. The feature helps users optimize their PPC and SEO campaigns.
Market analysis – Understand any niche's market leaders' online visibility, growth, market presence, and top-performing keywords. Analyze their product listing ads (PLA research) and understand their advertising strategies.
Competitor PR monitoring – SEMrush helps brands build better awareness and social media presence by tracking their competitor's online mentions and PR tactics, so they can replicate what works. They can also measure the effectiveness of all media posts.
Content marketing analysis – Find content marketing opportunities to improve your business—audits and tracks external publications, backlinks, referral traffic, and social engagement. See your site's crawability and indexability rates.
Website monetization – SEMrush helps you monetize your audience using automation and competitive intelligence. It provides reports on your web pages and offers ideas for improvements.
Features
SEMrush offers over 55 tools with robust options and features, living up to its swiss-army-knife-of-SEO status.
Let's explore the top tools that help improve your website's visibility, overall search engine rankings, and market dominance.
Keyword Research
SEMrush helps you establish the number of searches a keyword gets per month, ranking difficulty, keyword competition, and similar keyword suggestions.
You'll find six features in this category:
Keyword Overview
Organic Research
Keyword Gap
Keyword Magic Tool
Organic Traffic Insights
Keyword Manager
You can start your keyword research journey with the Keyword Overview tool to discover trending keywords to use for your brand.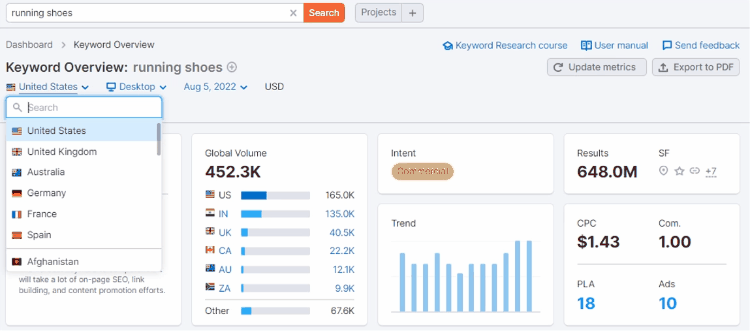 Entering the keyword "running shoes" shows an 87% difficulty rate, making it one of the hardest keywords to compete for without intense promotion.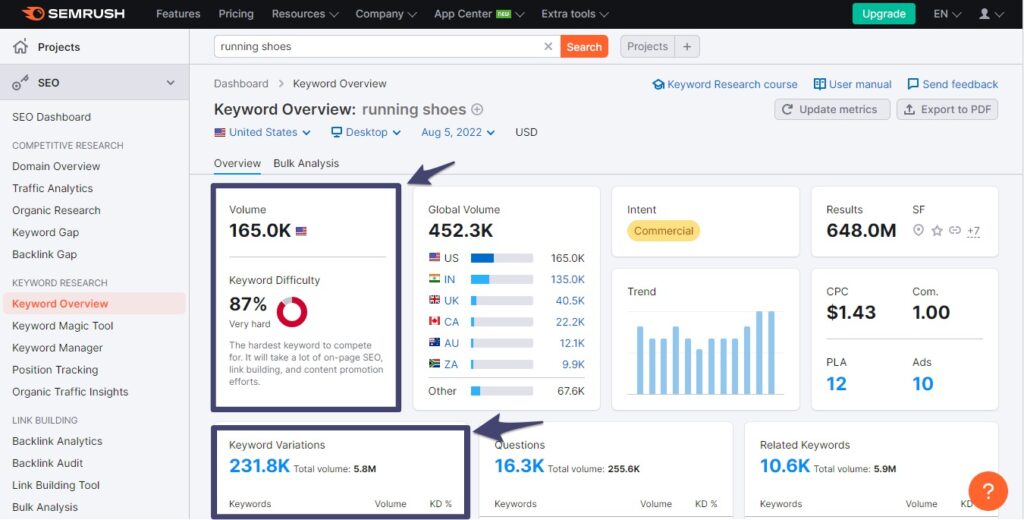 On-Page SEO
The Site Auditing tool helps you determine your website's SEO health and pinpoints areas that need adjusting. For example, it looks for keyword overuse, SSL problems, missing headers, slow-loading or duplicate content, crawl errors, and more.
The SEO checker scans your website and offers actionable tips to improve each webpage in order of priority. We performed a Site Audit on seotoolbelt.co and got an 86% site health score.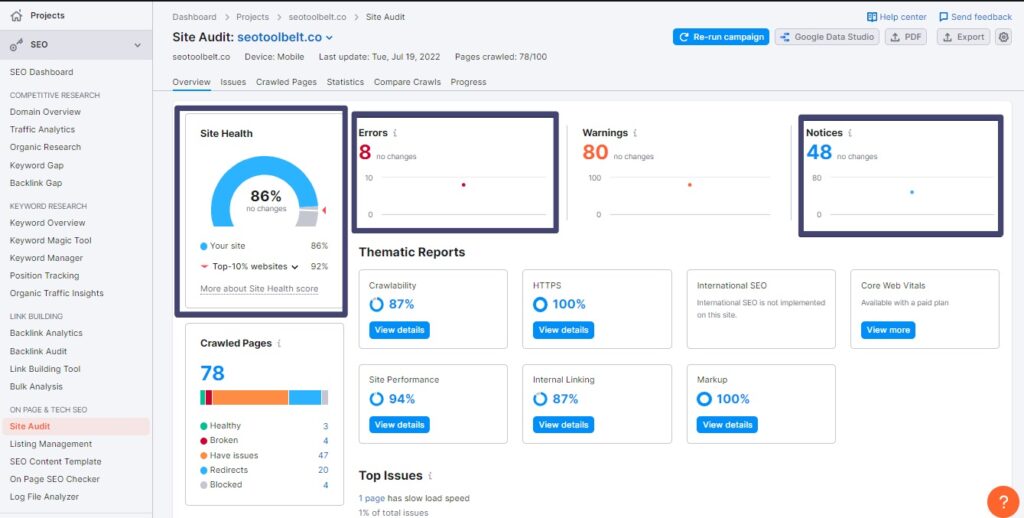 Health scores may be useful, but they rarely give an accurate assessment of a website's SEO health. Therefore, we advise relying on your own expertise to make an accurate assessment.
SEMrush's auditing features are great. They reveal the errors, explain why they happened and provide instructions on how to fix them.
The scan below shows a total of 16 errors on the website, including warnings and notices.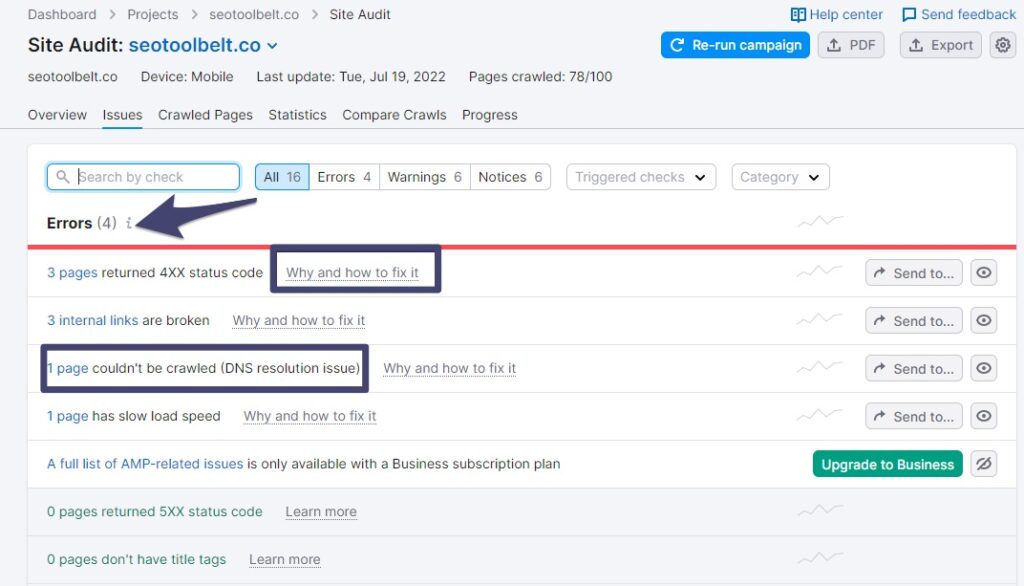 As with all auditors, the site auditor will not replace having an SEO expert providing you with recommendations, but it sure is great for general SEO housekeeping.
Competitor Analysis
This feature includes
Traffic analysis
Organic research
Advertising research
Social media tracker
SEMrush lets you divide and explore your competitor's data across multiple parameters. For example, the traffic analysis tool lets you discover how many unique visitors a competitor's site gets daily or monthly and how those visitors interact with the competitor's content.
This analysis of eBay's website reveals the number of unique visitors, page visits, duration, and bounce rates.

Traffic sources show how many users visited the site directly, through search engines, social media platforms, or referrals.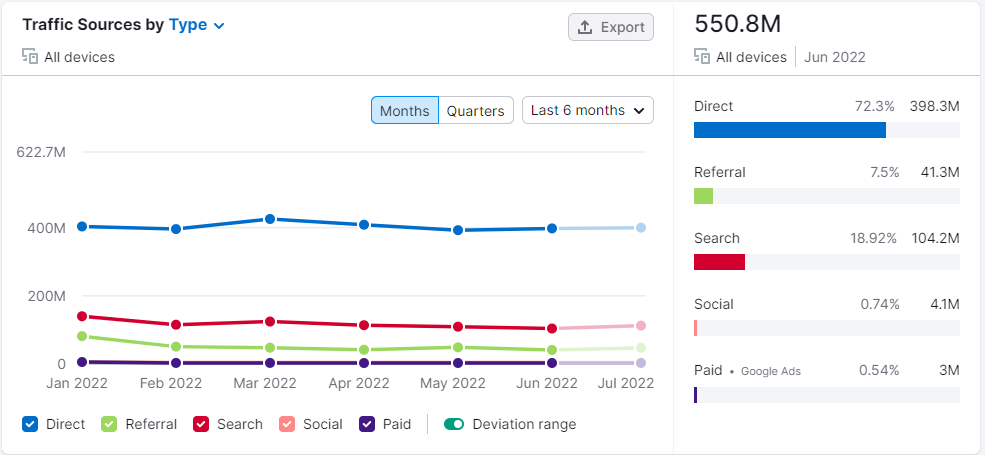 You can also compare traffic from multiple websites, as shown below.

SEMrush provides a similar analysis for all the other competitor parameters on the list. So you can deep dive into your competitor's social media, organic search, or advertising data.
Content Marketing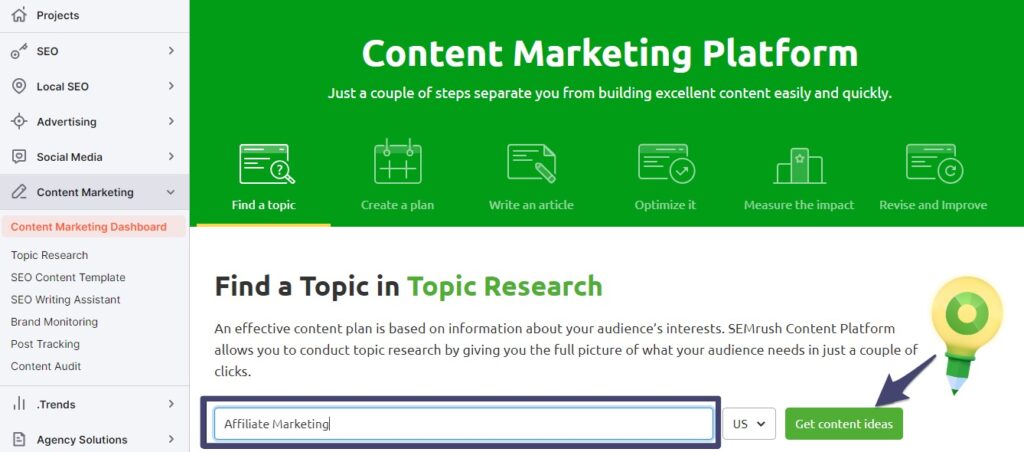 The Content Marketing toolkit helps users find topics, draft content development plans, and optimize content for SEO factors.
Using the Topic Research tool, we've narrowed down a list of suitable topics for Affiliate Marketing. You can find popular headings and subtopics from that data that rank highly across online communities.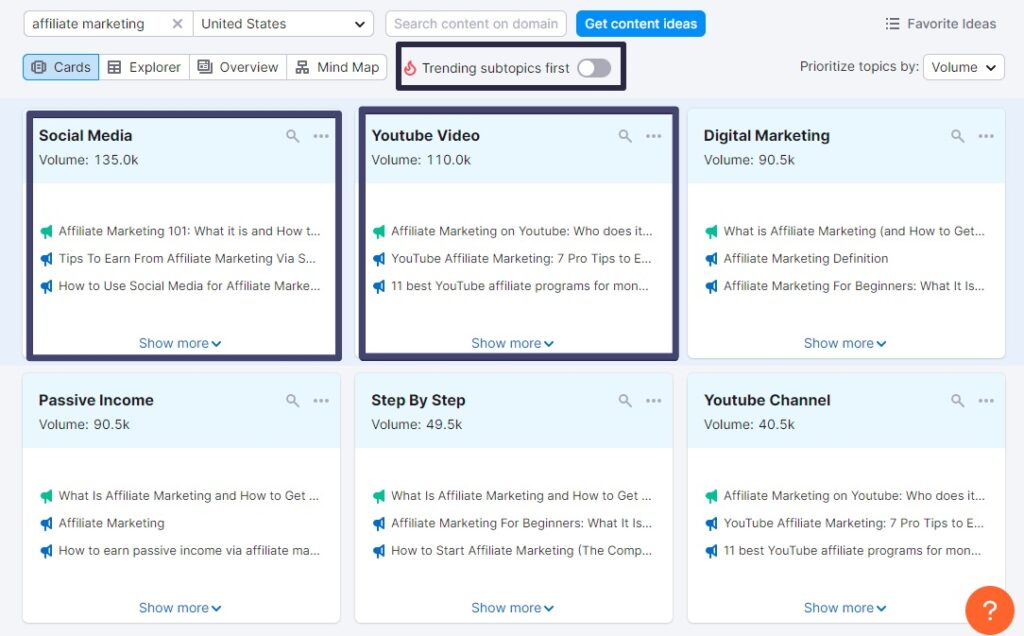 The tool breaks the subject into various content categories for social media platforms and YouTube videos.
SEMrush also offers SEO content templates, writing assistance, a marketing calendar to track your campaigns, and post tracking to measure social engagement.
Local SEO
The software allows you to list your business, track your online performance, improve rankings by comparing competitors' strategies, and boost social media performance.SEMrush's Listing Management is its local SEO optimization tool. You'll find the tool on the SEMrush dashboard under "ON PAGE & TECH SEO".
The tool helps users do things like:
Create online business profiles and listings.
List businesses on 110 directories across the US and worldwide.
Track local search intent keywords by zip code.
Monitor local competitors across Google Maps.
Handle reputation management.
Automate Name, Address, and Phone (NAP) management.
Build relationships by responding to reviews and questions on Google and Facebook.
Enter your business name on the tools search box to start the process.
SEMrush suggests possible names as you type your business name into the search box.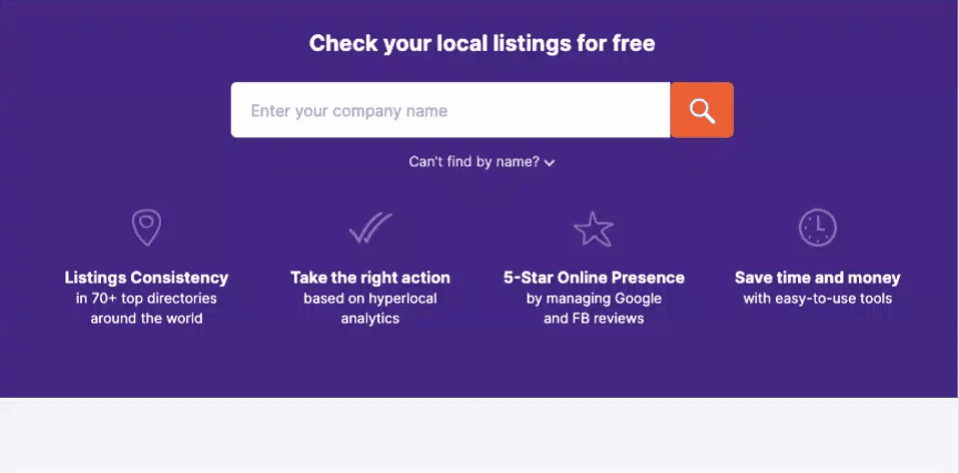 The Listing Management search suggestions would show businesses regardless of location, but it doesn't support business data for all countries.
You can only use Listing Management in these 28 countries:
United States
Canada
Australia
Germany
France
United Kingdom
India
Spain
Italy
the Netherlands
Brazil
Austria
Belgium
Denmark
Finland
Norway
Poland
Sweden
Switzerland
Japan
Mexico
Turkey
New Zealand
South Africa
Singapore
Israel
the United Arab Emirates
Hong Kong (China)
If you enter a business name from an unsupported country—even if the search suggestions show the business exists—you will find a message like the one in the image below: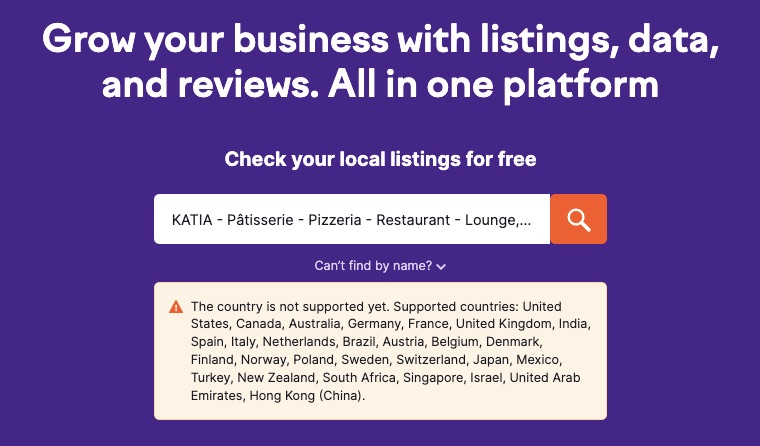 SEMrush comes with the Position Ranking tool to help you gather accurate Google ranking data to analyze your marketing efforts locally and globally.
You can filter data based on 16 SERP features and extract a list of ranking keywords that trigger those search features.
Rank Tracking
You can monitor your site's or competitors' positions for specific keywords on SERPs and discover different opportunities to optimize your targeting efforts.
Find this Position Tracking feature in the Keyword Research SEMrush's category.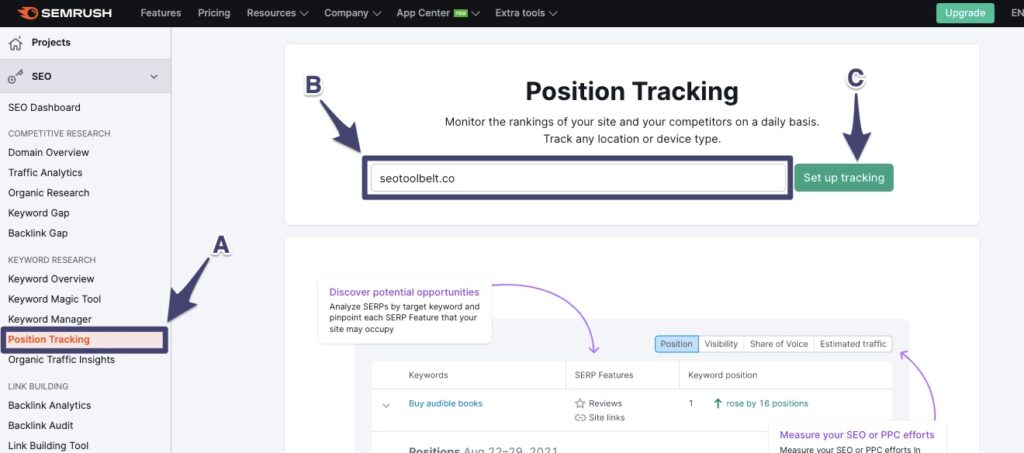 SEMrush lets you set up New Position Tracking campaigns that include audience and keyword targeting.
Targeting parameters include:
Location: country, ZIP code, street, city
Search engines: Baidu, Google
Device
Language
Exact business name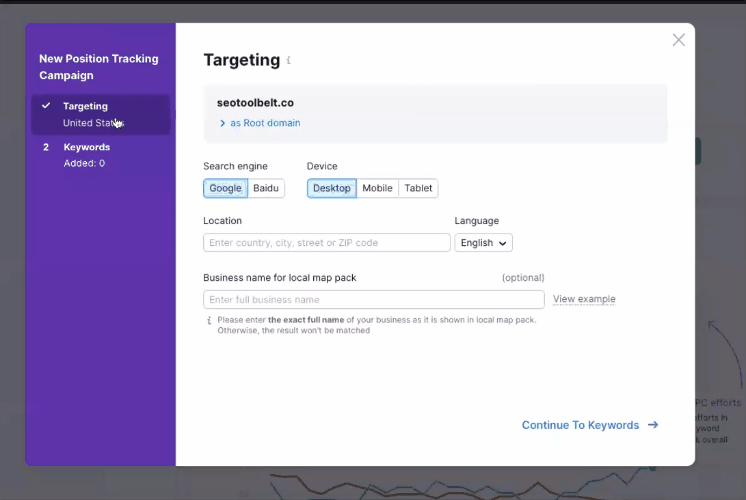 You can use the keywords that SEMrush automatically generates, add Keywords manually or import keywords from external sources.
The tool lets you tag keywords as well.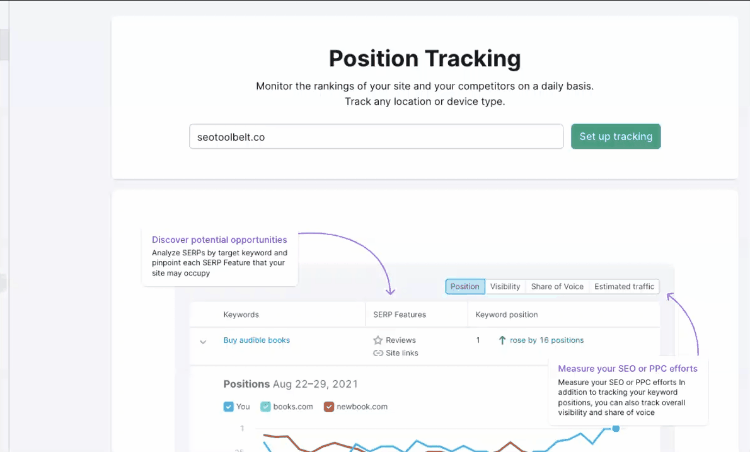 Rank tracking lets users see their ranking distribution, discover competitors, and monitor the search engine performance of individual pages.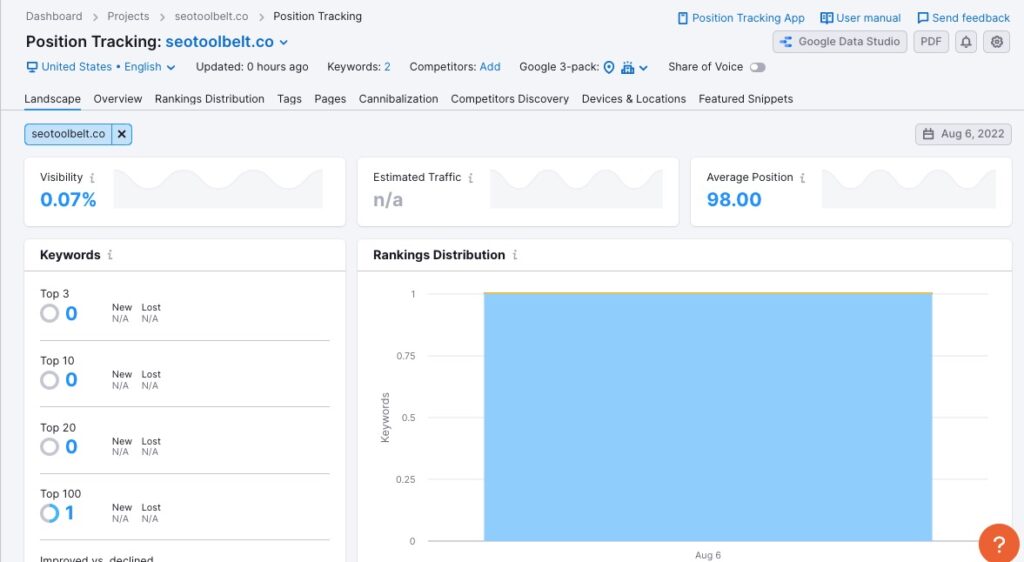 The Cannibalization Report of this position tracking feature lets users see all the pages competing for the same topic or keyword that lose ranking due to that competition.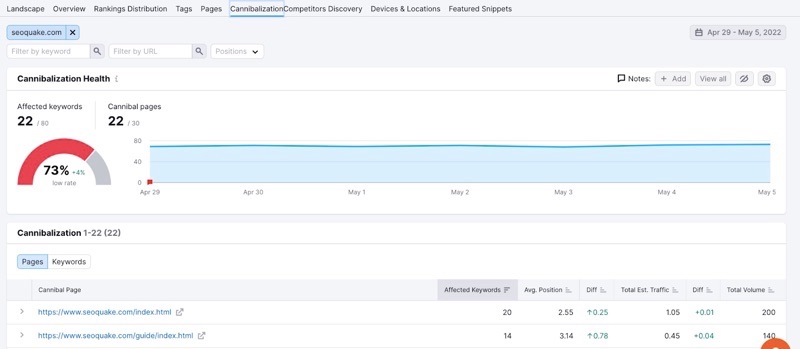 SEMrush rank tracker is the best in the industry for its rich features. It is part of an all-in-one tool, yet stands out from the rest.
Market Analysis
The Market Explorer tool shows you the landscape of different niches, key players, and traffic generation strategies.
You can find particular websites that get the lion's share of web traffic within specific spaces.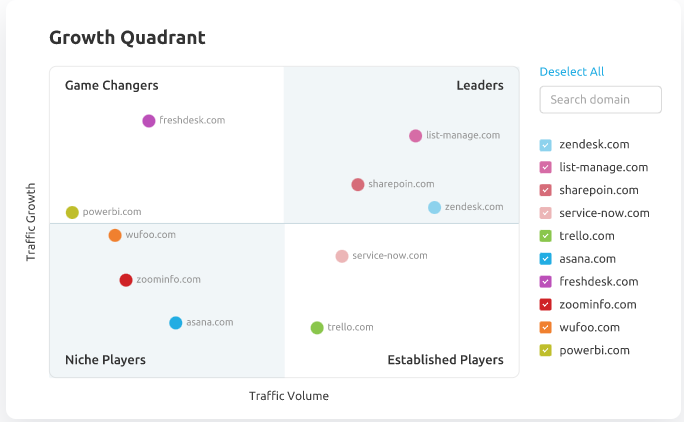 SEMrush simplifies market research by helping users discover keywords, traffic, backlinks, and other vital details about their competitors and how to compete against them.
Competitor PR Monitoring
With the Brand Monitoring and Social Media Tracking tools, you can closely follow your competitors' social media activities and posts.
The software shows changes in paid and organic traffic metrics while it tracks your competitors' domain authority scores.
Once you connect your social media to the platform, you can identify weak marketing spots and new partnership opportunities.
Content Marketing Analysis
SEMrush helps you measure your web content's performance by breaking them into smaller chunks.
With the Content Audit tool, you can analyze thousands of web pages and articles and segment them into specific groups.
SEMrush updates all Google Analytics metrics in real-time so you can spot weak content immediately and make necessary adjustments.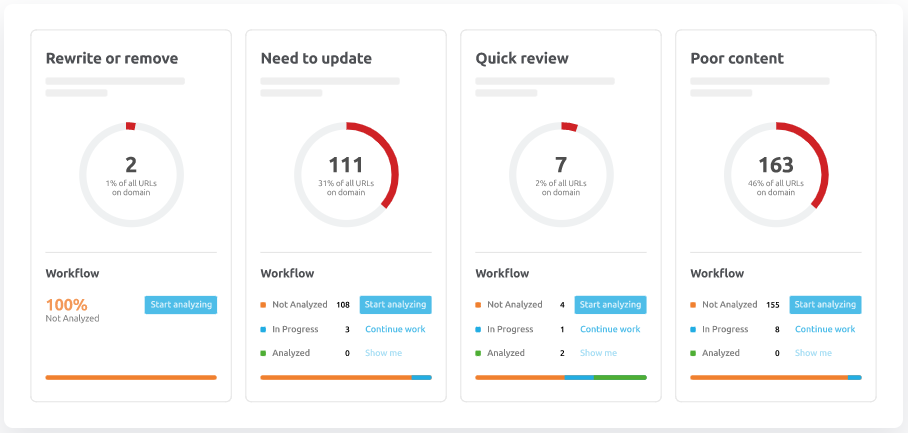 Website Monetisation
Using intuitive tools like SEO Writing Assistant and On-Page SEO Checker, SEMrush helps you make money from your website's traffic.
You can run SEO content analysis, check for originality, and adjust your copy's readability ratio before publication.
SEMrush automates these processes, allowing you time to focus on other areas of your advertising campaigns.
Design / UX
SEMrush's design interface is similar to other SEO tools like Ahrefs and Moz. The menu options are grouped in useful categories to the left, making them easily accessible.
Unfortunately, SEMrush isn't fully mobile-friendly. However, you can access your account on mobile, and it'll initially appear mobile-friendly until you use any of the tools.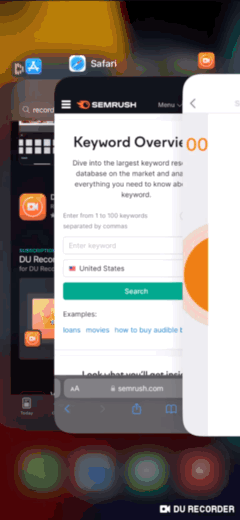 For example, when I click the Keyword Overview and enter a keyword, the report dashboard switches to the desktop view. So, accessing the tool on a mobile phone requires much zooming to view the small texts.
Additionally, SEMrush's large data volume means you end up contending with large amounts of information on your dashboard. However, the dashboard is intuitive to use and navigate.
Compared to Ahrefs, who is the biggest SEMrush competitor, I'd say Ahrefs has a more intuitive interface, but that's slightly down to Ahrefs not having quite as many tools.
Customer Support
SEMrush has a Live Chat feature where you get quick answers from their support bots. You can also leave a request with the team by filling out a form.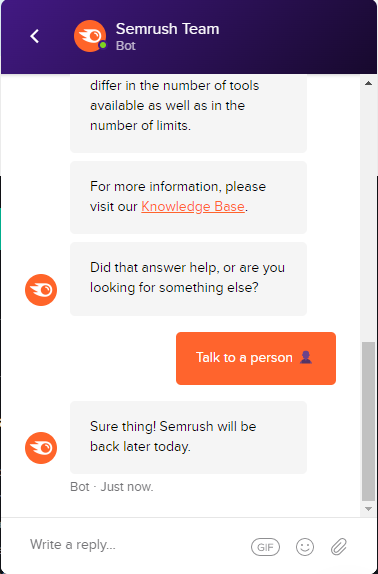 The platform doesn't offer 24/7 support as you can only speak to a live agent during official working hours (Monday to Friday: 10:00 am to 6:00 pm EST).
Contacting the support team via email takes a full business day before they resolve your issues.
There's also a knowledge base with helpful articles and information on every tool and how to use them.
Overall, SEMrush's customer service is functional, but the human response time leaves room for improvement.
Pricing
SEMrush offers three pricing plans, and you can pay monthly or yearly.
You can enjoy seven days of free trial periods for the Pro and Guru plans before the platform charges your account.

Monthly
SEMrush has three standard monthly plans:
Pro – $119.95
Guru – $229.95
Business – 449.95
The Pro plan lets you access SEO, PPC, competitor analysis, advertising, website audit, and social media tools, among other features.
The Guru plan has all Pro features plus historical data, content marketing toolkit, device tracking, and more.
The Business plan goes a step further and contains Guru and Pro features with extended limits, API access, free migration, etc.
Annually
SEMrush also offers annual versions of their subscription plans, which helps you save around 17% by paying:
$99.95/month for Pro
$191.62/month for Guru, and
$374/month for Business.
Is Pricing Fair?
SEMrush is pricier than many other SEO tools. If $100 per month is too much for you, then it won't be a good fit. However, it's worth noting that the software offers very comprehensive features and detailed analysis.
You might want to consider the Pro plan if you have budgetary issues. It's ideal for small in-house teams, freelancers, and marketing newbies.
Also, pay annually to save some money, if you can.
So, does SEMrush offer value for money? Well, the answer is yes and no.
The cost is worth it if:
You can justify the investment
Your website already generates revenue, and you want to increase it through strategic measures
You have organic search engine traffic and want to get the most benefit from your site visitors
You want to stay ahead of the competition
The cost isn't worth it if:
Your website has little to no content
You have zero SEO experience
You don't want advanced analysis or in-depth insights into the competition
Paid SEO tools are out of reach for you
FAQs
Is SEMrush good for SEO?
SEMrush is an excellent tool for search engine optimization, market analysis, and paid marketing optimization.
It helps you perform quality keyword research, SEO audits, and competitor strategy tracking. Top-performing SEO professionals rely on SEMrush to boost search traffic and rankings, gain backlinks and uncover business opportunities.
How accurate is SEMrush?
While SEMrush offers an impressive overview of your website's key areas, it's not 100% accurate. Some instances show SEMrush reporting less than 10% of actual results and underestimating total site traffic by 30%.  
For best results, combine data from different tools, including SEMrush, to get more accurate data. 
Is SEMrush easy to use?
Yes, and No.
The tool may appear to have a steep learning curve for beginners with zero SEO experience. But the platform has almost no learning curve for people who understand SEO.
Since the platform is feature-packed, navigating all its features might take a while. However, once you've mastered them, using SEMrush becomes a breeze.
How big is SEMrush?
SEMrush has a massive database of over 22 billion keywords, 43 trillion backlinks, 808 million domain profiles, and 500TB of raw data. The amount of keywords on the platform makes it one of the largest keyword databases worldwide. 
Final thoughts
SEMrush packs a punch with its industry-leading features.
The software is backed by an impressive keyword index, ad optimizers, and backlinks. So it makes sense that it's one of the top SEO tools on the market.
A free SEO tool might be the best call if you're new to the scene, have a tight budget, or are just learning your SEO ropes.
However, if you rely on SEO and competitor research to grow your business, SEMrush is your tool.
---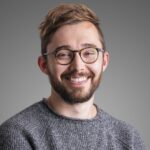 Sam Underwood
Sam is an international Ecommerce SEO Consultant with experience implementing enterprise-level SEO strategies.