Rank Math review
This wordpress plugin helps you optimize your content quickly and efficiently, boosting your position in the SERP.
5

Publish date:

April 28, 2021

Author:

Sam Underwood
Visit site
---
---
Pros
Fair pricing

Lots of core SEO features are free

Lots of integrations

Intuitive user interface

Almost eliminates the need for any other SEO plugins

Supports multiple keywords optimisation

Advanced schema structured data support

Intuitive redirection manager

AI-powered content optimisation suggestions

WooCommerce support

Advanced local and image SEO features

Native SEO audit and competitive analysis tools

White label reports

AMP and ACF support

Offers video SEO sitemap

Built-in robots.txt file and htaccess editors

Allows role management

More lightweight than top alternatives

Multiple customer support channels

Instant indexing capabilities
Cons
No Shopify integration

Doesn't allow search engine crawl optimization
---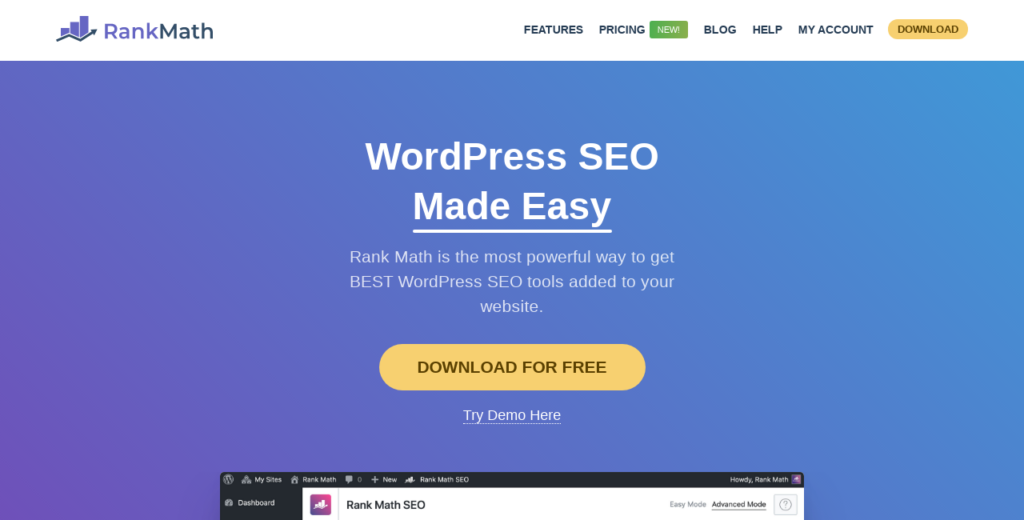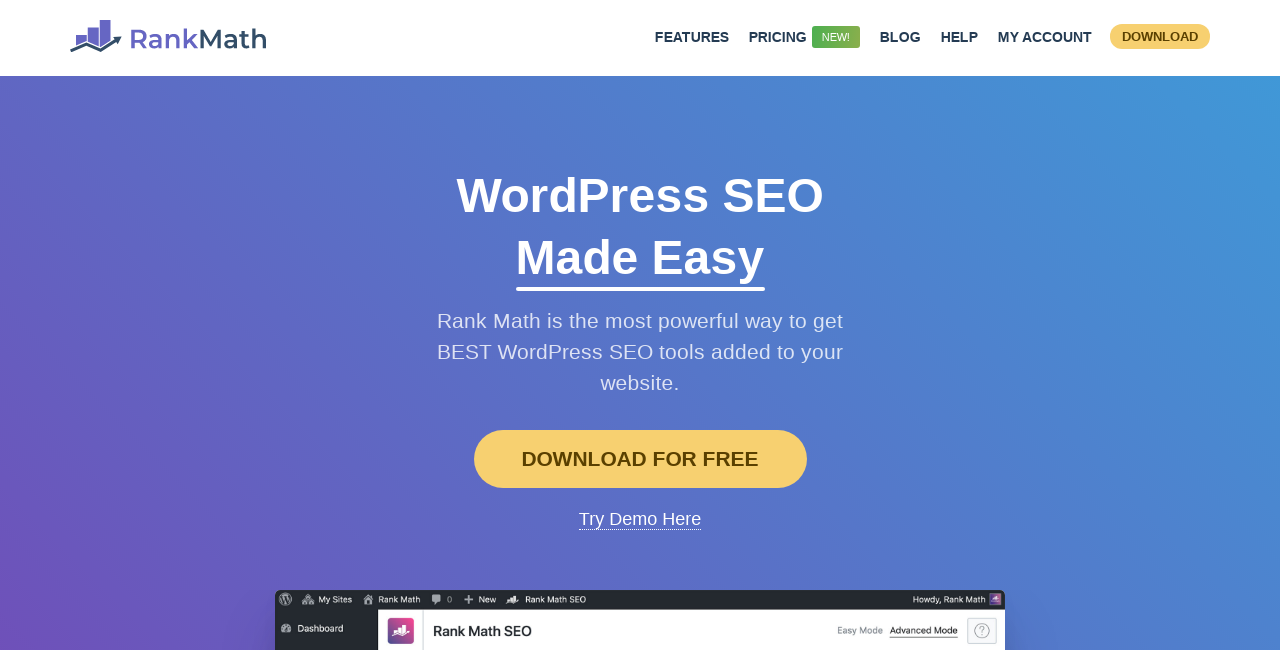 What is Rank Math?
Rank Math is an all-in-one SEO plugin for WordPress.
If you're familiar with Yoast, Rank Math is similar. However, spoiler alert, you'll find out in this review that we think Rank Math is better.
Rank Math provides all the tools to boost your SEO performance, from optimizing content to support with internal linking. This all-in-one solution means that you do not have to use multiple plugins; instead, you keep your work under one roof.
There is both a free and premium version of Rank Math. The great news is that even the free version of Rank Math has access to many exceptional features. We'll include which ones are free and which are premium in the overview of key features below.
Overview of key features
Rank Math has an extensive list of features; we've narrowed them down to the very best below;
Optimize unlimited keywords (free) – With Rank Math, you're not limited to the number of keywords you can optimize for. Once you add your chosen focus keywords, you can use Rank Math's intelligent analysis feature to optimize content.
Content AI (free) – A powerful feature of Rank Math generates intelligent suggestions to improve and better optimize your content.
Rank tracking (premium) – Tracking keywords is essential for understanding how well a site performs. Use this feature to track changing positions on the SERP.
URL inspection API integration to monitor indexing (free but limited) – Keep on top of indexed URLs and ones that have issues. These are flagged to make it easy to identify what needs changing.
Google Search Console integration for rank tracking (free) – Keep on top of how your keywords perform using Rank Math's built-in rank tracking feature.
Google Analytics dashboard (premium) – Integrating your GA dashboard means you can get a complete overview of how a site performs within Rank Math, from content optimization to search performance to tracking metrics.
Control of meta robots, title tags, meta descriptions and structured data per page, post type and taxonomy (free) – Save time by reviewing and editing these at scale by using and importing a CSV file.
WooCommerce integration (premium) – perfect for ecommerce sites, Rank Math automatically transfigure existing product information, so it's schema ready.
Local SEO features (premium) – After entering your business information in the 34 fields, you can be sure that your business is well optimized for local SEO.
Google trends integration (premium) – Get a better understanding of what keywords you should be targeting as you keep on top of the changing trends.
Rich snippets support, Advanced structured data setup + custom structured data builder (basic schema is free) – Schema couldn't be easier as Rank Math provides a custom builder. Just choose the content type, complete the fields and be confident that your content has the correct structured data to shine on the SERP.
Internal linking suggestions (free) – take the guesswork out of what areas of your site you should be linking to in your content using Rank Math's smart suggestions.
Design and UX
Rank Math completely integrates with WordPress, so you can get all you need while remaining inside the block editor.
However, there is also the option to access Rank Math from the left-hand side toolbar. You can access an overview of your SEO analysis, and the data is presented clearly and visually.
Sitting in the toolbar within the block editor, Rank Math provides four tabs that include
General
Advanced
Schema
Social
So all you need to optimize your content sits tidily in one spot.
A key part is that this tab is static on the far right and doesn't interfere with the page you're working on.
The design is simple, although information can look overwhelming because a lot of information is limited to such a small amount of screen space.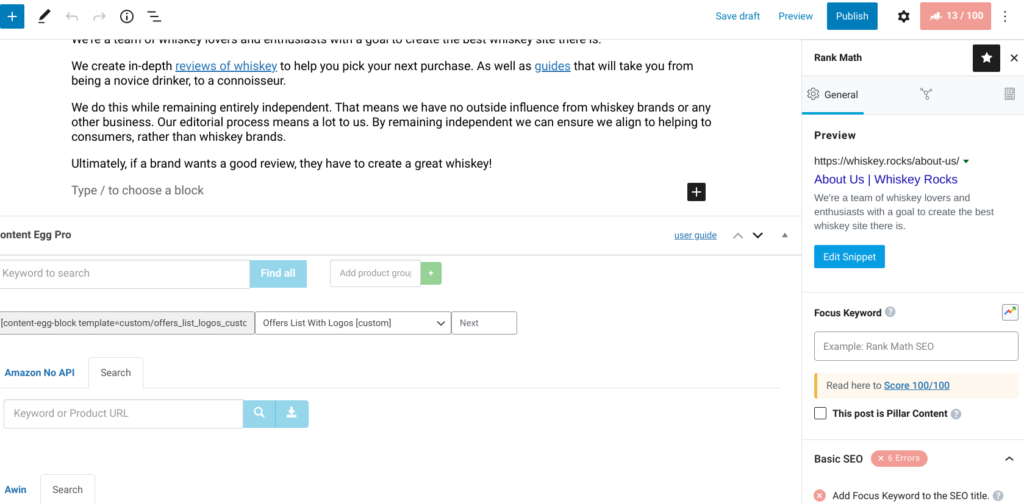 Rank Math is designed to make it easy to use for everyone, no matter how new or seasoned you are with SEO.
Another point worth mentioning is that the setup wizard is helpful. You also can skip that part, but if you want to make sure you're getting the most out of this plugin, we'd recommend using it.
Value for money
We'll go into more detail on pricing further down, but we consider Rank Math to be well worth the money. Considering it's an all in one option, there are many much more expensive tools out there providing support with just one area of SEO.

Features
Rank Math have a vast amount of features; however, to keep this review to a reasonable length, we'll look at some of the best features in detail below.
Optimize unlimited keywords
Unlike many keyword optimization tools, a huge perk of Rank Math is there is no limit to the number of keywords you can optimize.
Once you add your focus keywords, you can make the most of Rank Math's content analysis capabilities. Keyword and general content optimization recommendations are combined, and this could be improved by separating them into different tabs. While they're both under the content category, if you want to just focus on keywords, it's hard to without reviewing other areas of content.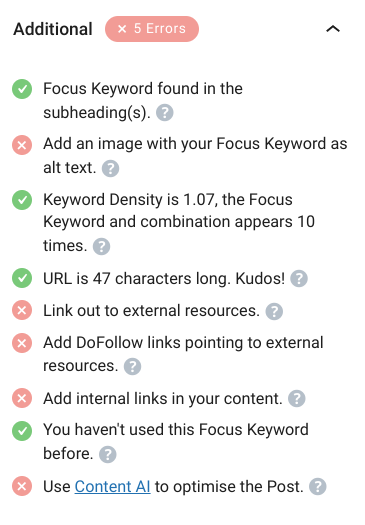 One tip is while you can add as many keywords as you like, don't overdo it! Overstuffing content with keywords will have the opposite effect of what you want.
Content AI
Rank Math's content AI feature is impressive and completely changes the content creation game. Using an algorithm, this tool analyses content already ranking for a specific keyword in order to make suggestions of what you need to include in your content.
There are four drop-down boxes, and each reveals where your content is succeeding, and where it needs improving. One of the best parts of this feature is that it tells you exactly what needs to be done to improve the content.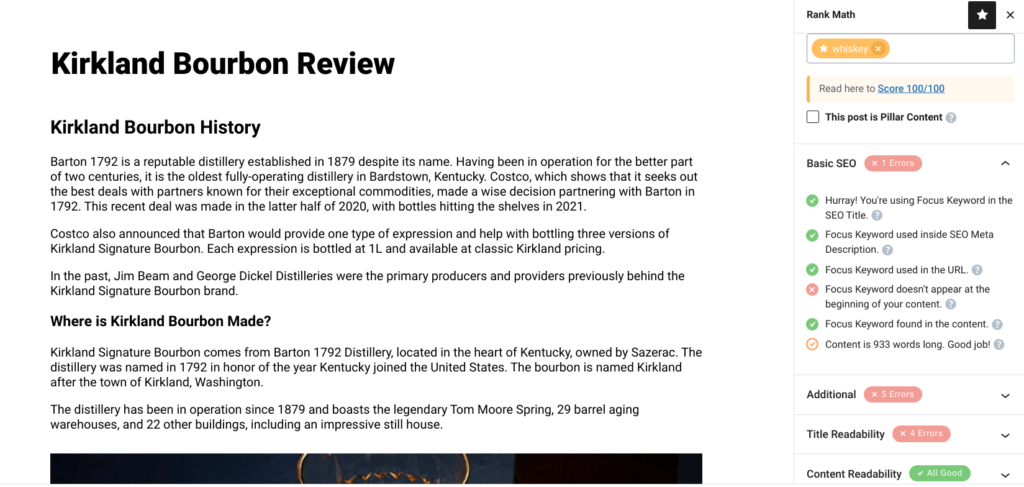 Optimizing content isn't about adding the right keywords and related keywords. This feature advises recommended word counts, the amount of internal and external links to add, and the types of media to include.
As you continue to optimize your content, the score out of 100 found just above the Rank Math tool will go up, and once you're in the green, you can feel more confident your content is well optimized.
This feature is accessible within the WordPress post editor, making it easy to implement recommendations while writing.
Rank tracking
Rank Math gives you the option to track positions of keywords over the last twelve months. Even the smallest package allows you to track 500 keywords, increasing with the package size.
This feature works best if you want to compare the changes in current positions current data. Rank tracking isn't the strongest feature of this tool, so we'd recommend using another rank tracking tool alongside Rank Math for the best results.
URL inspection API integration to monitor indexing
Activating this feature means you can view the index data that Google has for each of the pages on your site without leaving WordPress.
These results are displayed visually using a chart showing the percentages for different statuses.
This page only provides an overview of URL data. However, it is possible to do a deep dive into the individual pages to identify further what is preventing pages from being indexed, enabling you to fix them. Colour codes allow you to quickly spot how each URL is performing for the different statuses, and there is also a handy filter tool to search by different index status.
GSC integration for rank tracking
You can connect Rank Math with Google Search Console to track keyword performance and how much traffic it's generating.
This integration saves you time flitting between Rank Math and Google Search Console. Instead, they're both accessible under one roof.
Advanced structured data setup
Adding structured data to your content enables search engines to read and understand it better.
Schema can sound quite intimidating.
However, Rank Math has a setting that makes schema a default when editing pages on WordPress.
By clicking 'schema generator' on the right-hand toolbar, you can choose from a list of schema types and fill in the appropriate information. It couldn't be easier!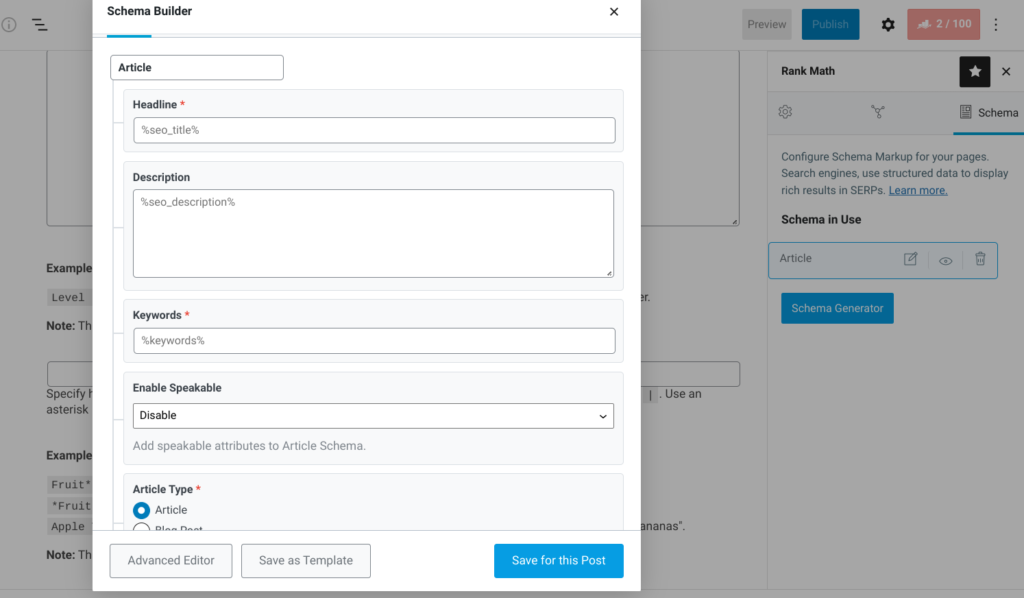 WooCommerce integration
Ecommerce sites revolve greatly around schema, and with this feature, Rank Math automatically converts all product information to be Schema ready.
eCommerce sites can quickly and easily make edits to product and shop descriptions and titles using the WooCommerce integration. While you have complete control of adding schema and customising SEO meta tags, there is also the option to automate these.
Local SEO features
Rank Math makes it easier to help local businesses perform better with their local SEO features.
In fact, they have a module specifically for Local Seo with 34 general settings available.
These settings range from your company name and locations to your contact page. Once you have added in the relevant information, you can rest assured that you have enough information to help you stand out in the SERP among the local competition.
Google trends integration
Comparing keywords and spotting trends is made much easier with the Google trends integration.
Data is presented visually, making it easy to see how the trend has changed over time and, as a result, what keywords you should be targeting.
Rich snippets support
Rich snippets are becoming more prevalent across the SERP, and Rank Math enables you to add rich snippets data without needing to download additional plugins.
Instead of needing to feel knowledgeable and confident using schema, you can choose from a dropdown to find the schema relevant to the snippet type you require.
Internal linking suggestions
Rank Math doesn't only recommend how many internal links to add to content; it also suggests which content on your site should be internally linked to. Rank Math's suggestions are based on pillar links, selected categories, and tags for the post. This is an excellent feature as it saves you time trawling through your site to find relevant content.
Customer support
Rank Math provides both a contact form and email address rather than a phone number to contact the team. They also have an extensive knowledge base that offers relevant suggestions to you. Still, if you cannot find the answer you're looking for, further support is available via a ticket system.
As Rank Math integrates with WordPress, you need to leave WordPress and go to the Rank Math site to get help.
This tool would benefit from having a live chat option for those keen to get a swift response.
Pricing
Rank Math is a free plugin. However, it also offers three paid plans: Pro, Business and Starter, meaning there's something suitable for self-employed SEOs to high volume agencies.
These paid plans give you access to their 'pro' accounts with even more features. Prices start at $129 for an annual subscription, making it one of the most affordable SEO tools around. Each plan can be upgraded and cancelled at any time, and Rank Math offer a 30-day money-back guarantee.
Summary
Rank Math is a great all-in-one SEO WordPress solution, saving you the hassle of downloading tons of multiple plugins. However, keep in mind that it is yet to have the option of helping you easily correct internal 404s/301s. All that is to say, it's still a WordPress plugin well worth using.
---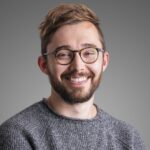 Sam Underwood
Sam is an international Ecommerce SEO Consultant with experience implementing enterprise-level SEO strategies.