Nightwatch review
Automatically discover missed SEO opportunities. Nightwatch's accurate data and reports help you get buy-in, justify bigger budgets, and land more clients. Monitor your keyword rankings, backlinks and audit your website with confidence. Welcome to Nightwatch.
4

Publish date:

April 28, 2021

Author:

Sam Underwood
Visit site
---
---
Pros
YouTube keyword rank tracking shows you exactly how your videos rank

Flexible custom reporting options

Helpful tutorial videos that help you navigate Nightwatch tools and features

intuitive and detailed dashboard

Easy to understand reports

Nightwatch tracks rankings for any geolocation

You can easily monitor a large volume of keywords and websites

Clean user interface
Cons
The starter plan doesn't integrate Google Data Studio

The starter plan has limited tools and tracking functionalities

No longer offers its backlinks checker tool
---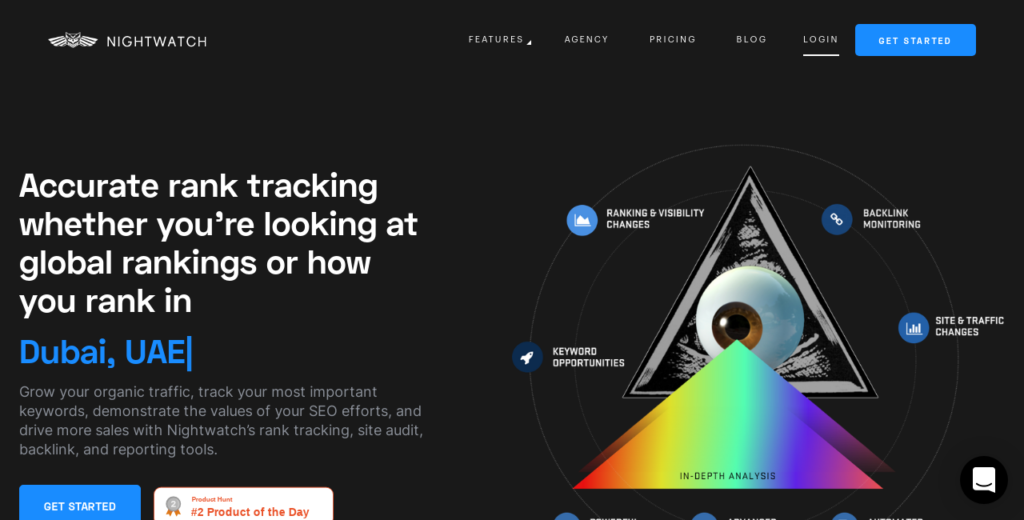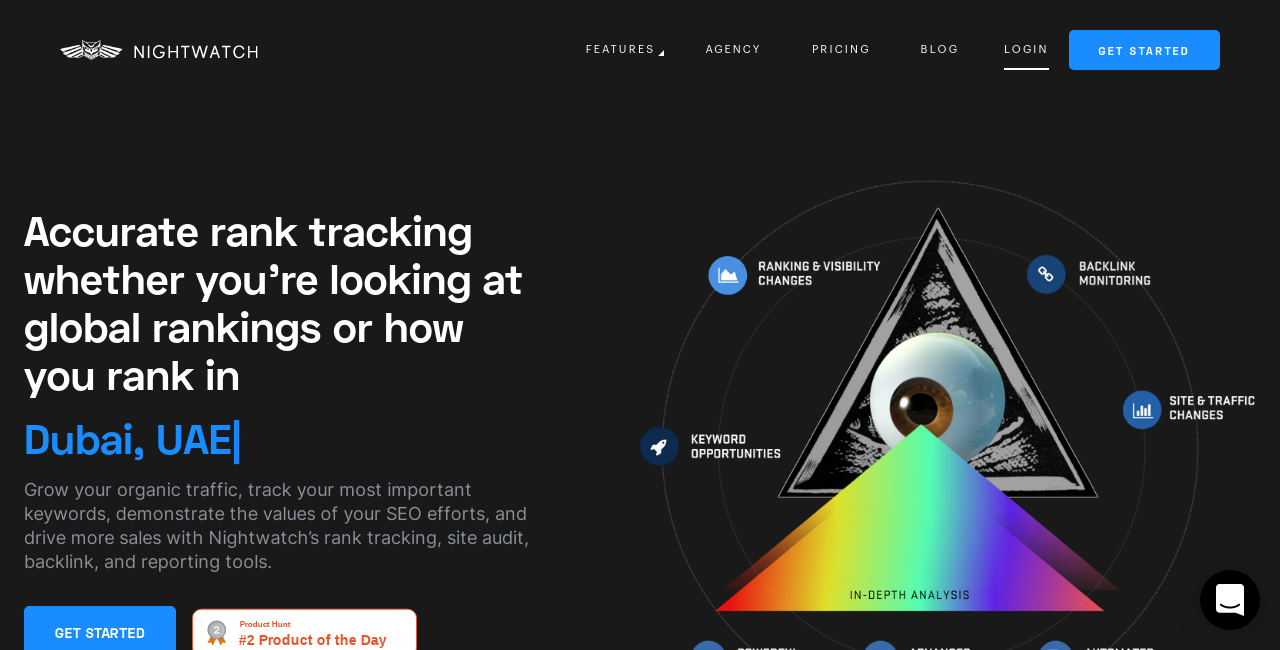 Nightwatch helps you track keywords, grow organic traffic, and boost sales with its site audit and rank-tracking features. The software aggregates data from Google Analytics, Keyword Planner, Search Console, and other SEO sources and transforms them into usable reports.
This review explores what Nightwatch does well, its features, design, and areas that need improvement.
What is Nightwatch?
Nightwatch is a keyword rank-tracking tool that provides valuable insights into your site's SEO performance. This cloud-based software supports site audits, keyword discovery and monitoring, local search data, and competitor tracking.
It connects with Google Analytics, Search Console, and other SEO sources to gather data to benchmark against competitors. This feature helps you see how well your site is competing for top search positions against competitors for keywords. It also helps you see areas needing improvement.
Nightwatch saves SEO professionals time with its accessible ranking data by providing the information they need to make critical marketing decisions.
Overview of key features
Nightwatch packs a punch with its powerful SEO solutions, from keyword discovery to SEO reporting. These are some of its best features.
Keyword Discovery – Nightwatch helps you discover new keywords with Google Search Console and notifications on new keyword suggestions.
Keyword Rank Tracking – The tool improves your site's performance and keyword rankings on search engines. You can filter keywords into categories, like search engine platforms, language, country, etc.
Competitor Tracking – Nightwatch allows you to add your competitors' data and compare it against your keyword rankings. It presents the results in a graphical representation for easy comparison.
Site Audit – Nightwatch crawls your website regularly to detect areas needing improvement. You can customize your audit settings to prevent the tool from accessing specific paths.
SEO Reporting – Nightwatch creates professional-looking reports after auditing your website and exports them in PDF or CSV format. You can also include your logo in your reports.
Traffic Dashboard – The software helps track traffic data with your Google Analytics and Search Console accounts. From your URL dashboard, you'll see total sessions, page views, users, bounce rates, and more.
Search Engine Simulator – Nightwatch simulates search engine queries from multiple locations without a VPN. This Chrome extension allows you to check the positions of websites quickly.
Local SEO – The tool ranks and tracks local search engine results to show how your business ranks locally.
Multi-User Accounts – You can add multiple users to your Nightwatch account to view and access your website's data.
Keyword Segmentation – Nightwatch improves data visibility by helping you filter keywords into different views. You can segment keywords based on locations, tags, or search engines.
Google Data Studio Connector – The software allows you to use Data Studio with your account and create dynamic reports.
Nightwatch API – Nightwatch helps you to generate an API key to build your system.
Features
Nightwatch offers a range of valuable tools to monitor and improve your website's search visibility, ranking, and overall SEO performance.
Let's explore its features.
Keyword Discovery
You can discover and review new keywords from your dashboard's "Discover Keywords" section. In addition, Nightwatch uses your website, competitors, and market analysis to find suitable keywords.
Connect your account to Google Search Console to get the best results.
Nightwatch also sends notifications when it auto-discovers new keywords that match your assigned keywords.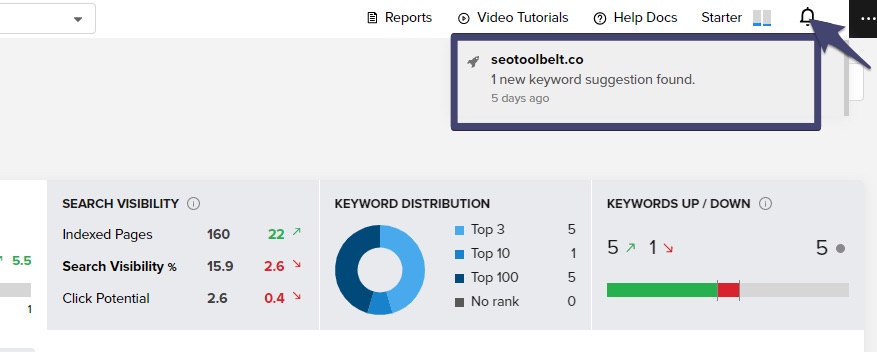 Clicking on the [+] icon allows you to add the keywords you want while ignoring the ones you don't need.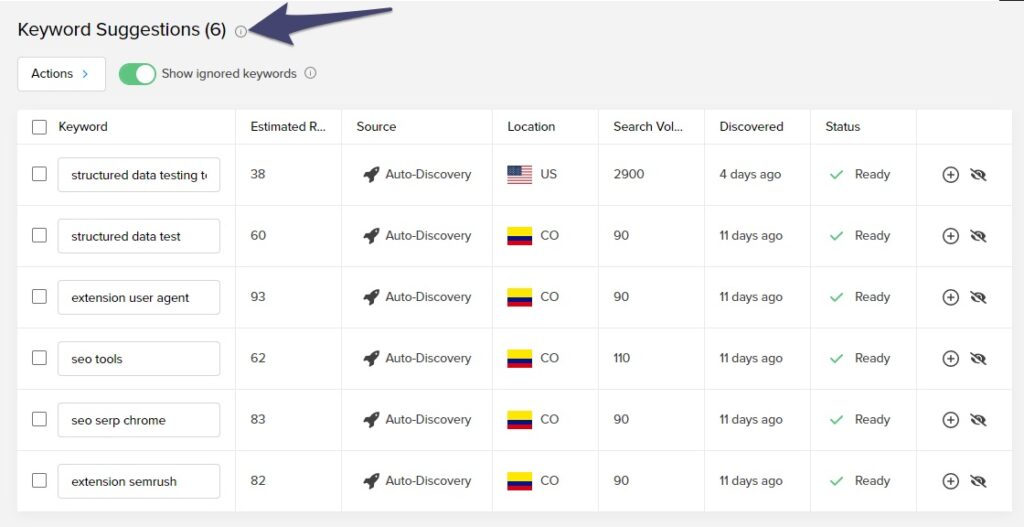 Keyword Rank Tracking
Nightwatch provides users with ongoing rank tracking to respond quickly to changes in their SEO positions. You'll find your website's rankings across multiple search engines such as:
Google
Bing
Yahoo
DuckDuckGo
These rank-tracking tools allow you to filter and segment keywords into various categories, including search engine platforms, language, country, and more. As a result, you can track and scrutinize your data to meet your satisfaction.
Below are Nightwatch's rank-tracking tools.
YouTube Rank Tracking
Nightwatch helps track YouTube data across multiple locations and gives you a detailed view of its SEO performance. In addition, you can segment your keywords to discover your competitors and uncover trends.
Select your preferred search engine after adding the URL of the video or channel you want to track. And then track their organic ranks on YouTube or Google.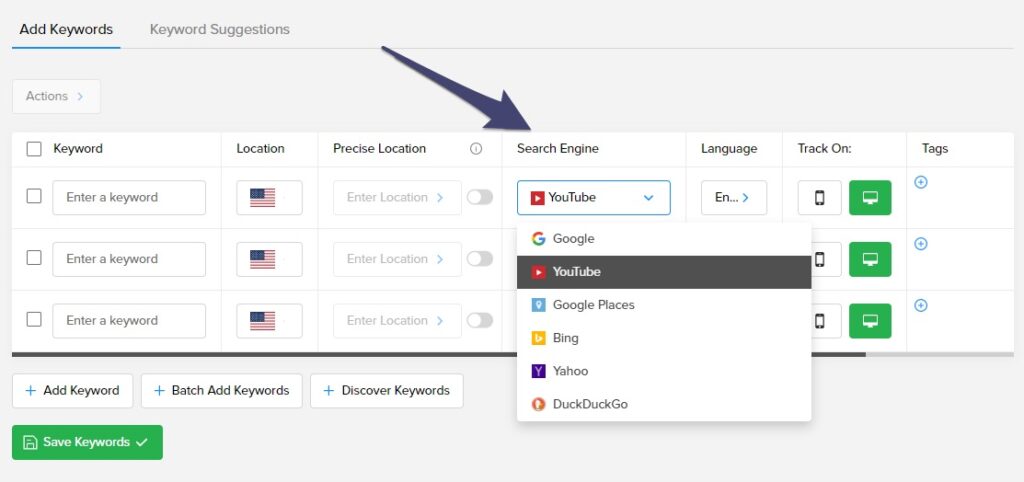 Nightwatch shows an evolution graph of how well your YouTube videos are performing. And then, you can figure out the areas that need optimization. This rank-tracking feature is vital because it helps you see if your optimization methods are paying off or not.
Local SERP Tracking
Nightwatch lets you track the Search Engine Results Page (SERP) to understand your local rankings. With this tool, you can discover when your business shows up in organic and map listings when users search for your keywords.
However, you must connect a Google Business Profile to your website. You can use this tool to outrank your competitors, locally and globally, for local search terms.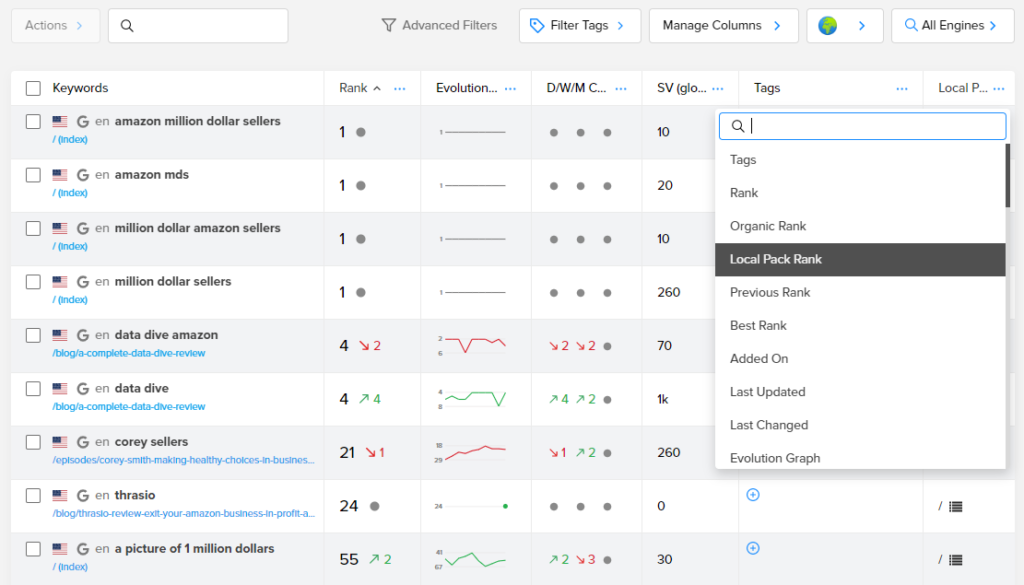 Bing Rank Tracking
Using this tool allows you to discover where your keywords rank on Bing. Nightwatch measures your website's organic performance for your chosen keywords and tracks for local SEO.
You can track your Bing rankings across organic search results, map packs, featured snippets, and knowledge panels.
Agency Rank Tracking
Nightwatch provides agency rank-tracking features for users who manage SEO for their clients.
However, these features start from their second tier plan—Optimize— where you can get 15 white label reports, tracking for 200 websites, and API Access.
Nightwatch shows you how different segments of your keywords are performing and how to monitor progress with one agency dashboard—across all websites under management.
You can create segments to discover decaying content or keywords within striking distance. In addition, the tool tracks local rankings for your client's websites down to the post/zip-code level.
Daily Rank Tracking
Nightwatch offers daily ranking updates that monitor instant rank changes, allowing you to stay ahead of the competition.
You can easily understand how your keywords perform across various search engines with fresh daily insights.
Daily rank tracking helps you avoid rank loss by monitoring SERPs.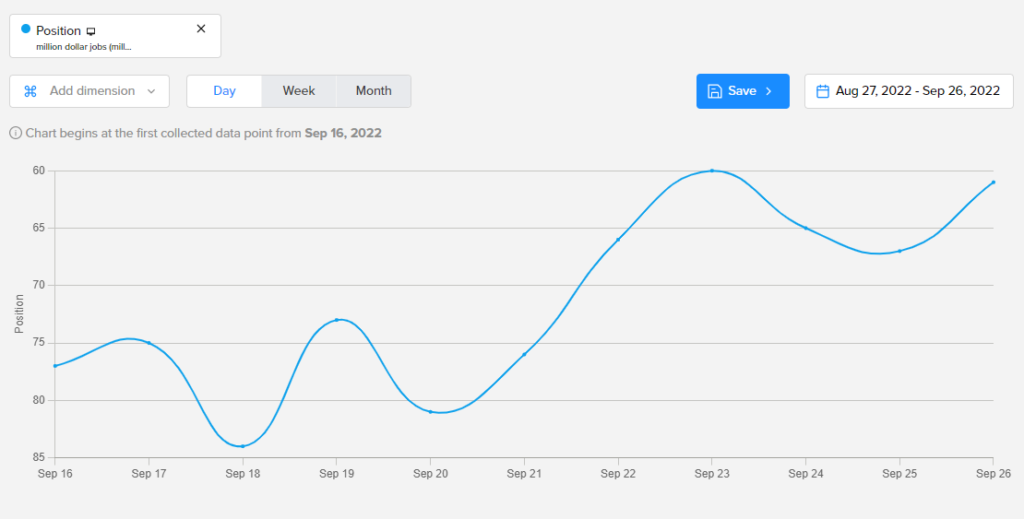 Enterprise Rank Tracking
Nightwatch helps enterprises and corporations with large-scale SEO rank tracking. It tracks data across 107,296 locations worldwide, allowing these agencies to stay ahead of the curve.
You can discover what drives your search visibility and share the results with key stakeholders with easily accessible reports.
Mobile Rank Tracking
Nightwatch allows you to compare your desktop and mobile rankings by monitoring SEO performance across both devices. You can spot discrepancies or errors on time and make necessary changes to improve your organic conversions.
Nightwatch helps you access any Google Data Center across the globe and expands your mobile search visibility by exploring its SERP features.
Competitor Tracking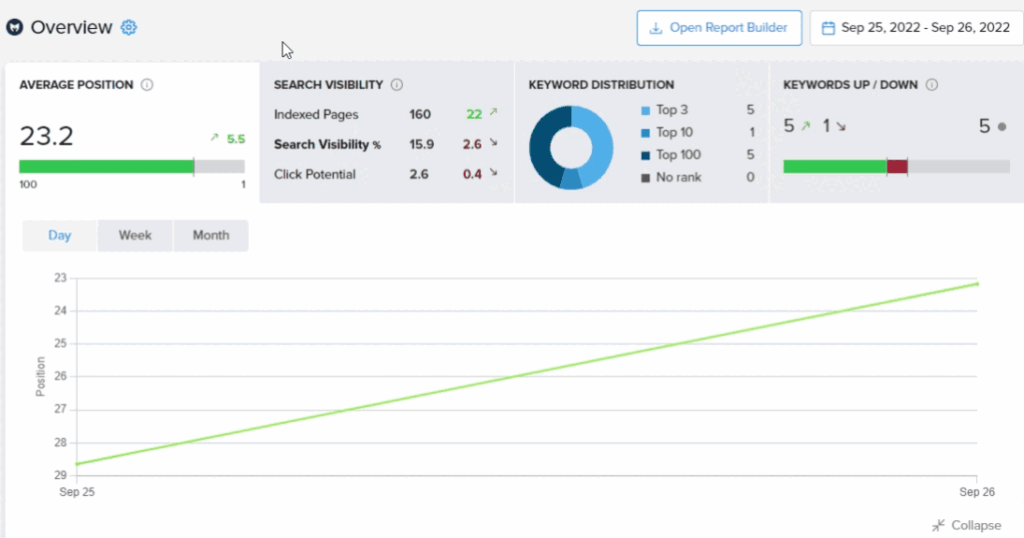 You can track your competitors' keyword rankings and performance with this tool. In addition, Nightwatch allows you to add your competitors to your URLs or websites and compare their search rankings to yours.
The software also helps you auto-discover competitors, saving you the stress of looking for them manually. After adding your competitor data, you can view it from the keyword column section.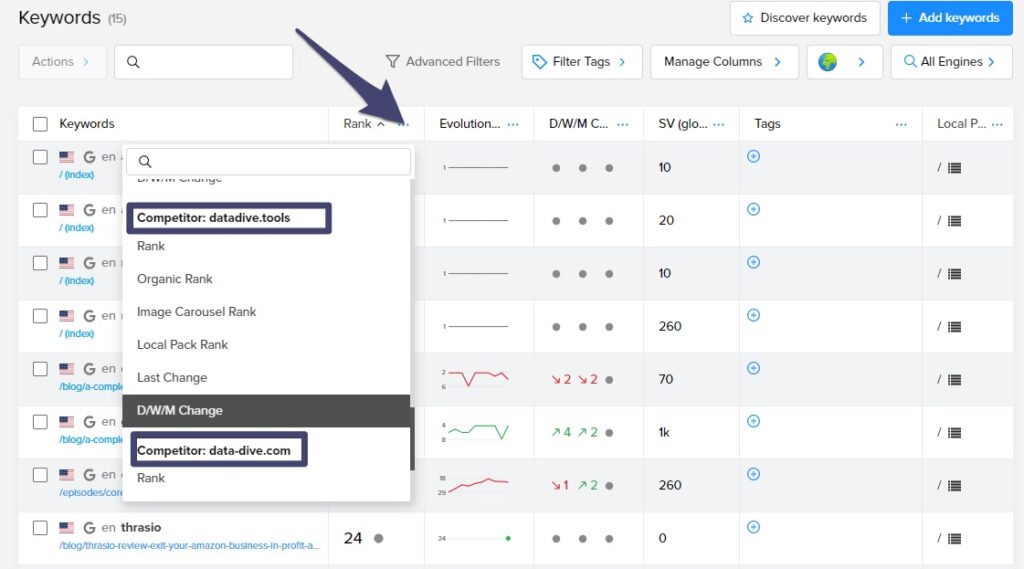 You can also view your competitors ranking in a graphical format to analyze the data quickly.
Site Audit
Nightwatch crawls your website regularly to detect your site's condition and uncover areas that need improving. This tool helps you discover pages with slow load times, broken links, and more.
You can choose certain areas of your website that Nightwatch ignores during site audits by pasting their links in the search box. This setting will place the page on the "do not crawl" list.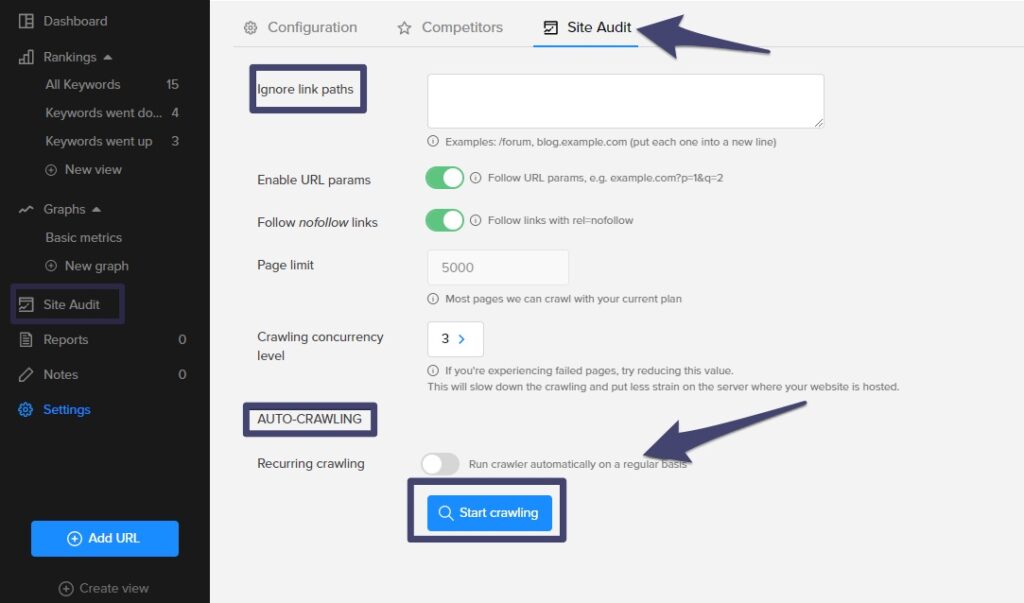 You can also run site audits automatically by selecting the "auto crawling" feature. Depending on your Nightwatch account, you can audit your website as often as your plan permits.

Once the audit is complete, you can view, analyze, and compare the data from your dashboard.

SEO Reporting
This tool helps you create reports from your keyword ranking data and site audits. Adding the Site Audit Overview element lets you include the website's overall health in your reports.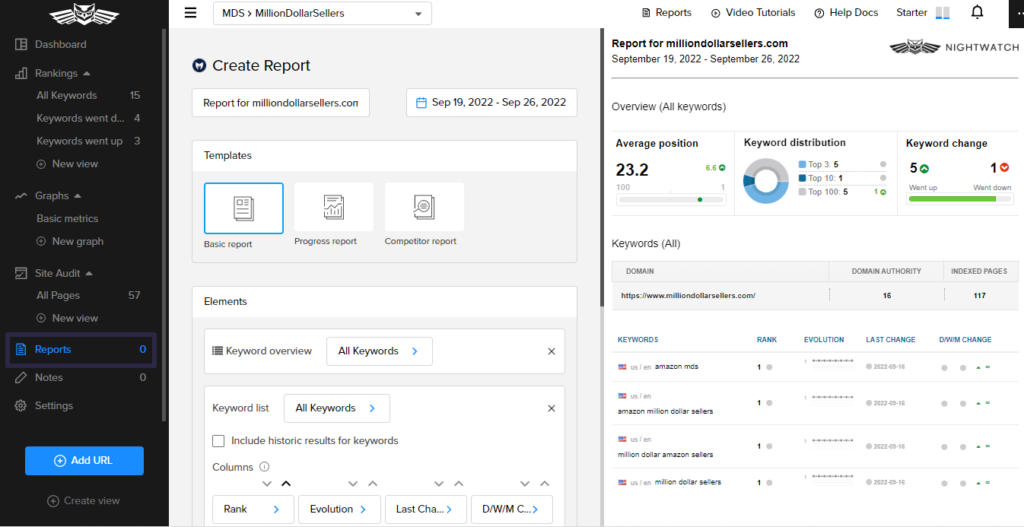 With Nightwatch, you can create customized reports that look good to your clients and stakeholders. The tool reports only the metrics you want people to see while leaving out the rest.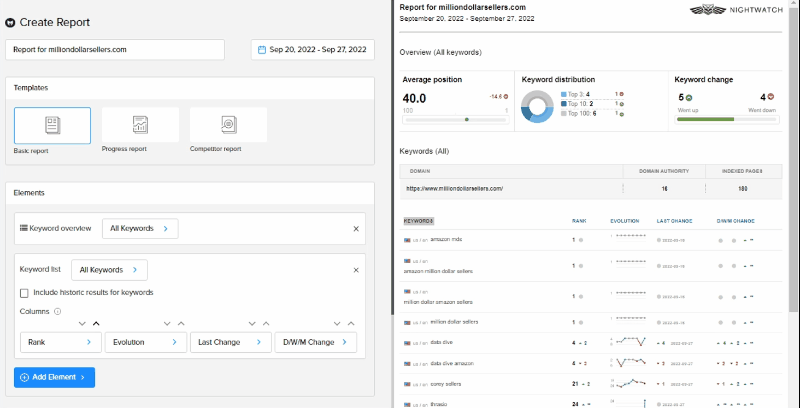 You can also automate when Nightwatch delivers the report to your clients or stakeholders after saving it.
Traffic Dashboard
You can connect your Google Analytics and Search Console accounts to Nightwatch to view your organic search results data under a single dashboard.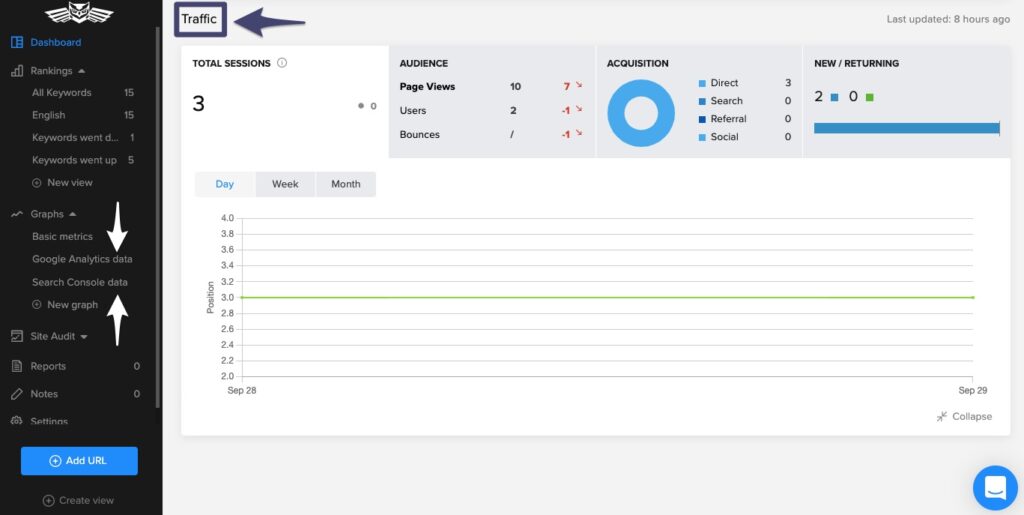 After connecting your GA accounts, Nightwatch displays the data on your URL dashboard, so it's hard to miss it. For example, you'll see your website's total traffic sessions, audience, acquisition, and new and returning users.
And whenever you add a new domain, the software provides new dashboards to track the various traffic data from the site.
Search Engine Simulator
This chrome extension allows you to check the positions of Google websites quickly.
Nightwatch's Search Engine Simulator helps you to simulate and save google search queries from your browser.
Nightwatch simulates a clean HTTP, so you don't need to worry about cookies affecting your queries.
All you need to do is install the plugin, run it, insert your query in the box, and click search. You can also save your results for later use.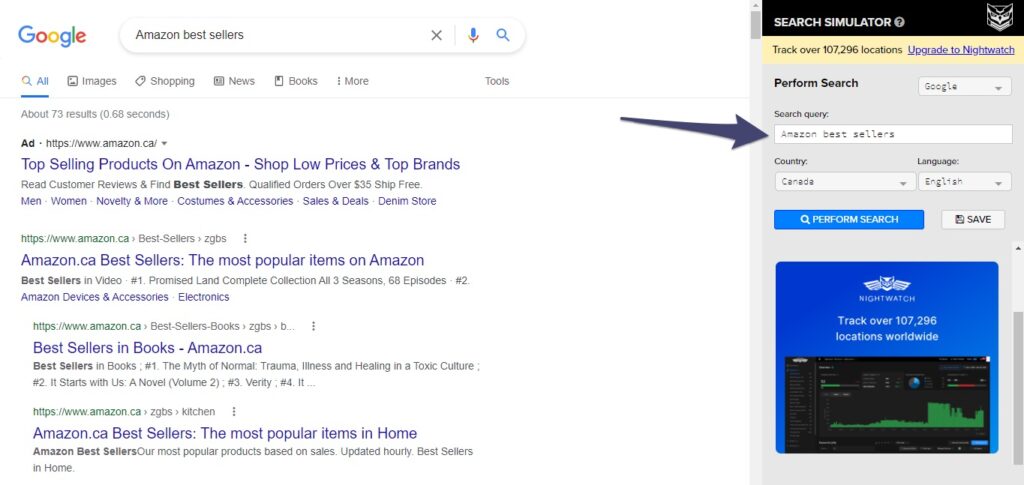 Local SEO
You can track local search results or local pack ranks with Nightwatch. In addition, you can set the location you want to follow with their post/zip codes or district.
Add your Google Business Name to match your local pack ranking correctly.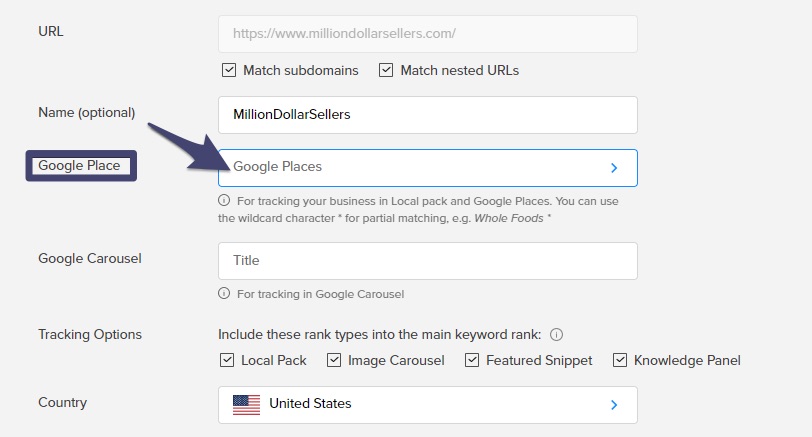 Using "Google Places" as your preferred search engine allows you to track beyond the top three Google search rankings.
Keyword Segmentation
Nightwatch improves data visibility by helping you filter keywords into different segments like device platform, language, countries, and locations. It uses the settings you initially chose while setting up your Nightwatch account.
Using the Advanced Filter option allows you to segregate keywords or identify the ones containing specific strings.

You can view your saved filter on the left sidebar for quick access.

Segmenting your keywords help you differentiate specific data and categories for better optimization. You can also use this feature to dominate your niche market.
Multi-User Accounts
Nightwatch supports multiple users and allows you to add your team members or clients to an account. Unfortunately, this feature is only available on Agency, Optimize, and custom packages that track over 5000 keywords.
When you invite new users, Nightwatch sends an email invitation to their accounts. You can also customize their permissions and accesses to limit how they use the software.
Google Data Studio Connector
You can create dynamic reports with Nightwatch and Data Studio, but you need API access for it to work. Importing data from Data Studio allows you to merge information from multiple sources and present it in various formats.
Unfortunately, you can only use this tool with Nightwatch's Agency, Optimize, and custom plans.
Nightwatch API
Nightwatch helps you to generate an API key to build a private system. The software's API documentation shows you how to interact with data associated with your account.
You'll need to add your domain and keywords before pulling daily rankings from Nightwatch's API. Once everything is in place, the software automatically updates keyword rankings and other valuable stats.
Design / UX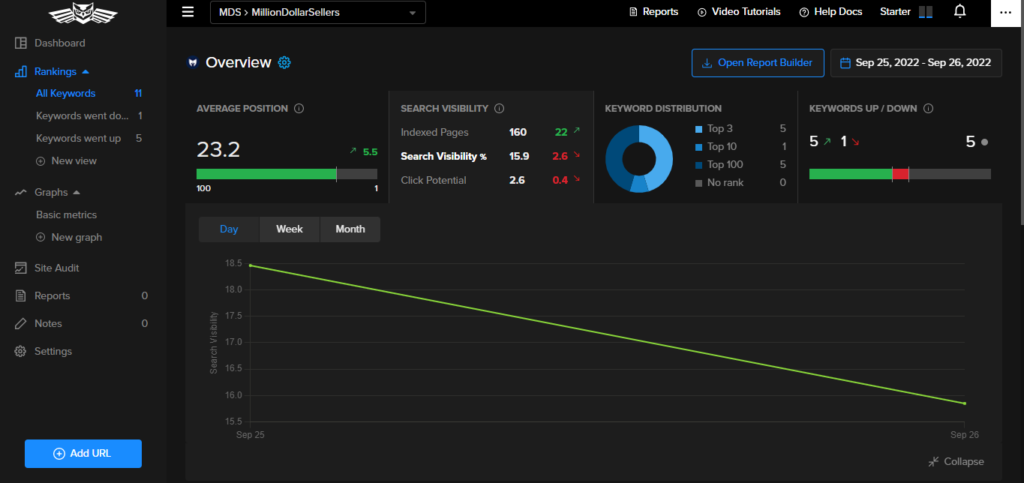 Nightwatch has an excellent design and user interface. You can easily switch between dark and light modes depending on your preference.
The software design is more streamlined than other similar SEO ranking tools, with its extensive features and accessibility.
Nightwatch's dashboard is intuitive to use. First-time users can navigate the dashboard easily as everything is placed correctly and outlined.

The sidebar panel showcases all the tools you need to run your search rankings, and you can easily add new metrics.
Account setup takes less than 15 minutes to complete, saving you time to work more efficiently.
Nightwatch also supports multi-users and integrates with Google Data Studio for dynamic data reports and visualization.
With all these impressive features, it's evident that the creators spent time and consideration on Nightwatch's UI/UX.
Customer support
Nightwatch has numerous helpful resources to help manage your queries without contacting customer support. The Help Docs section has everything you'll need to start your Nightwatch account, from articles to tutorial videos.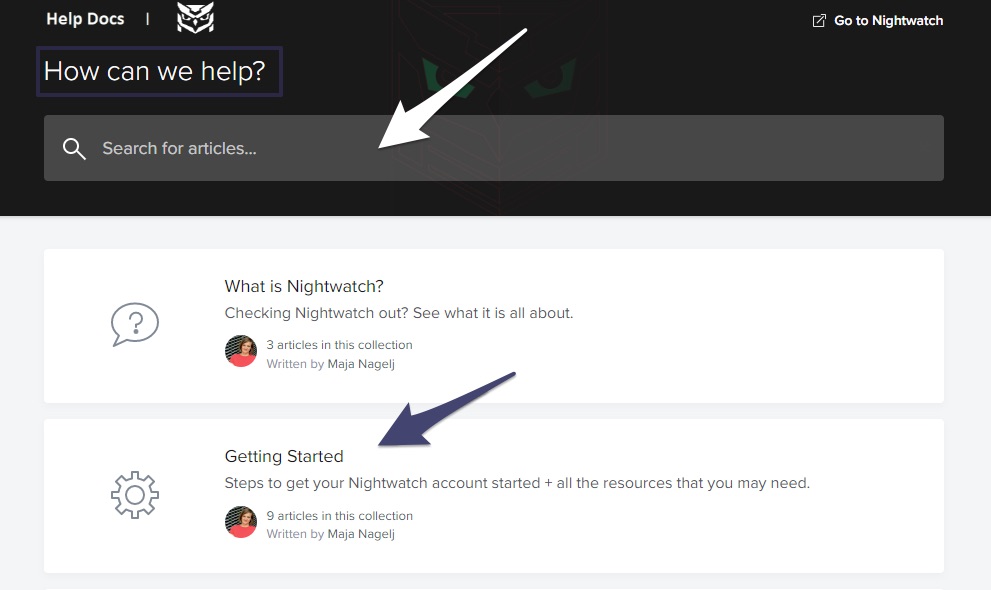 The platform also has a Live Chat feature where you get quick answers from support bots. You can also drop your email if you need resolutions from the support team.
Since live agents only work during office hours, you'll have to wait a few hours to get a response from Nightwatch's customer service.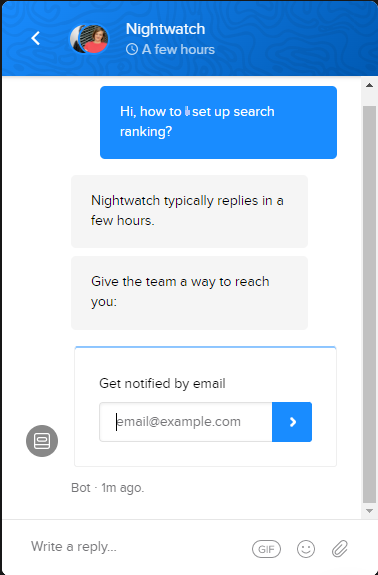 You can also email info@nightwatch.io if you have issues with the Data Studio connector.
Pricing
Nightwatch offers pricing plans that range from $32 for access to 250 keywords, up to $559 for 10,000 keywords. There are ten additional price tiers in between, tailored to your specific keyword needs. For those requiring more, custom plans are also available.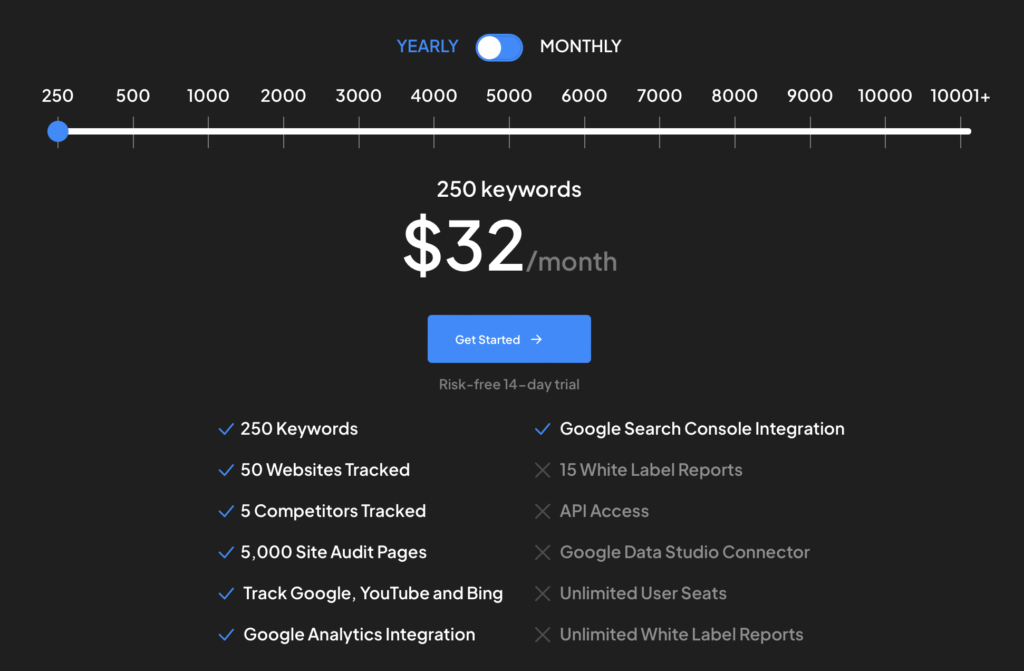 Is pricing fair?
Yes, the pricing is fair in terms of out-of-pocket costs. Plus, Nightwatch focuses on helping businesses capture markets by offering them local keyword search and optimization data.
So, if you're looking for a rank tracker with local keyword data, Nightwatch is your tool.
However, Nightwatch is not a robust, feature-rich, all-in-one SEO tool like SEMrush and Ahrefs. So you're welcome to use it if you plan to augment the tool with other SEO tools.
FAQs
Who uses Nightwatch.io?
Freelancers, SMBs, marketers, agencies, and enterprise users can use Nightwatch to track their website search rankings.
How much does Nightwatch.io cost?
Nightwatch offers three plans:
Starter – $39 ($32 when you pay yearly)
Optimize – $99 ($79 when you pay yearly)
Agency – $369 ($295 when you pay yearly)
How to add multiple Google Analytics to nightwatch.io?
Nightwatch allows you to add one master Google Analytics account, making all others secondary. You can find out how to do it here.
Final thoughts
Nightwatch leaves much to be desired for a rank tracker. However, it might work best for agencies needing quick and accurate ranking data at affordable rates.
The Starter plan is also enough to handle limited ranking needs if you have a small business or blog. In addition, you can track over 50 websites, customize and automate reports, and integrate with Google Analytics.
---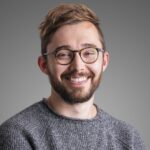 Sam Underwood
Sam is an international Ecommerce SEO Consultant with experience implementing enterprise-level SEO strategies.