Frase review
April 28, 2021

8 minutes

Sam Underwood
Use Frase's AI tools to create optimised content that will generate more traffic and increase conversion rates.
Visit site
---
Price range:

$14.99 - $114.99
---
---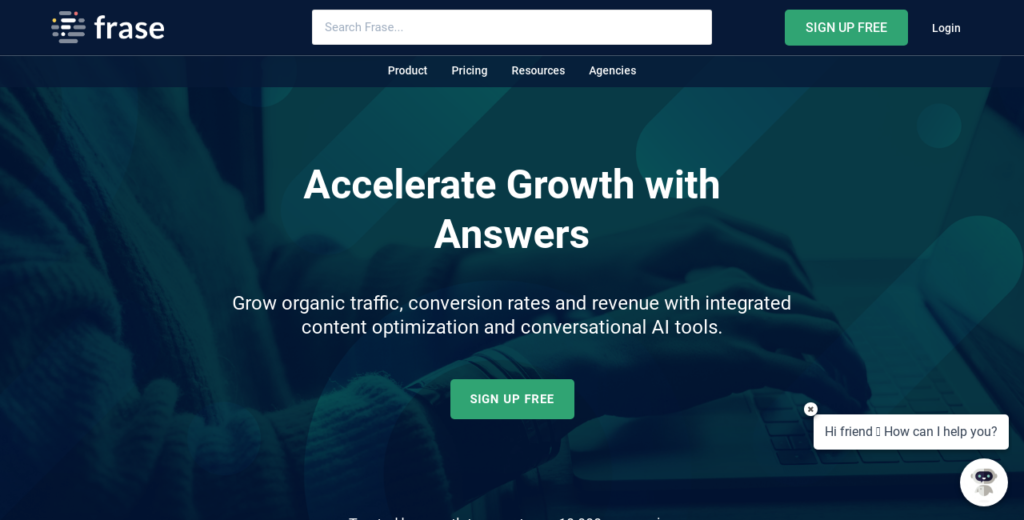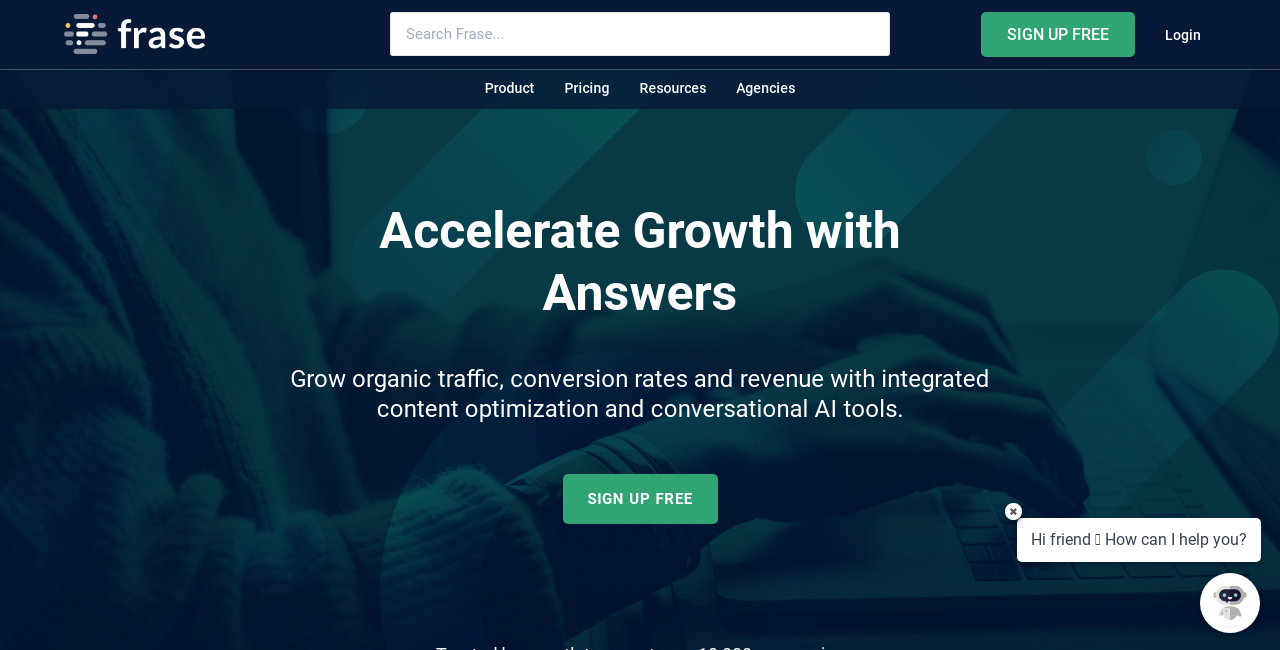 Creating briefs and writing content is integral to getting your site ranking high on the SERP. However, doing it to a high standard can take time. It's not as simple as creating one piece of content, and you're set. Any SEO knows that an abundance of content is needed, and it needs to be top quality.
Content tools are a great way to speed up the process while optimizing your content and spotting opportunities you'd otherwise miss.
What is Frase?
Frase is an AI-powered content tool that supports the content strategy from the brief building stage to optimizing both new and existing content.
This content tool identifies what your target audience wants to know, so you can create content that answers their questions.
In this review, we'll look at Frase's key features, its pros and cons and whether it's worth the money.
So without further ado, let's dive into the tool's key features.
Overview of key features
Strictly a content tool; Frase covers every aspect of content creation from the brief stage to the optimization.
Content research – Identify the questions that real people want to know that correlate with your primary keyword.
Create content briefs – Save time creating in-depth briefs that cover every aspect of a topic.
Optimize content – Suggestions on improving existing content or metrics to meet with new content (such as word counts, number of headers and imagery needed etc). This information is based on the analysis of the top 20 results on the SERP for the keywords specified.
Content analytics – Integrate with Google Search Console to track and measure organic growth and identify content that is continuing to decrease in traffic.
Templates – Frase has a selection of pre-made templates to suit any content style, or you can create your own to save and use again and again.
AI capabilities – Reduce time spent creating and editing content using Frase's AI feature.
Design / UX
Frase has a very clean content editor design, not dissimilar to popular content editors you're likely familiar with; Google Docs and WordPress.
Features
Frase is predominantly a content tool; however, it has many features.
We'll explore the four features that Frase sings about on the site, as well as some more of our favorites, below:
Content research
There are a couple of different features on Frase that assist with content research. We'll explore both in detail below.
Question ideas
In the outline section, you can input your chosen keyword and location. After inputting this information, variations of keywords are suggested alongside related questions that are pulled from the Google SERP, Quora, and Reddit.
These questions change as you click through the different keywords, and the drop-down next to each provides a further breakdown of related questions. This is a quick way to see what real people want to know concerning your keyword and for you to identify opportunities to create content around.

While this feature is great for topic ideas, it's also a handy way to build out a FAQ section within your content.
Concept map
The Frase concept map is taken from Wikipedia's knowledge graph.
Create content briefs
Automating a content brief couldn't be more simple within Frase.
After entering the search term you're looking to create content about, you just need to click 'automate content brief' (in the research section).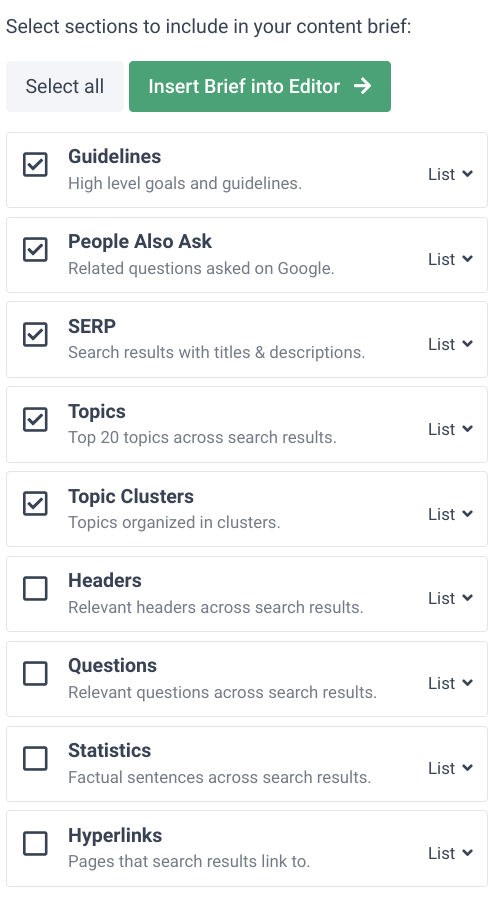 All you need to do is select which sections you want to include in the brief.
While you've still got to do some manual editing, you'll certainly save yourself time automating content briefs.
Create content
Frase is an excellent tool for optimizing and creating content from scratch.
There's the option to enter up to three target search queries, and once you click enter, Frase analyses the top 20 results on the SERP to provide an average of metrics.
After selecting 'let's go' on the right of the editor, Frase analyses the top 20 results on the SERP to provide an average of metrics.
It can take a little while to load, and it may be better and quicker to analyze the top ten pages instead. Once it loads, you'll find all of your competitor's information on the right toolbar.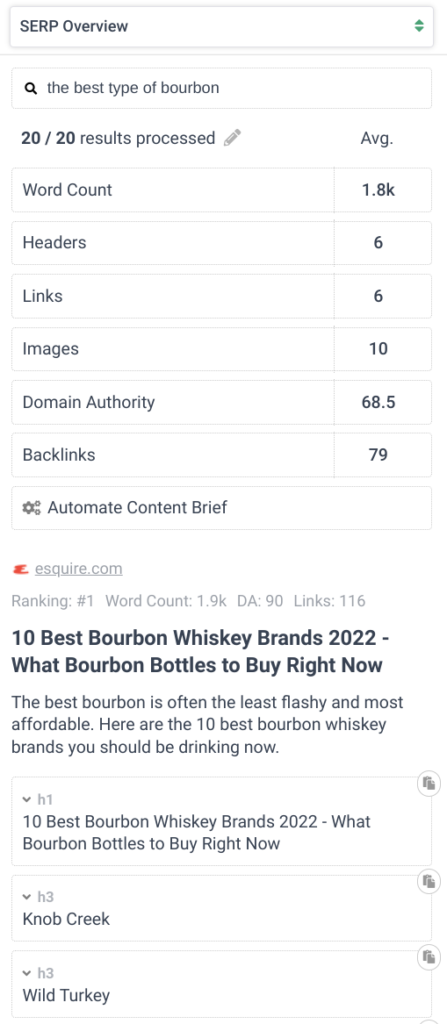 This breakdown is a great place to start and begin creating a content brief using factors such as word count and suggested headers.
One nifty feature when creating and editing content is the drag-and-drop option that enables you to move headers and paragraphs. It's a super quick way to reorganize content.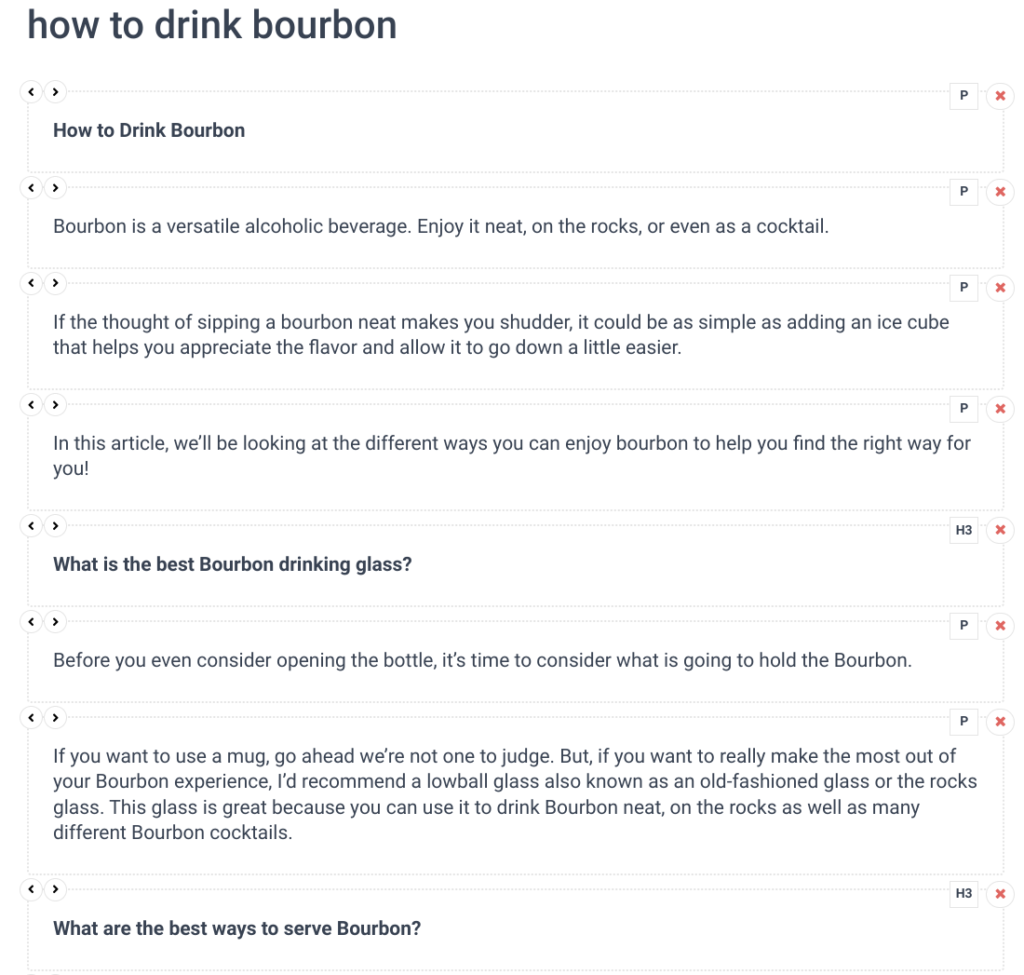 Optimize content
Frase bases its suggestions on target search queries, or long-tail keywords, rather than individual keywords.
You'll see on the top left your content is given a score out of 100%. The more you optimize your content for the keywords you input, the more that score will increase and the likeliness of ranking higher improves.
Frase analyses your top competitors based on the SERP results and identifies the average number of times a keyword (based on your primary keyword) is used across competing articles. This is insightful as Google has already decided what keywords they want to see and how many times they want to see them, so you don't have to do the guesswork.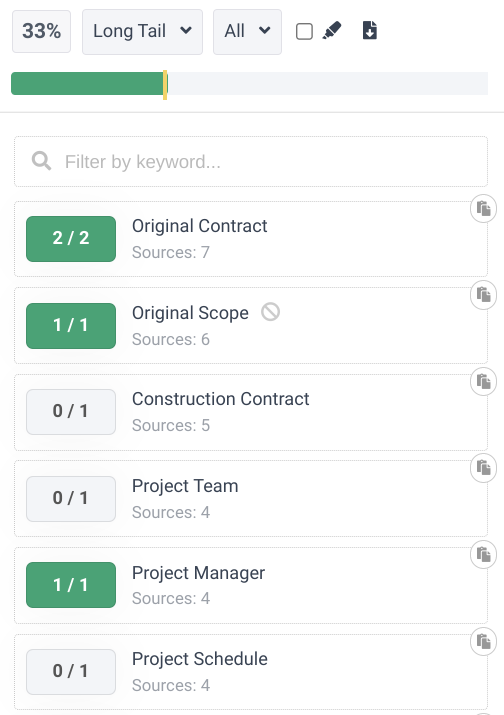 As we mentioned before, Frase analyses the top 20 results on the SERP to get this information. Unfortunately, you're unable to add or remove any of these results.
For the most part, the results that Frase pulls through are competitors and relevant; however, in other cases, the top results are sites you'll never be able to compete with or view as a competitor, e.g. NHS or BBC. It would be handy to swap the sources for something else in these cases.
Content analytics
With this feature, you can integrate your Google Search Console account to track your organic SEO growth over time, find new keyword opportunities, and identify decreasing performance content.
From the content analytics, you can view KPIs over the last 30 days. These include:
Ranked Pages
Ranked Rate
Impressions
Clicks
Clicks Growth
Avg. Ranking
Avg. CTR
This feature is a great way to watch content performance and identify which content pieces need a refresh.
If you want to dive deep into your analytics, we'd recommend using another tool alongside this feature.
Templates
Frase offers a wide range of pre-made brief content templates or gives you the option to create your own from scratch.
Premade templates cover:
Listicles
Beginners guides
Content briefs for external writers
Service pages
Comparison
And the list doesn't end there. For whatever kind of content you're writing, there's likely to be a template for it.
The existing templates can all be customized and saved to create new templates.
Upon selecting a template, you'll also be presented with an overview that includes tips on what to include in that specific article style.
The below is when choosing a listicle template.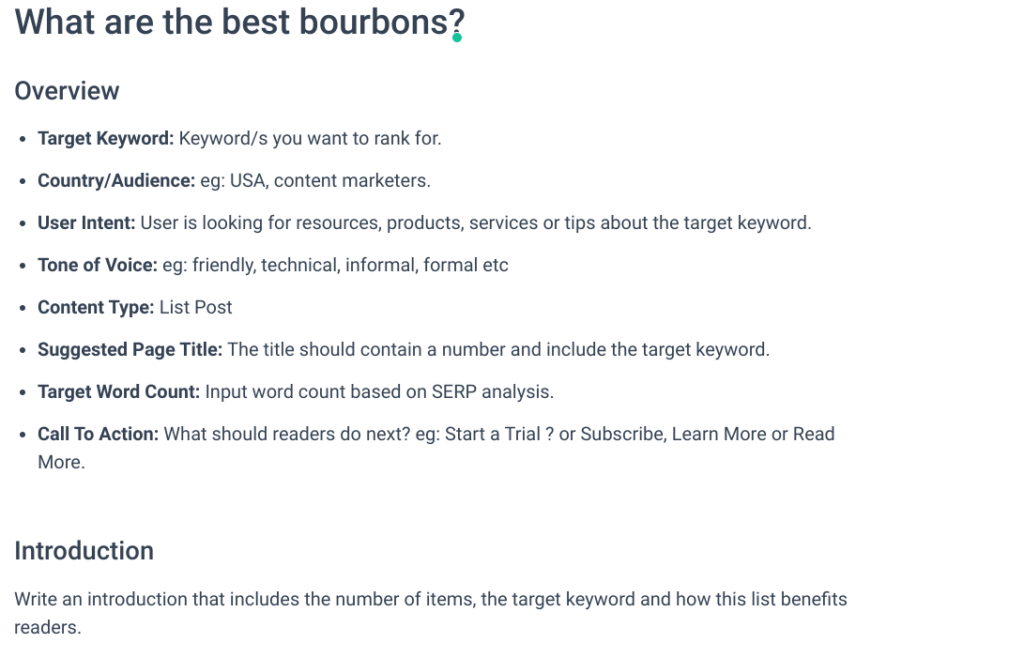 And now, we'll look at selecting the 'best of' template.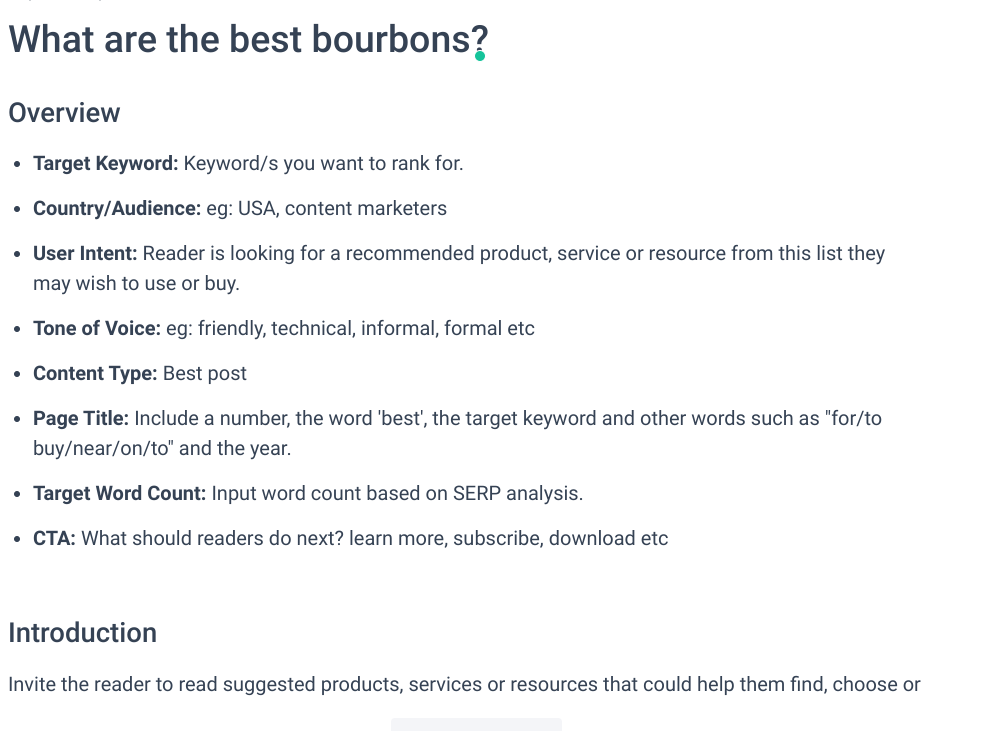 As you can see, the information presented changes as you change the template.
If you need to create a ton of templates in a short period of time, Frase's pre-made templates are a great option. However, if you have time to create your own, it's as simple as doing this in the editor. You have the option to then save this to reuse again and again.
AI capabilities
Frase's AI capabilities are extensive and not limited to creating unique copy from scratch and rewriting existing copy, but title suggestions, meta descriptions and featured snippets too.
When you click the AI write tab, you'll see there's a lot to choose from, and they include:
Generating blog titles
Bullet points to answers
How-to's (numbered lists)
Listicle ideas generator
Blog introduction
You can navigate through the sections to find the most relevant to your content.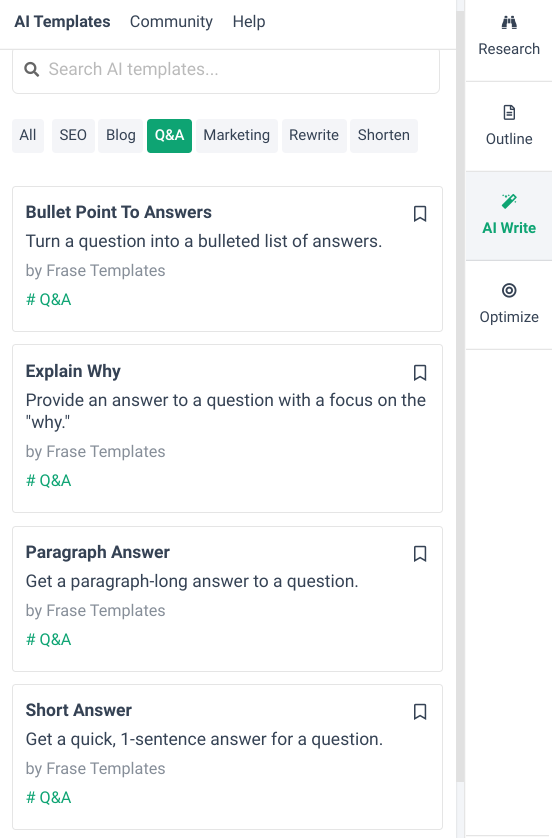 While there's a lot it can do, there's also a lot of work needed to perfect the content the AI is producing, and we wouldn't recommend publishing anything without going over it first with a human edit.
The best way to use Frase's AI capabilities is when building outlines or questions and answer formatting. We've found that this area needs the least amount of editing, if any.
Customer support
Frase offers a variety of ways to get in touch with customer support:
Contact form
Social media
Live chat (available 9am – 6pm)
Email
Their response time is pretty quick, usually within one working day.
They also have weekly live demo dates. These are sessions that anyone can join to learn more about how to use and navigate Frase. If you're not available for the specified dates, you can request a copy via email.
Frase also offers a range of video tutorials, from the basics to how to use each of their features.
Pricing
There are three plans to choose from, the largest being Enterprise, which is custom, and you'll need to contact Frase directly to create a package suitable for your needs.
There's also the option to pay $35 each month to access the SEO add-ons. This gives you unlimited access to the AI writer
Monthly
The Basic account, which is suitable for individual SEOs, starts at $44.99 with a limit to 30 documents. The Team account starts at $114.99 each month and allows for three users (it's possible to add more users, but this comes at an additional cost) with unlimited document credits.
Annually
There is the option to pay annually, and this option provides a 10% discount on the monthly price.
Is pricing fair?
The content seems fair as it's not too different from other similar tools. However, when you consider the add-ons, which are well worth having, Frase does become much more expensive. If you're subscribing to the most basic account, the add-ons almost double this monthly spend.
Final thoughts
Frase is a great all-in-one option for creating briefs, writing content, and optimizing existing content. This tool streamlines the content process, so you create more hard-working content in less time. While it's not quite perfect with the occasional glitches, it's pretty close and would be a great asset for any SEO, whether you're working alone or with a team of any size.
---
Sam Underwood
Sam is an international Ecommerce SEO Consultant with experience implementing enterprise-level SEO strategies.