Frase review
Use Frase's AI tools to create optimised content that will generate more traffic and increase conversion rates.
4.5

Publish date:

June 9, 2023

Author:

Sam Underwood
Visit site
---
About Frase
Price range:

$14.99 - $114.99
---
Pros
Reduces the time users spend creating briefs and writing content.

Easy to group content by categories using folders.

Google Search Console integration.

Excellent customer service.

Easy to use and beginner-friendly.

Offers a top-quality AI writer.

Provides users with concept maps to support idea generation.

Provides custom internal link suggestions using Google Search Console data.

Offers robust content planning tools.

Comprehensive competitive analysis features.
Cons
Add-ons might increase monthly costs.

Occasional glitches. For example, Frase auto-refreshes frequently, and you'll lose your outline builder data if you have yet to download the data or create a document with it.

The AI writer may give inaccurate information, so you must review the content thoroughly before using it.
---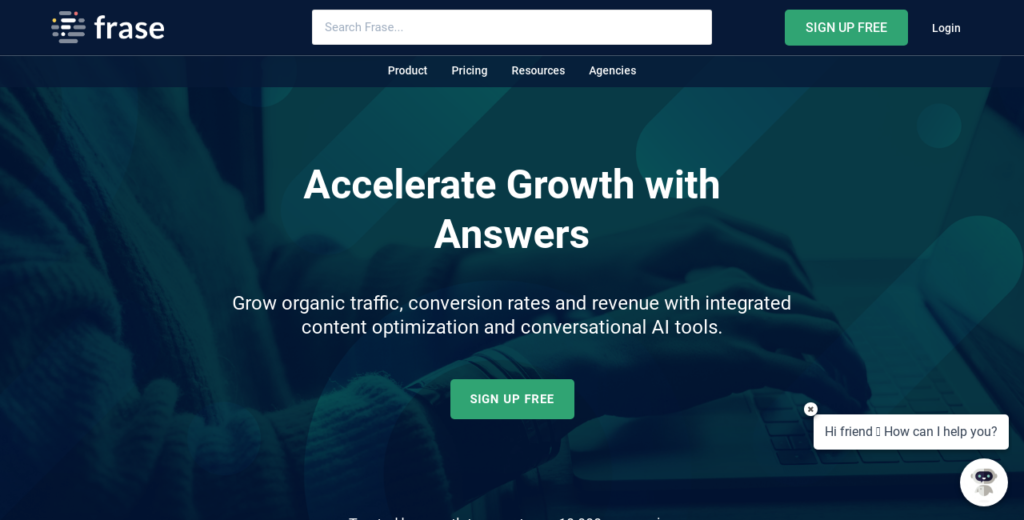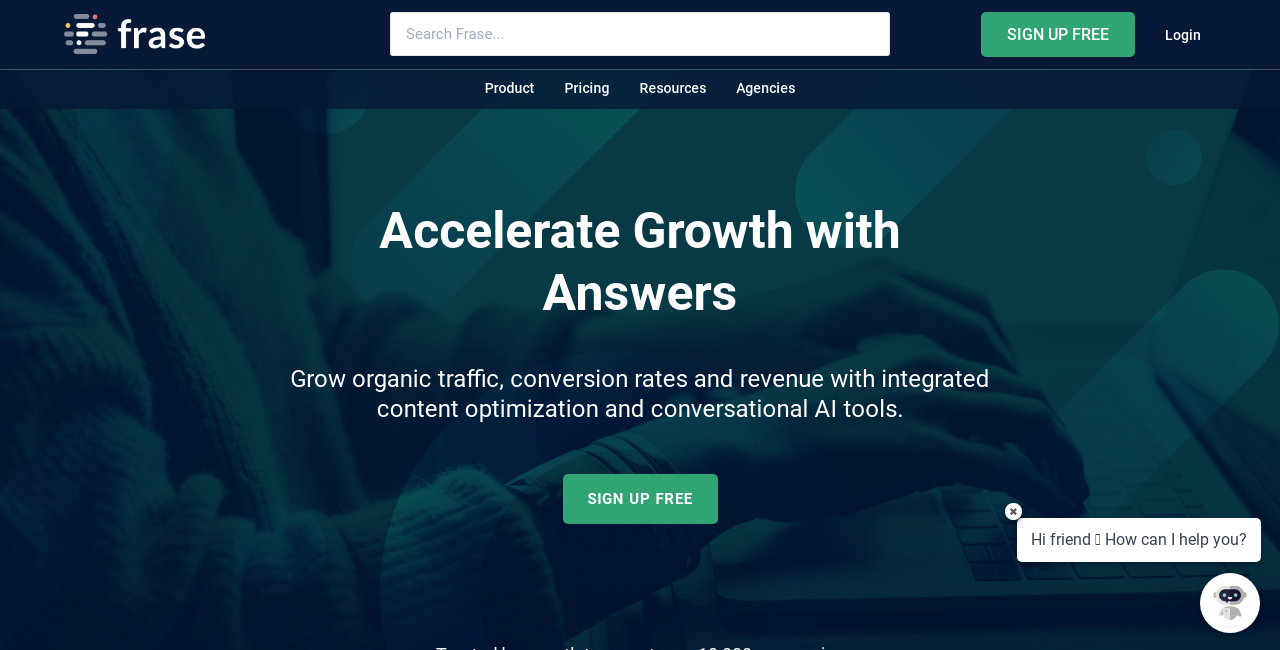 Are you fed up with employing multiple tools to craft high-quality content for your website? If so, Frase could be the ideal solution for you. This article will give an exhaustive and impartial review of Frase, covering its features, design, support, value, and roadmap.
A standout feature of Frase is its AI-driven content creation abilities. It can assist you in everything from exploring topics to optimizing your content for SEO. With Frase, you don't need to depend on third-party tools for content creation.
Moreover, we will compare Frase with its competitors and other tools available in the market. By the end of this review, you will clearly understand whether Frase is the right tool for your business's content creation needs. Let's get started.
The TL;DR version
What is Frase?
Frase is a content research, outlining, optimization, and development tool that uses AI to facilitate content creation and management. Its primary goal is to help users create a strong content strategy, including planning and optimizing content for SEO.
Moreover, Frase's AI-powered writing tool helps users create original content from scratch by recognizing their target audience's needs and questions.
This SEO tool gained attention from its AppSumo launch on August 24, 2020. After the launch, Frase increased its active monthly user base from 840 to 13,579. It also increased from zero to 312 reviews on platforms like Trustpilot, Capterra, and G2.
More than 30,000 marketing teams and professionals use Frase for content development today. In addition, top brands such as Coursera, Merkle, and Career Karma use Frase.
Tomas Ratia and Cody Jacques established this SEO tool in 2016 with headquarters in Boston, Massachusetts. However, Copysmith acquired Frase in October 2022.
Additionally, Frase won the Product of the Week award three times on Product Hunt and has a 4.8-star rating of 5.0 from 190 reviewers.
Key features
Frase is a platform for creating and optimizing content. It provides several key features to help you generate high-quality content fast. Here are some of the main features and their advantages:
Content Research and Planning
Outline Builder: Quickly create in-depth briefs by analyzing your top competitors' outlines, identifying real user questions, and matching search intent behind your primary keywords. This feature saves you time while ensuring you cover all aspects of a topic.
Topic Planner: Plan your entire site's content page by page or generate deep topic clusters covering all aspects of the topic in minutes. This feature lets you plan your content strategy efficiently, saving time and effort.
Wikipedia Concept Map: Utilize Wikipedia data to build visual topic clusters and plan your content and strategy. This feature helps you visualize your content strategy easily and identify relevant topics.
Content Creation
Articles Writer: Get content improvement suggestions to enhance your existing content or write fresh content with the help of AI and other writing tools. This feature saves you time and improves the quality of your content.
Templates: Frase offers a selection of pre-built templates to suit any content style, or you can create your templates, save, and use them at your convenience. This feature enables you to create consistent and high-quality content quickly and easily.
AI Tools: Access over 36 artificial intelligence tools to help you produce better content faster and complete more tasks on time. This feature saves you time and improves the quality of your content.
Content Optimization
Google Search Console Integration: Integrate with Google Search Console to track and measure organic growth and spot content pieces experiencing traffic decline. This feature allows you to optimize your content and improve your website's performance.
Document: Complete all your content development and creation tasks in one place using embedded content marketing heuristics and AI help. From research to writing and optimization, this feature streamlines your workflow and ensures the quality of your content.
Frase offers a comprehensive set of tools to help content creators and marketers optimize their content strategy, create high-quality content quickly, and improve their website's overall performance.
Outline builder
You'll find this feature under SEO Tools in your Frase dashboard.

The Outline Builder helps users develop content outlines out of questions sourced from Google's People Also Ask and Quora.
This feature has three components:
Autosuggest Keywords
Related Questions
Outline
Enter a keyword in the search bar to begin constructing your outline. Make sure to update your language and country. Keep the keyword short to discover its variations.

For example, I'll use "SEO tools" as my keyword.
Hit the enter key to get keyword suggestions and questions from Google and Quora.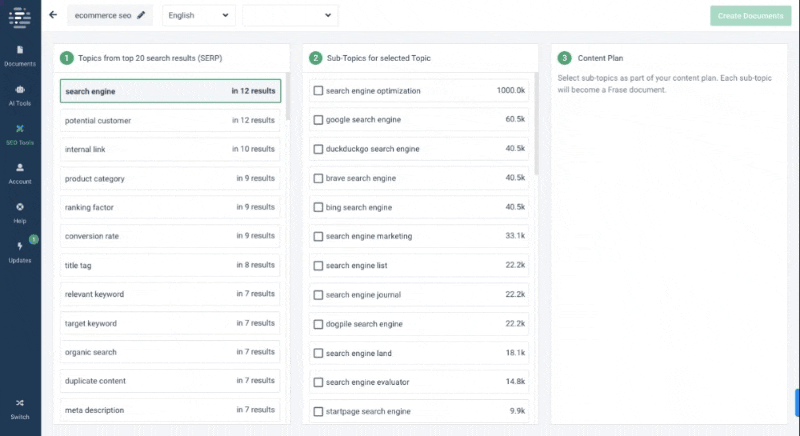 This feature provides a fast way to discover what people are asking about your keyword. In addition, it helps you identify potential content ideas.
Enter a keyword to generate a list of relevant questions. Then, select questions from the related questions section to add them to your outline.

This feature is great not only for topic ideas but also for creating an FAQ section. You can also easily reorganize content with the drag-and-drop option for headers.To transfer your outline to a document, click the Create Document button on the top right-hand side of your screen. This action will create a document similar to the one in the image below.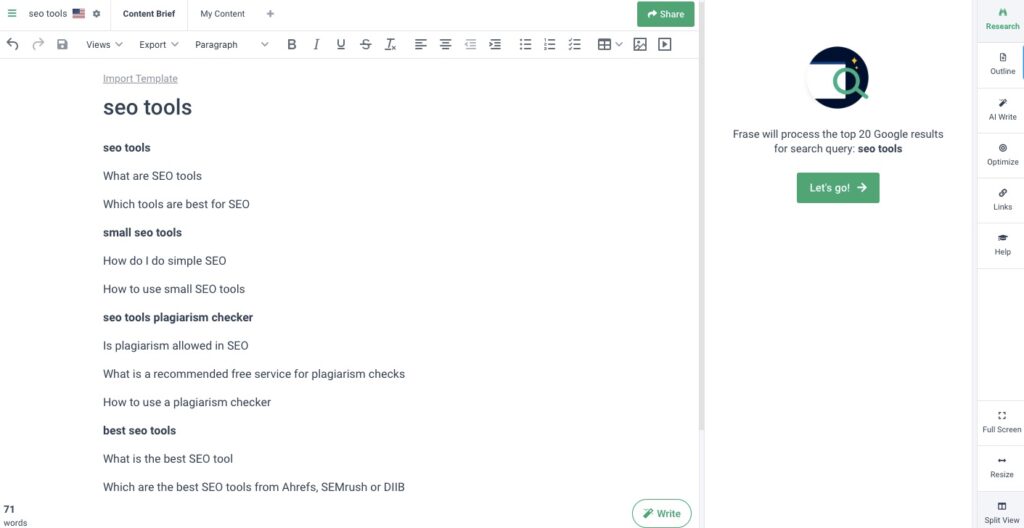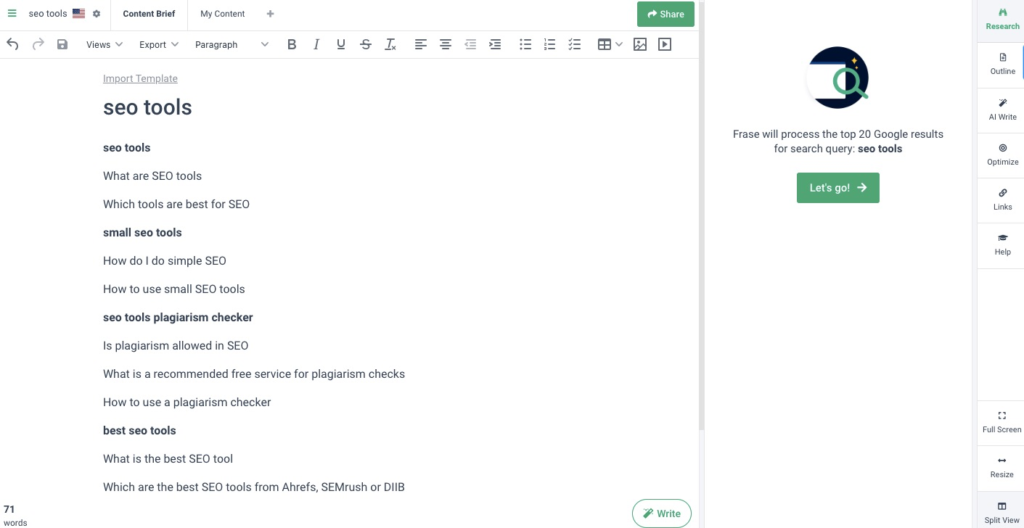 We'll cover the Frase document in detail in another section below.
Article Writer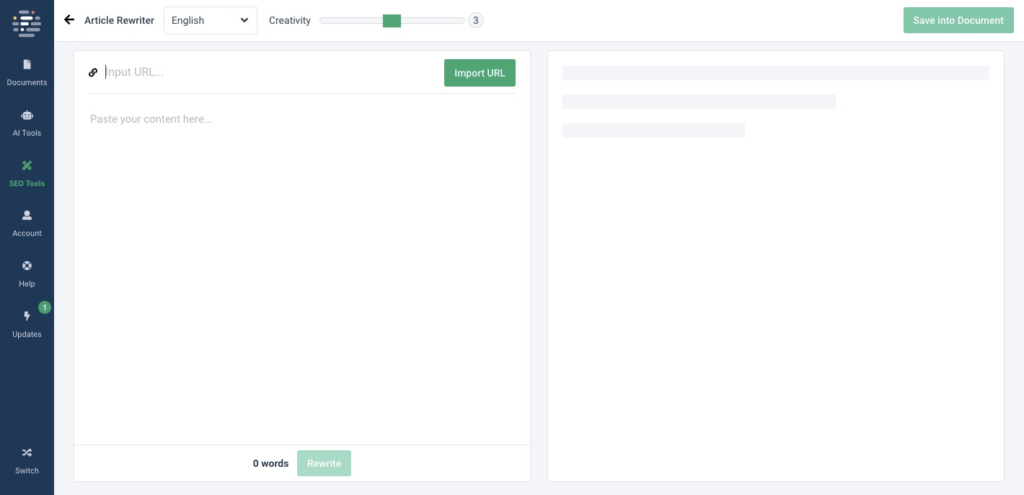 The Article Writer tool on Frase supports content creation in 20 languages, including:
English
Spanish
French
German
Italian
Dutch
Portuguese
Danish
Norwegian
Finnish
Swedish
Romanian
Polish
Russian
Hindi
Indonesian
Malay
Thai
Japanese
Korean
You can use the editor to create content in different languages, even if the original language of the content is different.
I tested this with a piece from Steve Pavlina. His content is uncopyrighted.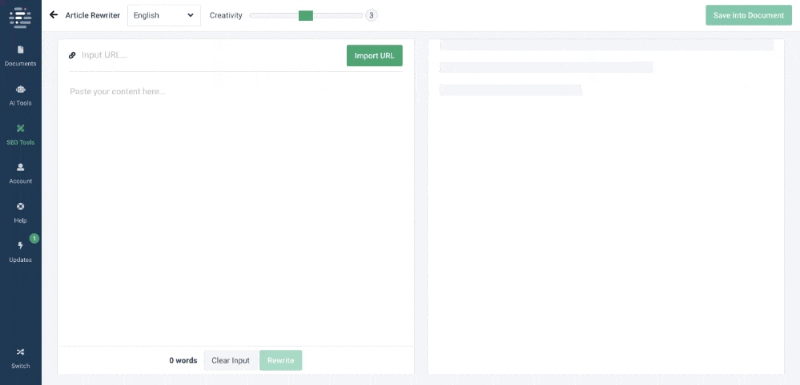 Users can have their content rewritten in any language they desire. For instance, I chose Japanese and got this result: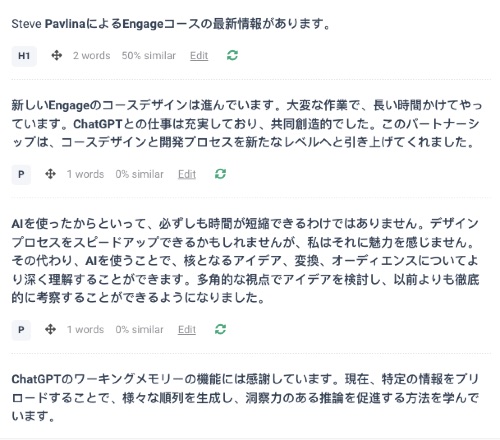 You may encounter problems such as texts not translating. To resolve this issue, simply refresh the paragraph. For instance: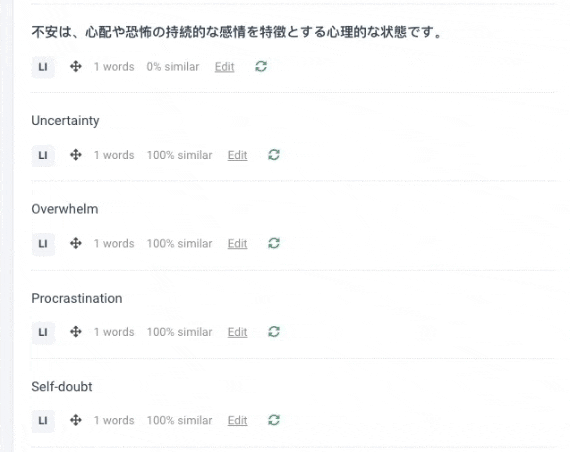 Next, I'd get a full preview of the content and then transfer the finished content to my document using the buttons on the top right-hand side of the page.

You don't have to change the language of your content. You can also rewrite it in the same language, which helps improve the content quality.
We only recommend rewriting your content in a different language if you understand the language and can edit the content for human readers.
You can paste your content into the editor and rewrite it sentence by sentence or paragraph by paragraph. Alternatively, as I did in the example above, you can import your content from its URL.
Wikipedia Concept Map
The Wikipedia Concept Map makes it easy to connect related topics visually. First, choose a topic and language from the 20 available options. Then, click the Search Wikipedia button to generate your concept map.
If you have used Answer The Public, this tool will feel familiar.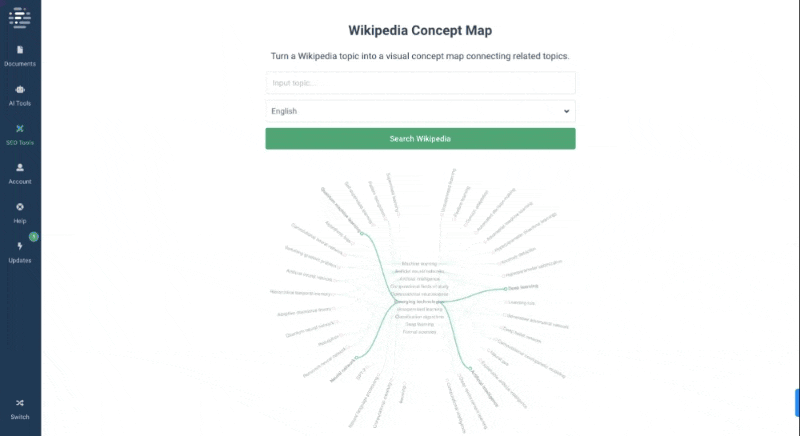 This tool is perfect for content planning and strategy. It gives you multiple ideas related to your keyword. Then, you can click on each one to get a concept map.
For example, when you search for "eCommerce SEO", it provides topics such as:
Search Engine Optimization
Store
PrestaShop
Sellerdeck
Shopping Directory
Content Writing Services
Endurance International Group
Organic Search Results
Juja
Digital Marketing
Miva (Company)
PFSweb
Topic Planner
The Topic Planner is a beta feature. Its interface is similar to the Outline Builder.
However, this one focuses on helping you develop a list of long-tail keywords with SERP analysis. Additionally, it focuses on topics by country.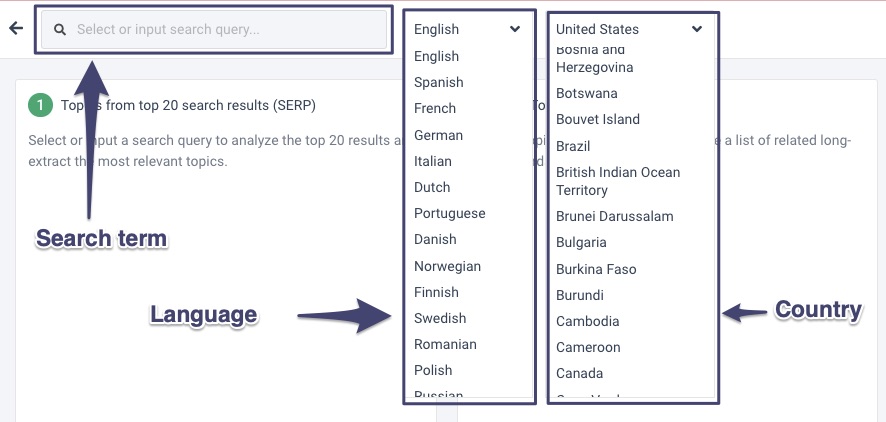 Type a topic into the search box. You'll get the top 20 search results (SERP) with related topics and sub-topics for each. This way, you can create a content plan with relevant sub-topics.
Plus, the topics come with search volume data. So check the demand level for each topic before you select it.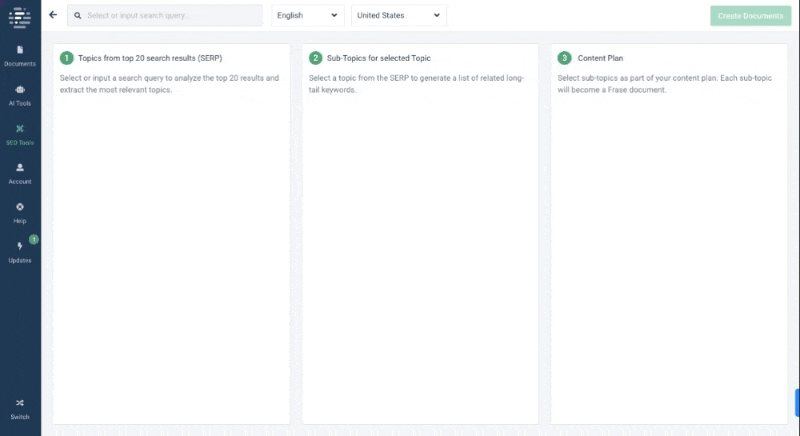 However, unlike the Outline Builder tool, the Topic Planner did not transfer the subtopics into one Frase Document. Instead, it created a unique Frase Document for each topic.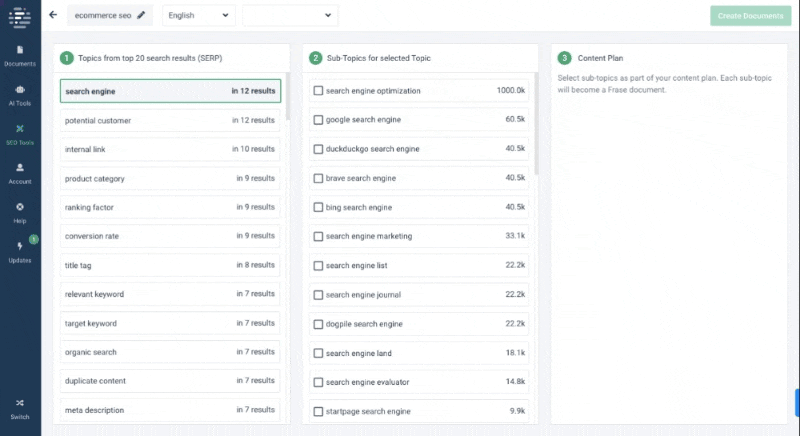 Topic Planner is a great tool for quickly creating topic clusters. It can even help you create a content plan for a new website from the ground up.
Google Search Console Integration
Discover content opportunities and weaknesses with Frase's Google Search Console integration. This feature helps users:
Find pages and queries that can benefit from optimization
Uncover new content creation opportunities
To initiate the integration, go to SEO Tools and click the Integrate Google Search Console button.

When you complete your GSC configuration, you will receive an analytics dashboard containing helpful content optimization ideas you can implement.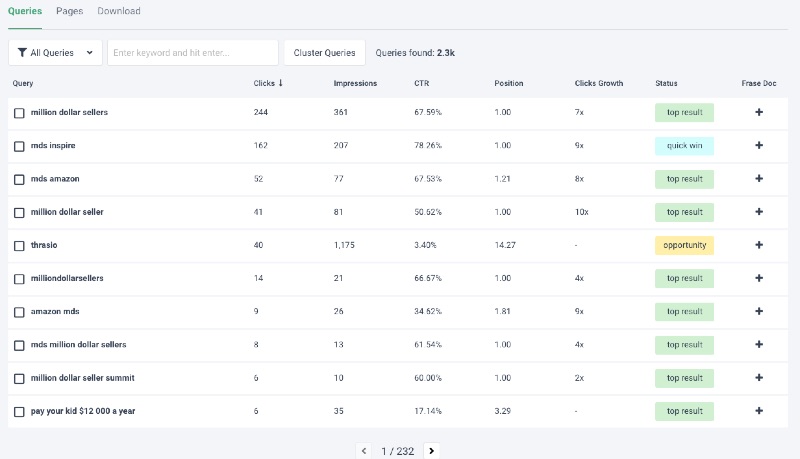 From the content analytics, you can view KPIs over the last 30 days. These include:
Ranked Pages
Ranked Rate
Impressions
Clicks
Clicks Growth
Avg. Ranking
Avg. CTR

This feature is a great way to monitor your content performance and identify the content pieces that need a refresh.
If you want to deep-dive into your analytics, we'd recommend using another tool alongside this feature.
Documents
Frase has a dedicated area to manage all your documents. And you can do things like:
Create new documents
Filter documents by content status and users
Organize them into folders
Create brief templates
Bulk actions like deleting or adding folders

Each Frase document lets you use all of Frase's features together. They cover tools for these:
Research
Outlines
Writing
Links
Content optimization
Let's explore each of these tools.
Research
The document section offers a research function to help you find the top 20 competitors for your primary keyword. Click the green 'Let's Go' button to get the data.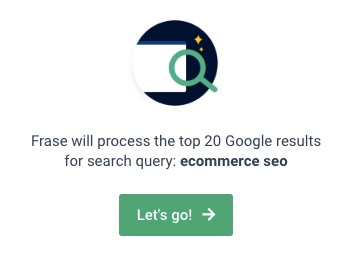 Frase assists you in comparing the outlines of your competitors. It is similar to other SEO content tools such as Surfer SEO and Clearscope.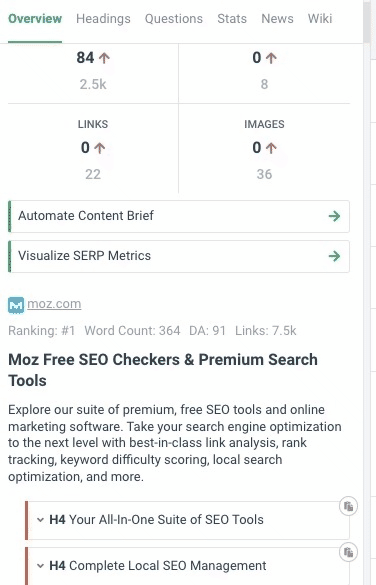 Frase lets you choose and use your rivals' headings from the available options. This feature reduces the time you'd spend constructing an outline while ensuring optimal keyword use, content flow, and logic.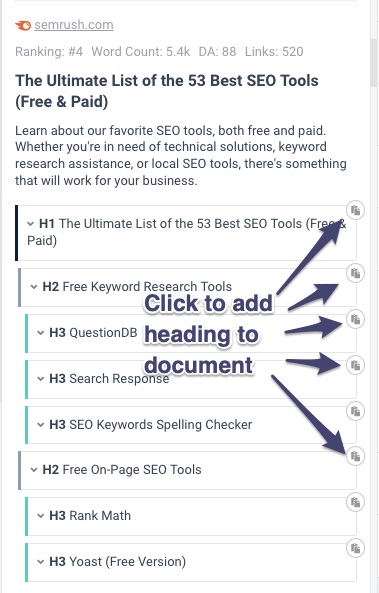 Here's a quick demonstration in the image below.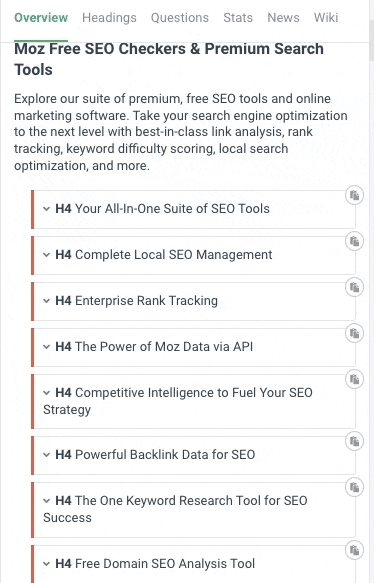 The research function has six tabs and five research tools to help you complete your research in one place, including:
Overview
Headings
Questions
Stats
News
Wiki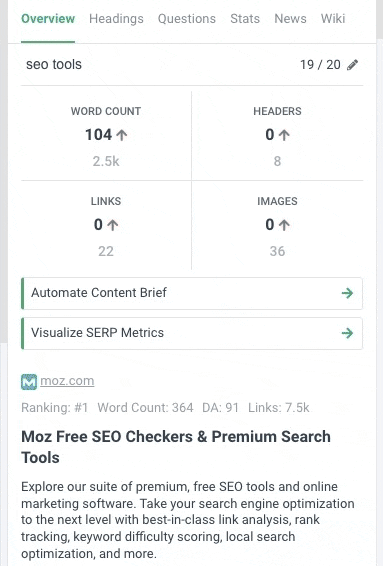 Let's explore how each tool works.
Overview:
The overview section summarizes the tool's research abilities.
Type your keyword into the search box. You'll also find a widget that displays the averages for vital content metrics of the top 20 competitors in the SERP. These metrics include word count, number of headings, number of images, and number of links on the pages.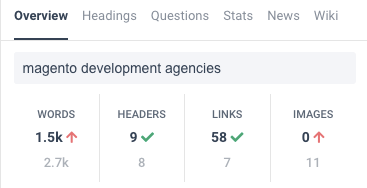 Just below that widget, you'll find three options to control your research results:
Customize results
Generate an auto-brief
View chat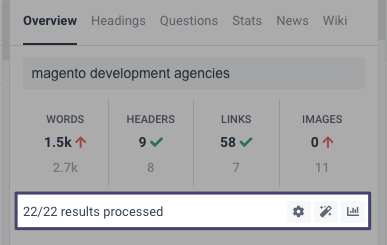 The result customization tool allows you to pick the competitors whose content you wish to use in your research. You can choose the top ten competitors, imported competitors, or all selected competitors that Frase has suggested. Save your selections.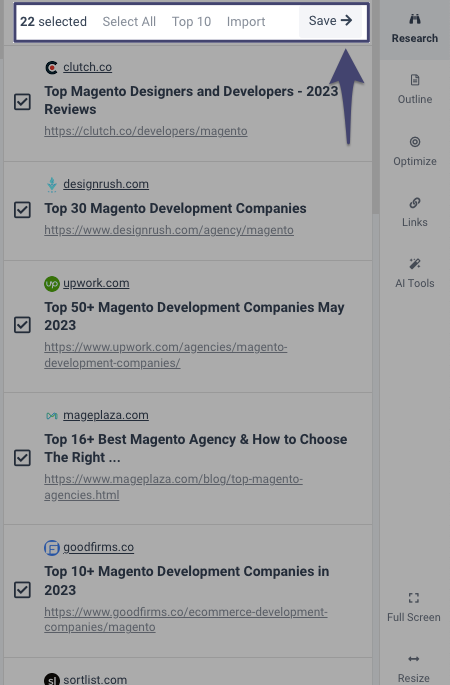 But you can also select and unselect items from the list manually,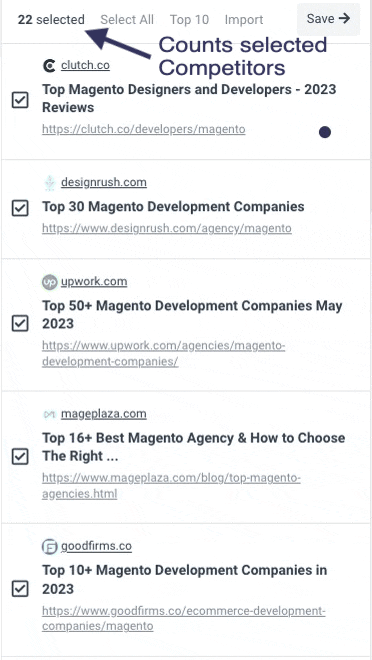 Scroll down the overview page to see all the competitors you selected. Frase gives you a breakdown of each competitor's content structure. For each competitor, data has the following:
Rank on the SERPs for that keyword.
Link to the content.
Word count.
Page title.
Page description.
Headings in their order—H2, H3, and H4.
Option to copy the heading.
Button to copy the whole outline.
Button to explore the page in detail on Frase.
Click the Explore button to see sections of a content piece inside Frase. You can stay in the explore mode and keep exploring competitor content by clicking next or previous. Finally, click the close button to exit exploring mode.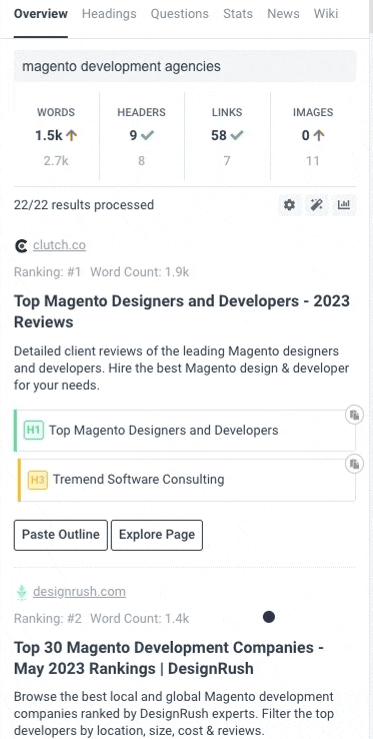 Headings
Discover all the headings your competitors used for this keyword. Frase collects all the headings, including page titles, from all competitors in one place.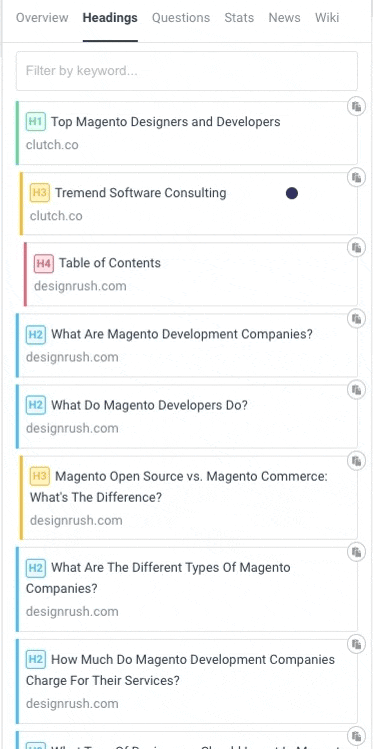 It also has a search box for you to find headings by keyword.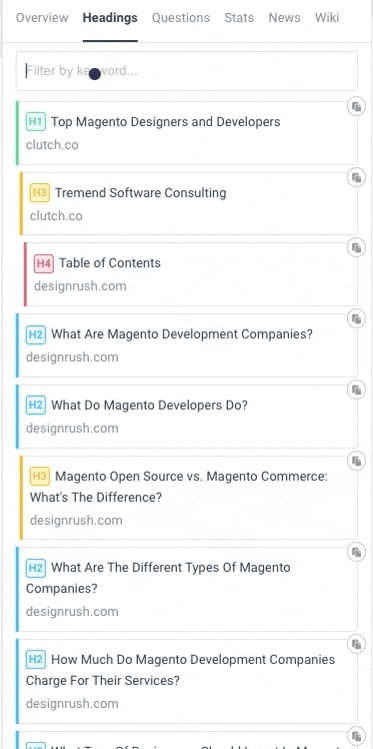 Questions
You can use this functionality to find questions from search results, Google's People Also Ask, Quora, and Reddit.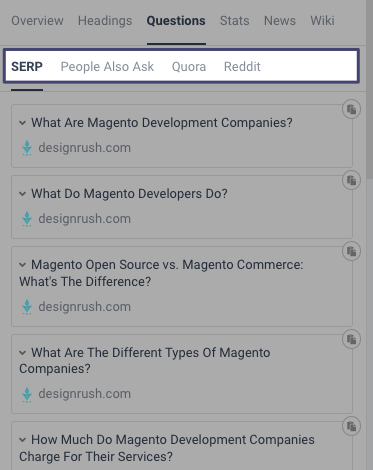 The Questions tab offers many benefits. You can quickly locate FAQs related to your topic and address them in your content. Additionally, you can view the questions your competitors have answered in their content.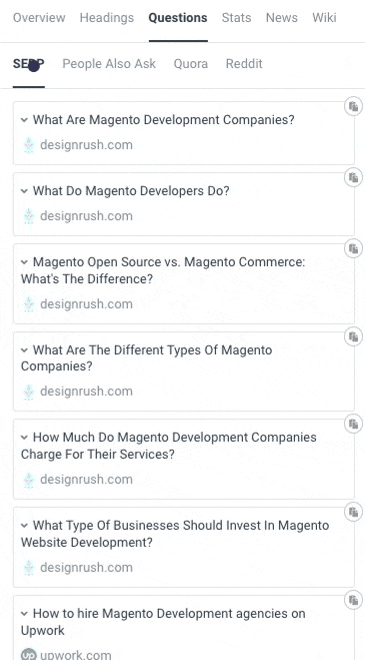 Click on the copy-paste icons on the questions to add them to your Frase document.
We had expected the section to come with a search box, like in the headings and stats sections. This would allow us to search questions by keywords.
Unfortunately, Frase did not include this essential functionality. As a result, we had to scroll through hundreds of questions to find the relevant ones for our content.
Stats
The stats research tool helps you to find relevant stats that your competitors have used in their content. It also has a filter search box to help you find relevant stats faster.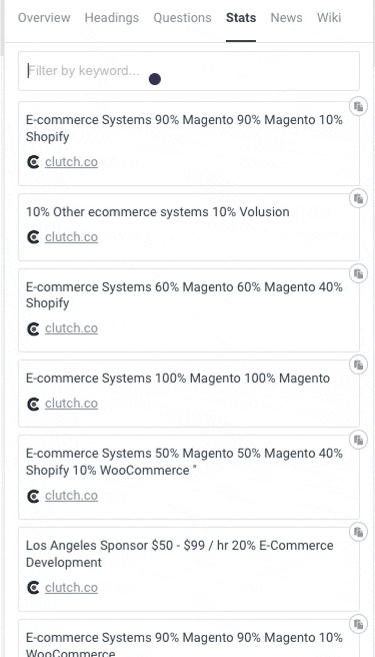 However, you'd have to verify these stats and determine whether they are useful and accurate for your content.
This tool has one drawback. It only gives stats from competitors. If competitors don't cite data in their content, you won't find anything here, even if useful data exists elsewhere.
So, this is not a feature you want to rely on for your final statistics search. You'll have to look elsewhere.
News
You can find the latest news on the subject from the News tab. The data here isn't static, so you'll get the latest news on the topic every time you use it for the same keyword.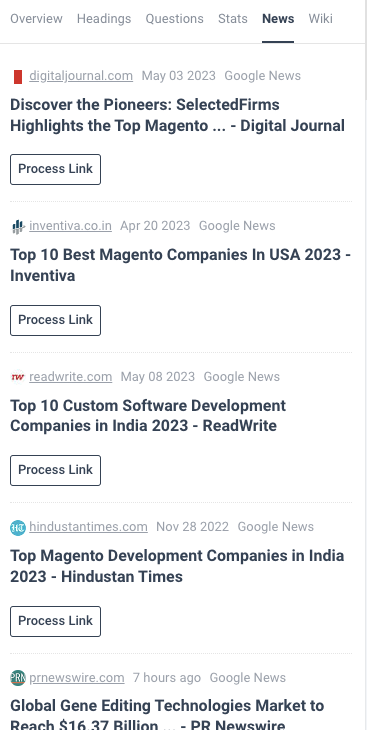 This feature is also handy for monitoring industry events, competitors' PR announcements on the topic, and helpful industry news that you may want to incorporate in your published posts.
Wiki
The Wiki tool can help you find relevant Wikipedia pages. But not all topics have related pages.
Another way to benefit from this tool is to locate the pertinent Wikipedia page and use it to discover useful research sources.
Research tool takeaway
This research tool offers users all the information they need for researching and planning content. It's a key benefit of using the SEO tool for content brief development and writing.
Outline
This tool has two sections: The outline tab and the AI draft tab. The AI Draft tab may show as Instructions in other accounts, but it's the same AI drafting tool.
Let's explore them.
Outline tab
Frase lets you create outlines by selecting headings from search results or generating heading ideas with AI.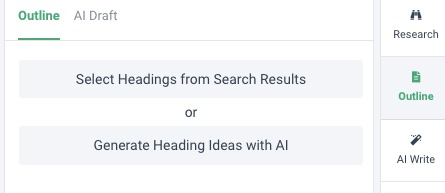 Alternatively, if you have created a list of headings elsewhere, you can import them by pasting them to Frase.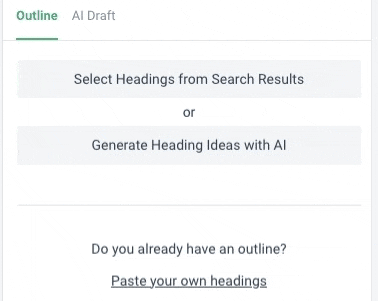 The search results option lets you choose headings by heading types H2, H3, H4, questions, and long-tail headings.
If you wish to add more headers after your initial selection, click the Explore Headings option.
You can generate headings with AI, edit them or add other headings from your competitors by clicking the Explore Headings option.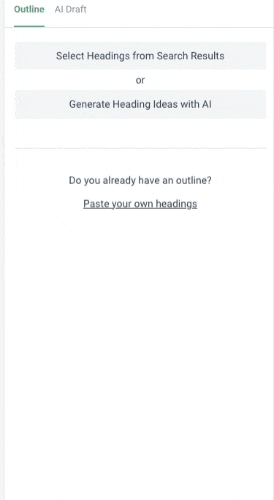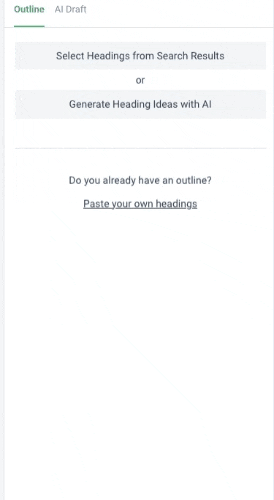 The outline tool provides you with options and control. You can use a mix of AI-generated, self-generated, and competitor-sourced headings, keywords, and questions to create high-quality outlines in the Frase Document.
In short, it gives you the power to build outlines that work for you.
AI Draft
Before we dive into the AI writing tool of Frase, let's explore a part of the outline tool that works best as part of your AI writing task.You'll find the AI Draft beside the Outline tool, as seen in the image below.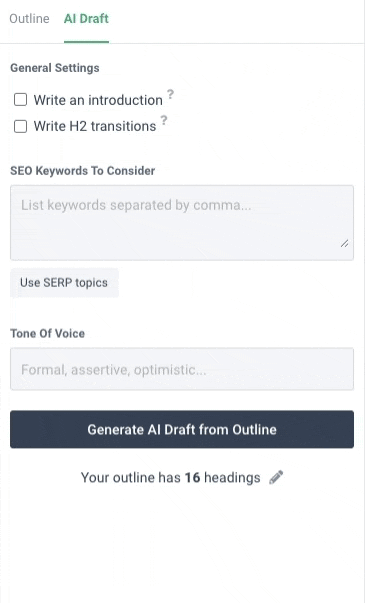 Click the button, Generate AI Draft from Outline, and in a few minutes, this tool will generate a unique draft using your outline. Here's what it looks like: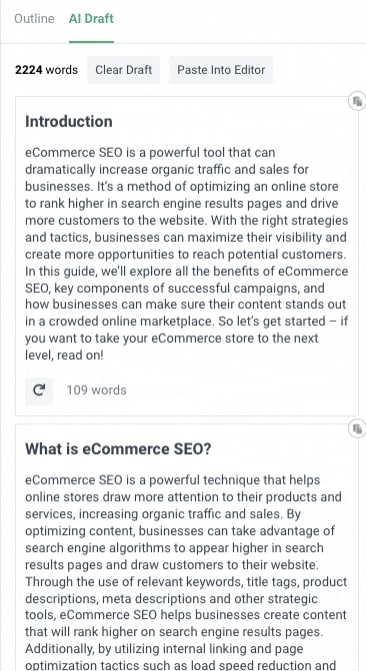 If you're satisfied with the draft, click 'Paste Into Editor' to transfer the content into your editor. Otherwise, click 'Clear Draft'.

Paste the content into your editor. You can then use AI to edit it by paragraph or sentence to make it better. Select all the text in the editor, and the option will appear automatically.
See the example in the image below.
While you'll still have to do some manual editing, you'll certainly save yourself time automating content briefs.
Instructions
If the AI Draft tool appears as Instructions in your account, this is how you'll experience it.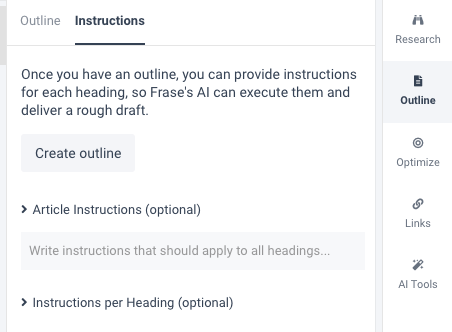 It lets you provide instructions that Frase's AI will execute for each heading to deliver an article draft you can review, edit, modify, and then use.
Click the create outline button. Optionally, leave instructions for each heading and the whole article.
AI Write
Let's discuss the AI Write tool. You can find it in the right sidebar.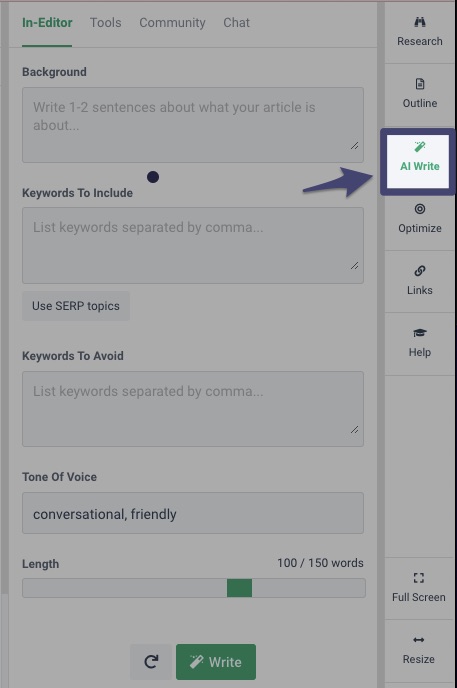 I noticed that the AI Write does the same thing as the AI Draft tool but provides you with more writing tools and resources.
This feature has four parts:
In-editor
Tools
Community
Chat
Each part has unique functionalities and capabilities.
The AI Write Tools tab offers six functionalities:
SEO: Offers generators for featured snippets, meta descriptions, outlines, and semantic topics.
Long-Form: Has an AI article writer, command-based content, how-to blog posts, listicles, and paragraph generators. Users also have the option to create a custom tool.
Q&A: Includes bullet points, explainers, paragraphs, and short answers to questions people ask on Quora, Reddit, and Google's People Also Ask.
Marketing: Provides copywriting formulas and model generators. You'll find generators for content marketing heuristics like these:

Attention Interest Desire Action (AIDA)
Feature-Benefit
Metaphors and Analogy
Problem, Agitate, Solution (PAS)
Product Description
Pros and Cons
Slogans
Taglines
Value Proposition

Rewrite: Offers AI rewriters for paragraphs and sentences.
Shorten: Includes paragraph compression and summary bullet generators.
The Community tab has pre-built AI Write templates from community members, including templates for SEO, Long-Form, Q&A, and others.
One of the most interesting writing tools in Frase is Chat. Enter any prompt, and it'll give you a relevant output.
The In-Editor lets you provide information to the AI to craft your content. For example, you can provide a summary of the main topic of your article.
Also, you can list keywords to include and keywords to omit. You can pick the preferred tone of voice and the number of words the AI will generate..
Press the 'Write' button when you're ready to generate the first set of words. If you need more words, press the "Write" button again to create more content until you have the desired length.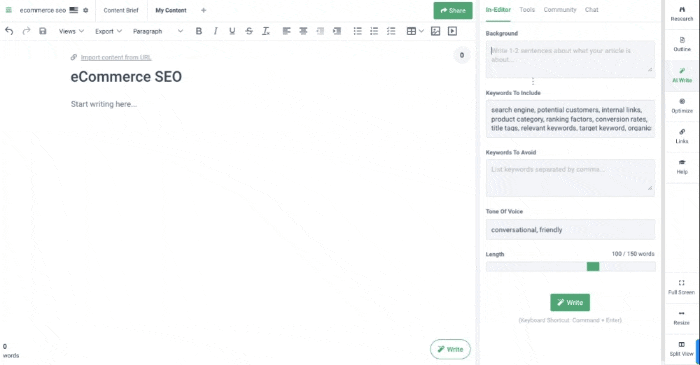 The AI Write Tools tab offers six functionalities:
SEO: Offers generators for featured snippets, meta descriptions, outlines, and semantic topics.
Long-Form: Has an AI article writer, command-based content, how-to blog posts, listicles, and paragraph generators. Users also have the option to create a custom tool.
Q&A: Includes bullet points, explainers, paragraphs, and short answers to questions people ask on Quora, Reddit, and Google's People Also Ask.
Marketing: Provides copywriting formulas and model generators. You'll find generators for content marketing heuristics like these:

Attention Interest Desire Action (AIDA)
Feature-Benefit
Metaphors and Analogy
Problem, Agitate, Solution (PAS)
Product Description
Pros and Cons
Slogans
Taglines
Value Proposition

Rewrite: Offers AI rewriters for paragraphs and sentences.
Shorten: Includes paragraph compression and summary bullet generators.
The Community tab has pre-built AI Write templates from community members, including templates for SEO, Long-Form, Q&A, and others.
One of the most interesting writing tools in Frase is Chat. Enter any prompt, and it'll give you a relevant output.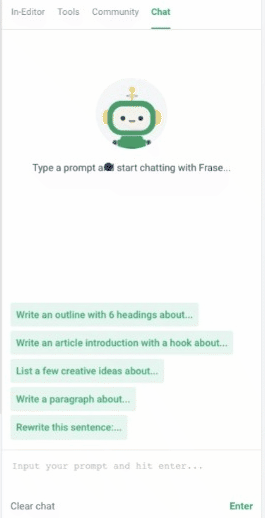 Frase's AI writer tools are powerful and can significantly speed up content creation. However, it's important to note that AI-generated content is imperfect, and we recommend having a human editor review it before publishing.
While AI tools can help create outlines or format questions and answers, they can still make mistakes or produce content that isn't 100% accurate or suitable for your brand voice and tone.
Optimize
The Optimize feature helps users optimize their content for search engines and human visitors. Note that Frase tends to show long-tail keywords over individual keywords.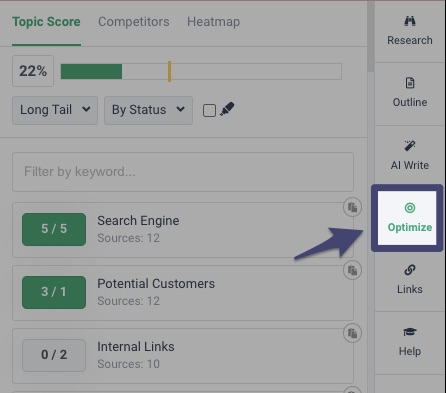 The feature comes with three tools for users to improve the quality of their content:
Topic Score
Competitors
Heatmap
The topic score gives you a percentage-based score to reflect the optimization level of your content. For instance, in the image below, you'll notice the Topic Score was 23% before I selected and added some keywords to the content to raise the score to 25%.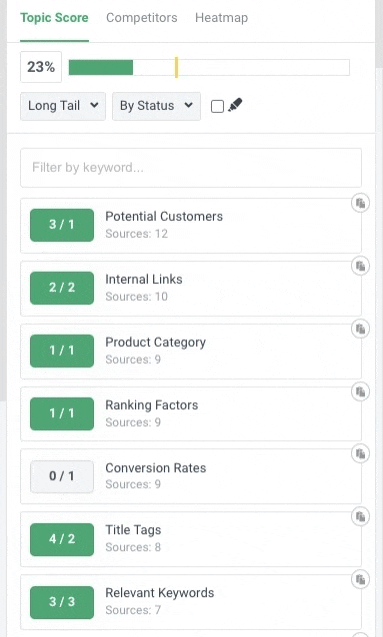 Optimizing your content for the chosen keywords will give you a higher topic score.
So, how does Frase determine what keywords to suggest?
The SEO tool looks at the SERP for the keyword and examines the average number of times various words appear in competing articles.
The Competitor tab lists competing content pieces and their optimization scores.
You'll also see their ranking, word count, domain authority, and link data.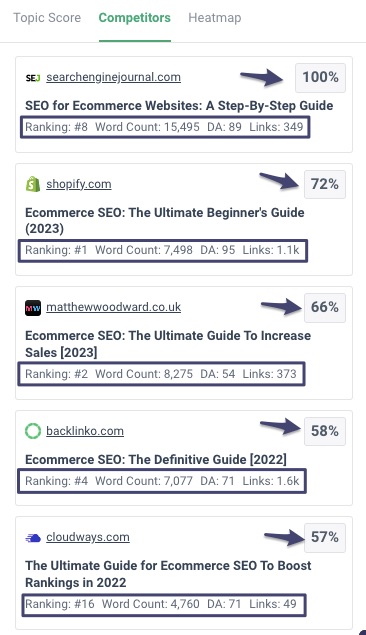 The heatmap shows you the 20 top competing content on Google for that topic, the keywords they used, and how frequently they appear. It also gives you the option to copy the keyword into your content.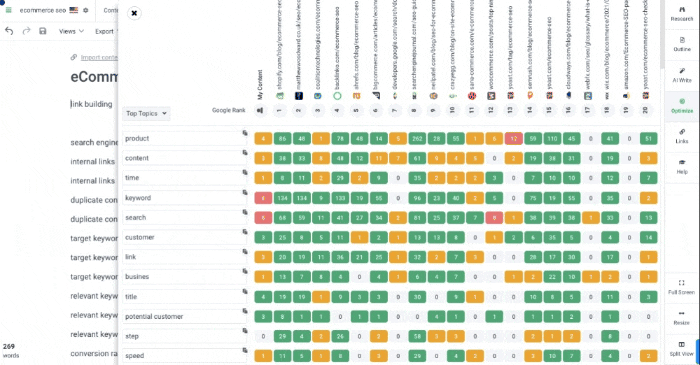 Is this useful for SEO? Frase is analyzing the content Google ranks highly. The idea is that if high-ranking pages mention certain words, then you should include them in your content to rank well.
Google's ranking and content evaluation is more complex than just keyword density. So, don't focus on repeating words.
It can help you identify topic gaps in your article that competitors have covered but you haven't.
In short: Use it to find topic gaps, not to obsess over word density.
Links
Frase offers a list of external link sources used by competitors.
It also provides internal link recommendations using data from your Google Search Console.
Another helpful feature to enhance your content is its small but handy one.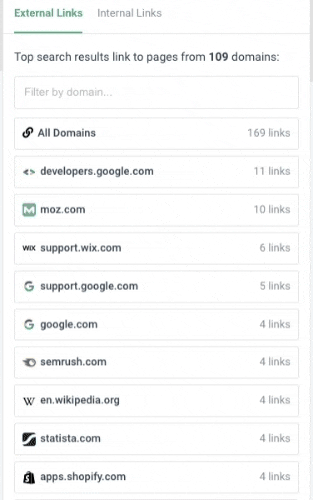 Import Content
Frase lets you import your content templates into the Document content editor—whether self-made or from Frase templates.
You can also import content from a URL into Frase.
These options are in the Content Brief and My Content top navigation tabs.

Click on the Import Template link at the top of your Content Brief editor to import a template.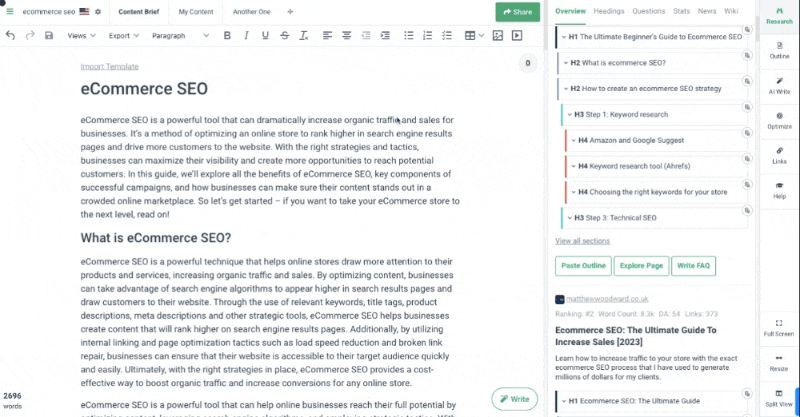 You can access the Import Content form by clicking Import Content from URL in My Content.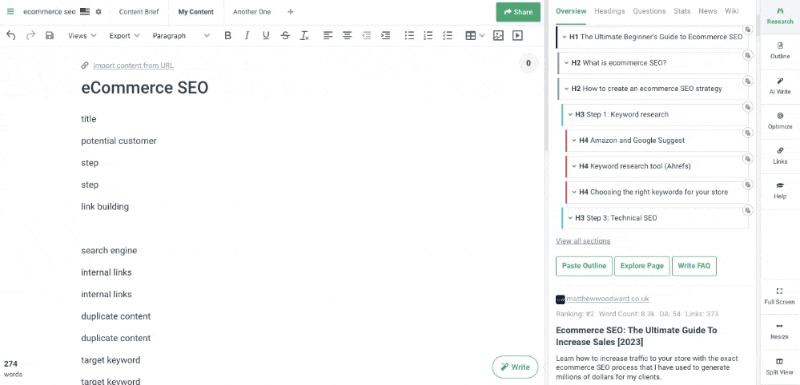 This feature lets you import content from a published page. You can then edit, optimize, and finally publish the improved version.
Frase Content Editor and Document Navigation
The editor offers many helpful tools for your content creation.
You can create multiple versions of your content in one place by clicking the plus icon. This feature is useful if you want to compare AI-generated content with yours or with new updates to your article.

The editor provides full control over writing and editing. It supports rich text, videos, images, and tables.
You can export your data as PDF, HTML, or copy it to the clipboard. Additionally, you can export SERP data to Excel.

To return to your documents page, create new documents, control document versions, and change document settings, click the burger menu icon on the top left-hand side.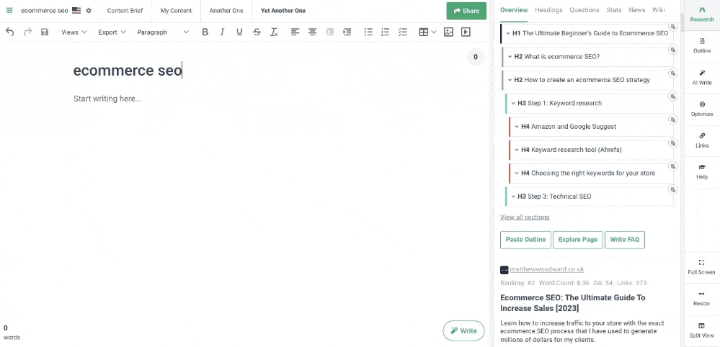 Templates
Frase offers a wide range of pre-built content templates and allows you to create yours from scratch.
Pre-built templates cover:
Listicles
Beginner guides
Content briefs for external writers
Service pages
Comparison
The list of templates doesn't end here. You can find a template for any kind of content you want to write.
When you select a template, you get an overview with tips on how to write in that style. The image below shows an example of a listicle template.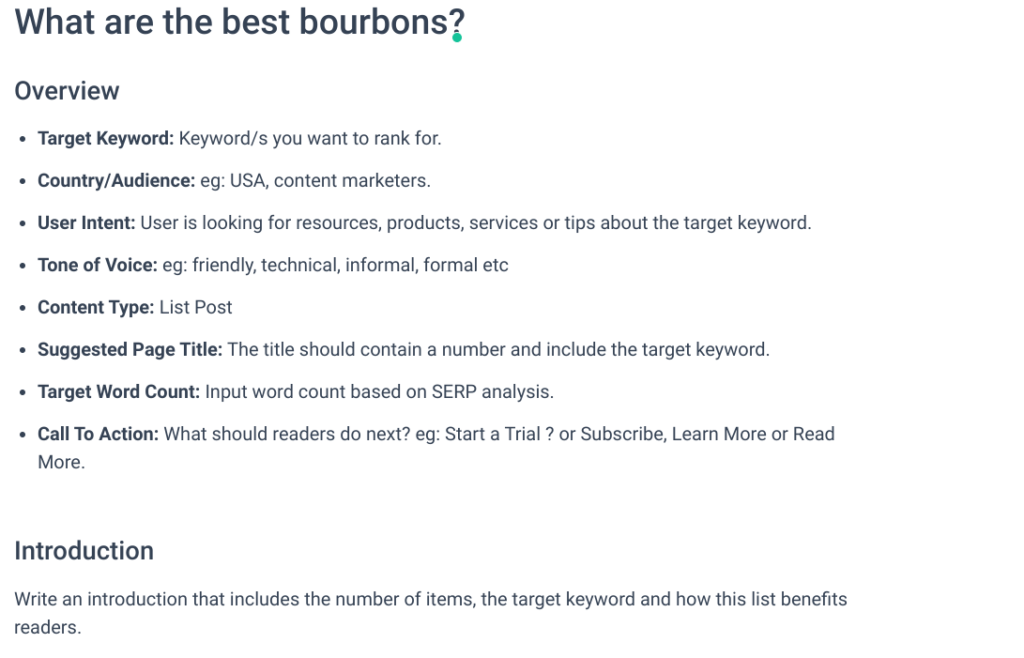 Here's another one for the 'best of' templates.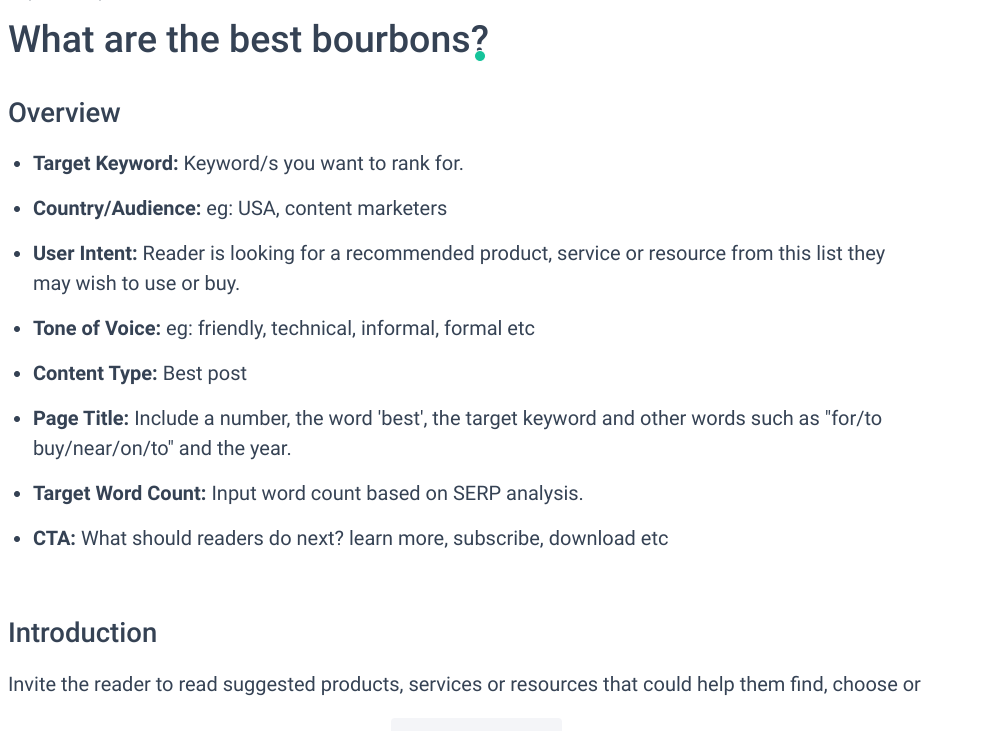 At first glance, the two templates appear the same. However, the differences are subtle because we used the same topic for two templates.
Here are the differences:
User intent: For the listicle template, the audience is mixed. So they may have informational or commercial intent. It says users seek resources, products, services, or tips about the target keyword. But the best-of template has a clear commercial since readers are searching for products or services to buy.
Content type: list post for the listicle template and best post for the best-of template.
Page title: The listicle title should contain a number and the target keyword. The best-off template suggests including the word "best," a number, and other words like "for/to/buy/near/on/to" and the year. 
CTA: the listicle template suggests informational CTAs like "Read more", but the best-of template uses commercial-intent CTAs only.
As you can see, the information presented changes as you change the template.
Frase's pre-built templates are a great option if you need to create many templates quickly for your team. However, if you have time to create your own, you can do it in the editor. In addition, you have the option to save this new template for reuse.
AI Tools
We've mentioned AI tools in various parts of this guide, like documents, content writing, and outlines. But Frase also has a dedicated AI tools section with extensive capabilities beyond creating unique copy from scratch and rewriting existing copy.
These tools offer AI for title suggestions, meta descriptions, featured snippets, ideas generators, and other AI automation features.
When you click the AI Tools tab, you'll see there's a lot to choose from, including these:
Generating blog titles
Bullet points to answers
How-to's (numbered lists)
Listicle ideas generator
Blog introduction
You'll find a range of AI tools for completing different content tasks. These tools fall into eight categories, namely:
Marketing
SEO
Long-Form
Q&A
Marketing
Rewrite
Shorten
Social
Browse these categories to find the tools you need for any content task. You can also access AI tools contributed by Frase community members or create custom tools.
Alternatively, use the search box on the page to find tools.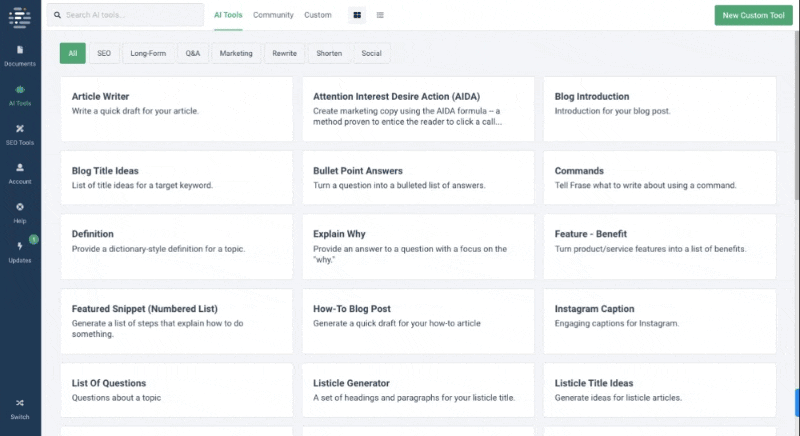 You'll appreciate that Frase provides easy access to AI tools in the Document section. This access allows you to use these tools for content creation while writing. But still, having a dedicated section of the software to see all the tools is also handy.
Integrations
Frase integrates with WordPress and Google Search Console. It also provides a Google Docs add-on.
These integrations let users link their content to WordPress and Google Docs and take advantage of the Google search data from GSC.

Generate an API key to connect Frase data to other data sources. This key comes with robust API documentation to help you understand how to use it.

Free tools
Free doesn't offer free accounts or free trials, but you can use any of its free tools to understand what the software can do for you.
The issue, though, is Frase restricts you to one use per day. And our tests show that these free AI tools don't reflect the quality of the paid option—the paid solution is noticeably better.
For instance, the content we generated with the AI content generator that's supposed to produce a list of the top Magento agencies in the US has names like Shopify and ElegantThemes. Those are not even development agencies.
Let's look at these free tools.
AI Content Generator
You'll find two AI content generators on the tool's page.
Listicle generator: Gives you a list of subheadings and paragraphs for listicle content types. Just provide a title, and Frase gets to work.
For example, in the image below, I put in "Top 10 Magento development agencies in the USA."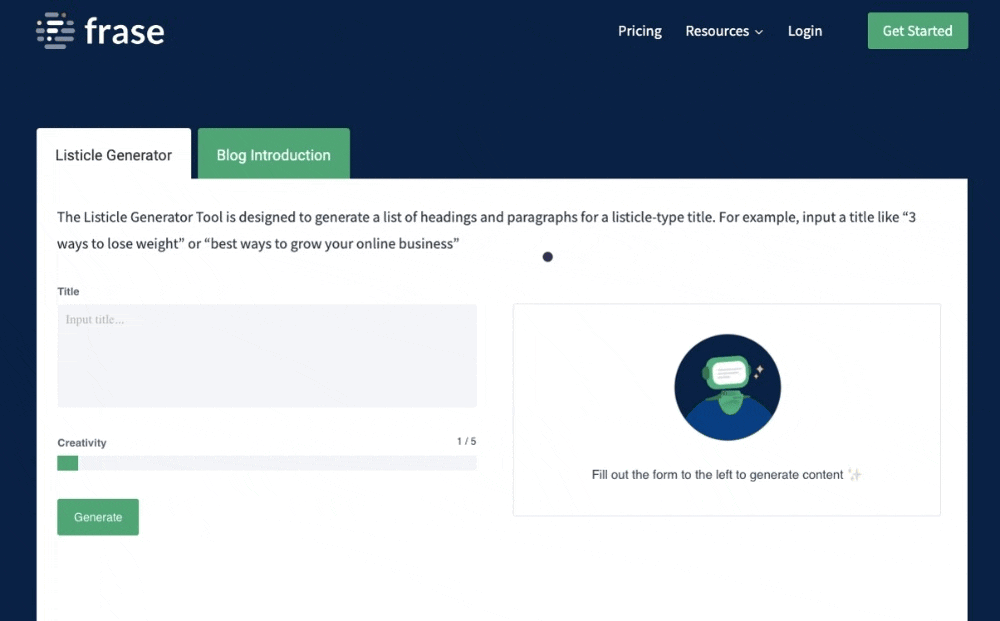 Blog introduction:
This free tool helps you generate an introduction for any blog title you provide. Unlike the listicle generator, this tool performed better and produced no false information.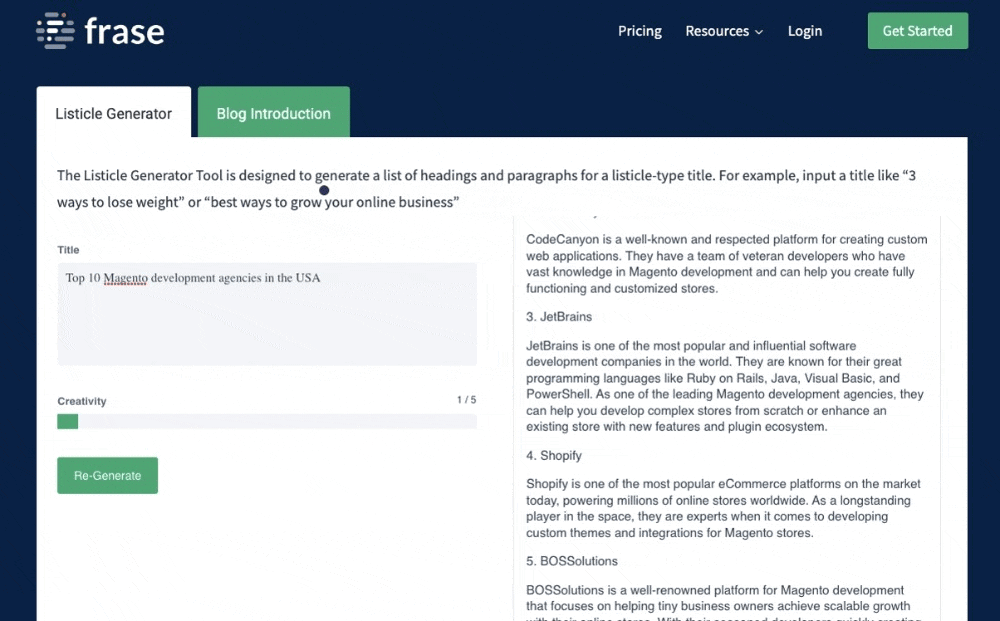 Introduction Generator
This free tool appears to be dedicated to the introduction generator. It performs the same task as the blog introduction tool.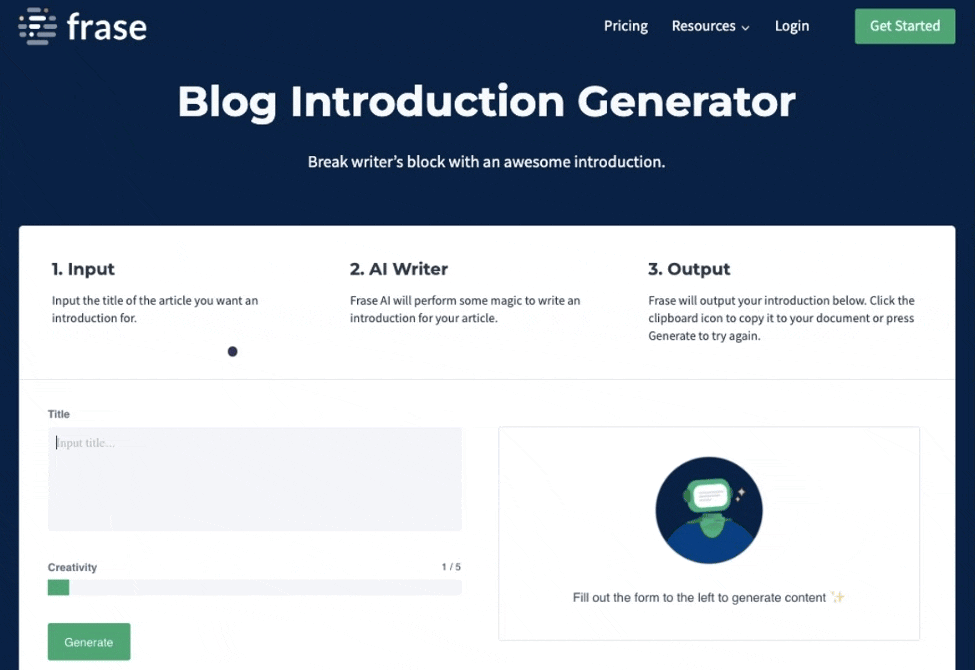 Outline Generator
This free tool helps you generate blog outlines for your content. Simply enter a title, and it'll generate an outline.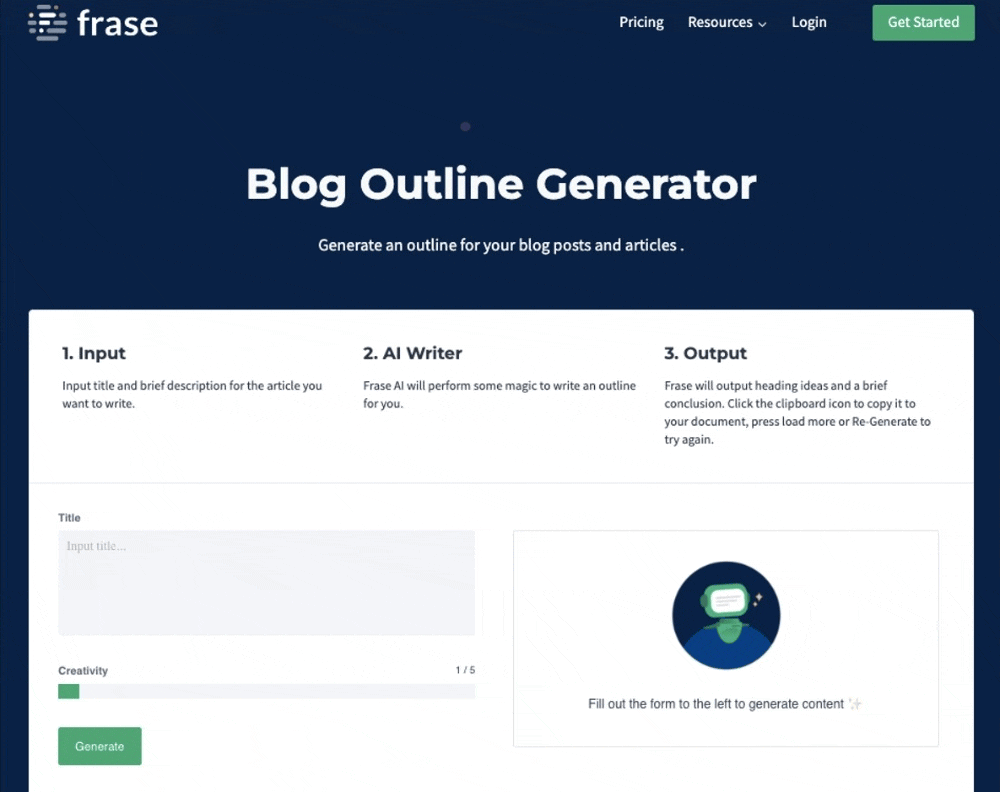 Paraphrasing Tool
This free AI paraphrasing tool helps you rewrite paragraphs and sentences. Copy and paste your text into this tool, and it'll paraphrase it.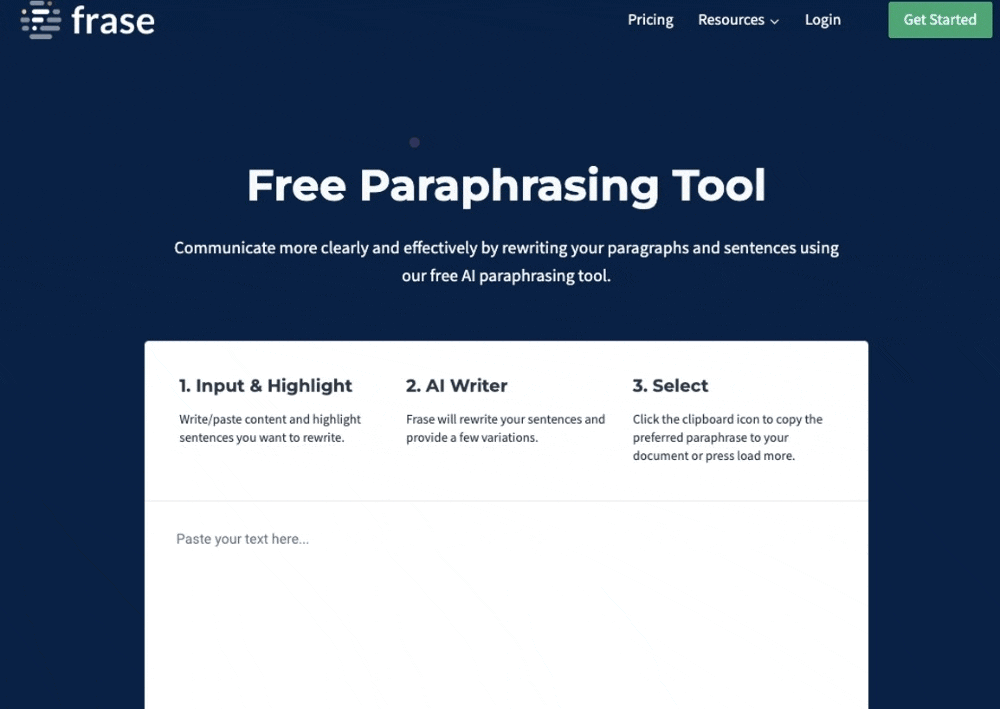 Paragraph Rewriter
The paragraph rewriter tool is slightly similar to the paraphrasing tool, but the former lets you set a tone for the content before you generate it. So, you'd copy and paste the paragraph you want to rewrite, set a tone, and generate it.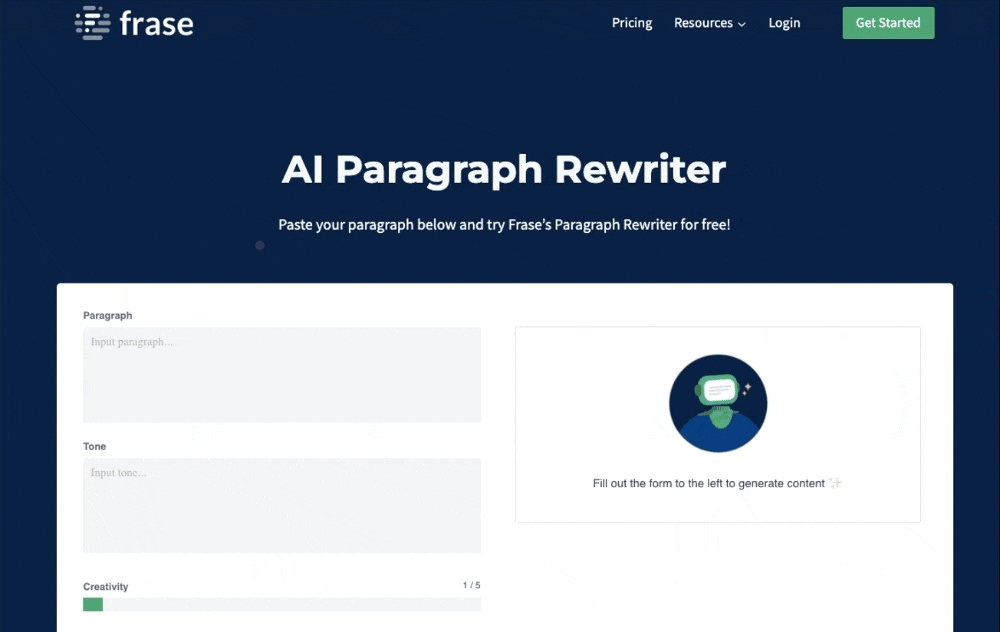 Blog Title Generator
This free tool will help you generate ten blog title ideas based on any keyword you enter into it. So enter your keyword and click Generate.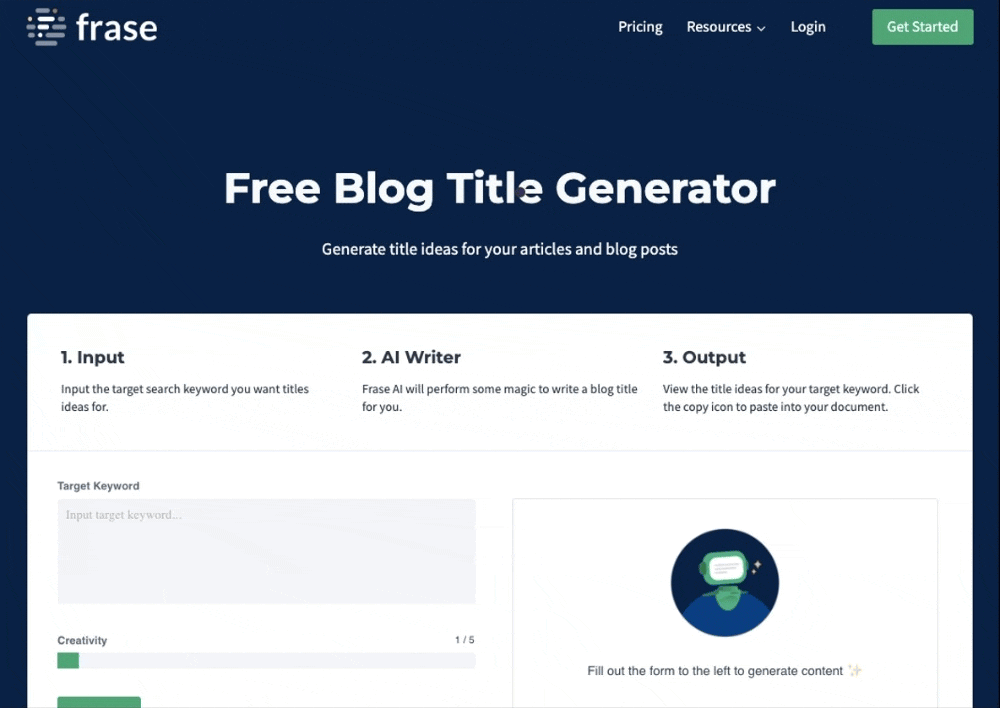 Meta Description Generator
This free AI tool lets you generate up to seven meta descriptions for your content. Enter an article title and keyword, and click the green Generate button.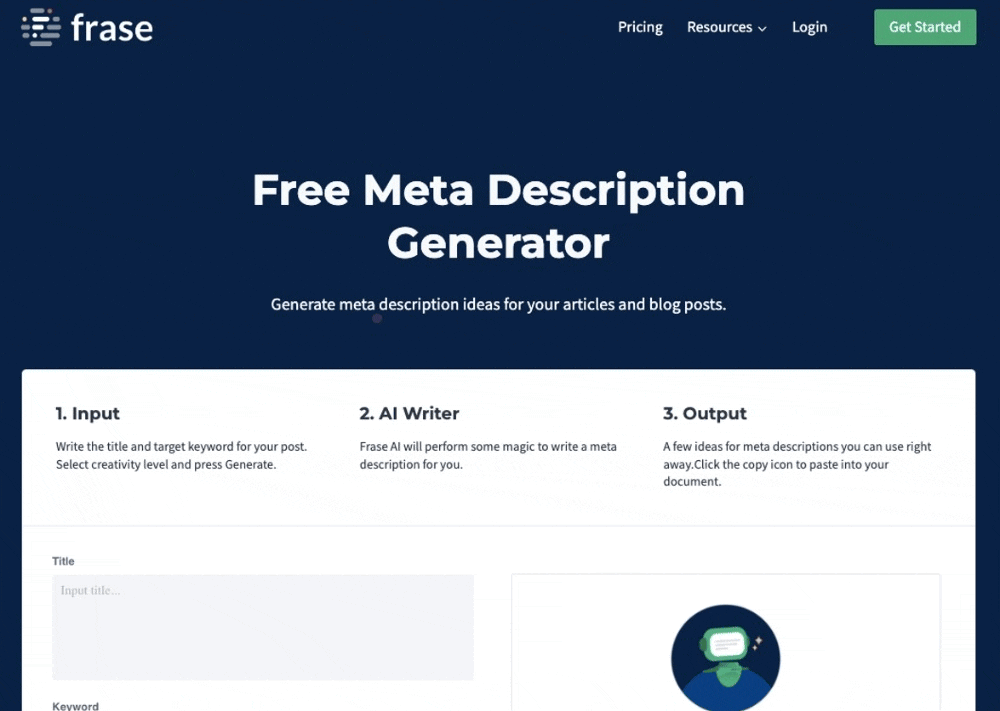 People Also Ask
Discover questions your target audience asks on Google search. Unfortunately, the tool didn't work as we expected when writing this post.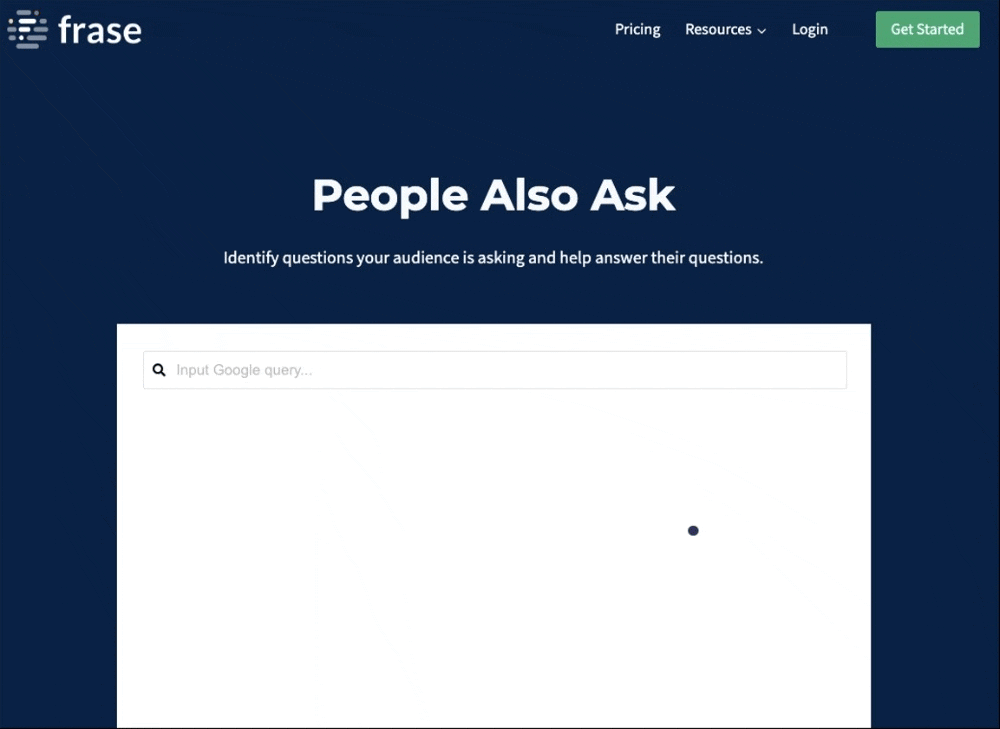 Product Description Generator
You can write product descriptions for your eCommerce stores using this tool. Enter your product name and keyword, and click Generate to create your product description.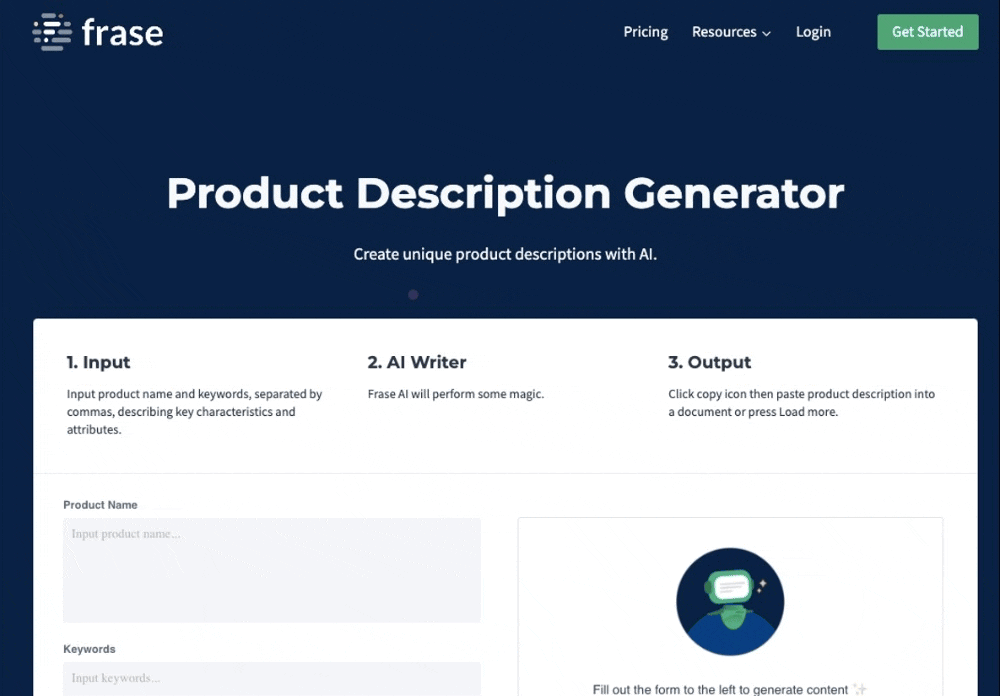 Slogan Generator
This slogan generator is a branding tool. It's also probably the favorite of the tools on this list for delivering a high-quality slogan based on a product description.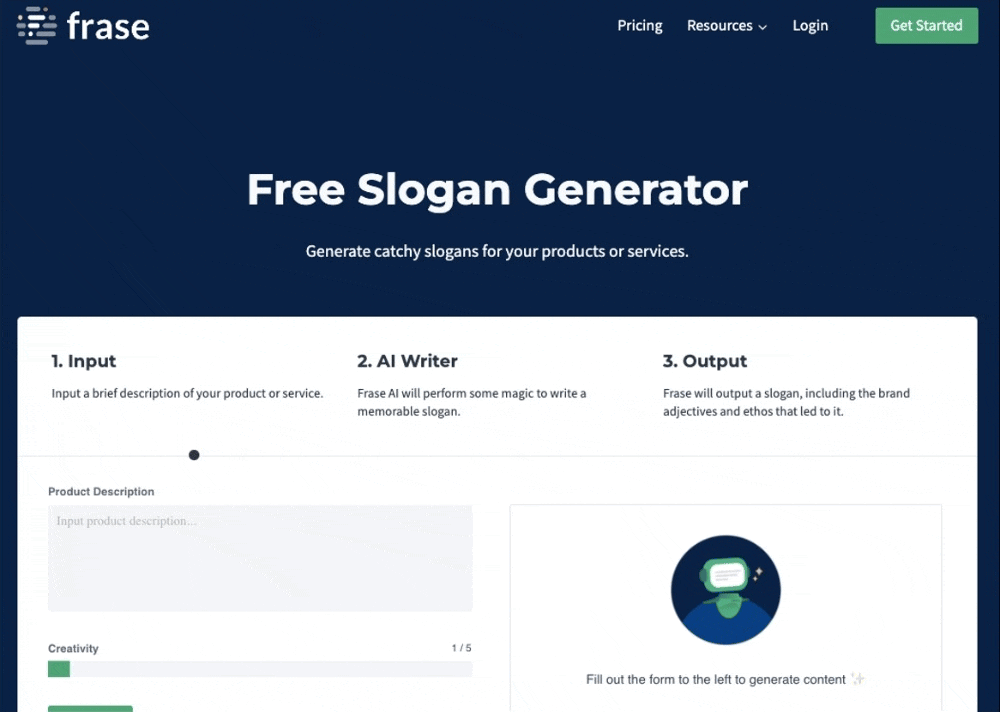 So, you'll give it your product description, and it'll come up with your product attributes, ethos, and slogan.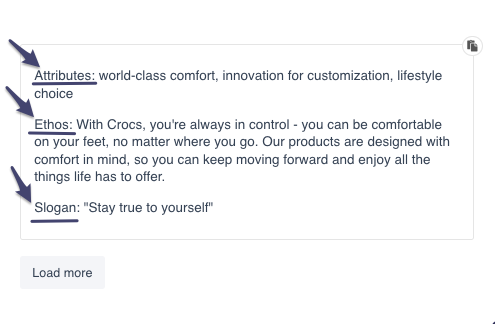 Summary Generator
The summary generator lets you generate a summary of your article. Enter your article's title and body, and this tool will generate a summary of the article for you.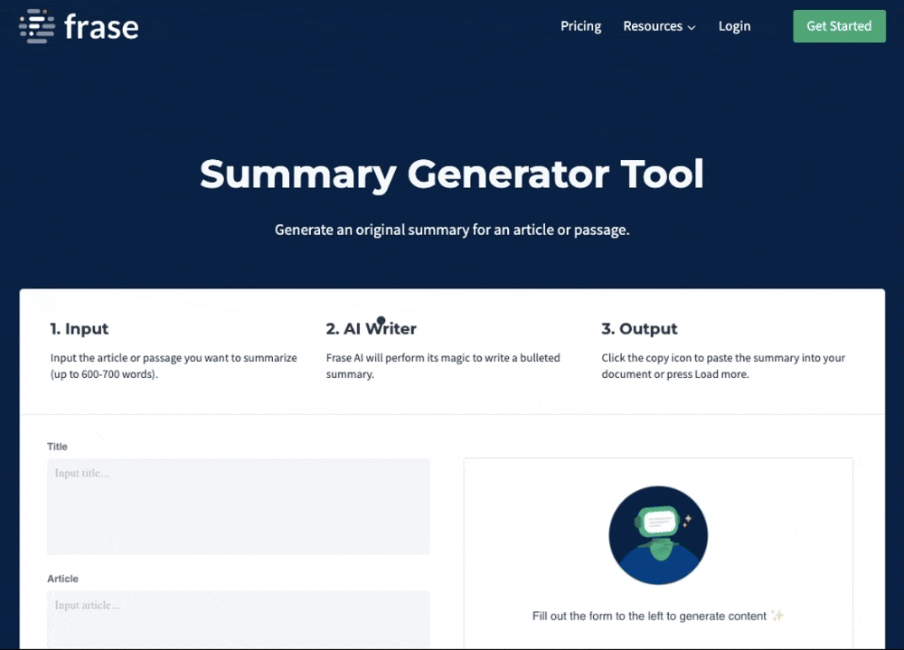 Value Proposition
This free branding tool from Frase helps you communicate your value proposition to your customers. Enter your brand name and the problem you solve; this tool will generate your brand proposition.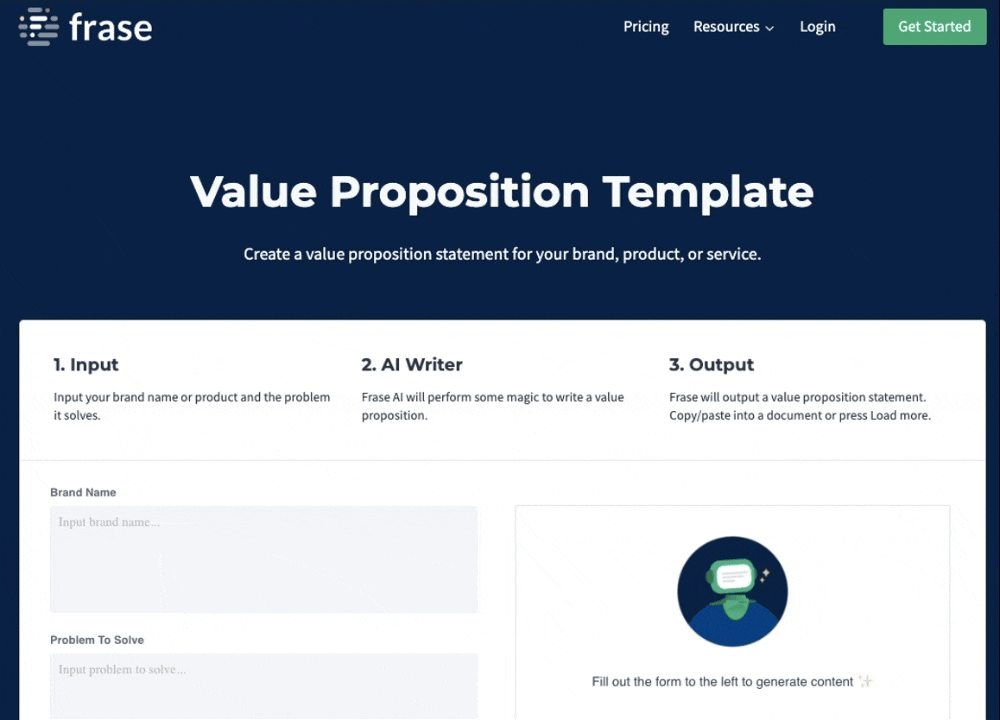 Sentence Rewriter
This free sentence rewriter tool helps you rephrase any sentence in seconds without plagiarizing. Paste your sentence and choose from the different tones available, including formal, conversational, informal, creative, and neutral.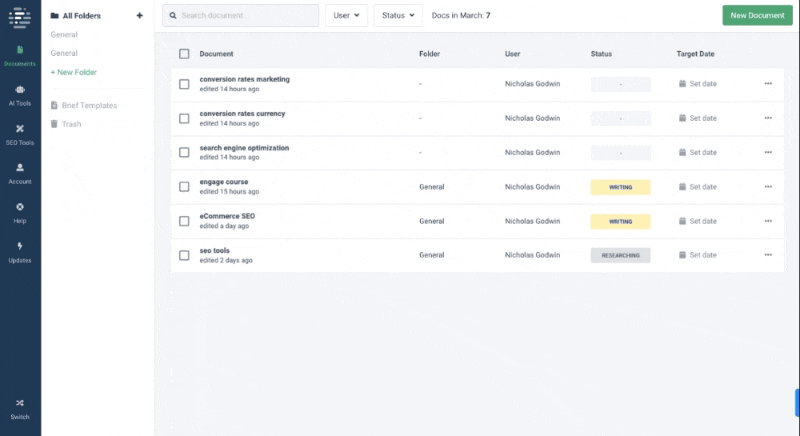 Design / UX
Frase's design is clean and intuitive. It has a similar look to popular content editors and SEO tools, such as Google Docs, WordPress's Gutenberg editor, and SurferSEO. This makes it easy to use, even for beginners, with minimal learning required.
Navigating the interface is straightforward. You can find features and tools within its Document area.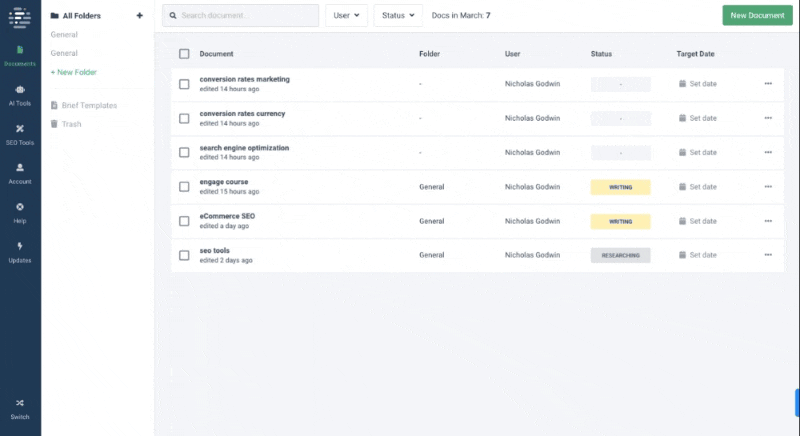 You can use documents in full-screen, split view, or resize them to a custom dimension.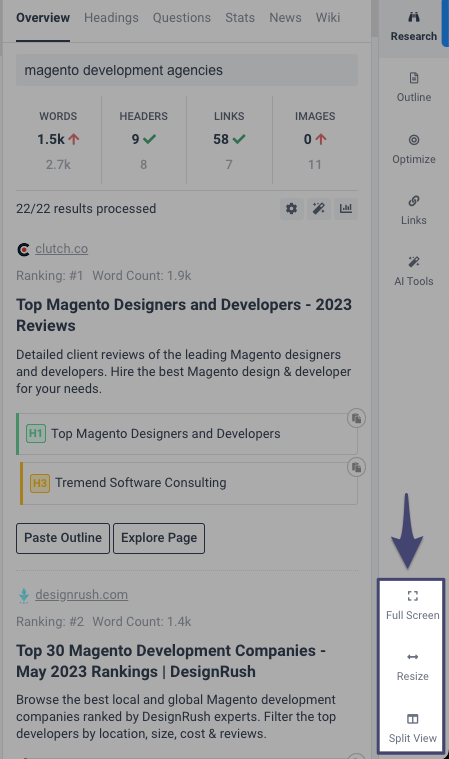 You can use the filter in the AI Tools section to find and access your add-ons.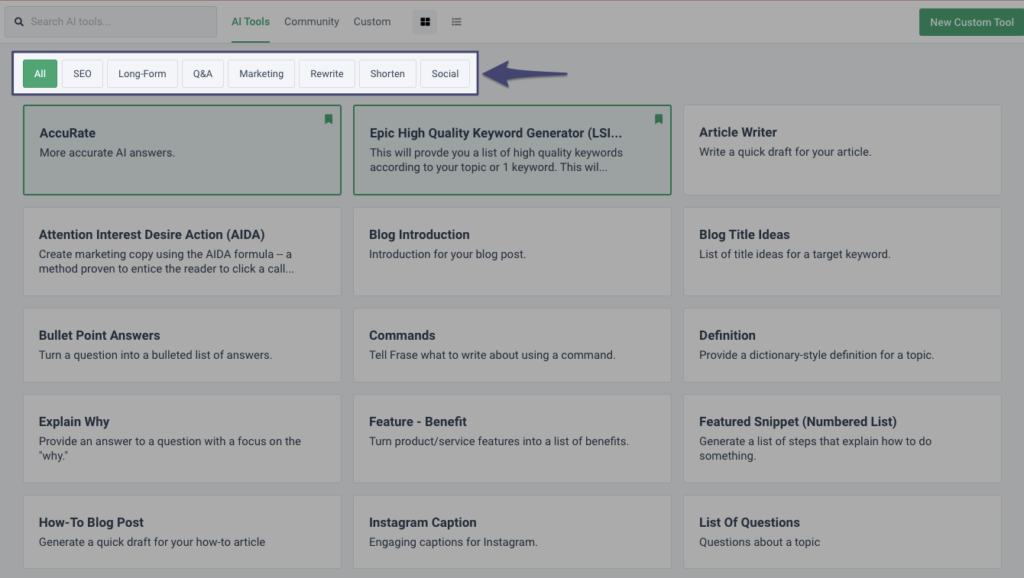 And you can search for your add-ons using the search box.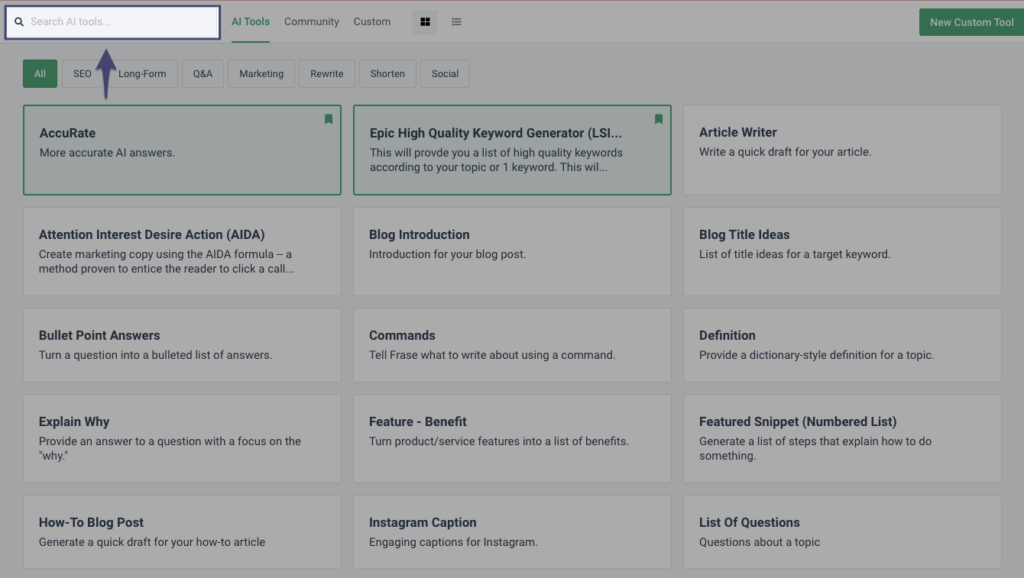 You can access the New Document button anywhere in the tool to create a new document.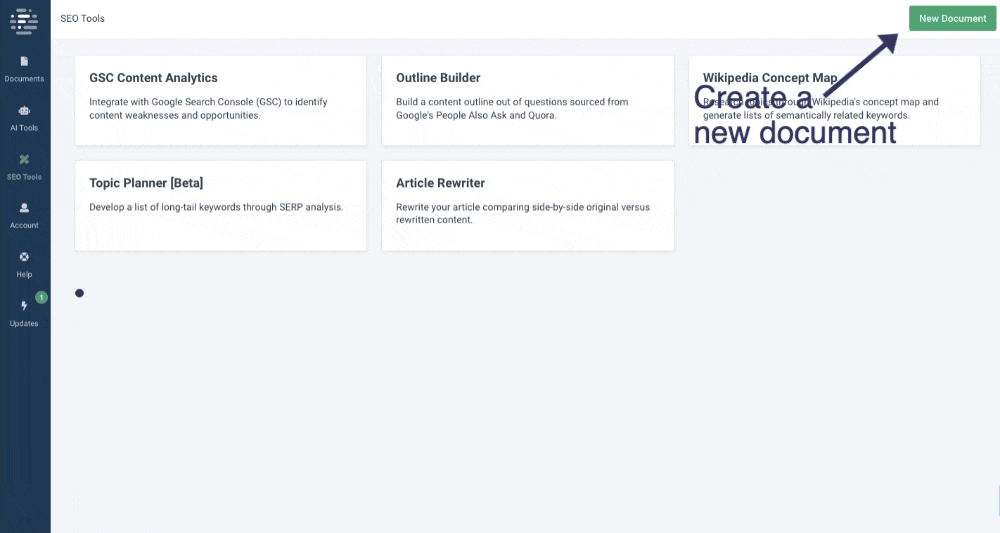 Also, the Documents feature has an intuitive layout, so you can access and use its tools easily. You can find all five document tools on the extreme right-hand side of your screen.

Click the tools to access and use their subfeatures in the middle column.

Frase has a feature-reach WYSIWYG editor. Above the editor, you'll find document management options to share, create, select, and change settings for your documents.

The text editor area hosts imported content outlines and text elements from Document features like Research, Outline, and Optimize. You can also write and edit your content in that section.
The accounts section helps you manage your subscription, teams, login, integrations, and API.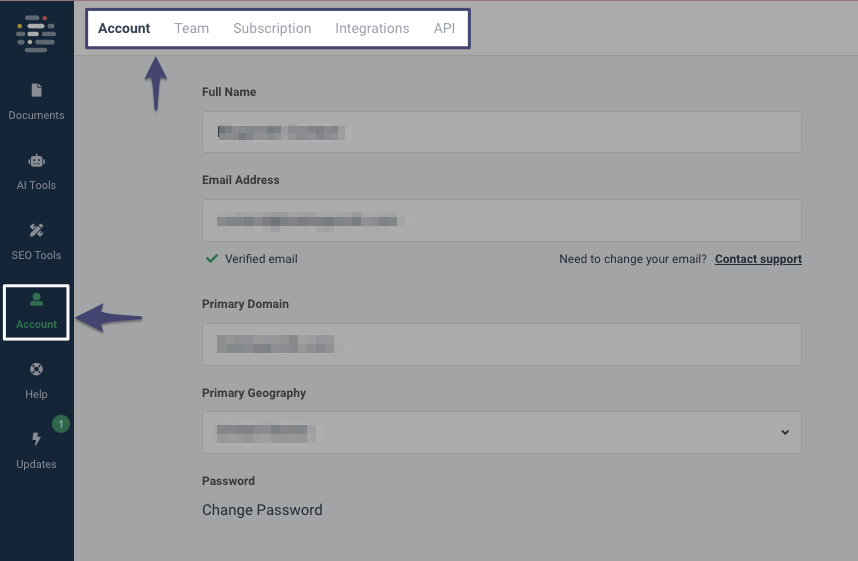 Frase offers an exceptionally pleasant and user-friendly design and experience. Apart from the minor glitches we found while navigating the app, this is one SEO tool you want to try.
Customer support
Frase offers a variety of ways to get in touch with their customer support:
Contact form
Social media
Live chat
Email
We tried their live chat response time during afternoon hours. However, it was set to away.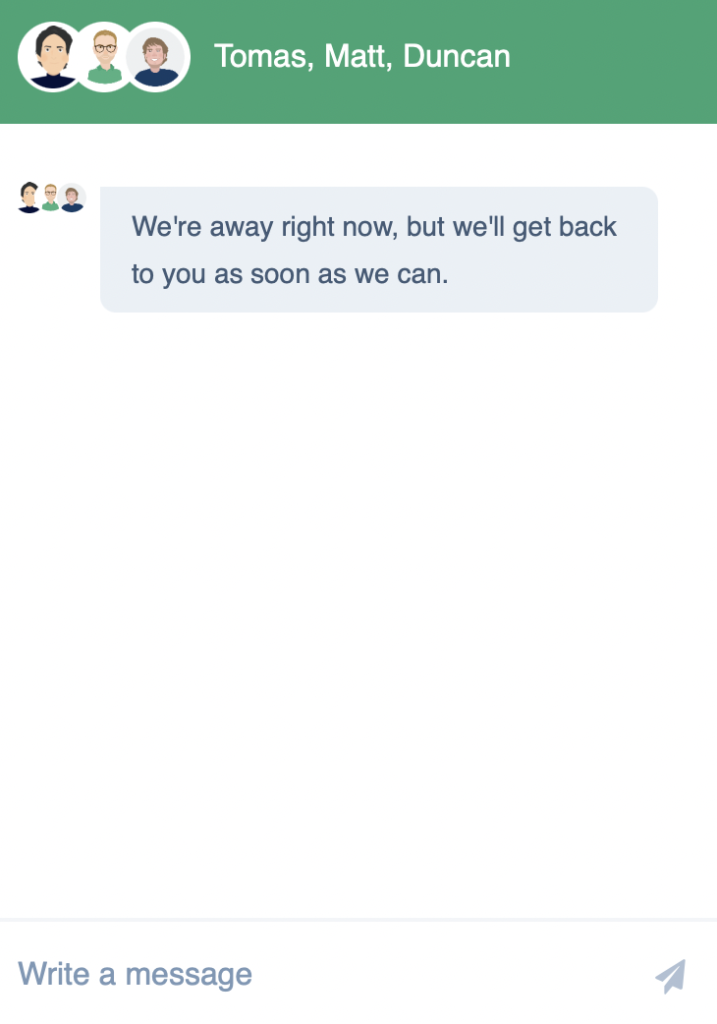 They also have weekly live demo dates. These are sessions that anyone can join to learn more about how to use and navigate Frase. If you're unavailable for the specified dates, you can request a copy via email.
Frase also offers a range of video tutorials, from the basics to how to use each of their features.
Pricing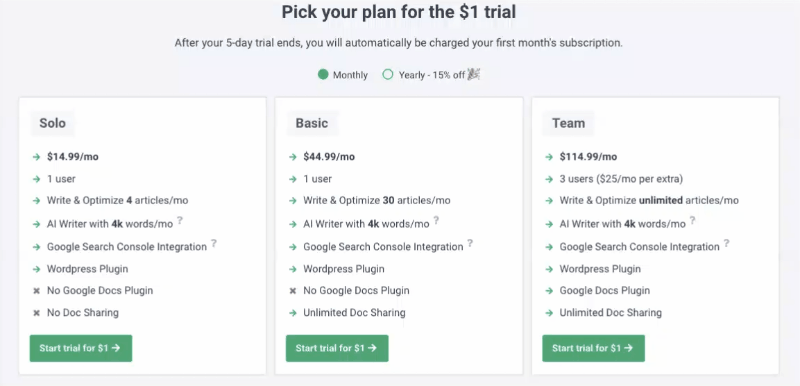 Frase allows you to explore its features for five days for $1.
But before we go into each plan, let's first explore what you'll get with the tool, irrespective of the pricing plan you choose.
Features
Functionality

Content Briefs
– AI-powered content brief generator
– Create full briefs in six seconds
– SEO-optimized briefs

Content Scoring
– Create perfect articles
– Score content against competitors
– Real-time content optimization score
– Instant content optimization feedback

Content Editor
– Create perfect articles
– Score content against competitors
– Real-time content optimization score
– Instant content optimization feedback

Share Documents Easily
– Read-only and editable document sharing
– Collaborate with both Frase team members and non-members
– PDF, Excel, and HTML file export formats
– Copy to clipboard
Project Status Settings
– Enable team members to update project status
– Track assignments completion

Team Project Folders
– Google Docs add-on
– Easy-to-use word processor
– Discover related keywords
– Compare content keywords with top competitors
– Originality scoreSERP metric visualizer

Google Search Console
– Multiple GSC accounts integration
– Site-wide content analytics
– New keyword discovery opportunities
– Organic growth tracking
– Data export in Excel format

Custom Templates
– AI writer customisationCreate and save templates

Outline Builder
– Seamless outline creation
– Autosuggest keywords
– Related questions discovered from Google and Quora
– Estimated search volume
– AI draft
Frase pricing plan differentiators
Frase offers three pricing plans. You can pay monthly or annually. However, the annual plan saves up to 15% yearly.
| Features | Solo | Basic | Team |
| --- | --- | --- | --- |
| Pricing Plans | | | |
| – Monthly Plan | $14.99/mo | $44.99/mo | $114.99/mo |
| – Annual Plan | $12.66/mo | $38.25/mo | $97.75/mo |
| User Seat | 1 | 1 | 3 ($25/mo per extra) |
| Write + Optimize | 4 articles/mo | 30 articles/mo | Unlimited |
| Generate AI words/month | 4,000 | 4,000 | 4,000 |
In addition to these pricing plans, Frase offers a $35 monthly add-on that allows you:
Access the monthly search volume of keywords in the content outline
See backlink data for the top search results
Unlock unlimited access to the AI writer
Is pricing fair?
Frase's pricing is fair compared to other SEO tools offering similar solutions.
But, when you factor in the add-ons—which are pretty beneficial—Frase becomes much more expensive. For instance, the add-ons would almost double your monthly cost if you choose the most basic subscription.
Frase vs Scalenut
So, if your business needs more than 4,000 AI words monthly, you will need to pay for the $35 monthly add-on or opt for alternatives like Scalenut.
| Features | Frase | Scalenut | Notes: Frase vs Scalenut | Winner |
| --- | --- | --- | --- | --- |
| Keyword research | ✔️ | ✔️ | Frase lacks a native keyword research tool. But you can get an add-on to help with this task, so you'll have to pay for this as an extra feature. Also, Frase integrates with Google Search Console to show you keywords you already rank for.But you get this feature with Scalenut. It also lets you discover relevant NLP terms for your content. | Scalenut |
| Backlink data | ✔️ | ✖️ | Frase lets you see backlink data for top search results. But you don't get this with Scalenut. | Frase |
| AI writer | ✔️ | ✔️ | Both tools have a built-in AI writer. However, you can only generate up to 4,000 AI words with Frase monthly, while Scalenut allows unlimited AI words. But you can get unlimited AI words on Frase for an additional $35 monthly. | Scalenut |
| Content briefs | ✔️ | ✔️ | You can generate content briefs with Frase and Scalenut. But the number of briefs you can create with both tools is unclear. | Draw |
| Integrations | ✔️ | ✔️ | Frase integrates with Google Search Console, Google Docs and WordPress. But you can connect Scalenut to WordPress, Copyscape and SEMrush. | Draw |
| SEO Articles | ✔️ | ✔️ | Both tools let you write and optimize articles. However, you get up to 150 monthly with Scalenut, unlike Frase, which allows unlimited articles. | Frase |
| Templates | ✔️ | ✔️ | Frase allows you to create custom templates. But Scalenut comes with over 40 built-in templates. And you can use most of them for free. | Scalenut |
| Content Editor | ✔️ | ✔️ | Both tools have a content editor. But Frase integrates with Google Docs, allowing you to use Frase on the popular content editor. | Frase |
| Languages | ✔️ | ✖️ | Frase supports over 20 languages, while Scalenut allows you to generate content only in English. | Frase |
| Users | ✔️ | ✔️ | Frase and Scalenut allow multiple users. But you can add up to three users to your team against Scalenut's one.Also, Frase requires you to pay $25 monthly for an additional seat, while Scalenut takes $45 monthly. | Frase |
| Live chat | ✔️ | ✔️ | You get live chat support with both tools. However, a bot runs Frase's live chat, while a human and a bot handle that of Scalenut. | Scalenut |
| Knowledge base | ✔️ | ✔️ | The two platforms have a helpful knowledge base. | Draw |
| Both tools let you write and optimize articles. However, you get up to 150 monthly with Scalenut, unlike Frase, which allows unlimited articles. | ✔️ | ✔️ | Content optimization | Draw |
| Browser extension | ✔️ | ✔️ | You can download both extensions on the Chrome Web Store. | Draw |
| Content analytics | ✔️ | ✔️ | Frase has an analytics feature that lets you track content performance and find new opportunities. You can get this feature on Scalenut by creating an SEO report. However, Frase's content analytics is more comprehensive and far-reaching. | Frase |
| Plagiarism checker | ✔️ | ✔️ | Frase has a native plagiarism checker, but Scalenut integrates with Copyscape to provide this capability. And unfortunately, you'd need a higher pricing plan to access this feature. | Frase |
| Social listening | ✖️ | ✔️ | Unlike Scalenut, Frase doesn't have a social listening capability. | Scalenut |
| SERP analysis | ✔️ | ✔️ | Frase and Scalenut have a built-in content editor that lets you optimize your content as you write it. | Draw |
| Keyword clusters | ✔️ | ✔️ | Both tools allow you to cluster your keywords to gain insights to improve your content. | Draw |
| Free tools | ✔️ | ✔️ | Frase and Scalenut offer free tools. But with Scalenut, you can access up to 46 free tools, unlike Frase, which offers 13. | Scalenut |
| API | ✔️ | ✖️ | You can get API access with Frase, while Scalenut doesn't support this feature. | Frase |
| Above average G2 rating | ✔️ | ✔️ | Frase has a 4.9 out of 5-star rating from 284 reviews, while Scalenut has 4.7 from 257 reviews. | Frase |
Frase beats Scalenut in the apple-to-apple comparison above.
However, deciding on a tool based on this might lead to an uninformed decision. So, here, we examined each tool more closely to uncover areas where they have a clear edge.
Frase unique selling points
Let's explore some areas where Frase shines:
The tool lets you uncover the backlink data for the top search results, providing insights into backlink opportunities.
You can create unlimited SEO articles with Frase, allowing you to save up to $25 per hour from hiring freelance writers.
Frase integrates seamlessly with Google Docs.
Multilingual support means you don't have to pay for another AI tool when your business expands into new territories.
You can add up to three users to your Frase account.
Frase has a plagiarism checker, so you don't need to integrate it with another tool.
You get more robust content analytics with Frase.
Frase API access allows you to bring its capabilities into your application.
Scalenut selling points
Scalenut has some competitive edge over Frase. Let's look at some of them:
Paying for Scalenut means you don't have to invest in other keyword research tools.
You can create unlimited AI words with this tool.
You can access over 40 built-in templates to streamline your content workflow.
Scalenut's live chat support allows you to speak with a human.
The social listening feature lets you create valuable content for your audience.
This platform allows you to access 46 free tools.
Verdict: Frase vs Scalenut
Choosing between Frase and Scalenut can be difficult. But Frase offers more helpful features, making it a great choice if you need a versatile solution. It's also a good option for large teams, non-English-speaking customers, or those who need API access.
On the other hand, Scalenut is the tool to use if you're looking to produce AI content at scale. Unlike Frase, which only allows 4,000 words, it lets you generate unlimited AI words. But you need to pay $35 monthly for this feature, making it more expensive.
Moreover, Scalenut is ideal if you want to avoid paying for any keyword research tool. It also works better for agencies and large businesses.
Nevertheless, both tools have their own strengths in areas where the other has a clear advantage.
Frase alternatives
Besides Scalenut, Frase has other excellent alternatives. Here, we briefly explored ten, showing how they compare with Frase.
Content writing

Surfer SEO

This content optimization tool is for both individual and enterprise users. It has a built-in content editor that evaluates your content against important SEO metrics and gives you immediate feedback to improve your writing.

Content writing

MarketMuse

Marketmuse promises to save you over 11 hours of work. It automates your content creation process, increasing productivity and removing subjectivity from your content strategy. Furthermore, it natively supports keyword research, something Frase cannot offer.

All-in-one

SEMrush

The SEMrush SEO Writing Assistant is ideal for a small team. It provides comprehensive keyword analysis with access to an extensive database of over 23.1 billion keywords.

Content writing

Jasper AI

Jasper is a top-notch AI writing tool. Unlike Frase, it offers custom pricing, making it ideal for businesses that require a flexible and personalized AI platform. You can also choose a brand tone.
Plus, it provides API access, allowing you to integrate the tool with your application.

Content writing

Clearscope

Clearscope is an AI-powered SEO writing platform that integrates with Google Docs and WordPress for content creation. It offers a customizable solution and supports multiple languages.

Content briefing

Dashword

Dashword offers capabilities similar to Frase, such as a brief content builder, AI writer content optimization, and content monitoring. But it has more features. For example, you can add up to ten users to your team and generate bulk reports. Plus, Dashword lets you try it out for free without needing a credit card.

AI SEO tools

Page Optimizer Pro

Page Optimizer Pro is an excellent on-page optimization tool for SEO professionals. Affiliate marketers, freelancers and agencies. The tool has a content brief generator, editor, and Chrome extension. But Page Optimizer Pro lacks an AI writer.

Content briefing

Rytr

Rytr is an AI writing assistant designed for creating content at scale. It's perfect for individuals and businesses that need to auto-generate blogs, emails, and ad copies in over 30 languages. Unlike Frase, Rytr offers a free plan and integrates with Shopify.

AI SEO tools

Writesonic

Writesonic is a great choice for content teams with limited resources. The free plan lets you generate up to 10,000 AI words each month. Plus, you can access GPT-4 with this tool to support your content strategy. It also provides API access, a no-code AI chatbot builder and bulk processing capability.

AI SEO tools

Anyword

Anyword promises to boost your average conversion rate by up to 30%. It enables you to craft any kind of content, from blog posts to social media posts, ads, landing pages, and emails. Moreover, it provides real-time content scoring and analytics. Unlike Frase, Anyword lets you add unlimited users to your account. This makes it perfect for businesses and marketers with large teams.
FAQs
What are the benefits of using Frase?
Frase can help you build content outlines fast, find and analyze the top competitor content that ranks on the SERPs, and create content using pre-built templates and AI.
It can even help you rewrite content in its original language or simultaneously rewrite and translate content to other languages. Frase supports more than 20 languages.
Does Frase have a free version?
Frase offers 13 free features with limited capabilities, and you can access these free tools without signing up or leaving your email address.
However, if you want to access and test-drive the paid features, Frase allows you to try all its features for five days for only $1.
How do you optimize an article on Frase?
1. Go to Frase content analytics
2. Choose Pages
3. Use the quick-wins page filter
4. Click the plus sign (+)
5. Save and continue
6. Click the link to the document
7. Use the Optimize feature to optimize the content (see the guide in that section above).
Besides, Frase allows you to create outlines based on your primary keyword. You can optimize your article on Frase by using inspiration from the top-ranking pages for the keyword. Look at their headings, questions, stats, links, images, page structure, and word count.
How do you use Frase?
Frase helps with your content outline, writing, and optimization tasks. We've covered how you use each part of the tool in this Frase review.
Summary
Frase is an excellent all-in-one solution for developing briefs, crafting content, and enhancing existing content. Plus, it simplifies content creation, allowing you to produce more high-quality content in less time.
Despite the occasional glitches, it is almost ideal and would be a valuable resource for any SEO professional, whether alone or with a team of any size.
---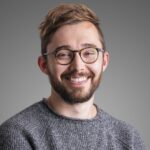 Sam Underwood
Sam is an international Ecommerce SEO Consultant with experience implementing enterprise-level SEO strategies.