MarketMuse review
Using AI and machine learning, Marketmuse is the tool to use to perfect your content strategy.
4

Publish date:

September 25, 2023

Author:

Sam Underwood
Visit site
---
---
Pros
The software reduces research and content optimisation time

Easy to navigate and use

Efficient customer support

It helps your content rank better than competitors and offers actionable steps for improvement

Free plan
Cons
Paid plans target only high-volume content creators

Longer than usual load times for queries and requests

The free plan only allows 15 queries and ten projects monthly

Some keyword recommendations are generic
---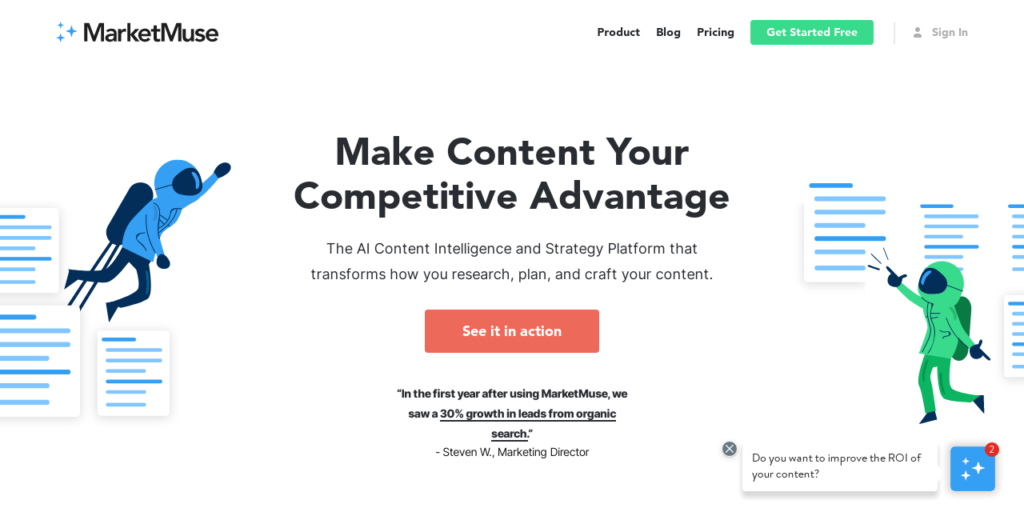 MarketMuse helps content creators, marketing agencies, publishers, and eCommerce brands maximise the value of their content strategies and pieces. The software uses its patented algorithms to scan online content and offer improvement suggestions.
We'll cover MarketMuse's best features, design, user experience, and areas needing improvement in this review. 
What is MarketMuse?
MarketMuse is a powerful SEO and content marketing tool that helps users create data-driven content in a short time. This software guides you in ranking your content on search engines and differentiating your that content from your competitors through advanced marketing strategies.
With insights from this tool, you'll learn how to optimize your web pages and build high-quality content.
MarketMuse uses its patented 'topic modeling technology' to improve search traffic by analyzing related web pages to identify opportunities and essential subtopics.
It shows you what to write about and why.
This software helps content creators discover hidden topics and competitors' strengths and weaknesses to increase their content investment return.
Overview of key features
MarketMuse helps users take care of keyword research, in-demand topics, competitor research, and other content optimization needs. The top features of this software include these:
Research – MarketMuse provides a complete list of terms and keywords to include in your content. You'll also understand the related topics you can cover in a specific subject.
Optimize – The software ranks your content against competitors, creates a content score to show areas of improvement, and suggests additional topics.
Plan – MarketMuse provides inventory items for you to plan and apply to your content. You can group topics, assign them to team members, set due dates, and more.
Brief – The platform uses AI-enabled processes to build high-quality briefs in less than 30 minutes. MarketMuse analyses content landscapes and uses advanced modelling systems to develop detailed outlines.
Compete – MarketMuse identifies top-ranking content with your primary keyword and highlights missing areas you can leverage to improve your content.
Questions – The software-related searches your audiences have done on search engines for that keyword. So you can answer these questions in your content.
Connect – MarketMuse suggests internal links to your content pages and connects the content you're working on to related published works.
Notifications management – You can manage notification preferences from the left sidebar.
Data export – MarketMuse lets you export your keyword research, competitor analysis, content plan, and data from the applications within this software.
On-demand content audit – MarketMuse Inventory automates your content audit and inventory processes.
Team features – MarketMuse supports easy collaboration with team members. You can organize topics with the platform's easily accessed plans.
Dedicated Account Management team – MarketMuse helps users manage their accounts and ensure everything goes smoothly.
Features
MarketMuse provides several tools to help you research, plan, and optimize your content. The platform divides its features into two categories:
Inventory – This section tracks your website's content and reports
Applications – Tools to research and plan your content
Also, comparing MarketMuse alternatives reveals that the software takes its AI-driven tools, including content plans, briefs, and other content marketing tools seriously.
Let's explore these nifty tools and features further.
Research
MarketMuse performs content research by analyzing thousands of websites and pages related to your search term. It then curates a list of related topics and sorts them according to relevance.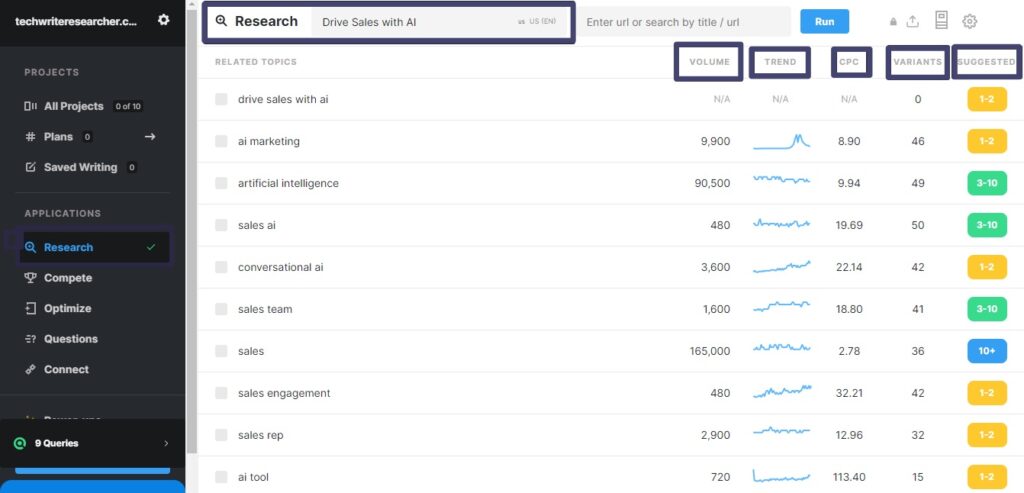 Entering a topic in the search box reveals a list of related keywords, variants, volumes, trends, CPC rates, and suggested distribution. This tool helps you find relevant topics to make your article or blog post comprehensive and in-depth.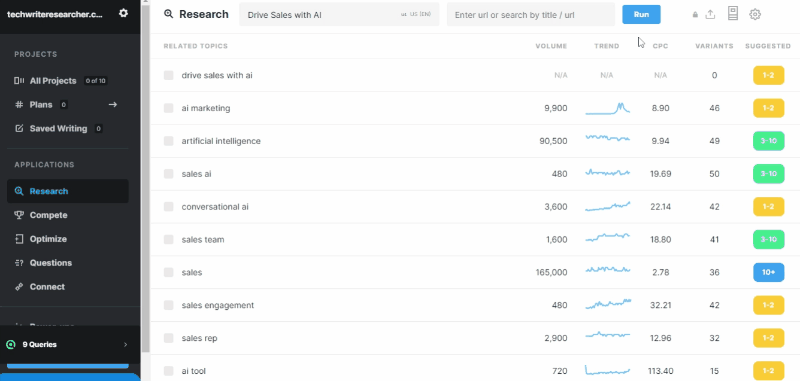 Optimize
After keyword and phrase research, MarketMuse helps you optimize your content to see how it fares against your competition. You can also use this tool to score higher for your specific search phrases and keywords on search engines.
The Optimize feature lets you improve the keyword optimization of existing pages by entering their URL and comparing them based on MarketMuse data.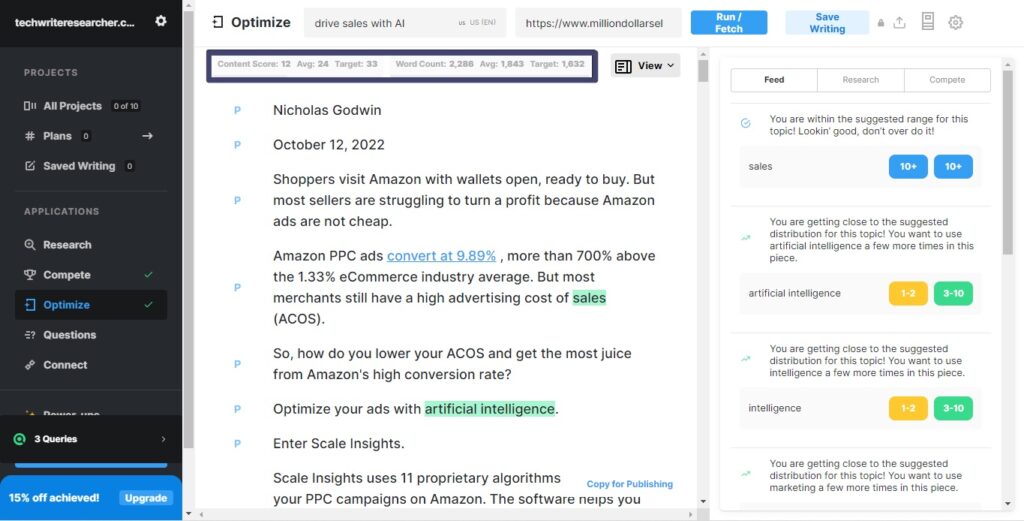 Your content score shows how often you use your target keywords in your content. Higher scores mean improved ranking chances.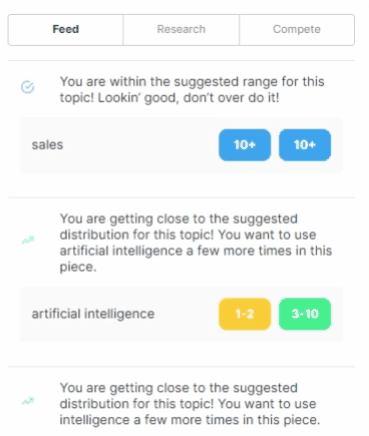 MarketMuse has now introduced ChatGPT integration for the Text Editor. This is available for all paid plans.
Users can simply highlight the text and click on the ChatGPT button to start enhancing their content using AI.
This feature might remind you of Clearscope, SurferSEO, or similar keyword optimization tools. Yes, they share similarities. However, unlike Clearscope, MarketMuse has no restrictions on how much content it can optimize.
Plan
MarketMuse helps users to plan their content strategies. This feature allows you to take action on one or more inventory items on your dashboard.
You can create new plans or delete old ones from the left sidebar under the project area.
This feature lets you set publication or due dates on your projects, get content briefs or assign items to team members.
Brief
MarketMuse analyses the top 10–30 Google search engine results and shows you how to replicate their strategies.
The software helps you create detailed outlines and briefs using data-backed processes and advanced modeling systems. It sets the direction of your article and includes
Target content score,
Subheading suggestions,
Related topics and questions to answer, and
Internal and external links.
You can also share the content briefs with anyone with a unique shareable link. Again, this process doesn't require a MarketMuse login.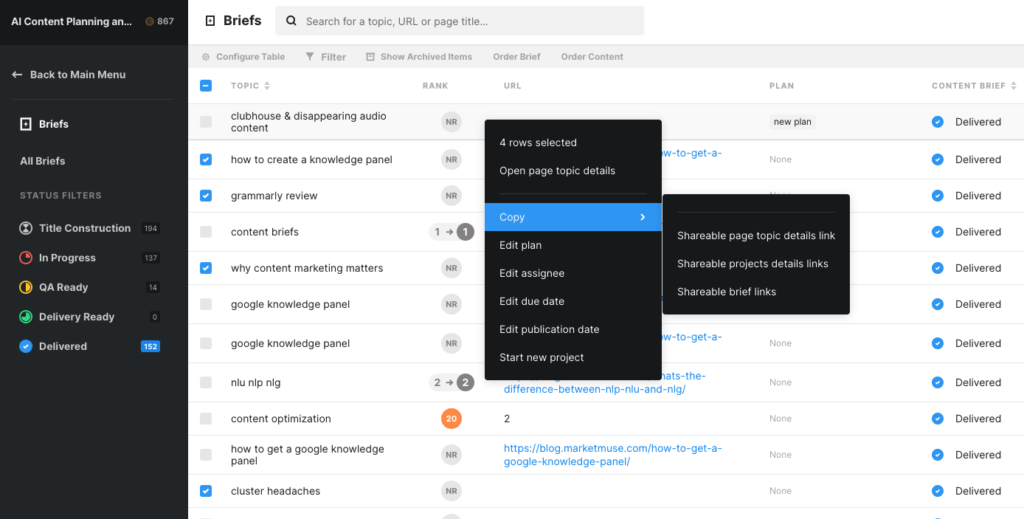 Compete
MarketMuse utilises a heat map approach to show how your competition approaches similar subjects and related topics. You can also see their content score, ranks, and how they compare to your keyword.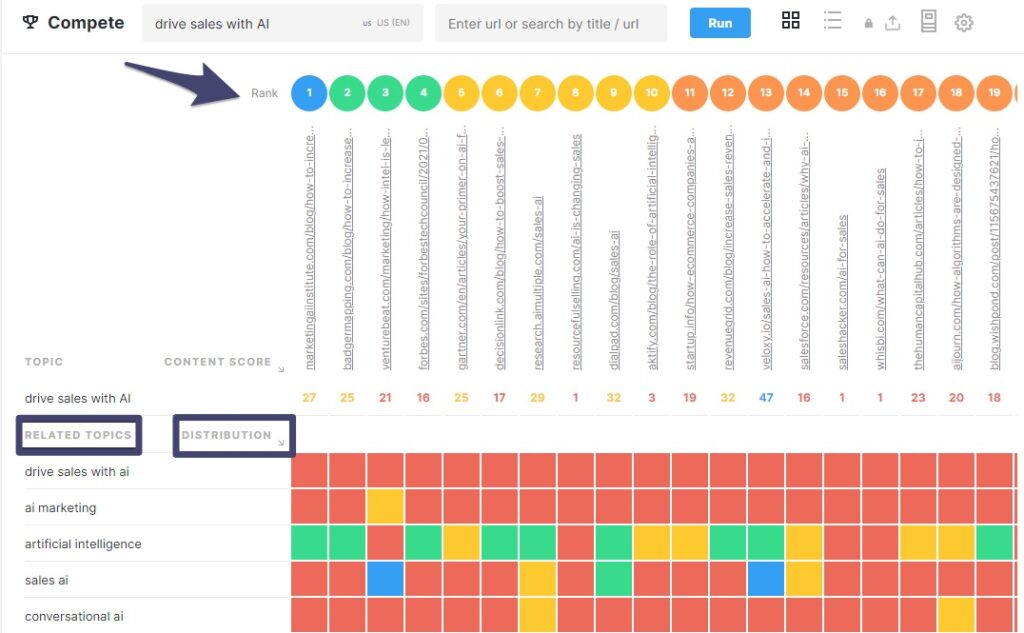 This tool helps you find gaps in your content by analyzing top search results for your targeted keyword. Now you can identify what subtopics or phrases to include in your content and how to structure your work.
The red boxes show topics your top competitors aren't covering—which means you can include them in your content to stand out.
Questions
This tool is handy because it shows you the top questions users ask search engines. It also suggests meaningful ways to include the answers to these queries in your content.
Once you enter a topic on MarketMuse and run it, the software reveals related questions and sorts them according to relevance.
You don't need to answer all the questions in your article. Instead, incorporate your answers to the top queries throughout your content.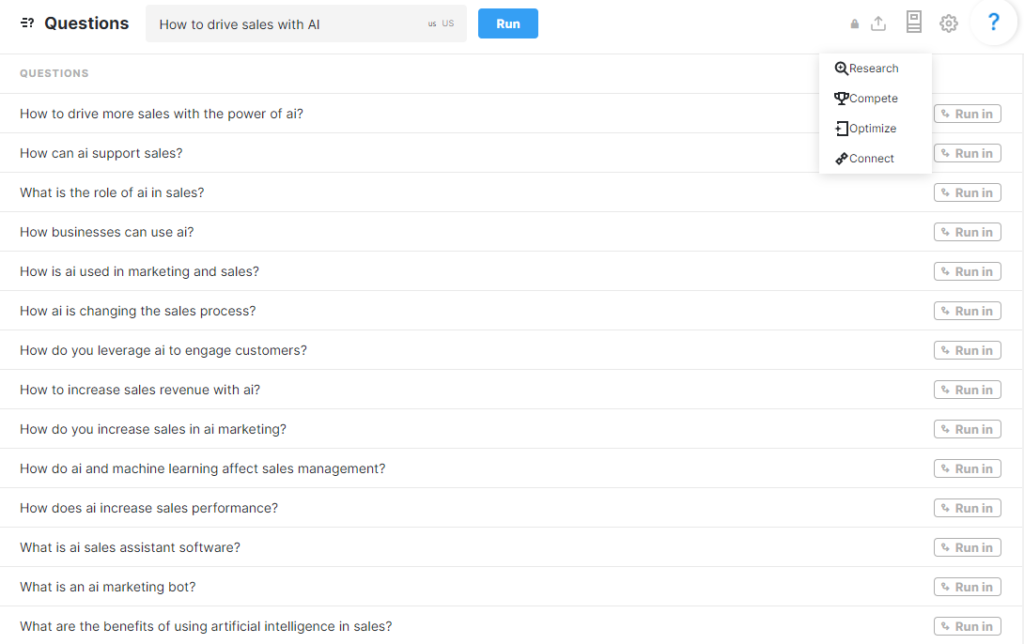 Choosing multiple questions to answer in your content only works when they are closely related.
Another SEO tool, Frase, has a similar Question-driven content strategy but lacks the necessary workflows to improve your content strategy and planning. That's where MarketMuse outshines Frase.
Connect
MarketMuse provides linking recommendations based on your search topics.
The connect tool has four tabs with different anchor text/link suggestions.
Internal links to content on your website
External links to content on other websites
Competition links to your competitors' sites
Network links to content on websites you control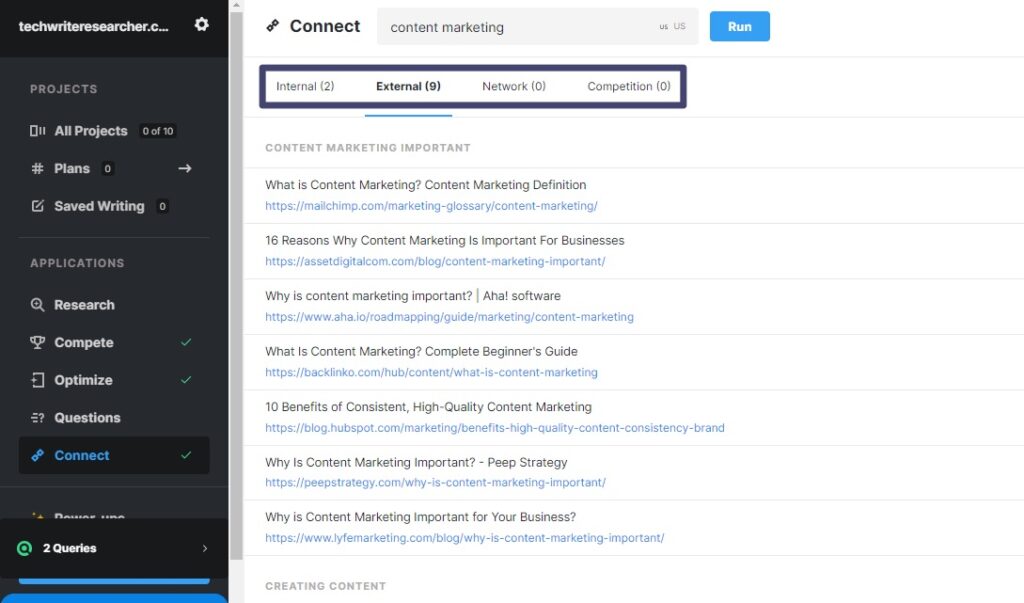 MarketMuse also shows articles with related keywords and helps inspire your content outlines.
Data Export
You can export data from MarketMuse applications like Optimise, Research, Compete, Questions, Connect, and Newsroom. However, this feature is only available in paid plans.
Clicking the Export button in the upper right corner of your dashboard allows you to download files in Microsoft Excel format.
Team Features
You can collaborate with your team members, assign topics to respective users, add notes, and track the entire content creation process.
MarketMuse has workflows for every function, from SEO to content marketing and writing. In addition, you can track each team member's due dates and progress from one place.
Subscribing to the premium plan grants you access to this feature.
MarketMuse Inventory
MarketMuse Inventory collects, organizes, and analyzes your web pages and makes them readily accessible. In addition, it automates inventory and content audit processes.
The software uses its proprietary AI to access the depth of topical coverage on every content and page. As a result, it helps you prioritize what content to create and optimize.
On-demand Content Audit
The platform uses state-of-the-art clustering technology to discover high-opportunity pages related to your topics of interest. Furthermore, your content assessment and planning stages improve significantly with advanced personal metrics and high predictability.
This feature is only available in the premium plan.
Notifications Management
You can opt to receive email notifications from your MarketMuse dashboard. This feature helps you stay informed of changes and respond quickly to them.
Clicking on settings from the left sidebar takes you to the Account section.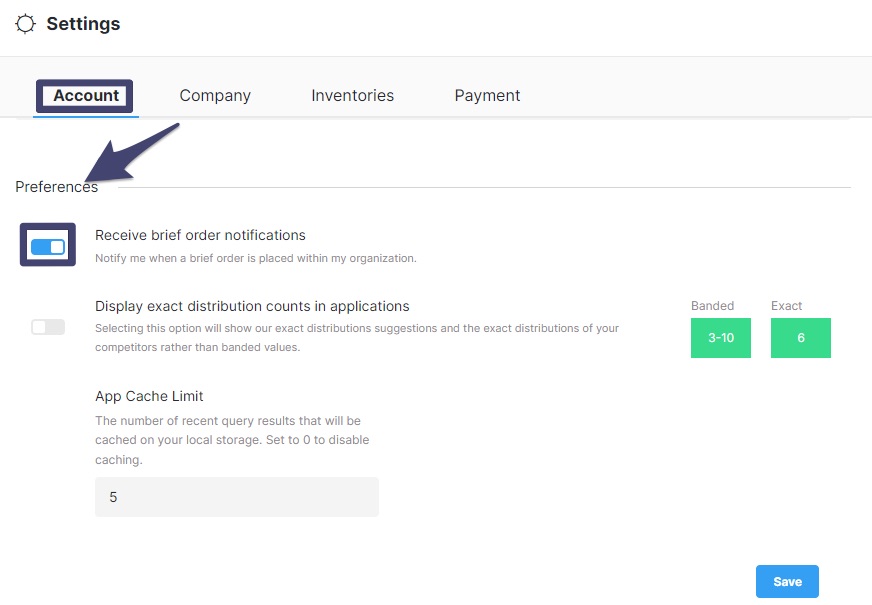 You can move the toggle to the left if you don't want to receive brief request notifications to your email.
Dedicated Account Management Team
MarketMuse provides professional Content Strategists to work with your team and create a content plan that meets your brand's goals.
This feature is only available in the premium plan.
Design / UX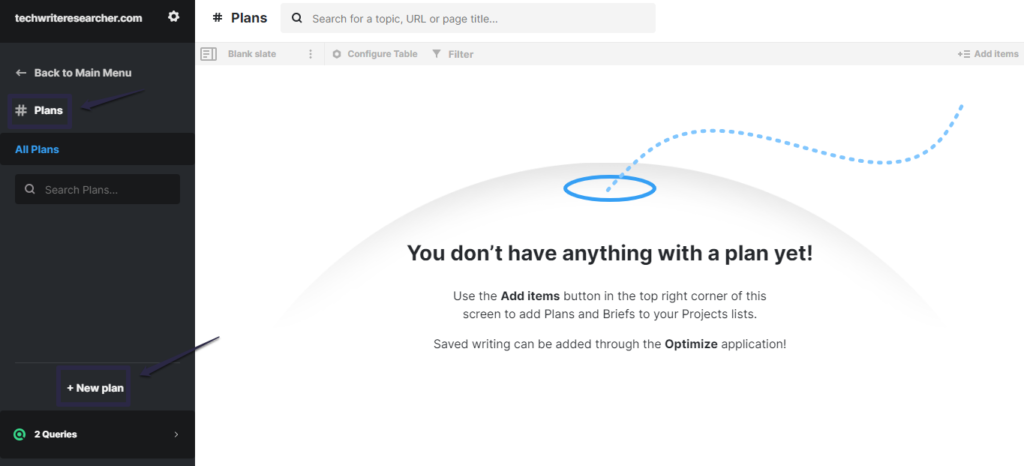 MarketMuse has a minimal design, with the standard left-hand side panel housing most of its features and applications.
It's easy to use, even for first-time SEO tool users.
The platform doesn't have a steep learning curve, so you can start using it without complications. You can connect to most of the software's features through its intuitive dashboard.
You can also monitor the number of queries you use monthly. This feature helps you manage your searches, so you don't exhaust your options before the month ends.
The only setback we encountered was the long loading time.
It takes a little while to run queries, so you'll need to get comfortable while waiting for results.
Customer support
MarketMuse has several helpful resources to manage users' queries and issues. The platform also has an extensive knowledge base, answers to frequently asked questions, and tips on getting started.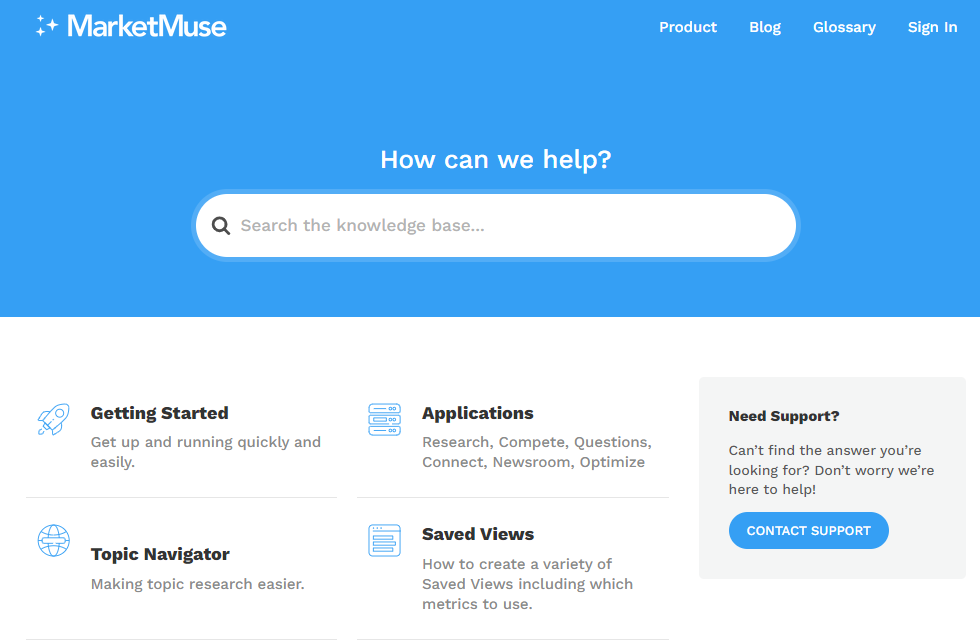 It has a live chatbot (MuseBot) that answers quick questions and schedules email meetings with support agents or a sales team representative. You can also email support@marketmuse.com or infor@marketmuse.com to schedule live demos and resolve other pressing issues.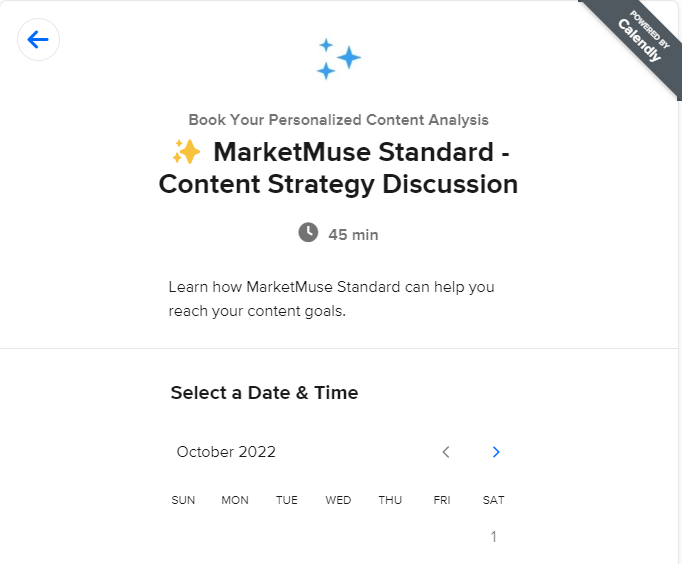 Pricing
MarketMuse has four different price plans that suit various content needs.
You could opt for the free plan with a handful of applications, the standard plan, or the premium plan that unlocks all functionalities.
The standard plan starts at $149/month or $1500/year. The team plan is $399/month or $3900/year. Premium plans are on a custom quote basis.
The free plan supports one user, 10 queries, and limited page-level insights. You can upgrade your account if this plan doesn't satisfy your content needs.
The standard plan includes 100 queries per month, and full page-level insights.
The team plan allows three users, and includes unlimited queries and briefs.
The premium plan includes everything in the team plan plus more functionalities. You also have a dedicated account manager when you pay for this plan.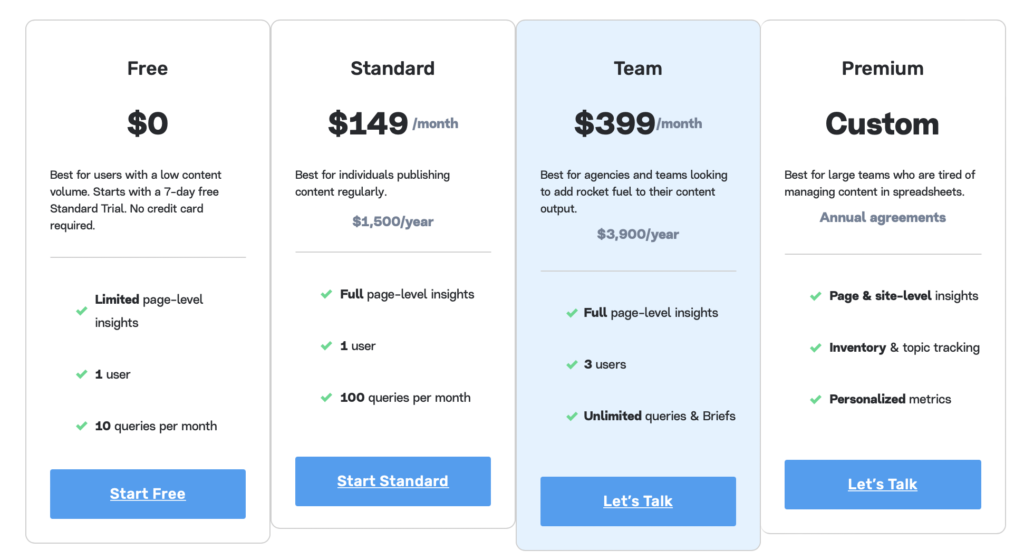 Is pricing fair?
MarketMuse is a high-end product, as the pricing indicates. However, its steep price makes it difficult for freelancers and small businesses to choose the software over cheaper alternatives.
On the other hand, large enterprises may find the price tag acceptable since the software offers more features than its alternatives. For example, MarketMuse supports heavier scaling than competitors like Clearscope and Frase.
You can start with the free trial to test if MarketMuse is best for your business and then scale to the Standard plan.
FAQs
What does MarketMuse do?
MarketMuse is a powerful content marketing tool that handles keyword research and competitor rankings, suggests topics, and improves organic search rankings.
This software offers information that helps users make data-driven decisions on content creation and planning and improves content quality. 
Who uses MarketMuse?
Anyone from freelance bloggers, content marketers, publishers, marketing agencies, and content creators to eCommerce companies can use MarketMuse.
How does MarketMuse AI work?
MarketMuse uses artificial intelligence technologies like machine learning, natural language processing, knowledge representation, deep learning, and natural language generation to improve content. It has patented systems and methods for analyzing keywords and creating robust topic models for different subjects. 
Is MarketMuse easy to use?
MarketMuse is easy to use. Once you enter your target keyword or phrase, the platform provides a list of related topics for your content.
Final thoughts
MarketMuse is a fit if you're in the market for a premium content research and strategy tool that uses its patented algorithm to enable content research, planning, and automation.
And do you have a budget for it?
If you answered yes to that question, then MarketMuse is perfect for you. This feature-rich, AI-powered tool helps users create compelling SEO-optimised content.
But if you can't justify the cost, you can opt for cheaper alternatives like SEO PowerSuite Content Editor or Clearscope.
---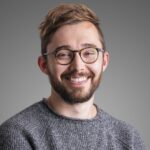 Sam Underwood
Sam is an international Ecommerce SEO Consultant with experience implementing enterprise-level SEO strategies.