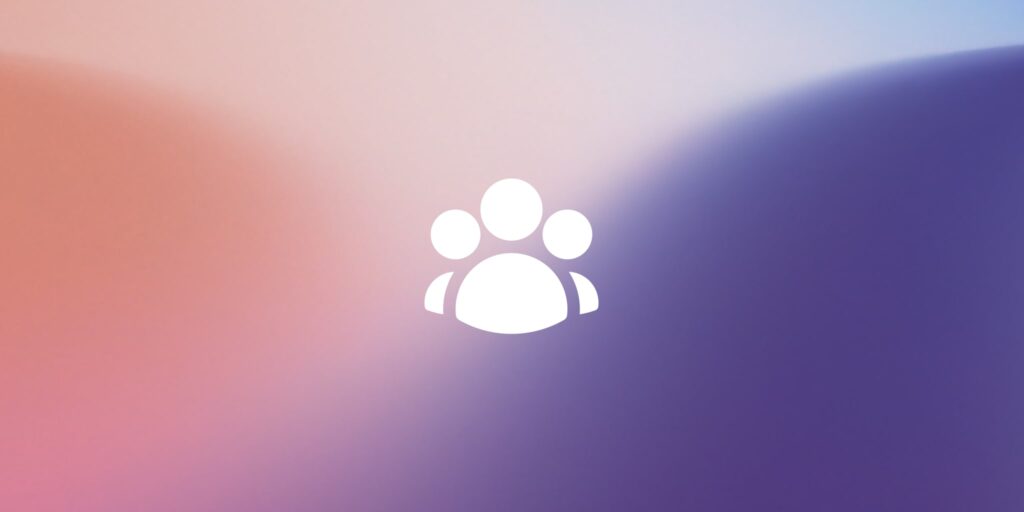 The best
SEO tools for agencies
February 6, 2023

20 minutes

Sam Underwood
To stand out as an SEO firm, you need skilled digital marketers. But to dominate, invest in multiple SEO software solutions. Strategic digital marketers use this trick to stay competitive as the industry grows at a rate of 19.6% per year. We've researched the market and found nine solutions favored by global firms. But before we explore them, let's clarify the fundamental role of SEO tools in digital marketing firms.
The benefits of agency SEO tools
SEO tools offer a plethora of benefits for agencies. With Google's extensive database and complex ranking factors, it's essential to have a reliable system to provide actionable insights for SEO projects. This is where SEO tools come in, retrieving search engine data, generating intel, and monitoring projects with automated trackers.
These tools give your agency a significant competitive advantage, allowing you to swiftly audit on-page and off-page SEO indicators, track competitors, and set up data-backed search engine marketing plans. With satisfied clients, you can expect an increase in recommendation and retention rates, expanding your clientele base and revenue.
But it's not just about the revenue growth. SEO automation and data analytics can streamline workflows, boost employee productivity, and reduce operating costs, leading to significant time and cost savings. Ultimately, SEO tools are critical to raising your firm's bottom line and increasing profitability.
So, don't miss out on the benefits of SEO tools. Check out our breakdown of the best agency SEO tools and take your business to the next level.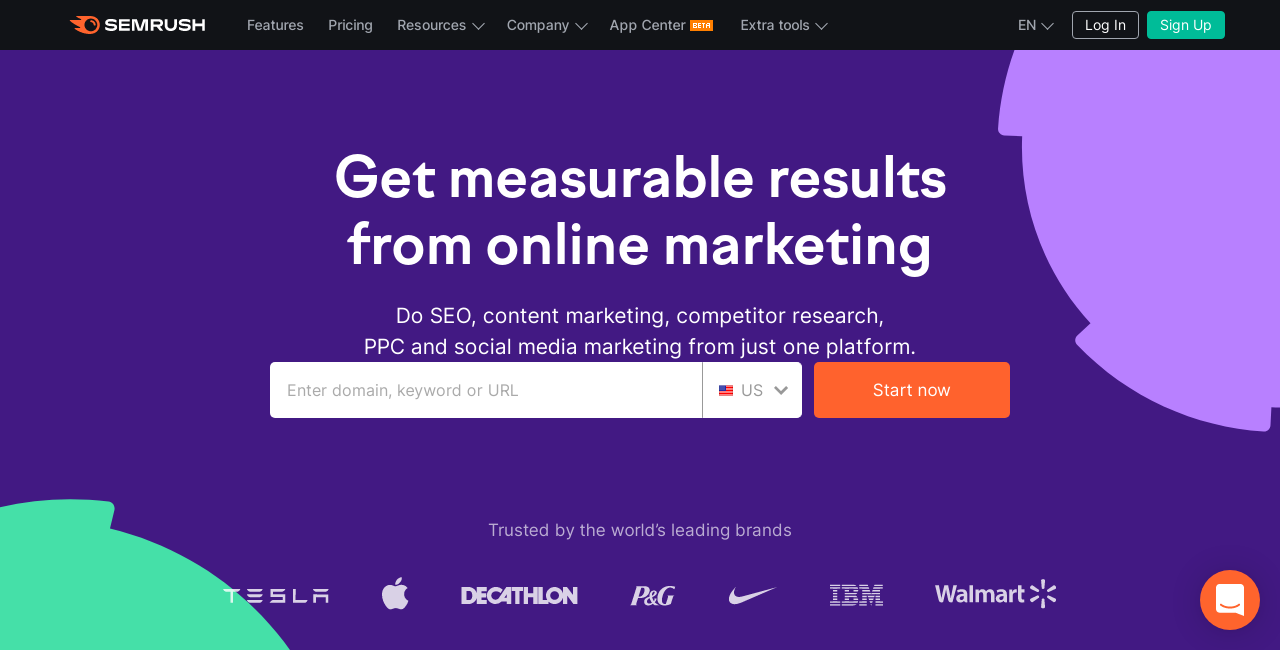 1. Best all-in-one: SEMrush
At the top of the list is Semrush, an all-in-one digital marketing tool suite for individuals, professionals, and agencies. It specializes in search engine optimization, content marketing, social media campaigns, advertising, and digital market research. This is the platform for tracking multi-channel projects from a centralized dashboard.
The dashboard is exhaustive on the SEO front, with tools for keyword research, rank tracking, competitive intelligence, site audit, backlink analysis, and content optimization.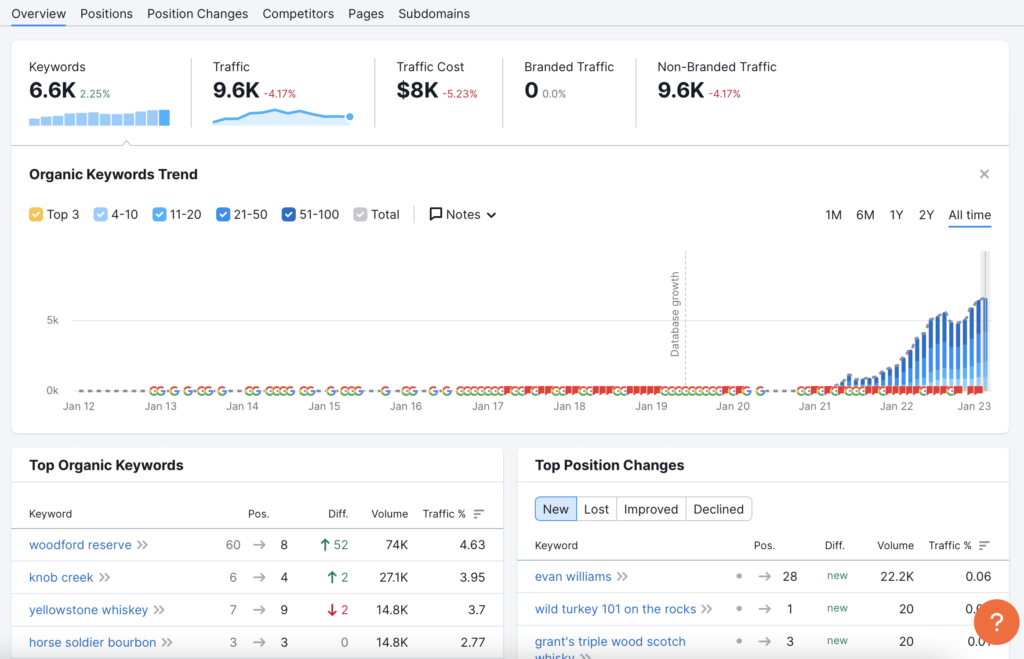 But that's not all. What sets Semrush apart from other all-in-one SEO platforms is the comprehensive analytics provided by its built-in tools.
For instance, you can draw in-depth insights from seed terms, key phrases, and URLs when conducting keyword research. The resulting reports provide:
Traffic analytics for each keyword
Keyword difficulty scores
Links to the best ranking pages for each keyword
Alternative keyword suggestions
These analytics work in tandem with Semrush's rank tracker, allowing you to monitor how your clients' sites perform across various search keywords.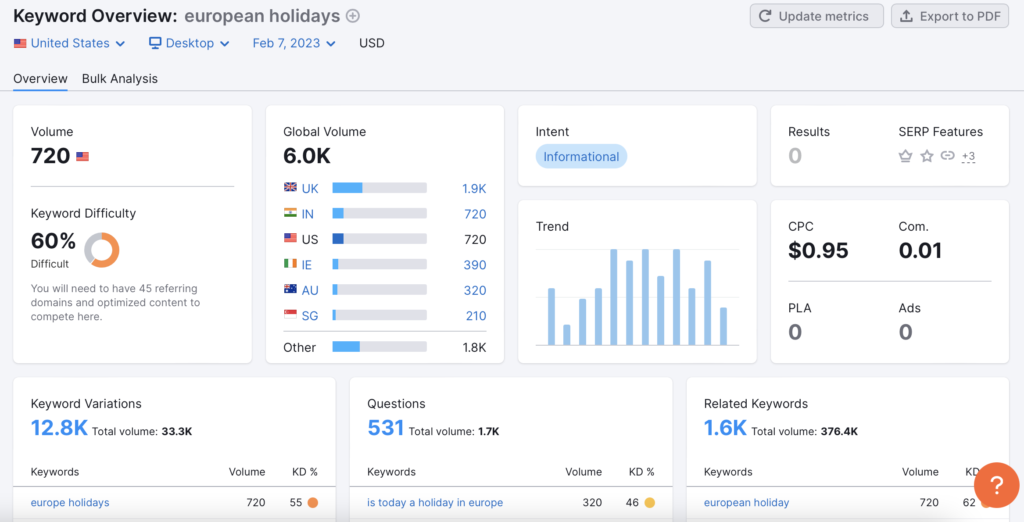 Link builders will appreciate the domain profile analytics provided by Semrush's backlink analytics tool. Meanwhile, site auditors can use it to identify issues such as slow-loading pages, missing headers, SSL problems, and duplicate content.
Key features
Site auditing
Rank tracking
Organic traffic insights
Organic keyword research
On-page SEO analysis
Log file analyzer
Link building analytics
Domain overview
Bulk analysis
Backlink analytics
SEO content writing assistant
Readability checker
PPC keyword analysis
Client portal
Pricing
Some argue that Semrush is one of the best free SEO tools since it can support a single project at no cost. However, marketing agencies must pay for a premium package based on the number of projects they intend to run simultaneously.
If you opt for monthly billing, Semrush's Pro option allows up to 5 projects for $119.95 per month, Guru allows up to 15 projects for $229.95 per month, and Business requires payment of $449.95 per month.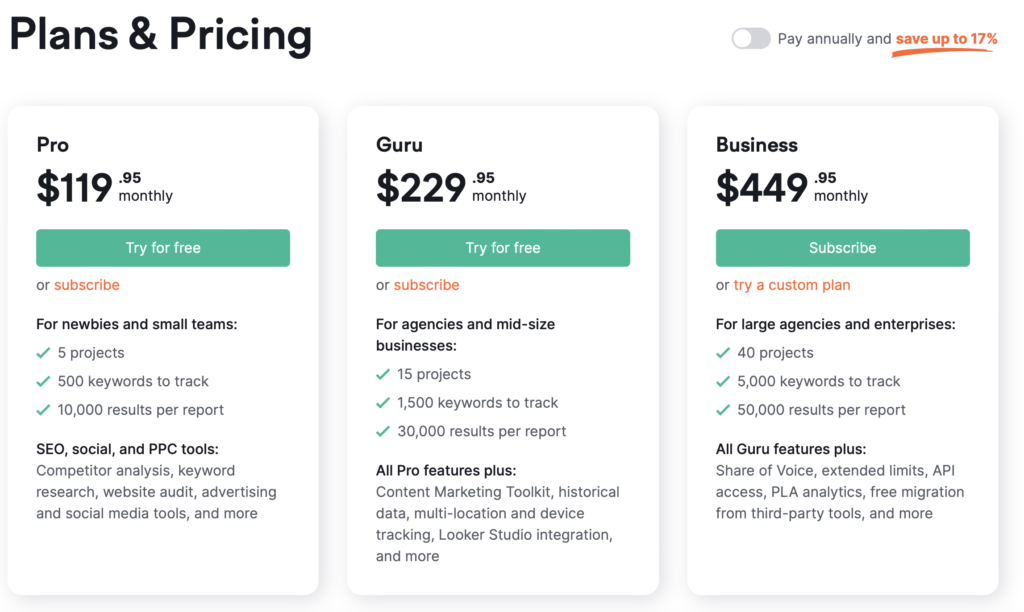 Pros and cons
| Pros | Cons |
| --- | --- |
| Great design and UX | It has a relatively steep learning curve |
| Free plan available | The SEO audits are only performed occasionally |
| Impressive rate of improvement and addition of new tools | The analytics are restricted to Google Search |
| One-stop solution for organic SEO research | It doesn't support any other search engines |
| Covers mobile & desktop searches | It doesn't cover Google Search across all the countries |
| Generates SEO analytics on any URL | Each premium plan supports a limited number of projects, keywords, and URLs |
| Displays historical trends | The free plan cannot support agencies |
| Identifies market opportunities | It can be cumbersome to use on mobile |
| Generates well-performing topic ideas | |
| Monitors brand mentions | |
| Identifies broken links | |
| KD score shows the level of competition | |
| Alternative keyword suggestions | |
| Compares keywords by search intent | |
| Recommendations for fixing technical errors | |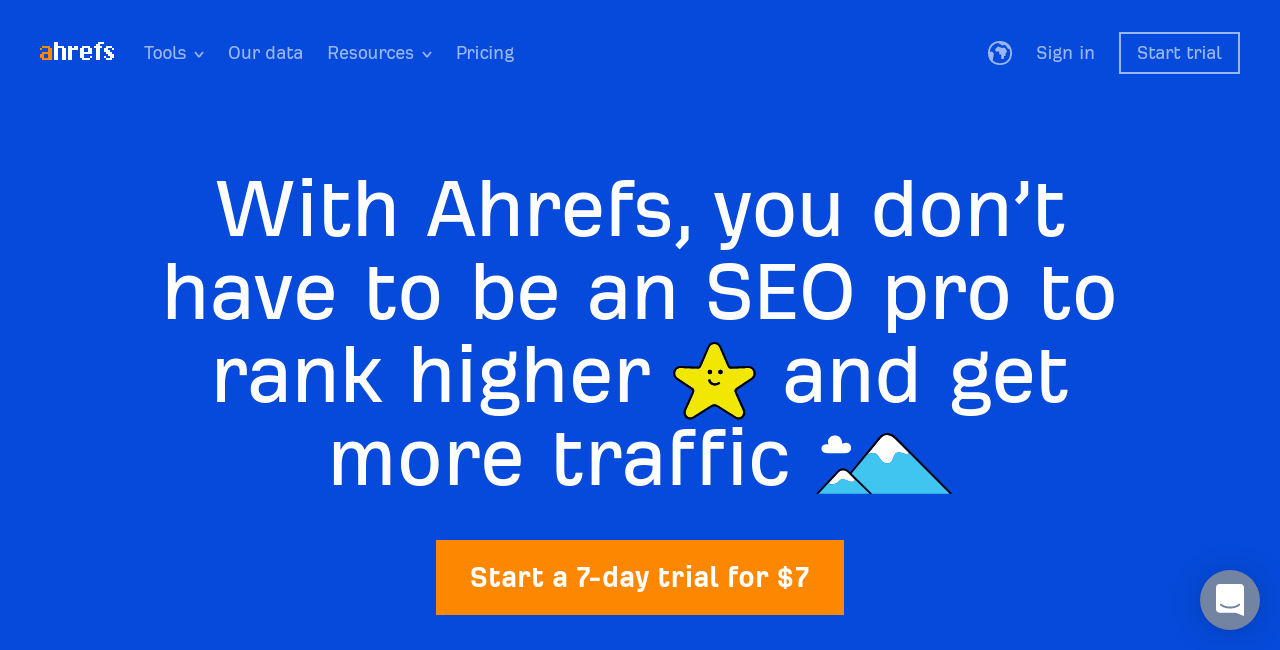 2. Close runner-up: Ahrefs
Ahrefs started as a backlink index, but it has since grown to become one of the best SEO tool suites available. It is even competing with Semrush for the title of the ultimate all-in-one platform.
Ahrefs' success lies in its structured system as a multifaceted SEO platform. It includes automated tools for researching content ideas, tracking search rankings, auditing websites, exploring keyword ideas, and analyzing backlinks – everything you need to grow.
The tools on Ahrefs load quickly, providing an excellent user experience with a well-designed interface that never feels overwhelming. Additionally, each tool is feature-rich and has unique elements not seen in competing solutions. For instance, their site auditor has features such as the structure explorer, segmentation, and internal link opportunities report, all of which are unique and excellently crafted. You almost forget it is part of an all-in-one tool.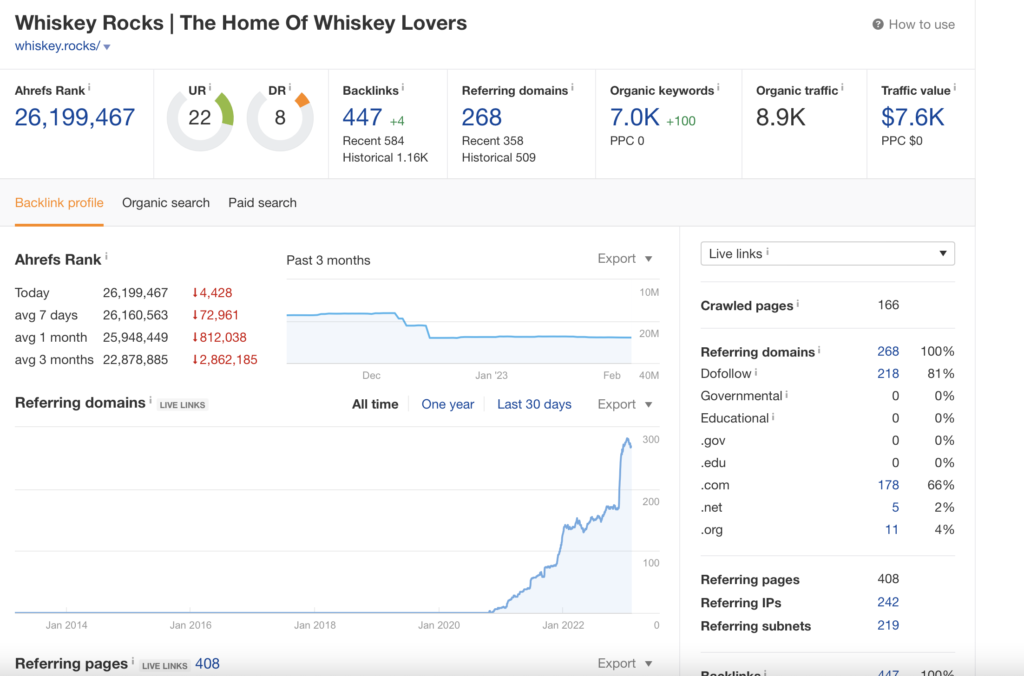 However, Ahrefs' suite of tools is less comprehensive than that of Semrush. Upon logging into its dashboard, you'll notice that Ahrefs provides fewer SEO tools. For instance, Semrush offers content briefing, writing assistants, post tracking, social inboxes, and local SEO tools, none of which Ahrefs does.
For experienced digital marketers and full-service agencies, the range of tools Semrush offers may be a better investment if the above tools are helpful.
Ahrefs is incredibly powerful, which makes it easy to justify the compromise of a smaller selection of tools. A third-party study found Ahrefsbot to be the second most active bot after Googlebot.
Ahrefs stands out from other SEO tools by offering keyword research data from various search engines such as Google, Bing, Yahoo, Baidu, Daum, Yandex, YouTube, Amazon, Seznam, and Naver. In contrast, Semrush is limited to Google.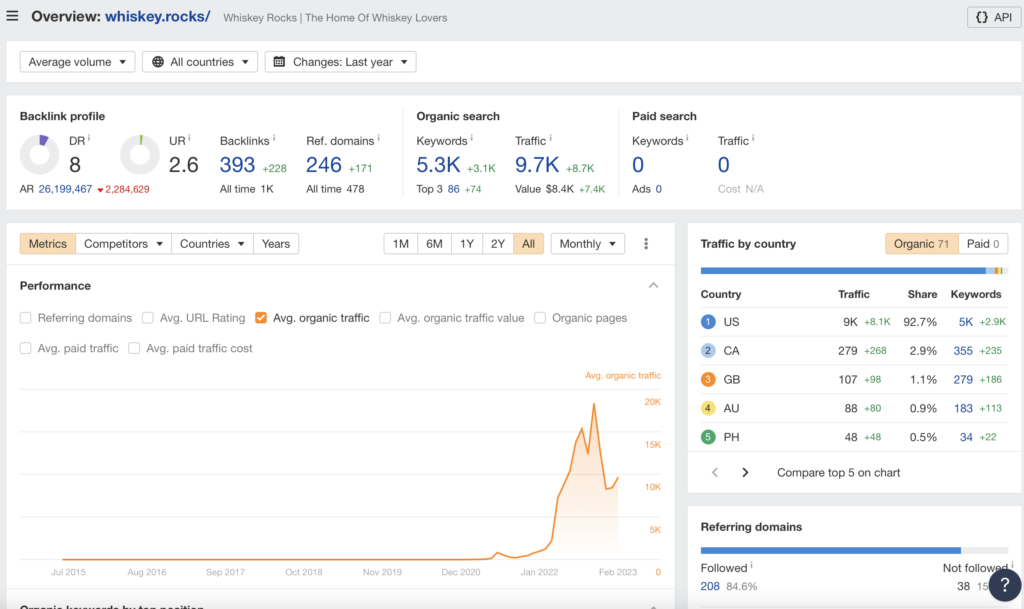 Agencies that prioritize data over a wide range of tools will find Ahrefs to be an ideal SEO tool. Ahrefs provides valuable insights from its massive database, which includes over 19 billion keywords, 10 billion content posts, 509 million search queries, 384 billion web pages, 3.4 trillion backlinks, and 26.5 trillion internal links.
One of Ahrefs' most attractive features is its massive data, which is showcased on its big data page.
Key features
Rank tracker
Content explorer
Keywords explorer
Competitor intelligence
Site audit
Backlink checker
Broken link checker
Batch analysis
Organic traffic analysis
Content gap analysis
Pricing
While Ahrefs offers a brilliant free tier, agencies may feel restricted by its limitations. Upgrading to one of its premium plans is recommended to unlock more features. For instance, the Lite package is available for $99 a month, while the Standard package, which includes bulk analysis, is priced at $199 a month. The Advanced plan, priced at $399 monthly, offers even more advanced features. However, the Enterprise plan comes at a higher cost of $999 a month.
Pros and cons
| Pros | Cons |
| --- | --- |
| All-in-one SEO tool suite | Free option not for SEO agencies |
| Offers some free tools | Limited methods for traffic analytics compared to Semrush |
| Keyword & backlink database | Fewer app integrations due to a previously limiting API |
| Site auditor with recommendations | No search intent data in keyword research |
| Keyword difficulty score | No built-in workflow for SEO outreach campaigns |
| Brilliant for competitor analysis | |
| Rank tracking across multiple search engines | |
| Backlink profile insights & domain authority tracking | |
| Regular updates | |
| Content share tracking | |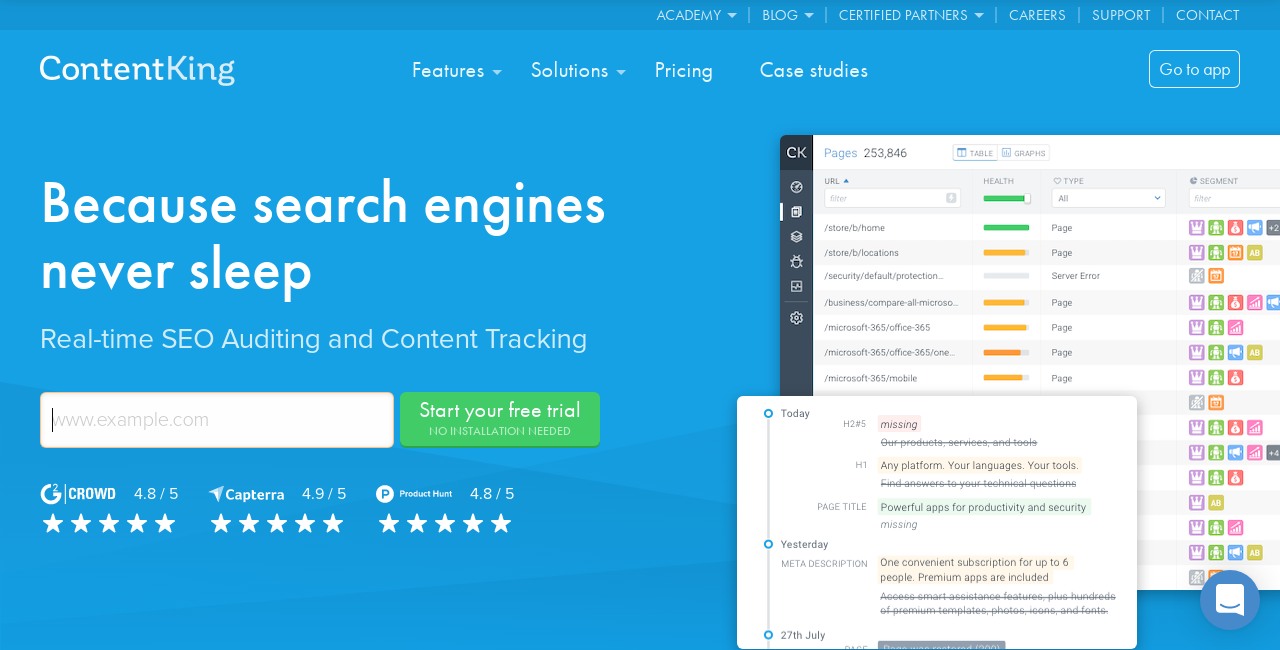 3. For site monitoring: ContentKing
Once you have boosted your clients' sites with the help of Semrush and Ahrefs, consider using ContentKing to monitor any new developments that might negatively affect their status quo.
ContentKing runs continuously in the background, unlike regular site audit tools that run on a schedule. Its alert system can message you via Slack or email, making it easy to recognize its benefits.
You'll get insights on technical on-page issues that could compromise your project site's rankings. These include missing headings, meta description changes, incorrect canonical links, non-indexable pages, and broken links, among others.
In addition, ContentKing has a log file integration that confirms the last time Google crawled each of your client's websites.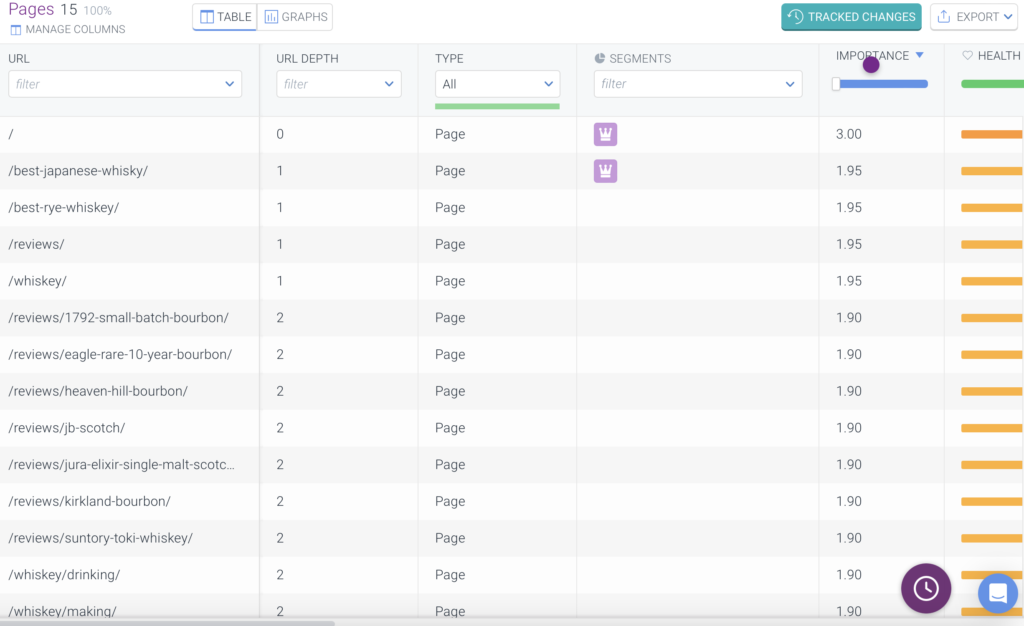 Key features
Real-time dashboards
Segmentation
Log file analysis
Custom extraction
SEO change tracking
Website change tracking
SEO error flagging
Technical SEO audits
Easy to use API
Data studio integration
Pricing
Pricing here varies according to your selected user plan and the number of web pages you intend to monitor.
Basic, Standard, Pro, and Enterprise are the four plans on offer, and they all allow you to define your web page quota. You may end up paying anything from $33 to over $550 monthly.
Pros and cons
| Pros | Cons |
| --- | --- |
| Identifies technical and on-page SEO issues | No free tier |
| Real-time SEO auditing | Doesn't track changes in performance after you've fixed SEO issues |
| Complete on-page SEO coverage | Pricing information is only provided after you've registered. |
| Monitors core web vitals | |
| JavaScript rendering support | |
| Google crawl frequency tracking | |
| Alerts for site changes | |
| Log file analysis | |
| | |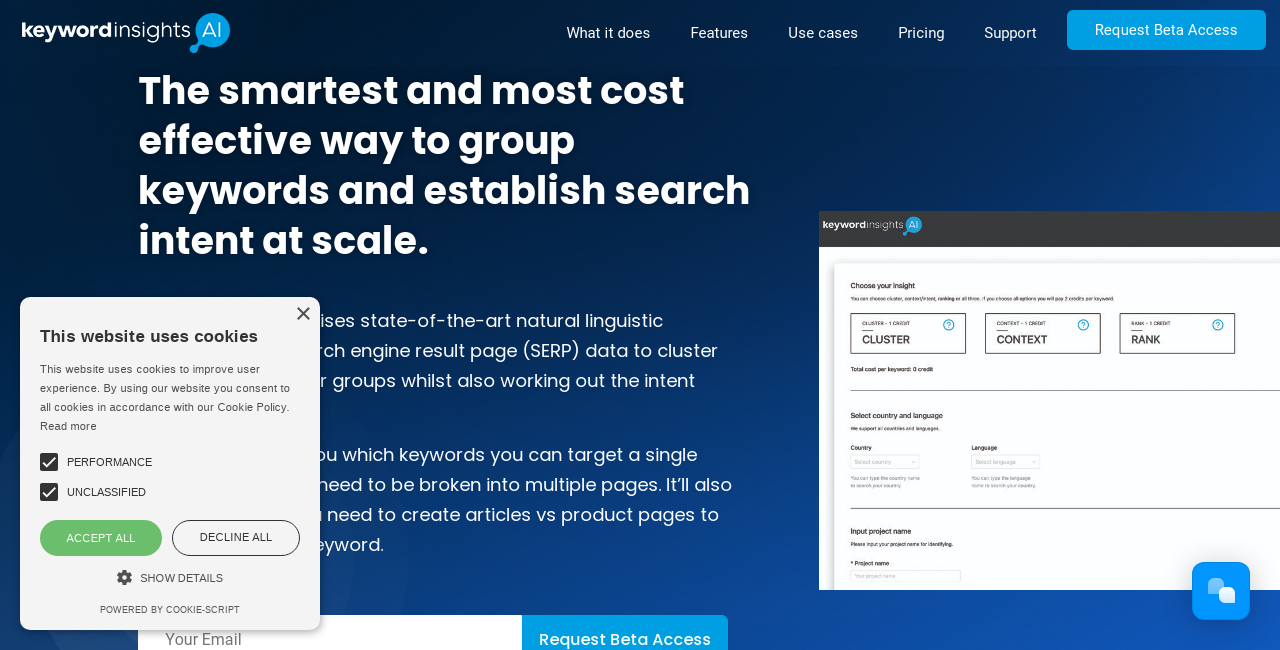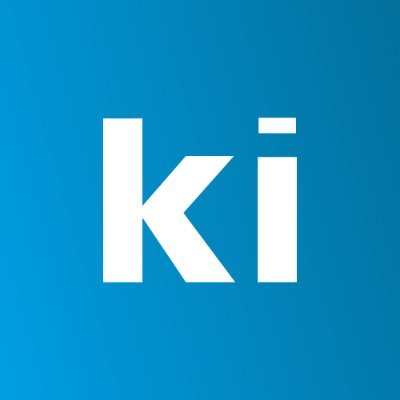 4. For keyword grouping: Keyword Insights
Keyword Insights is ranked fourth on our list of the best SEO tools for agencies. This platform takes keyword research to a new level with the help of AI.
The AI analyzes search data to generate multiple keyword ideas and then groups them based on similarity. This helps you prioritize your SEO strategy.
You can discover the best keywords for your target niche, cluster them on your website, and structure your content appropriately.
For example, if you have a particular keyword in mind, you can start with the Keyword Discovery section. Keyword Insights will review your seed term and expand it into thousands of related terms.
If your agency has already developed a list of keywords, you can use the Keyword Clustering feature to separate them into groups of terms that go well together. This allows you to determine which keywords should be targeted on the same page and which need a dedicated page to rank.
Key features
AI-driven keyword clustering
Data-backed content briefs
Search intent prediction
Keyword cannibalization avoidance
Generation of related keywords
Pricing
The Keyword Insights platform is available in pay-as-go and subscription-based packages.
The pay-as-go option allows users to define their keyword cluster limits, starting at $0.80 for 50 credits.
Most agencies, however, would probably be more interested in the long-term subscription plans – which start at $49 per month for 6,000 credits.
Pros and cons
| Pros | Cons |
| --- | --- |
| AI-generated keyword ideas | Its main focus area is the keyword research process (this is also a pro as it does it very well!) |
| Groups up to 2.5 million keywords | Doesn't audit keywords and content directly on your site |
| Pay-as-go & subscription packages | It only helps with content planning. |
| Keyword context & search intent | |
| Content brief with keywords, intent, & questions | |
| Main & secondary keywords highlighted | |
| Free Serp Explorer & SERP Similarity Tool | |
| Clustering report for keyword page usage | |
| Overlap identification between keywords | |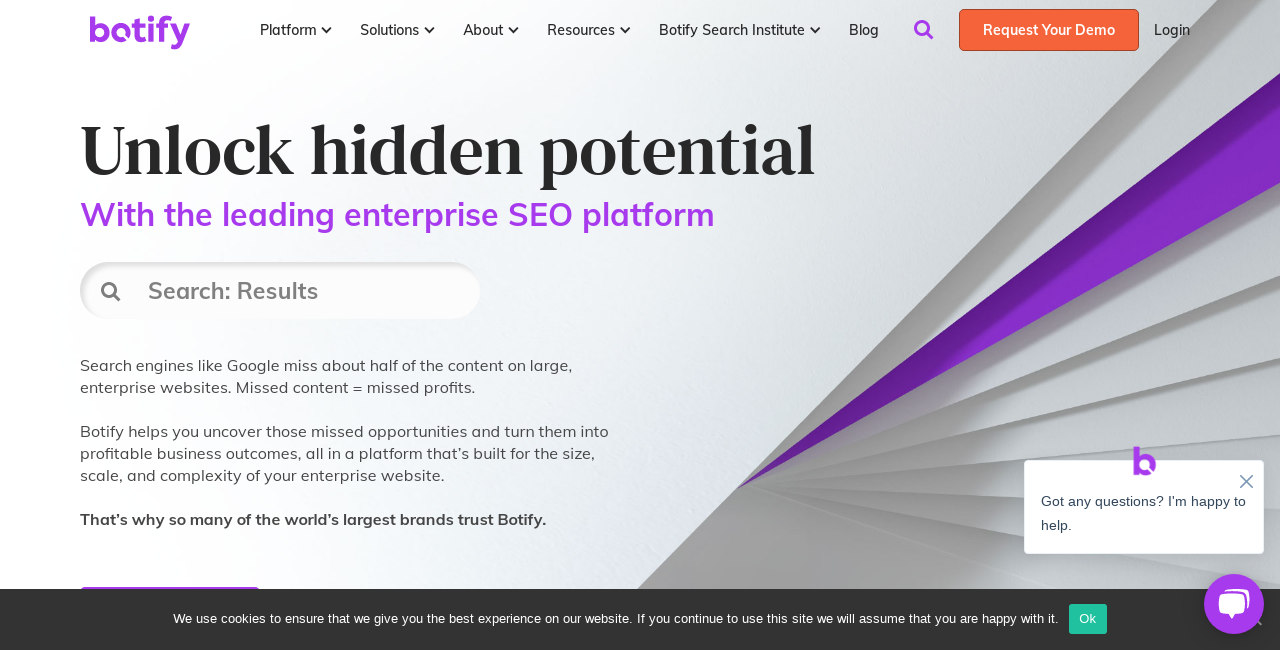 5. For auditing: Botify
Botify is a digital marketing tool that excels at auditing large, dynamic websites at an enterprise scale with high accuracy. This makes it an ideal SEO audit tool for agencies; however, if you're not an agency or large company, it's highly likely Botify won't be suitable (mostly due to price).
Botify's SEO audit tool suite includes a super-fast cloud-based site crawler that can crawl up to 250 URLs per second. However, it's important to check with your server infrastructure team first.
Botify can also render JavaScript, making it suitable for single-page applications (SPAs). Additionally, it provides log files that show how search engine crawlers view your sites.
By crawling your website, Botify provides comprehensive data on over 1,000 metrics to help you audit your site. This data can help you identify all possible issues across each stage of the organic search funnel, from indexing to conversion.
However, running these audits can be costly for high-volume agencies, costing hundreds or even thousands of dollars monthly.
Key features
Log analyzer
Site crawler
Engagement analytics
Recommendations for fixing SEO problems
1,000+ metrics from every phase of search – crawl, render, index, rank, and convert
SERP rank tracking
Keyword research
Content analytics
Custom reports
Pros and cons
| Pros | Cons |
| --- | --- |
| Crawls up to 250 URLs per second | It has a steep learning curve |
| Log file analysis of search engine crawls | Pricing information is not readily available |
| Metrics on over 1,000 parameters | Has a steep learning curve |
| Analyzes the entire organic search journey | Takes time to tweak its many filters |
| Custom report setup | |
| Structured data audit & monitoring | |
| Analyzes JavaScript & non-JavaScript pages | |
| Analyzes the entire organic search journey | |
| Desktop & mobile site version analysis | |
| Tracks site changes | |
| Keyword research & content optimization insights | |
| SERP rank tracking | |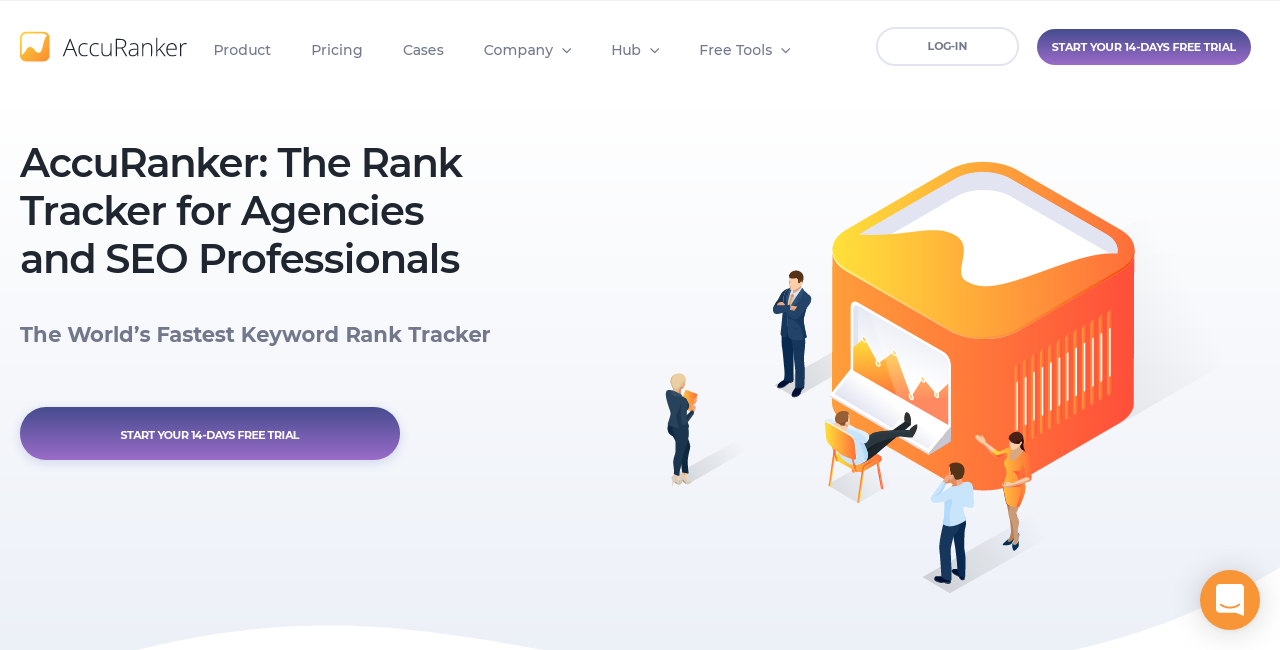 6. For rank tracking: Accuranker
Just as Botify is painstakingly thorough with SEO auditing, so is AccuRanker regarding rank tracking.
AccuRanker is a powerful tool leading digital marketing agencies use to analyze their keyword rankings, ranking history, and competitors' rankings. You can use it to track SERPs on both Google Search and Bing. It provides the keyword rankings by location, language, and device.
The tool also shows the top competitors for each keyword and the corresponding competitor landscape changes. It further utilizes its proprietary AI model to estimate the CTR of SERP placements. This helps calculate the amount of organic traffic the clients' sites can attract.
AccuRanker also calculates the value of organic traffic in dollars, tracks competitor landscape changes through data cubing and facilitates dynamic filtering of ranking keywords. It uses the Share of Voice (SoV) indicator as an aggregate KPI of the overall SERP performance.
Key features
Pixel tracking
Daily and on-demand keyword rankings update
Dynamic tagging
Organic traffic value analytics
Share of Voice (SoV) indicator
SERP CTR prediction
Tracking of both desktop and mobile search rankings
Historical SERP insights
Competitor index intelligence
Segmentation and data cubing
Google Grump
Pricing
Accuranker will cost anything from $116 to over $2,700 per month – based on the number of keywords you'll be tracking.
Pros and cons
| Pros | Cons |
| --- | --- |
| Supports unlimited users | It can get pretty costly for high-volume SEO agencies—But that's true of rank tracking in general |
| Real-time ranking updates | |
| Custom report building | |
| Organic search performance of landing pages | |
| Monitors keyword rankings | |
| Share of Voice indicator of SERP performance | |
| Desktop & mobile SERP coverage | |
| 24 billion keyword database | |
| CTR estimates for keywords | |
| Ranking analytics for various locations | |
| Competitor keyword distribution analysis | |
| Tracks SERP positions of the site & competitors | |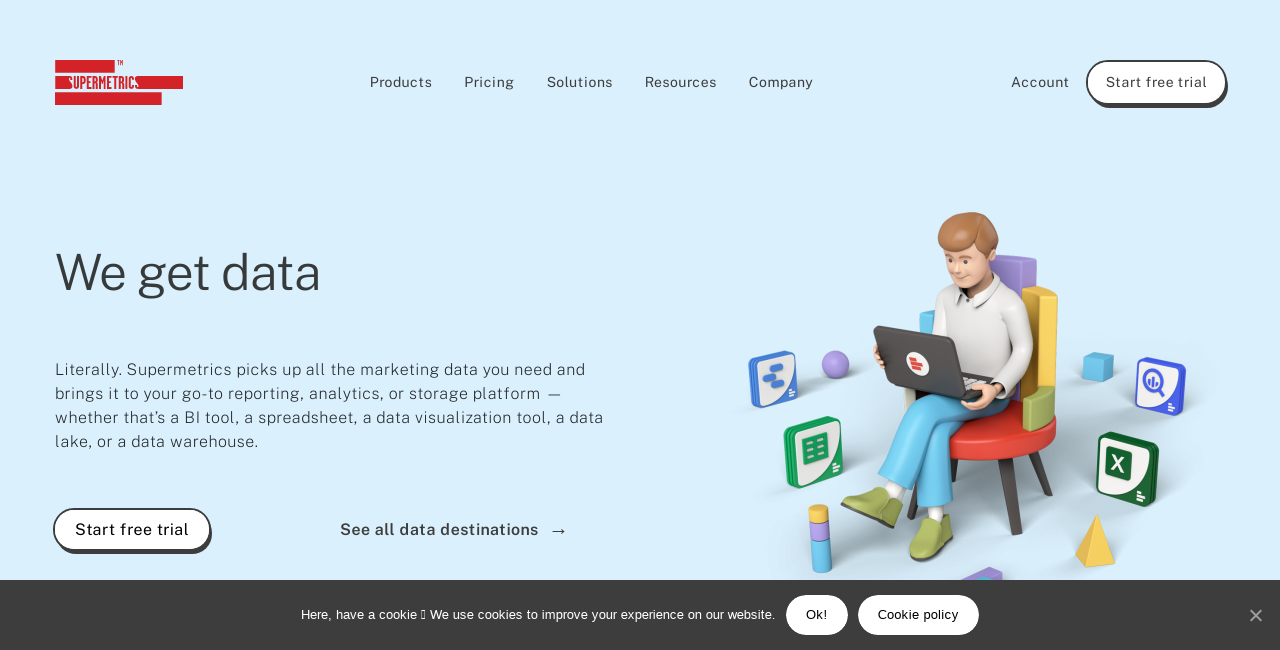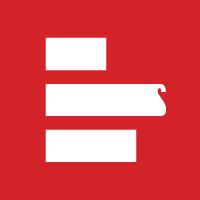 7. For APIs: Supermetrics
Research shows that marketing agencies typically use multiple data-driven tools for their client's projects. This can be overwhelming to manage.
Fortunately, Supermetrics provides an automated solution. Its API aggregates data from over 100 platforms and channels it to external analytics, reporting, and data visualization tools
Connect Supermetrics to the top SEO tools in your agency and configure it to import and combine their marketing data. Supermetircs will send this combined data to your chosen third-party reporting and analytics tools.
Marketing agencies use Supermetrics to send their centralized SEO data to spreadsheets like Google Sheets and Microsoft Excel, data integration platforms like Snowflake and Google BigQuery, and business intelligence tools like Power BI and Tableau.
Key features
Connect your data sources in minutes
Integrates data from 100+ platforms
Templates and charts
Channel your marketing data into multiple destinations
Custom reports and automations
Pricing
What you end up paying here depends on the type of destinations in your agency's data workflow.
If, for instance, you intend to aggregate data to Google Sheets, the pricing starts at €99 per month.
Pros and cons
| Pros | Cons |
| --- | --- |
| Consolidates 100+ marketing data sources | Cost increases significantly with new data destinations |
| Provides report templates | Expensive for small SEO agencies |
| Exports data to reporting/analytics tools | Many limitations for lower-tier plans, despite the relatively high price |
| Builds custom reports and automations | |
| Updates data regularly | |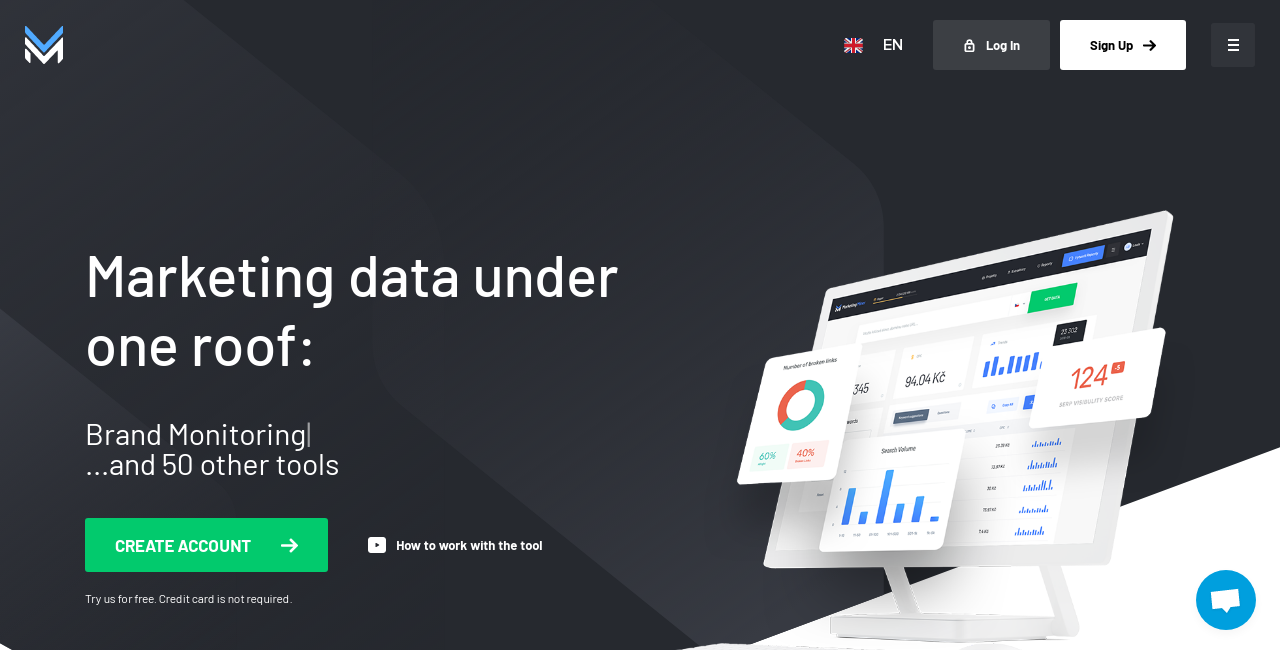 8. For bulk data: Marketing Miner
Marketing Miner is a powerful tool for managing large volumes of data. Unlike Supermetrics, it has made it to the list of the best agency SEO tools due to its bulk analysis capabilities. It is an all-inclusive SEO suite with over 40 cloud-based tools, capable of simultaneously analyzing up to 100,000 keywords, URLs, and domains.
The SERP analysis tool of Marketing Miner allows you to paste a list of up to 100,000 keywords. The system then provides organic search insights, such as the top 10 sites ranking for each keyword, their meta descriptions, page titles, and structured data.
Marketing Miner's bulk analysis can benefit SEO Agencies while reviewing SERPs ads, backlinks, rankings, keyword difficulty, broken links, indexing status, search volume, landing pages, and loading speeds. There is even more to explore!
Marketing Miner is a great addition to your agency's toolbelt. It allows you to access and analyze bulk data in a spreadsheet, allowing you to create something unique.
Screenshots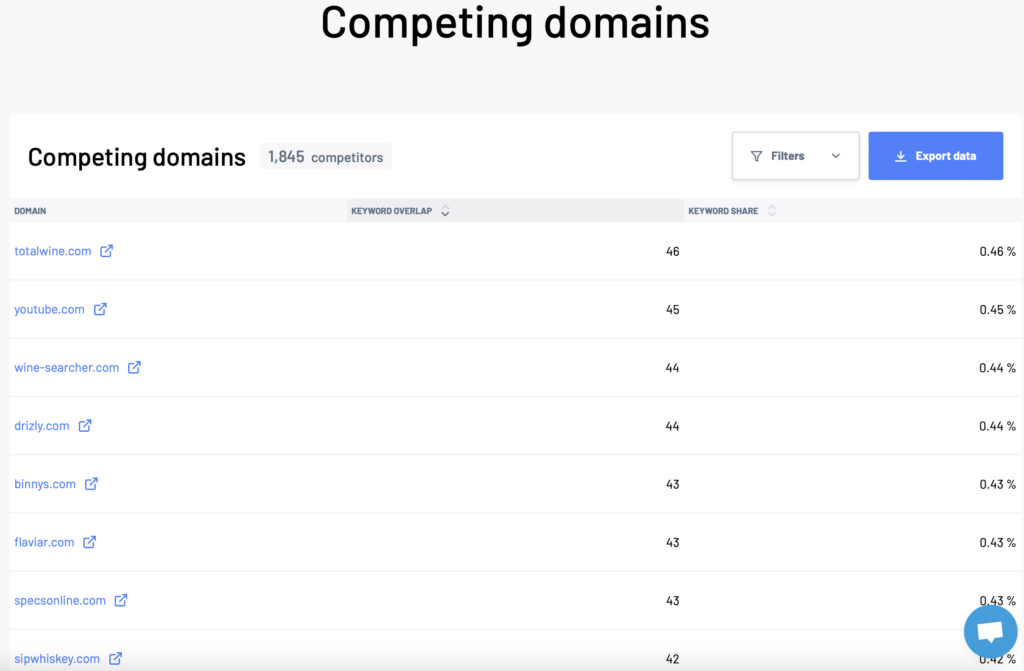 Key features
Easy to use REST API
Simultaneous analysis of up to 100,000 keywords, domains, or URLs
Indexing status checker
SERP position tracker
Over 10 endpoints for extracting data
Monthly search volume analysis
Keyword research
Discover link building opportunities
Projects API
Page speed analysis
Pricing
Marketing Miner offers a free package with up to 1,000 credits per month. However, this option is only suitable for individuals, not marketing firms. Agencies often need premium packages.
Miner is the cheapest package, costing $29 monthly for 100k credits. Digger costs $59 a month for 1 million credits. Machine charges $99 for 2 million credits. The custom plan can provide up to 10 million credits for $233 a month.
Pros and cons
| Pros | Cons |
| --- | --- |
| Analyzes up to 100,000 URLs, domains, or keywords at once | The UX can take a bit of getting used to |
| Offers a permanently free package | |
| Great API | |
| Extracts data from 10+ endpoints (Ahrefs, Majestic, etc.) | |
| Performs all-rounded SEO analysis (search volume, rankings, backlinks, PPC, etc.) | |
| Audits page speed, indexability, HTML, HTTP status, structured data | |
| Generates 2,500 keyword suggestions from seed keywords | |
| Includes Plagiarism Checker and Broken Link Checker | |
| Provides keyword difficulty insights | |
| Generates great data visualizations | |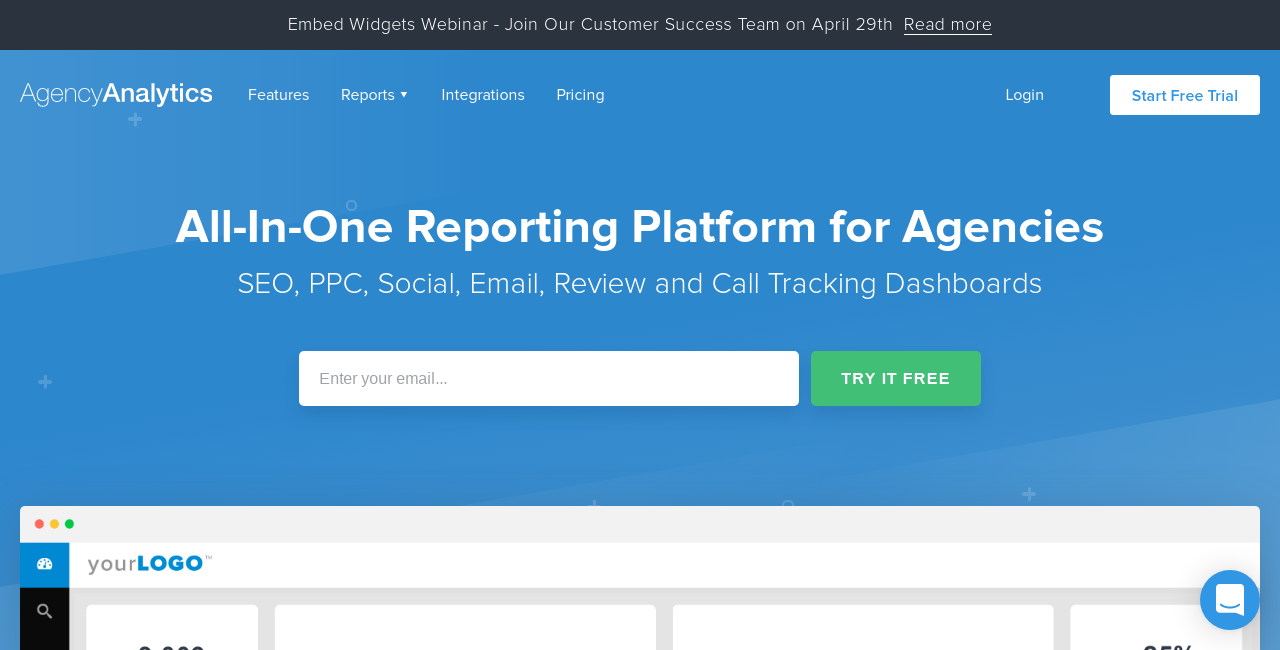 9. For reporting: AgencyAnalytics
Clients appreciate receiving reports, but they can be time-consuming for agencies to create. As your agency grows and serves more clients, this challenge can increase. An effective reporting solution should inform clients about their website's progress, the return on investment from each campaign, and what to anticipate in the future. The chosen tool should also use automation as much as possible to minimize time wastage.
Agency Analytics has developed an automated cloud-based reporting solution that streamlines the reporting process for both parties. The solution offers customizable report dashboards that integrate your agency's SEO tools and import the combined analytics.
Clients can log into the tool and view real-time reports of their projects from the account dashboard.
Features
White-labeled reporting
Customizable dashboards and reports
Drag-and-drop report builder
Dashboard widgets
Over 70 marketing integrations and growing
Fully automated data handling
Client-facing portals
Track staff workflows
Data visualization
Pricing
Freelancers can get the cheapest pricing plan for $12 a month per client campaign, with a minimum of 5 campaigns per account.
SEO agencies should consider the recommended package, which costs $18 a month per client campaign, with a minimum of 10 campaigns per account.
Pros and cons
| Pros | Cons |
| --- | --- |
| It draws data from over 70 marketing platforms | All packages are premium |
| Includes a drag-and-drop editor for custom visualizations | Cost increases with each new client campaign |
| Provides over 350 customizable dashboard and report templates | Rank tracking and site auditing addons significantly increase pricing |
| White labeling feature for custom branding | |
| Includes client and staff management tools | |
| Agencies can exchange messages with clients | |
| Set and track marketing goals | |
| Agency plan accommodates unlimited users | |
| Analysis and reporting fully automated | |
| Reports on all important SEO metrics – keyword rankings, site audits, backlink analytics, etc | |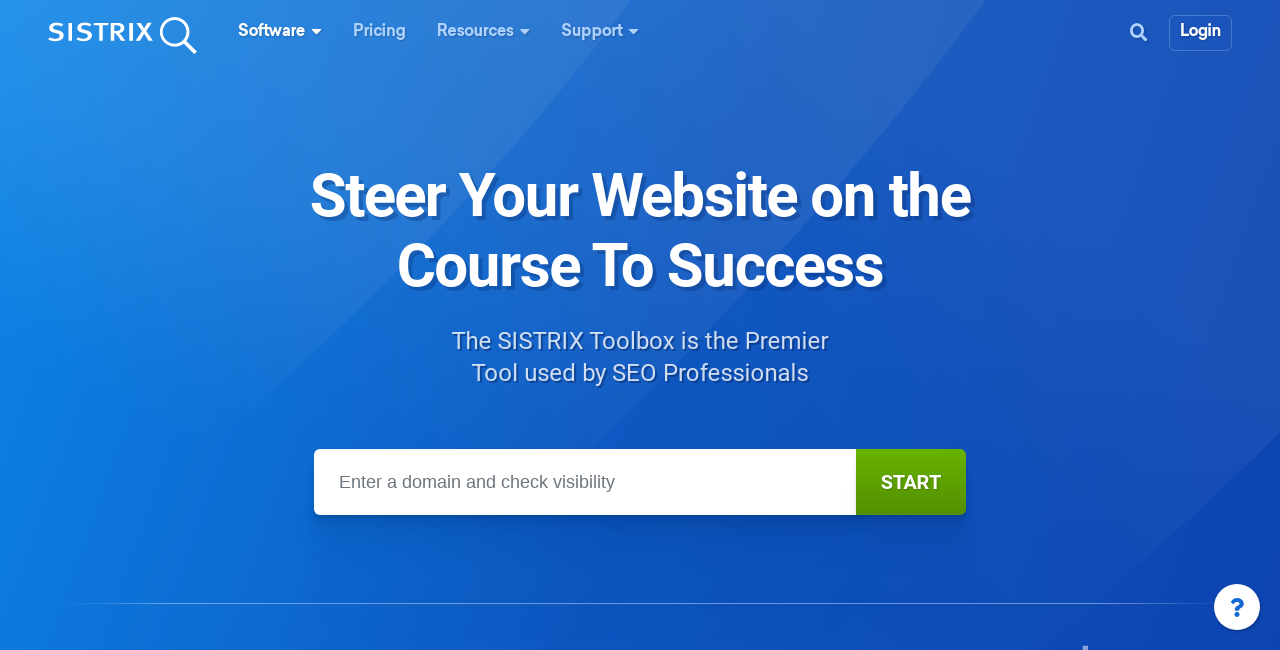 10. Worthy mention: Sistrix
Sistrix is an ideal tool for SEO agencies. It offers a comprehensive suite of features, data-driven insights, and ease of use.
It provides a robust keyword analysis tool that helps SEO professionals identify high-potential keywords, track rankings over time, and understand the competitive landscape. This information is vital for creating targeted content strategies and improving organic search performance.
The Visibility Index is a standout feature of Sistrix. It measures a website's search performance across a large database of keywords, some refreshed daily, others weekly. You can annotate the visibility index chart with your own custom events, which is useful for noting noteworthy updates to a site. The visibility index lets agencies monitor the effectiveness of their efforts, compare their clients' progress against competitors, and pinpoint areas for improvement.
Features
Keyword analysis
Visibility Index
Backlink analysis
On-page SEO audit
Mobile SEO
International SEO
Social signals
Competitor analysis
Rank tracking
API access
How we've reviewed
Our team of experts conducted thorough research and evaluation of the top SEO tools for agencies. We tested each tool based on data accuracy, user interface, features, pricing, and customer support. We also considered the needs of agencies, such as managing multiple clients and projects.
We evaluated each tool through hands-on testing and research of user feedback and reviews from industry experts. We compiled all our findings into this comprehensive review to help agencies choose an SEO tool that suits their needs.
Why trust us?
Our team of three experts has a combined 12 years of experience in a large agency with over 200 people. We take pride in our reputation for being trustworthy and reliable, and our goal is to provide our readers with the most accurate and up-to-date information available.
FAQs
We have identified the best SEO tools for marketing firms. Now, let's address the common questions when comparing the solutions.
Can both small and large agencies use these tools?
Yes. All nine SEO tools featured here can accommodate small and large marketing firms. They offer packages for various needs. Small agencies can start with the lowest tier and upgrade as their marketing needs grow.
Are there any free SEO tools for agencies?
Some free SEO tools can fit into an agency's workflow. But, they may not be enough for large-scale campaigns. For example, Looker Studio is a free SEO tool for agencies that want to consolidate and visualize data from Google's platforms. You'll need to pay for connectors to integrate third-party marketing platforms to access full-scale SEO reporting.
Are there any SEO tools that specialize in specific industries or niches?
Yes. Some SEO tools focus exclusively on specific industries or niches. Perpetua is an SEO tool for Amazon-based storefronts. Some research platforms can generate niche-specific insights if you configure their research tools accordingly.
How can agencies ensure they use the most effective SEO tools for their clients?
Agencies should test and validate the tools to find the best ones for their client's projects. Identify tools that align with your client's campaign objectives and test them separately. Compare the results from the SERPs to determine the best SEO tools based on accuracy, performance, and ROI. Run trials on ranking trackers and compare them based on accuracy, completeness of analytics, and sensitivity to changes in rankings.
Final Thoughts
Having the right SEO software for agencies gives you an edge over other digital marketing firms. But remember, these tools can't do the marketing for you. Your success depends on how you use the insights they provide, how you manage project workflows, your analysis of the client's needs, and the skills and experience of your digital marketing team. The best SEO tools are only meant to lay the groundwork – what you do with it is up to you.
---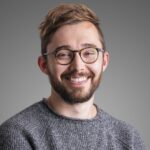 Sam Underwood
Sam is an international Ecommerce SEO Consultant with experience implementing enterprise-level SEO strategies.
More SEO tools for agencies
Not quite found what you're looking for in our SEO tools for agencies guide? Here are more tools for you to consider.
Paid

An all-in-one AI SEO tool to fulfill all your client needs.

Alli AI

AI SEO tools, All-in-one

Paid

Use Surfer to quickly generate content plans for any domain. Write high-quality, SEO-friendly content to imporve your organic traffic.

Surfer SEO

Content writing, AI SEO tools, Content briefing, Keyword research, Site Auditing

Paid

Semrush offers solutions for SEO, PPC, content, social media and competitive research. Trusted by over 7000000 marketers worldwide

SEMrush

All-in-one, Backlink Analysis, Competitor analysis, Link auditing, Link building tools, Local SEO, Site Auditing

Paid

An all-in-one SEO tools that can help you with backlink analysis, keyword research, site auditing and more.

Ahrefs

All-in-one, Backlink Analysis, Competitor analysis, Keyword research, Rank tracking, Site Auditing

Paid

ContentKing tracks your website 24/7 so you can catch unexpected changes and issues before search engines and visitors do.

ContentKing

SEO crawler

Paid

Smart and powerful tool for ✓ Backlinks Analysis ✓ Rank Tracking ✓ Keyword Research ✓ Competitor Analysis ✓ Site Audit.

Serpstat

All-in-one, Backlink Analysis, Competitor analysis, Keyword research, Rank tracking, SEO crawler, Site Auditing

Paid

Sitebulb is a powerful website auditor with a great reporting system. It won 'Best Search Software Tool' at the 2018 UK Search Awards and the US Search Awards.

Sitebulb

Site speed, International SEO, SEO checker, SEO crawler, Structured Data, XML Sitemaps

Paid

Mangools is a bundle of 5 simple but powerful SEO tools made for an effective SEO workflow. Loved by beginners, trusted by professionals. Try it for free!

Mangools

All-in-one, Backlink Analysis, Competitor analysis, Keyword research, Rank tracking

Paid

Elevate your copy quickly with with Jasper AI's capabilities, saving you time and improving quality.

Jasper AI

Content writing, AI SEO tools

Free

A versatile tool that offers templates, Cruise Mode for easy long-form content, SEO tools, Cluster Builder, and authority building.

Scalenut

AI SEO tools, Content briefing, Content writing

Paid

An all-in-one SEO tool that offers rank tracking, site auditing, keyword research, backlink analysis, and competitor analysis features.

Rank Ranger

All-in-one, Competitor analysis, Duplicate Content, Internal Linking, Keyword research, Local SEO, Rank tracking, Structured Data

Paid

A site auditor and log file analysis tool combined, making technical SEO simpler.

Jet Octopus

Log File Analysis, SEO crawler, Site Auditing

Paid

Use Frase's AI tools to create optimised content that will generate more traffic and increase conversion rates.

Frase

AI SEO tools, Content briefing, Content writing

Paid

Using AI and machine learning, Marketmuse is the tool to use to perfect your content strategy.

MarketMuse

Content writing, AI SEO tools, Content briefing

Paid

Simple and privacy-friendly Google Analytics alternative

Plausible Analytics

Web Analytics

Paid

Grammarly is a writing assistant that uses AI to check for grammar, spelling, punctuation, and style errors in your writing.

Grammarly

Content writing, AI SEO tools, Plagiarism checker

Chrome

Firefox

Mac

Safari

Web Application

Windows

Paid

Boost content performance on Google with a robust toolkit, enabling SEOs and content teams to create, optimize, and maintain high-performing content swiftly and accurately.

Page Optimizer Pro

AI SEO tools, Content briefing, Content writing

Browser Application

Chrome

Paid

The Screaming Frog SEO Spider is a small desktop program (PC or Mac) which crawls websites' links, images, CSS, script and apps.

Screaming Frog SEO Spider

SEO crawler, XML Sitemaps

Paid

The #1 Local SEO Software trusted by 80k marketers. Tools to Monitor, Audit, and Improve Local SEO. Get a 14 Day Free Trial - No Card Required,

BrightLocal

Local SEO

Paid

Real-time marketing monitoring, industry benchmarking, and actionable insights to optimize your marketing efforts.

Hawke AI

AI SEO tools, Reporting

Paid

Use this tool to audit links, content and social data quickly and efficiently.

URL Profiler

Backlink Analysis, Link auditing, SEO Data

Paid

Technical SEO Platform to open Google's blackbox. Combine your content, log files and search data at scale. Increase traffic, rankings & revenues. Start your free trial

OnCrawl

Log File Analysis, SEO crawler

Paid

Get more traffic, improve your website's usability, and increase your conversion rates with the Ryte Suite: the leading all-in-one platform for Website Quality Assurance and SEO.

Ryte

All-in-one, Content writing, Log File Analysis, SEO crawler, Site speed, Split Testing

Paid

Backed by the largest community of SEOs on the planet, Moz builds tools that make SEO, inbound marketing, link building, and content marketing easy. Start your free 30-day trial today!

Moz

All-in-one, Backlink Analysis, Competitor analysis, Keyword research, Site Auditing

Paid

This tool is designed to help agencies create automated reports to share with clients.

AgencyAnalytics

Rank tracking, Reporting, SEO crawler

Paid

Start your influencer campaign with the Ninja Outreach tool. Find influencers that your audience will love, in any location, for any market.

Ninja Outreach

Link building tools

Paid

Run a search to quickly discover content ideas, uncover platform insights, identify passionate influencers and more. Start your free trial now!

BuzzSumo

Link building tools

Paid

The SISTRIX Toolbox is the premier tool used by SEO professionals. Data you love, from people you trust.

Sistrix

All-in-one, Backlink Analysis, Competitor analysis, Keyword research, Rank tracking, SEO crawler

Paid

Save time by using Raven Tools to create reports for SEO, Social, and PPC for your clients.

Raven Tools

All-in-one, Keyword research, Rank tracking, Reporting, SEO crawler

Paid

Improve your local search strategy and attract more customers by using Whitespark's SEO tools and managed citation services.

Whitespark

Local SEO

Paid

Use Searchmetrics to make informed search and content decisions, using their vast supply of data and analytics.

Searchmetrics

All-in-one, Competitor analysis, Keyword research, Rank tracking, Site Auditing

Paid

SERP tracking and analytics for SEO experts, STAT helps you stay competitive and agile with fresh insights.

STAT

Competitor analysis, Rank tracking

Paid

The cognitiveSEO tool provides a unique analysis process that delivers Unparalleled Backlink Analysis, Content Audit and Rank Tracking for Every Site.

CognitiveSEO

All-in-one, Backlink Analysis, Competitor analysis, Rank tracking, SEO crawler

Paid

Get all-in-one pack of SEO software - download the free edition of SEO PowerSuite. Powerful SEO tools and free SEO advice - get on the way to top 10 rankings for your site on Google and other search engines!

Link Assistant

All-in-one, Competitor analysis, Link auditing, Link building tools, Rank tracking, Site Auditing

Paid

Nozzle is a full serp monitoring tool that lets you track unlimited competitors, no questions asked.

Nozzle

Competitor analysis, Rank tracking

Paid

SEO solutions for agencies to help save them time and focus on what matters.

SEOMonitor

Competitor analysis, Rank tracking, Reporting

Paid

DeepCrawl's technical SEO platform helps businesses like yours detect opportunities for growth and protect your site from revenue-sapping code.

Deepcrawl

SEO crawler

Paid

Try the world's best front-end speed companion for free. Monitor and fix your site speed. Receive powerful reports in your email and GitHub Pull Requests.

Calibre

Site speed

Conductor

All-in-one, Content briefing, Content writing, Keyword research, Rank tracking, Reporting, SEO crawler

Brightedge

All-in-one, Competitor analysis, Content marketing, Keyword research, Rank tracking, SEO crawler

Screaming Frog Log Analyser

Log File Analysis