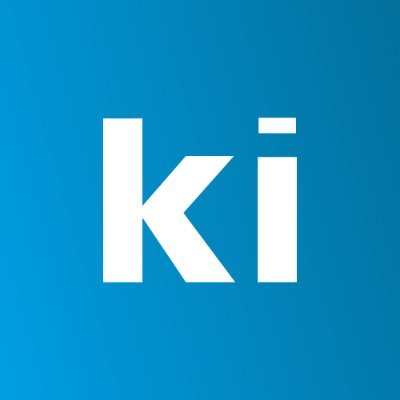 Keyword Insights review
Keyword insights is a tool that uses advanced natural linguistic processing and SERP data to group similar keywords together and understand the search intent.
4.5

Publish date:

September 26, 2023

Author:

Sam Underwood
Visit site
---
About Keyword Insights
Price range:

$9.99 - $99.99
---
Pros
A comprehensive set of features

Intuitive user interface

Comprehensive knowledge base

Pay-as-you-go option

The paid trial gives access to all features

Visual keyword analysis

Public API access

Allows multiple users for all pricing plans

Extensive database with over five billion keywords

Can cluster up to four million keywords at a go

Promising product roadmap

Managed services
Cons
Limited integrations with other tools, like WordPress or Google Docs

Limited integrations with other tools, like WordPress or Google Docs

Limited customer support, but great documentation

Limited customer support, but great documentation

Has a paid trial plan

Lacks built-in content analytics and writing tools
---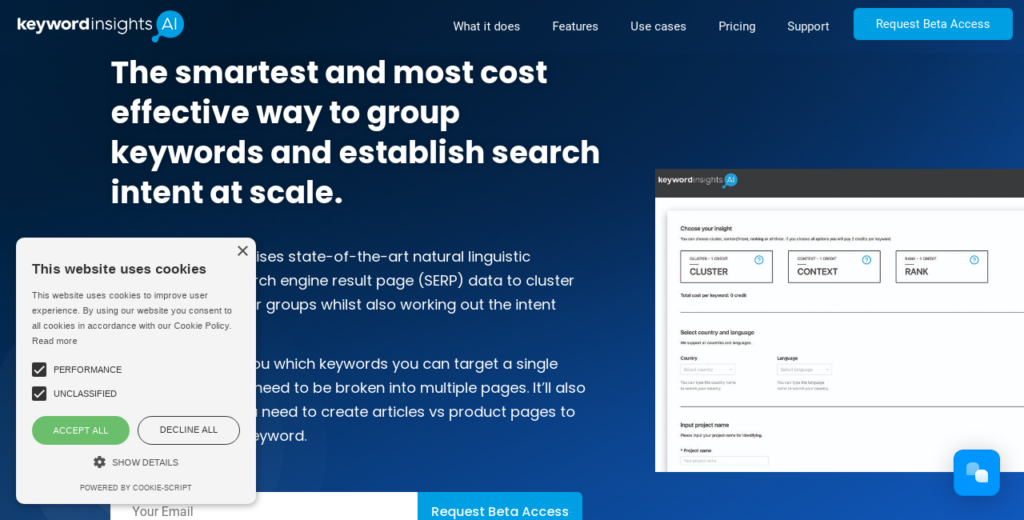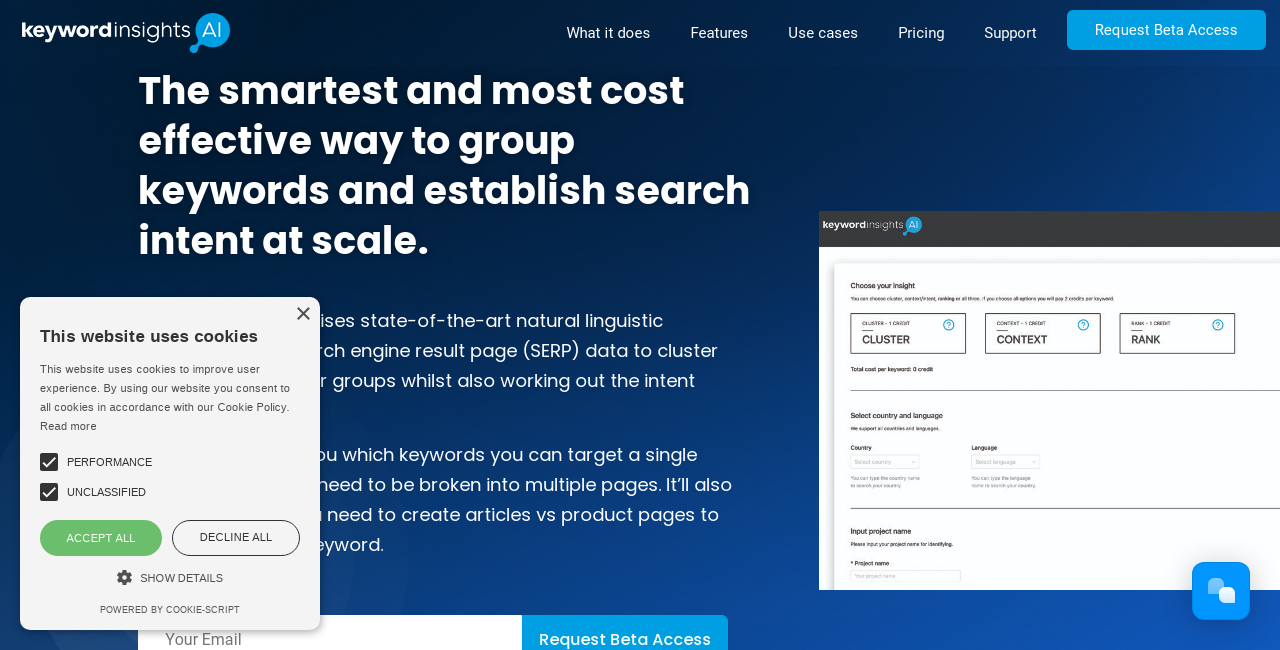 Marketing, brand growth, and customer engagement all hinge on content. It's crucial for businesses of any size, industry, or market segment. Content levels the playing field, letting companies to compete more evenly. Because of this, brands, big and small, are investing in content optimization tools. These tools refine business strategies, boost marketing efforts, and generate high-performing content at a large scale.
One such tool is Keywords Insights.
We wanted to help you decide if it's the right fit for you. So, we tested a paid plan and prepared a thorough and unbiased review. We looked at the features, design and user experience, customer support, and value for money.
We also compared it with top alternatives to see how Keywords Insights measures up.
The TL;DR version
What is Keyword Insights?
Keyword Insights is a tool driven by artificial intelligence. It clusters keywords and identifies search intent. In addition, it offers content management features, streamlining the content creation process for users. The tool aims to help users find thousands of keywords, organize them into topic clusters, and develop comprehensive content briefs.
Top-tier brands like Sprout Social, Forbes, Freshworks, and Shopify use Keyword Insights. They use it to enhance their content strategies on a large scale. It's also a great fit for content and SEO agencies, as well as affiliate marketers.
Andy Chadwick and Suganthan Mohanadasann are the minds behind Keyword Insights. Both are established SEO professionals with over two decades of combined experience in the industry.
Since its launch, Keyword Insights has earned several awards and recognitions. The most notable among these is the #1 Product of the Day badge from ProductHunt in 2022. It also holds the G2 Higher Performers badge.
Key Features
Here are some primary aspects of the tool:
Keyword Research
These tools assist in performing keyword research and providing insights for keyword optimization.
Keyword Discovery: This feature generates thousands of related search terms from a single seed keyword. It also allows for easy exportation to a CSV file.
Keyword Clustering: This feature enables grouping similar target keywords on a page. It allows a page to rank for multiple related search terms.
Keyword Distill: This feature simplifies competitor analysis. It uncovers all the keywords your competitor's target or rank for. 
SERP and Competitor Tools
Employ these tools to gain competitor insights from SERPs.
SERP Explorer: This tool allows for SERP checking for any location. It tracks keyword ranking across locations without needing a VPN.
Search Similarity Tool: This tool displays the similarity of SERPs for different keywords. It shows whether you should target those keywords on the same page or create separate pages for them.
URL Grouper: This tool groups your URLs based on engagement. It allows for the upload of a URL list and groups them based on Google Search Console clicks or other metrics.
Content Tools
These tools employ artificial intelligence to aid in content development and creation.
Content Brief: This tool is a content outline generator that plans your website's content. Using this module, you can research and outline your content at scale to surpass the competition.
Content Grader: This tool allows for the creation of engaging content based on an AI-generated brief. It also assesses your content against key SEO ranking factors.
Search Intent: This tool helps understand the search intent behind your audience's keywords. It shows whether a keyword is transactional, informational, or fragmented and tracks how a keyword's search intent changes over time.
We've briefly covered what Keyword Insights offers. Now, let's delve deeper into what this tool provides.
Projects
Keyword Insights allows you to initiate diverse projects, such as keyword discovery for search term identification or keyword clustering for discerning search intents. It also offers the capability to generate briefs, explore the SERP, and discover keyword overlaps. 
Through its intuitive interface, you can establish seamless workflows, facilitating easy transitions between tools. For instance, from the Keyword Discovery interface, you can directly cluster your keywords without starting a new clustering project or generate content briefs.
To start a project, log into your Keyword Insights account and click "New Project."
Next, select the project type you wish to create from the tool list.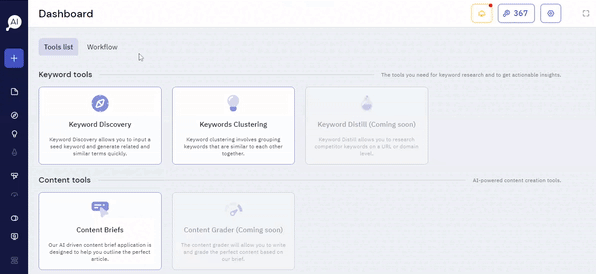 And that's it.
We will detail how to set up projects as we explore each feature later.
However, to create a workflow, log in to your dashboard and start a new project. Next, select "Workflow," then choose how you want to create one.

Keyword Insights provides two flexible ways to create workflows: start with an already existing keyword list or begin with a seed keyword.
The first method allows you to form a step-by-step workflow from keyword clustering to content brief.
The second method lets you develop a comprehensive project flow that begins with keyword discovery, moves to clustering, and ends at the brief generator.
Keyword Insights is planning to improve user experience by adding a new feature called Content Grouper that will allow creating workflows. Another exciting upcoming update is the option to connect your Search Console account. This link will open many optimization possibilities when you group keywords.

Keyword Insights keeps all your projects efficiently in one place. You can reach these by doing two easy steps:
Select the "Projects" tab on your dashboard.
Click on the project name or the "View Report" button to open a specific project report.
The platform also offers the convenience of downloading your report as a Microsoft Excel file or sending it straight to your Google Drive for easy access and data sharing.

Keyword Discovery
Keyword Insights boasts an exceptional keyword discovery feature, leveraging a comprehensive database of over five billion keywords. Regardless of your industry, market, audience, or interests, it's guaranteed you can uncover thousands of specialized keywords.
Primarily, the data is derived from the trusted Google Keyword Planner, ensuring reliable and relevant keyword suggestions. The inclusion of a search volume function allows you to gauge the value of each keyword and make informed decisions about whether to invest in it.
To provide a user-friendly experience, Keyword Insights operates on a credit-based system, meaning you only pay for what you use without upgrading your subscription. This unique approach has made the tool popular among market-leading brands like Growthplays, which leverages Keyword Insights to automate their keyword research processes.
John Henry Scherck, the founder of Growthplay, shared his enthusiasm for the tool:
"Keyword Insights is basically what I wanted to build for years, but had no idea how to go about it. So useful. Automating something we were spending a lot of time sussing out manually."
Accessing the keyword discovery feature is straightforward:
To use this feature, select the Keyword Discovery module when you log in to your account.
You'll see a dialogue box.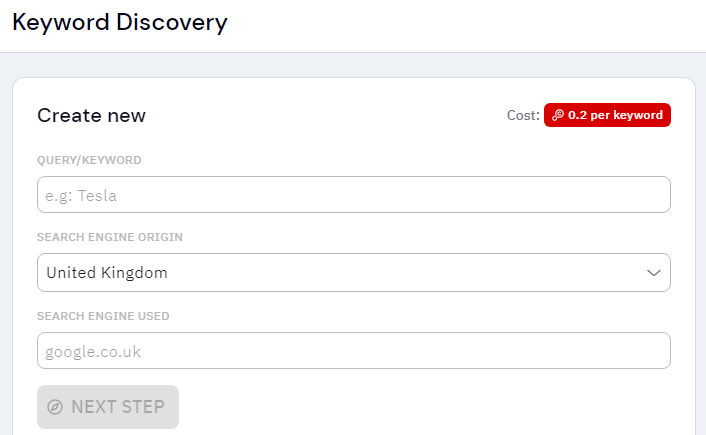 Enter your seed keyword, select the country you want to analyze the keyword for, you'll see the relevant search engine, and click Next.
On the next screen, verify your search setting, apply filters, and specify how you want the tool to sort the results. For example, you can filter by the search volume, CPC, and number of competitors you want it to fetch.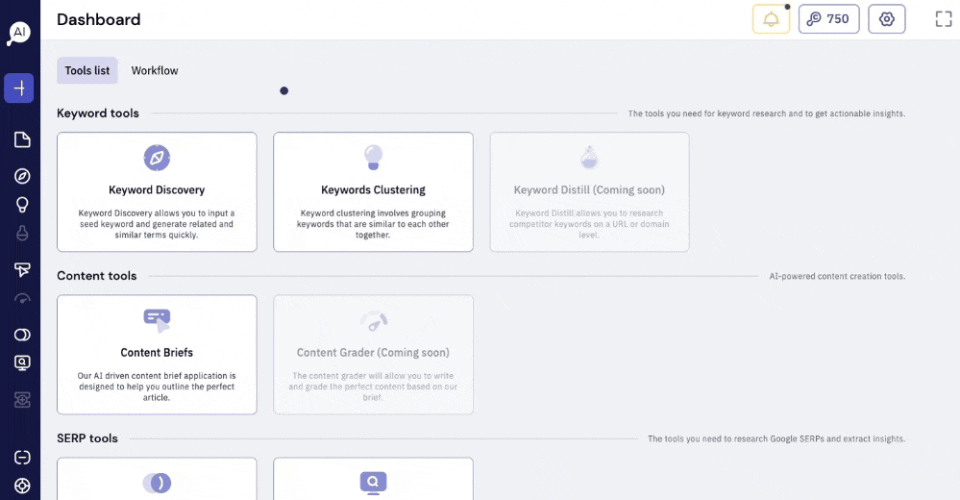 You will see the number of available keywords for your search term. Specify how many you want. Then, click the "Summary" button to generate your report.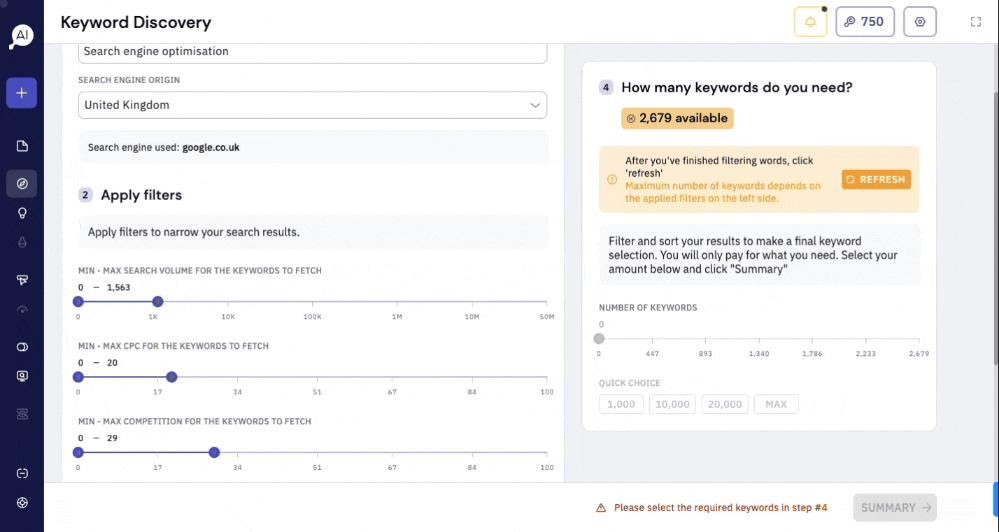 Each keyword discovery costs 0.2 Keyword Insights credits.
When you return to the keyword discovery section, you'll find your discovery reports, their number of keywords, the dates you created them, and search engines associated with the data.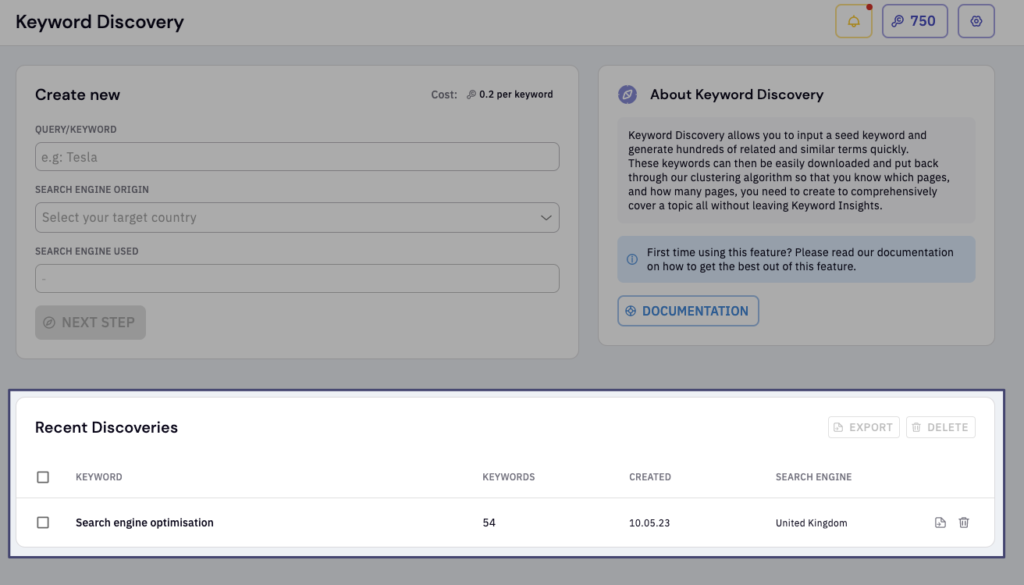 You can download the data in a CSV document or delete it.

You can also delete or export your data in bulk. Select the ones you want to work on and click the export or delete button.

Open the report by clicking on the keyword. A table will appear. This table shows the keywords, search volume, competition, and cost per click (CPC). The report can show ten, 25, 50, or 100 keyword results.
There's also an option to create clusters. Activate this function to group keywords from your report.
This is how the report dashboard appears: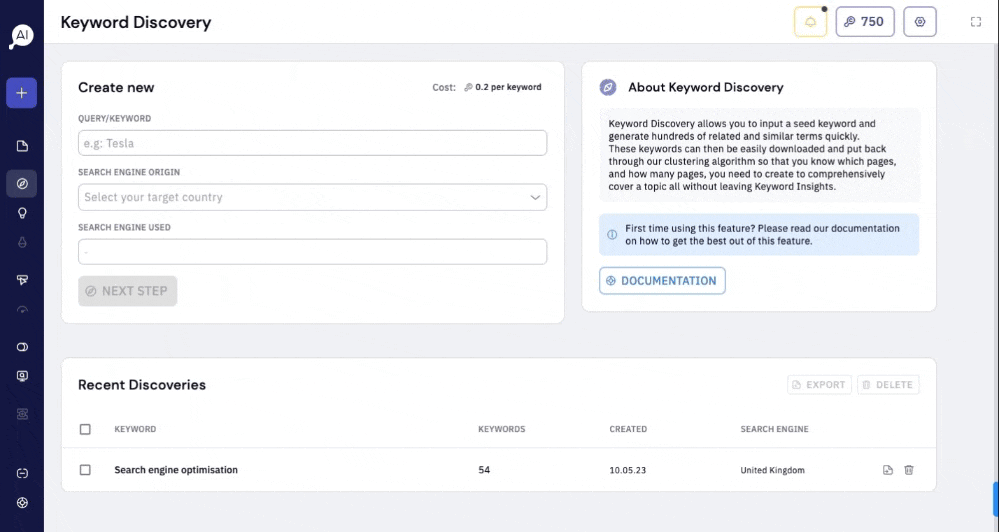 Keyword Insights provides a range of pricing options for its tool to cater to diverse user requirements.
A monthly subscription costs $49, giving you a substantial 6,000 credits.
Alternatively, the pay-as-you-go plan gives you 1,000 credits for $15.98.
The latter allows you to uncover up to 5,000 keywords at a relatively low cost, proving it to be an economical choice for keyword research.
Still, I need to point out a potential improvement for the tool: Trend data.
The tool does not currently have keyword search trend data. This makes monitoring how a keyword's search volume changes over time is hard. This feature is not present now, but it would be great for a future update.
To sum up, Keyword Insights offers a solid keyword research tool with some scope for enhancement. As the platform progresses, users can anticipate improvements that will further simplify the research process.
Keyword Clustering
The Keyword Clustering feature is a distinctive offering from Keyword Insights, significantly distinguishing it from other SEO tools in the market.
This feature provides the ability to group your keywords into thematic clusters. Essentially, these are keywords that are topically similar in meaning. The power of this feature lies in its potential to improve your page's ranking chances by simultaneously targeting multiple semantically related keywords.
William Nye, the Technical Director at Builtvisible, speaks highly of the tool. According to him, it has supercharged the productivity of their SEO and content teams. This increased efficiency allows the team to shift focus onto delivering more valuable insights to clients.
In his words:
"Keyword Insights' clustering tool has been instrumental in boosting our SEO and content team's productivity, enabling us to concentrate more on delivering valuable insights to our clients."

Keyword Clustering is easy to use. Let's explore its sub-features to understand how they work and how you can benefit from using them.
Collect your keywords
To take full advantage of the Keyword Clustering tool from Keyword Insights, follow the steps outlined below:
Prepare Your Keywords: Accumulate the list of keywords you aim to cluster. This is a critical preparatory step before initiating the keyword clustering tool.
Import Your Keywords: Keyword Insights supports importing of keywords from a wide range of tools, including Ahrefs, Serpstat, Search Console, or Semrush, offering significant flexibility in keyword sourcing.
Use Keyword Discovery: You can also leverage the Keyword Discovery tool within Keyword Insights to complete your keyword research. You can then combine these newly discovered keywords with those from other external tools.
Import CSV Files: If you have CSV files containing keywords from multiple platforms, there's no need to reformat them before importing them into Keyword Insights. This feature saves time and simplifies the import process.
No Need for Downloads: Importing keywords from the Keyword Discovery section does not require downloading. You can directly push your keywords to the cluster from that section, streamlining the process.
Commence Clustering: Once you have your documents and keywords ready, you can then fully utilize the Keyword Clustering tool to streamline your SEO tasks.
Remember, careful preparation and an understanding of the available tools can significantly improve your SEO efforts and the efficiency of your workflow.
Create Your Keyword Clusters
First, log into your account and start a new project. Then, select the Keyword Clustering tool.

Next, name your project and select your target location and language.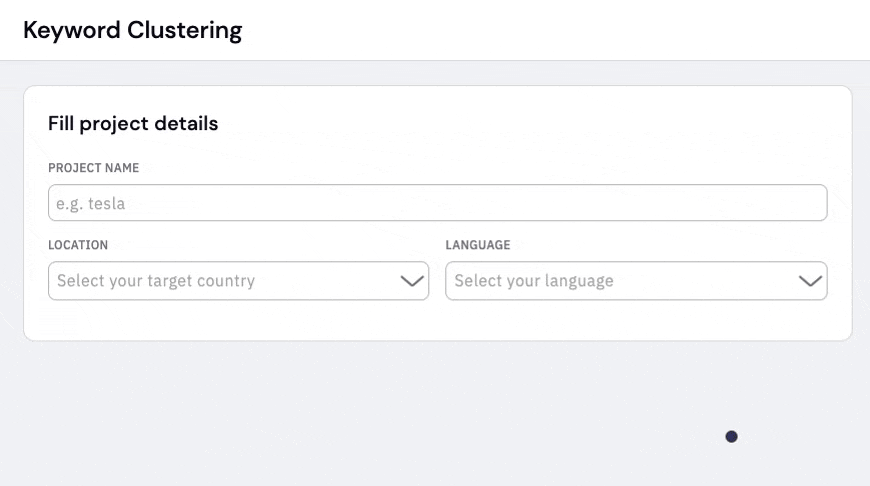 Now, specify your clustering insights; these are the reports you wish to generate.
Choose Your Insights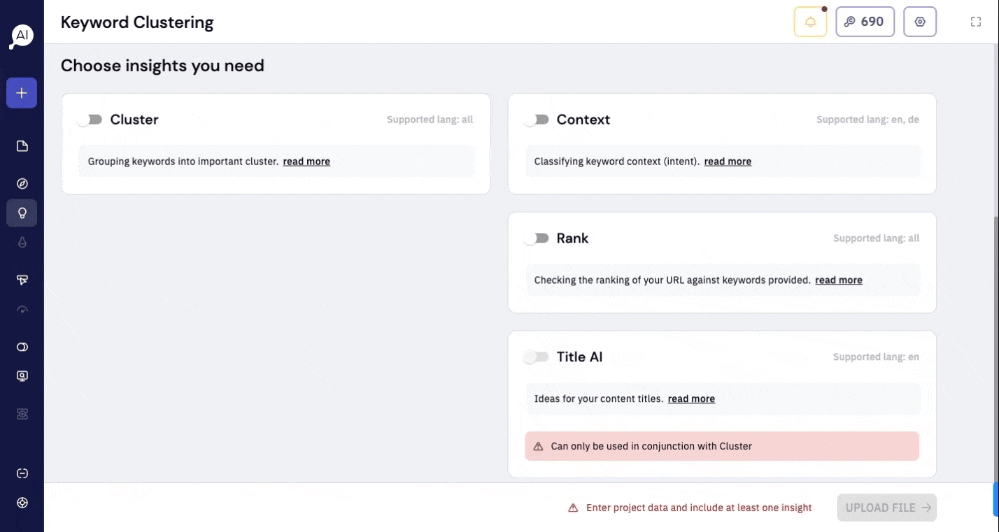 Keyword Insights provides documentation and video guidance to help first-time users navigate this tool.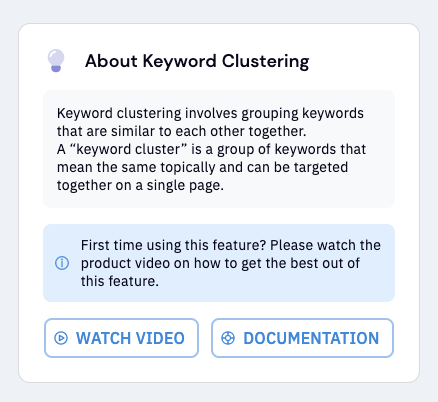 You can enable up to four insights:
Cluster: groups your keywords into topical clusters
Context: toggle this button to see your keywords search intent
Rank: lets you track your URL or a competitor's domain ranking for each keyword
Title AI: generate AI content titles
Choose an Algorithm: Fast or Slow
Specify your preferred algorithm in the advanced settings section.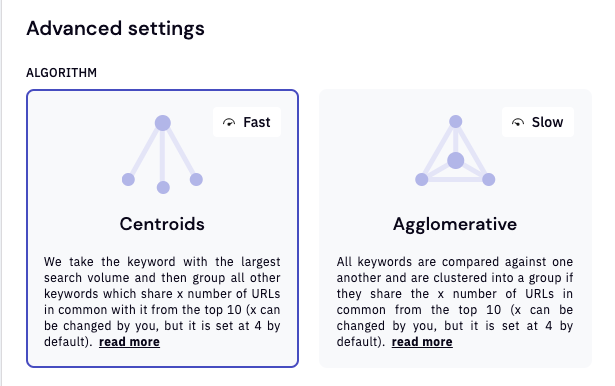 Keyword Insights offers two distinct clustering algorithms: Centroids and Agglomerative. Each of these algorithms comes with its own set of benefits and considerations.
Centroids Algorithm: Known for its speed, the Centroids algorithm clusters keywords based on search volume. This speed and efficiency may sometimes result in the inclusion of keywords that don't necessarily belong in a specific cluster.
Agglomerative Algorithm: This algorithm is more meticulous and hence slower. It clusters keywords by comparing them against each other, ensuring a more rigorous grouping process. Despite being more time-demanding, its stricter clustering rules tend to result in more accurate groupings.
Keyword Grouping and Hub Creation
With Keyword Insights, you can control the precision of your keyword clustering through the Keyword Grouping Accuracy feature. This setting determines the minimum number of URLs that keywords must have in common to form a cluster.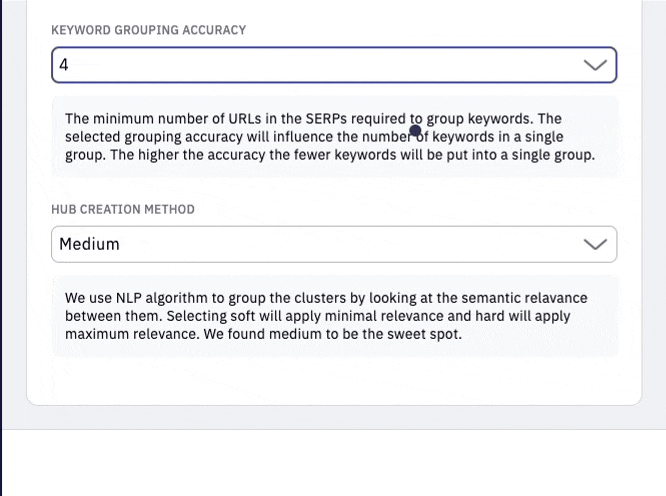 Another powerful feature of Keyword Insights is the ability to create Hubs, which allow for topical clustering of keywords based on their interrelationships. This tool is particularly useful when planning a content calendar, as it helps you identify related clusters.
As a guideline for using this feature:
Choose 'medium' for broad niches.
Opt for 'hard' for narrow niches.
The 'soft' setting is usually less relevant due to the higher degree of dissimilarity among keywords in the clusters.
For example, if you run a general sports website, setting the hub to 'medium' would capture all keywords under various sports categories—golf, running, skiing, basketball, etc. On the other hand, if you own a niche-specific golf website, choosing 'hard' would result in more precise keyword groupings relevant to golf—such as golf balls, golf courses, golf shoes, golf clubs, and golf gloves.
These adjustable settings empower you to customize your keyword clustering and hub creation to suit your unique content and SEO needs.
Context
The Context feature of Keyword Insights is a powerful tool designed to address search intent. Currently, it supports English and German languages.
Keyword Insights relies on live, country-specific SERP data for its keyword clustering. Using a pre-trained machine learning model, the tool queries the uploaded keywords and then groups those with a specified number of URLs appearing in the top ten search results into a cluster.
This unique feature offers strategic insights, aiding you in decisions such as:
Whether to create long-form posts or product pages for a particular keyword.
Whether the search intent for a keyword has multiple aspects, allowing you to plan your content better.
Consider the keyword "free keyword research tools". An analysis shows that seven out of the top ten results for this keyword are articles. Consequently, a blog post would be the appropriate content format if you're targeting this keyword.
When the context function is toggled on, your report will include three additional columns for intent analysis:
Number of Articles appearing in the SERP.
Number of Product Pages in the SERP.
Number of Other Pages in the SERP.
By choosing not to activate the context function, these three columns will be absent from your report.
In summary, the Context feature provides invaluable insights into search intent, enabling you to align your content strategy more effectively with user search behavior.
Rank
The Rank feature of Keyword Insights is a valuable tool for checking the ranking of your website's URLs against the provided keywords. Unlike the Context feature, Rank supports all 49 languages available in Keyword Insights.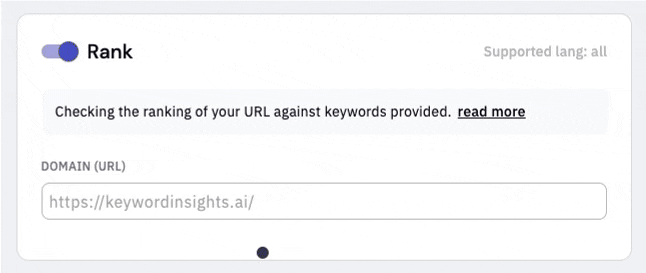 Key aspects of the Rank feature include:
URLs and Rank Position: You will see your URL and its respective rank position. The data obtained from keyword clustering can assist you in identifying keyword optimization opportunities for each URL on your website.
Spotting Overlapping and Misaligned Rankings: This feature helps you identify pages that are trying to rank for too many clusters or those that rank for the wrong search intent. It can also assist in identifying keyword cannibalization issues, where multiple pages from your website are ranking for the same keyword.
Opportunity Score: The lower a page ranks in the SERPs, the higher its opportunity score. This is because low-ranking pages have more potential for improvement. Naturally, if a page already ranks at position one, it doesn't require additional ranking opportunities.
Determining Opportunity Score: Keyword Insights calculates your page's opportunity score based on your current rank positions, the keyword search volume, and the keyword's click-through rates. This can help you prioritize clusters and concentrate on the ones that are most critical for your website.
Thus, the Rank feature provides an invaluable perspective on your website's performance, helping you strategize your SEO efforts for optimal results.
Title AI
Title AI is a sub-feature of Keyword Insights that leverages the power of artificial intelligence to streamline your content creation process. It employs a neural network machine learning model to analyze each keyword cluster and then generate four creative title ideas.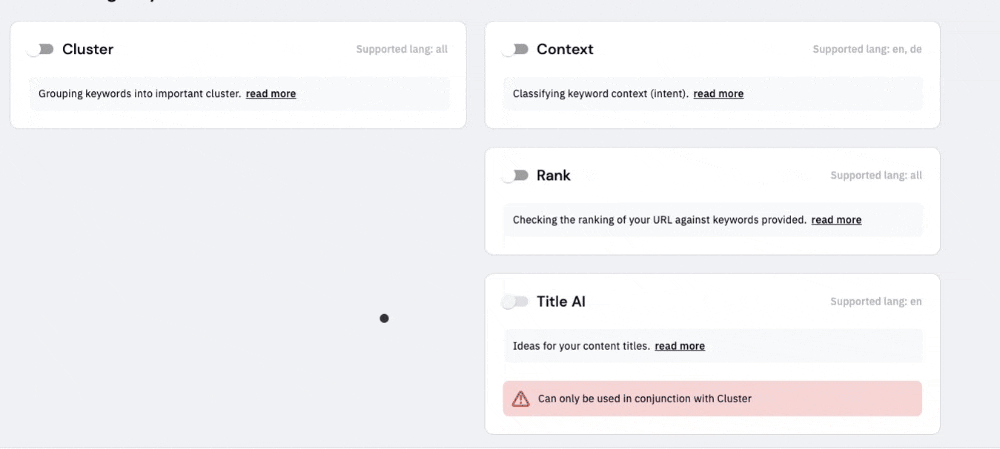 Benefits of the Title AI feature include:
Content Title Ideas: This feature offers four title suggestions for each keyword cluster, providing you with a starting point and inspiration for your content creation.
Accelerated Content Brief Creation: With Title AI's suggested titles, you can expedite the creation of high-quality content briefs, saving you time and boosting your productivity.
In essence, Title AI helps you streamline the content ideation process, enabling you to focus more on producing engaging and high-quality content.
Cluster your keywords
Once you've selected your insights, follow these steps to cluster your keywords and generate your report:
1. Choose and Upload Your Keywords: Select the keywords you want to cluster and upload them to the platform.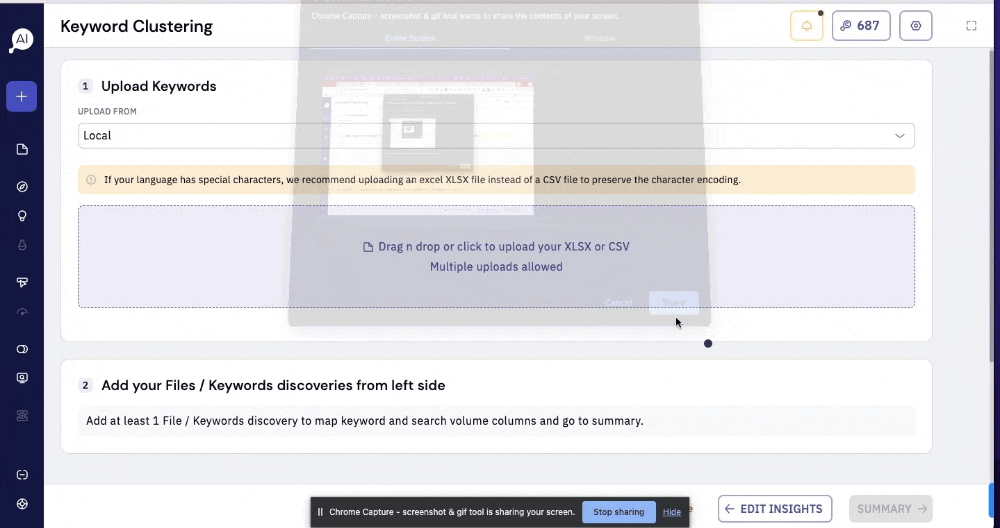 2. Review Your Order: Before proceeding, make sure to review your project details and files. You can make necessary edits at this stage.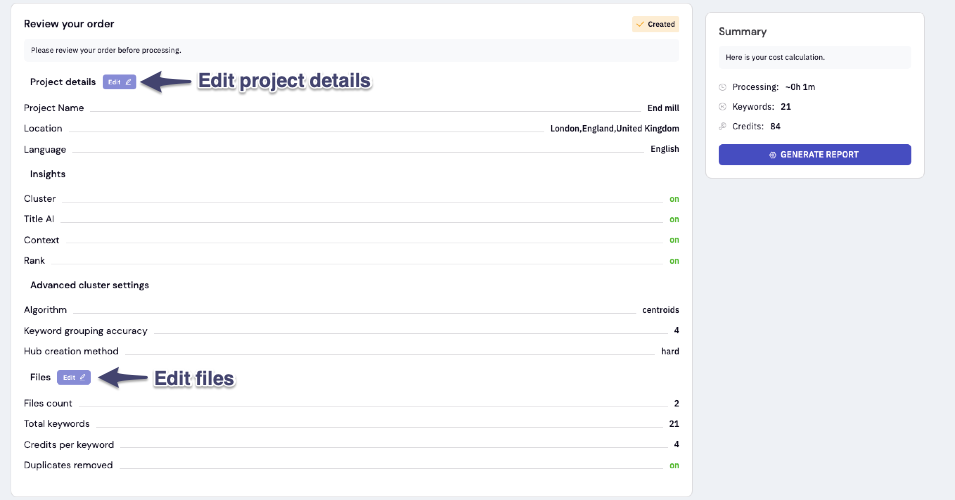 3. Review Details and Cost Calculation: Look over your project details, including processing time, number of keywords, and credit usage. Ensure you are satisfied with all aspects of the project and cost.
4. Generate Report: If all details are in order and you have sufficient credits, click on the 'Generate Report' button to initiate the process. If you need more credits, you have the option to purchase them.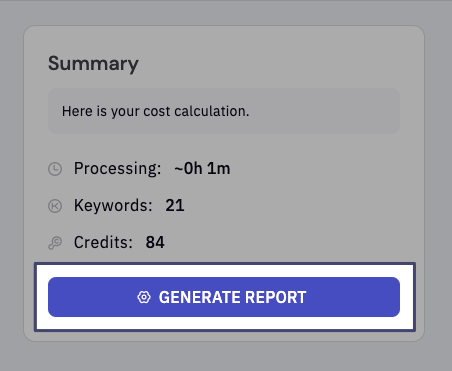 Keep in mind Keyword Insights can manage four million keywords at once. But, if you aim to export your report to a Google Sheet, try not to upload more than 150,000 keywords. This limit helps the platform process smoothly. If you have to upload more, contact the support team at Keyword Insights. They can suggest a solution.
Analyze Your Keyword Clusters in Projects
Once the data is ready, you'll find your report under the "Projects" section. You might need to refresh Keyword Insights to see the updated data.

Manual analysis of these clusters can be difficult. But, the tool handles this complex task. It examines the output and picks the top keyword from each cluster. These top keywords are marked in green. This helps you rank your content for numerous keywords. You also have the option to view the report as a table or a card.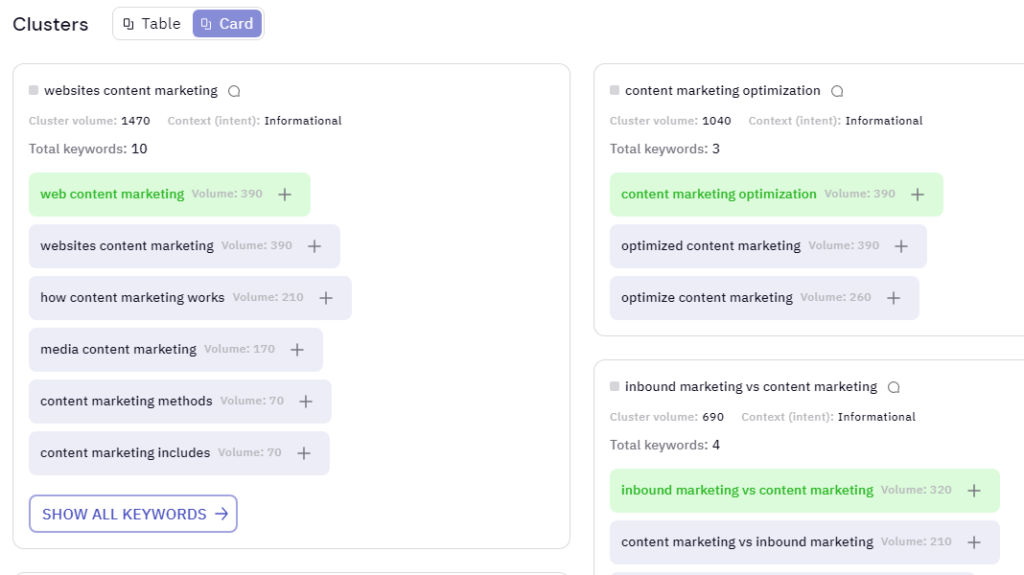 You can click the plus icon to generate a content brief from any cluster. Furthermore, the tool lets you filter your cluster based on various parameters:
Cluster volume
Context (intent)
Relevance
Keywords
So you can drill down to what you want to see. You can also display only clusters with no briefs.
One standout feature of Keyword Insights is the Hub feature which uses Natural Language Programming (NLP) to identify semantic relationships within your clusters. The insight gained from this allows you to create a hub and spokes (or pillar-cluster) content model for topical authority.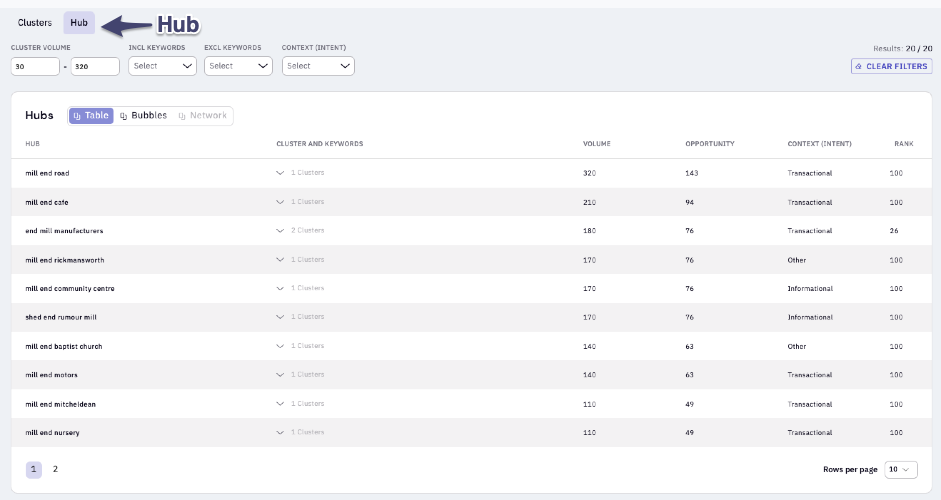 You can see the hubs, clusters and keywords, and aggregate search volumes at a glance. It also shows you the content opportunity, search intent, and URL ranking data. 
However, my favorite is the Bubbles view for visual analysis. You can apply different color filters to see Bubble views across cluster sizes.
Color codes:
Indicating hubs or clusters
Context showing informational, transactional, and other search intents
Opportunity showing low to high
Rank showing low to high
Cluster sizes:
Number of keywords
Cluster volume
Opportunity volume
Rank
Here's a Bubble view for the keyword "content marketing clusters."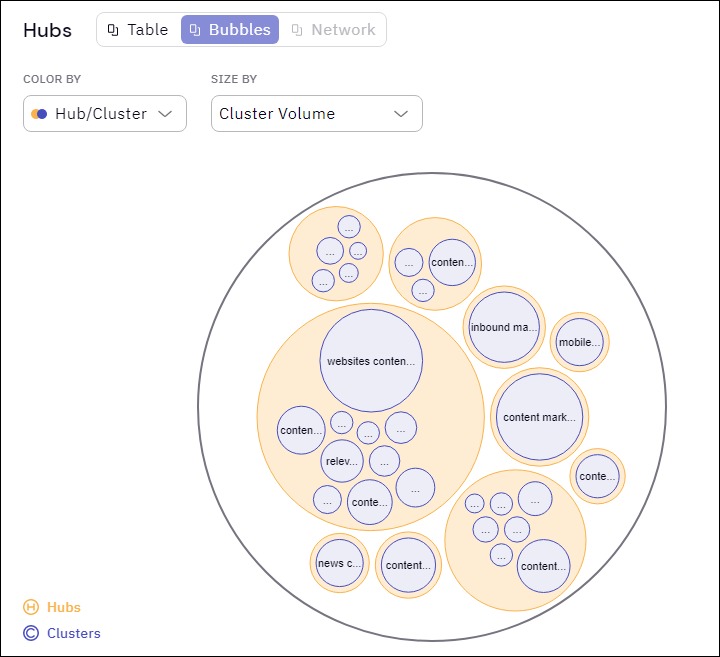 Here's another Bubble view for the keyword "end mill."
It helps you visualize your report, showing how everything ties together effortlessly. You can also click or hover over a bubble for more detailed information.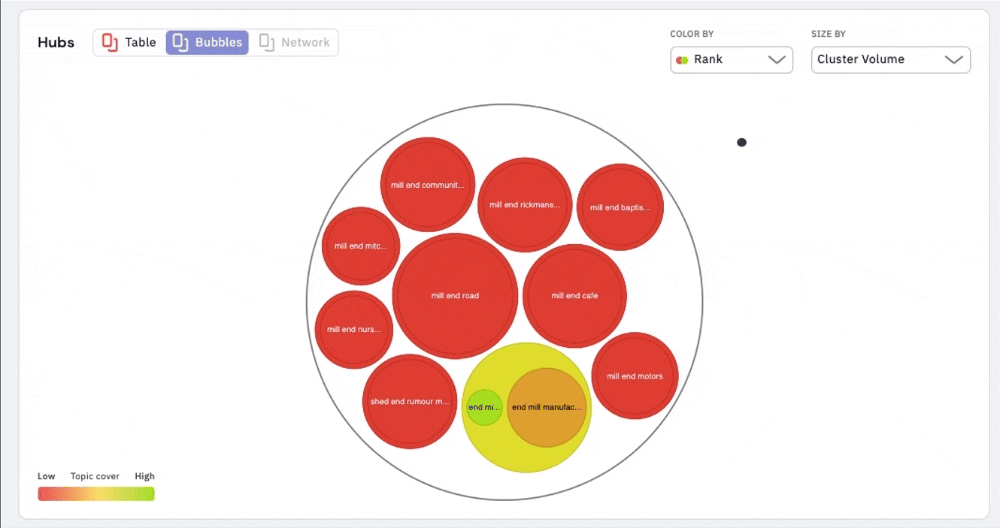 You can export your data to Google Drive using the Export function in the top right-hand corner of your screen.

This tool doesn't let you download keyword clusters to your local computer.
Search Intent
Google's team works hard to match users with the most valuable and relevant content. If you make content that meets this search intent, you align with Google's goal. Keyword Insights helps reveal the search intent behind keywords. This lets you shape your content to fit user intent, boosting engagement rates.
Kyle Risley, Shopify's SEO Lead, praised this tool after testing it.
"Each year, I categorized search intent for 200 keywords and compared it to how Keyword Insights automatically categorized the intent for the same keyword. The match was 95%."
Keyword Insights uses a machine learning model to pinpoint and categorize keyword intents based on context. This differentiates it from other tools that depend on SERP features and simple phrase matching. It's more reliable.
Keyword Insights doesn't have a specific module for search intent analysis. To use this feature, you need to open the keyword cluster tool.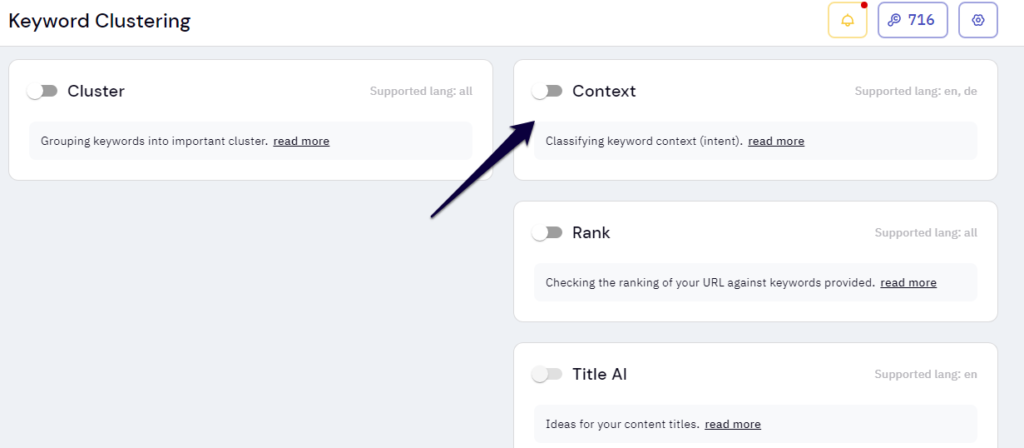 It's worth noting that the tool doesn't generate reports on the fly. In my case, it took up to two minutes to process less than 200 keywords. While this is a bit of a wait, considering what the tool needs to do to group the keywords, I think this is fine.

Additionally, Keyword Insights only lets you see if a keyword is transactional, informational, or "other."

I believe this is a potential area for improvement. Google's search quality rater guidelines classify intent like the below. It makes sense for this tool to adopt a similar grouping method.

Content Briefs
Making many content briefs can be challenging. Yet, Keyword Insights offers a fresh way to make this easier. It uses AI to make detailed content briefs automatically. These briefs help your content stand out in search rankings.
Keyword Insights does this by pulling and examining data from your chosen keyword's top 20 search results. It also uses info from Quora, Reddit, and Google's "People Also Ask" section, making it a great alternative to Frase. This lets you create a detailed and well-researched content plan without the usual hard work.
The drag-and-drop builder makes this feature even easier to use. It lets you set up your briefs quickly and efficiently to meet your needs.
Lidia Infante, the Senior SEO Manager at Sanity, loves the tool. She says it helped her determine how many pages she needs to make to rank for her target keywords. In her words, the tool "uses machine learning in a very smart way to help with keyword research, grouping, and briefs."
To create a content brief with Keyword Insights, follow these steps:
Log into Keyword Insights.
Select the Content Brief module.
Enter your focus keyword.
Choose your desired location and language.
Generate your report.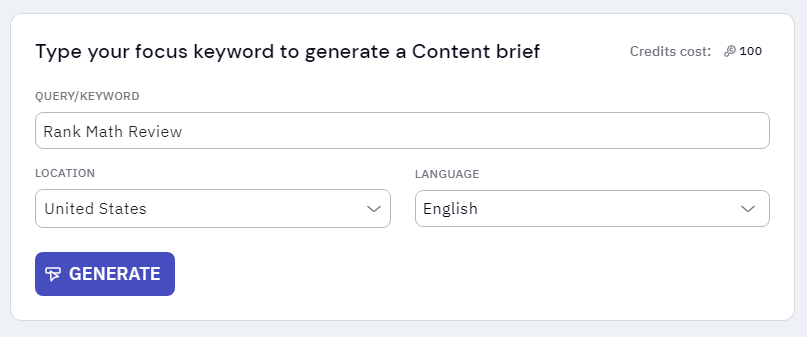 Each content brief costs about 100 credits. The tool will first show you the average word count of the top 20 results and a suggested word count range for your content.

From there, you'll see the extracted data from the top-ranking results for your keyword. You can scroll through and drag and drop the headings you want into the editor or click the plus icon to add any heading to your outline.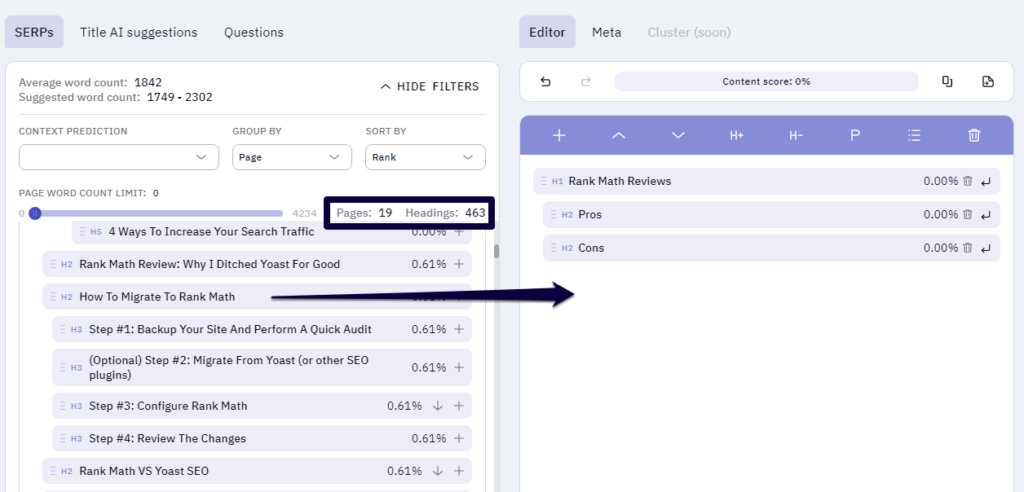 Despite the streamlined process, the tool could use some improvement. Currently, you have to build an outline from scratch by dragging and dropping elements from hundreds of headings. An option for the tool to create an initial outline using the extracted data would be beneficial.
The Questions feature stands out, providing hundreds of relevant questions people ask on platforms like Google, Quora, and Reddit. This feature can be invaluable for understanding user intent and tailoring your content accordingly.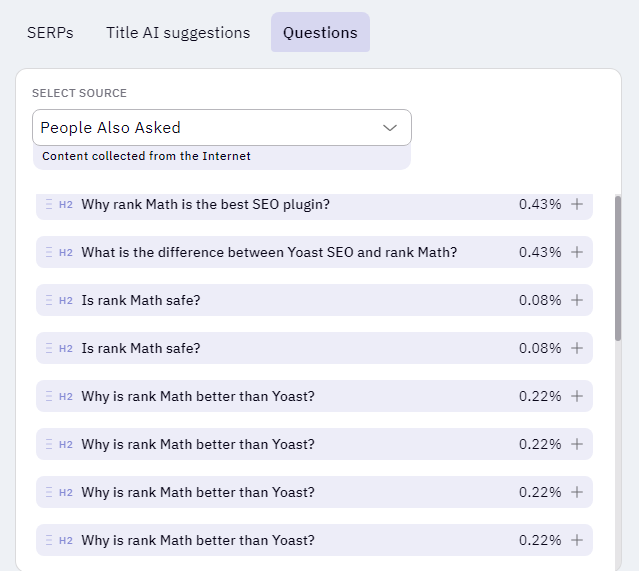 Another feature of the tool is the ability to generate a paragraph from the outline. Keyword Insights says this feature helps you generate short paragraphs to reduce writer's block.
But when we tried it, instead of generating a paragraph on the pros of RankMath, the tool went off tangent, talking about the importance of travel agents.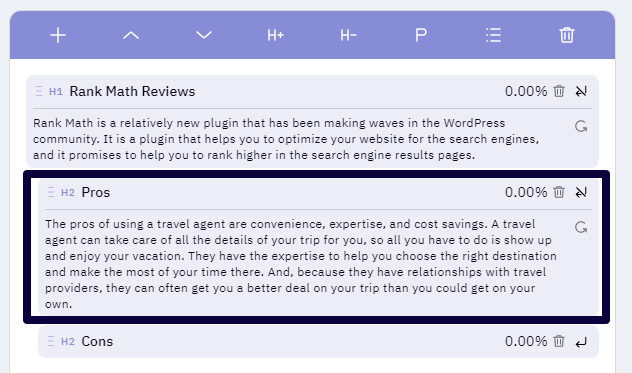 So, while this could be potentially useful, it seems like some refinement is needed.
The "Title AI Suggestion" feature is another helpful addition.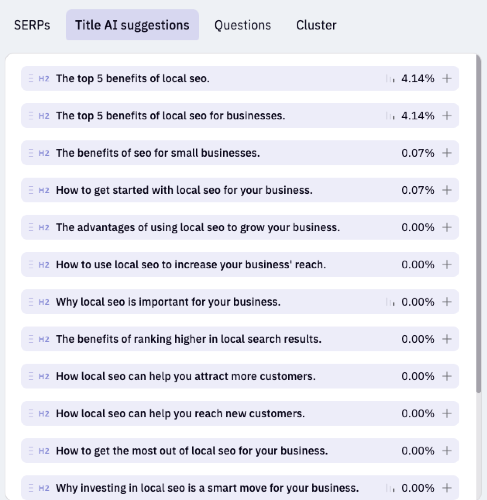 It lets you get content title ideas in a few clicks. You can also do this with the Meta generator, which generates a meta description for your content.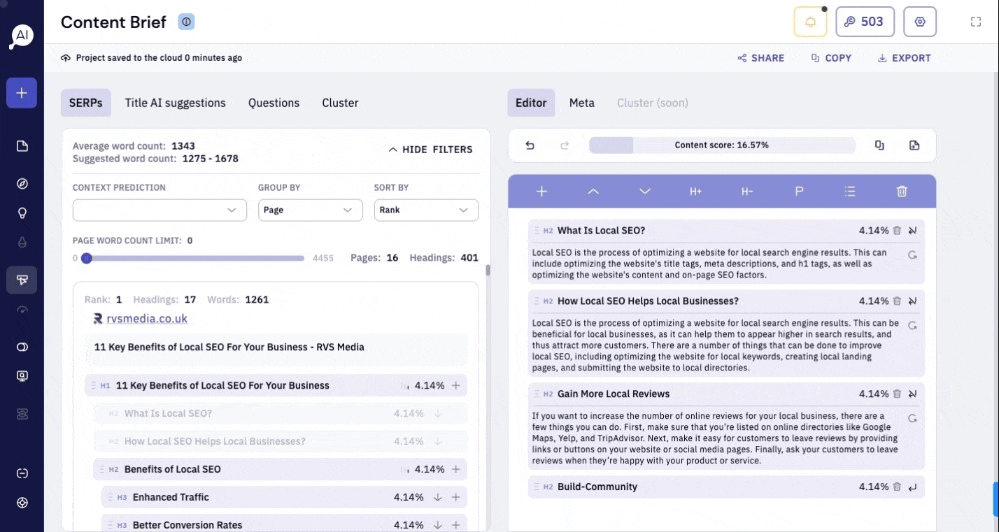 Despite some room for improvement, Keyword Insights provides a powerful and innovative solution to streamline the creation of comprehensive content briefs.
SERP Similarity Tool
Optimizing a webpage for multiple keywords can help you appeal to a broader range of searchers. Still, some keywords, if targeted together, could lead to keyword cannibalization, negatively affecting your organic search performance. To avoid this, you need to know when to target multiple keywords on a single page and when to create separate pages for different keywords. This is where the SERP Similarity Tool from Keyword Insights comes in.
This tool analyzes your chosen keywords' live, geo-specific SERP results to determine their SERPs' similarity for your targeted location. If many similar pages rank for both keywords, the tool suggests you can target these keywords on a single page. If not, it indicates that separate pages might be a better option.
The SERP Similarity Tool visually represents the ranking URLs and a SERP similarity score to aid your decision-making.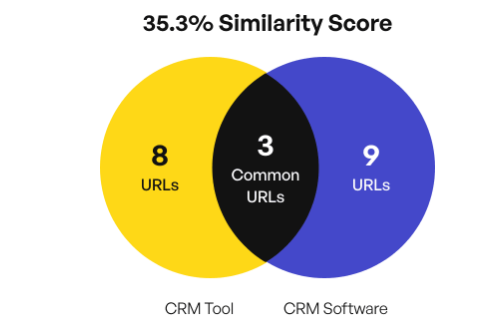 A high similarity score suggests that you can target both keywords on one page, while a lower score (less than 50%) indicates that you should create separate pages for the keywords.
This tool has received positive feedback from users like Oritz Mutznik, SEO Director at Forbes and Forbes Advisor, who stated that:
"…the SERP similarity feature from Keyword Insights is amazing. It helps you decide between 1 page for both terms or 2 separate ones. Seeing the SERP per keyword side by side gives you lots of ideas…"
You'll need to add a credit card to your account despite being free to access this tool.
To use the SERP Similarity Tool:
Click on the SERP Similarity module in Keyword Insights.
Enter your chosen keywords.
Select your targeted location and language.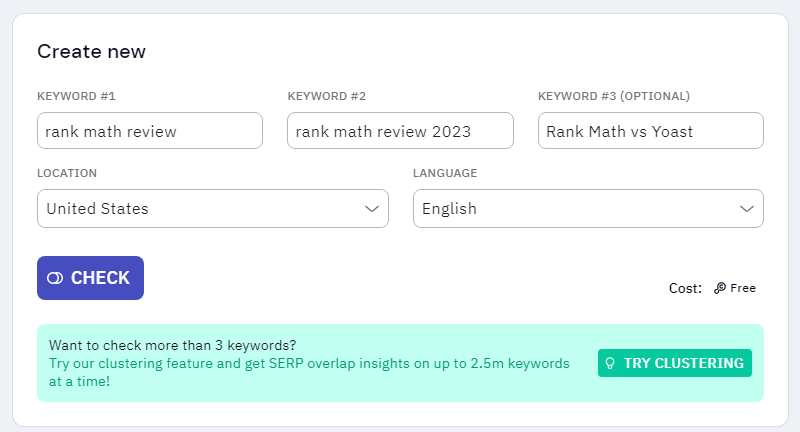 Within a few seconds, the tool provides an insight into SERP overlap. It's user-friendly, and you even have the option to take and save a screenshot.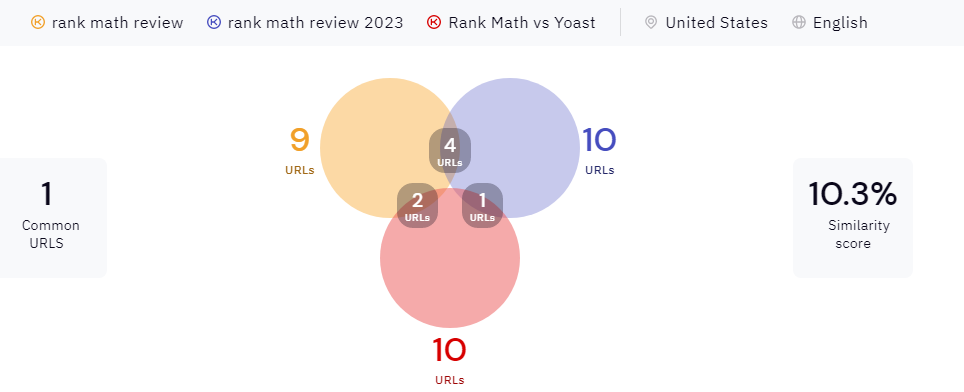 One limitation of this tool is that it only supports up to three keywords at a time. However, you can work around this limitation using the paid Keyword Clustering feature from Keyword Insights.
SERP Explorer
The SERP Explorer is a valuable free tool offered by Keyword Insights. It allows you to monitor your keywords or competitors across various devices and geographical locations, eliminating the need for a VPN to track your search performance.
Keyword Insights states that its technology uses geo-specific servers and proxies to simulate search results, meaning users don't require a VPN or need to set up complicated proxies.
However, just like the SERP Similarity tool, you must authenticate your account with a credit card to access this feature. This step has been implemented to deter spammers and bots from exploiting and abusing the tool.
Using the SERP Explorer
Open the SERP Explorer module on your dashboard.
Enter the keyword you want to monitor.
Select your target location, device, and language.
Click the "Explore" button.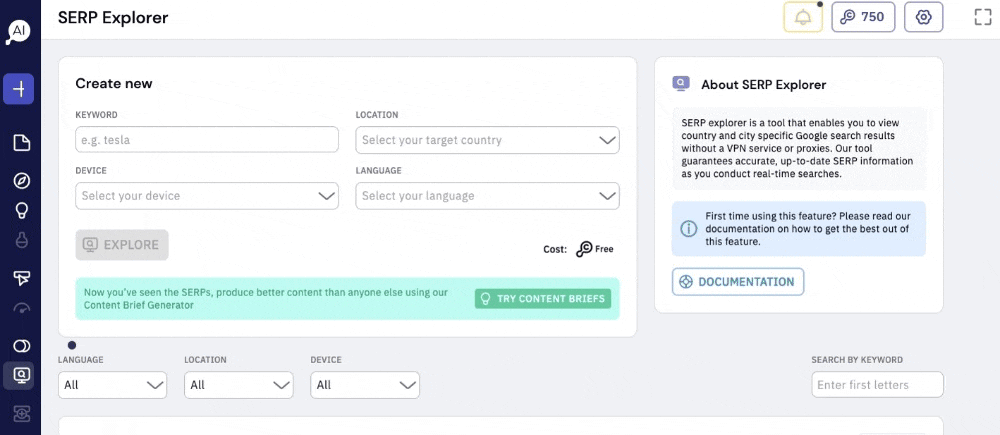 After this, the tool generates a live SERP, showing you the top ten results as they appear on Google. You'll also see the "Explore Info" box, which allows you to recheck the SERP without leaving the page. You can take screenshots, and the Explorer saves your search history, making it easy to revisit previous searches at any time.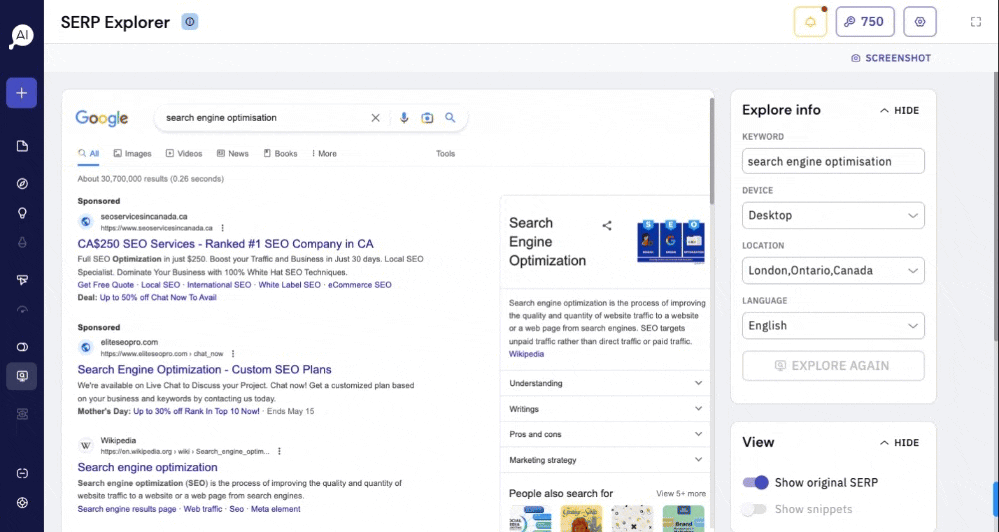 A versatile feature of this tool is its ability to switch between desktop and mobile views of the SERP for a specific keyword. It also allows you to view results as they appear in search results or as SERP snippets on Keyword Insights. However, you need to toggle off the "Show original SERP" before enabling "Show snippets," and vice versa.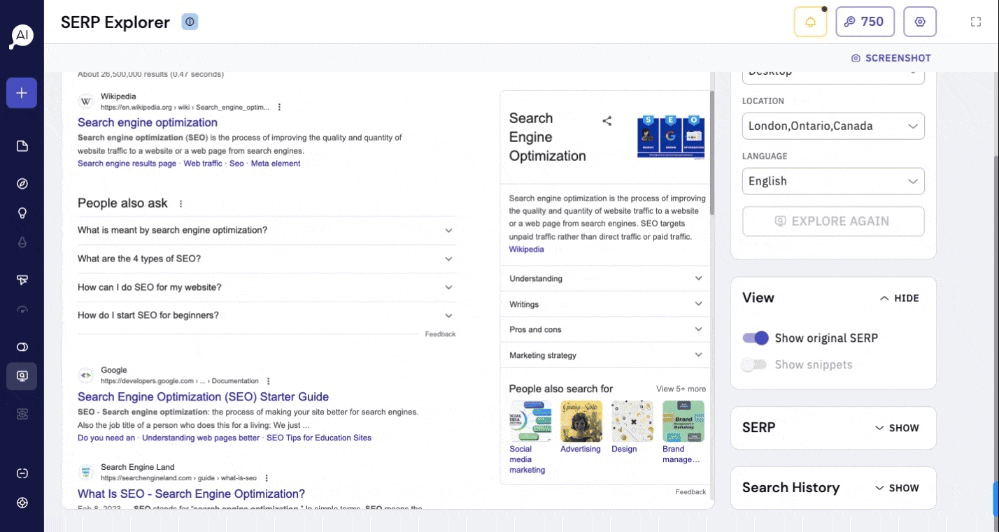 What sets this tool apart is its capacity to go beyond country-specific tracking—it allows you to delve into SERP at a city level. It's a free tool to assess your rank against the competition or monitor your competitors' search performance. Overall, SERP Explorer is an invaluable tool for anyone looking to improve their SEO strategy and gain a competitive edge.
API and Integrations
If you have developer knowledge, Keyword Insights offers API tools to help you connect and move data across platforms.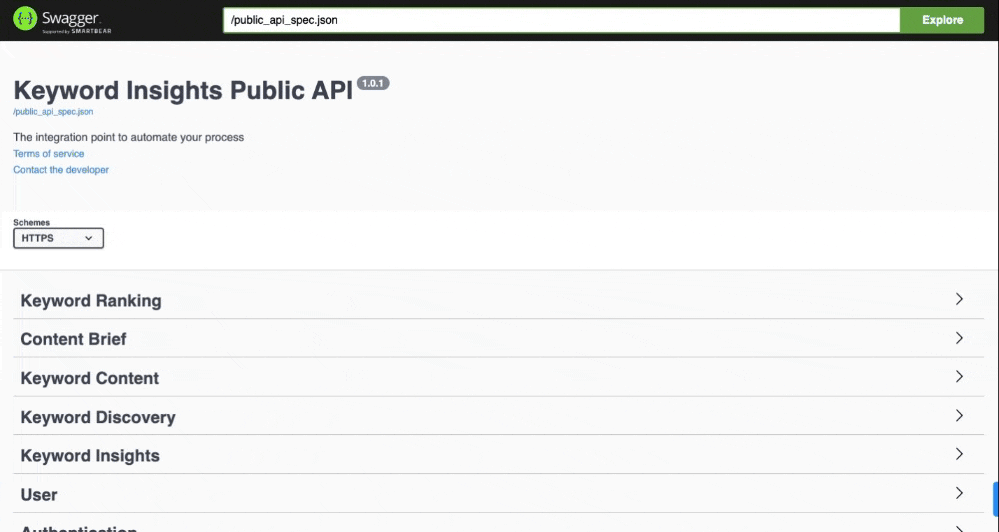 You'll find API options for these features:
​Keyword ranking
Content brief
​Keyword content
Keyword discovery
Keyword Insights
Managed Service
Keyword Insights offers more than just AI content management tools; it also provides managed services. This can be an excellent choice for businesses, agencies, and affiliate websites that require professional assistance to build or revamp their content strategy. It's also a beneficial service for those with a stretched-thin team, allowing them to focus on other crucial aspects of their business.
Here's what you can expect from Keyword Insights' managed services:
Content Strategy: They will help you build a robust content strategy that aligns with your business goals.
Extensive Keyword Research: Their team will carry out comprehensive keyword research to identify the best keywords to target for your business.
Content Calendar: They will create a calendar to help you manage and plan your content effectively.
Ongoing Content Creation: They will consistently produce high-quality content for your brand.
Research, Analysis, and Implementation: Keyword Insights promises to assist in researching, analyzing, and implementing strategies that improve organic performance.
The company's founders are actively involved in every project and ensure quality in all deliverables. The starting price for this managed service is £2,950.
Soon-to-Roll Out Features
Keywords Insights has several features in the pipeline that will increase its value on rollout. However, we don't know for sure when these features will launch.
But let's quickly explore the new capabilities this software is working on based on what we see on the user dashboard.
Keyword Distill
The Keyword Distill is likely to be the software's new headline feature.
And it's one we can't wait to test.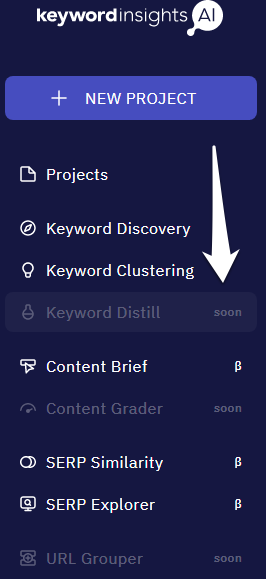 Going by Keyword Insights' promises, this feature will allow you to uncover competitors' target keywords, including the ones they already rank for. It'll also allow you to cluster the keywords directly from the tool and compare them with your domain to find content gaps. Impressive.
However, information on the company's website shows that this feature will launch in the first quarter of 2023. It's already the second quarter, and the module is still inactive.
Content Grader
It's unclear how this feature will work. But we expect it will become Keyword Insights' native content editor. We also believe it'll come with some content optimization functionalities.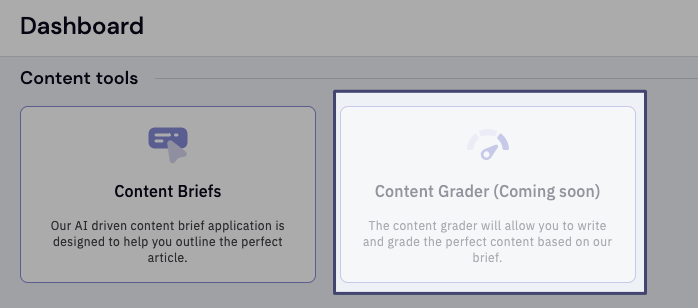 The grader will likely run your content against vital SEO factors to grade its optimization level and then provide instant feedback to improve the score.
If my expectations are correct, the software will match the offerings of competing tools like Frase or SurferSEO.
URL Grouper
According to Keyword Insights, this tool will help users cluster keywords at scale based on user engagement—similar to Google Search Console.
With this, you can gain insights to improve low-performing pages. For instance, you can analyze pages with high GSC clicks to identify things that may help you improve other pages.
Since competitor tools don't offer this feature, Keyword Insights might enjoy the first-mover advantage when it launches the URL grouper feature.
Customer Support
Keyword Insights provides extensive documentation so you can address any support issues without needing further help. However, this SEO tool restricts live chats and email support to paying users. You'll find their email address in the support area of your account dashboard: support@keywordinsights.ai.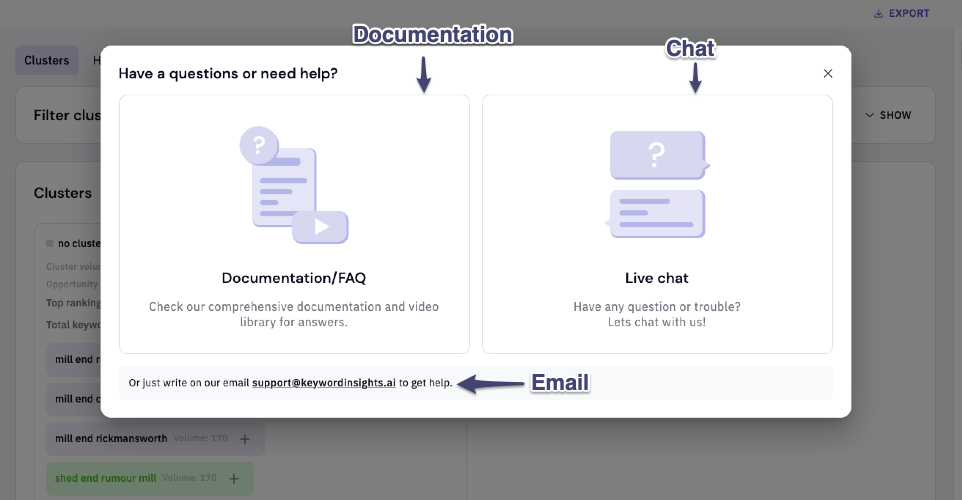 Click on the chat option to chat with them.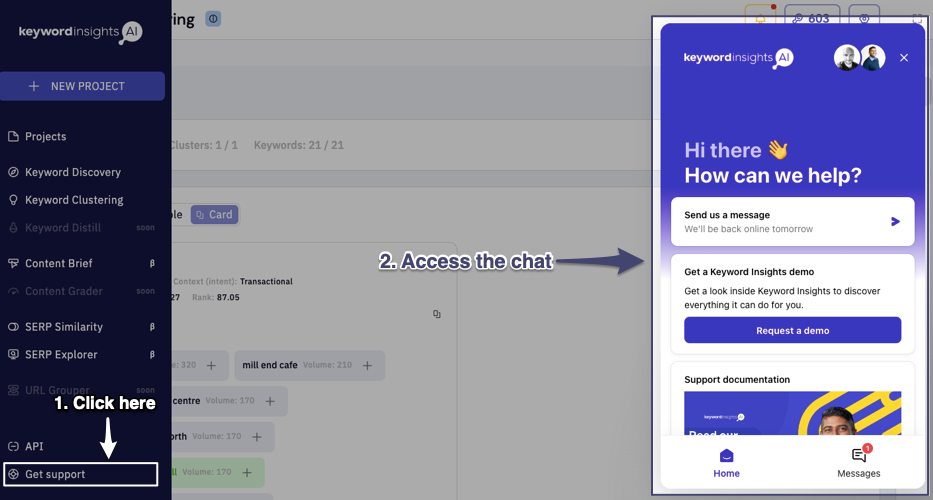 This chat feature is sometimes unavailable, and Keyword Insights doesn't provide any information on their availability.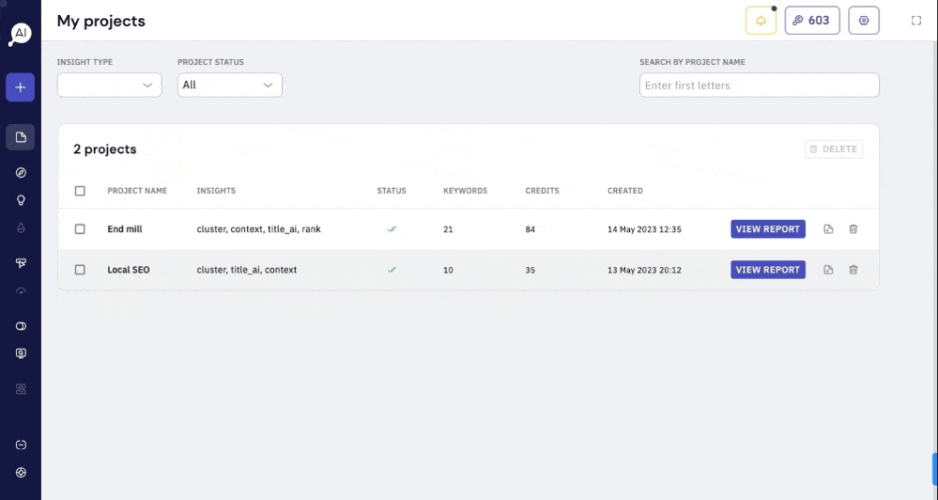 However, they promised to reply by email and that their response would be in our chat history when available.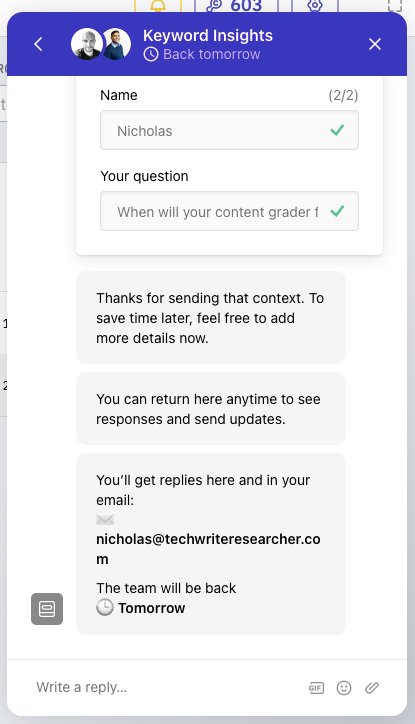 Although Keyword Insights' customer support isn't very hands-on, the tool doesn't require hand-holding. Throughout the period we tried the tool, we didn't encounter any issues that would need support.
Design / UX
Keyword Insights is simple to use. It's easy to understand. I give the user experience a five-star rating. The tool stands out with its intuitive navigation and user interface. New users don't need any learning time.

Keyword Insights won't overwhelm you even if you've never used an SEO tool.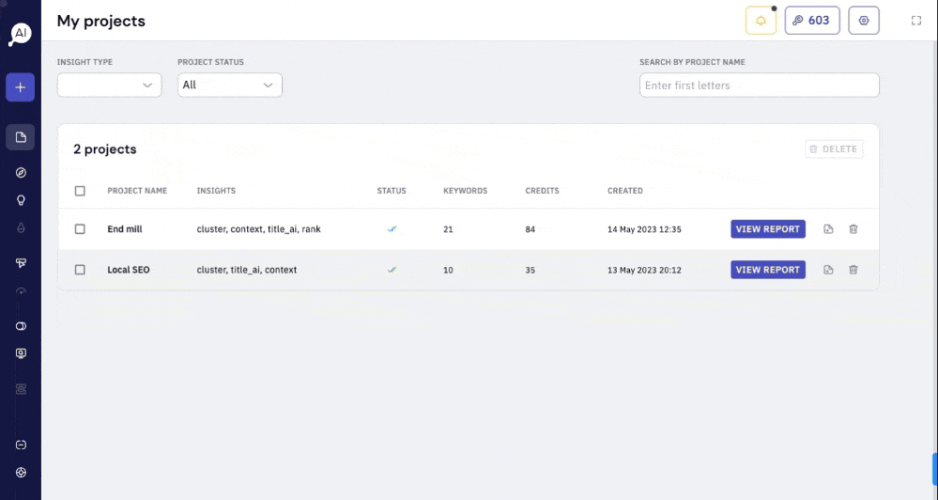 In addition to its intuitive and user-friendly design, this keyword processing tool provides hands-on guides as you use its features. So you're always confident about the next steps to take.
For instance, video guides will be provided after you set up keyword clustering to help you interpret the data.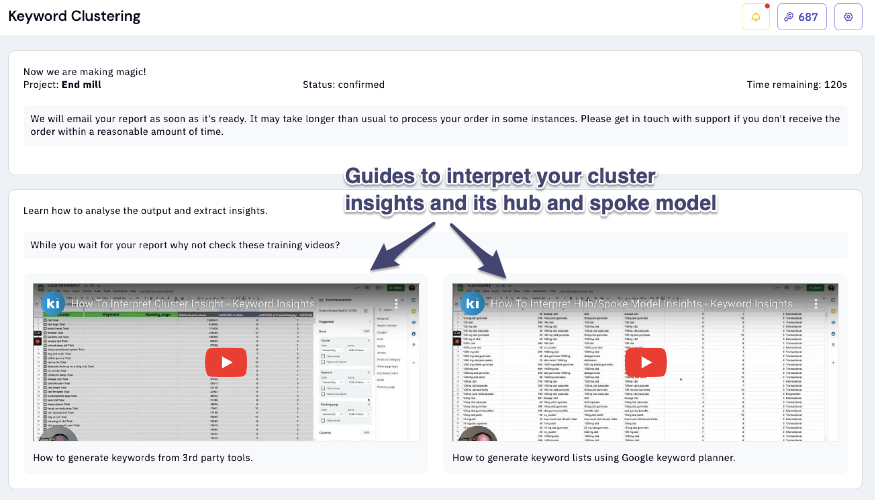 This tool brings navigation and education together—it's present throughout keyword Insights' user experience design. Overall, it is a brilliant design and very intuitive.
Pricing
The tool has a paid trial to explore its features for $1.
After seven days, you can upgrade to any plan if satisfied. But before we go into what each plan offers, let's explore what is in for you regardless of your pricing plan.
Features
Functionalities and reports
Keyword discovery
– Find the intent behind each keyword
– Classify keywords based on intent: informational, transactional, and others
– Track search intent changes over time
Keyword clustering
– Keyword clustering at a few mouse clicks
– At least 6,000 keyword clusters monthly
– Upload keyword lists
– Actionable insights to rank a page for multiple keywords
Search intent
– AI-powered content brief generator
– Generate at least 60 briefs monthly
– Research and outline content at scale
– Drag-and-drop builder
– Smart Filtering
– Export into Word or Google Doc
– Pull in relevant Google's People Also Ask, Reddit, and Quora questions
– Six languages support
Content briefs
– AI-powered content brief generator
– Generate at least 60 briefs monthly
– Research and outline content at scale
– Drag-and-drop builder
– Smart Filtering
– Export into Word or Google Doc
– Pull in relevant Google's People Also Ask, Reddit and Quora questions
– Six languages support
SERP explorer
– Free live SERPs checker
– Track rankings across different devices and locations
– Save search history
– Geo-specific servers
SERP similarity tool
– Free tool to find keywords overlap on the SERP
– Actionable insight on whether to optimise a page for multiple keywords or to create different pages for them
– Live geo-specific data
– SERP similarity score
Pricing plan differentiators
Keyword Insights has four subscription plans. You can pay monthly or annually. However, the annual subscriptions will save you 15% yearly.
Features
Categories
Basic
Professional
Premium
Agency
Pricing Plans
Monthly Plan
$49/mo
$99/mo
$299/mo
$599/mo
Annual Plan
$550/yr
$1,100/yr
$3,289/yr
$6,589/yr
Credits
Monthly Plan
6,000
15,000
45,000
100,000
Annual Plan
72,000
180,000
540,000
1,200,000
Keywords
Monthly Plan
6,000
($8.33 per 1,000 keywords)
15,000
($6.67 per 1,000 keywords)
45,000
($6.20 per 1,000 keywords)
100,000
($5.90 per 1,000 keywords)
Annual Plan
72,000
($8.33 per 1,000 keywords)
180,000
($6.67 per 1,000 keywords)
540,000
($6.20 per 1,000 keywords)
1,200,000
($5.90 per 1,000 keywords)
Content Briefs
Monthly Plan
60
150
450
1,000
Annual Plan
720
1,800
5,400
12,000
Searches
Monthly Plan
12,000
30,000
90.000
90,000
Annual Plan
144,000
360,000
1,080,000
2,400,000
Public API
Monthly Plan
✔️
✔️
✔️
✔️
Annual Plan
✔️
✔️
✔️
✔️
Users
Monthly Plan
3
5
10
30
Annual Plan
3
5
10
30
Live chat support
Monthly Plan
✖️
✔️
✔️
✔️
Annual Plan
✔️
✔️
✔️
✔️
Integrations
Monthly Plan
✖️
✔️
✔️
✔️
Annual Plan
✔️
✔️
✔️
✔️
Customer onboarding
Monthly Plan
✖️
✖️
✖️
✔️
Annual Plan
✖️
✖️
✖️
✔️
Team training
Monthly Plan
✖️
✖️
✖️
✔️
Annual Plan
✖️
✖️
✖️
✔️
Early access features
Monthly Plan
✖️
✖️
✖️
✔️
Annual Plan
✖️
✖️
✖️
✔️
Keyword Insights offers both subscription plans and a pay-as-you-go system, allowing users to choose what best suits their needs. However, if you plan to use the tool extensively, a subscription plan may offer better value.
To illustrate, the pay-as-you-go system gives you 1,000 credits for $15.98, which translates into ten content briefs. On the other hand, a basic subscription plan, costing $49 per month, provides you with 6,000 credits. If you were to spend all these credits on creating content briefs, you could generate up to 60 of them.
Therefore, despite the basic monthly plan being approximately three times the cost of the pay-as-you-go option, it offers six times the value in terms of the number of content briefs you can create. Consequently, if you plan to use the service extensively, the subscription plan would provide a significantly better return on your investment.
Is Keyword Insights worth the money?
Yes. We believe Keyword Insights' pricing is reasonable.
It packs several features that can streamline and power your content strategy, improve productivity, and stack your content tools in one place. The software can also minimize your dependence on in-house teams, cutting down on payroll and overhead costs.
At a starting price of $49 monthly, you will get 6,000 credits, which give you the following:
Up to 6,000 keyword clusters (one credit per cluster)
Up to 12,000 keyword searches (0.2 credits per discovery)
Up to 60 content briefs (100 credits per brief)
Three users
Public API
Furthermore, Keyword Insights has several new features in development. Once fully launched, these additional features could further enhance the platform's value proposition, making it an even more cost-effective solution for your content strategy needs.
Keyword Insights vs. NeuralText
Here's an apples-to-apples comparison of these two keyword research tools.
Features
Keyword Insights
NeuralText
Notes: Keyword Insights vs. NeuralText
Winner
Competitor research capabilities
✖️
✖️
Soon, Keyword Insights users can uncover keywords their competitors are targeting and the ones they already rank for.

NeuralText has yet to make plans to roll out this feature.
Keyword Insights
AI tools and features
✔️
✔️
Both tools have built-in AI capabilities.
Draw
Keyword discovery capabilities
✔️
✔️
You can discover new and related keywords with both tools. But you get more with Keyword Insights.

For instance, the tool allows you to find up to 90,000 keywords monthly against NeuralText's 60,000 if you're on the highest plan. Alternatively, you can get up to 250 million keywords with the pay-as you-go option.

Additionally, Keyword Insights boasts an extensive database of over five billion search terms, while the latter doesn't provide this information.
Keyword Insights
AI writing capabilities
✔️
✔️
NeuralText shines in this area. It lets you generate up to 40,000 AI words and write and optimize unlimited articles monthly.

Keyword Insights' AI writer can only generate a paragraph. However, the soon-to-launch Content Grader feature might provide this capability.
NeuralText
Content Editor
✖️
✔️
Keyword Insights doesn't support this feature. However, it could be when the Content Grader module launches.

But with NeuralText, you'd have a tool to use "a Google doc style editor" to write articles, leveraging real-time SERP data.
NeuralText
Google Docs extension
✖️
✔️
NeuralText has a Google Workplace Marketplace add-on that integrates seamlessly with Google Docs. Unfortunately, you don't get this with Keyword Insights.
NeuralText
WordPress plugin
✖️
✖️
Both tools don't support this feature. But it's on the pipeline for NeuralText.
NeuralText
Search intent data
✔️
✖️
Keyword Insights has a trained model that lets you see the search intent behind your keywords at scale. Also, you can track how the intent changes over time. You can't get any of these with NeuralText.
Keyword Insights
Topic and keyword clustering
✔️
✔️
Both tools allow you to group similar keywords. However, while NeuralText lets you cluster up to 15,000 search terms, you can get up to four million at a go with Keyword Insights.
Keyword Insights
Outline and content brief builders
✔️
✔️
NeuralText shines in this area. It lets you generate up to 40,000 AI words and write and optimize unlimited articles monthly.

Keyword Insights' AI writer can only generate a paragraph. However, the soon-to-launch Content Grader feature might provide this capability.
You can create up to 1,000 content briefs with Keyword Insights monthly if you are on the highest plan and up to 500,000 with the pay-as-you-go plan.

NeuralText doesn't have information on the number of briefs you can create. However, it seems the tool allows unlimited briefs since users can create and optimize unlimited articles.
Keyword comparison
✔️
✖️
Keyword Insights' SERP Similarity tool allows you to compare up to three keywords for overlap. But you can't get this with NeuralText.
Keyword Insights
Templates
✖️
✔️
Keyword Insights doesn't have any built-in templates. But NeuralText gives you access to over 50 AI templates to generate headlines, paragraphs and ad copies quickly.
NeuralText
Integrations
✔️
✔️
Keyword Insights and NeuralText support integrations.
However, the former only allows users on the annual or professional (second-tier) plans to enjoy this feature.

However, NeuralText supports this feature for all users regardless of their subscription plans.
NeuralText
UX design
✔️
✔️
Both tools are easy to use.
Draw
Pricing
✔️
✔️
You can get Keyword Insights' lowest plan for $49 per month, while that of NeuralText goes for $19, which saves you $30 monthly.

While NeuralText is cheaper, Keyword Insights is more feature-rich, so we're calling it a draw.
Draw
Customer service
✔️
✔️
Keyword Insights and NeuralText offer email and live chat support. Additionally, Keyword Insights can onboard and train your team.
Keyword Insights
Users
✔️
✔️
Keyword Insights supports up to 30 users, unlike NeuralText, which allows only three people. However, you can get an additional seat for $25 monthly.
Keyword Insights
API
✔️
✖️
Keyword Insights supports API access, while NeuralText doesn't.
Keyword Insights
We'd pick Keyword Insights over NeuralText.
The tool has great features that put it ahead of NeuralText. Moreover, apart from the built-in content editor and templates, we don't think NeuralText has other features to give it a clear edge over Keyword Insights. The good news is that the latter will launch this capability and more soon.
But if you can't wait, NeuralText is still an excellent choice.
Keyword Insights alternatives
Let's explore other Keyword Insights alternatives.
AI SEO tools

Frase

Made the Capterra 2021 Top Performers shortlist for SEO software. The tool, rated 4.8 from 328 reviews on the platform, lets you generate content briefs and write and optimize your content. It also has built-in content analytics, which Keyword Insights lacks.

Content writing

MarketMuse

It packs almost the same features as Keyword Insights. However, MarketMuse has a free plan, making it more accessible. However, Keyword Insights' extensive keyword database, the SERP Similarity tool, and SERP Explore put it ahead.

All-in-one

Serpstat

It is an all-in-one SEO tool for marketers who want to manage their search engine optimization processes in one place and at scale. It's an excellent option for enterprise users. However, the tool lacks advanced content management capabilities.

All-in-one

SEMrush

Semrush SEO Writing Assistant is a smart editor for content writers. It optimizes your copy, improves readability, and maintains a consistent tone of voice. You can also check for plagiarism, but it lacks built-in keyword clustering and advanced content management capabilities.

Content writing

Surfer SEO

Surfer promises to help users write articles that read well and rank well. Surfer has a keyword research tool, a free outline generator, and a site auditor. Also, with this tool, you get a built-in content editor that provides real-time feedback to optimize your content on the go.

Content writing

Clearscope

Clearscope is a great option for enterprise users. The AI-powered platform allows you to create content at scale. But when it comes to content management features, Keyword Insights is ahead, especially when it rolls out all its features.

All-in-one

Conductor

Conductor considers itself the organic marketing platform for enterprise marketing teams. With over 20 billion indexed keywords, the tool has a more extensive database than Keyword Insights. It also integrates with many apps, bringing your tech stack together.

AI SEO tools

Scalenut

Scalenut is a content management tool with social listening capability. Additionally, it has an NLP Analysis feature to generate semantically-related terms to optimize your content. You can also create over 1,500-word blog posts, articles, and eBooks.
FAQs
Is Keyword Insights free?
No. Keyword Insights isn't free, but it does have some free features.
The tool offers four subscription plans ranging from $49 to $599. However, you can save 15% with the annual plan. Keyword Insights also has a custom plan that lets you pay for only the credits you need, up to 50 million credits.
Additionally, the tool offers a trial plan that lets you pay $1 for 750 credits.
How do keyword clusters improve SEO?
Keyword clusters improve your SEO by allowing you to optimize a page for multiple search queries. As a result, searchers find the page on the SERP regardless of the keyword variation they use, improving your search visibility.
Also, with keyword clusters, you can add more context to your content, making it less challenging for search engines to understand what the page is about.
Can I find keyword opportunities with Keyword Insights?
Yes. You can find keyword opportunities with Keyword Insights.
The tool has a built-in feature to discover related and new keywords. You can also find the keywords your competitors are targeting and the ones they already rank for.
Keyword Insights has over five billion keywords in its database, making it one of the best places to find keyword opportunities.
How can I compare keywords with Keyword Insights?
Yes, with the SERP Similarity tool.
To pull this off, open the SERP Similarity tool, enter two or three unique keywords you want to compare, choose a location and a language, and run a check. The tool will show you the overlaps between those keywords in the SERP.
With this insight, you can decide whether to optimize a single page for those keywords or create different pages to improve your ranking odds.
How do I see traffic data in Keyword Insights?
You can see the estimated organic search volume for your target keywords. However, Keyword Insights doesn't support built-in content analytics for traffic data.
Summary
Keyword Insights is a great tool that boosts your content marketing on a large scale. It makes keyword research easier, uncovers search intent, and groups keywords into topic clusters. Using this tool, you can quickly make and share briefs with your writing team. It offers powerful features that compete with similar tools and plans to add more soon.
Customer support is one area that needs improvement. The availability of live chat is unclear, and currently, it isn't offered to subscribers of its basic monthly plan.
Regardless, the tool gives good value for its cost. It's a beneficial addition to any content team's toolkit. Keyword Insights works exceptionally well for SEO agencies and affiliate marketing sites. It can also be a valuable tool for any business that heavily depends on organic search for traffic.
---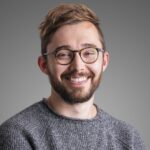 Sam Underwood
Sam is an international Ecommerce SEO Consultant with experience implementing enterprise-level SEO strategies.