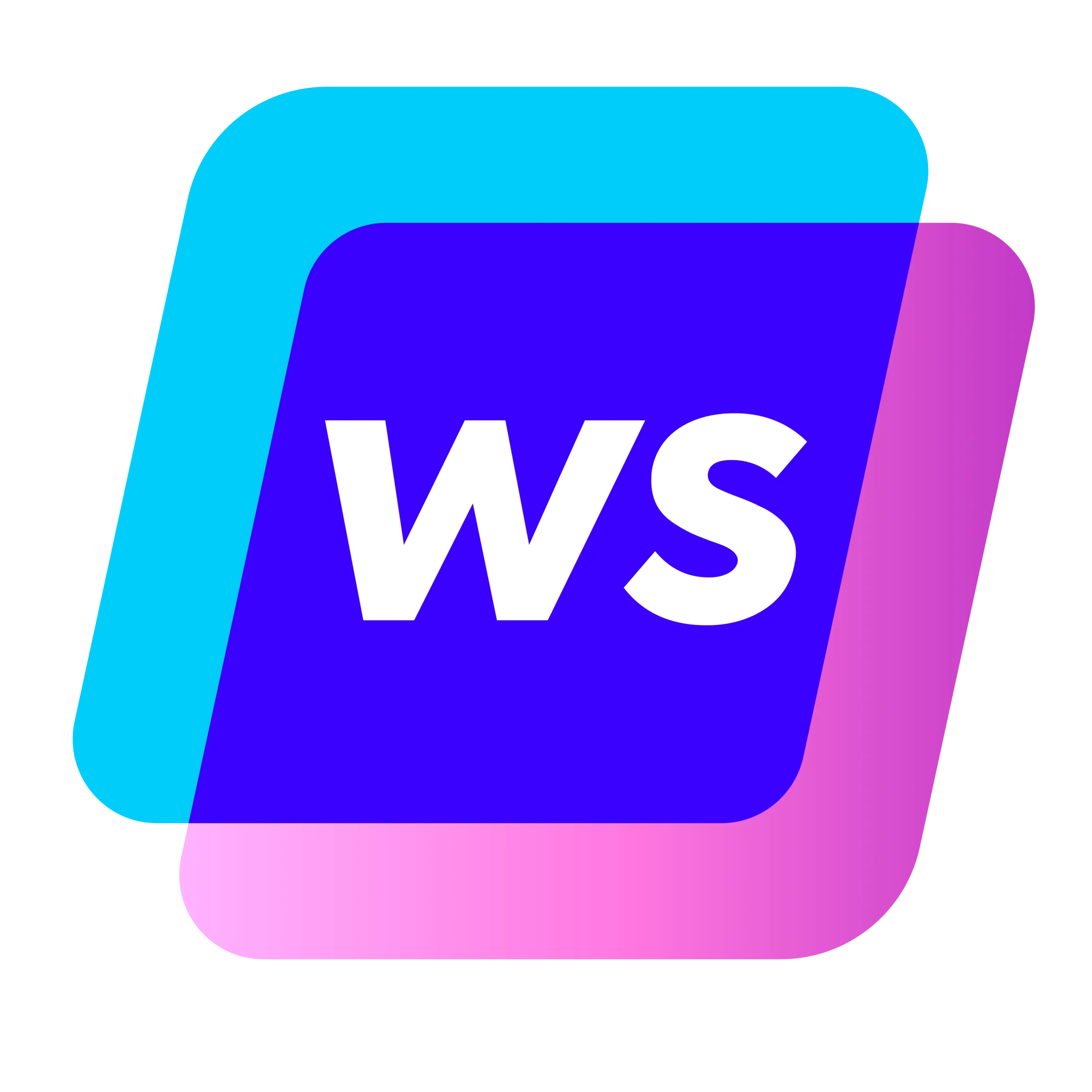 Writesonic review
Write SEO-friendly, original content for blogs, ads, emails, and websites faster, without plagiarism, using Writesonic.
4.5

Publish date:

September 25, 2023

Author:

Nimit Kapoor
Visit site
---
About Writesonic
Price range:

$12.67 - $1000
---
Pros
Users have the ability to conveniently switch between GPT-3.5 and GPT-4, allowing for greater flexibility and cost control.

In addition to SEO, Writesonic can also be used for search engine marketing and social media marketing activities. There are a diverse range of prompts available for Ads and Social Media.

Users can train Writesonic on specific writing styles, ensuring that AI-generated content aligns with brand personality.

With its built-in landing page generator, Writesonic simplifies the process of creating SEO-optimized landing pages.

WordPress Integration allows users to export their content to WordPress with a simple 1-click process.

The tool also has third-party integrations with Surfer SEO, SEMrush and Zapier. Browser extensions are also available in all plans.

Writesonic also provides API access with paid plans, allowing users to integrate it with their own applications.

The pricing structure is quite flexible and can be adjusted depending on the quantity of words.
Cons
To achieve genuinely SEO-optimized content, Writesonic has to be utilized alongside additional keyword research and content scoring tools.

Each iteration of an article incurs credit usage, making it expensive to achieve a satisfactory output.

There are multiple versions of identical prompts in the Writesonic library, which can occasionally create confusion for users when deciding which one to use.

The tool is not reliable for content that requires extensive research.

The tool lacks an in-built plagiarism checker to assess the originality of the content.
---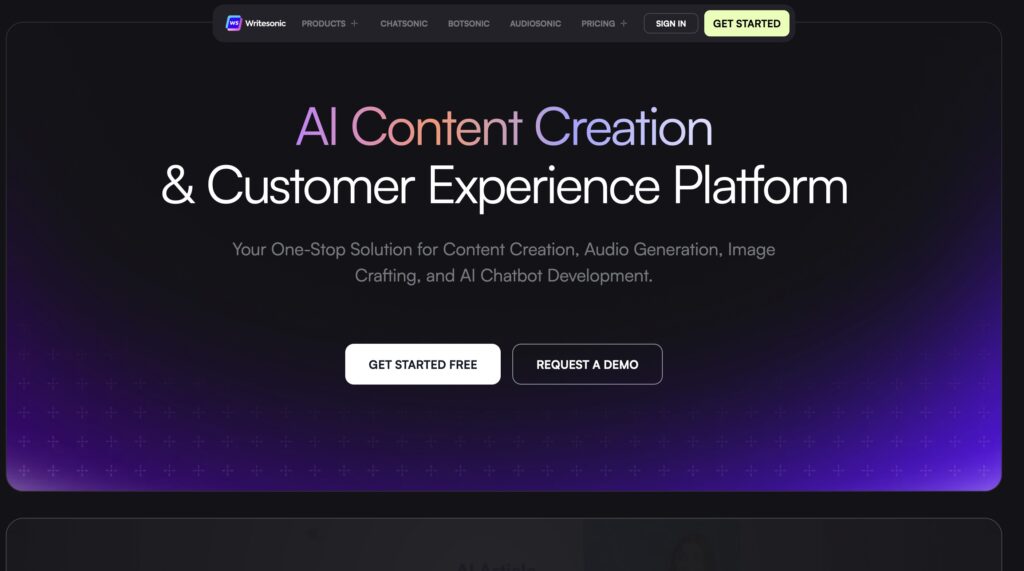 If you're in search of a tool to enhance and automate your content marketing, Writesonic might be the answer you've been waiting for. With its impressive AI-capabilities, this tool empowers you to effortlessly create engaging articles, blog posts, product descriptions, social media content, landing pages, and more.
In this in-depth review, we'll explore the extensive features of Writesonic and evaluate its value for money, support, roadmap, design and more. Additionally, we'll provide you with a detailed comparison to various competitors, enabling you to confidently determine whether Writesonic might be the perfect fit for your content marketing needs.
Let's dive right in.
The TL;DR version
What is Writesonic?
Writesonic is an AI-powered content generation tool designed to cater to in-house teams, agencies, and freelance writers, addressing their content marketing needs. It empowers users to effortlessly create a wide range of content for various purposes.
Writesonic launched its first AI-powered landing page generator using Open AI's GPT-3 in October 2020. The product instantly gained popularity and was awarded the Best AI Writer of 2021 by TechRadar.
With an impressive user base exceeding 300,000, Writesonic has garnered over 10,000 5-star reviews on reputable platforms such as G2, TrustPilot, and Capterra.
Writesonic in backed by Y-Combinator, renowned as the world's best startup acceleration program. Moreover, it has successfully secured $2.6M in seed funding from some big Silicon Valley venture capital firms.
Adding to its achievements, Writesonic was recently voted #10 in the fastest growing software products in 2023 by G2.
Key Features
Packed with a myriad of features, Writesonic makes your content generation process much faster. Let's explore some of the noteworthy features this tool brings to the table.
Article and Blogs Generation
Article Writer: This unique feature allows you to select keywords, customize your brand voice and tone, define CTAs and generate a 1500-3000 words long blog post in minutes. It also allows you to use your competitors' blog posts as reference to generate factual and up-to-date articles.
Blog Titles: Generate captivating blog post titles that will boost your website traffic and engagement.
Article Ideas and Outlines: These features enable you to effortlessly generate numerous article and blog post ideas. Additionally, you can create comprehensive outlines that serve as a solid foundation for consistently crafting high-quality content.
Article Intros, Paragraph and Conclusion Writers: If you prefer not to generate complete articles using Writesonic, you have the flexibility to utilize it for generating specific sections such as intros, paragraphs, or conclusions.
Ads and Marketing Tools
Writesonic offers an extensive collection of templates to cater to a wide range of content marketing requirements. This includes ready-to-use templates for creating compelling Facebook, LinkedIn, and Google ad copies. You can even use it to generate engaging notification messages for your apps and websites.
Ecommerce
This features allows you to create engaging and tailored product descriptions in a matter of minutes by utilizing your preferred keywords. You can also create your Amazon listing in minutes with the Descriptions, features and product title templates.
Social Media
Writesonic simplifies content generation for various social media platforms with its 14 available templates. These templates include options for crafting engaging Twitter tweets and threads, generating Instagram captions and hashtags, creating compelling LinkedIn posts, and efficiently building YouTube collateral.
These diverse templates cater to many different platforms and purposes, providing users with a comprehensive solution for their social media content needs.
Website Copy
SEO Meta Tags: Make your site rank higher with SEO Meta Tags templates that help you generate SEO-optimized meta title and description for your blog posts, homepage or product pages.
Landing Pages: Create personlized and high-converting landing pages in just a few steps. This feature provides you with a strong foundation to work from, giving you a solid starting point to build upon and optimize for maximum conversions.
General Writing
Within the general writing section, Writesonic offers an impressive selection of 21 diverse templates catering to various needs. These templates range from generating compelling personal and company bios to creating informative Pros and Cons lists and crafting engaging Quora answers. Moreover, users have the flexibility to build a no-code customized AI chatbot (Botsonic) or utilize a Chat GPT-like interface (Chatsonic) for seamless content creation.
Articles and Blogs Generation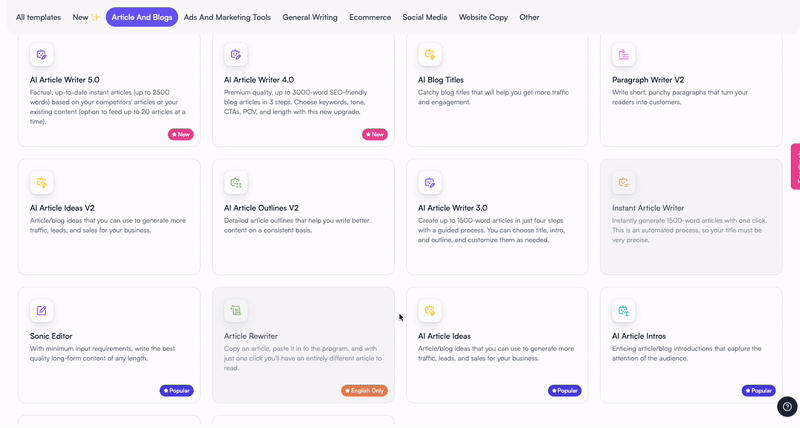 In the Articles and Blogs section, Writesonic offers users 14 diverse templates to assist them in their content generation tasks:
Article Writer
Writesonic offers users three distinct Article Writer templates specifically designed for generating blog posts ranging from 1500 to 3000 words. For first-time users, selecting the appropriate template can be a bit overwhelming. Here's a brief overview of the three templates:
1. A.I Article Writer 5.0: This template is ideal for generating up-to-date articles of approximately 2500 words. You can achieve this by using your competitor's articles as reference or inputting your existing content.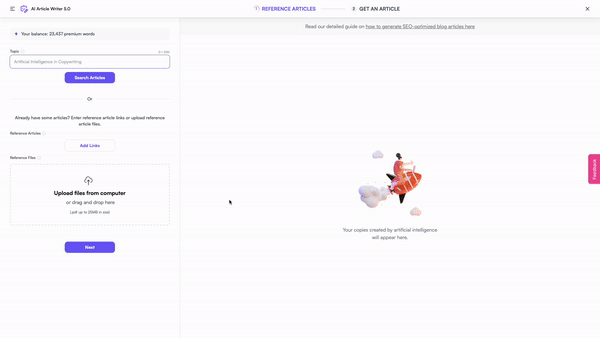 2. A.I Article Writer 4.0: Use this template when you need SEO optimized articles that are 3000 words long. It requires some manual input in terms of selecting keywords, tone, and CTAs.
3. A.I Article Writer 3.0: This template generates articles of 1500 words. It follows a 4-step process where you select an introduction, outline, and then generate the article.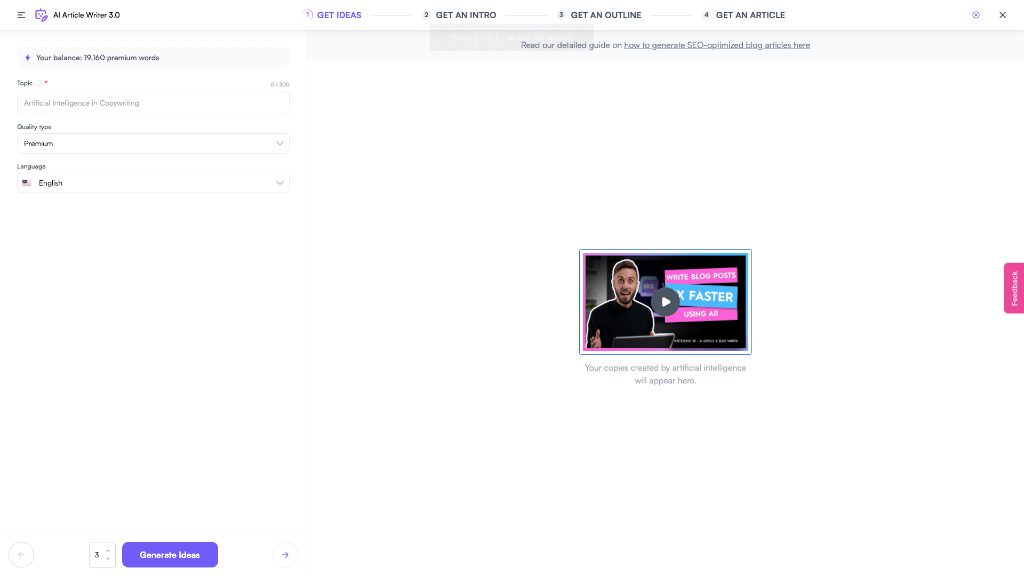 Users have the flexibility to switch between Premium (GPT 3.5) and Superior (GPT 4) versions in the 3.0 and 4.0 templates. However, the 5.0 version only supports the Superior quality, which consumes 3x more word credits.
Blog Titles
It's extremely easy to generate blog titles as well. Users have the option to select the language, quality and the number of blog titles that they want to generate.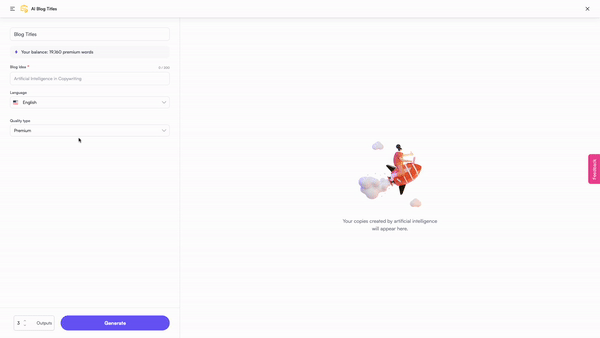 Article Titles, Ideas, Outlines, Intros, Paragraphs and Conclusion Generator
In addition to generating complete articles, Writesonic offers the flexibility to utilize templates for specific sections of your blog. This allows you to conserve your credits while still benefiting from the tool's capabilities. With Writesonic, you can generate blog intros, paragraphs, or conclusions individually.
Moreover, you can also instantly generate article ideas and outlines as a starting point for your content creation.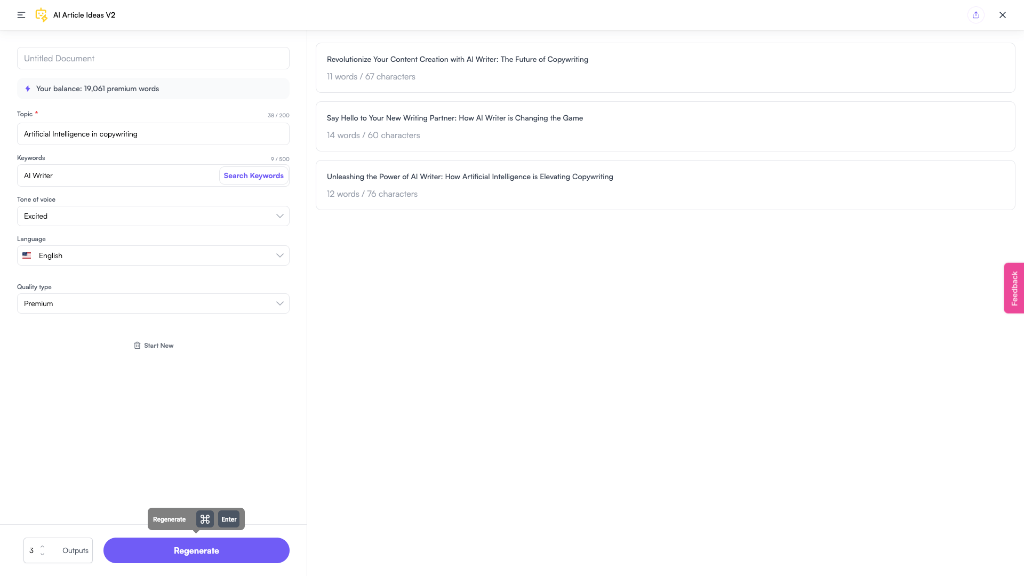 Ads and Marketing Tools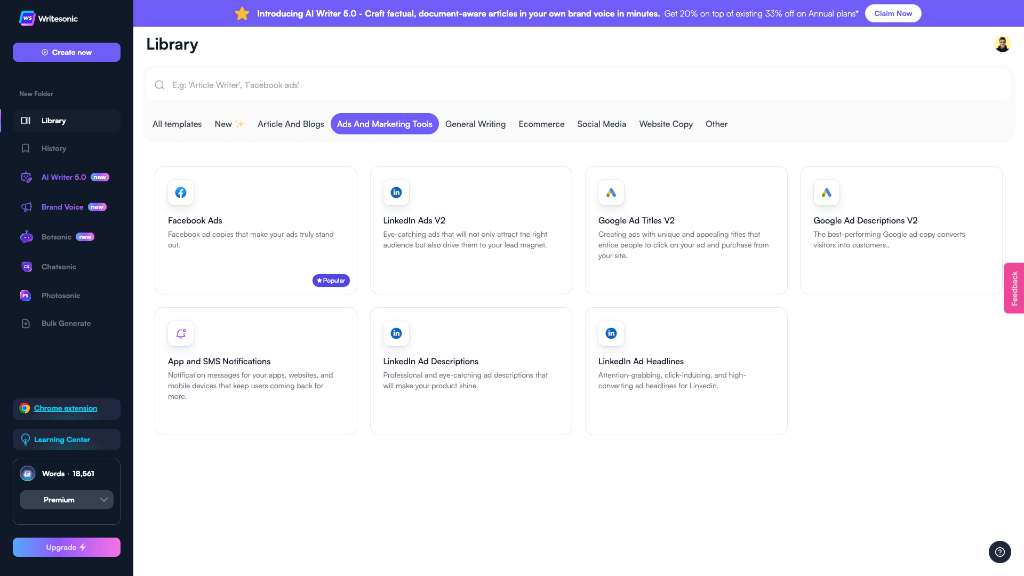 Writesonic has a library of seven templates that can help you generate ads and marketing materials for Facebook, LinkedIn, Google, apps, and SMS. All of the ad templates require similar inputs, such as the product name and description, occasion, and promotion.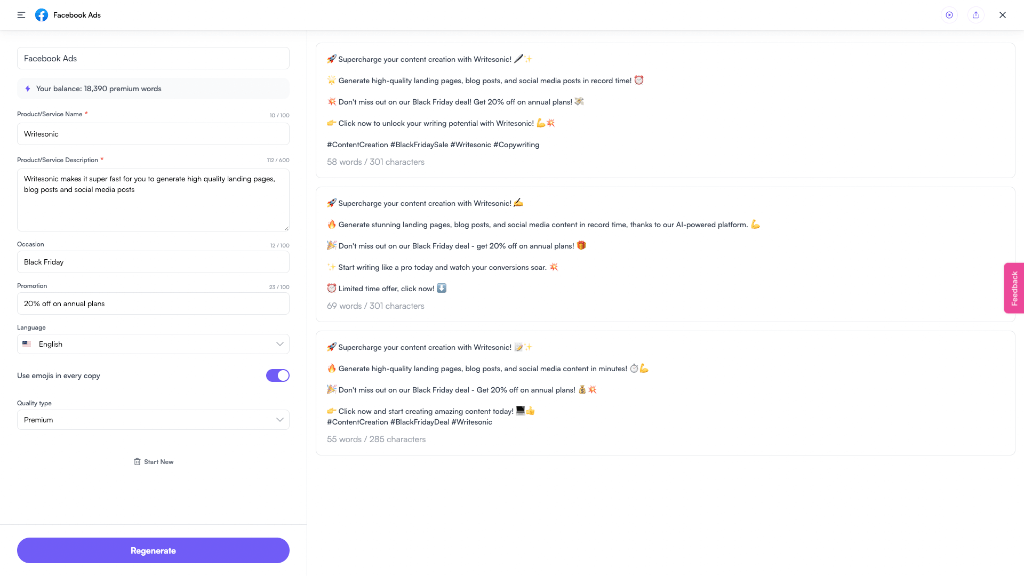 All ad templates require similar information, such as the product name and description, occasion, and promotion. However, some ad templates, like Facebook Ads, also let you customize the language, quality, and emojis in your ad copy.
Ecommerce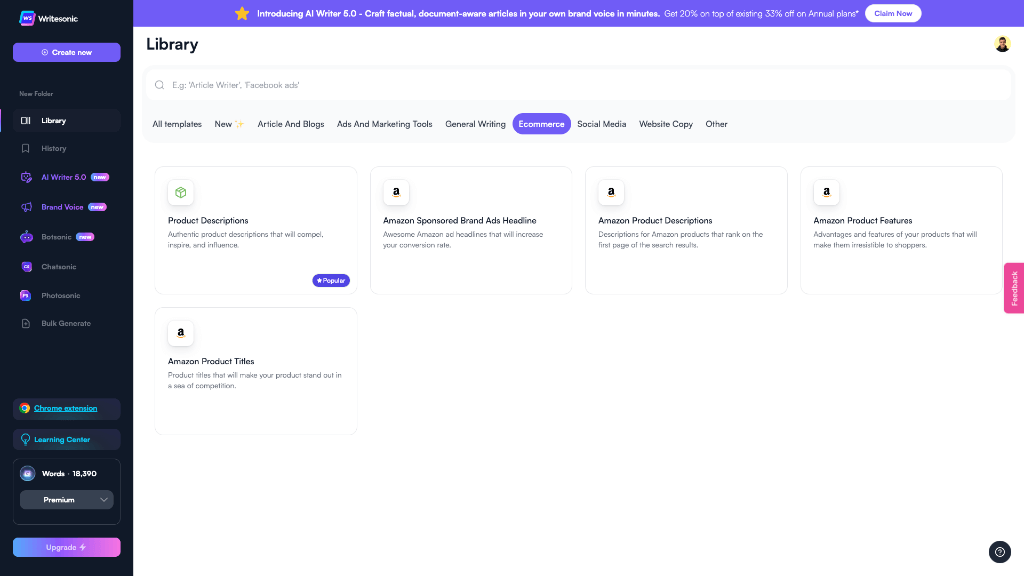 With this functionality, you can swiftly generate captivating and customized product descriptions within minutes. Writesonic offers a general product description template for your e-commerce website and specific templates tailored for Amazon product listings.
I personally found no discernible distinction between the content generated by the two templates, indicating that both can be utilized interchangeably.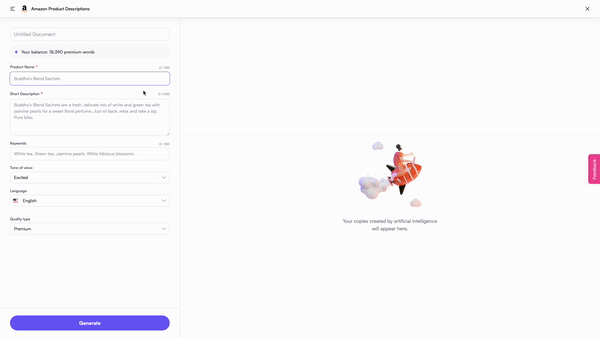 Crafting product descriptions is a simple process of inputting a title, brief description, desired tone, and targeted keywords. Based on my experience, generating product descriptions takes less than a minute.
Social Media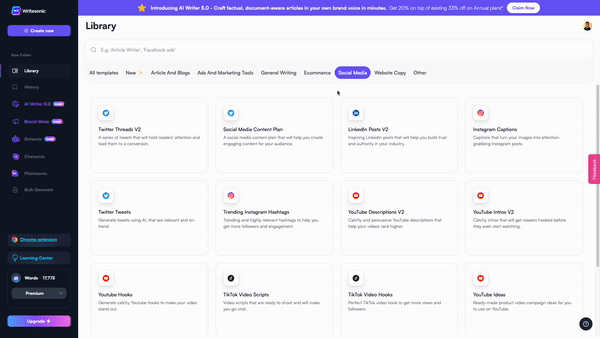 With 14 different templates available, Writesonic simplifies the process of generating content for various social media platforms.
Here are a few examples of the templates provided by the tool:
Twitter tweets & threads: With this functionality, you can easily craft engaging tweets and threads for your Twitter account, ensuring maximum engagement with your audience.
Content Plan: This feature allows you to produce social media content plans to help you achieve your marketing objectives.
Instagram Captions and Hashtags: Generate your Instagram post captions and hashtags within seconds using just an image description.
LinkedIn Posts: Convert an product/service post idea into an engaging piece of content instantly and post it on your LinkedIn account.
Youtube: Writesonic has a range of templates to help you build your Youtube collateral efficiently. With its Youtube templates, you can generate video ideas, titles, descriptions, intros and even video outlines.
Website Copy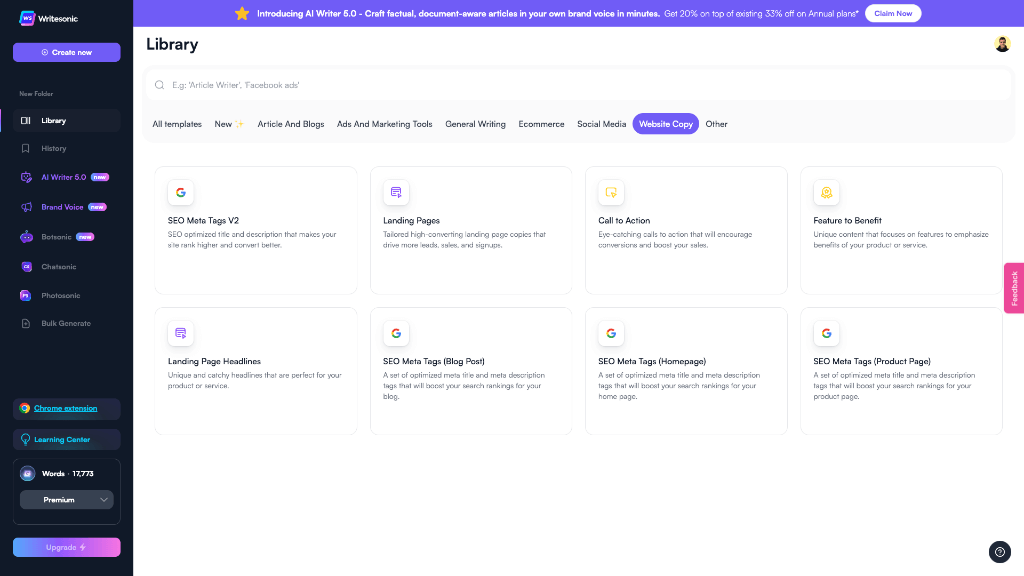 Within the Website copy section, there are 8 distinct templates available, with 2 of them being particularly useful:
1. SEO Meta Tags v2: While Writesonic offers 4 templates for generating SEO Meta Tags, this single template is capable of fulfilling the tasks of the remaining templates. I'm not sure why the other templates are still included. To generate SEO Meta tag ideas, you only need to provide a brief page description, select the page type, input keywords, and specify the desired content quality.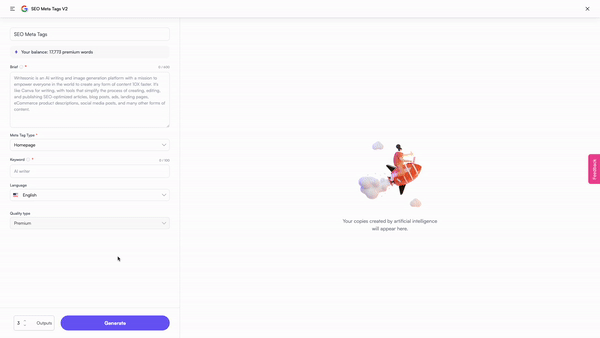 2. Landing Pages: This feature enables you to quickly generate landing pages. While the quality of these landing pages may not match those developed by professionals, they provide a solid foundation upon which you can further build and improve.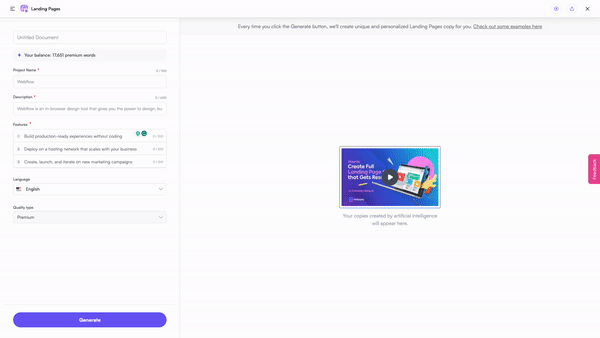 General Writing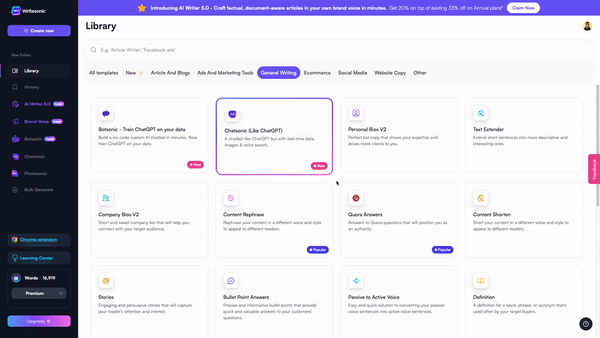 In the general writing section, Writesonic provides a range of versatile templates that cater to diverse requirements. These templates encompass a wide range of tasks, including generating captivating personal and company bios, crafting informative Pros and Cons lists, and creating engaging Quora answers.
An especially notable feature is Botsonic, which empowers users to generate their personalized AI chatbot without requiring any coding knowledge. Users have the flexibility to train the chatbot on their own data and seamlessly embed it on their websites. It's important to note that access to Botsonic is available exclusively for users on the paid plan.
Integrations

WordPress Integration: Writesonic can be integrated with both WordPress.com and Wordpress.org (using the Writesonic plugin). Writesonic allows users to connect up to 10 WordPress sites with 1 account. This allows your AI-generated content to be directly published to your WordPress site.
Surfer SEO Integration: The tool can be integrated with Surfer SEO so that the AI-generated content can be further optimized for SERPs. A separate Surfer SEO subscription is needed for this integration.
Zapier Integration: With this integration, you can connect Writesonic to 5000+ apps and automate your workflows. Few examples of automations that you can build with the Zapier integration are: ****

Post tweets that are generated on Writesonic directly to your twitter account.
Update product descriptions generated on Writesonic directly on Shopify.
Send emails generated on Writesonic from your gmail account.

Browser Extensions: This extension enhances your productivity and efficiency while working with platforms like Gmail, Twitter, LinkedIn, and the web. With this extension, you can effortlessly draft emails, tweets, and LinkedIn posts directly on the respective websites, eliminating the need to open the Writesonic app separately.
More Features
Photosonic Image Generator: Exclusively available to paid plan subscribers, this feature enables users to generate images, making it particularly valuable for creating original featured images for blogs or websites.
SEO Keywords Generator: With Writesonic's SEO Keywords Generator, users can generate a comprehensive list of keywords and phrases, along with details such as search volume, CPC, and difficulty score. However, it appears that this feature lacks sufficient information and data to entice users to switch from other established keyword research tools to Writesonic.
Additionally, there is no provision to specify the desired quantity of keywords to generate, which means there is no opportunity to conserve credits by reducing the number of keyword ideas.
Customer Support
Their training center offers helpful guides, tutorials, and webinars to assist users in mastering the tool's features. Important features within Writesonic include direct links to corresponding tutorials, making it easy for users to access guidance.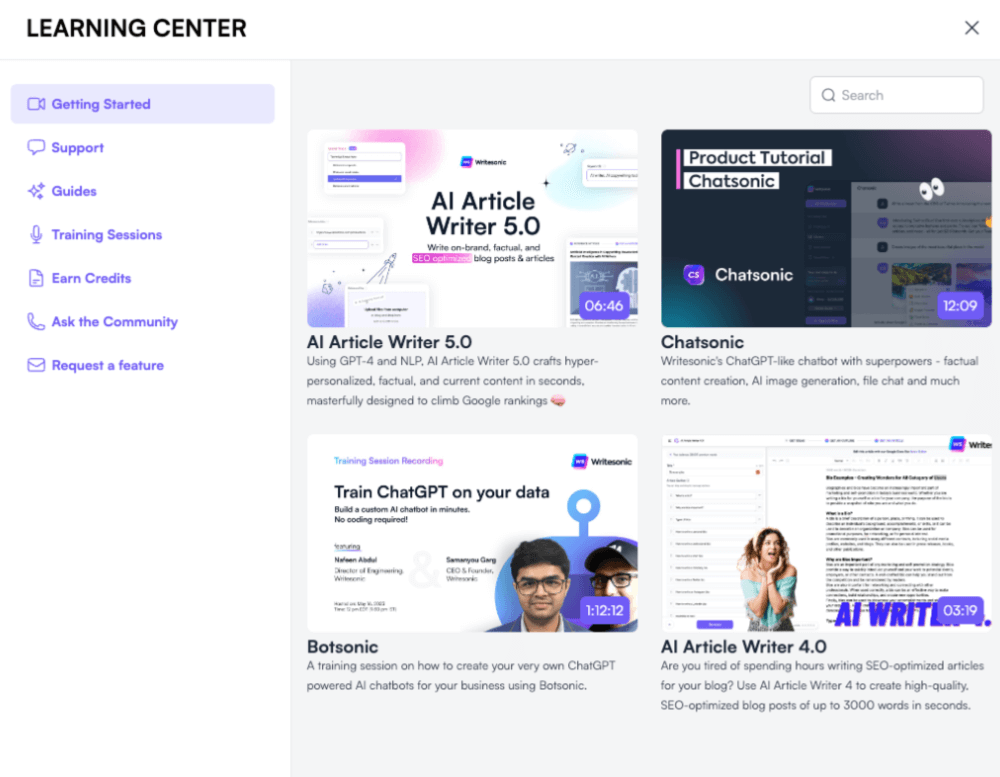 Customer support is readily available via email and live chat during business hours. In addition, Writesonic fosters an active and engaged community. With a Discord community boasting over 12,000 members and a Facebook group with over 6,000 members, users have platforms to connect, seek advice, and share insights.
Pricing
Writesonic has a very flexible pricing structure.
Free Trial
Pro
Cost
Free
Starting Price: $19/month on monthly plan or $12.67/month on annual plan

Upper Limit: $999/month on monthly plan or $666/month on annual plan
Words
10,000 words
Ranges from 100,000 words to 6,000,000 words per month
Users
1 User
Ranges from 1 user to 15 users
Quality
Premium (GPT 3.5)
Choice between Premium (GPT-3) and Superior (GPT – 4)
API Access
Not available
Available
Surfer SEO Integration
Not available
Available
On annual plans, you can save up to 33%. If you're a student or a non-profit, you can get an additional 30% off on annual plans. You will just have to contact their customer support.
In addition to standard plans, Writesonic also offers an enterprise plan that can be tailored to meet the specific requirements of organizations. Users with enterprise plans receive dedicated account managers, premium support, and access to training sessions, ensuring a high level of personalized assistance.
It's worth noting that the word limits mentioned in the plans refer to premium words generated using GPT-3.5. If users opt for superior quality (GPT-4) words, the available count will be reduced. The conversion rate is straightforward: 100 superior words are equivalent to 300 premium words. Users have the flexibility to switch between superior and premium quality at any time within their paid plan.
Users can also earn 2,000 extra words for writing reviews on the Chrome web store and G2.
I think Writesonic's pricing is quite reasonable and makes it a competitive option compared to other alternatives. With its flexible pricing model and the ability to switch between different quality levels at any time, users have the advantage of a cost-effective solution that aligns with their specific needs and budget.
Competitors
There are quite a few AI-content generation tools out there in the market. Here's a comparison of Writesonic against other leading alternatives:
| Tools | Features | Pricing | Content Quality | Integrations |
| --- | --- | --- | --- | --- |
| Writesonic | Writesonic has one of the most comprehensive libraries of 80+ templates. The tool also has a long-form Article Writer, that is lacking in tools like Jasper.ai. Additional Features: 1. Provides API access 2. No-code Chat Bot | Compared to other tools like Jasper, Writesonic's starting price of $19/month for 100,000 words is quite reasonable. Writesonic also has the most flexible pricing structure. | Writesonic is the only tool that allows users to switch between GPT-3.5 and GPT-4. Because GPT-4 is trained on more data, it can create content with much more coherence. | Writesonic allows integrations with WordPress, Zapier and Surfer SEO. |
| Jasper | Although Jasper has lesser templates, it provides more flexibility with its templates and has few additional features, such as a built-in plagiarism checker. Additional Features: 1. Provides API access 2. Advanced admin analytics in business plan. 3. Features for seamless collaboration between team members. | Jasper's pricing starts from $39/month, however, it provides unlimited AI-generated words at this price point. To access the SEO mode, the users have to subscribe to the Teams ($99/month) plan. | Jasper uses GPT-3.5 for content generation. | Jasper can be integrated with Surfer SEO and provides an API so users can integrate it with their own applications. |
| Rytr | Out of all the tools, Rytr has the least number of templates, however the tool can generate articles in 30+ languages, that is more than any other tool has to offer. Additional Features: 1. Provides API access 2. Built-in plagiarism checker. | Rytr is the cheapest AI-content generation tool from this list. The paid plan starts from just $9/month. To have unlimited AI-generated words, users have to subscribe to the unlimited plan, which is only $29/month. | Rytr uses GPT-3 for content generation. | Rytr can be integrated with SEMrush to get enhanced keyword suggestions for blog posts and articles. |
| Scalenut | Scalenut has a library of 40+ templates for content generation. It also provides keyword research and SERP analysis capabilities out of the box. Additional Features: 1. NLP Analysis 2. Topic Clustering 3. On-Page SEO Checker 4. Javascript Minifier 5. Keyword Rank Checker | Scalenut's plans start from $39/month for 100,000 AI words. However, in this plan, the users can only generate 5 SEO Articles/month. | Scalenut uses GPT-3 for content generation. | Scalenut integrates with WordPress, SEMrush and Copyscape. |
Alternatives
Content writing

Jasper AI

Jasper AI is a notable competitor to Writesonic, offering unlimited AI-generated words at a marginally higher price. It's cost-effective for heavy content users and offers better output control, enhancing its competitive edge.

AI SEO tools

Copy.ai

CopyAI offers a variety of copywriting tools for creating blog posts, product descriptions, and social media captions. Priced at $49/month for unlimited words and 5 user seats, it stands out as an affordable option for extensive content generation, compared to Writesonic.
FAQs
How's the quality of AI-content generated by Writesonic?
Since Writesonic utilises the most advanced verison of GPT, it stands out by offering AI-generated content of superior quality compared to its competitors. While some fine-tuning may still be necessary when working with AI-generated content, Writesonic provides users with a strong initial foundation to build upon.
Is Writesonic content good for SEO?
AI generated content needs to be optimized further to be able to rank better. Users should use Writesonic along with other tools for activities, such as keyword research, technical analysis etc. By extracting relevant keywords from these research tools, users can input them into Writesonic to generate articles.
Does Writesonic content pass plagiarism checkers?
Occasionally, there have been instances where AI-generated content flagged minor plagiarism concerns. This issue can be easily resolved with slight adjustments made to the article. In addition, Writesonic offers a content paraphrasing tool that ensures the content is completely unique and free from any plagiarism-related concerns.
Summary
In the market of AI-content generation tools, Writesonic stands out as one of the best options available. Boasting over 80 templates, it empowers users to generate content quickly for a variety of platforms such as social media channels, websites, and Amazon, among others.
The availability of multiple integrations offers users the reassurance that Writesonic can seamlessly integrate with the rest of their tech stack, ensuring a smooth workflow.
We trust that this review will aid you in making a more informed decision when selecting a tool to meet your content-related requirements.
---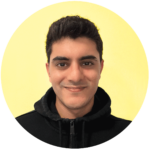 Nimit Kapoor
Nimit Kapoor is a Digital marketer with a passion for fostering brand-customer relationships through innovative strategies and analytics.
Skills:
Technical SEO, SEO strategy, Content strategy