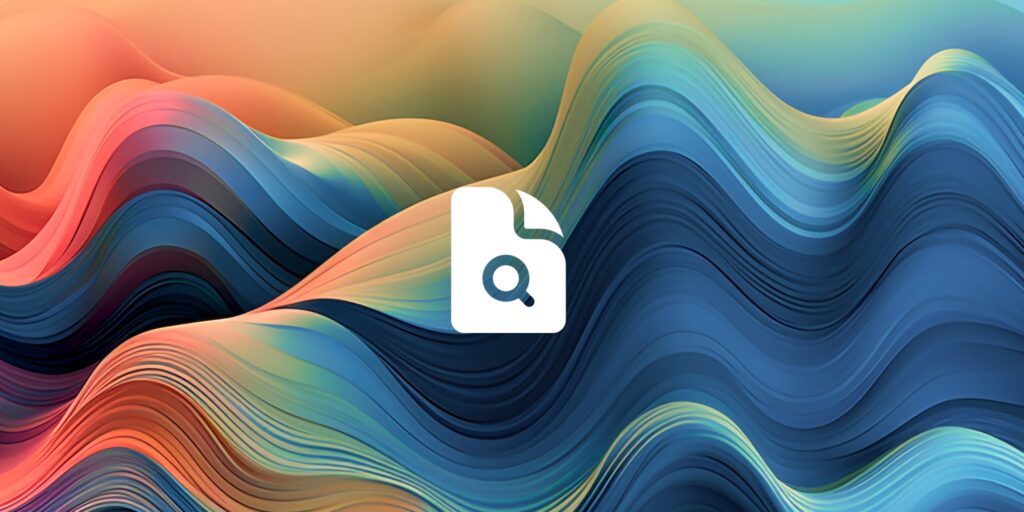 The best
Rank trackers
April 12, 2023

14 minutes

Sam Underwood
Effective tracking is an indispensable aspect of any organic SEO campaign. It allows you to gauge the success of your efforts, identify areas for improvement, and unlock possibilities for expansion. A reliable rank tracker is key to achieving these goals. It provides a comprehensive view of your website's performance across search engines and helps you make informed decisions about your strategies.
With so many options, selecting a suitable rank tracker can be overwhelming. We've evaluated various rank trackers and organized them into five categories to simplify your search. Join us as we explore each and find the best fit for your needs.
What is a rank tracker?
A rank tracker is a tool that monitors, measures, and analyzes a website's position in SERPs (search engine results pages) for specific keywords or phrases that you choose. Most rank trackers usually come as part of a larger toolset or as a standalone piece of software.
They provide digital marketers, SEO professionals, and website owners with insights into the visibility and performance of their content.
Can't I just use Google Search Console?
Google Search Console (GSC) is essential for webmasters and digital marketing professionals. However, it does not provide the same level of in-depth insights as a specialized rank tracker. Here are the benefits of using a rank tracker instead of GSC:
Keyword Tracking: GSC only provides reliable data on how your website is performing for keywords you're already ranking well for on the first page. On the other hand, rank trackers let you monitor rankings for a broader range of targeted keywords, giving you a more comprehensive view of your SEO efforts.
Competitor Analysis: GSC does not provide insights into your competitors' rankings, making it difficult to evaluate your website's performance compared to industry leaders. On the other hand, rank trackers make it easier to track and compare your competitors' rankings for specific keywords, helping you refine your SEO strategies.
Historical Data: Rank trackers provide historical ranking data, enabling you to identify trends, patterns, and changes in your site's performance over time. In comparison, GSC's historical data is limited to 16 months.
Geolocation and Device-based Tracking: GSC offers limited data by country, only allowing you to filter by country. In contrast, rank trackers can track keyword rankings based on different geographic areas, like regions, cities and in some cases, towns or villages.
Ranking Alerts: GSC does not provide real-time notifications when your website's position changes for specific keywords. Rank trackers can offer automated alerts, allowing you to address issues or take advantage of opportunities quickly.
Customizable Reports: GSC offers basic reporting options, while rank trackers provide customizable and more advanced reporting capabilities. These detailed reports help you to analyze your website's performance better and make informed decisions.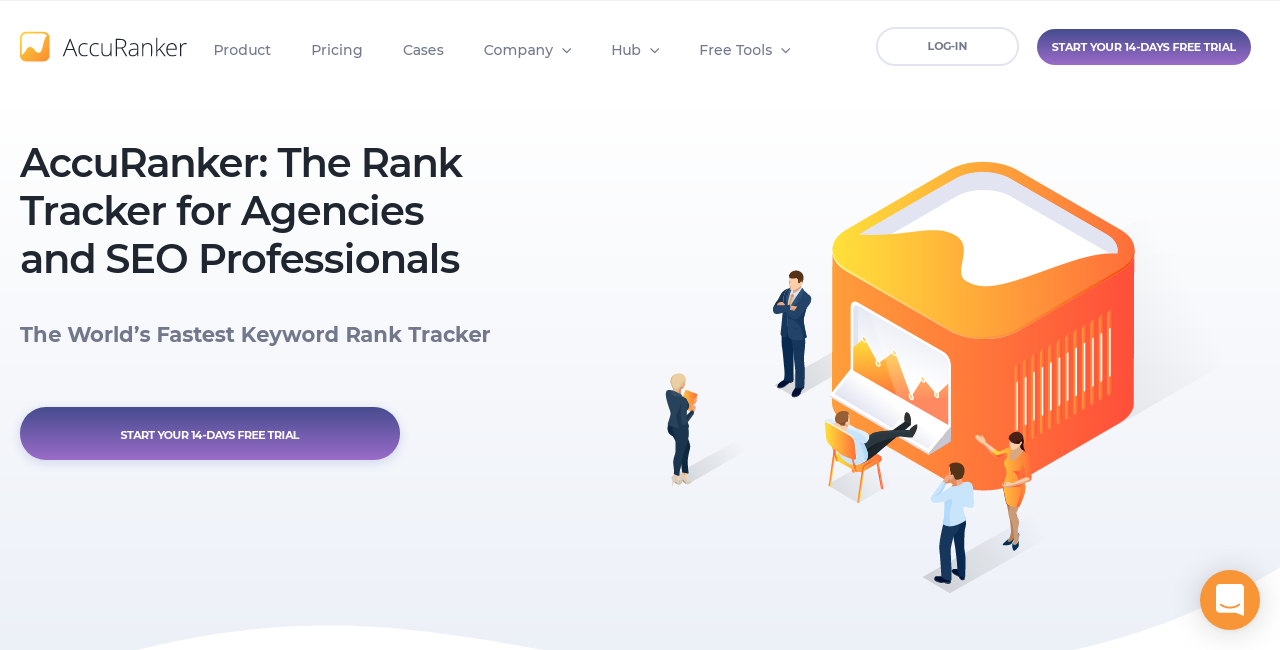 Best overall: Accuranker
If you're looking for a rank tracker that does it all, look no further than Accuranker.
One of the first noticeable things about this rank tracker is its clean user interface. Accuranker offers users easy navigation, providing them with an accessible and uncluttered navigation panel on the left-hand side of their screens.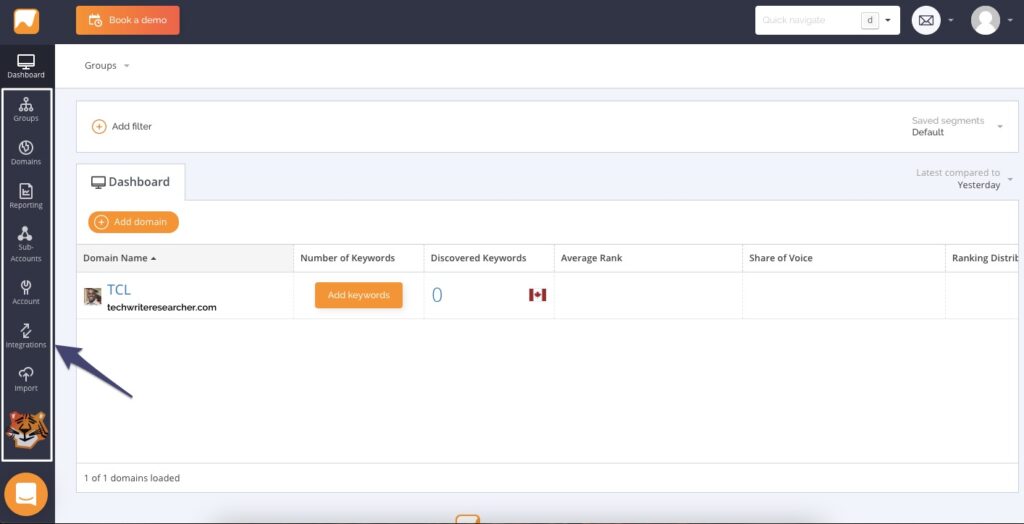 Accuranker's standout features are its intelligent keyword tagging and filtering capabilities.
Users can filter by keyword, landing page URL, page title, SERP features available, and more.
The tool enables you to segment relevant keywords that you and your competitors rank for with tags that you can add before or after uploading your target queries.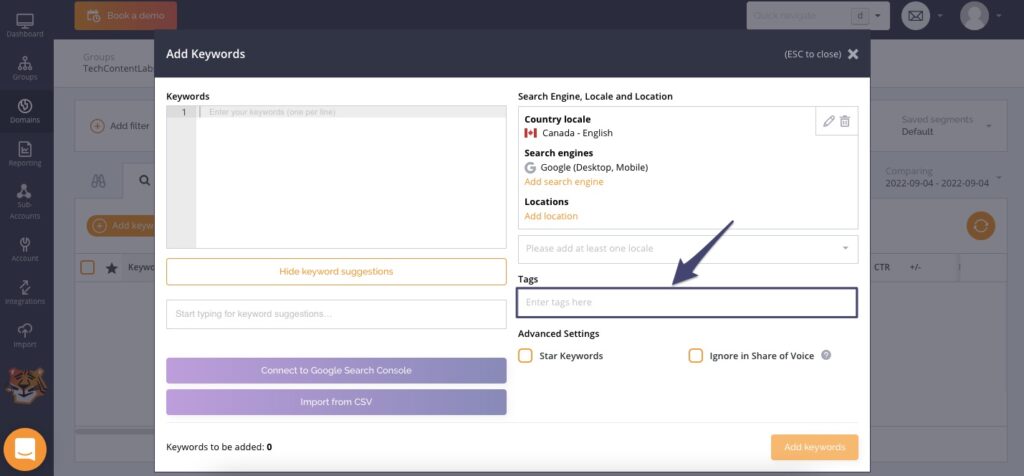 In addition to tracking on Google, the software supports monitoring on other search engines like:
Bing
Yandex
Youtube
Baidu
We've pulled together a more comprehensive list of key features below.
Key features
Keyword tracking
Custom keyword tagging
Fresh and simple design
Rest API
CSV import with tags
Integrates easily with many tools
Customizable and automated reports
Informative dashboard
SERP feature tracking
Pricing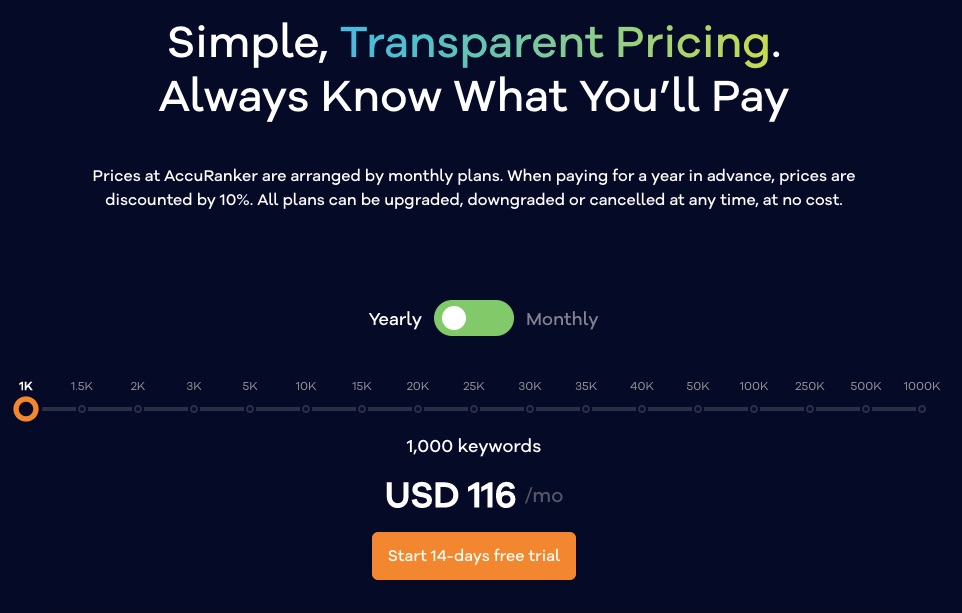 Accuranker provides flexible price plans from $99 per month, offering users a 10% discount on the monthly price if they pay annually. Subscriptions can be upgraded and downgraded at any time.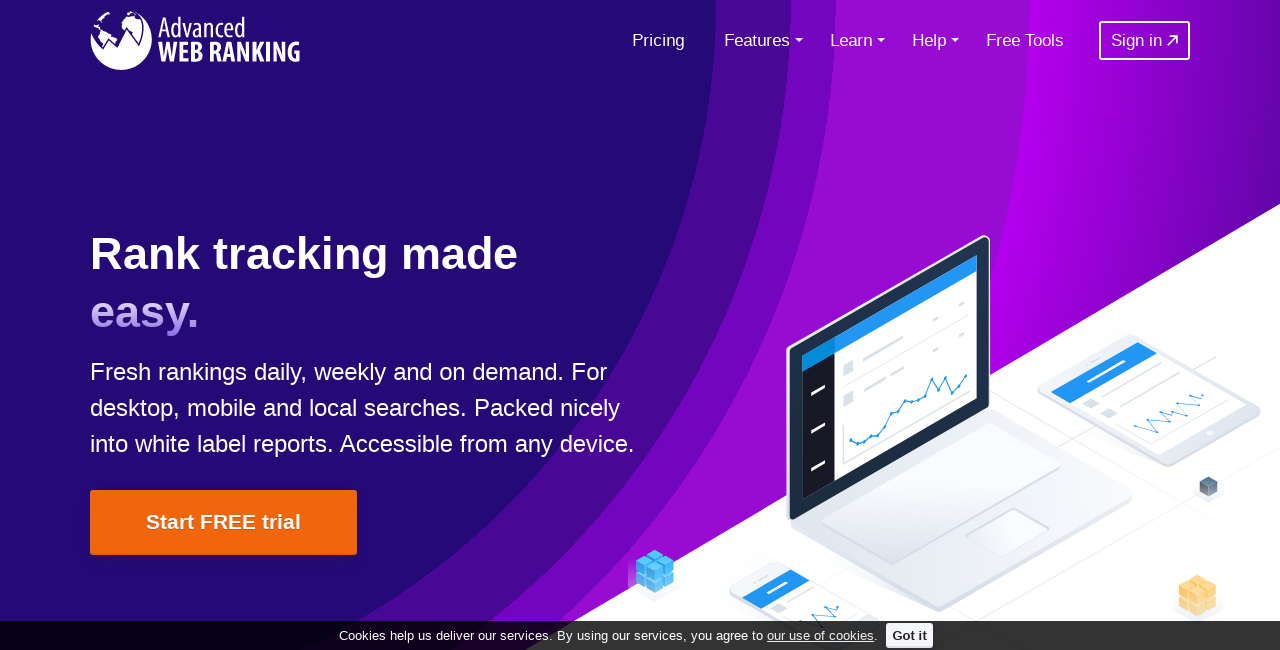 Runner-up: Advanced Web Ranking
Advanced Web Ranking is a web-based rank tracker. It offers a range of reliable and accurate tools to help small and enterprise-sized businesses with their ranking, reporting, and analytics.
The menu shows that the software also offers stats around competitive intel, page experience, forecasting, and more.
This tool works across several search engines and devices in various languages, making it easy for almost anyone to use.
You can schedule how often you want the tool to refresh your keywords. And also be aware of ranking issues quickly with instant SEO alerts that tell you your position on search engines.
Key features
Instant SEO alerts
Reliable website rankings
Clean, easy-to-use design
Integration with Google Analytics and Google Search Console
Six different alert types
White labeling features
Competitive intel
Continuous API updates
Unlimited accounts without extra cost
Data migration support
Dynamic keyword segmentation
Click Share score by SERP
Trends reporting and forecasting
Unlimited search engines, keywords, and projects
Customizable SEO tracking and reporting
Pricing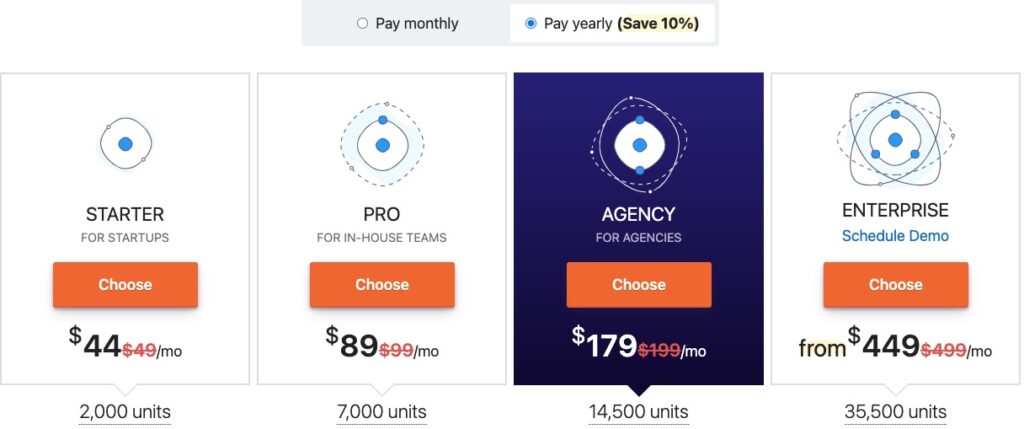 AWR has four product packages to choose from:
Starter
Pro
Agency
Enterprise
The platform charges per keyword unit. A particular keyword can take up more units, depending on how many places the software tracks it from.
The Starter plan gives you 2000 keyword units at $49. You'll get 7000 keyword units at $99 with the Pro plan. Whereas, at $199, the Agency plan offers you 14,500 keyword units.
The Enterprise plan starts from $499 per month and offers 35,500 keyword units. However, this plan allows you to vary your keyword according to your needs, but at a cost.
You can save 10% on any of the plans by paying annually.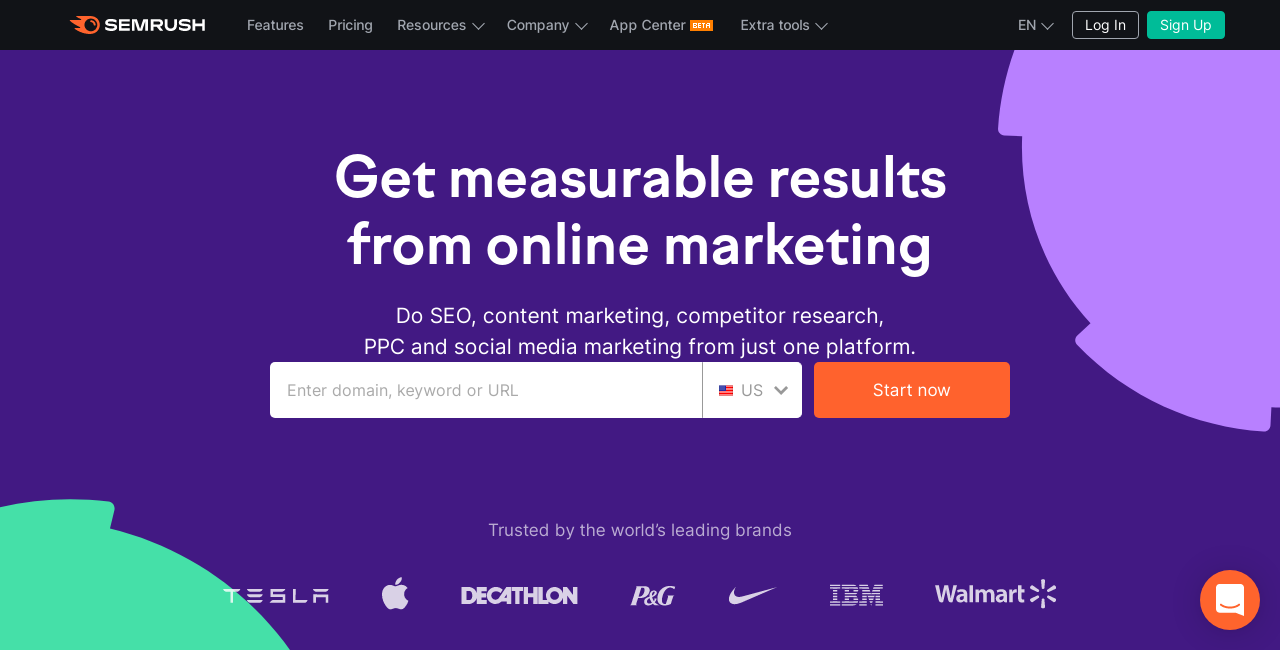 Best all-in-one: SEMrush
If you're looking for an SEO tool that can do it all, look no further than SEMrush. This versatile platform offers everything you need for effective SEO, including rank tracking, competitor analysis, detailed filtering, and user-friendly visibility charts.
Some may argue that SEMrush is a "jack of all trades, master of none," but that couldn't be further from the truth. With SEMrush's easy-to-use and comprehensive rank tracking, you'll receive weekly reports and instant alerts for any urgent rank changes.
But SEMrush is more than just a rank tracking tool. It also offers an in-depth competitive analysis that compares websites based on keywords and traffic costs. With this information, you can identify which domains get the most organic search traffic and adjust your strategy accordingly.
Key features
Large number of keywords are tracked daily, even on the smallest plan.
Social media tracking.
Easy to set up.
Compare competitor data.
Regular notifications and custom alerts.
It's an all-in-one with great tools outside of just rank tracking
Pricing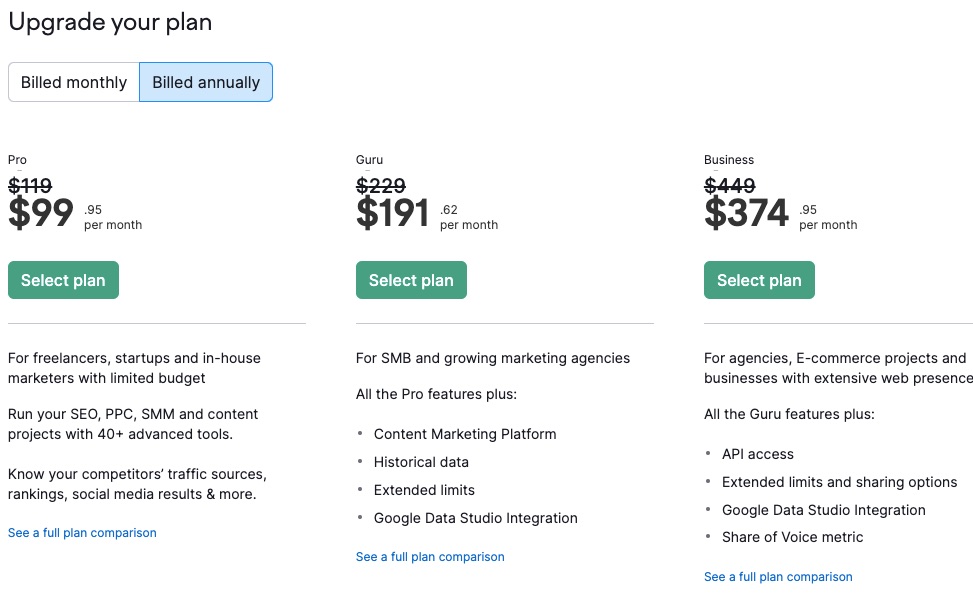 SEMrush's Pro plan offers a 7-day trial that provides access to all of the plan's features. During this time, you can run up to 5 projects and track up to 500 keywords, with up to 10,000 results per report.
If you choose to continue with the Pro plan after the trial, it will cost $119.50 per month. SEMrush also offers two other pricing plans: the Guru plan at $229 per month and the Business plan at $449 per month.
The Guru plan includes tracking for 1,500 keywords across 15 projects, with up to 30,000 results per report. The Business plan offers tracking for 5,000 keywords across 40 projects, with up to 50,000 results per report.
However, if you pay annually, you can save up to 17% on your subscription costs.
While SEMrush may be priced higher than some other rank trackers on the market, it's important to remember that it's an all-in-one SEO tool. With comprehensive features and functionalities, the higher price tag is well worth the investment.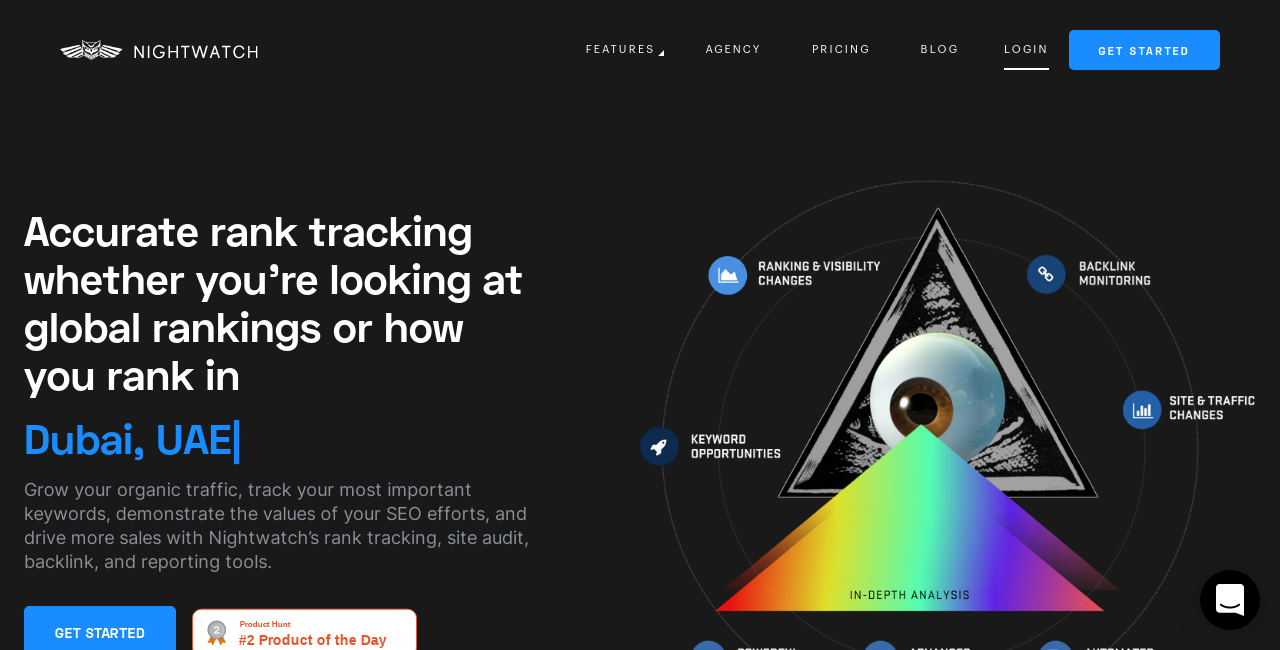 Best design: Nightwatch
While looks may not be everything, Nightwatch certainly stands out in terms of its visual presentation of data. With vibrant colored charts and graphs, the tool provides a user-friendly way to interpret complex data and gain valuable insights.
In addition to its aesthetic appeal, Nightwatch offers a range of useful features for SEO management. Its advanced filtering options allow in-depth keyword analysis, making organizing and managing data across multiple sites easier.
Overall, Nightwatch is a top choice for those who value form and function.
While Nightwatch excels in its design, its strengths extend beyond aesthetics. With a 99% guaranteed uptime and highly accurate rank tracking, the platform is a reliable tool for staying ahead of the competition.
One of Nightwatch's standout features is its ability to track rankings at a granular level, down to ZIP codes. According to the company, they track more than 50,000 locations.
In addition to location-based tracking, Nightwatch enables users to monitor critical keywords across map packs and search engines in 107,296 locations worldwide. The platform's segment analysis feature allows users to drill down into specific pages, keywords, and subfolders, making it easier to analyze data and gain valuable insights.
Overall, Nightwatch is an excellent choice for those seeking a reliable and comprehensive SEO tool with advanced tracking and analysis capabilities.
Key features
Attractive design
Rank boosting keywords
Rank tracking down to ZIP code level
Filter capabilities
Tracks major search engines like Google, Bing, and DuckDuckGo
Local SEO reporting
Website audits
White labeling
Automated backlink tracking
Customizable reports
Pricing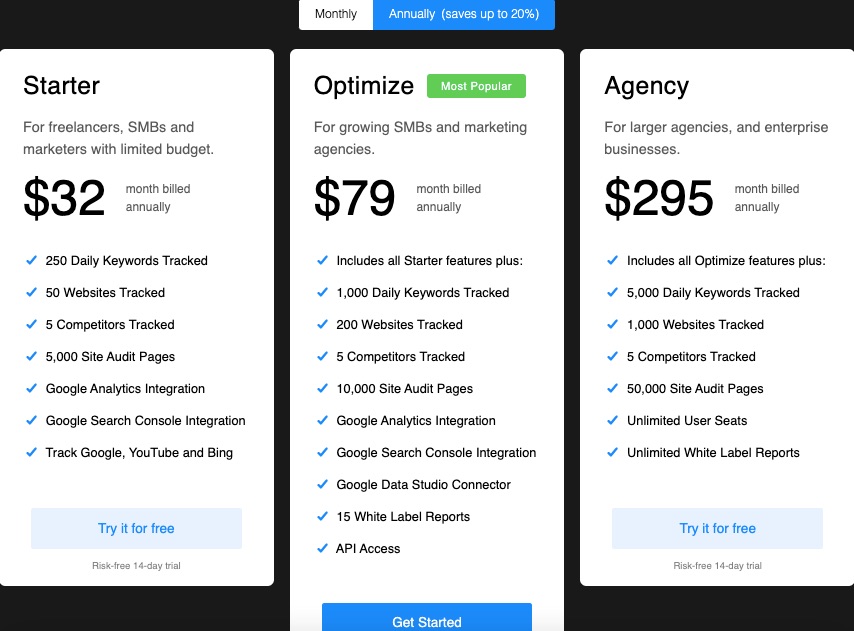 Nightwatch offers a 14-day free trial period, after which you will be automatically placed into the Starter plan, which costs $384 per year ($32 per month) and allows you to track 250 keywords daily. If you choose to pay monthly, the Starter plan costs $39.
The other plans, Optimize and Agency, cost $99 and $269 monthly, respectively. However, you can save 20% on all plans by paying annually.
The Optimize plan offers daily tracking for 1,000 keywords, while the Agency plan offers tracking for 5,000 keywords daily.
While Nightwatch may not be the most affordable SEO tool on the market, it's certainly not the most expensive either. As an advanced rank tracker with robust features and functionalities, Nightwatch is a worthwhile investment for those seeking a reliable and comprehensive SEO solution.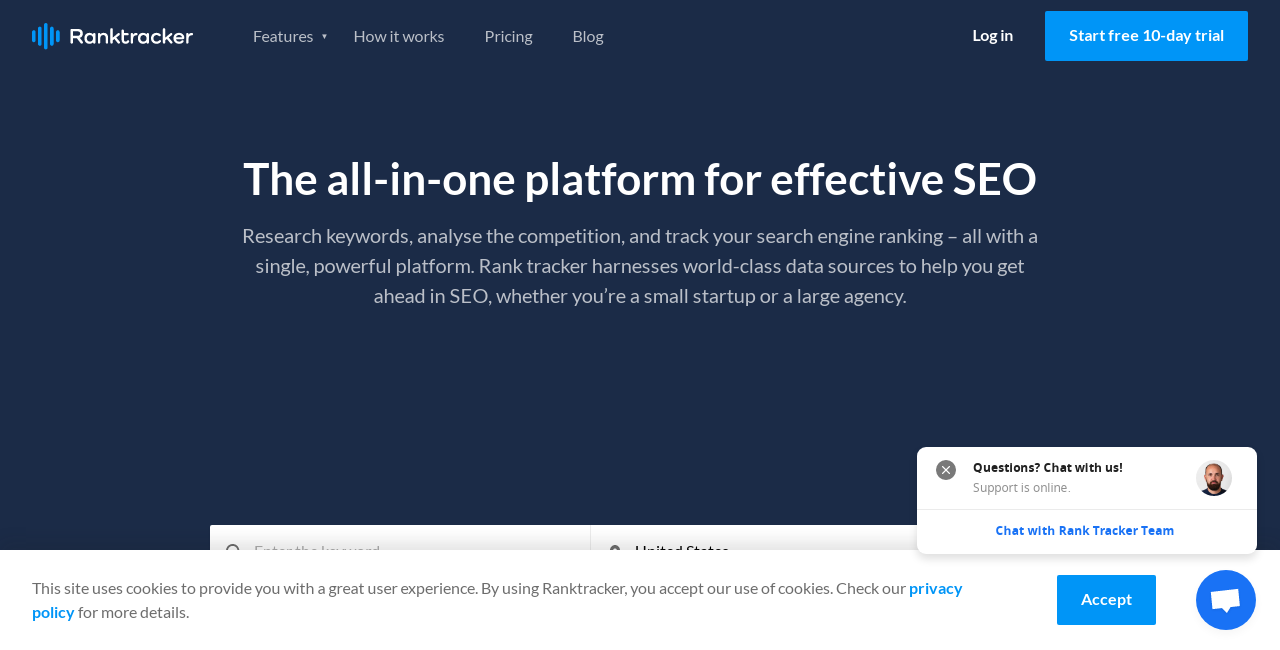 Best budget pick: RankTracker
Ranktracker is an ideal SEO tool for those seeking flexibility on a budget. Its versatile features enable users to track keywords in any language across a range of popular search engines, including Google, Bing, Yandex, Yahoo, and more.
One of Ranktracker's standout features is its ability to easily switch between desktop and mobile views, allowing users to monitor their rankings across both devices. This is particularly useful in today's mobile-first digital landscape, where mobile optimization is critical for SEO success.
Overall, Ranktracker is a great option for those seeking a cost-effective SEO tool with robust tracking capabilities across multiple search engines and devices.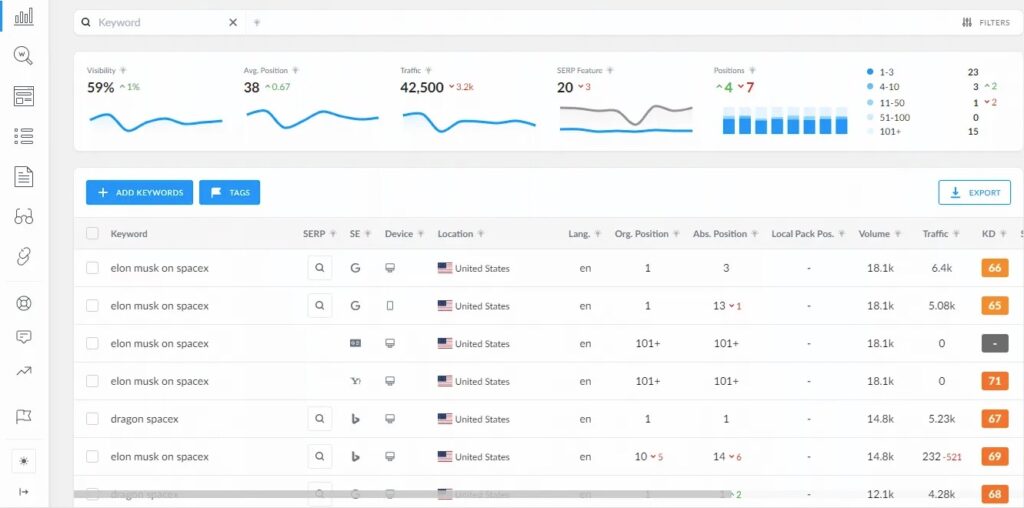 This tool also provides actionable tasks with a walk-through on completing them, so it's an excellent choice for someone new to SEO.
Key features
Tracks keywords in 107,296 Trackable Locations
Google My Business, organic and absolute positions
Share tracking link
Search engine tracking across mobile and desktop
Keyword finder.
Accurate and reliable ranking reports
In-depth web audits.
Integration with 23 keyword tools.
Pricing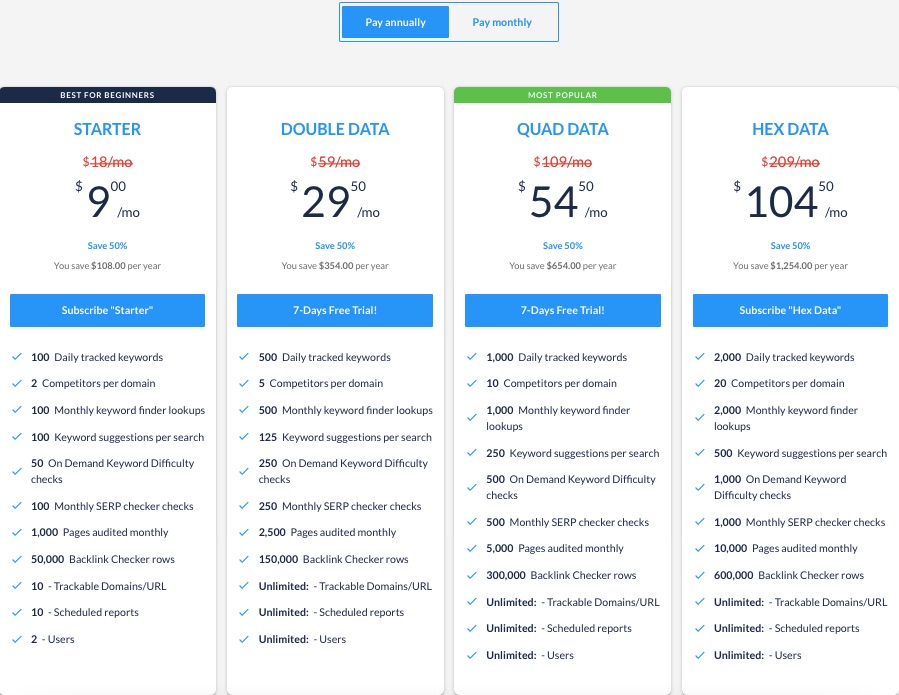 Ranktracker offers four plans; 'Starter,' 'Double data,' 'Quad data,' and 'Hex data,' suiting anyone from freelance to enterprise users.
Starting at $9 a month, This software is the most affordable rank tracker from our recommendations.
The Starter plan offers 100 daily rank tracking at $14 monthly. You can track 500 keywords daily for the Double Data plan at $47 monthly. And Quad Data offers 1,000 daily keywords at $87 per month.
Although you'll pay $167 monthly to track 2,000 keywords daily on the Hex Quad plan, you don't have to stop there. You can get a custom quote if your business requires more keywords tracked.
Regardless of your plan, you can cut your cost by 50% if you pay annually.
Worthy mentions
While the five rank trackers mentioned above are our favorites, there are still many other options out there that are worth mentioning. We'll summarize a few of them with features that make them useful.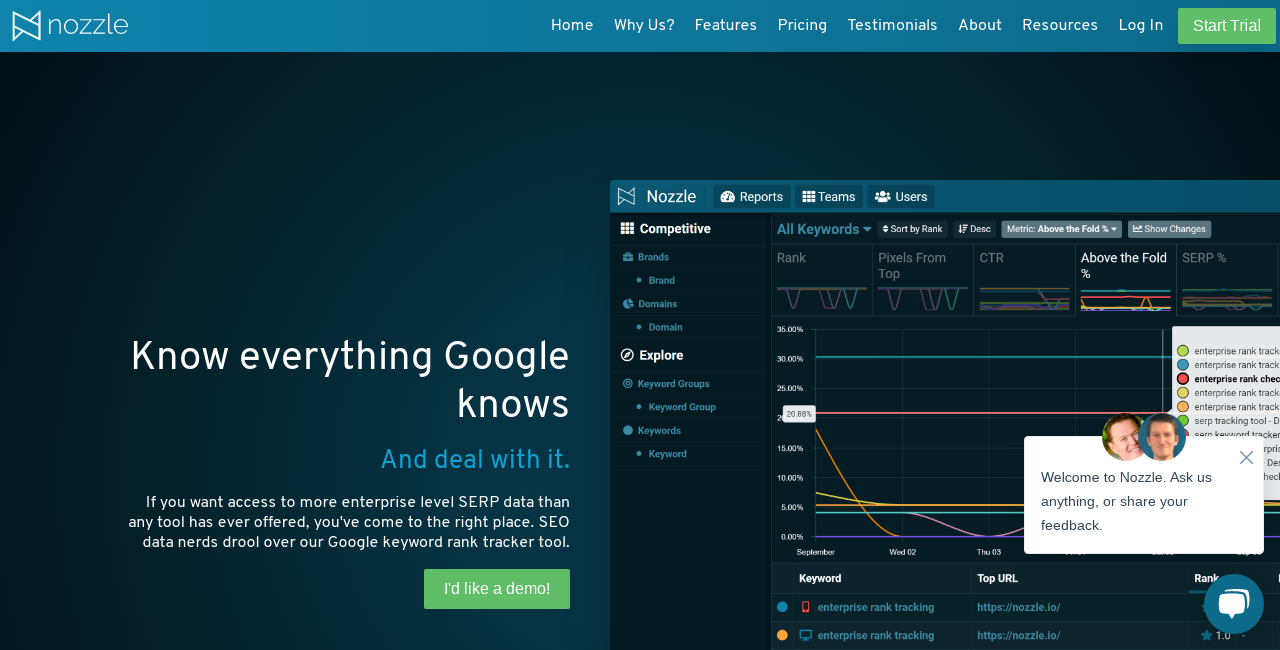 Nozzle
Nozzle is a highly customizable SEO tool that enables users to track keywords based on a range of parameters, including device, location, and country. With flexible scheduling options, users can choose how often they want to track their keywords, ensuring they always have the latest data at their fingertips.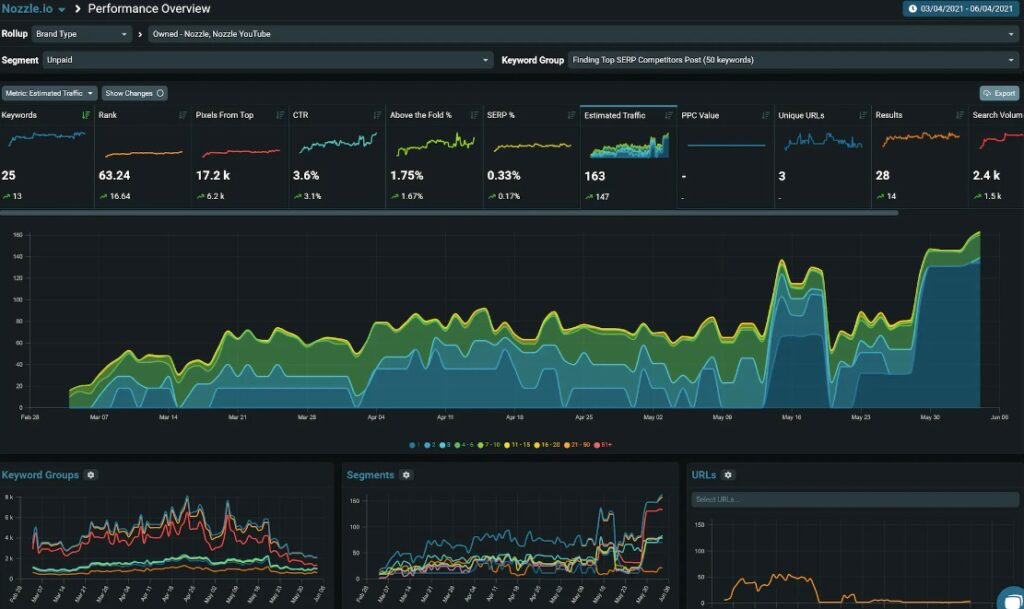 Nozzle's access to a BigQuery database is a significant advantage for businesses seeking a more comprehensive understanding of their SEO performance. By allowing users to pull their own custom reports, Nozzle enables businesses to identify trends and patterns in search performance over time, providing valuable insights for adjusting SEO strategies.
With BigQuery, users can analyze large amounts of data quickly and efficiently without spending hours manually crunching numbers. This allows for more efficient decision-making and more effective SEO strategies.
Overall, Nozzle is a comprehensive and highly customizable SEO tool that provides valuable insights and data analysis for businesses, albeit targeted more toward enterprise-level agencies and businesses.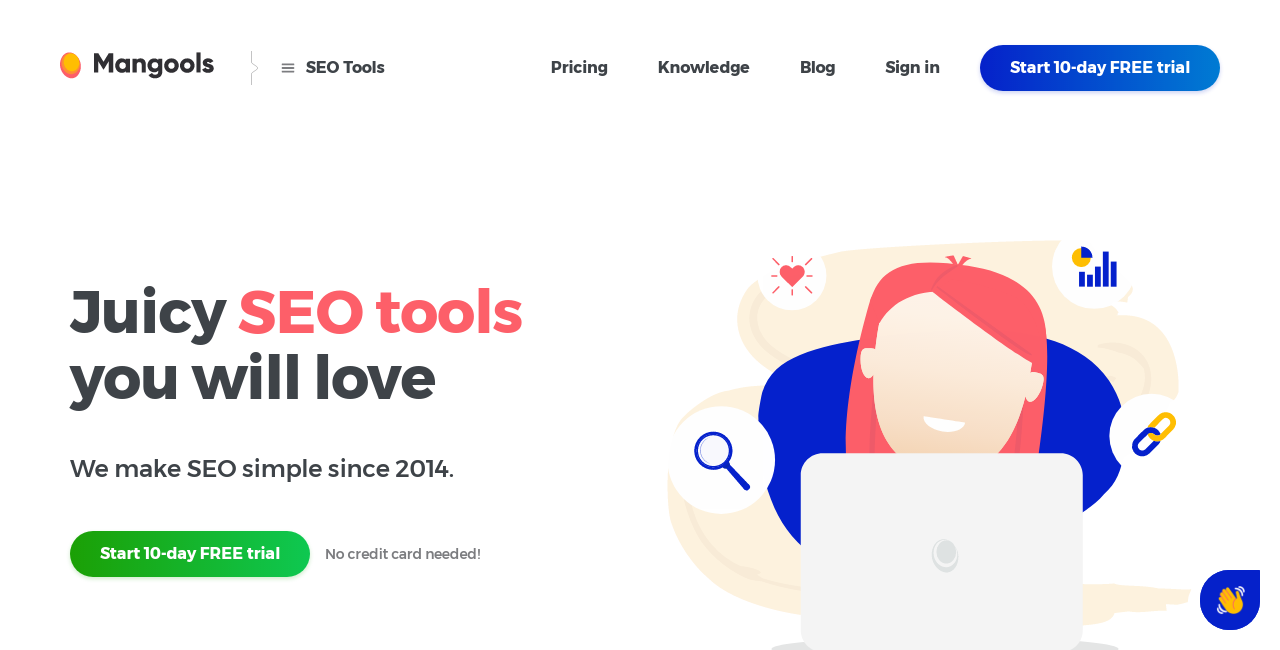 Mangools
Mangools is an all-in-one SEO tool that provides a solid rank tracking experience. Its performance index is based on keyword position and search volumes, which helps users identify their site's organic traffic potential.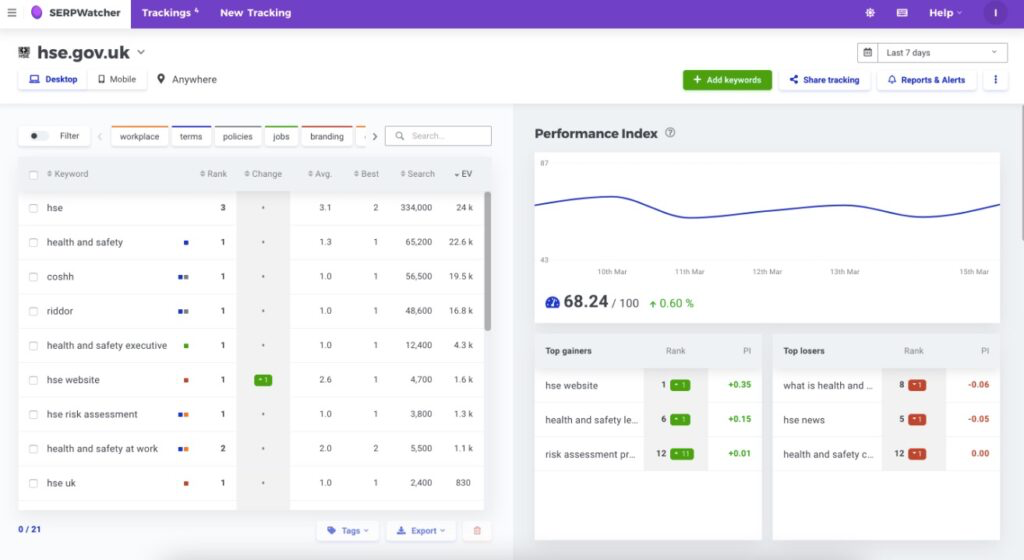 One of Mangools' standout features is its flexible pricing and discount options. This includes a 10-day free trial without requiring credit card details, a lifetime discount for new subscribers within an hour of registration, up to 44% off for annual payments, and special coupons for SEO training.
The platform also offers daily rank updates, rank tracking across devices and countries, and shareable interactive reports, making it a great option for businesses of all sizes.
However, Mangools' design and UX fall short compared to our favorite tools like Accuranker and Nightwatch. And they don't have useful keyword scheduling features like Advanced Web Ranking.
Overall, Mangools is a reliable all-in-one SEO tool. It offers flexible pricing and useful features. In addition, it provides a bigger set of tools than the other mentioned tools, except for SEMrush!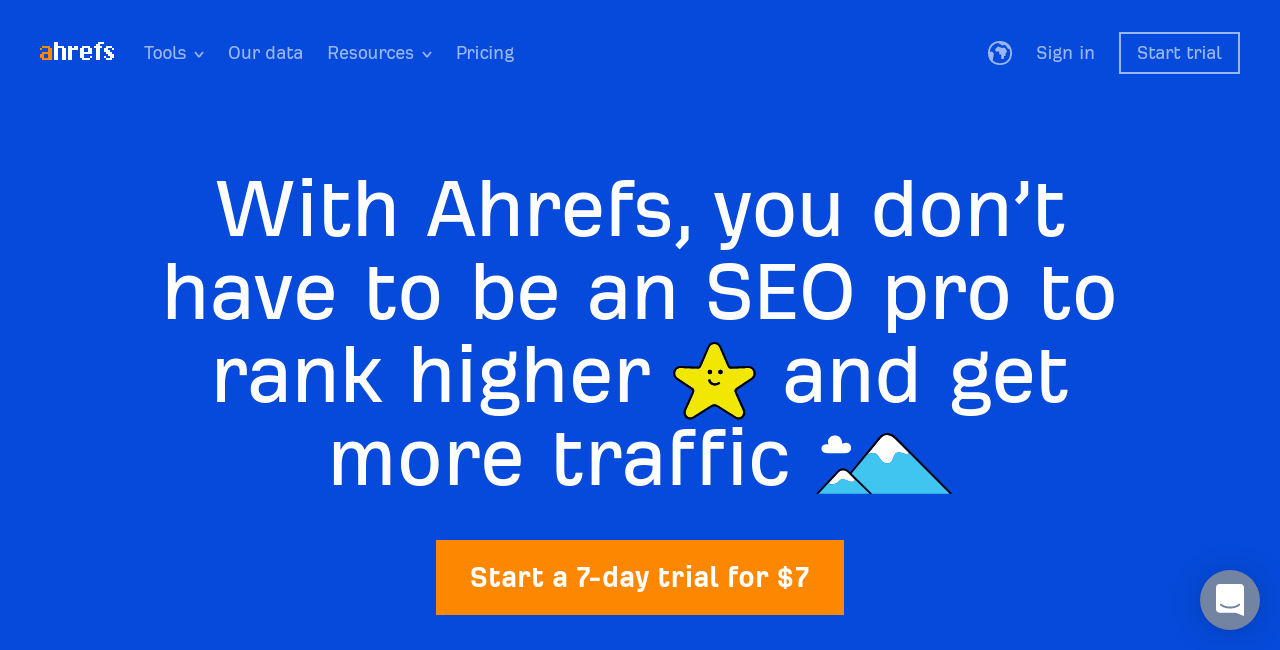 Ahrefs
Ahrefs is an all-in-one SEO tool with a powerful rank tracking feature. Its rank tracker enables users to monitor and compare their keyword rankings with their competitors and sends scheduled reports directly to their inbox.
One of Ahrefs' standout features is its ability to monitor keyword rankings on both desktop and mobile devices across 170 countries. Its rank tracking features include advanced filtering and tagging options, competitor traffic and progress monitoring, "share of voice" insights, a grossing feature to track changes over time, and accurate search volume data.
Some of Ahrefs' rank tracking features include
Filters and tags to sort keywords
Monitoring competitor's traffic and progress
Insights with a "share of voice" functionality
A grossing feature showing changes based on different time intervals
Great charting of progress
Accurate search volumes
Ahrefs also offers best-in-class features for backlink analysis, keyword research, and more that will come with the rank tracker.
However, it's worth noting that the pricing for Ahrefs may end up higher than other rank trackers on the market. Users need to pay extra for increased keyword update frequency, and the platform only offers one seat per plan, even on the most expensive option. Also, daily updates are only available with the Rank Tracker Pro plan, which cannot be purchased separately from a standard Ahrefs plan, inflating the cost if you only want rank tracking.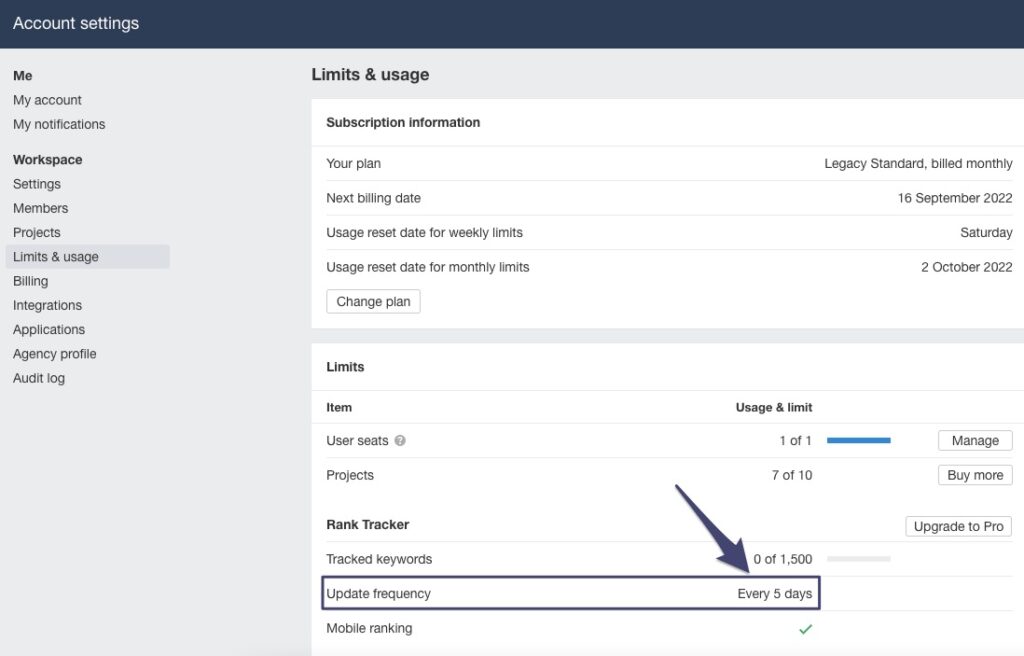 Overall, Ahrefs is an excellent option for businesses seeking a comprehensive and powerful SEO tool, but its higher pricing and limited seat options may not be suitable for all users.
How we reviewed
Our review system for evaluating rank trackers is composed of four critical points: Design/UX, Features, Value, and Support.
Design/UX refers to the interface of the software and its speed, which should be visually appealing, quick to load, and easy to use. We look for a well-organized navigation system that allows users to access information quickly.
Features are essential in distinguishing one rank tracker from another. We evaluate key features that make it easier for users to take action, such as keyword research tools and competitor analysis. Many rank trackers share features, so we look for what makes the tool stand out. Do they do something unique? Are the features better implemented or more comprehensive?
Value is evaluated based on the software's pricing compared to its features, support, and design/UX.
Lastly, support is essential in providing assistance to users. We evaluate the platform's customer service quality and responsiveness to ensure that users receive the necessary help when needed.
Why use a rank tracker?
Searching for keywords to see where your website ranks isn't an effective us of time. A rank tracker is a powerful tool that does this for you, providing you with key data points to help you evaluate your SEO performance. Here are some key benefits of rank trackers.
Monitor positions
Rankings fluctuate, so being number one today does not guarantee you'll stay there. A rank tracker alerts you of any ranking changes and reports when your web pages gain or lose positions for the keywords you're monitoring.
Data integrations
Integrating data from various sources can improve your analytics. A rank tracker with this feature allows you to pull data from sources such as Google Data Studio, Google Analytics, Adobe Analytics, and other sources, providing a broader view of your website's performance.
Keep an eye on visibility
Visibility shows how well your website is ranking for high-volume queries. When a page appears in the top 5 results for a high-volume search term, its visibility increases significantly. For low-volume search terms, visibility still rises, but not as dramatically.
Evaluate your competitors
A good rank tracker can also help with competitor analysis. It not only shows you the keywords you're competing for but also identifies keywords that your competitors are ranking for but you're not.
Discover new keyword opportunities
Some rank trackers suggest relevant keywords to improve your ranking, helping you stay ahead of the competition. By analyzing your performance data, these trackers can identify new keyword opportunities to enhance your SEO efforts.
Summary
If you're serious about improving your website's SEO strategy, using a rank tracking tool is essential. These tools provide valuable insights and help you accurately monitor your website's performance.
To make the most of your rank tracking tool, it's best to identify the core features you need to complete your work and focus on those. This approach will help you stay focused and avoid distractions, enabling you to make the most of the tool's capabilities and effectively improve your website's SEO performance.
---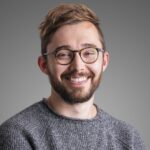 Sam Underwood
Sam is an international Ecommerce SEO Consultant with experience implementing enterprise-level SEO strategies.
More Rank trackers
Not quite found what you're looking for in our Rank trackers guide? Here are more tools for you to consider.
Paid

Use this tool to receive a thorough SEO audit report along with a personalized checklist to enhance your website and achieve top rankings on Google.

Sitechecker

Duplicate Content, Internal Linking, International SEO, Meta Optimisation, Rank tracking, SEO checker, SEO crawler, Site speed, Structured Data, XML Sitemaps

Browser Application

Chrome

Paid

An all-in-one SEO tools that can help you with backlink analysis, keyword research, site auditing and more.

Ahrefs

All-in-one, Backlink Analysis, Competitor analysis, Keyword research, Rank tracking, Site Auditing

Paid

Smart and powerful tool for ✓ Backlinks Analysis ✓ Rank Tracking ✓ Keyword Research ✓ Competitor Analysis ✓ Site Audit.

Serpstat

All-in-one, Backlink Analysis, Competitor analysis, Keyword research, Rank tracking, SEO crawler, Site Auditing

Paid

Mangools is a bundle of 5 simple but powerful SEO tools made for an effective SEO workflow. Loved by beginners, trusted by professionals. Try it for free!

Mangools

All-in-one, Backlink Analysis, Competitor analysis, Keyword research, Rank tracking

Paid

An all-in-one SEO tool that offers rank tracking, site auditing, keyword research, backlink analysis, and competitor analysis features.

Rank Ranger

All-in-one, Competitor analysis, Duplicate Content, Internal Linking, Keyword research, Local SEO, Rank tracking, Structured Data

Paid

AccuRanker is the world's fastest rank tracker - A must-have tool if you want to grow your organic traffic, and leave your competitors in the dust.

Accuranker

Rank tracking, Competitor analysis

Paid

Use this all-in-on tool to find keywords, track website ranking, analyze SERPs and audit your website using RankTracker's vast amount of data.

RankTracker

Rank tracking, Competitor analysis

Paid

Automatically discover missed SEO opportunities. Nightwatch's accurate data and reports help you get buy-in, justify bigger budgets, and land more clients. Monitor your keyword rankings, backlinks and audit your website with confidence. Welcome to Nightwatch.

Nightwatch

Rank tracking, Competitor analysis

Paid

An all in one tool for competitor research, keyword tracking, auditing websites and monitoring backlinks.

SE Ranking

Rank tracking

Paid

Pro Rank Tracker is a complete SEO Rank Tracking & Reporting tool that keeps you updated with ranking changes across your website and video.

Pro Rank Tracker

Rank tracking, Competitor analysis

Paid

Advanced Web Ranking provides fresh daily, weekly or on demand geo-located rankings. Tailored for agencies and in-house SEOs. Try it free for 30 days!

Advanced Web Ranking

Competitor analysis, Rank tracking

Paid

Use this tool to track where you rank on the SERP. Receive automatic daily updates so you're always in the know of your SERP position.

WhatsMySerp

Competitor analysis, Rank tracking

Paid

This tool is designed to help agencies create automated reports to share with clients.

AgencyAnalytics

Rank tracking, Reporting, SEO crawler

Paid

The SISTRIX Toolbox is the premier tool used by SEO professionals. Data you love, from people you trust.

Sistrix

All-in-one, Backlink Analysis, Competitor analysis, Keyword research, Rank tracking, SEO crawler

Paid

Use this tool to track your top keywords and receive daily updates on their positions on the SERP.

Wincher

Competitor analysis, Rank tracking

Paid

Save time by using Raven Tools to create reports for SEO, Social, and PPC for your clients.

Raven Tools

All-in-one, Keyword research, Rank tracking, Reporting, SEO crawler

Paid

Use this tool to track changes to the SERP and how your site is performing on it over time.

SERP Robot

Competitor analysis, Rank tracking

Paid

Use Searchmetrics to make informed search and content decisions, using their vast supply of data and analytics.

Searchmetrics

All-in-one, Competitor analysis, Keyword research, Rank tracking, Site Auditing

Paid

SERP tracking and analytics for SEO experts, STAT helps you stay competitive and agile with fresh insights.

STAT

Competitor analysis, Rank tracking

Paid

The cognitiveSEO tool provides a unique analysis process that delivers Unparalleled Backlink Analysis, Content Audit and Rank Tracking for Every Site.

CognitiveSEO

All-in-one, Backlink Analysis, Competitor analysis, Rank tracking, SEO crawler

Paid

Get all-in-one pack of SEO software - download the free edition of SEO PowerSuite. Powerful SEO tools and free SEO advice - get on the way to top 10 rankings for your site on Google and other search engines!

Link Assistant

All-in-one, Competitor analysis, Link auditing, Link building tools, Rank tracking, Site Auditing

Paid

Nozzle is a full serp monitoring tool that lets you track unlimited competitors, no questions asked.

Nozzle

Competitor analysis, Rank tracking

Paid

SEO solutions for agencies to help save them time and focus on what matters.

SEOMonitor

Competitor analysis, Rank tracking, Reporting

Paid

Use our SEO rank tracking software to automate your keyword monitoring, track local, mobile, and competitor rankings, and recover not provided keywords.

Authority Labs

Rank tracking

Conductor

All-in-one, Content briefing, Content writing, Keyword research, Rank tracking, Reporting, SEO crawler

Brightedge

All-in-one, Competitor analysis, Content marketing, Keyword research, Rank tracking, SEO crawler