ContentKing review
ContentKing tracks your website 24/7 so you can catch unexpected changes and issues before search engines and visitors do.
---
---
Pros
It simplifies SEO optimisation

24/7 SEO monitoring and live data

It sends real-time notifications when an issue occurs

A user-friendly dashboard that tracks all changes to your website

It's suitable for first-time SEO tool users

100% web-based service

Affordable pricing model

It has a 14-day free trial that doesn't require credit card details
Cons
Pricing is per page, with a minimum of 1,000 pages tracked per project

The basic plan lacks some important features, like JavaScript rendering

The live chat doesn't run for 24 hours
---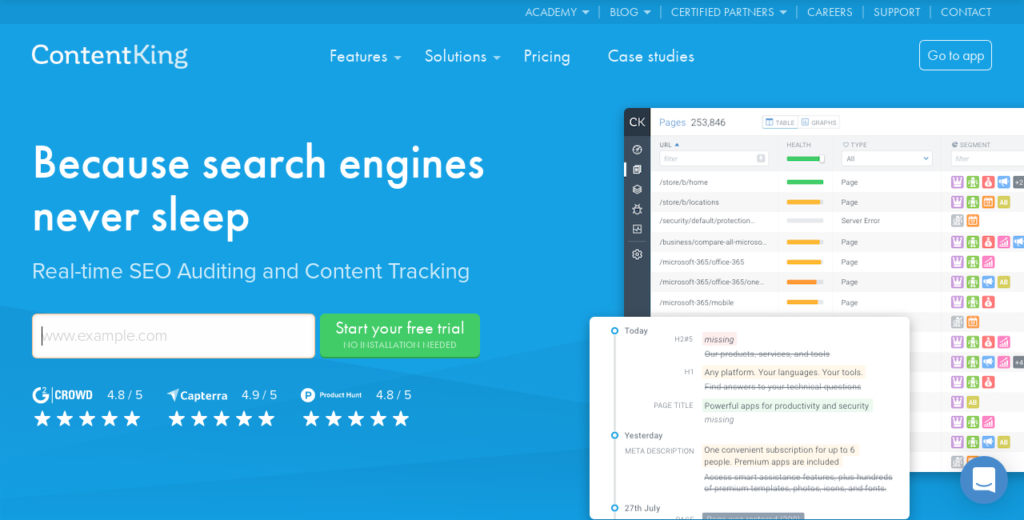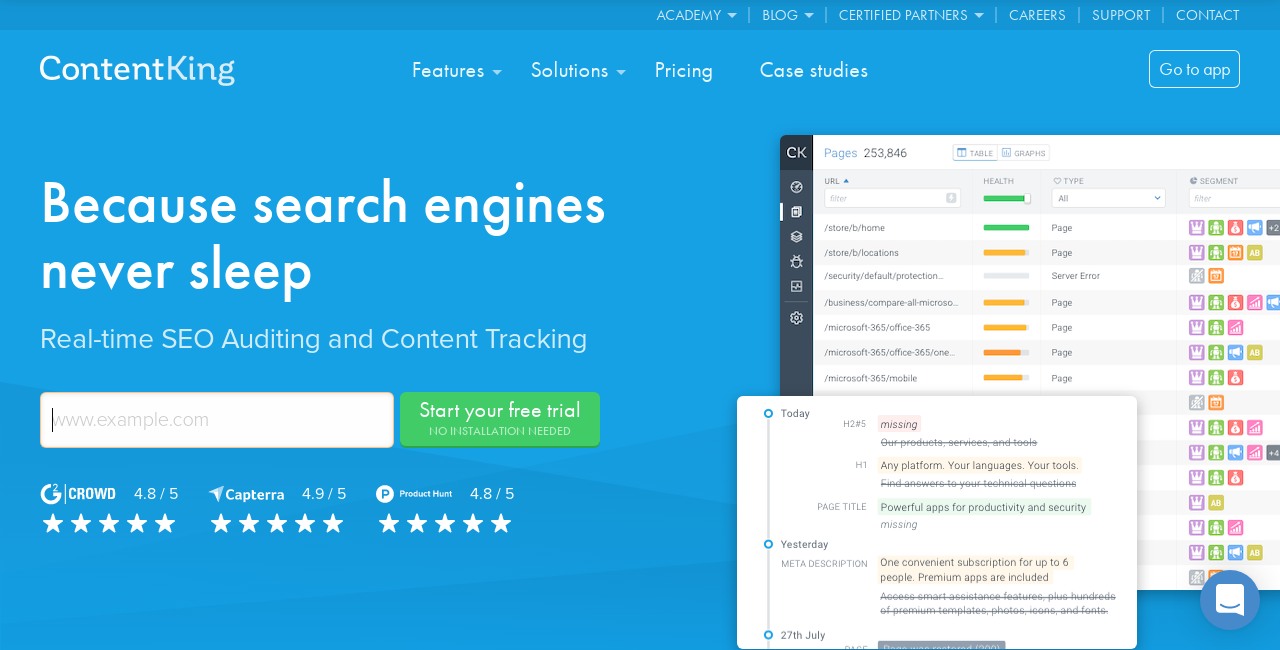 ContentKing helps you improve and upkeep your website's technical SEO with real-time SEO auditing and monitoring. It tracks your website so you can discover unexpected issues and changes before they affect your search engine results.
Design/UX: 5/5 
Features: 4.5/5 
Customer support: 5/5 
Value for money: 5/5 
Overall: 4.8/5
This review explores ContentKing's features, design, user experience, benefits, and potential areas for improvement.
What is ContentKing?
ContentKing is a web-based SEO tool that helps users do real-time SEO auditing and tracking to boost their website visibility for relevant keywords.
ContentKing audits your site, finding problems and guiding you to possible solutions. It provides reliable SEO data from sources like Google Search Console and Google Analytics to help you optimize your site to give it the best chance to rank highly on organic search.
ContentKing monitors and audits your website constantly, giving you valuable insights into your website's pages and overall site health. This way, you don't spend hours manually going through web pages to discover potential changes that could have caused your rankings to slip.
This tool aims to be an all-in-one site auditing solution. It allows you to manage and analyse multiple sites from your dashboard. 
Overview of key features
ContentKing provides 24/7 SEO auditing and monitoring, change tracking, real-time alerts, quality analysis, and more. Let's look closer at the features you'll find in this tool:  
SEO Auditing – ContentKing audits your website in real time and provides actionable insights from the data. It stores your information on the cloud servers for easy access and allows you to prioritise your data by degree of importance. 
SEO Monitoring – The platform monitors and tracks your site 24/7, notifying you if pages suddenly become non-indexable or links break. 
SEO Alerting – ContentKing sends instant alerts whenever anything changes on your website so you can fix the problem before it affects your rankings. 
SEO Change Tracking – You can track all your website changes with ContentKing's changelog and catch the issue immediately after it happens. 
Log File Analysis – ContentKing shows you when search engines visit your website and how often they scan your pages. 
Insights and Reporting – The software has reporting within the tool providing data on the technical aspects of your website. Given everyone has access to the reports, it also enables cross-functional teams to collaborate effectively. 
APIs and Integrations – ContentKing integrates with multiple apps and tools, including Slack, Microsoft Teams, Google Analytics, Data Studio, and more. 
ContentKing Academy – ContentKing provides in-depth SEO and digital marketing reference materials and guides. It also teaches SEO best practices many marketing professionals adopt. 
Certified ContentKing Partners – The platform connects end-user customers to agency clients and helps each party find their needed services.  
Features
ContentKing's tools identify different SEO issues on your website, such as site speed, canonicalisation, and content problems like headings and alt tags. As a result, you get accurate and live data on your site's technical and on-page performance.
Let's explore the notable features this cloud-based software offers. 
SEO Auditing
ContentKing audits your website immediately after you sign up and continues to scan it 24/7 for possible changes that could impact your ranking. This feature ensures that no SEO mistake negatively affects your site's traffic.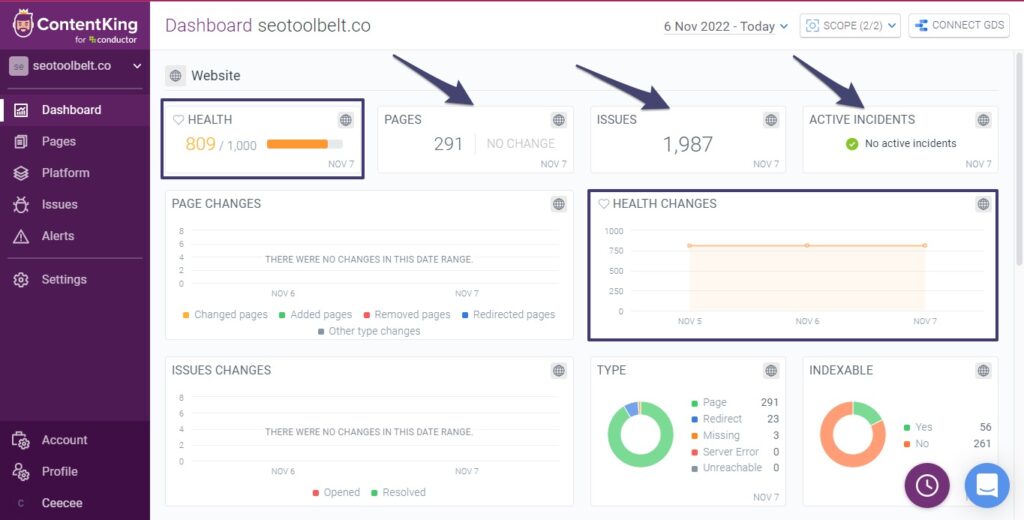 You can see your page's overall health as ContentKing scores your web pages and determines how optimised it is for SEO. As a result, you can identify affected pages according to different categories. 
For example, some pages on the website we analysed have meta description issues and multiple H1 headings, among other SEO issues.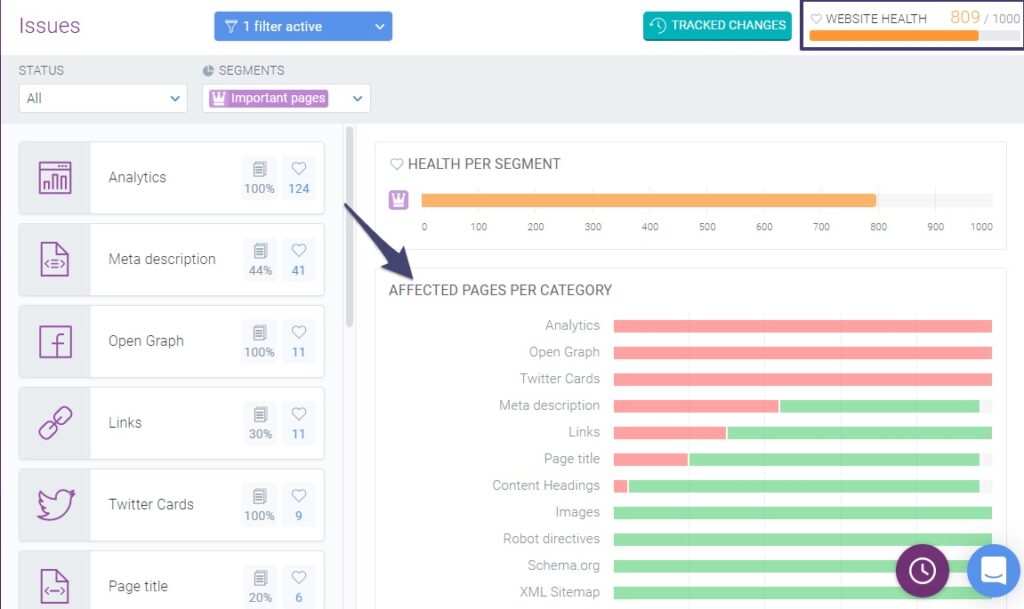 You can also export your audit results to CSV and analyse the data with other team members.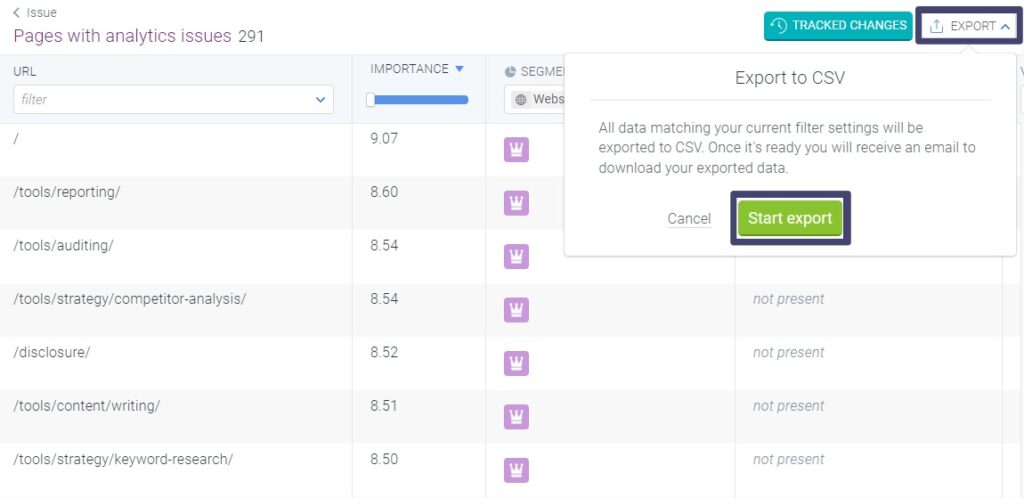 ContentKing stands out from other auditing tools from companies like SEMrush, Ahrefs and Sitebulb due to its automated and real-time SEO auditing feature. While all these tools allow you to run on-demand website crawlings, ContentKing automatically audits your site 24/7.
You want your website to maintain a steady health score or increase significantly. If it declines over a few days, you'll know something is wrong.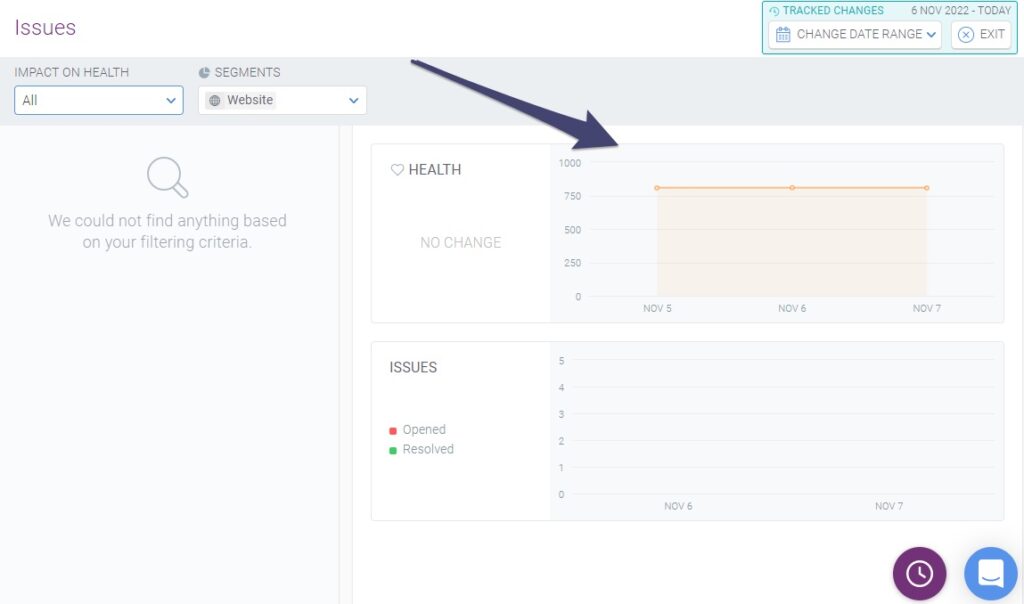 SEO Monitoring
ContentKing monitors all the technical aspects of your website, from title tag changes to meta robots and canonicals. In addition, the platform offers an extra set of eyes to scan your site so you can save time to work on other important tasks.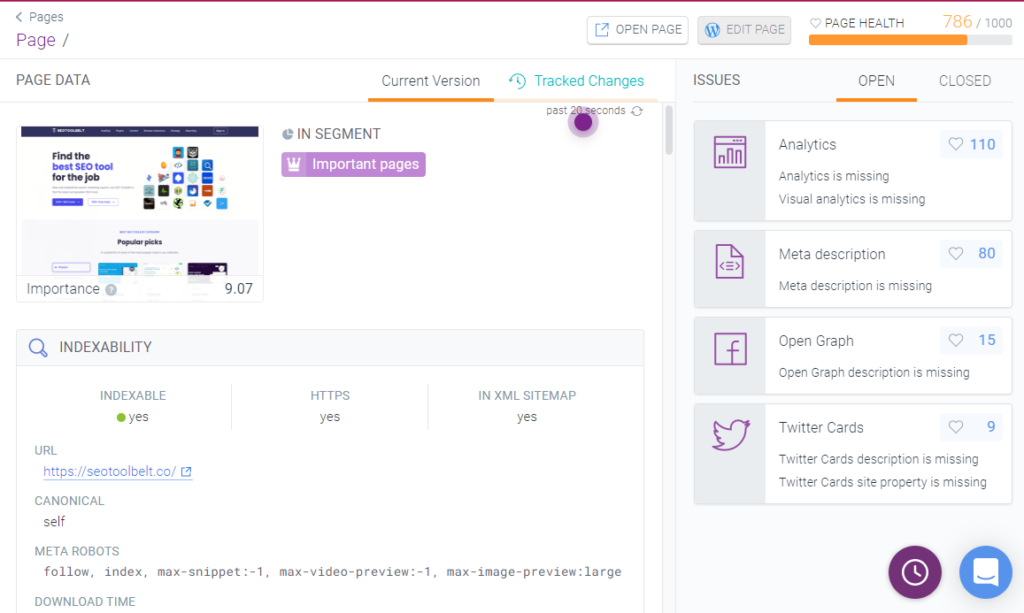 Luckily, ContentKing shows the issues as they happen, making it easy to fix the problem before it escalates. As a result, the platform helps you keep your SEO issues at bay. 
You can also analyse your website at specific periods or compare data from two points (more on that later).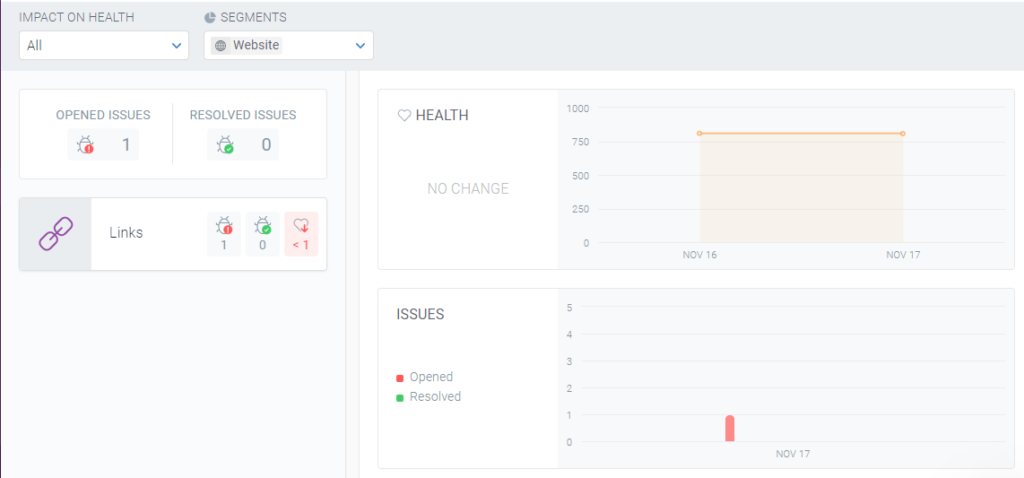 SEO Alerting
ContentKing sends instant notifications to your email whenever something changes on your website. This feature is crucial since it helps you fix issues before search engines crawl your site and detect them.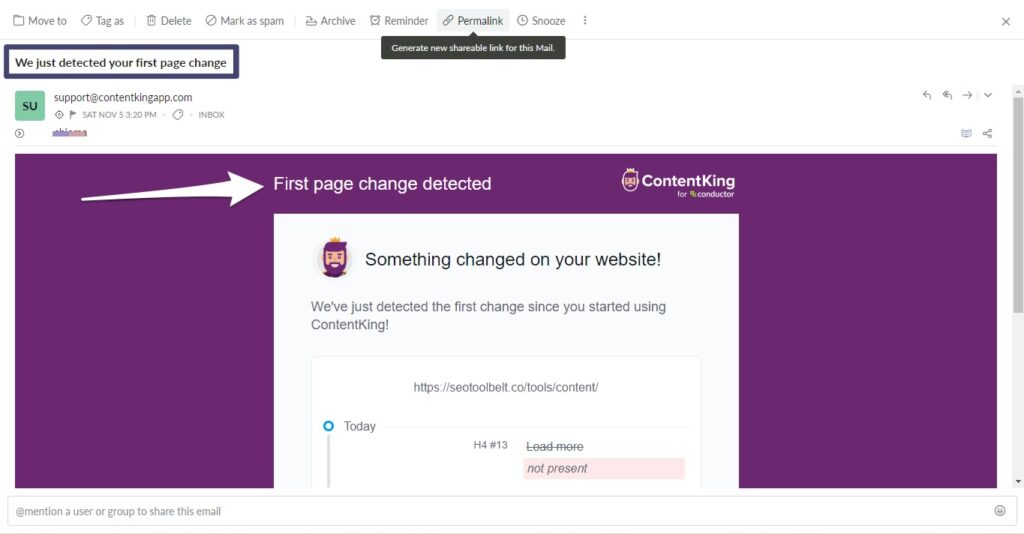 The platform notifies you about technical problems like broken links, non-indexable pages, or content issues such as missing H1 headings and removed titles.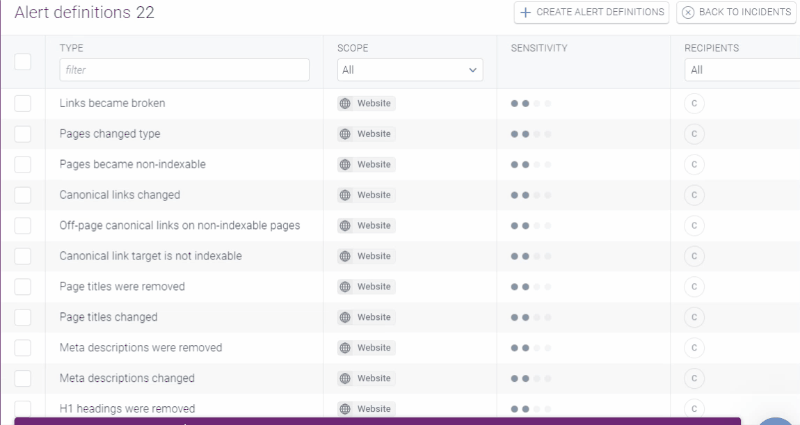 You can also customise the alerts and receive notifications for crucial issues over less urgent ones.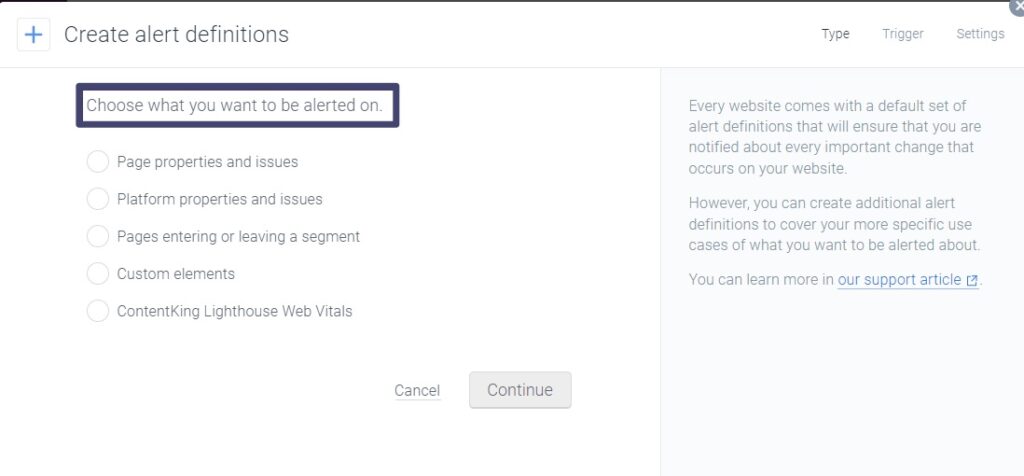 SEO Change Tracking
This trademarked ContentKing feature tracks your website's changes in real time and saves the logs in the cloud. As a result, you can catch problems immediately and avoid reduced rankings after an update.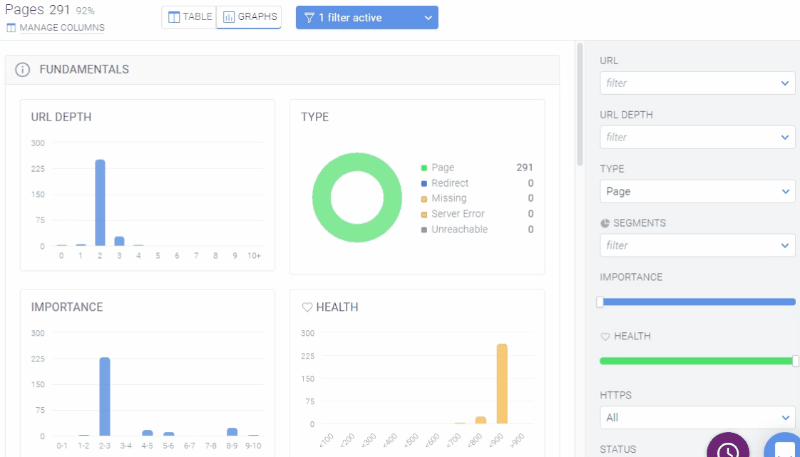 ContentKing's changelog lets you see your website's history and track record, so you can retrace your steps when something goes wrong. This sets the platform apart from its peers.
Clicking on the request and response headers or page source allows you to discover the root of the changes and troubleshoot them.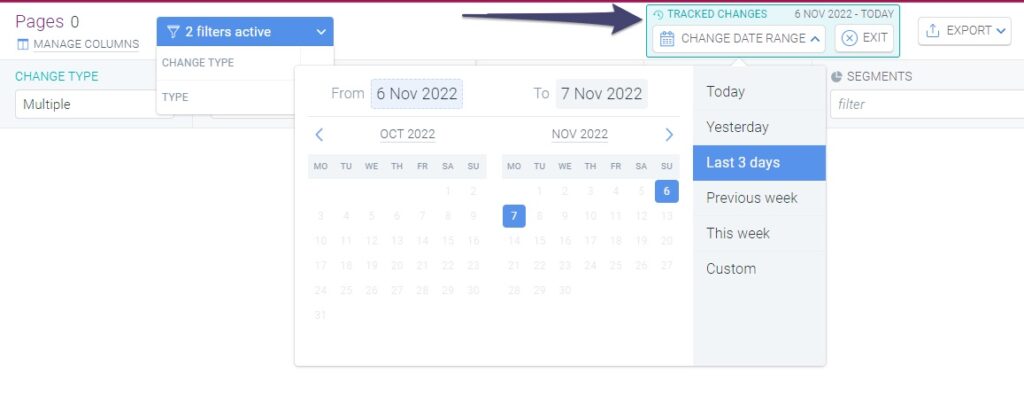 Sitechecker offers similar website tracking and monitoring tools for a cheaper price tag. However, ContentKing has more advanced features, customizable instant alerts and a nicer overall design.
Log File Analysis
ContentKing tracks when search engines visit your website and how often they access your web pages. You can optimise your SEO efforts to match with search engine bots when you understand how they interact with your site. 
The software logs bot activity in a file on your dashboard where you can spot crawl trends. However, you can only access this feature when you sign up for the Pro and Enterprise plans. Which is a shame given how useful this feature is. 
Insights and Reporting
ContentKing generates detailed and automated reports from relevant data on your website. It summarises vital information on your dashboard, which helps you make data-driven decisions for your business.
You can use the data to improve your website's technical health and SEO optimization. Additionally, the software also helps with collaboration across teams and multiple sites. It does this by ensuring that each user stays in sync with site updates, content changes, and other issues as they happen.
So, you and your team members can keep tabs on several domains and switch between reports to maintain agile workflows. The real-time dashboard simplifies work processes by storing data in one place that everyone can access.
APIs and Integrations
ContentKing integrates with multiple SEO and digital marketing APIs or third-party applications like Slack and Microsoft Teams. You can connect to these platforms and set alert notifications for your team.
The software supports different Google connectors, including
Data Studio
Google Analytics
Search Console
And it has a WordPress plugin. This WordPress plugin helps you connect your GA account to ContentKing and to pull your site's data including pageviews, bounce rates, and more.
So, you can enjoy on-the-fly website auditing with the WordPress plugin. And by clicking the edit page button, you can jump to a specific page on your WordPress CMS.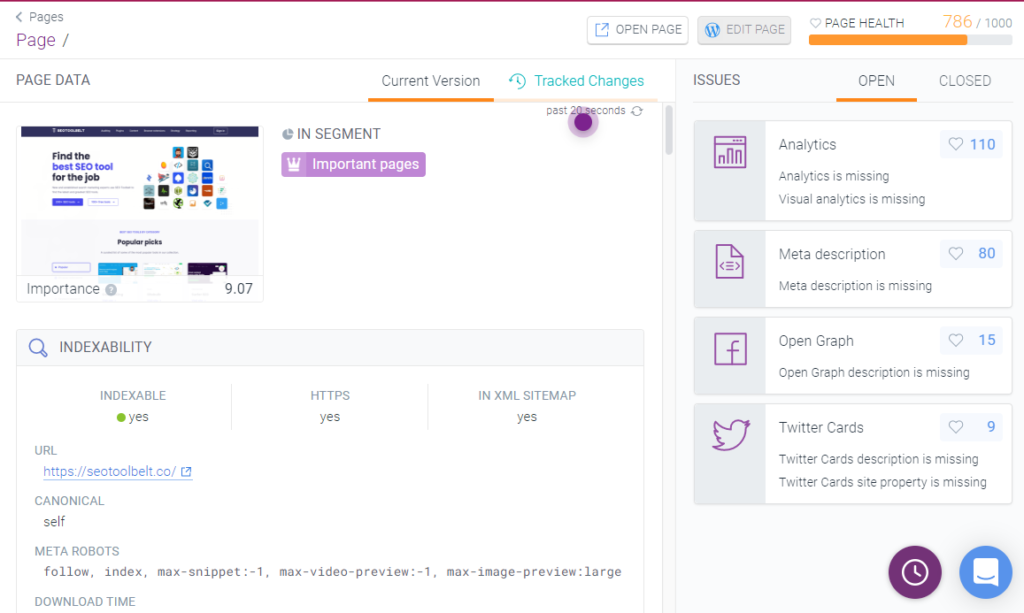 Integrating Google Search Console to your account displays your website's CTRs, display impressions, Google performance, and positioning.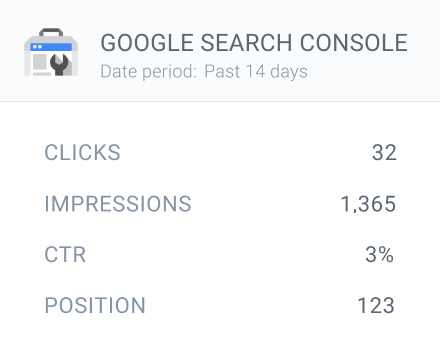 You can also integrate with ContentKing's Data Enrichment API and Reporting API to extract your site's data to work with and explore. You'll decide what metrics you need to monitor (like qualified leads or CTR) and ContentKing handles the rest. 
Unfortunately, ContentKing limits some integrations to specific pricing plans. For example, the Basic package only supports Slack, Google Analytics, Search Console, and Chrome Extension.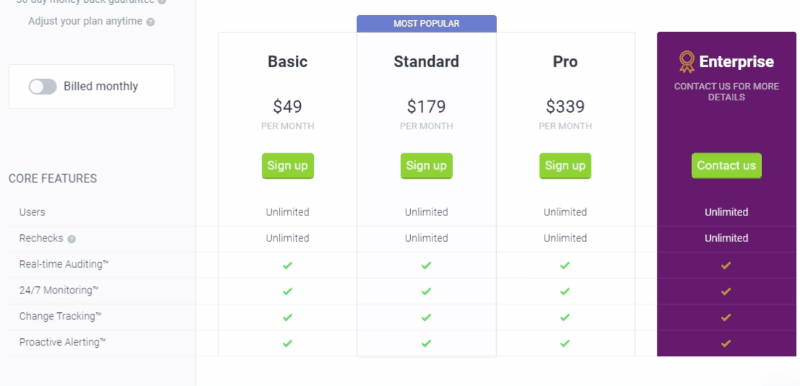 ContentKing Academy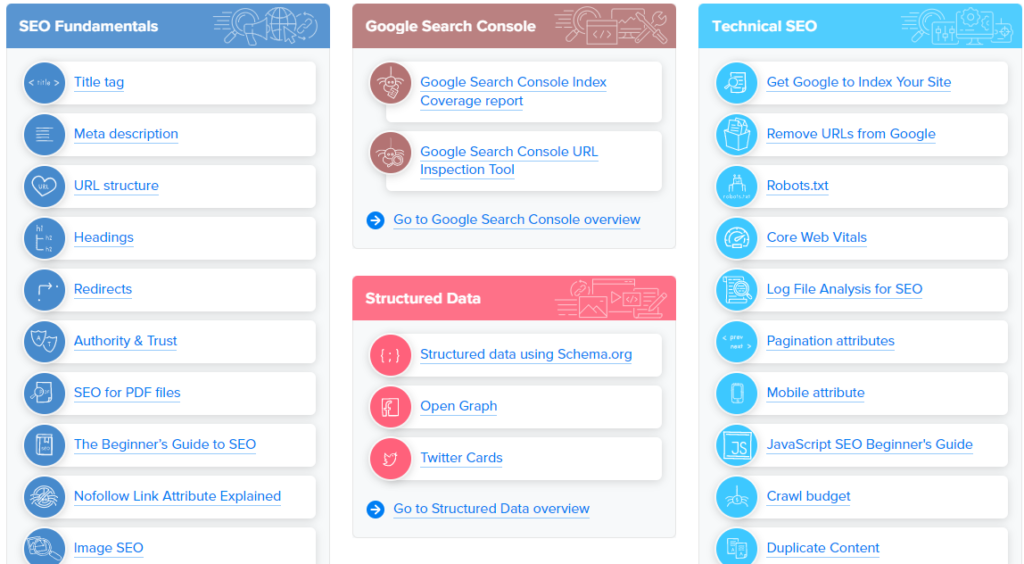 The platform offers in-depth SEO articles and reference materials. It covers everything from SEO fundamentals to content optimisation and tracking KPIs.
ContentKing Academy teaches users to measure their SEO efforts, build better reports, understand Google's indexing processes, and more. You can also keep up with industry trends with SEO podcasts from experts.
The ContentKing Academy is one of the best free resources out there to learn more about SEO.
Certified ContentKing Partners
This program connects end-users with agency customers. It helps them find the services they need to grow their businesses. As a result, bloggers, digital marketers, and eCommerce brands can discover the service provider that suits their needs.
ContentKing has different partners in the United States, Benelux, the United Kingdom, South Africa, Stockholm, Singapore, and more. 
ContentKing lists qualified users in its Certified Partner Directory and gives them 20% recurring referral commissions. You can apply here to begin your vetting process if you meet the following conditions.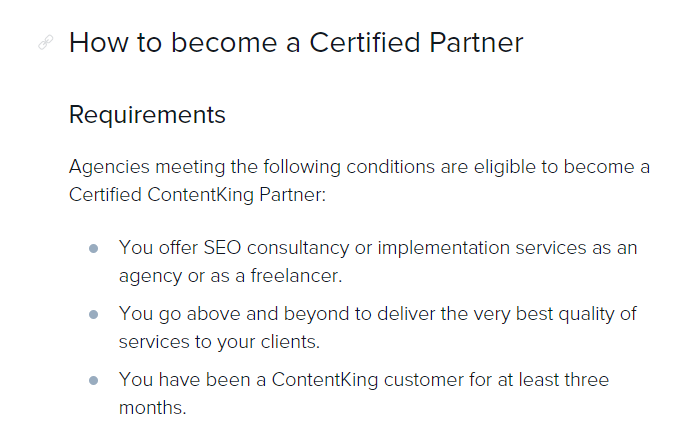 Design / UX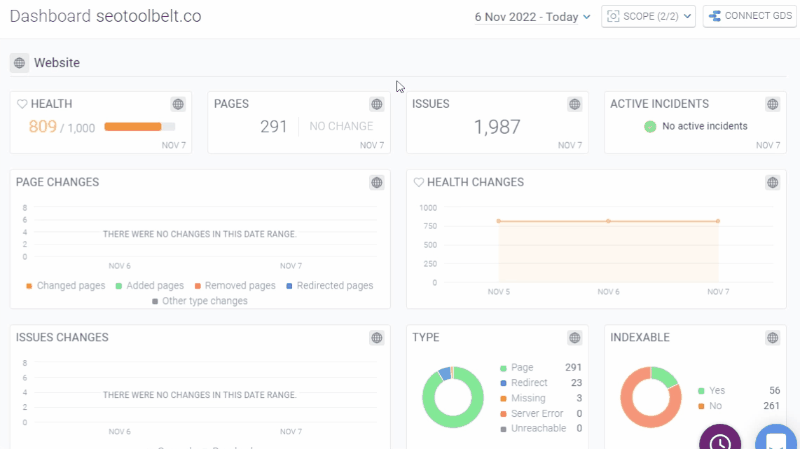 ContentKing's user-friendly interface has a menu bar on the left panel, similar to Ahrefs and other SEO tools. The filtering and segmenting options let you analyse data without feeling overwhelmed.
The UI has built-in reference materials that explain your website's issues and why you should solve them. As a result, any team member can start using the software with little to no SEO training. 
The account set-up process is also straightforward. ContentKing provides a mini tutorial that shows you how different features work and how to use them. 
Customer support
ContentKing has an extensive knowledge base with helpful guides and articles on SEO best practices. The FAQ section also answers questions users have while using the tool.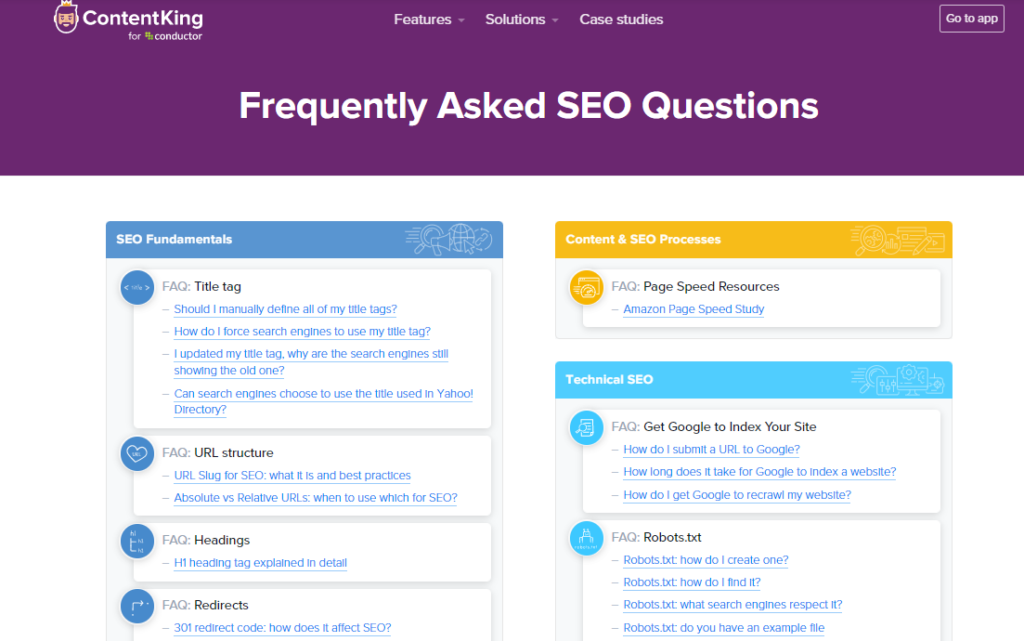 The platform has a live chat feature, but it doesn't run 24 hours a day. There are also no chatbots to provide automated answers.
You also won't get phone support or a dedicated account manager unless you sign up for the Enterprise package.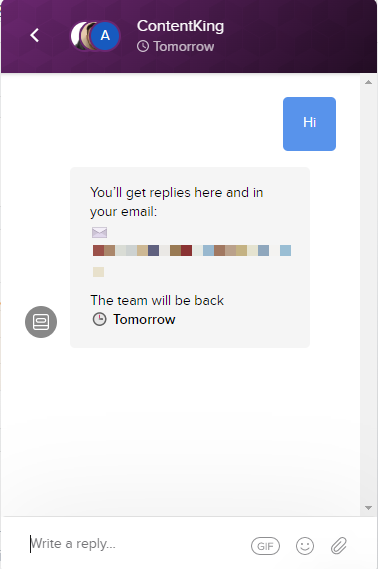 You can also email support@contentkingapp.com to contact ContentKing's customer success team. 
Pricing
ContentKing tailors its costs according to the number of pages you audit and charges per page. It has a Basic, Standard, Pro, and Enterprise plan. Each package has different features; top-tier plans have more features.
Monthly
Here's how much ContentKing charges for 1,000 pages when you pay monthly. 
Basic – $49
Standard – $179
Pro – $339
Enterprise – custom price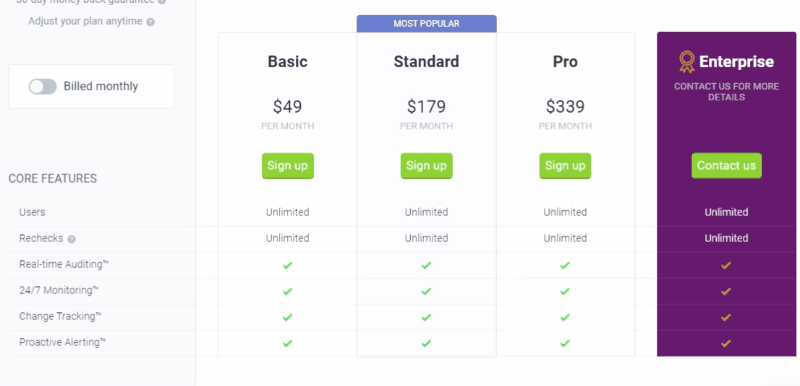 Annually
And here's how much ContentKing charges for 1000 pages when you pay yearly.
Basic – $39
Standard – $149
Pro – $279
Enterprise – custom price
Paying annually is a great option as you get two months free. 
Given the flexible nature of ContentKing's pricing, you can check the image below to see how it changes depending on the number of pages to monitor.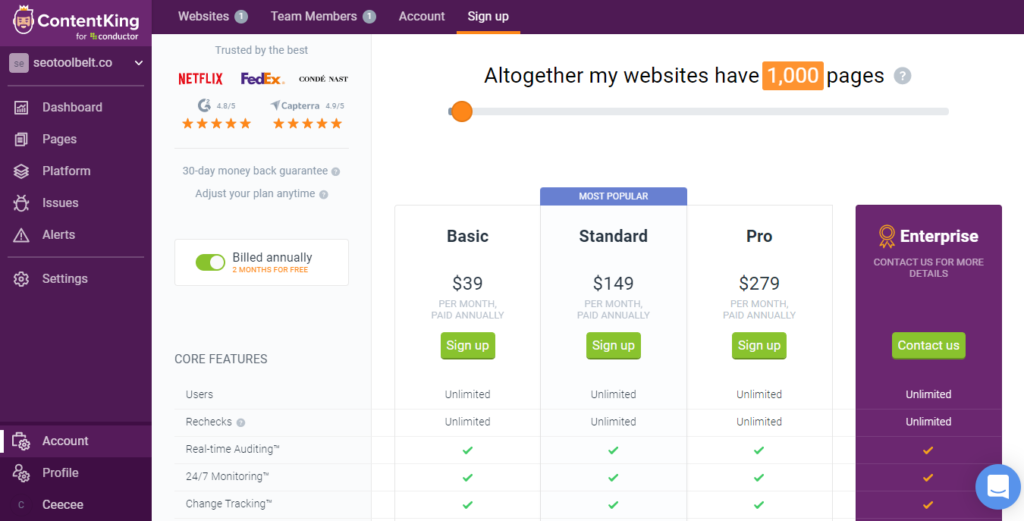 Is pricing fair?
ContentKing's price plans are affordable compared to other SEO tools. For as low as $39, you can enjoy 24/7 website monitoring and audits. Compared to the huge cost of other cloud-based crawlers, this is a brilliant deal.
However, ContentKing's pricing structure has some small drawbacks:
You'll need to know the number of pages on your site to know what the price will be. If you're new to crawlers, finding that information might not be so easy. I'm sure ContentKing could create a tool to suggest to users the size of plan they should have to monitor their entire site.
The minimum number of pages per site is 1,000. If you have a small number of pages to monitor (fewer than 1,000), you still have to pay for 1,000 pages.
If your site has crawling issues, ContentKing will discover more pages, resulting in the need for a larger plan. This isn't ContentKing's fault, and they have a feature to block pages from being crawled. But it's still worth bearing in mind.
Given the flexible nature of ContentKing's pricing, you can check the image below to see how it changes depending on the number of pages to monitor.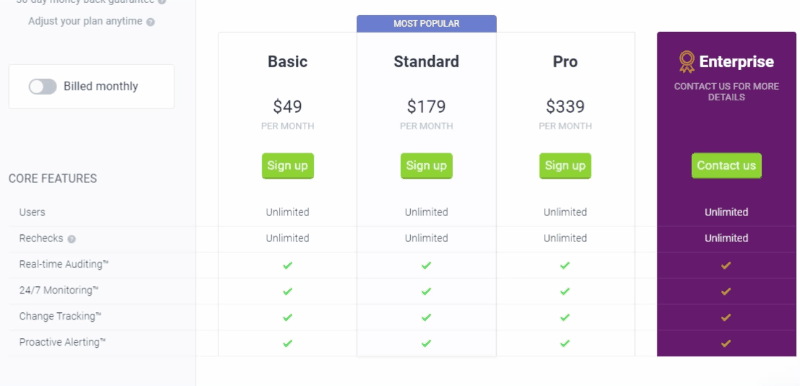 FAQs
What does ContentKing do?
ContentKing monitors and audits your website in real time and alerts you to web changes and SEO problems that would affect your rankings in search engines. 
It tracks your site and ensures your web pages are in top-notch shape to increase search engine visibility.  
Who uses ContentKing?
Digital marketing agencies, in-house SEO teams, and freelancers use ContentKing to manage and optimise the technical parts of their websites. The platform caters to both small businesses, and major brands like Netflix, Atlassian, H&M, FedEx, and more. 
Is ContentKing easy to use?
The software is user-friendly and easy to use. First-time users can easily navigate the web-based application and start monitoring and auditing their websites immediately after they sign up. 
Final thoughts
ContentKing helps you monitor your website, it's useful and easy enough to use even if you're not an  SEO expert.
All-in-one tools like SEMrush and Ahrefs extend their tools and functionalities to areas beyond site audit and tracking. But ContentKing is your tool if you prefer a dedicated solution for your SEO auditing, that comes with 24/7 monitoring as well.
Other competitors like Screaming Frog and Sitebulb do not offer an online solution that would enable the kind of features ContentKing has (as they're  desktop only). This positions ContentKing uniquely in the market, and they sure do excel at what they do.
---
Sam Underwood
Sam is an international Ecommerce SEO Consultant with experience implementing enterprise-level SEO strategies.