ContentKing review
April 19, 2021

12 minutes

Sam Underwood
ContentKing tracks your website 24/7 so you can catch unexpected changes and issues before search engines and visitors do.
Visit site
---
---
Pros
It simplifies SEO optimisation

24/7 SEO monitoring and live data

It sends real-time notifications when an issue occurs

A user-friendly dashboard that tracks all changes to your website

It's suitable for first-time SEO tool users

100% web-based service

Affordable pricing model

It has a 14-day free trial that doesn't require credit card details
Cons
Pricing is per page, with a minimum of 1,000 pages tracked per project

The basic plan lacks some important features, like JavaScript rendering

The live chat doesn't run for 24 hours
---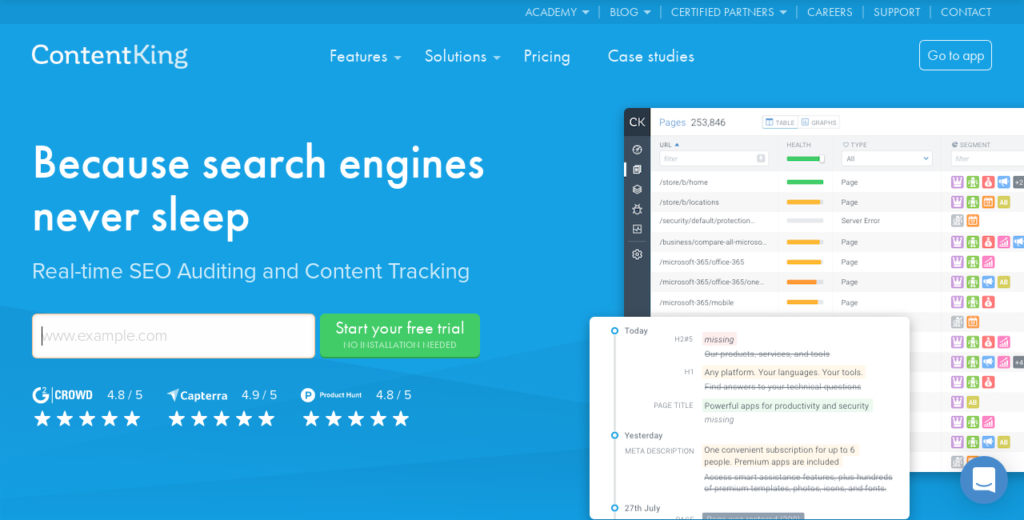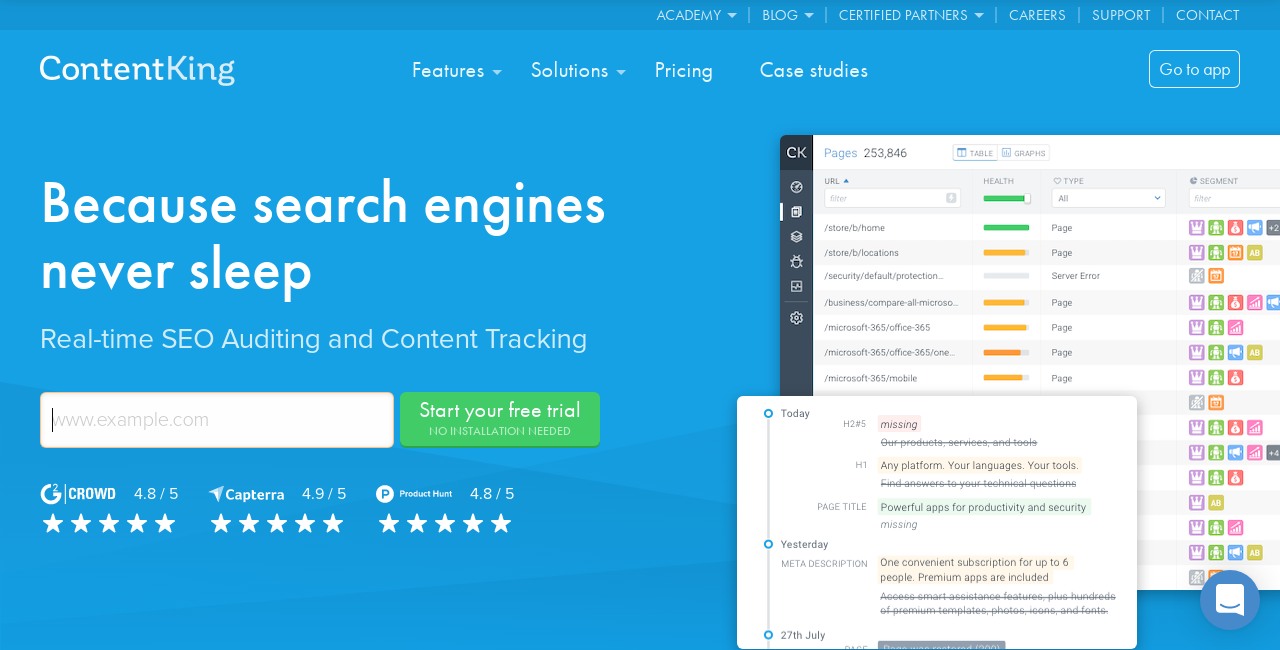 ContentKing helps you improve and upkeep your website's technical SEO with real-time SEO auditing and monitoring. It tracks your website so you can discover unexpected issues and changes before they affect your search engine results.
This review explores ContentKing's features, design, user experience, benefits, and potential areas for improvement.
The TL;DR version
What is ContentKing?
ContentKing is a web-based SEO tool that helps users do real-time SEO auditing and tracking to boost their website visibility for relevant keywords.
ContentKing audits your site, finding problems and guiding you to possible solutions. It provides reliable SEO data from sources like Google Search Console and Google Analytics to help you optimize your site to give it the best chance to rank highly on organic search.
ContentKing monitors and audits your website constantly, giving you valuable insights into your website's pages and overall site health. This way, you don't spend hours manually going through web pages to discover potential changes that could have caused your rankings to slip.
This tool aims to be an all-in-one site auditing solution. It allows you to manage and analyze multiple sites from your dashboard.
Key features
ContentKing provides 24/7 SEO auditing and monitoring, change tracking, real-time alerts, quality analysis, and more. Let's look closer at the features you'll find in this tool:
SEO Auditing – ContentKing audits your website in real-time and provides actionable insights from the data. It stores your information on the cloud servers for easy access and allows you to prioritize your data by degree of importance.
SEO Monitoring – The platform monitors and tracks your site 24/7, notifying you if pages suddenly become non-indexable or links break.
SEO Alerting – ContentKing sends instant alerts whenever anything changes on your website so you can fix the problem before it affects your rankings.
SEO Change Tracking – You can track all your website changes with ContentKing's changelog and catch the issue immediately after it happens.
Log File Analysis – ContentKing shows you when search engines visit your website and how often they scan your pages.
Insights and Reporting – The software has reporting within the tool providing data on the technical aspects of your website. Given everyone has access to the reports, it also enables cross-functional teams to collaborate effectively.
APIs and Integrations – ContentKing integrates with multiple apps and tools, including Slack, Microsoft Teams, Google Analytics, Data Studio, and more.
ContentKing Academy – ContentKing provides in-depth SEO and digital marketing reference materials and guides. It also teaches SEO best practices many marketing professionals adopt.
Certified ContentKing Partners – The platform connects end-user customers to agency clients and helps each party find their needed services.
SEO Auditing
ContentKing initiates a thorough audit of your website immediately upon sign-up and continues to scan it 24/7 for potential changes that could impact your ranking. This feature ensures that no SEO mistake negatively affects your site's traffic.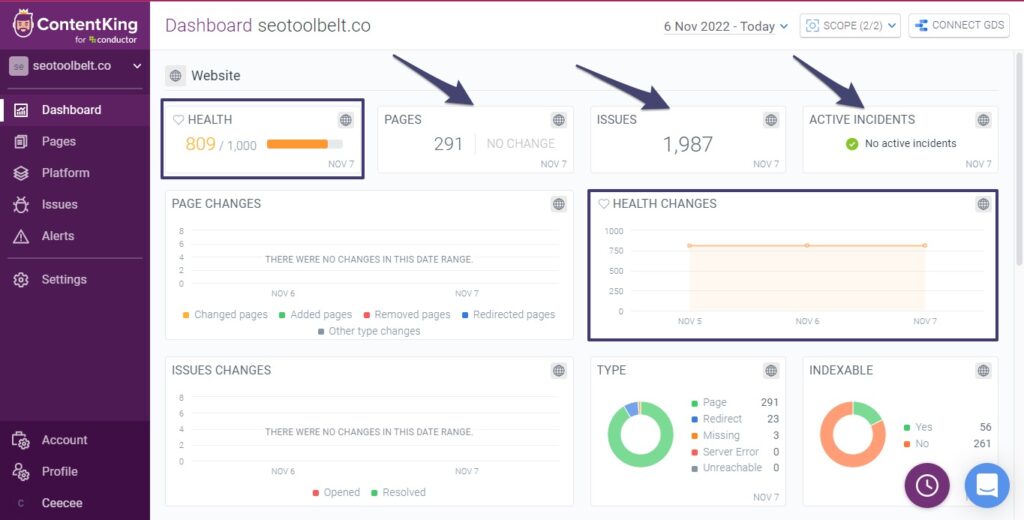 ContentKing assesses your web pages' overall health, providing scores that indicate how optimized they are for SEO. As a result, you can identify affected pages across various categories, such as meta description issues, multiple H1 headings, and other SEO concerns.
For example, some pages on the website we analyzed have meta description issues and multiple H1 headings, among other SEO issues.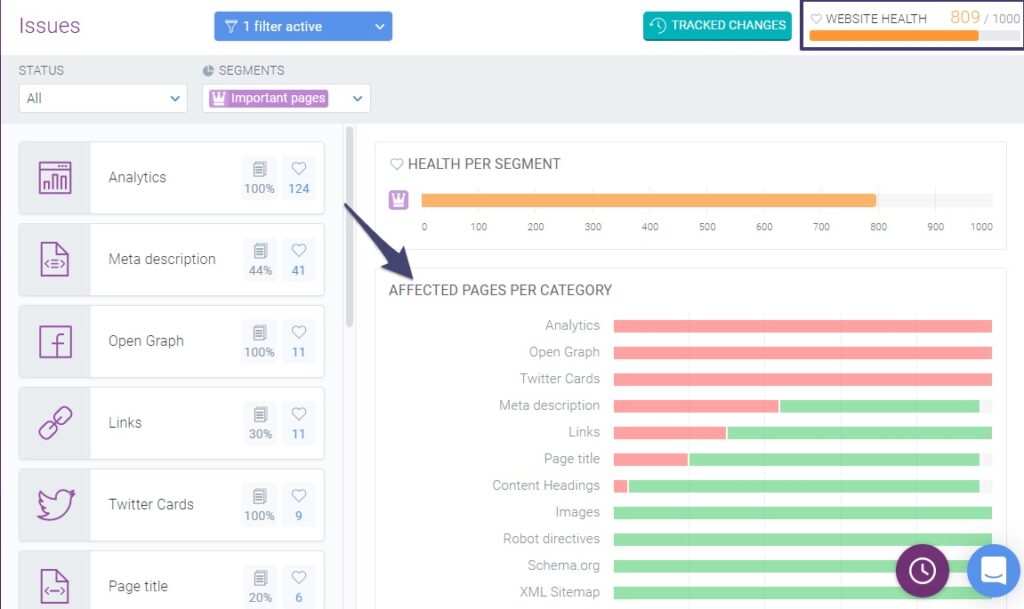 You can also export your audit results to CSV and analyze the data with other team members.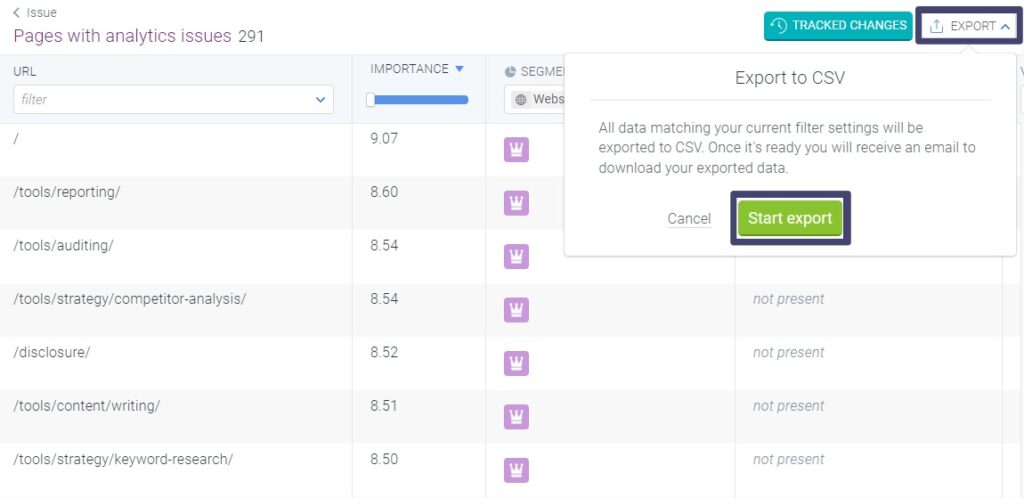 ContentKing stands out from other auditing tools from companies like SEMrush, Ahrefs, and Sitebulb due to its automated and real-time SEO auditing feature. While all these tools allow you to run on-demand website crawlings, ContentKing automatically audits your site 24/7.
Ideally, you want your website to maintain a consistent health score or experience significant improvement. A decline over a few days may signal potential issues that require attention.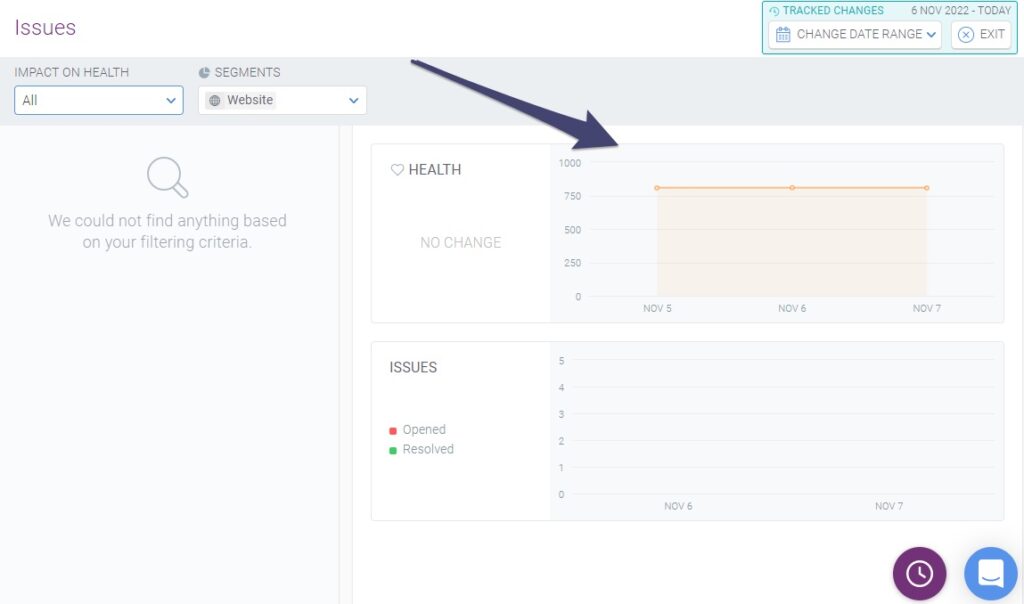 SEO Monitoring
ContentKing diligently monitors your website's technical aspects, including title tag changes, meta robots, and canonicals. By providing an extra set of eyes to scan your site, it frees up your time to focus on other essential tasks.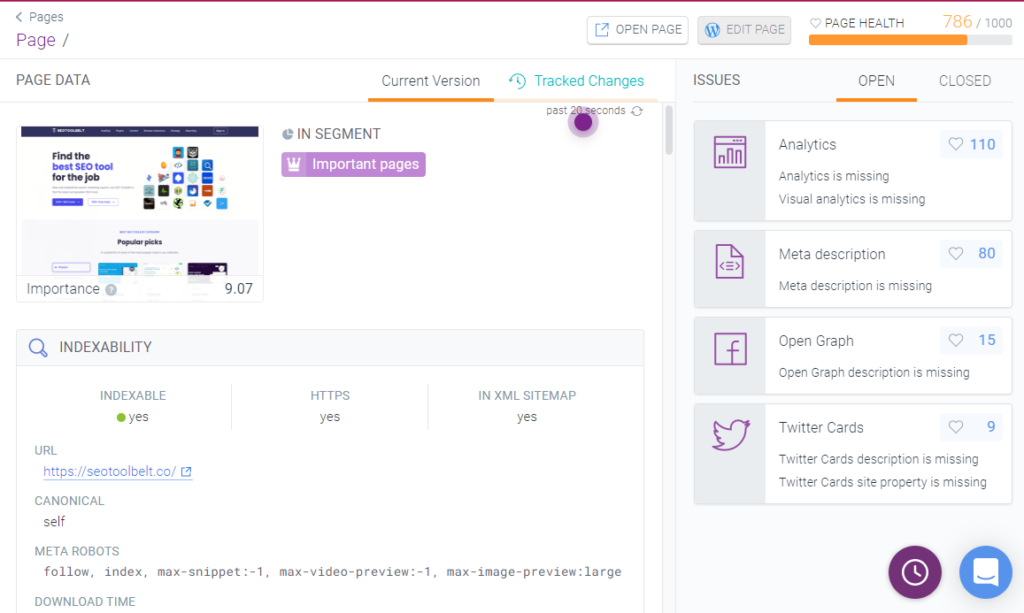 The platform uncovers SEO issues as they arise, streamlining the resolution process and ensuring you stay ahead of potential problems. With ContentKing, you can maintain optimal website performance and avoid any negative impacts on your search engine rankings.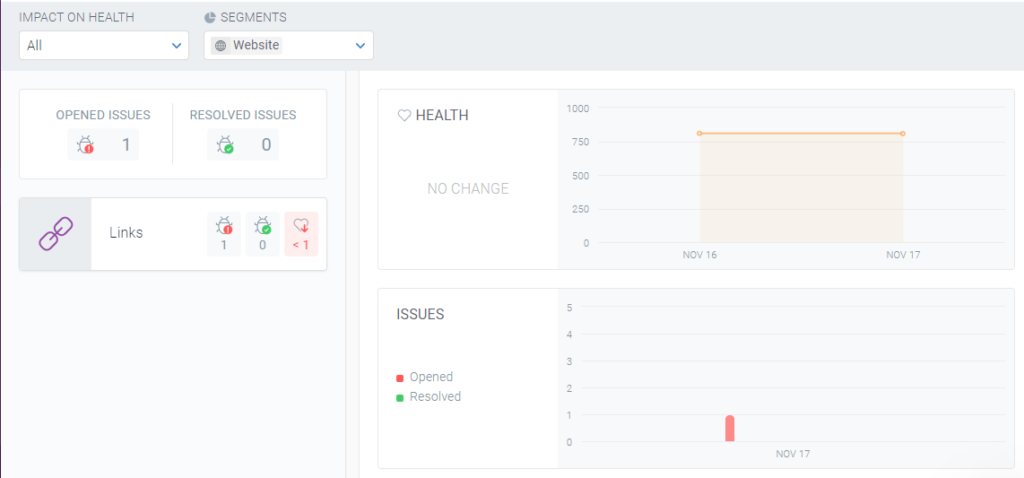 SEO Change Tracking
ContentKing continuously monitors your website's modifications in real-time, ensuring you always have an up-to-date record of any changes made. By archiving all alterations, the platform enables you to quickly compare different versions and identify potential issues before they negatively impact your search engine rankings.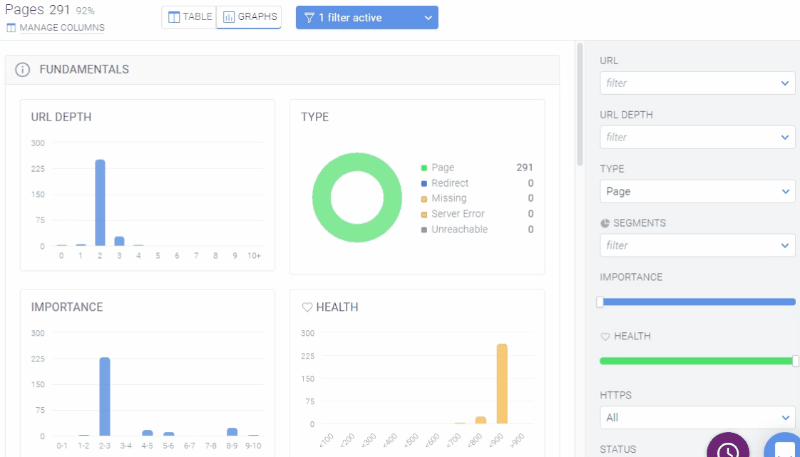 One of the standout features of ContentKing is its ability to provide a detailed historical view of your website between any two selected dates. This allows you to easily retrace your steps and pinpoint the cause of any problems when something goes awry, setting the platform apart from its competitors in the market.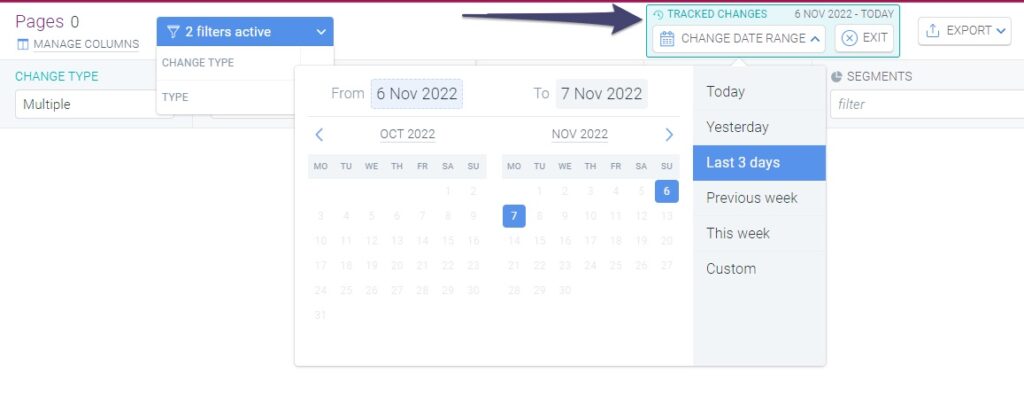 To further assist with diagnosing and resolving issues, ContentKing offers the option to click on request and response headers or the page source code. This in-depth examination helps users uncover the underlying reasons for any changes and devise appropriate solutions.
SEO Alerting
ContentKing sends instant notifications to your email, Slack or Microsoft Teams when something changes on your website. This is essential, as it helps you resolve issues before search engines crawl your site and detect them.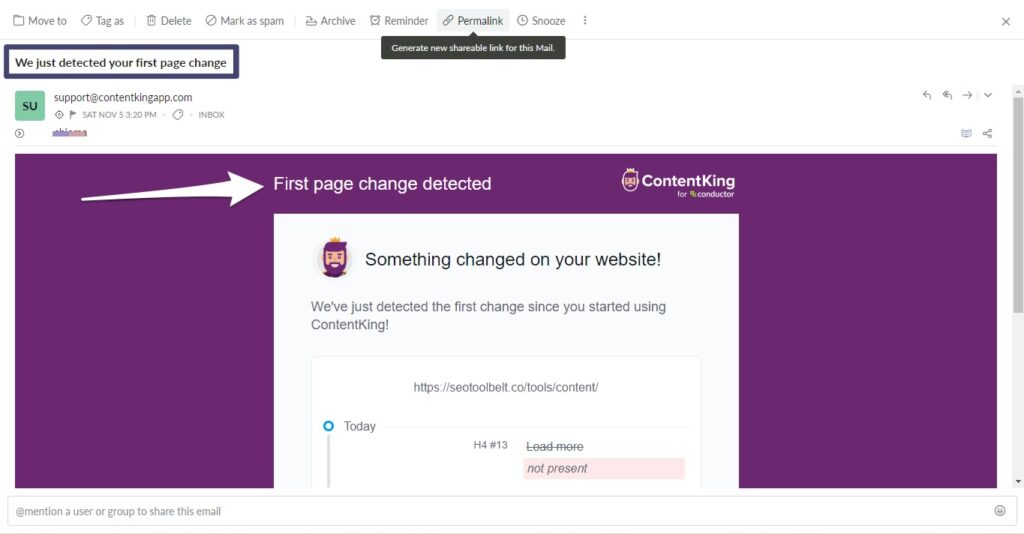 The platform notifies you about technical problems like broken links, non-indexable pages, or content issues such as missing H1 headings and removed titles.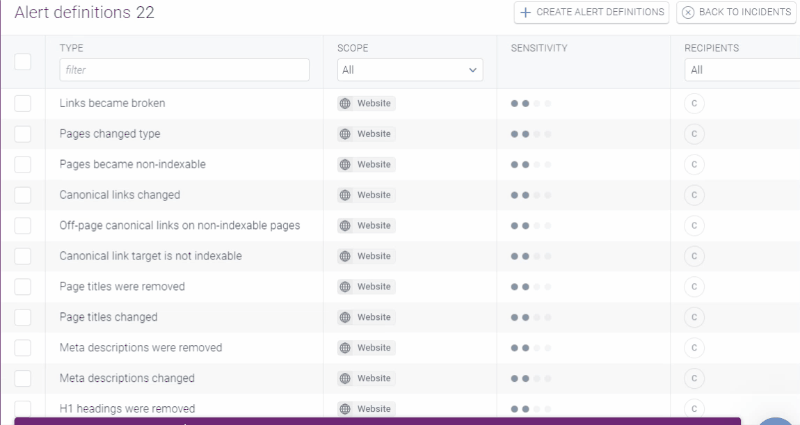 You can also customize the alerts and receive notifications for crucial issues over less urgent ones.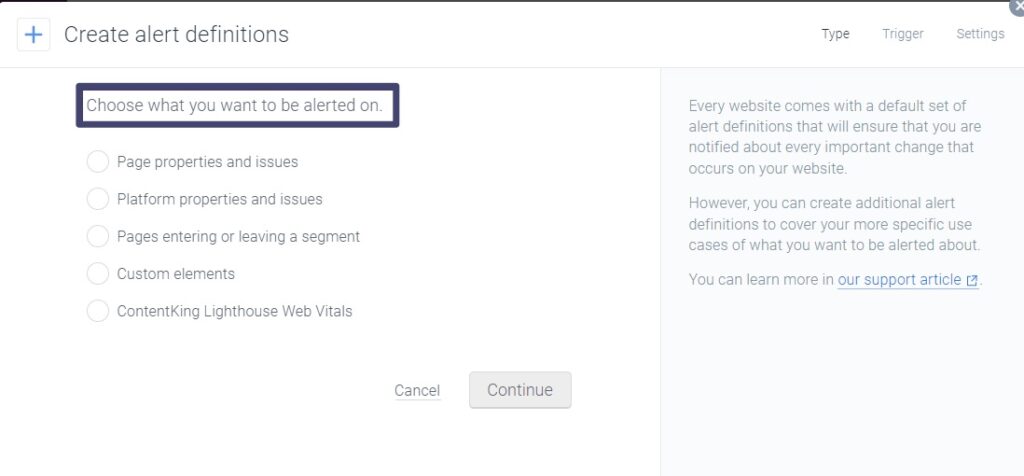 Log File Analysis
ContentKing meticulously records the interactions between search engine bots and your website, tracking the frequency and pattern of their visits to your web pages. You can optimize your SEO strategies to align more effectively with search engine crawling patterns by gaining insight into how these bots interact with your site.
The platform captures bot activity data and presents it in an easily accessible log file on your dashboard. This feature enables you to monitor crawl trends and make data-driven decisions to improve your website's visibility and search engine performance.
It is important to note that the log file analysis feature is exclusively available to users subscribed to the Pro and Enterprise plans. While this may be disappointing for some, given this feature's immense value, it is a testament to the advanced capabilities offered by ContentKing's premium subscription tiers. Investing in these higher-tier plans can unlock the full potential of ContentKing's comprehensive suite of SEO tools and features.
Insights and Reporting
ContentKing efficiently generates detailed, automated reports by analyzing pertinent data from your website, making it easier for you to make informed, data-driven decisions. These reports provide crucial insights into your website's technical health and SEO performance, helping you optimize your online presence effectively.
The platform's user-friendly dashboard presents a summary of vital information, allowing you to quickly assess the current state of your website and identify areas that require improvement. ContentKing's reporting capabilities facilitate better decision-making and promote seamless collaboration among team members working on multiple websites.
By keeping each user in sync with site updates, content modifications, and emerging issues in real-time, ContentKing ensures everyone stays on the same page. This functionality lets you and your team monitor multiple domains simultaneously and swiftly switch between reports to maintain efficient, agile workflows.
The real-time dashboard streamlines work processes by consolidating all relevant data in a single, accessible location for everyone to access. This cohesive approach to data management and reporting significantly enhances productivity and ensures that your team remains focused on optimizing your website's performance.
APIs and Integrations
ContentKing seamlessly integrates with a wide range of SEO and digital marketing APIs and third-party applications such as Slack and Microsoft Teams. Connecting to these platforms lets you set up alert notifications for your team to ensure everyone stays informed about critical updates.
ContentKing supports various Google connectors, including:
Data Studio
Google Analytics
Search Console
For WordPress users, ContentKing offers a dedicated plugin that provides significant benefits. With the ContentKing WordPress plugin, you can enjoy on-the-fly auditing, which means that once you update a page in WordPress, ContentKing immediately recrawls it. Additionally, the Edit Page button within the plugin allows you to jump directly to the specific page in your WordPress CMS with a single click.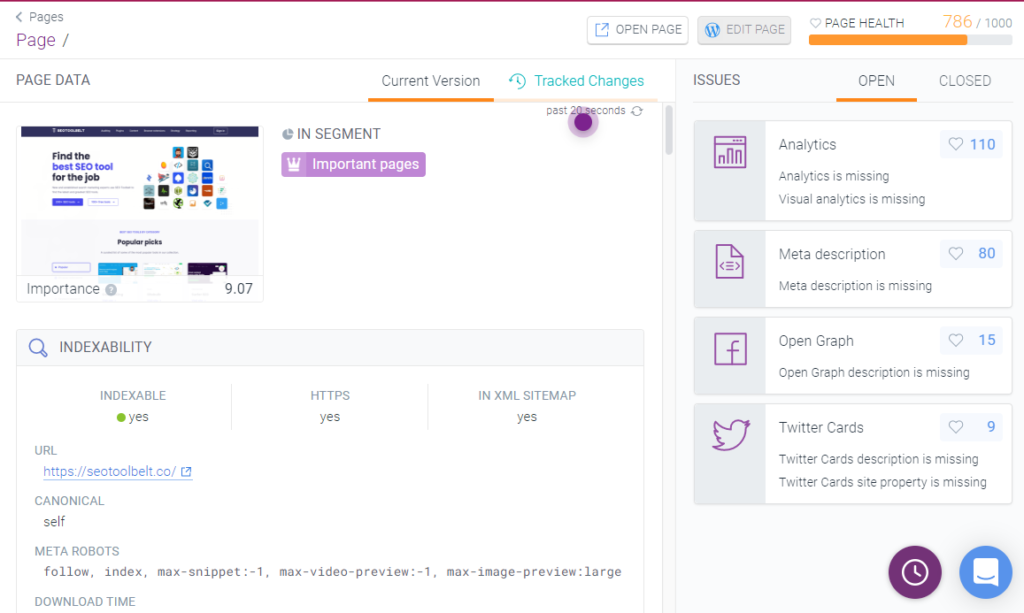 Integrating Google Search Console with your ContentKing account lets you monitor crucial metrics like click-through rates (CTR), display impressions, Google performance, and positioning.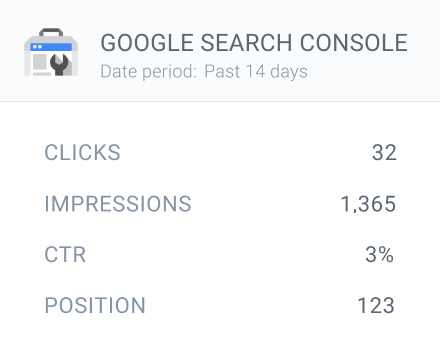 ContentKing's Data Enrichment API and Reporting API further expand your data extraction capabilities, allowing you to work with and explore a variety of metrics tailored to your needs. You simply choose the metrics you want to track, such as qualified leads or CTR, and ContentKing takes care of the rest.
However, it's essential to note that ContentKing restricts some integrations to specific pricing plans. For instance, the Basic package only supports Slack, Google Analytics, Search Console, and the Chrome Extension. Consider upgrading to a higher-tier plan to unlock the full potential of ContentKing's extensive integration options.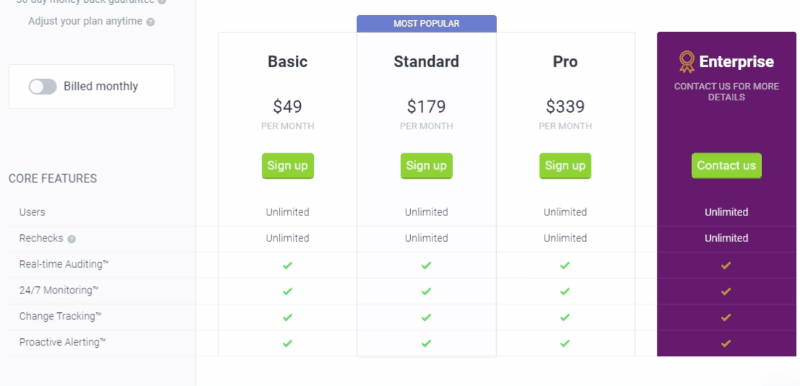 ContentKing Academy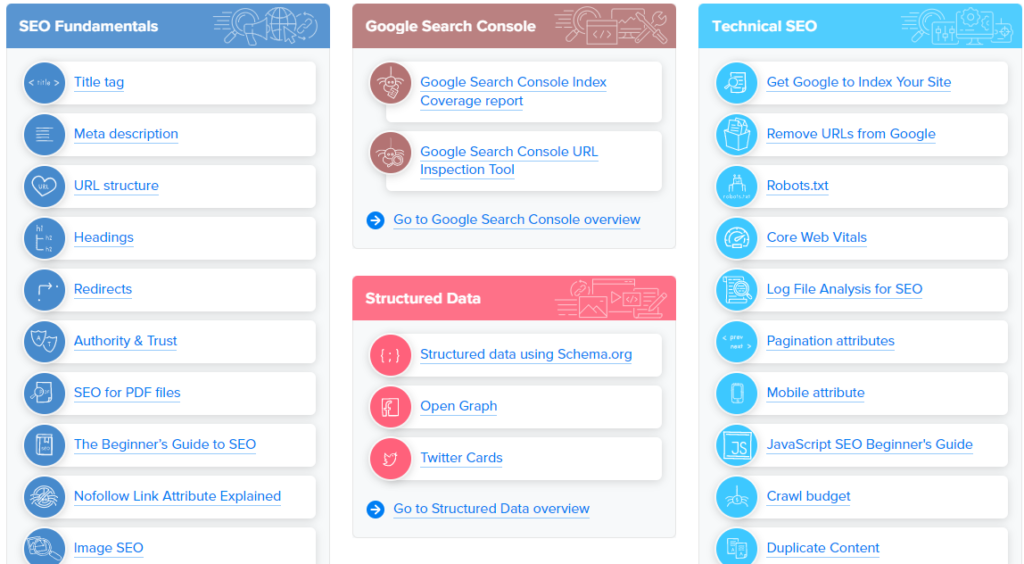 ContentKing Academy provides an extensive library of in-depth SEO articles and reference materials, catering to beginners and experts alike. The topics covered range from SEO fundamentals and content optimization to tracking key performance indicators (KPIs).
The Academy equips users with the knowledge required to measure their SEO efforts, create more effective reports, and understand Google's indexing processes, among other valuable skills. By exploring the wealth of information available, you can stay informed about the latest industry trends, listen to insightful SEO podcasts from experts, and continuously enhance your understanding of search engine optimization.
ContentKing Academy stands out as one of the best free resources for learning about SEO. It is an invaluable asset for anyone looking to improve their online presence and drive better results through their digital marketing efforts.
Certified ContentKing Partners
The ContentKing Partner Program aims to bridge the gap between end-users and agency customers, helping businesses find the services they need to expand and thrive. This connection enables bloggers, digital marketers, and eCommerce brands to discover the ideal service provider to cater to their specific requirements.
ContentKing boasts diverse partners in locations such as the United States, Benelux, the United Kingdom, South Africa, Stockholm, Singapore, and more.
Qualified users are listed in ContentKing's Certified Partner Directory and benefit from a 20% recurring referral commission. If you want to join the program and meet the necessary criteria, you can apply to begin the vetting process.
By participating in the ContentKing Partner Program, businesses can access a vast network of skilled professionals and agencies, ensuring they receive top-quality services to support their growth and success.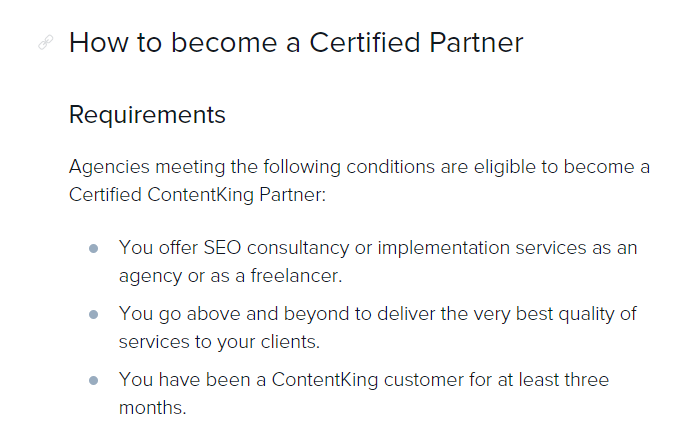 Design / UX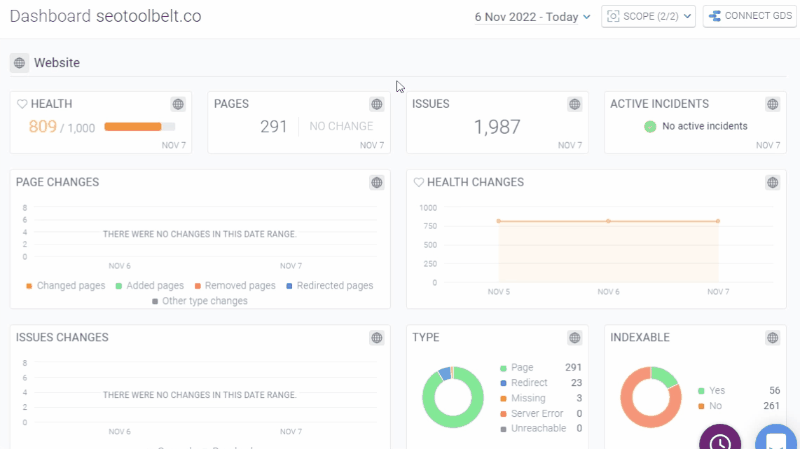 ContentKing features a user-friendly interface designed to facilitate seamless navigation and data analysis. Its layout includes a menu bar on the left panel, similar to popular SEO tools like Ahrefs, ensuring users find it familiar and easy to use. The platform offers filtering and segmenting options, enabling users to analyze data efficiently without feeling overwhelmed.
One of the standout aspects of ContentKing's UI is the inclusion of built-in reference materials that clearly explain the issues encountered on your website and the reasons for addressing them. This feature empowers team members with varying levels of SEO expertise to use the software effectively, minimizing the need for extensive training.
The account set-up process is also streamlined and intuitive. ContentKing provides a mini-tutorial that guides users through the various features and demonstrates how to utilize them to their full potential.
With its thoughtfully designed interface and user experience, ContentKing ensures that users can easily navigate the platform, making the most of its powerful tools and features to optimize their websites' performance.
Customer support
ContentKing offers a comprehensive knowledge base that contains a wealth of helpful guides and articles on SEO best practices, ensuring users have access to valuable information and resources. The FAQ section addresses common questions that users may encounter while utilizing the tool.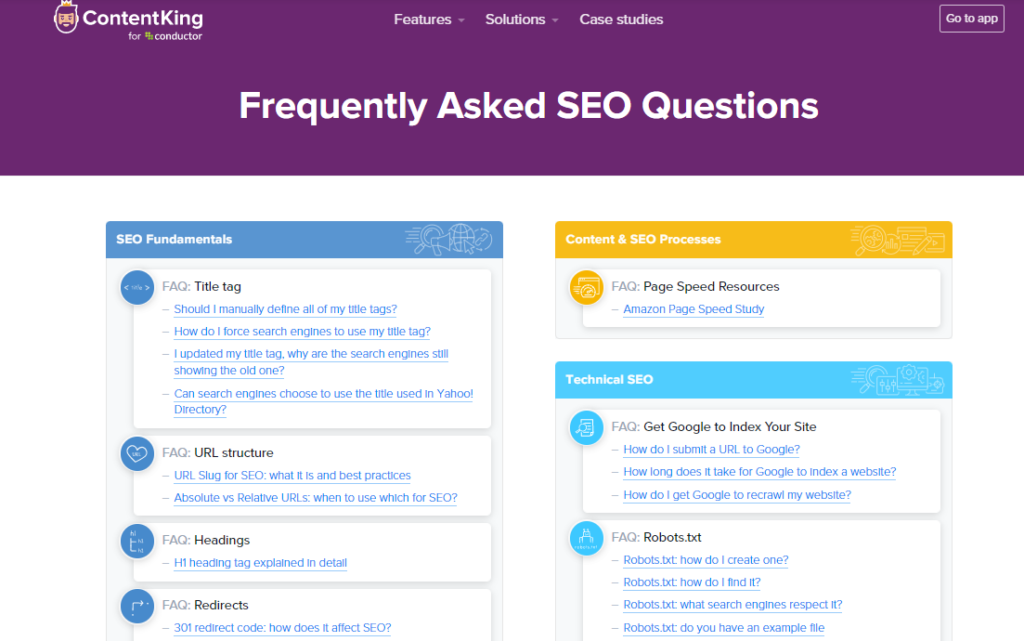 While the platform features a live chat option for customer support, it is important to note that it does not operate 24/7 or include chatbots for automated responses. This may result in delays when seeking assistance outside the chat's operational hours.
Additionally, phone support and dedicated account managers are unavailable to all users. These personalized support services are exclusive to the Enterprise package. By opting for this premium subscription tier, you can unlock access to a higher level of customer support to address your needs more effectively.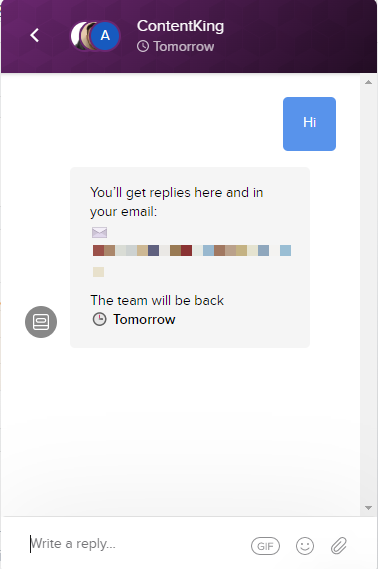 You can also email support@contentkingapp.com to contact ContentKing's customer success team.
Pricing
ContentKing offers tiered pricing based on the number of pages audited, with charges applied per page. There are four available plans: Basic, Standard, Pro, and Enterprise, each offering different features, with more advanced options in the top-tier plans.
Pricing for 1,000 pages:
| Plan | Monthly Price | Annual Price |
| --- | --- | --- |
| Basic | $49 | $39 |
| Standard | $179 | $149 |
| Pro | $339 | $279 |
| Enterprise | Custom | Custom |
By opting for the annual payment plan, you can save on costs, effectively receiving two months free compared to the monthly payment option.
Given the flexible nature of ContentKing's pricing, you can check the image below to see how it changes depending on the number of pages to monitor.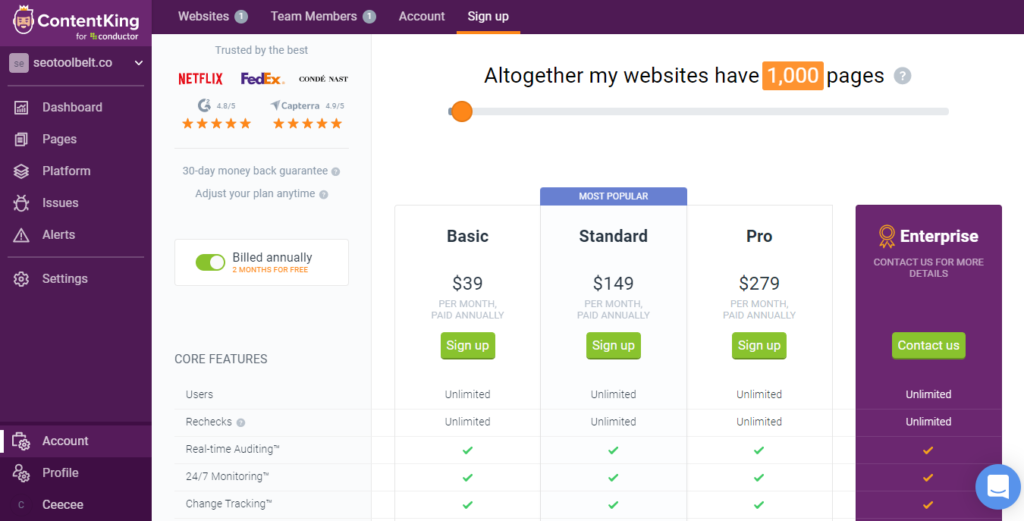 Is pricing fair?
ContentKing's pricing plans are relatively affordable when compared to other SEO tools. With plans starting as low as $39, you can benefit from 24/7 website monitoring and audits, which is a great deal considering the costs associated with other cloud-based crawlers.
However, there are a few minor drawbacks to ContentKing's pricing structure:
To determine the appropriate price, you need to know the number of pages on your site. For users new to crawlers, this information might be challenging to obtain. ContentKing could potentially develop a tool to help users estimate the appropriate plan size for their entire site.
The minimum number of pages per site is set at 1,000. If you need to monitor a smaller number of pages (fewer than 1,000), you will still have to pay for the full 1,000-page capacity.
If your site experiences crawling issues, ContentKing may discover more pages, which could require you to upgrade to a larger plan. While this is not a flaw in ContentKing's service (as they offer a feature to block pages from being crawled), it is still an important consideration when assessing pricing fairness.
Overall, ContentKing offers affordable and competitive pricing for its features. However, the pricing structure may not be ideal for all users, especially those with smaller websites or those new to SEO crawlers.
FAQs
What does ContentKing do?
ContentKing monitors and audits your website in real-time and alerts you to web changes and SEO problems that would affect your rankings in search engines. 
It tracks your site and ensures your web pages are in top-notch shape to increase search engine visibility.  
Who uses ContentKing?
Digital marketing agencies, in-house SEO teams, and freelancers use ContentKing to manage and optimize the technical parts of their websites. The platform caters to both small businesses and major brands like Netflix, Atlassian, H&M, FedEx, and more. 
Is ContentKing easy to use?
The software is user-friendly and easy to use. First-time users can easily navigate the web-based application and start monitoring and auditing their websites immediately after they sign up. 
Final thoughts
ContentKing is a valuable tool that helps monitor your website, offering a user-friendly experience that doesn't require extensive SEO expertise. While all-in-one tools like SEMrush and Ahrefs provide a broader range of features and functionalities, ContentKing is an excellent choice for those seeking a dedicated solution specifically for SEO auditing and 24/7 monitoring.
Unlike competitors such as Screaming Frog and Sitebulb, which are limited to desktop-only solutions, ContentKing provides an online platform that enables a unique set of features. This distinctive positioning in the market allows ContentKing to excel in its niche, offering a reliable and specialized service for those looking to optimize their websites and improve their search engine performance.
---
Sam Underwood
Sam is an international Ecommerce SEO Consultant with experience implementing enterprise-level SEO strategies.