Marketing Miner review
April 13, 2023

15 minutes

Sam Underwood
Use this data mining tool to uncover keyword search volume, keyword suggestions, product analysis, and much more.
Visit site
---
---
Pros
Marketing Miner enables data-driven SEO campaigns

It's feature-rich

The platform has a free plan and supports flexible pricing points

It comes with a custom plan that makes it scalable

The software can handle a large volume of data at once

The tool simplifies SEO processes and does all the heavy lifting

It provides powerful insights that can help you outdo the competition

Marketing Miner supports clickstream data and analytics

It has a REST API that helps you extract data into your application
Cons
It doesn't support multiple users

Customer support needs improvement

Steep learning curve for new users

The tool doesn't have annual plans
---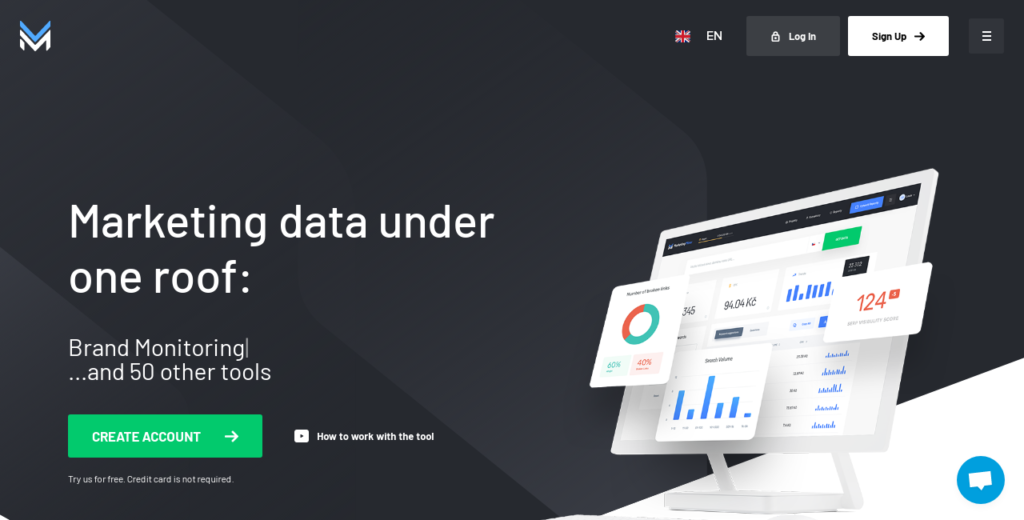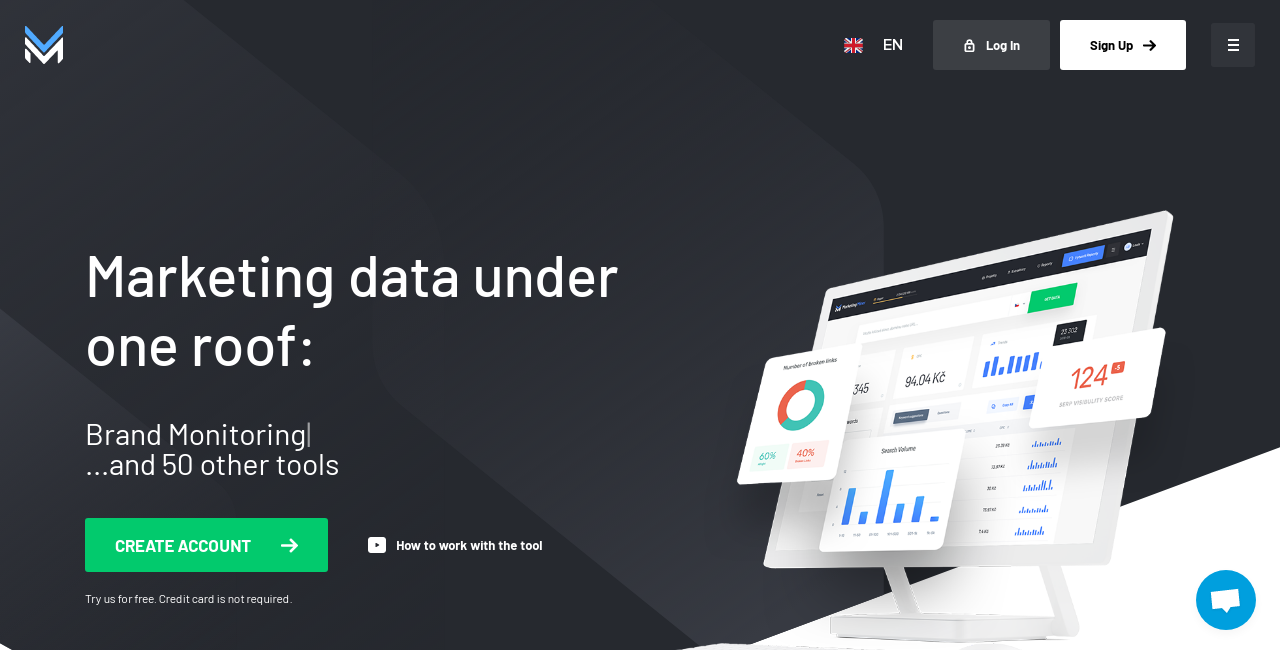 Searching for the best tool to handle bulk data for SEO, including rankings, keywords, and links? Look no further than Marketing Miner, our top choice for bulk data extraction. Ideal for agencies, freelancers, and in-house teams, this comprehensive platform offers a wide range of features to help you optimize your website and improve your rankings.
The TL;DR summary
What is Marketing Miner?
Marketing Miner is an SEO tool designed to help users with data-driven organic search ranking campaigns. It simplifies keyword research, site audit, competitor analysis, link building, rank tracking, and more. It can analyze up to 100,000 keywords, domains, or URLs in one go, giving you bulk ranking data for your website and competitors.
You can use it for link building, brand monitoring, or content creation. It is suitable for enterprise use and large projects, and it has a REST API that allows marketers to extract its data to their own tools.
Marketing Miner is a "swiss-knife" of SEO tools. It adapts to your existing process, making it an ideal agency choice.
Overview of key features
Marketing Miner offers a range of features that make it competitive with top-rated SEO tools. Here are some of them:
Bulk Data Analysis – With Marketing Miner, you don't have to worry about analyzing a large volume of data as it can simultaneously handle up to 100,000 keywords, URLs, or domains.
Keyword research – Provides insights into a website's top-performing keywords, allowing users to discover in-demand keywords and topics.
Site audit – Runs an SEO analysis of any website, including broken link checks, duplicate content checkers, and technical site health analysis without third-party apps.
Rank tracking – With this software, you won't need to track your keywords ranking individually again. Instead, it automates the process, updating you on your keyword performance in real-time.
Brand monitoring – Marketing Miner lets users monitor and track brand mentions and get real-time industry updates.
Competitor analysis – Marketing Miner lets users gain actionable insights and discover top-performing competitors' keywords.
Link Building – The tool helps users find link-building opportunities and monitor existing backlinks. It also helps them get the contacts of site owners for collaboration.
Technology Detection – Marketing Miner can track your website traffic by visitor technology, such as operating systems (OS) or browsers. The insight helps you identify technical issues your site might have with any of these technologies.
Page Speed Checker – The software enables users to access data about page speed and gain actionable insights to make their web pages faster on all devices.
Structured Data Checker – Marketing Miner helps users check if their web pages use structured data and discover markup types and errors.
Social Signals – The software lets users monitor and track their social signals like Facebook shares, Pinterest pin counts, and Stumbleupon views from a single dashboard.
Plagiarism Checker – This tool has a built-in plagiarism checker to help users produce original content.
Content Analysis – Marketing Miner provides users with insightful content analysis data they can quickly compare with competitors to optimize existing content and create more SEO-friendly articles or web copies.
Hreflang Checker – The Hreflang checker lets users check if the hreflang tags for their pages are correct.
DNS Info – The tool can pull the DNS records of individual domains. It lets users see all the domains on the same IP addresses, making it insightful for link-building.
REST API and Third-Party Integrations – Miner features robust REST APIs that make it integrate seamlessly with several third-party applications.
Bulk Data Analysis
Marketing Miner's headline feature is bulk data analysis. With this tool, you can analyze up to 100,000 keywords, URLs, or domains simultaneously. This includes search volume, SERP position, landing pages, or keyword difficulty.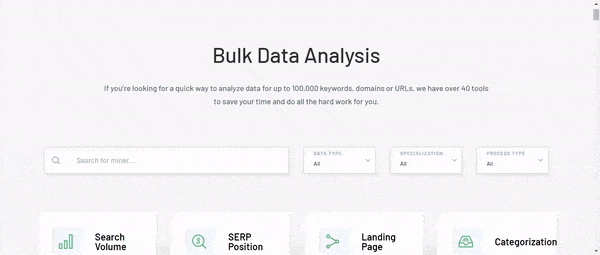 The bulk data analyzer supports about 40 tools to speed up your workflow. You can filter and find tools by data type, process type, or tool specialization.
One of the key benefits of this tool is that you can analyze and dice your data as you want and then export that bulk data in one fell swoop.
Keyword Research and Data

Marketing Miner's bulk data analysis feature has a host of keyword data analysis and research tools and data connectors to help you analyze large data sets including:
Search volume
Keyword difficulty
SERP position
Keyword suggestions
Domain and URL Data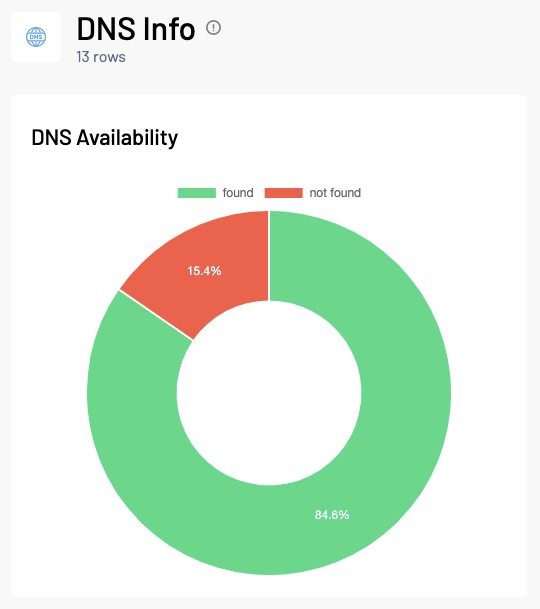 The Bulk Data Analysis feature offers tools and connectors to manage bulk domain and URL data. It has connectors for Ahrefs and Majestic. These are the tools it provides:
DNS info
Domain availability
Technology detection
URL Validity checker
URL Index checker
Page speed
SEO and SEO Audit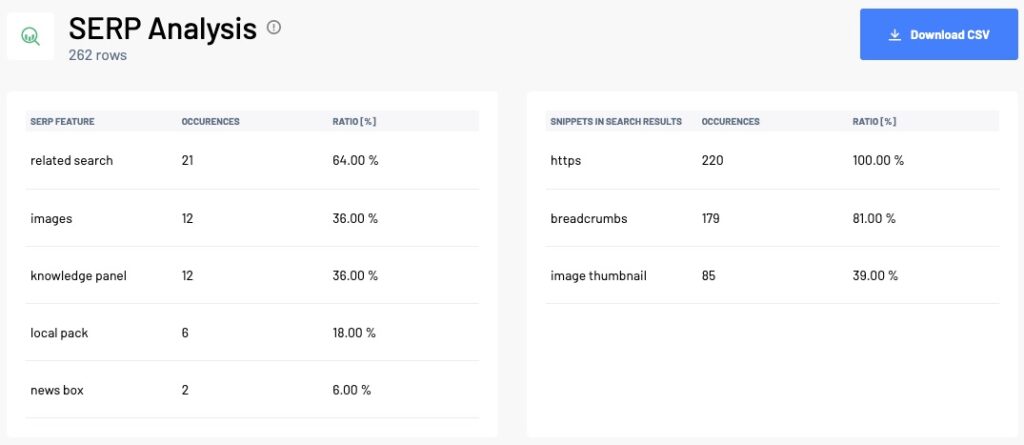 The bulk analysis feature also lets you analyze your site's SEO and complete your SEO audits with tools like these:
SERP analysis
Status Code tool
Structured data checker
Broken link checker
Backlink checker
PPC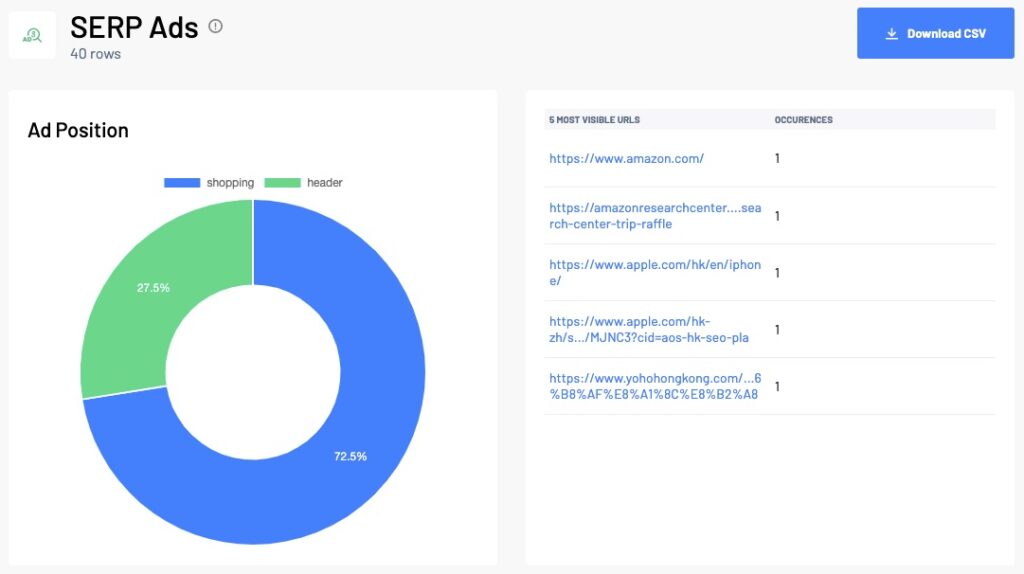 This feature lets you analyze and move your PPC data in bulk. It comes with the SERP Ads tool, which helps you track and report ads from multiple platforms, including Amazon and other marketplaces.
Other PPC tools include:
Keyword suggestions
Landing page
Related search
Keyword difficulty
Content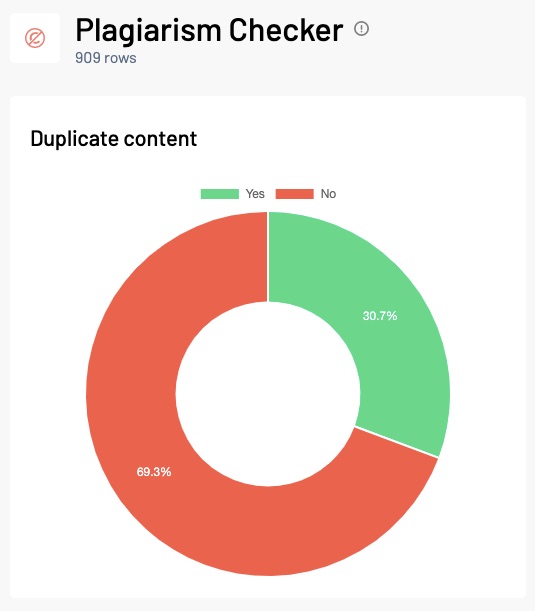 This feature bundles tools to complete bulk content operations. For instance, the Landing Page Miner helps you choose the best landing page for your keywords, preventing keyword cannibalization.
It also provides a Plagiarism Checker to detect partial or full duplicate content on your website. Upload your URLs to the Checker to find competitors who plagiarize your content.
Link Building and Management
Handle link building and manage operations in bulk. The Link Checker tool allows you to find all the pages linking to any page on your website. And the broken link finder tool helps you spot broken links.
You can coordinate your link building and management effort with these miners:
Link Prospecting
Backlink Checker
Broken Link Checker
Contact Finder
Competitor Analysis
Analyze competitors in bulk. Features like link building, content, SEO and other data analysis tools are already part of this process. Here are some other competitive analysis tools you can use:
Content Analysis
Social Signals
Plagiarism Checker
Link Analysis tools
SERP Analysis
Technology Detection
Keyword Research
Marketing Miner offers a keyword research tool that helps users discover valuable and high-volume keywords for their search campaigns.
Here are some of its features:
Keyword Difficulty
The tool organizes keywords according to their difficulty to rank on Google. This insight helps users to start with the easier ones, leading to quicker results.
The reports are clear and easy to understand.
The tool also provides data visualization of the keyword difficulty distribution.
Search Volume and Keyword Suggestions
Market Miner makes it easy to view the search volume of your target keywords and their trends over time. You can also discover similar search terms to your query to get new keyword ideas.
The tool displays the search volume, historical trends, and more.
You'll also see the total number of suggested keywords, their combined search volume and the average CPC.
Scrolling down the report, you'll see the suggested keywords, their search volumes, CPC, and difficulty. You'll also see the year-over-year search volume change, keyword trend, and other SERP metrics.
You can filter and export the data as a CSV file.
Trending Keywords
This tool offers keywords and trending keywords with a year-over-year (YoY) search volume increase of more than 100%. It provides the search volume, cost-per-click (CPC), difficulty, YoY volume change, and trend. SEOs can use this data to identify popular and relevant keywords that they may have previously deprioritized due to lower volumes.
Next, it shows the trending keywords, their search volumes, CPC, keyword difficulty, YoY search volume change, and the trend.
Keyword Categorisation
This tool categorizes your uploaded keywords into themes like price, location, season, and brand. It presents the report in an easy-to-view table and a data visualization to show the number of keywords in each category. This saves time and effort from manual categorization, making SEO more efficient and targeted.
New Keywords
The New Keywords profiler offers a comprehensive list of keywords searched in the past year. It shows a peak month metric and follows the same format as other reports.
This report helps you plan improvements and refreshes to your content. It shows when keywords are usually trending or require more recent information.
Content Gap Analysis
Marketing Miner assists in identifying gaps in your content strategy by comparing up to three competitors' domains and showing the keywords they are ranking for that you are not. The report includes keywords, search volume, ranking position, and competitors. By analyzing this data, you can quickly identify the keywords to optimize your website for your competitors' target, but you aren't.

Next, it reports your domain's estimated monthly traffic and total keyword count.

When you scroll down the report, you'll see the keywords, the search feature type (channel), estimated traffic, search volume, and ranking position. It also reports the total ranking positions and landing pages.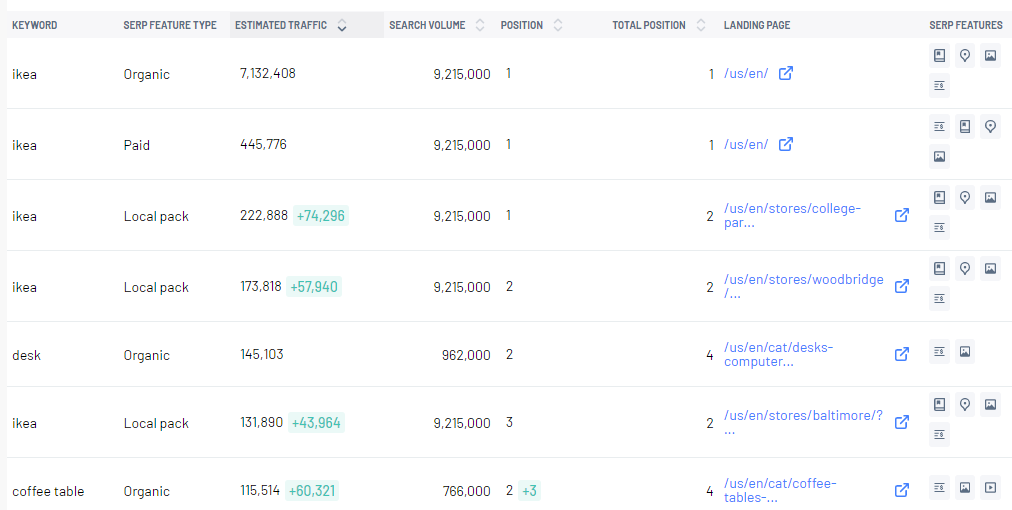 This feature is valuable for SEOs who want to monitor their website's search engine performance and make informed decisions to improve visibility.
Site Audit
Marketing Miner can also perform a site audit, although it's not a highlight of the tool, and if you want to do a thorough analysis, you'd be better off with an alternative site auditor.
Still, here are some of the features the tool has.
Indexing Status
The built-in index checker lets you find all the URLs the search engines are yet to index and discover the reasons, making resolving them more straightforward.
The visualization tab lets you see the percentage of indexed and non-indexed URLs. You can also scroll down the report to see all the URLs and their indexation status.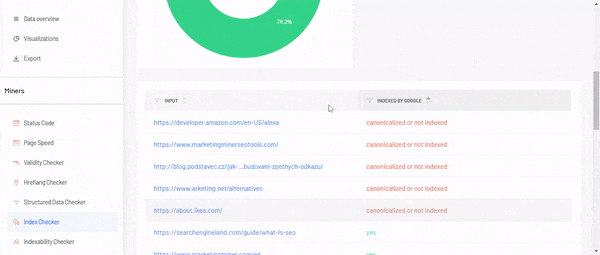 HTTP Status Codes
You can quickly check the HTTP status codes for multiple pages at a go, including redirect chains and 404 errors. Also, you can import the dataset or copy and paste them.
The report is intuitive. It shows the URLs' first and last status codes—the last returned HTTP response code.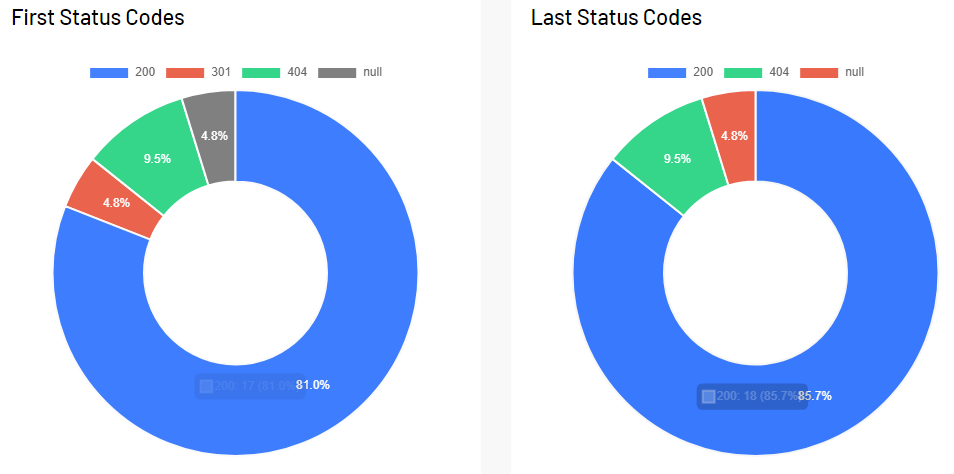 You can scroll down to drill into the report page by page.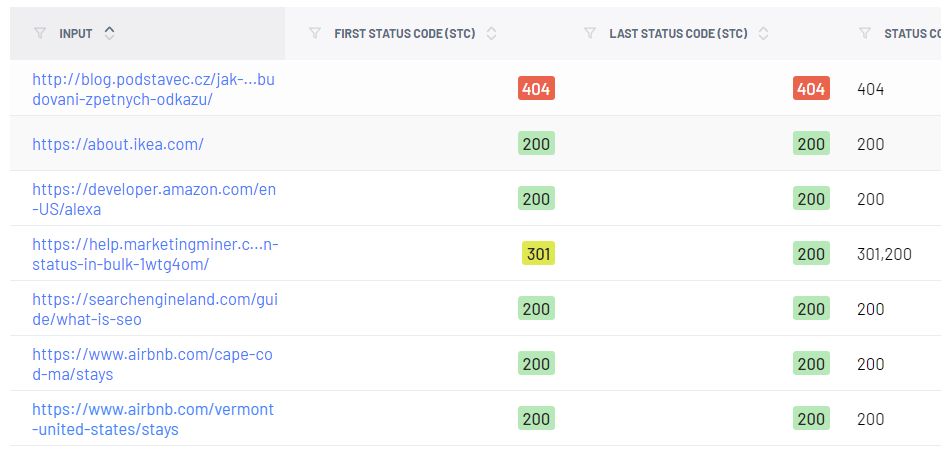 Broken Links
Broken links can adversely affect SEO. With Marketing Miner, you can check and fix all broken links. You could also use it to find broken links in related websites for link-building opportunities.
The report shows the percentage of broken and active links, including the URL and their destinations.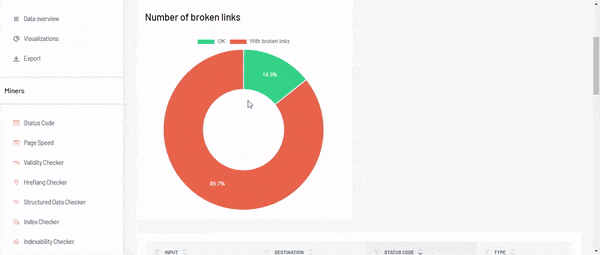 Keyword Cannibalisation
Keyword cannibalization occurs when two or more of your web pages unintentionally compete for the same keywords. As a result, it may reduce web traffic to your primary or landing page.
With this SEO software, you can track keyword cannibalization, including the search volume, the number of competing landing pages, and the highest-ranking landing web page.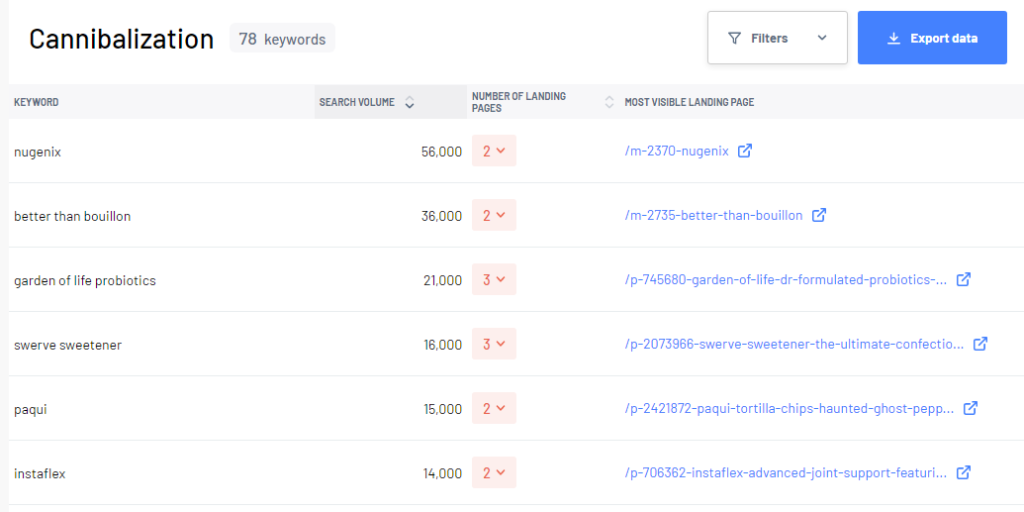 Alerts
Marketing Miner offers real-time alerts, enabling users to stay on top of their technical SEO. For example, you can create a project and set up alerts to get notified by email when status codes, structured data, robots meta tags, and canonical tag change.
While this feature is handy, if you want a more comprehensive SEO monitoring tool, we'd recommend ContentKing.
Rank Tracking
Marketing Miner helps you get a detailed understanding of your keywords' performance over time. Here are some of its features:
Position Tracking
You can track the ranking positions of up to 200 keywords daily or 1,000 keywords weekly per project.
The report displays the position distribution over time and estimated monthly traffic. It also shows the keywords, search volumes, estimated monthly traffic, current and initial positions, and landing pages.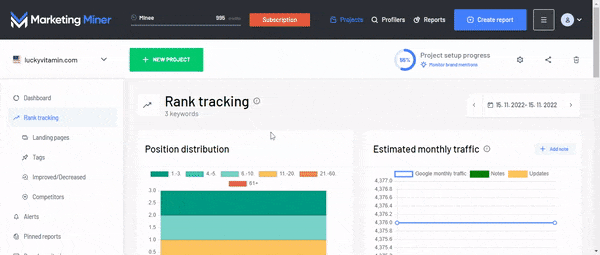 Competitor Monitoring
In addition to tracking your keywords, you can monitor the search ranking performance of up to five competitors to learn how your business competes against them in organic search.
Bulk Keyword Rank Checker
The Bulk Keyword Rank Checker feature allows you to monitor and evaluate up to 100,000 keywords. Furthermore, it assists you in assessing your ranking for web searches, images, and videos.
You can manually input or import the data from a file, URL, or external platforms such as Google Search Console or Google Sheets.
The report is easy to understand. It displays the inputted keywords, their Google positions, the number of results in Google, and the landing pages.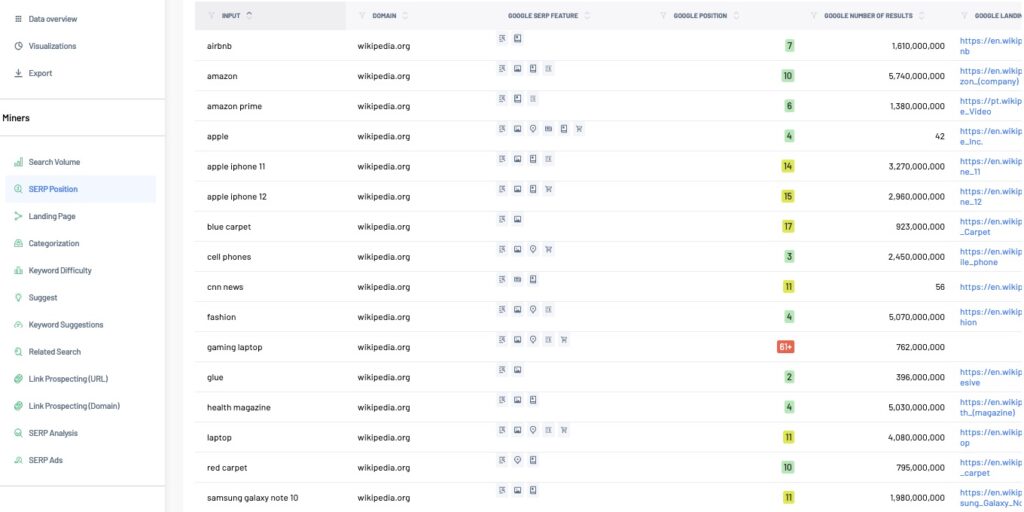 It also shows the Google search titles, search type (fulltext, images or videos), and competitors' ranking positions.
You can also visualize the data.

The visuals here are impressive.
But the real advantage is exporting the data and using it for your own analysis.
Brand Monitoring
Marketing Miner has a built-in social listening feature. It keeps you updated on brand and competitor mentions and industry updates. Here are some of the benefits.
Brand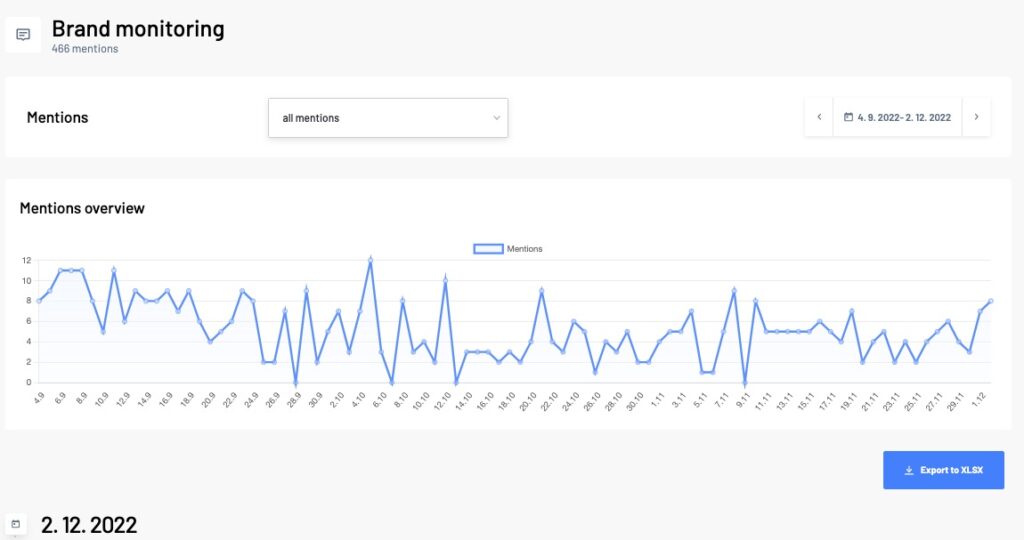 You can monitor all your brand mentions in one place. The tool also sends email notifications so you can see to what people say about your business and respond accordingly.
Competitors
You can also monitor what people are saying about your competitors. Then, with the insights from the report, you can pinpoint their strengths and weaknesses to help improve your own strategy.
Keywords and topics
Marketing Miners make it easy to set up and track keyword and phrase mentions easy. With this feature, you won't miss important conversations and trends in your niche.
Alerts and data export
You can set up alerts for all keyword or brand mentions helping you react quickly to them. Also, you can export your files to Excel or Data Studio.
Moreover, you can monitor your mentions wherever you want with Marketing Miner's API.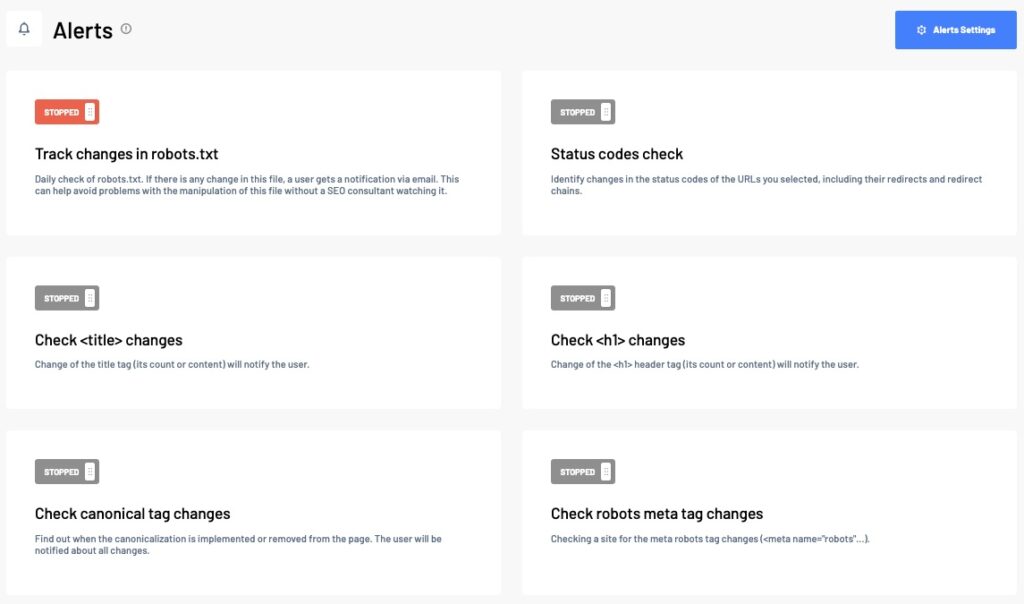 Competitor Analysis
The software lets you perform a comprehensive competitor analysis with just one click. You can explore their website traffic and the keywords they are ranking for. Here are some things you can do with it.
Traffic Volume
The tool assesses the likely traffic to a rival's website or landing pages. You can also investigate the SERP feature that generates the most traffic for them.
Gain these insights from the search visibility report.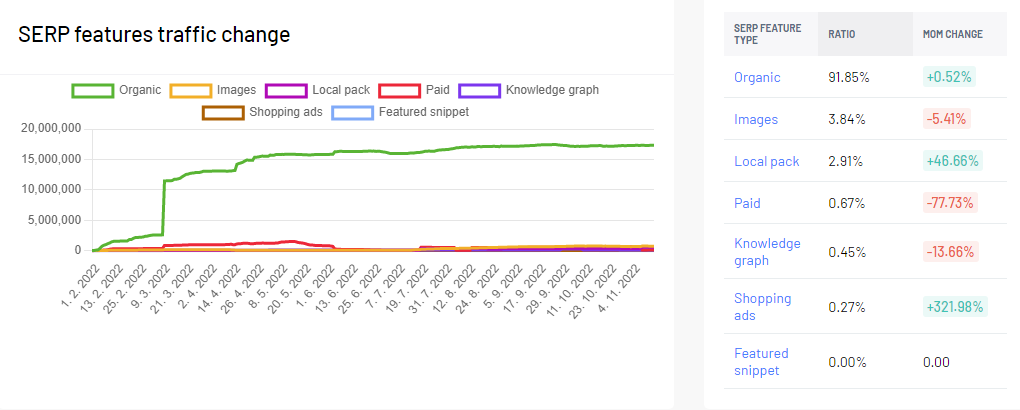 Competitor Keywords
Marketing Miner shows you the keywords, search volumes, and estimated traffic of your competitors. It also reveals their ranking positions, landing pages, and more.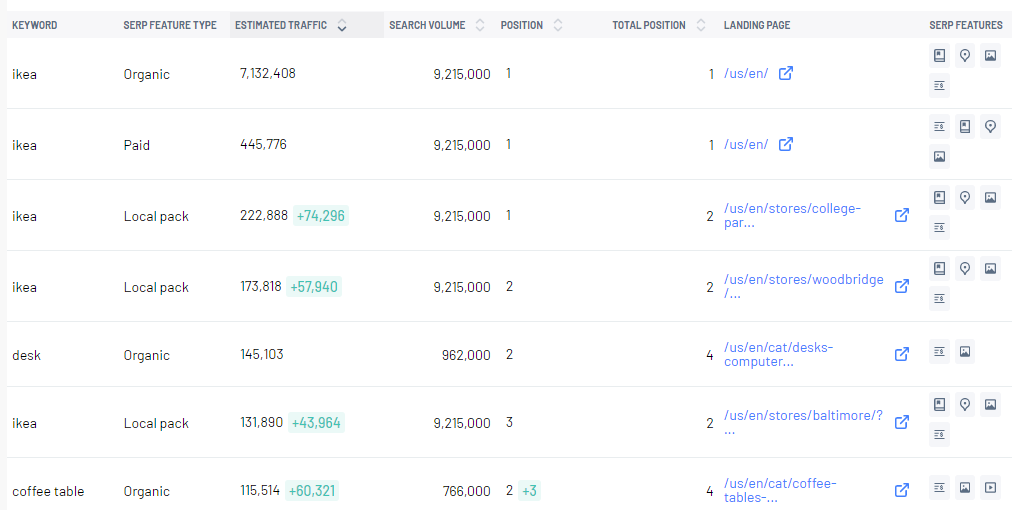 Top Pages and Subdomains
The tool provides you with information about the top-performing pages and subdomains of your competitors' websites. With this data, you can analyze the content of the pages to gain insights and replicate their success.
Competing Pages and Domains
Marketing Miner can help you stay ahead of the competition, even if you don't have a specific rival in mind.
The tool quickly finds websites that often appear in the same organic search results as yours.
The report will show you the total number of competitors, the domains they come from, and the number of shared keywords.
You can also view the level of competition, filter data, and export it.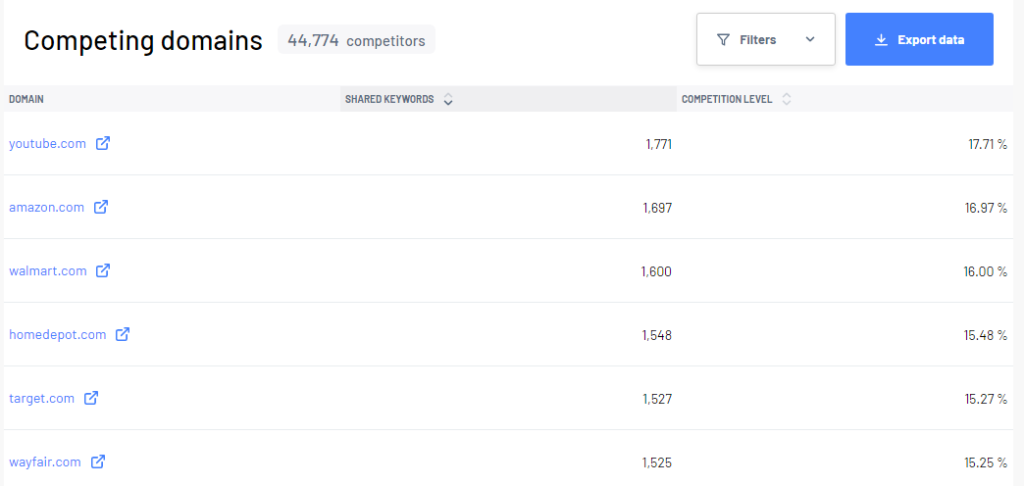 Link Building
Backlinks are essential for ranking in Google.
Marketing Miner can help you acquire more backlinks and boost your rankings above competitors.
Here is what you can do with the tool.
Link Prospecting
Link prospecting is an effective strategy for creating quality backlinks. It involves identifying websites that present collaboration and link-building possibilities.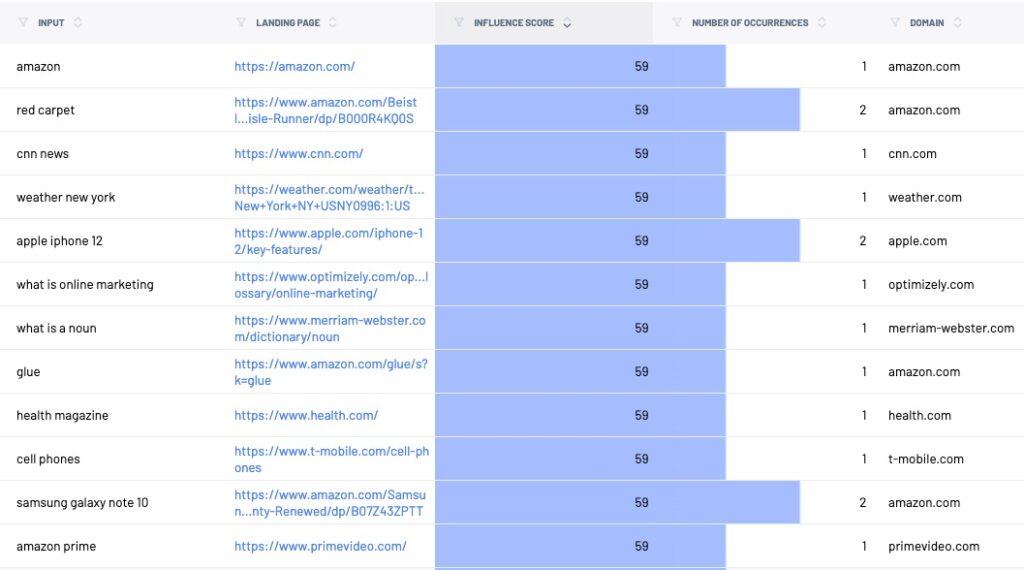 Link prospecting report by URL
Marketing Miner can find these opportunities easily. You only need to input the keywords you want to target.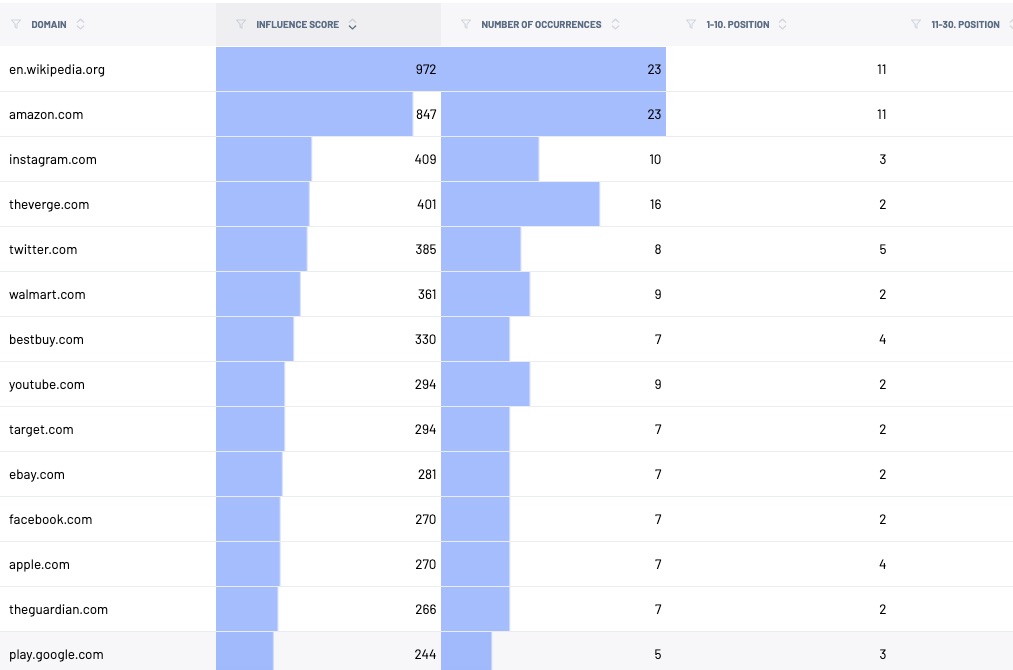 Link prospecting report by domain
Contact Finder
The contact finder helps you locate website owners' contact details and social media links. This makes outreach simpler.
The tool also reports the percentage of found and not-found email contacts. This gives you a quick overview of your prospect list.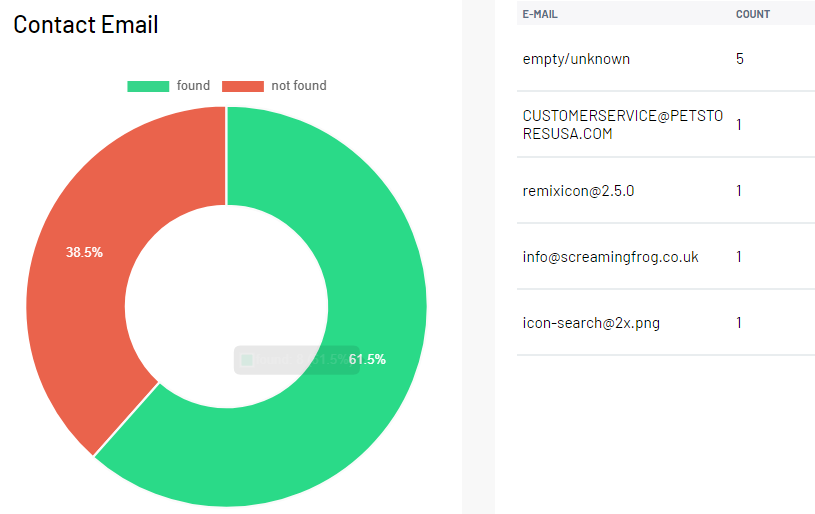 Scroll down to view a more detailed report. It will show you the domains, web contact pages, contact emails, and social media links.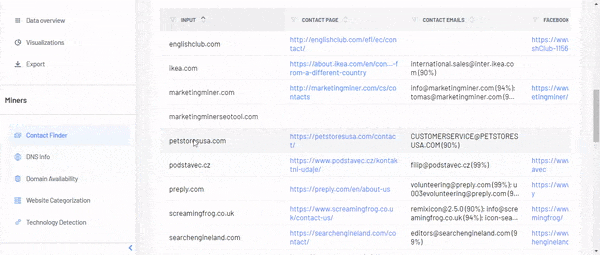 Backlink Checker
A backlink checker is already built-in, so you don't need to buy an extra tool. With Marketing Miner, you can check the backlinks of a single page or create a project to track them.
You can see the percentage of pages with and without backlinks and where the backlinks are placed – footer, header, in the text, and sidebar.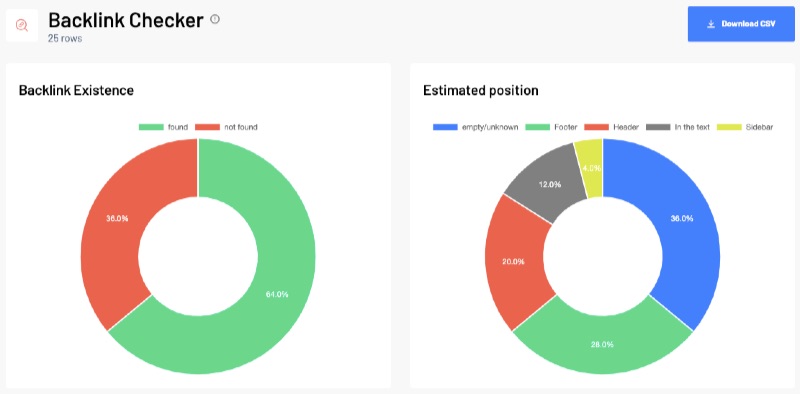 The data overview reveals the input URLs, HTTP status codes, page speed score, and mobile friendliness. It also displays the robot.txt directive, Google indexation status, and the number of external and internal links for the page.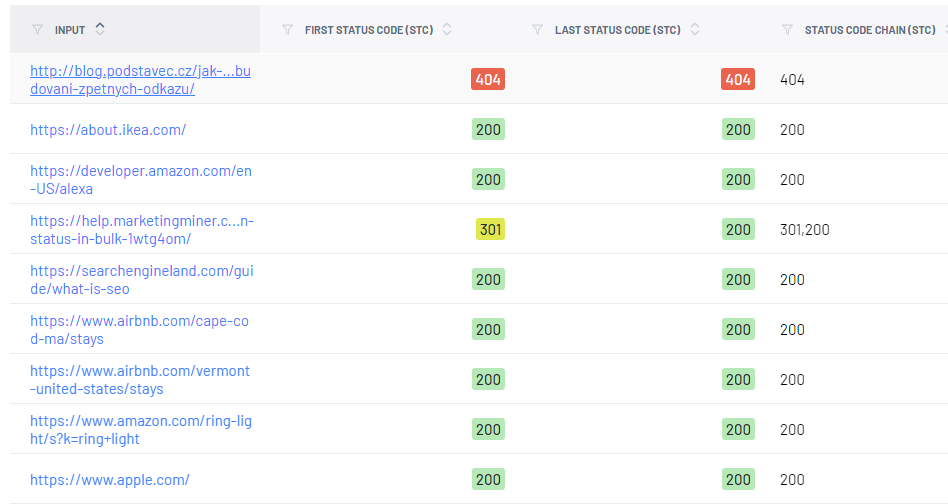 REST API and Third-Party Integrations
The REST/POST API enables you to quickly obtain data from more than ten endpoints. You can then integrate this data into your own dashboards and tools. Here are some ways to use the API.
Projects API
Marketing Miner offers an API that allows users to access their project data without logging in to the platform. The API is user-friendly, and the software has detailed documentation on how to use this feature. This feature is helpful for SEOs who want to integrate their Marketing Miner data into other tools and streamline their workflow.
Majestic
You need an active Majestic subscription to use the feature that lets you take bulk data from Majestic and use it in Marketing Miner.
Ahrefs
Ahrefs is a popular SEO tool used by millions of search engine optimization professionals, including marketers from big companies like Facebook, eBay, Uber, and Tripadvisor.
You can integrate Marketing Miner with Ahrefs to get data about links, linking domains, and sites.
For instance, Marketing Miner reports the average number of referring domains, backlink counts, and referring pages.

You'll also see the backlinks and referring domain distributions.

If you want tabular data, scroll down to find just that.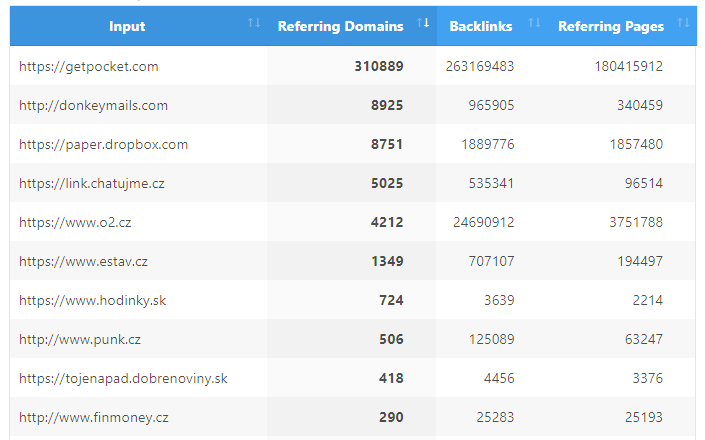 Design / UX
Marketing Miner is easy to use. However, new users might require assistance due to its extensive features. Even with so many tools, its user interface is clear and easy to use, and I found it easy to navigate.
Customer support
Marketing Miner provides the following customer support:
Knowledge base
Ticket support (via email)
Social media support
The company states that it offers live chat support on its contact page. However, finding out how to access this support is not straightforward. We had quick responses when we emailed support, which is a positive.

Pricing
Marketing Miner offers flexible pricing points to cater to a wide range of users, albeit with no option for a discounted rate for yearly payments.
Marketing Miner has five pricing plans billed monthly. Here is a summary:
| | | | | | | |
| --- | --- | --- | --- | --- | --- | --- |
| Plan | Monthly Price | Monthly Credits | Number of Projects | Tracked Keywords per Week | Processes at Once | Rows Input Size |
| Minee (Free) | $0 | 1,000 | 1 | 10 (weekly) or 3 (daily) | 1 | 5 |
| Miner | $29 | 100,000 | 1 | 1,000 (weekly) or 200 (daily) | 1 | 1,000 |
| Digger | $59 | 1,000,000 | 10 | 1,000 (weekly) or 200 (daily) | 2 | 20,000 |
| Machine | $99 | 2,000,000 | 20 | 1,000 (weekly) or 200 (daily) | 3 | 40,000 |
Is the pricing fair?
Yes, Marketing Miner is worth the price.
Compare its features, the quality of insights, and the cost of building a similar software stack with keyword research, site audit, link building, competitive analysis, and more. It's a bargain.
The tool has a custom plan that lets you pay for only what you need. You can also try the free monthly plan to decide if it's right for you and upgrade as your needs change.
FAQs
Is Marketing Miner good for SEO?
Marketing Miner is an excellent SEO tool. It offers many functional features and advanced reporting capabilities. This makes it comparable to some of the best SEO software. Thus, it is a great addition to freelancers', in-house marketers', and agencies' technology stack.
How accurate is Marketing Miner?
Marketing Miner is precise. It draws its information from Google and combines clickstream data to provide useful and timely understanding.
Is Marketing Miner easy to use?
Yes, Marketing Miner is user-friendly.
Its user interface is intuitive. Reports are easy to understand.
However, new users may require assistance with some features. But they can quickly learn about the tool's principles from the knowledge base and help center.
Final thoughts
Marketing Miner enables marketers to integrate big data into their SEO campaigns. It also helps businesses and freelancers streamline SEO processes and gain valuable insights to stay competitive.
This software has many features that can reduce the number of tools you need, making it a great investment.
---
Sam Underwood
Sam is an international Ecommerce SEO Consultant with experience implementing enterprise-level SEO strategies.