Accuranker review
AccuRanker is the world's fastest rank tracker - A must-have tool if you want to grow your organic traffic, and leave your competitors in the dust.
4.5

Publish date:

April 28, 2021

Author:

Sam Underwood
Visit site
---
---
Pros
Fast response from customer support

Unlimited users on one subscription

Great design and is easy to use

Brilliant tagging and filtering features

SERP feature tracking

Effortless integration with multiple tools

Automate reporting

Simple REST API

Fair pricing
Cons
Pulling through Data Studio reports can be slow

No flexibility on how often the tool checks a keyword
---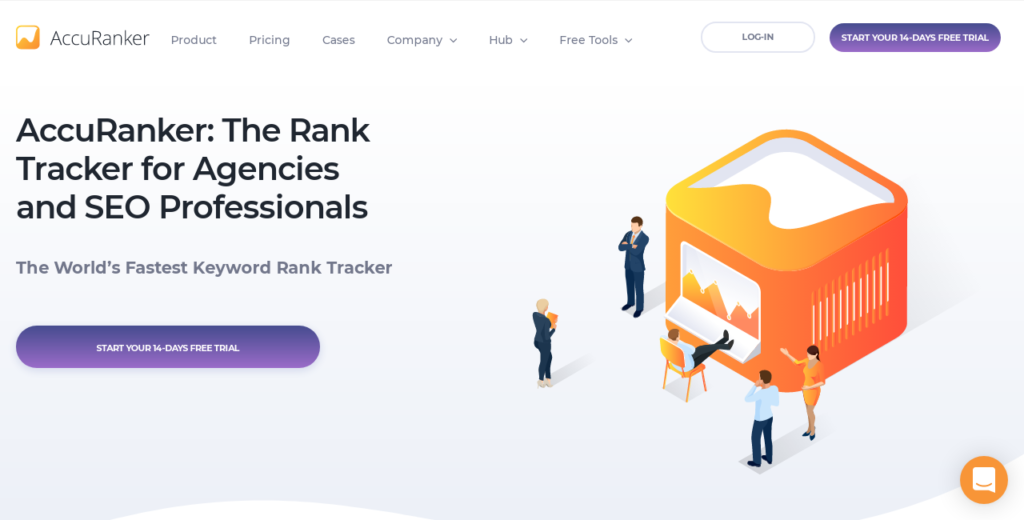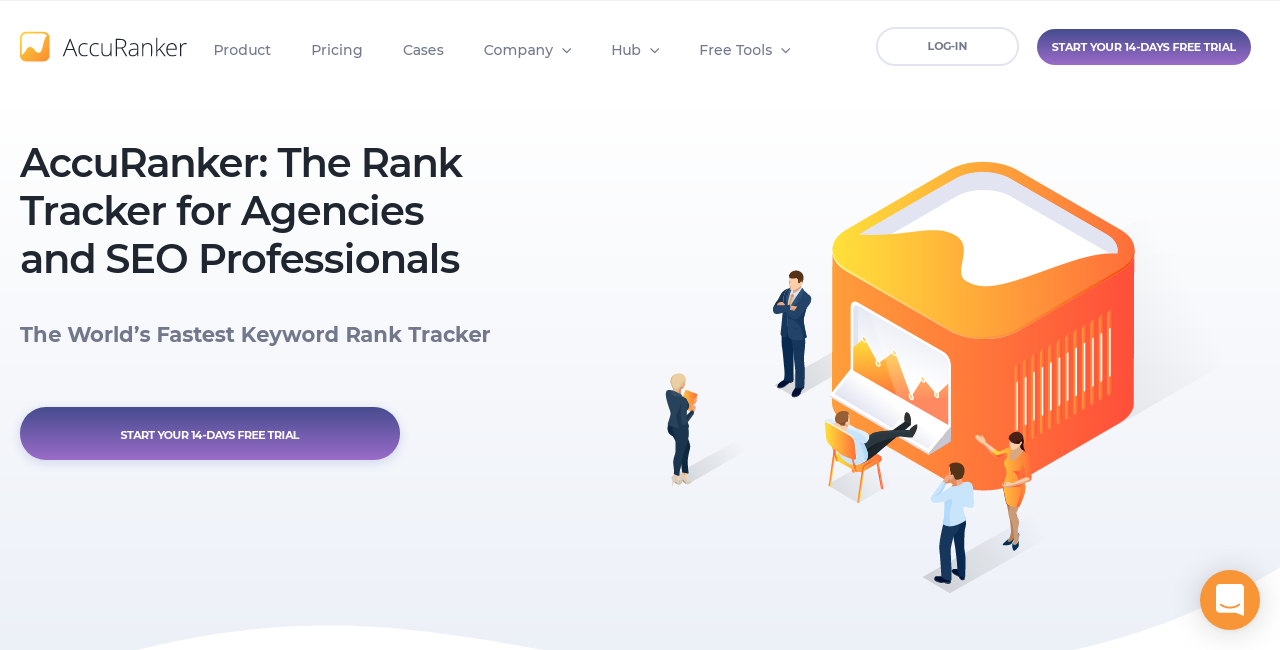 If you're investing time and effort insto creating and executing an SEO strategy, tracking your performance is essential to help you identify what's working and any potential problems.
This is where a rank tracker comes in handy.
Accuranker is considered one of the best rank trackers on the market. In this review, we'll examine the pros and cons of this tool to help you make an informed decision about whether to sign up.
The TL;DR version
What is Accuranker?
Accuranker is an SEO rank tracker that offers a range of features to enhance your SEO strategy, including competitor analysis, SERP feature analysis, and customizable reports. The tool has a clean design and is easy to navigate with a quick switcher found in the header. Accuranker also allows you to refresh keyword rankings on demand and integrates easily with Google Analytics, Search Console, and Data Studio.
Whether you are an in-house SEO professional or working for an agency, Accuranker can help you stay on top of your keyword performance, freeing up your time for other tasks.
Best known for its lightning-fast refresh speeds, this tool offers a range of features that we will explore in this review.
Key features
In addition to keyword tracking, this rank tracker offers a range of features that can enhance your SEO strategy:
Dashboard – The dashboard provides an overview of key information, including the number of keywords, average rank, the share of voice, and ranking distribution.
Keyword Tracking – Unlike other rank trackers that only run reports daily or weekly, Accuranker allows you to refresh keyword rankings on demand. Although data automatically refreshes daily, you can get up-to-date information whenever needed.
Reports – Reports are fully customizable and automated, allowing you to see the information that matters most to you while reducing the time you spend pulling them together.
Competitor Analysis – Accuranker lets you track both known and unknown competitors. You can input competitor domains, and the tool will also identify sites that frequently appear in the SERPs you track.
SERP Feature Analysis – Accuranker reports when you've acquired a SERP feature and when there is an opportunity to rank for one.
Integrations – You can quickly and easily integrate Google Analytics, Search Console, and Data Studio with Accuranker.
REST API – Accuranker offers a flexible and straightforward REST API, allowing you to integrate the tool with your own dashboard or other tools.
Design / UX
Accuranker excels at perfecting the user experience. Its clean design makes the tool easy to navigate.
All the necessary tools can be found in the left-hand toolbar. There are no additional dropdowns for each tab; everything related to that page can be found once it's loaded.
Although Accuranker is best used on desktops, it is also user-friendly on mobile devices, with fast load times on both.
Quick navigate
One of my favorite features of Accuranker is the quick switcher found in the header.
Groups
Accuranker allows you to add an unlimited number of domains. If you're tracking domains from several locations or for multiple clients, it's a great idea to categorize the domains into different groups. Groups make it easier to organize all your domains logically. Additionally, you can select the "Number of Keywords" and be taken to a dashboard that shows data from all domains within the group.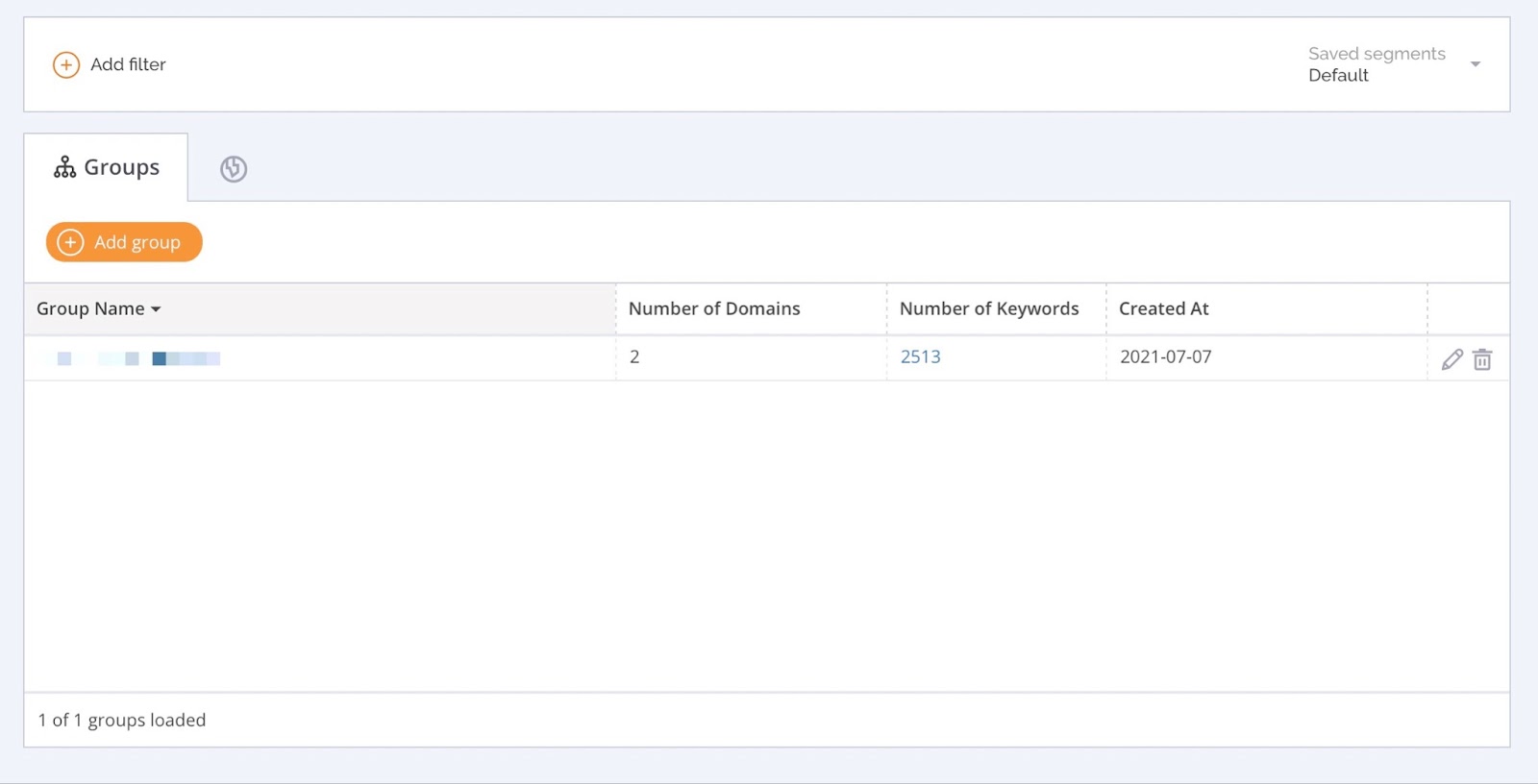 Features
As a rank tracker, Accuranker provides all the expected information on keyword tracking in a streamlined way. The tool's additional features make it stand out from other rank trackers, including its competitor analysis and reporting features, to name a couple. We'll look at these in more detail below.
Dashboard
The dashboard is clean and provides top-level keyword research information over five sections per domain, which we'll explore below:
Number of Keywords – The total number of tracked keywords for the domain
Discovered Keywords – Other keywords your domain is showing up for
Average Rank – The average position of your keywords on an average day
Share of Voice – The percentage of keywords that you own in certain position ranges compared to your competitors
Ranking Distribution – Keywords are split into different groups depending on their positions.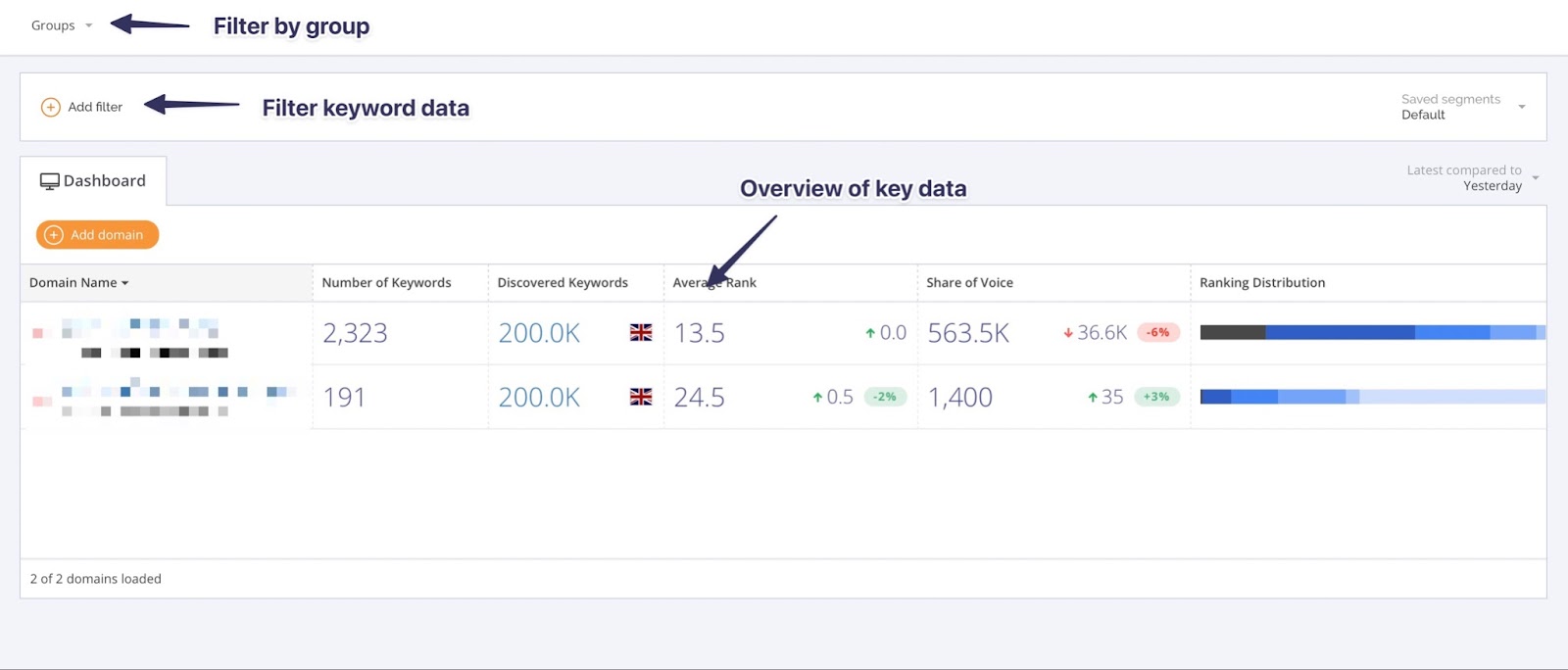 Keyword tracking
When analyzing your organic performance, you will spend a lot of time in the keyword tab.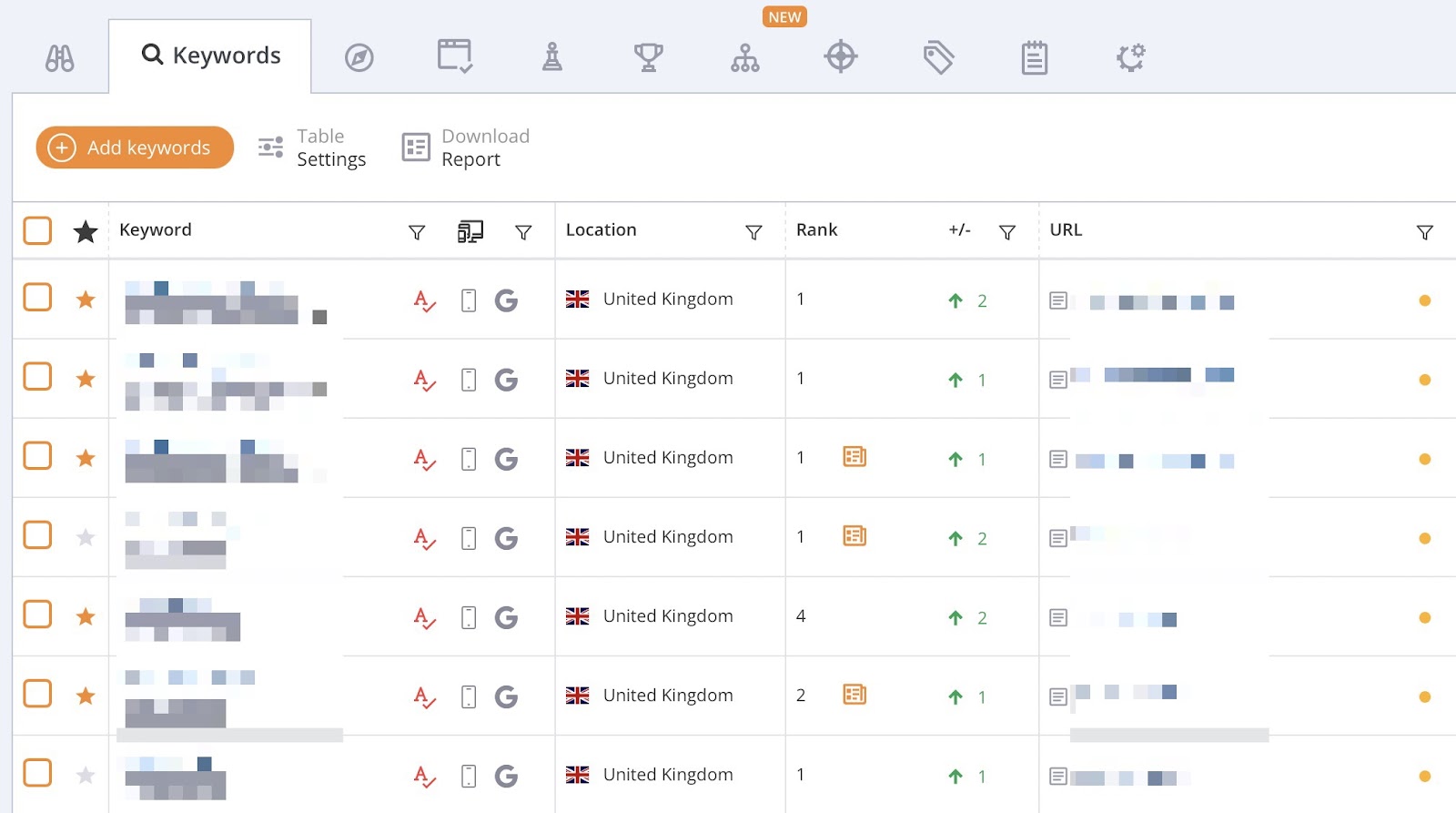 Keyword data across Accuranker is refreshed every 24 hours, giving you access to the latest information each day.
However, you can also view more up-to-date data via the instant refresh button for all keywords or individually.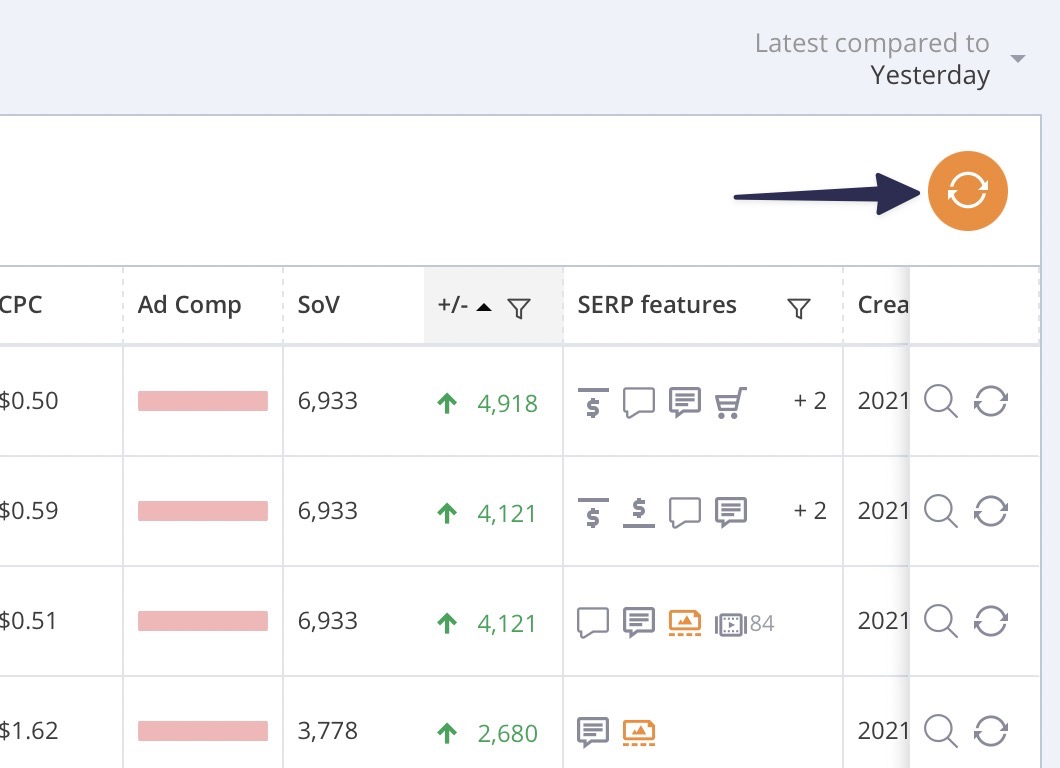 Adding keywords
When adding keywords, you have three options: upload them from Google Search Console (explained in the "Integrate" section), upload them from a CSV file, or enter them manually.
A benefit of using Accuranker is the ability to tag keywords in bulk via CSV, which is useful if you group keywords yourself during research.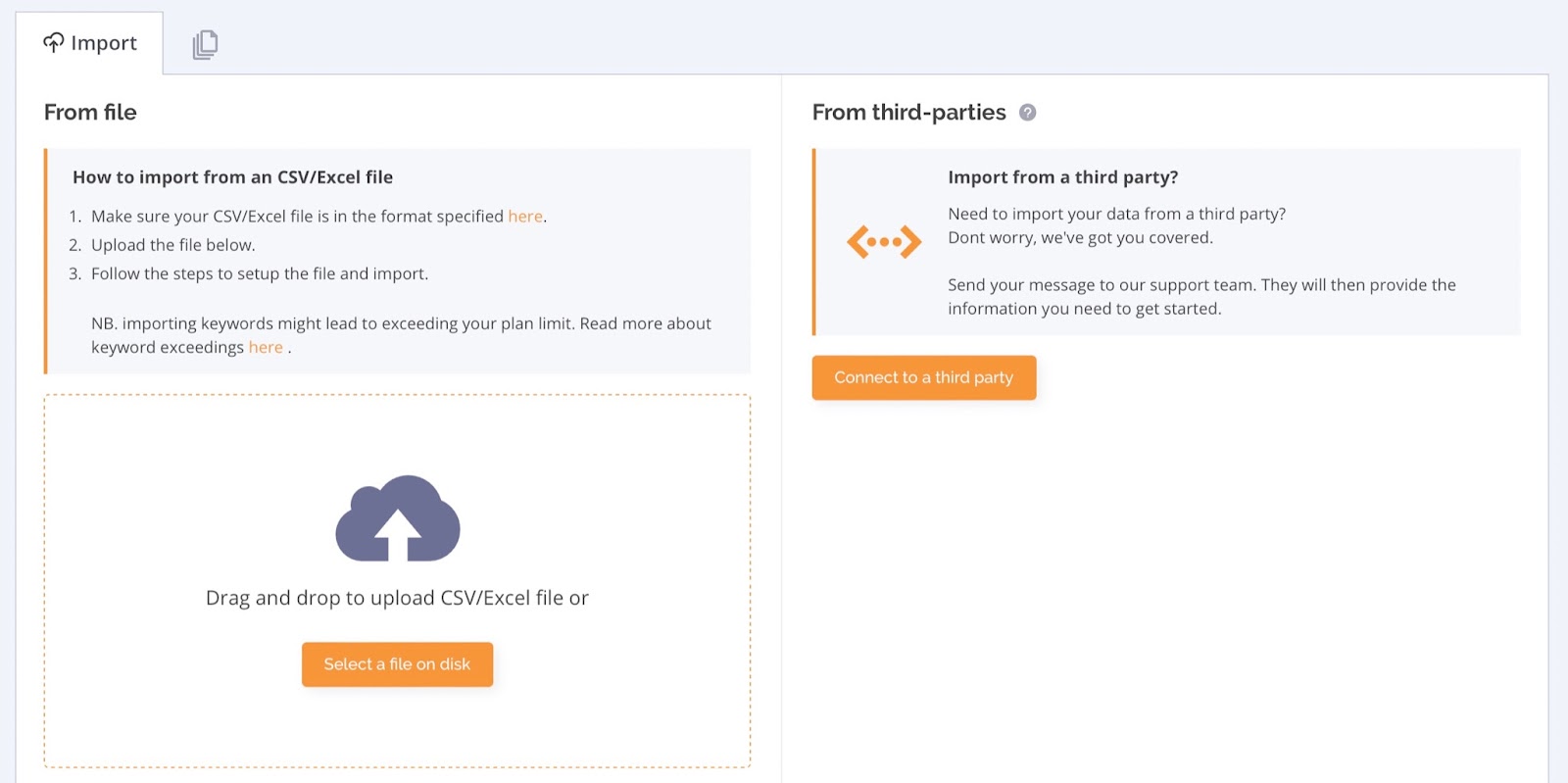 You can use the dynamic tagging function to create custom rules for grouping keywords.
The dynamic tagging feature supports creating rules for four areas:
Keyword
Landing page URL
Landing page title
Rank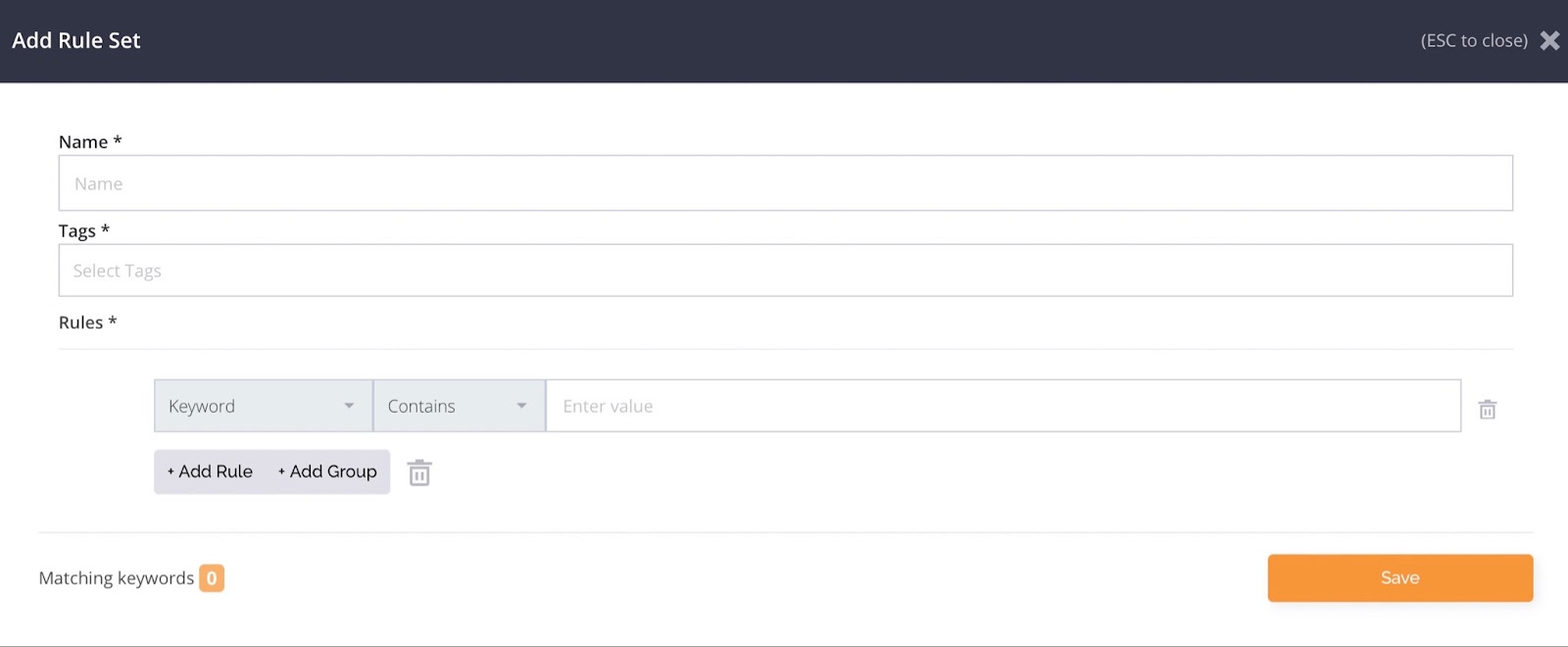 Accuranker tracks keywords across the most popular search engines used worldwide, including Google, Baidu, Bing, YouTube, and Yandex. Many rank trackers don't offer this.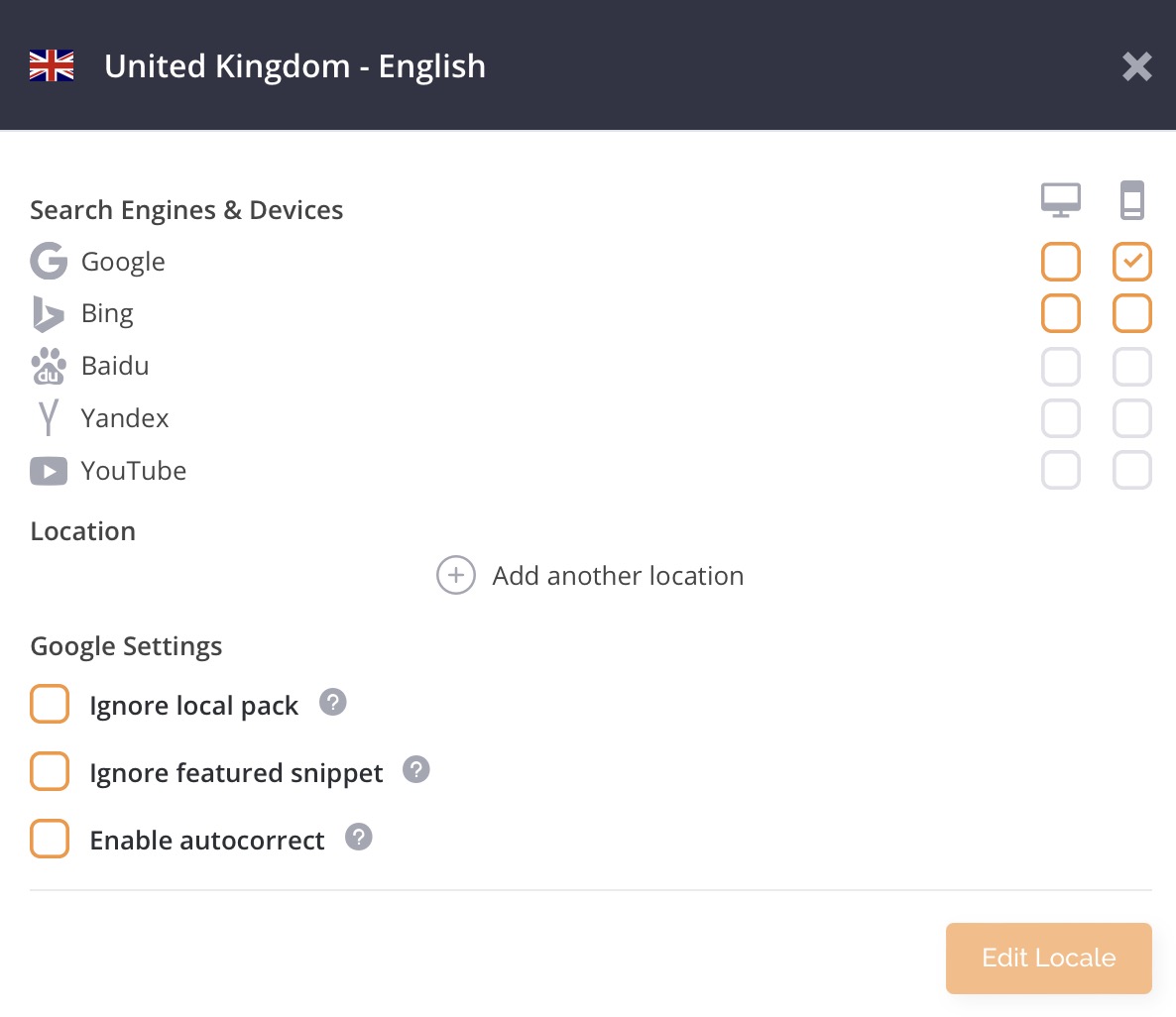 Accuranker counts the same keyword being tracked in different locations or search engines as separate searches. For example, tracking one keyword across two languages and two search engines will count as tracking four keywords.
Filtering
Accuranker provides a global filter that lets you filter quickly in multiple ways, including by tag, URL, keyword text, search volume, rank changes, and more.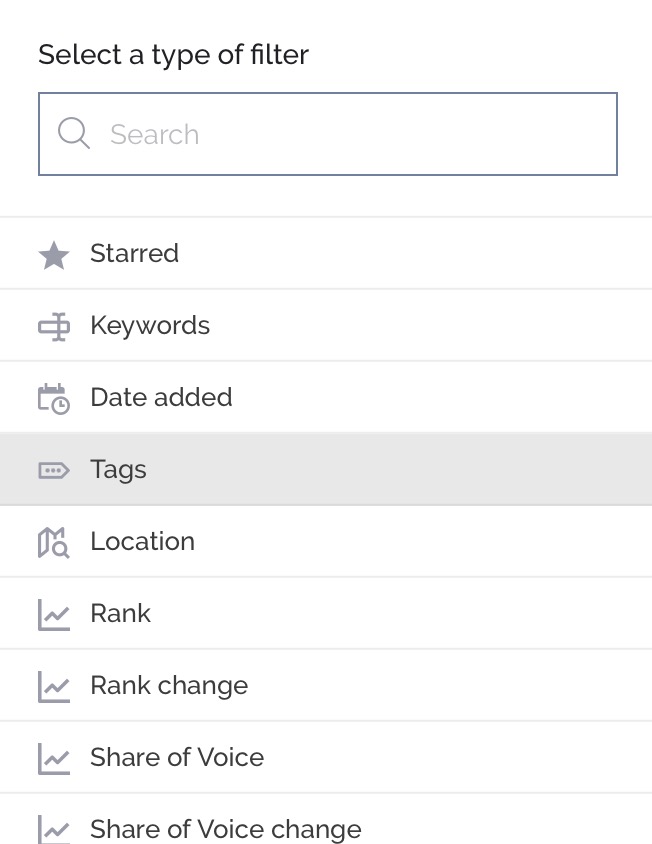 I cannot think of any way in which Accuranker could improve its filtering options. They do several things right, including:
Updating charts when filters are applied
Allowing multiple filters with AND/OR logic
Providing a filter for any tracked data
Enabling quick filter application from the main keyword report using table headers
Tag Cloud
The tag cloud tracks the performance of the tags you have added to your keywords. This is incredibly useful if you have grouped your keywords in detail. The data is presented in a chart at the top of the page, and you can select which tags you would like to view on the chart.

This report can be incredibly useful if you have tagged your keywords effectively. Personally, I find it better to use the filter options to filter for a tag and then go to the overview report.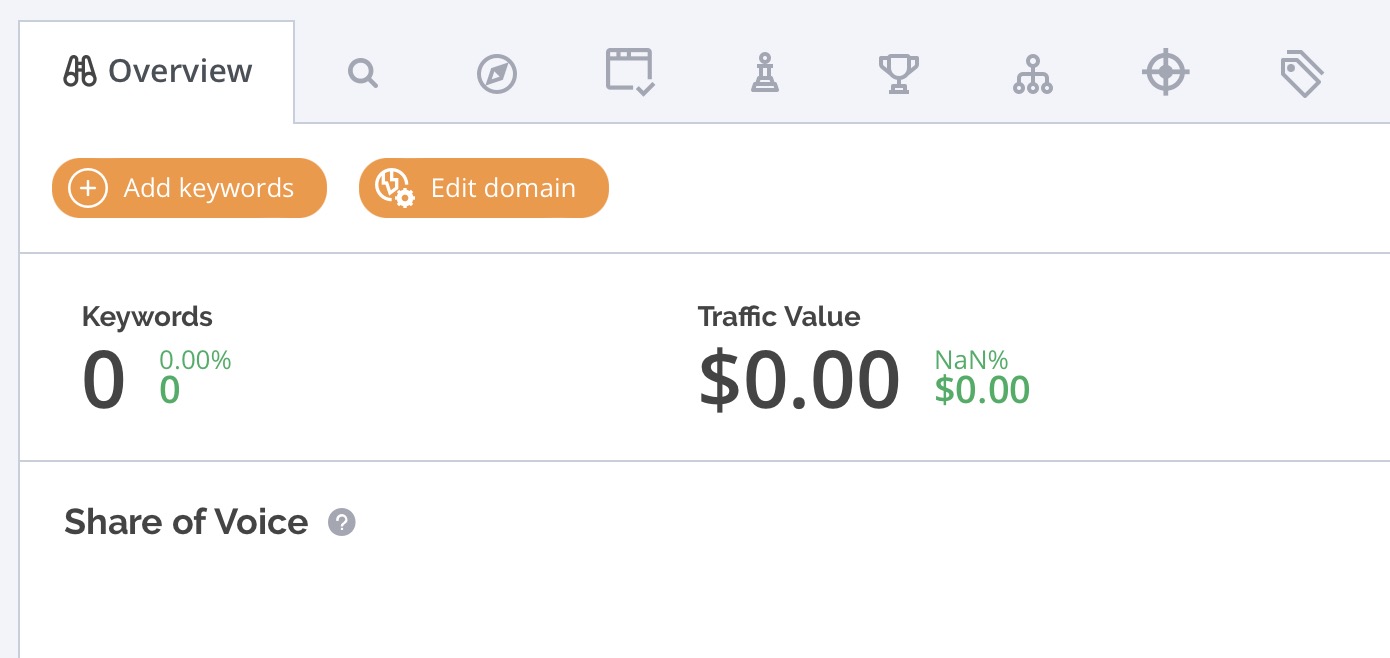 The overview report contains far more data points than this area, and its layout is much nicer. It would be nice if the tag cloud page presented more data in a similar fashion to the overview report.
Landing Page Reports
To learn more about landing page performance, click on the landing pages tab, which shows a chart at the top similar to what you'll find in the tag cloud report.

Below the chart, you'll find helpful information that overviews keyword data and search volume for each URL.

This report also includes plenty of extra useful information to help you understand which URLs provide the most value. Each individual URL has the following data:
Share of voice
Combined cost-per-click for all keywords
Amount of organic visitors
Average time spent
Average load time
Bounce rate
Goals
Revenue
Custom Reports
Accuranker allows you to create fully customizable reports to share with your team or clients. If your clients don't have much SEO knowledge, you can make these reports as simple as possible, including only the need-to-know information.
Reports can be scheduled daily, weekly, or monthly, giving you one less thing to consider. You can even automatically email these reports to specific email addresses on your chosen schedule.
Choose from one of the four existing templates or create your own.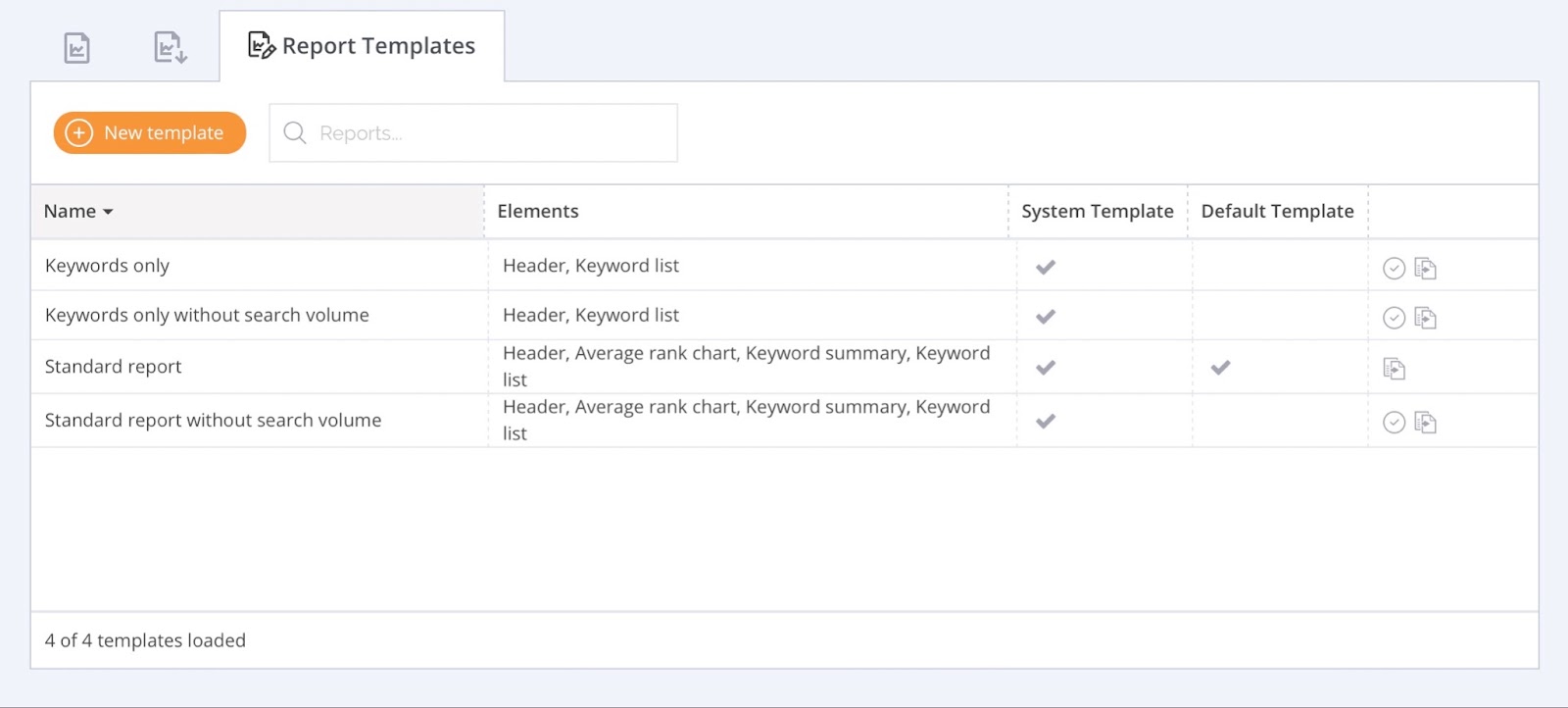 If you create your own custom template, you can save this to use for multiple domains, streamlining report creation.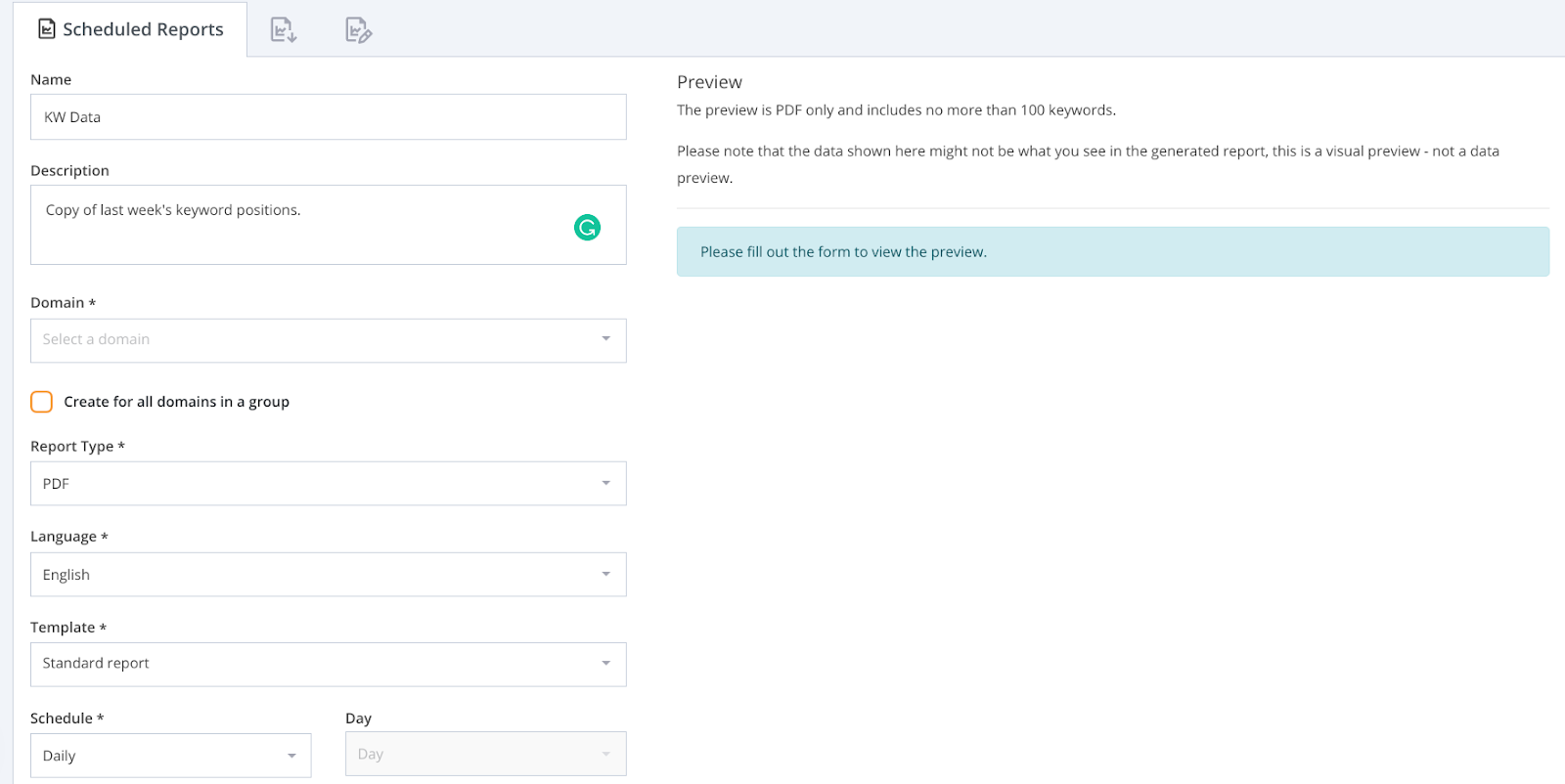 Each report can include data blocks such as average keyword rank, competitor rankings, and rank distribution.
Automating reports and reusing templates reduces the time required to assemble a report.
Competitor analysis
Acuranker's competitor features make it easier to monitor your competitors' performance and identify areas where you're winning or losing.
The tool provides competitor data in multiple areas. Within the "Competitors" tab, you'll find an interface similar to the tag cloud.

On the "Overview" tab, you'll see a list of dynamic competitors that aren't based on the ones you've requested Accuranker to track.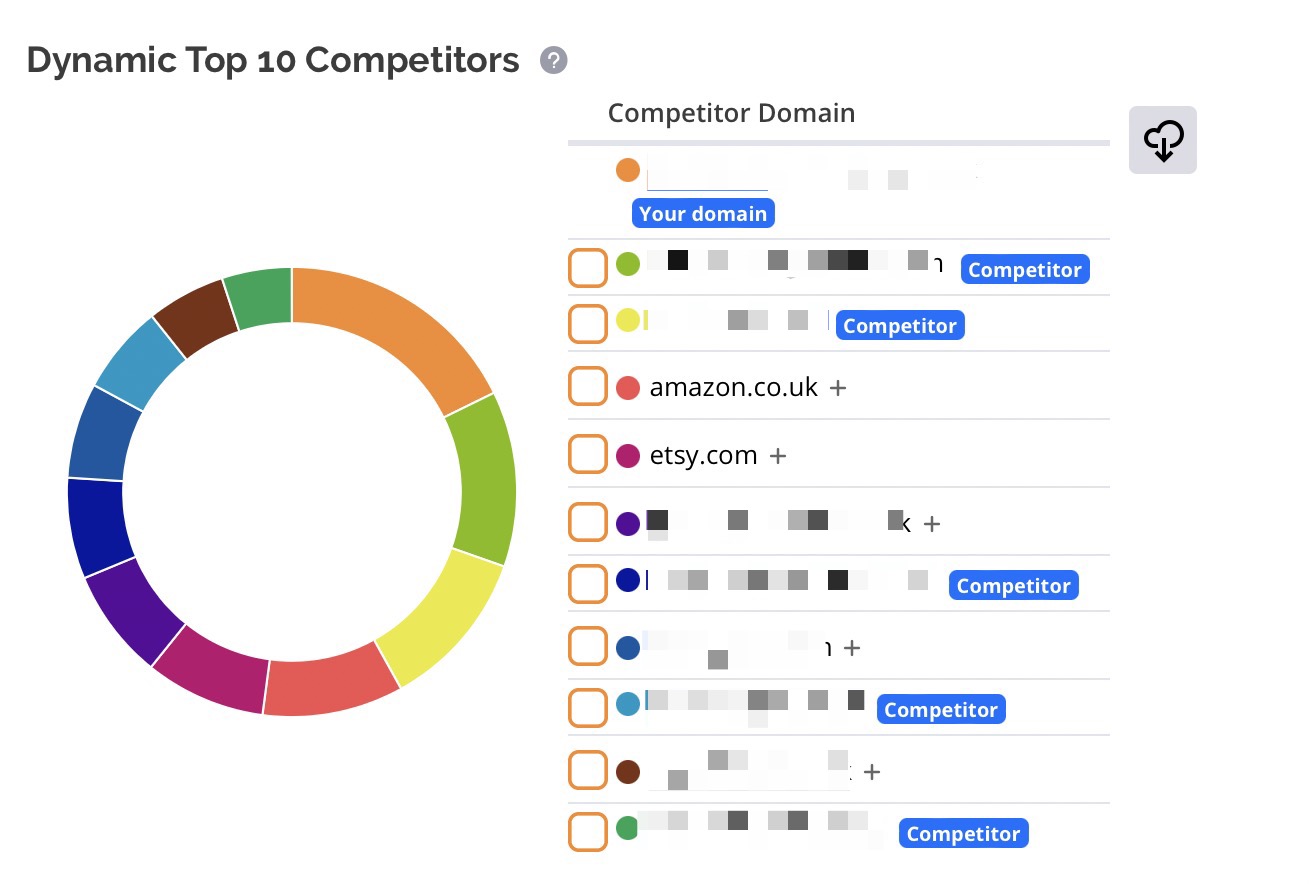 And then, for individual keywords, you also can overlay competitor data.

Accuranker's features make it an excellent tool for monitoring competitor rankings daily.
SERP features
One of Accuranker's key features is its ability to identify when you have claimed different SERP features.
Accuranker makes it easy to see what SERP features you're ranking for and which ones you're not, using icons next to each keyword in the keywords tab.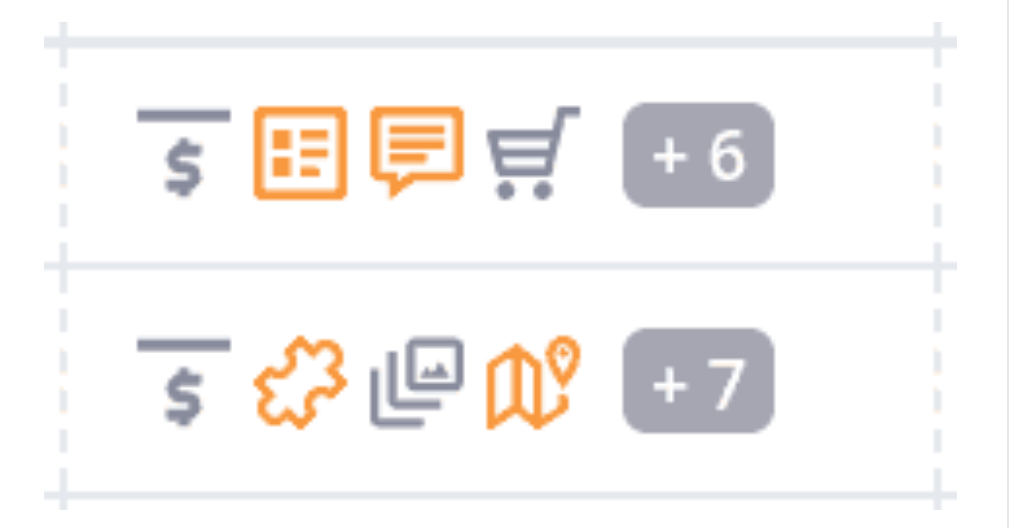 If the icon is orange, you have already claimed the spot for that SERP feature. The SERP feature is available for anyone to claim if it is gray.
In addition to showing SERP features in keyword reports, Accuranker also has a dedicated area to showing you which SERP features show up most frequently across your target keywords.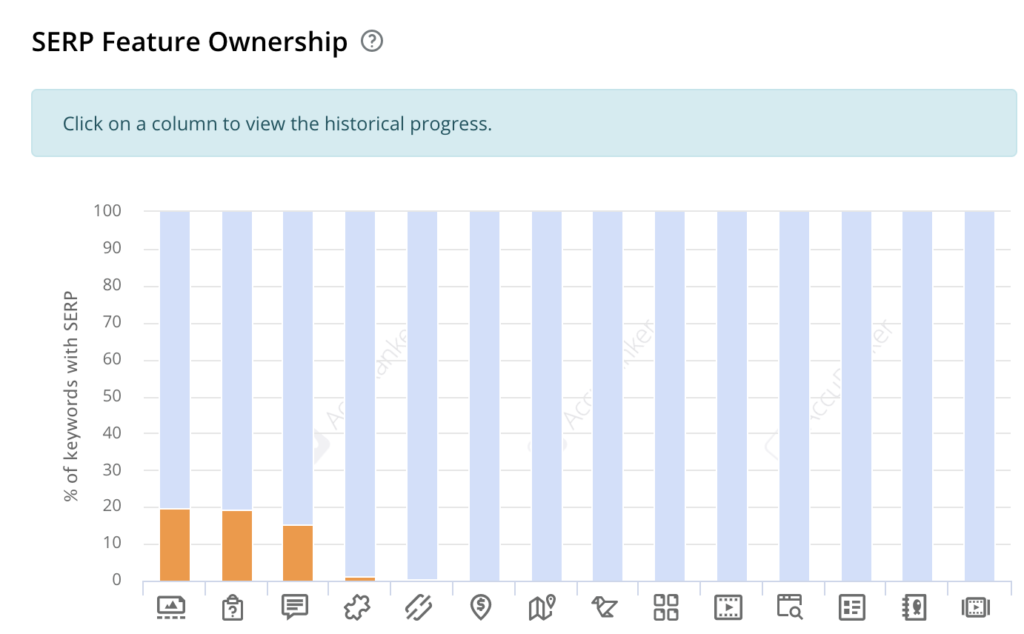 For each tracked SERP feature, you can also see any historical changes for how many you've captured.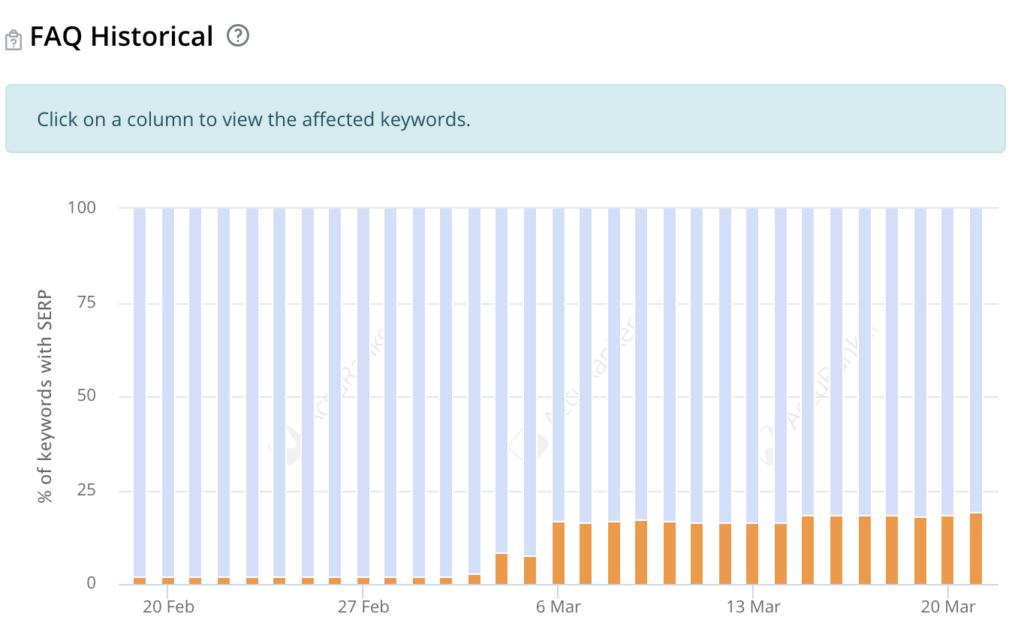 Accuranker offers comprehensive tracking for various SERP features. Here is the full list of what it tracks:
Knowledge Cards
Knowledge Panel
Featured Snippet
Direct Answer
Maps Local
Maps Local Teaser
Ads (Top)
Ads (Bottom)
Featured Video
Job Posting
Shopping
FAQ
Site Links
Site Links Searchbox
Related Questions
Reviews
Things To Do
Recipes
Apps
News
Carousel
Discover More Places
Popular Trips
Searches By Photos
Video Carousel
Video
Thumbnails
Refine Carousel
Tweets
Image Pack
Podcasts
Results About
Events
Flights
Hotel Pack
Popular Products
Research Product
Related Searches Carousel
Most Popular Carousel
In summary, if you need to monitor SERP features, Accuranker is a great tool for doing so.
Site Explorer
The organic site explorer provides an overview of your site's structure based on your ranking URLs. The report also provides insights into how many keywords Accuranker found that are not being tracked for each area of your site.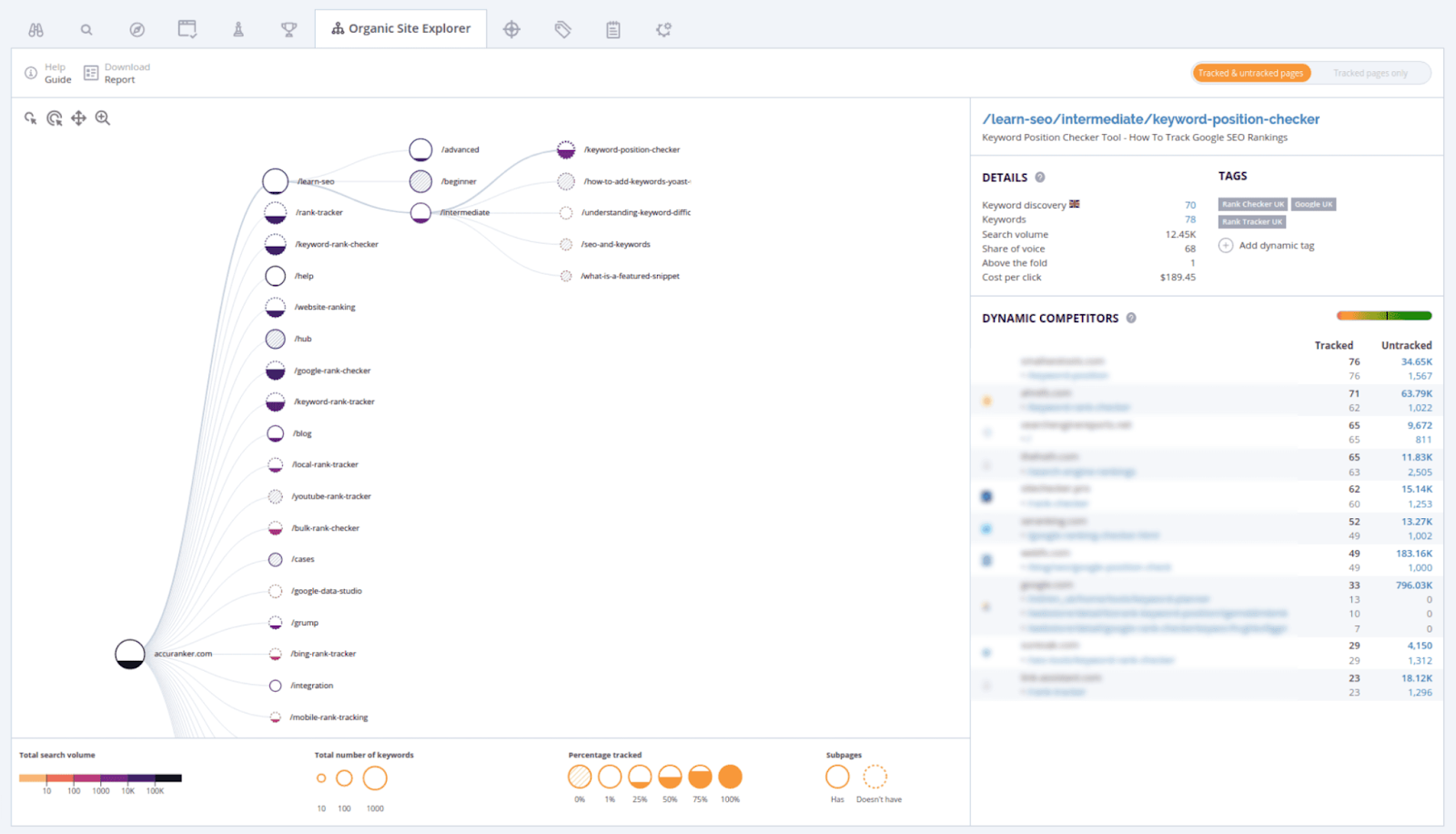 On the left chart, you can select a URL to view information about competitors and rankings for each individual landing page. The competitor data is especially useful in this report. For sites with structured URLs, you can use this report to see how your competitor landscape changes depending on your URL directories.
Information on tracked and new keywords are shown as circles.

The circles in this visualization represent the search volume and percentage of tracked keywords on a specific landing page. The darker and more full the circle is, the higher the search volume and percentage tracked.
Keyword Discovery
The keyword discovery tool is designed to supplement your existing keyword set by identifying keywords you're ranking for but not tracking. While Accuranker can assist with keyword research, it is less effective than dedicated keyword research tools like SEMrush or Ahrefs.
It's a nice feature to have but may not be very helpful if you already have research tools available.
Integrations
Integrating Google tools, such as Analytics, Search Console, and Data Studio is a quick and easy process with just one click. You can view the standard and advanced integrations available by clicking the integrations tab on the left-hand toolbar.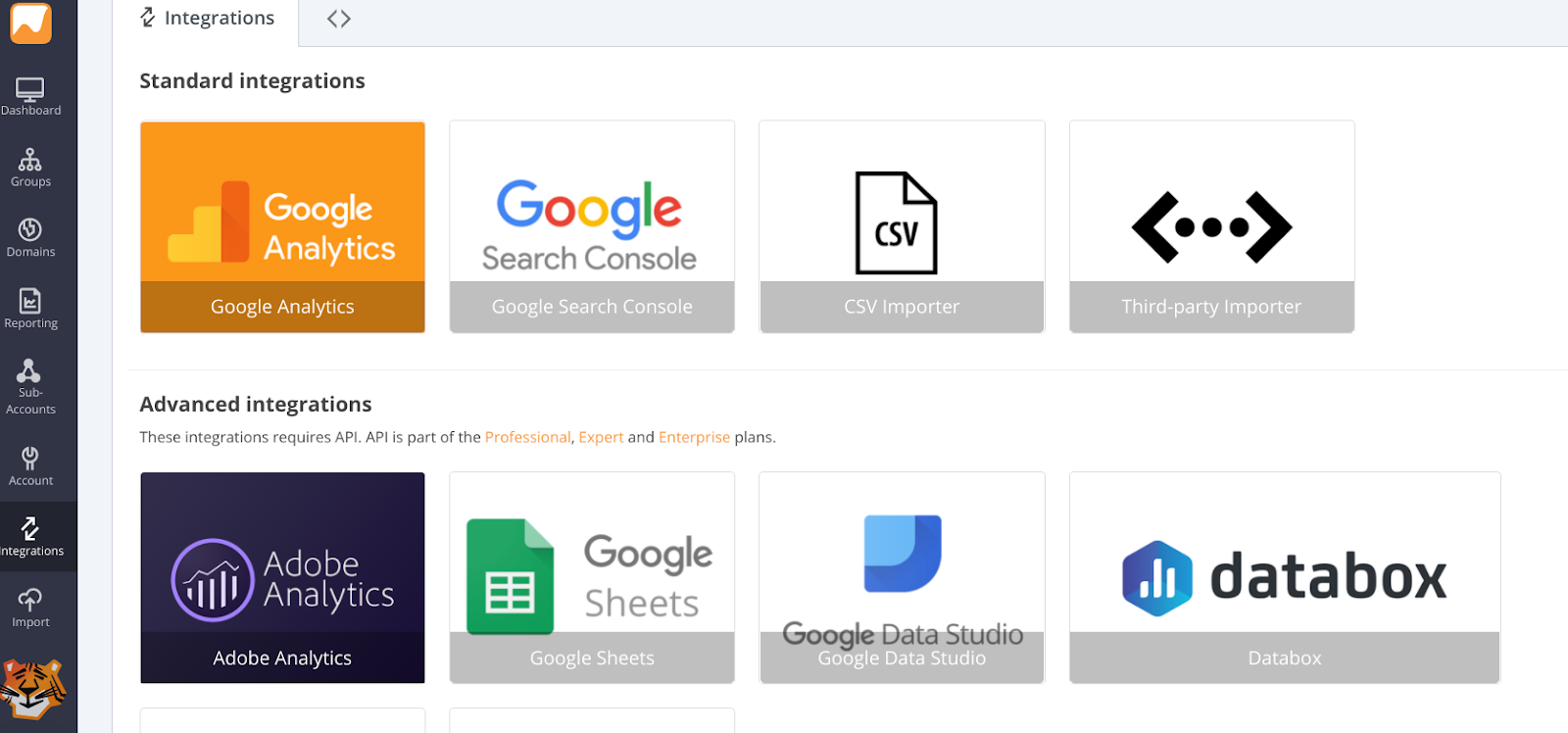 This review will cover the three most common integrations: Search Console, Google Analytics, and Data Studio.
Search Console
Connecting to Search Console provides an easy way to import keywords into Accuranker. Additionally, each keyword you track will display how many clicks and impressions they receive alongside their current rank.
To connect to Search Console, follow these two steps:
Go to the overview of the domain you want to link up, and you'll see the options for Search Console in one of the orange tabs.
Click "Connect to Search Console", and a pop-up will ask for the domain URL you want to use.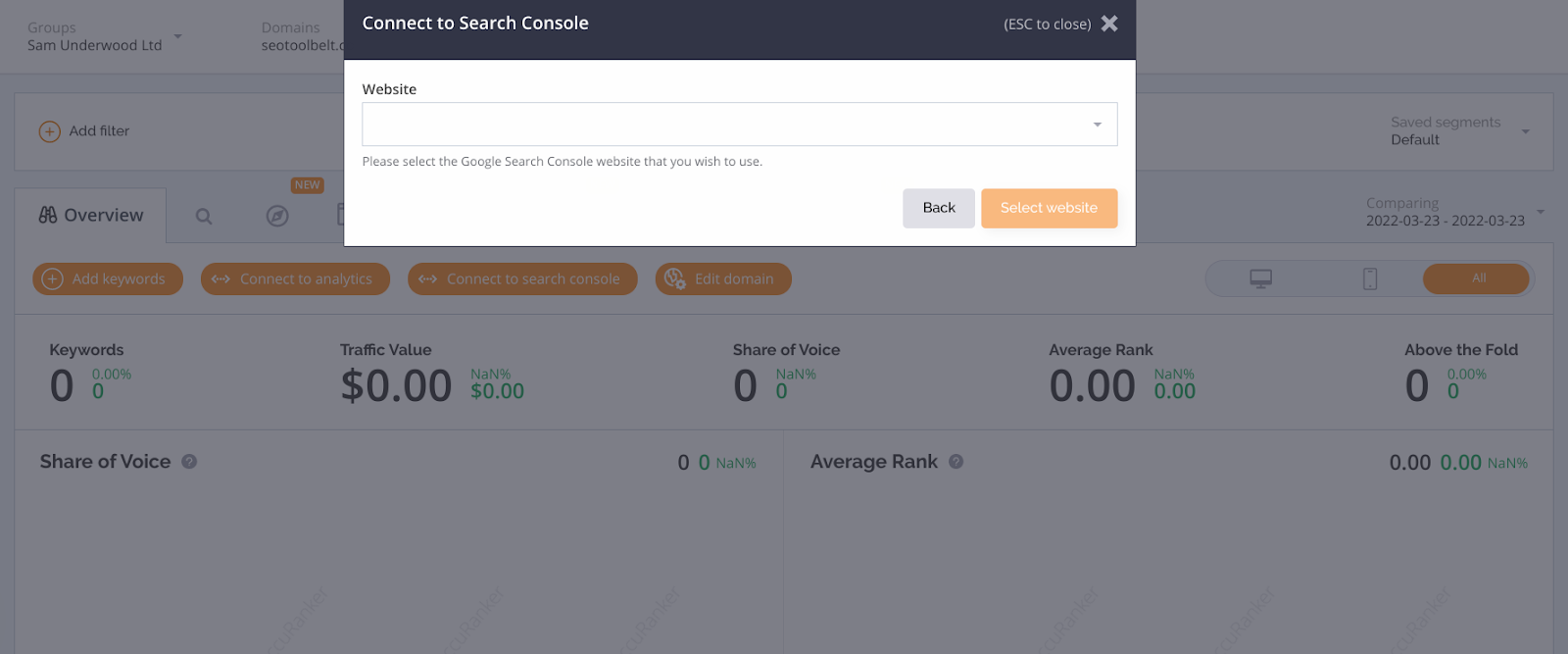 Connecting is as simple as clicking a button.
Google Analytics
You can connect your GA account by following the steps for connecting to Search Console, but choose to connect to Analytics.
After connecting, the overview tab for the domain will show updated GA data.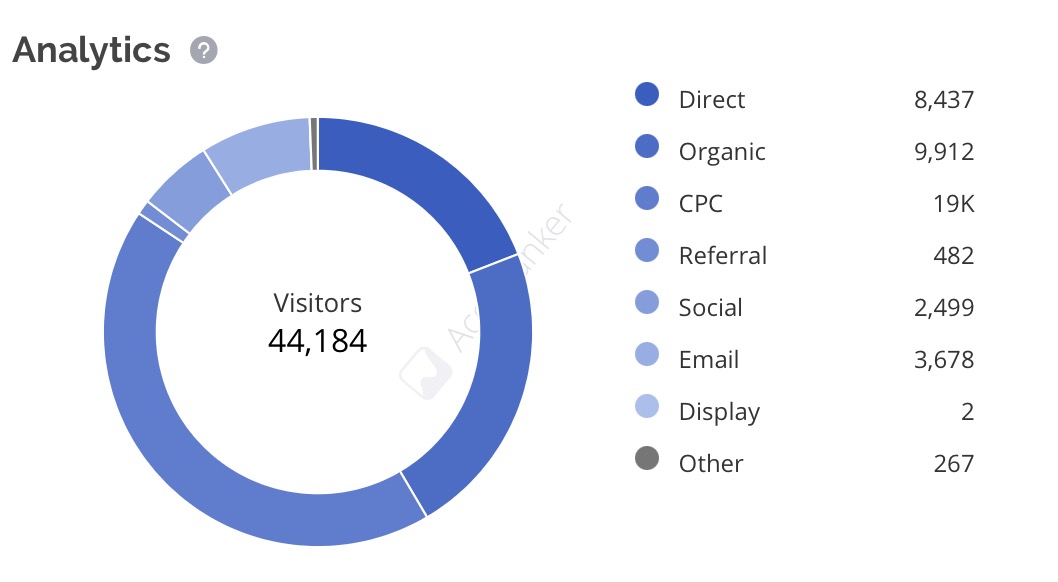 This is pretty useful data, making using Accuranker as your main tool for keeping an eye on performance easier.
Data studio
Connecting Data Studio to your account makes it easy to pull data from the tool for use in your own dashboard. Follow the same two steps mentioned above to connect to Data Studio.
The Data Studio integration is good, but I found it to be pretty slow when using it extensively. This may be a Data Studio rather than an Accuranker issue, but I hoped to see reports loading as fast as within Accuranker itself. Unfortunately, this isn't the case.
Other integrations
Accuranker offers more than three integration options. Other integrations include:
Adobe Analytics
Swydo
Hubspot
Accuranker covers the key integrations that most marketers would want from their rank tracker, and their API makes it easy to create custom integrations if you're looking for something bespoke.
Sub-accounts
If you're working with multiple clients across different sites, creating sub-accounts is handy. You can give access to your clients for an individual sub-account, so they can view information for their site only.

The ability to access other accounts within your Accuranker account is incredibly useful. Many clients may want to pay for their own subscriptions and own the ranking data themselves.
This feature makes it easy to do so without needing to sign out and into multiple accounts.
Google Grump
You may be wondering what the tiger on the left-hand side is doing there.
That's Google Grump.
The tiger's expression changes with Google's algorithm, and Accuranker provides it for free to everyone.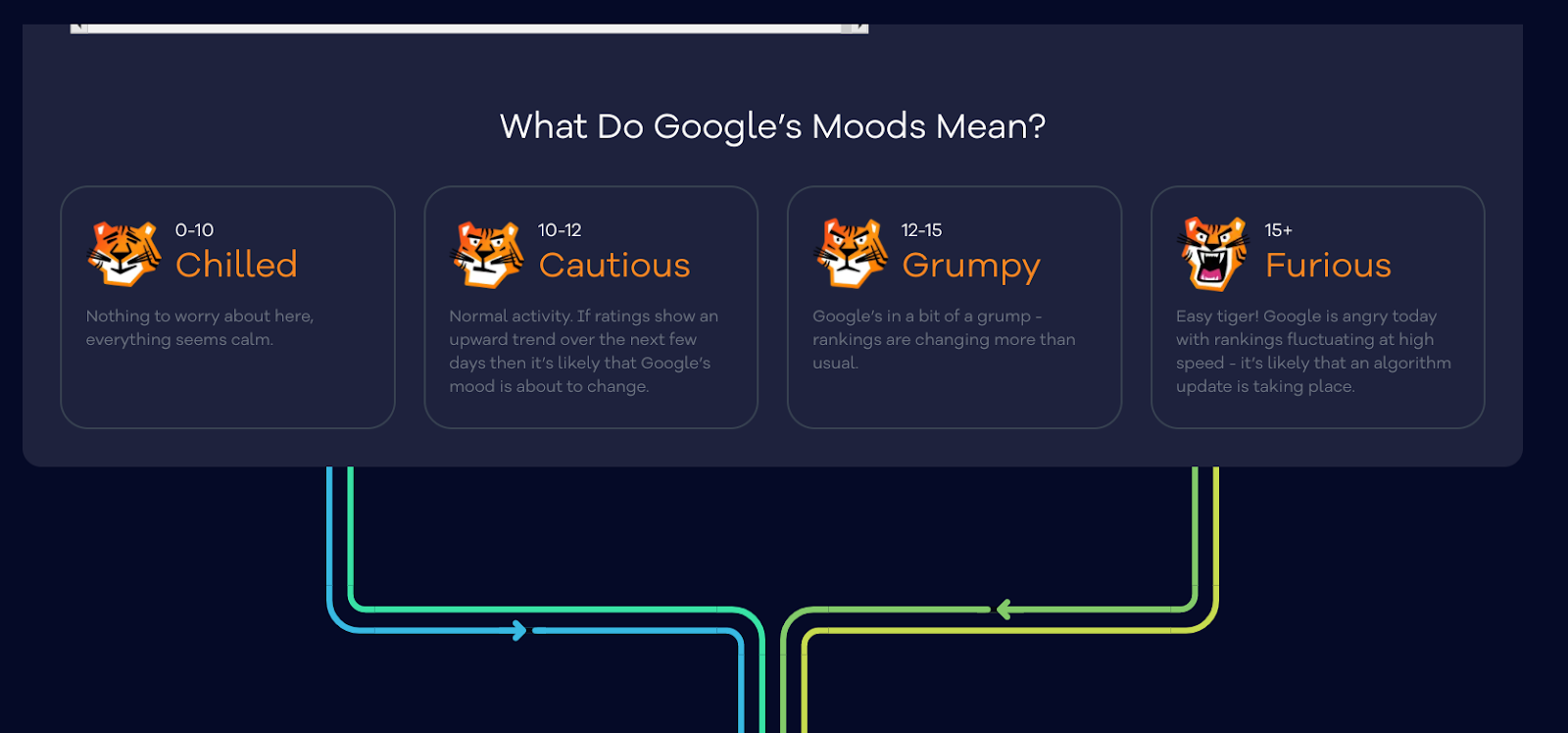 The tool is handy for keeping an eye on how volatile search results are each day, and the data is filterable for multiple locations.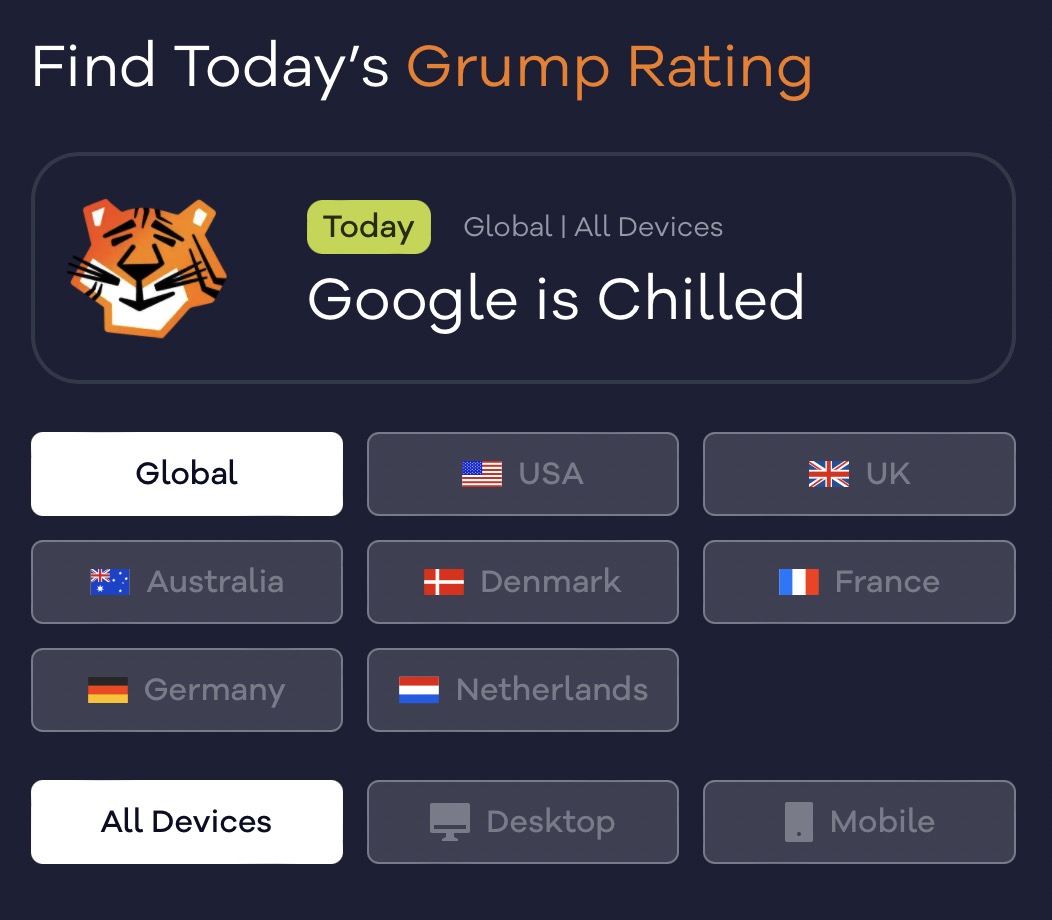 Additionally, you can set up email alerts to get automated Google Grump reports to your inbox.
While this isn't a core part of the tool, it's still incredibly useful and free!
Customer Support
Accuranker provides excellent customer support through three channels:
Live chat, available after signing up
Email
Phone number
Their response time is fast, and responses made to queries through live chat are also sent via email.
Additionally, Accuranker's customer help section is well worth checking out.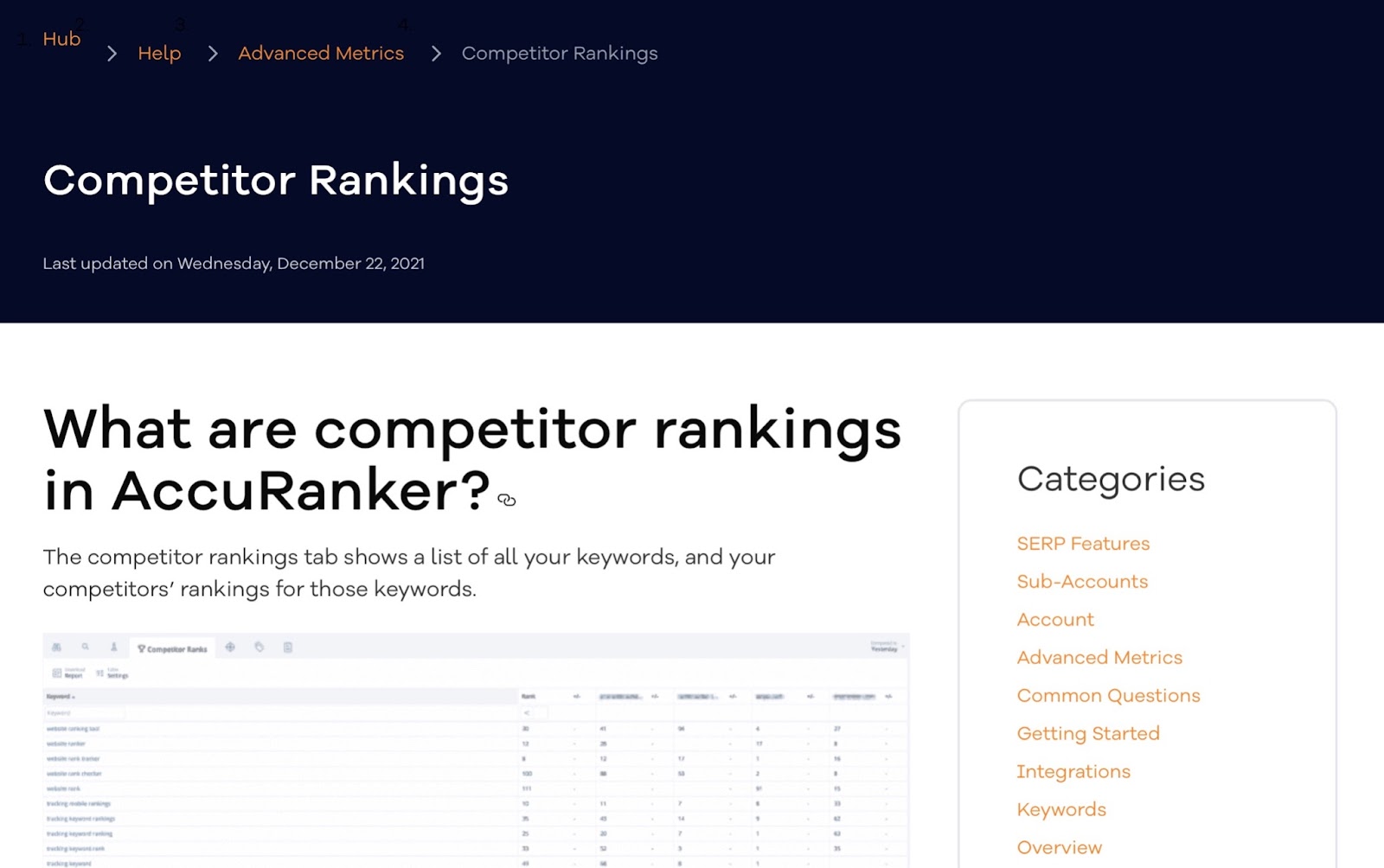 It's clear a lot of time has been spent creating in-depth guides to help you navigate the site and answer any questions you may have.
Pricing
Accuranker offers flexible monthly and annual subscriptions. You can upgrade, downgrade, or cancel your account at any time.
| Number of Keywords | Monthly Price | Yearly Price |
| --- | --- | --- |
| 1,000 | $129 | $116 |
| 2,000 | $249 | $224 |
| 5,000 | $609 | $548 |
| 15,000 | $1,089 | $764 |
| 30,000 | $1,809 | $1,628 |
| 50,000 | $2,769 | $2,492 |
An example of the different pricing tiers Accuranker has
Monthly
The minimum monthly plan starts at €99 with tracking for 1000 keywords daily. Access to monitoring a higher number of keywords is considered an upgrade and is reflected in an increase in the monthly price.
A subscription for tracking 20,000 keywords costs €869 per month, and it doesn't end there. You can continue to increase your monthly keyword limit to suit your requirements. If you're at an enterprise level, you can track up to 100,000+ keywords daily, but you will need to inquire about pricing for this amount.
Annually
Plans paid for annually share the same monthly allowance. However, annual subscriptions receive a 10% discount on the monthly price. E.g, a monthly plan at €99 works out as €89 each month but is paid as a total sum of €1068 annually.
While it's not the cheapest SEO tool, Accuranker's price plans are great value for money compared to similar tools.
You don't need to commit before buying; Accuranker also offers a 14-day free trial with tracking up to 100 keywords in that time.
Is the pricing fair?
The pricing for Accuranker seems is reasonable given how good of a rank tracker it is.
Alternatives to Accuranker
While we believe Accuranker to be a top-tier rank tracker, here are some great alternatives if you're not sold.
Rank tracking

Nightwatch

Nightwatch provides a more comprehensive SEO toolkit than Accuranker, making it an ideal choice for users seeking an all-in-one solution. Its robust features include backlink monitoring, site audit, and keyword research, delivering a more rounded approach to SEO strategy and performance analysis. With intuitive visualizations and customizable reporting, Nightwatch streamlines complex data for users of all skill levels.



All-in-one

SEMrush

SEMrush's comprehensive digital marketing suite sets it apart from Accuranker. With a wide range of tools covering SEO, PPC, content marketing, and social media, SEMrush caters to businesses looking for a holistic approach to online marketing. Its advanced keyword research, competitive analysis, and site audit capabilities make it a powerful solution for experienced marketers seeking in-depth insights and data-driven strategies.





Rank tracking

RankTracker

RankTracker.com offers a more cost-effective and multifaceted alternative to Accuranker. Alongside its precise rank tracking capabilities, the platform includes valuable tools such as a website auditor, SEO checklist, and backlink checker. The bundled tools make RankTracker.com an attractive option for users seeking an all-in-one SEO solution without breaking the bank. Its competitive pricing and comprehensive feature set make it a strong contender for businesses looking to optimize their SEO efforts.





Competitor analysis

Advanced Web Ranking

Advanced Web Ranking stands out with its powerful white-label reporting capabilities, making it an excellent choice for agencies and businesses managing multiple clients. In addition to accurate rank tracking, the platform offers competitor analysis, keyword research, and customizable alerts. Its scalable pricing options and team collaboration features cater to organizations of varying sizes, surpassing Accuranker in flexibility and customization.



All-in-one

Mangools

Mangools is a beginner-friendly, affordable alternative to Accuranker. Its suite of user-friendly tools, including KWFinder, SERPChecker, and SERPWatcher, covers essential aspects of SEO strategy. Mangools' intuitive interface and visually appealing reports simplify the learning curve for newcomers to SEO. Its competitive pricing tiers and 10-day free trial provide added value for users seeking a cost-effective, accessible rank tracking solution.


Final Thoughts
Accuranker is precise, fast, and reliable. I am confident that I am not alone when I say Accuranker is one of the best rank trackers on the market. From affordable plans to a great user experience, if you are thinking of investing in a tool, move Accuranker high up on your list.
---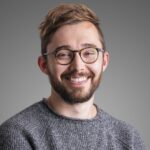 Sam Underwood
Sam is an international Ecommerce SEO Consultant with experience implementing enterprise-level SEO strategies.