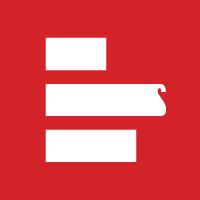 Supermetrics review
Supermetrics is the go to tool for reporting, analytics and storage across all platforms, including easy to read dashboards for both marketers and non-marketers.
4.5

Author:

Sam Underwood
Visit site
---
About Supermetrics
Data Studio

Excel

Google Sheets

Web Application
---
Pros
Use connectors to pull data from hundreds of data sources.

It doesn't require credit card information, and there's no auto-billing when your trial ends.

No coding is required, thanks to pre-built data connectors.

You only pay for what you need.

It supports a large variety of data source connectors.

It offers a free 14-day, fully-featured trial.

Supermetrics speeds up your productivity and eliminates redundancies.
Cons
Small businesses with small budgets might find it pricey.

It takes a little while to set up the initial data source connection.

It only supports multiple users on higher tier plans.

Customer support has a lot of room for improvement.
---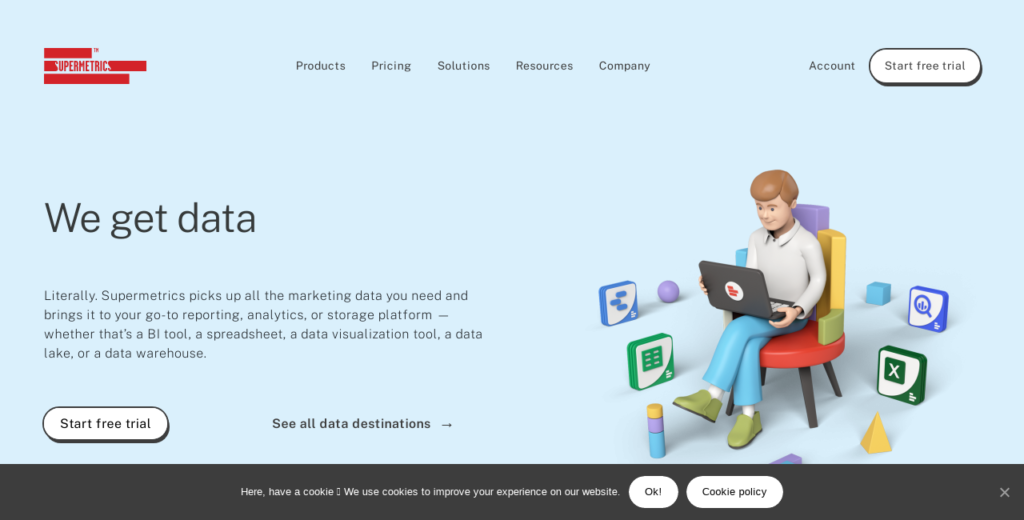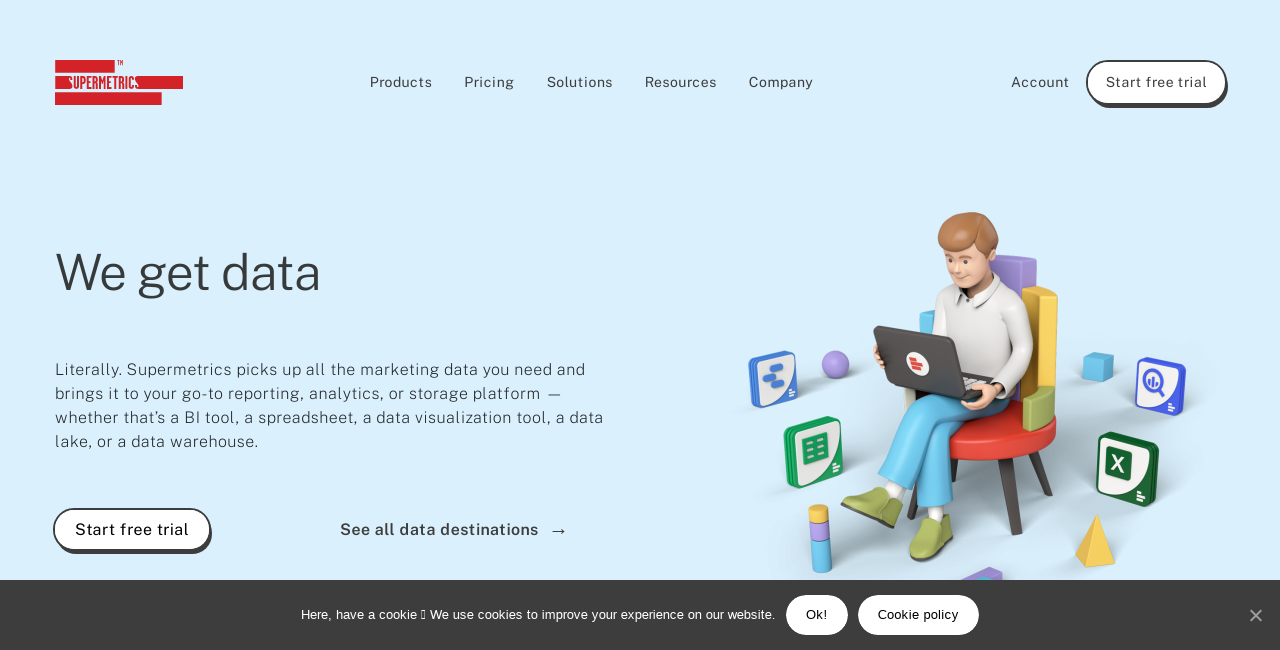 Supermetrics is a data pipeline tool that helps you connect all your favorite data sources to data-processing applications. It provides a unique product, covering data reporting to analytics and storage.
Supermetrics has many great features, but there are a few drawbacks. I'll explore the user experience, shine a light on the great features, and touch on where it falls short.
What is Supermetrics?
Supermetrics is a business analytics tool that simplifies various marketing processes by pulling data from multiple sources and sending them to an accessible location. That location could be a spreadsheet like Google Sheets or a data warehouse like BigQuery.
Supermetrics' main aim is to help you simplify business reporting.
It helps businesses improve data management, aiding smarter and faster business decisions.
You can easily connect your business apps and extract data from them. You can also ship them off to data warehouses instead of manually pulling and transferring data from one location to another. Automating the action can save time and eliminate human error.
The software is especially convenient for dealing with large datasets and extensive data operations.
Overview of Key Features
Supermetrics provides different marketing solutions, from data visualization and analytics to report scheduling and automation. Here are some of its top integration features:
Data Studio – Supermetrics integrates over 100 business platforms, blends data from different sources, and creates interactive cross-channel reports.
Google Sheets – The sidebar panel allows you to pull metrics and dimensions directly into selected cells. With Supermetrics, you can extract data from any source and perform scheduled refreshes within Google Sheets.
Excel – The software eliminates copying and pasting data by connecting to your accounts and pulling the data directly into Excel.
BigQuery – Supermetrics gathers and consolidates data from your sales and marketing platforms to track and manage business revenue.
Snowflake – The tool lets you build custom tables for Snowflake. You can edit, customize, and save extraction schemas for future use.
Azure Synapse – Supermetrics provides end-to-end encryption while transferring marketing data to the Microsoft ecosystem. You can quickly move data from Azure storage to PowerBI for analysis.
Azure SQL Database – You can store your cross-channel analysis data in a central location and automate data transfers into the Azure SQL database.
Amazon S3 – Supermetrics offers templated and customizable data configurations. You can also design a schema and send it to your data lake.
Google Cloud Storage – You can store all your marketing data from siloed platforms on your Google Cloud Storage.
Azure Storage – Supermetrics helps you move data to your Azure storage without running scripts or data extraction operations.
Supermetrics Charts – This tool provides visualizations that enhance Google Data Studio's visual capabilities. You can monitor and manage your website's conversions, checkouts, and add-to-cart ratio.
Supermetrics Uploader – automatically uploads ad spend data from marketing and advertising networks to Google Analytics. You can easily track your ad ROI.
Supermetrics API – Efficiently extracts marketing data and feeds it into Power BI, Tableau, Qlik, other BI tools, or data warehouse supporting JSON or CSV inputs.
Data Connectors – Supermetrics offers quality data connectors for eCommerce, sales, SEO, web analytics, social media platforms, and more.
Professional Services – include product training, consulting and dashboard-building services, and tailored training sessions for your team.
Features
Supermetrics allows you to control your data connection in one place for easy reporting and analysis. They offer 15 different products that you can choose from and that suit your unique business needs.
Let's explore these products.
Data Studio
Google Data Studio is a data visualization tool for creating cross-channel business and marketing reports.
Supermetrics for Data Studio helps you connect your business data from multiple sources to Google Data Studio, including:
CRMs like HubSpot
Social media sources like Facebook, Instagram, or Pinterest
Advertising solution providers like AdRoll or Google Ads.
Email and newsletters for brands like MailChimp.
Data warehouses that support JSON or XML.
eCommerce connectors for platforms like Shopify.
And hundreds of other data sources.
Once you purchase the product or sign up for the free trial, Supermetrics redirects you to a connector page to add it to your Google Data Studio.
Let's assume we try to connect Reddit data to Google Data Studio using the Supermetrics connector for Reddit Public Data.
First, select the data source, in this case, Reddit Public Data: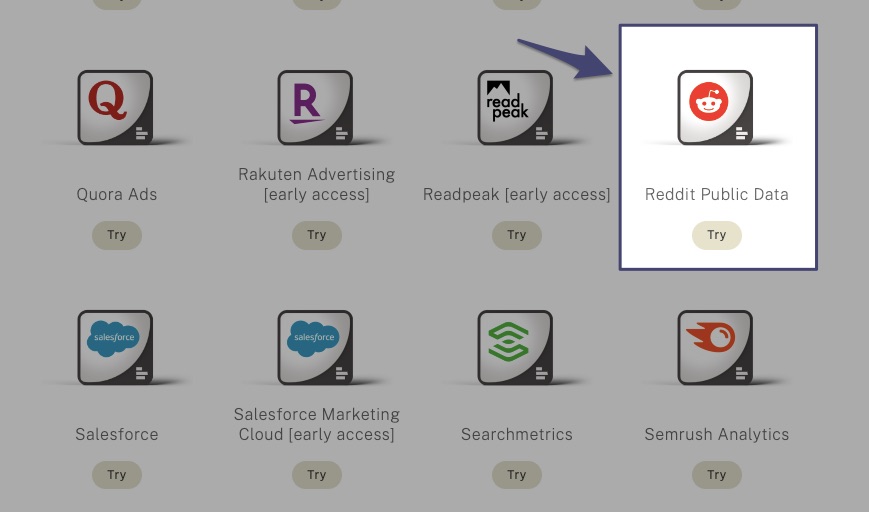 Name the data source for reference in Data Studio.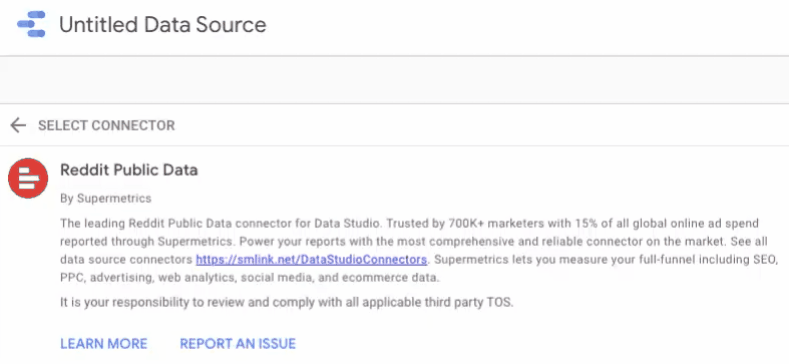 The authorization message would be, "Data Studio requires authorization to connect to data." Click the Authorize button to initiate the data authorization process.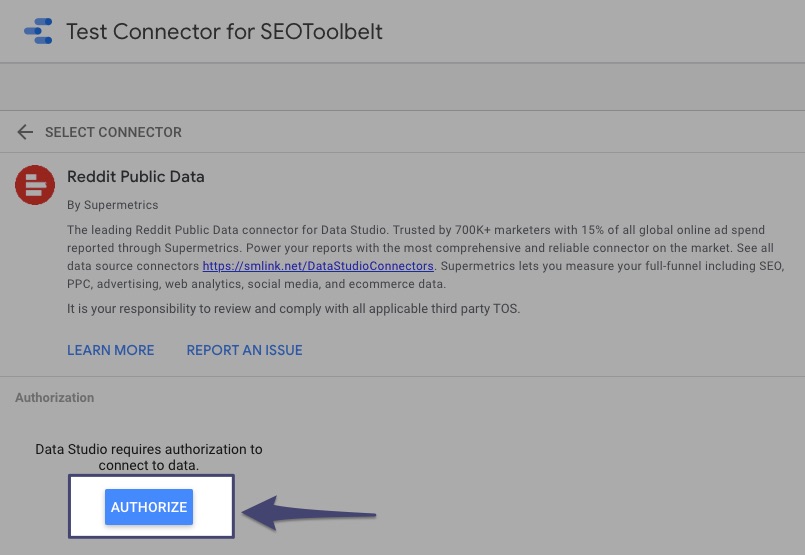 Connect to your Google account.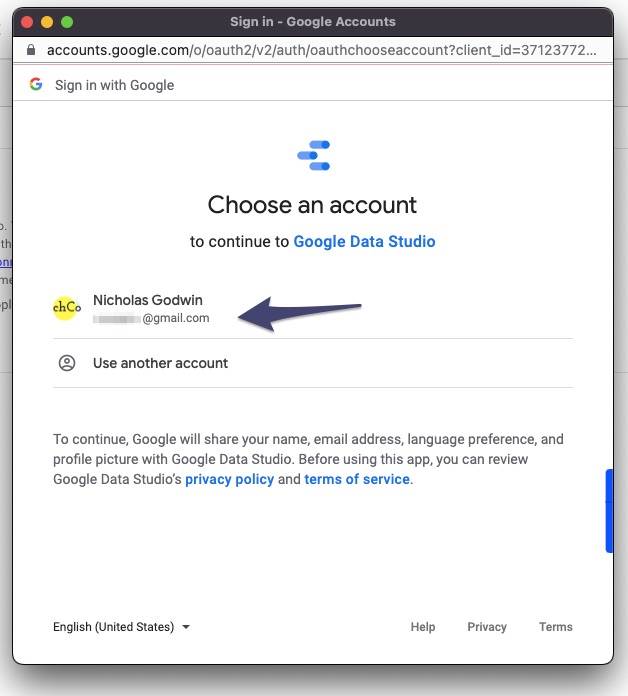 Notice the change in the authorization message, "Data Studio requires authorization to use this community connector."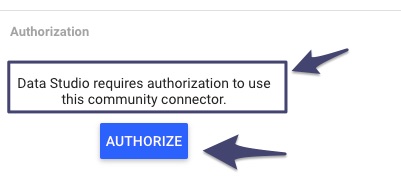 Click Authorize again to log in to Supermetrics.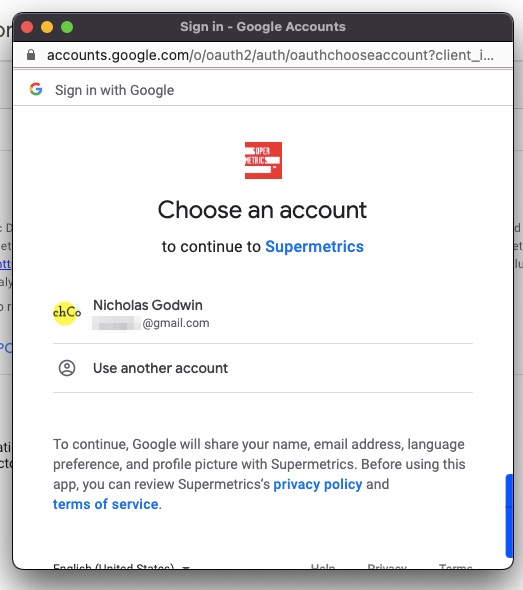 You might go through a series of authorizations. For example, I'll grant permission to Reddit Public Data.

When this is done, you'll get a success message.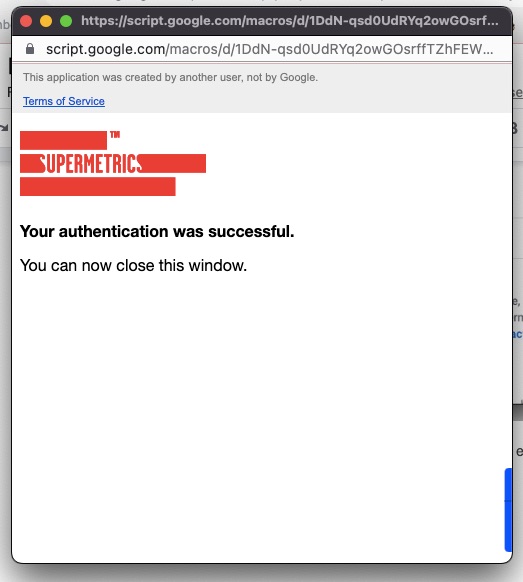 Now that you've connected the Supermetrics connector to your Google Data Studio, you can start pulling data from the data source.

I used this Reddit Public Data to pull data from Reddit posts.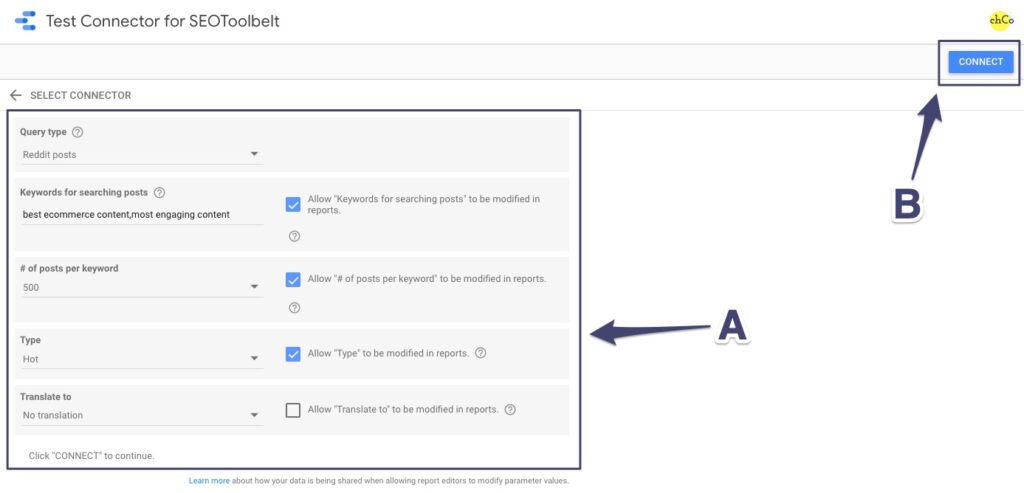 I'd fill out the form to pull the data and then click the blue Connect button to initiate the process.
Google Sheets
After installing the Supermetrics plugin from your Google Workspace Marketplace, open your Google Sheets to create your report.

Select your data source, date, metrics, dimensions, and segments for your analysis.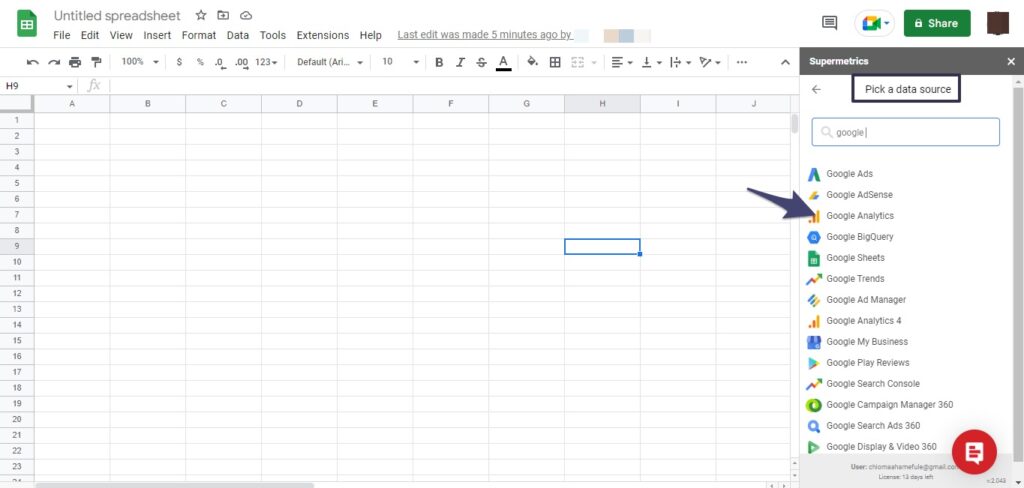 Supermetrics would run your query and transfer your data sets from your desired platform to Google Sheets.
You can now view your platform's new and old users, sessions, average page views, bounce rates, and more.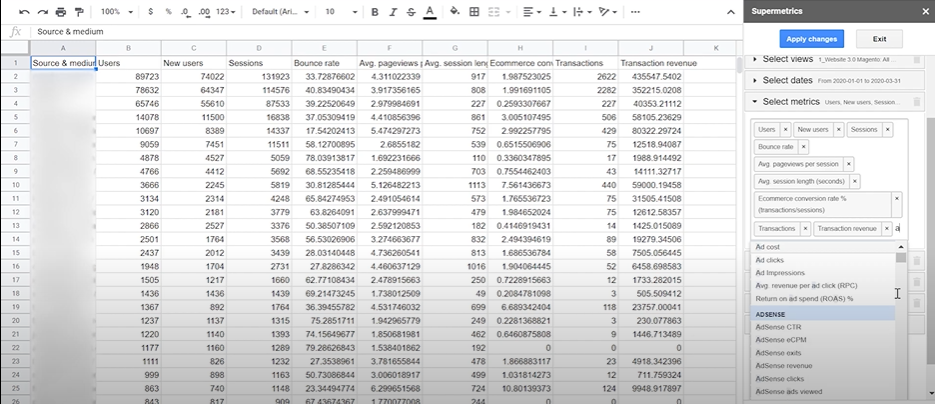 Excel
Supermetrics for Excel works similarly to Google Sheets. You can import data from various platforms and access all Supermetrics' features.
Unlike Google Sheets, Excel has no limit for cell count, making it ideal for storing larger datasets.
You can install the Supermetrics add-on for Excel desktop or Excel online.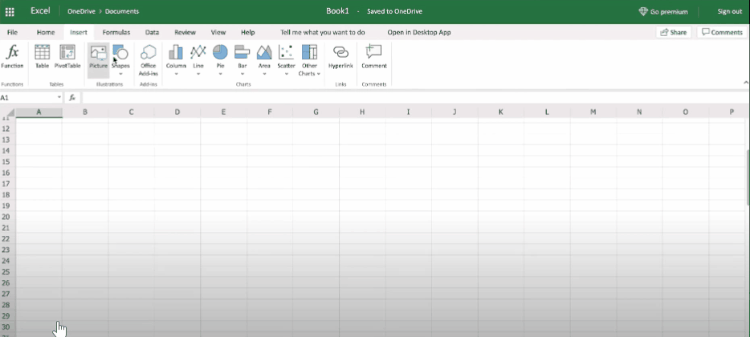 Then, connect your Excel to all your marketing platforms to import your data. When you finish, it should look something like this: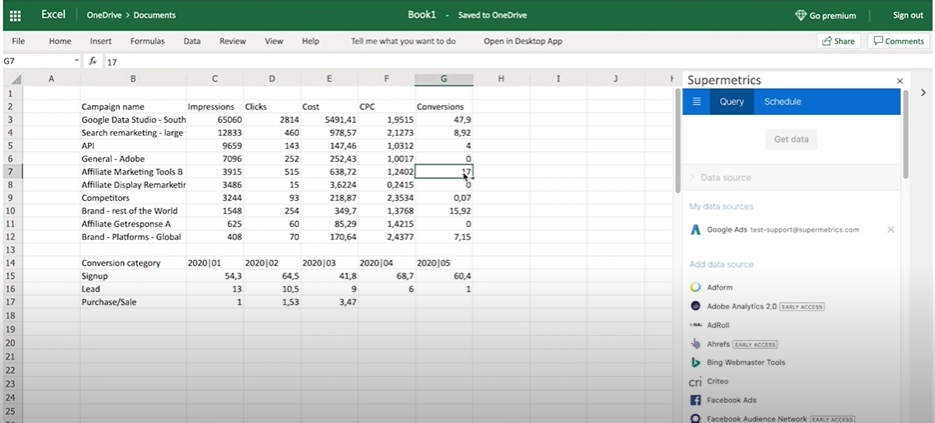 If you want to modify your queries, you can click on the cells with your data and refresh to complete the action.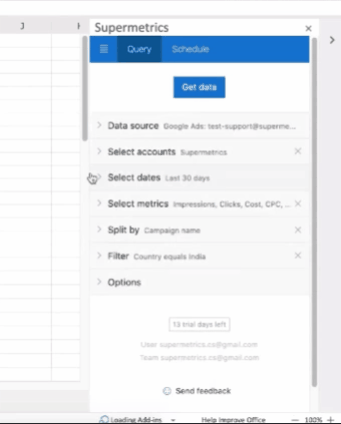 BigQuery
This tool showcases Google Cloud's processing powers. You can compare paid marketing campaigns across all your networks and platforms.
Sign up for the trial version of Supermetrics for BigQuery to link your advertising data with web analytics or CRM data.
After signing up, you'll end up here: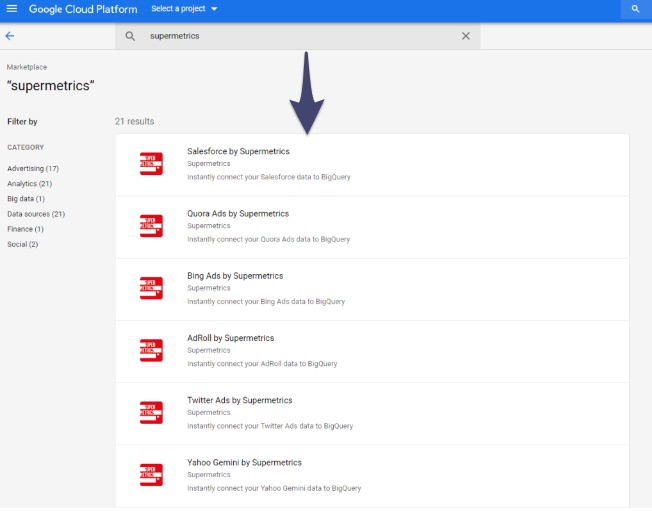 After selecting your data source, you can create a project and dataset. You can also import data from BigQuery to Power BI for proper visualization.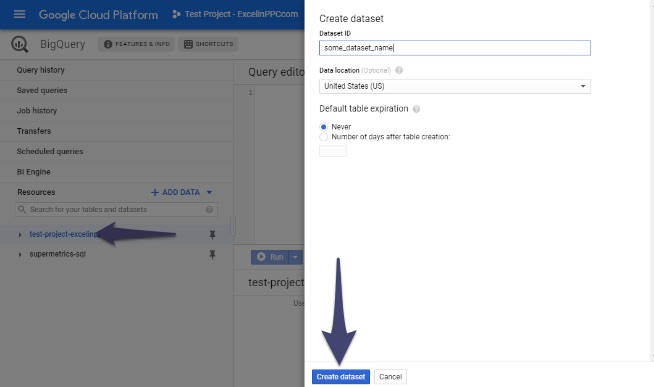 Snowflake
With Supermetrics for Snowflake, you move data from your marketing platforms into your Snowflake instances.
Log in to Supermetrics and click on the Integrations tab to choose your destinations.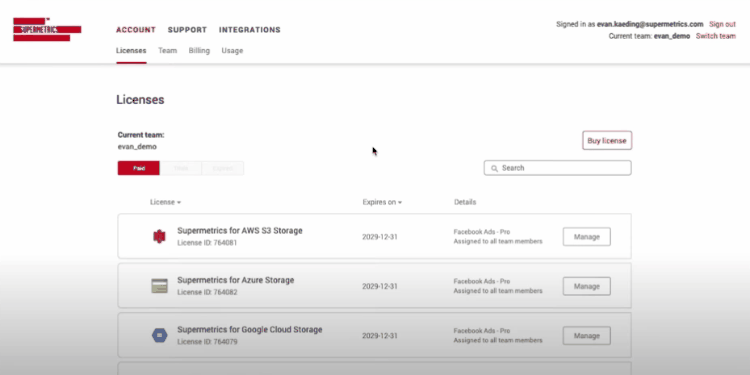 After testing your connection, select the accounts you want to pull your data from and authenticate on Supermetrics. Then, choose the backfill option to flood your Snowflake with historical data from your sources.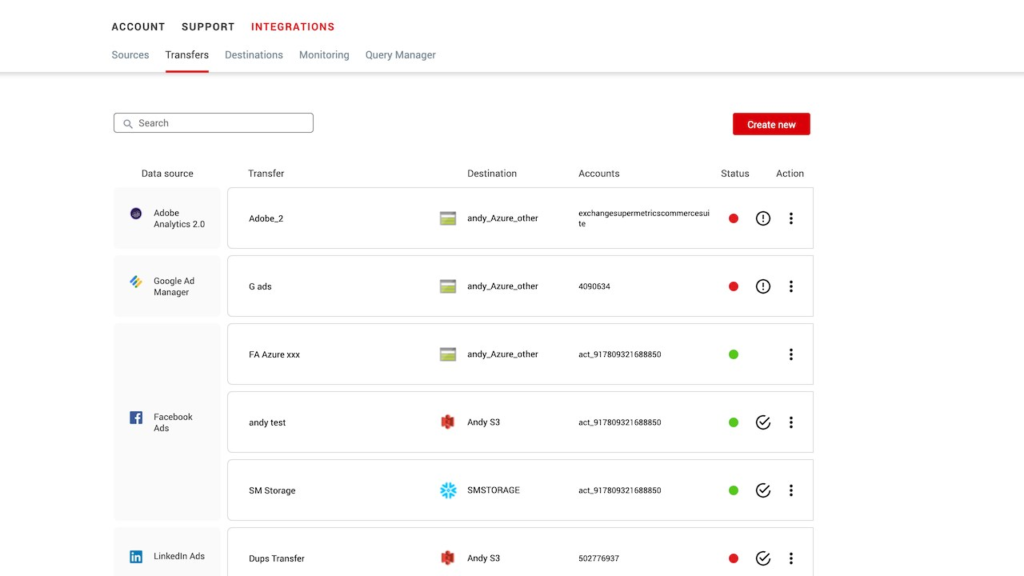 Azure Synapse
You can move your Azure Synapse data to Data Studio for visualization or Excel and Google Sheets for data analysis.
Like Snowflake, you can set up your transfers within minutes and create custom schemas unique to your business needs.
Supermetrics helps you automate your data transfers efficiently into Azure Synapse Analytics.
Azure SQL Database
Supermetrics offers end-to-end encryption while moving your data within Microsoft's ecosystem. It also promotes quick transfer to Power BI for further data analysis.
You can also create custom schemas if the standard templates don't satisfy your business needs. Then, from your dashboard, you can manage, edit, save, and reuse the schemas when necessary.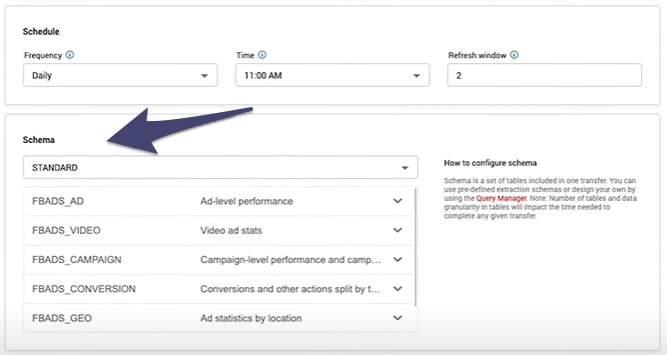 Amazon S3
Supermetrics makes it easy to manage your data pipeline on Amazon S3. The process is automated, so all you can do is connect your data source, select the data type, and begin the transfer.
Before using the tool, you need to fulfill specific prerequisites, like having an existing Amazon S3 bucket set as your destination. You'll also need your AWS access key to authorize the use of the destination.

Learn how to transfer your first dataset here.
Google Cloud Storage
Supermetrics stores your data with Google Cloud Storage to minimize outage risks. It also guarantees high uptime during transfers.
Before transferring your data to cloud storage, you should configure a destination on the Supermetrics Team Site.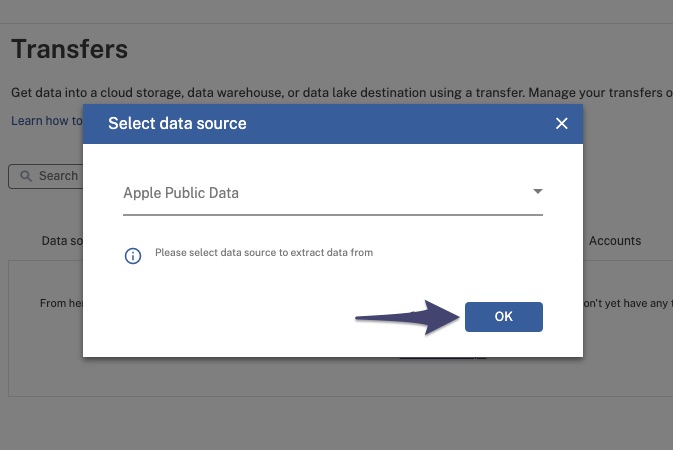 Choose your data source, storage name, and destination.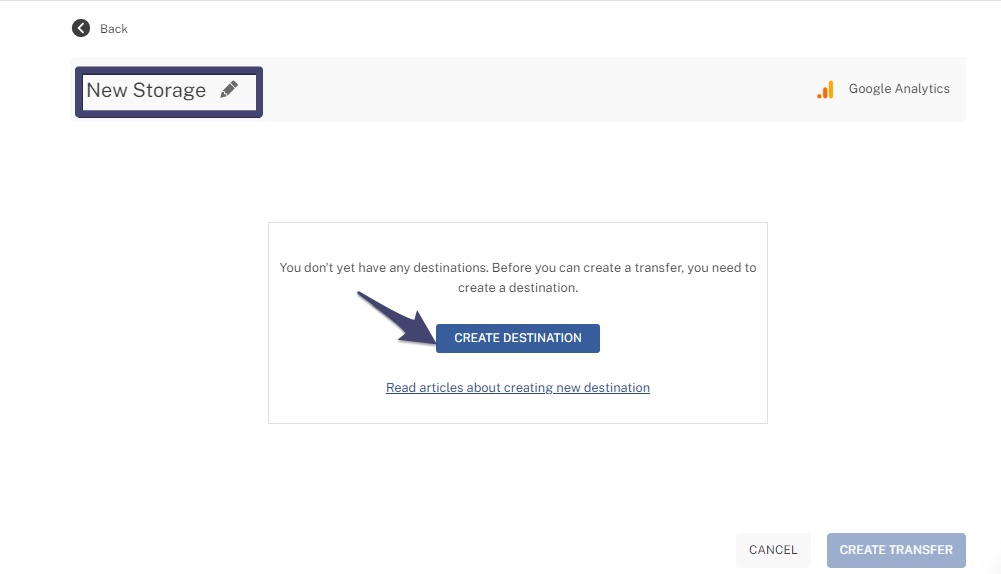 After filling in the necessary details, test the configuration and save it. Then, depending on your business needs or partition strategy, you could move your data to multiple locations within the cloud storage.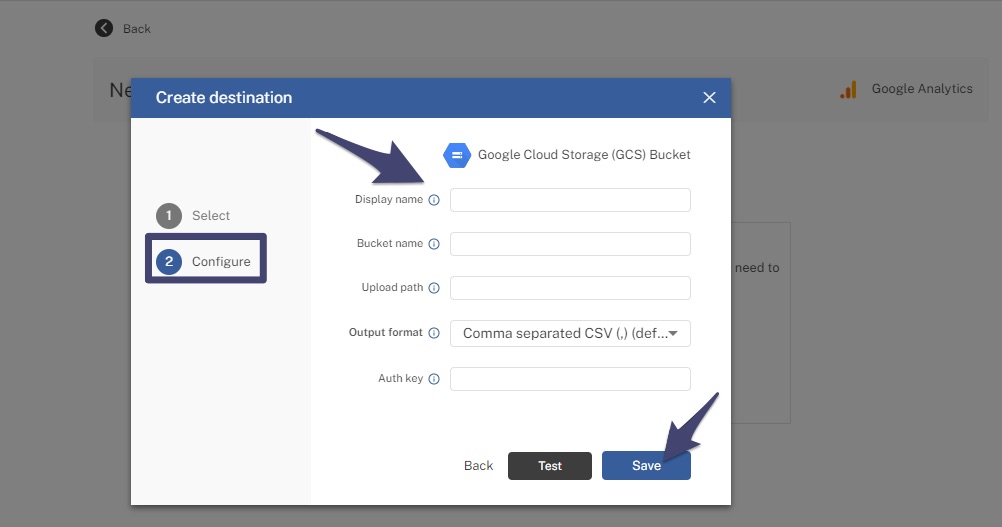 Azure Storage
You can add your marketing data from various sites into your data lake with Azure Storage.
The software automates the entire process from data selection to transfer. And you can manage your data however you want using customizable configurations and schema.
After selecting the data to transfer, you choose the destination (Azure Storage Container) and save.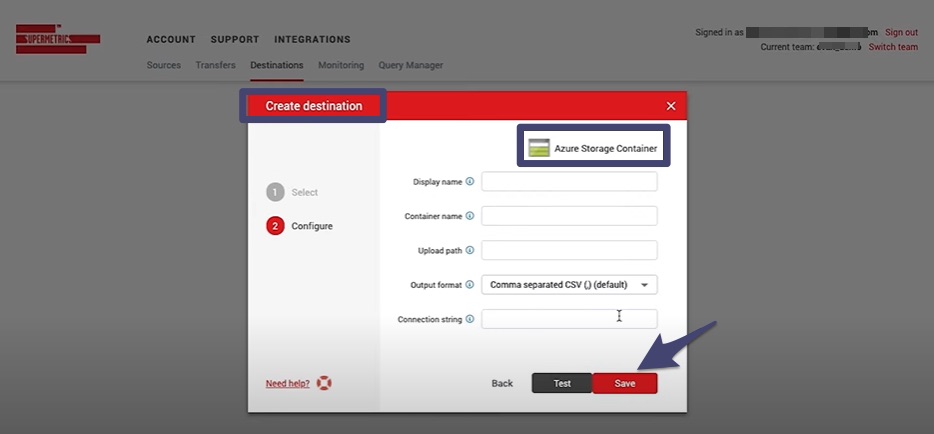 Supermetrics connects your marketing platforms and Azure Storage, making it easy to store data in a few clicks.
Supermetrics Charts
This tool helps you enhance your Data Studio visualization capabilities. So when you pull data with any Supermetics connector into Data Studio, you can use Supermetrics Charts to improve your visualization experience.
It extends your dashboards with extra visualization elements that are not native to Data Studio.
You can create these chart types with Supermetrics Charts:
Bullet graph
Combo scorecard
Funnel
Gauges and progress bars
Maps
Maps slideshow (BigQuery only)
Return on advertising spend
Scorecards
Simple bar chart
Timebrush tool
Tree
User journey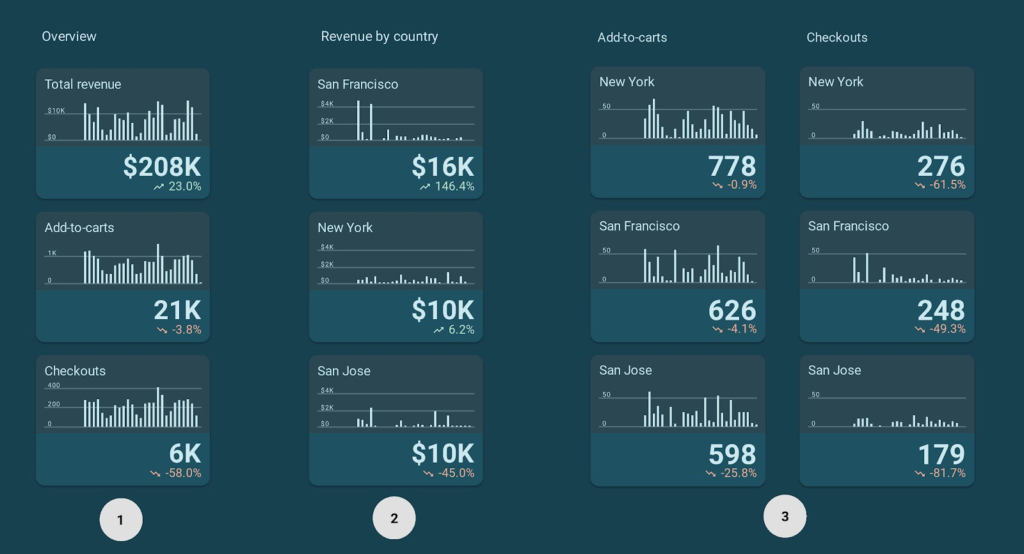 Supermetrics Uploader
This tool saves you time by collecting ad cost and ROI data from different sources and marketing platforms and sending them to Google Analytics. So, you don't need to switch between multiple platforms to collect or manage this data.
With Supermetrics Uploader, you can schedule automatic daily uploads from sources like Facebook Ads, LinkedIn Ads, Snapchat, Twitter Ads, and more.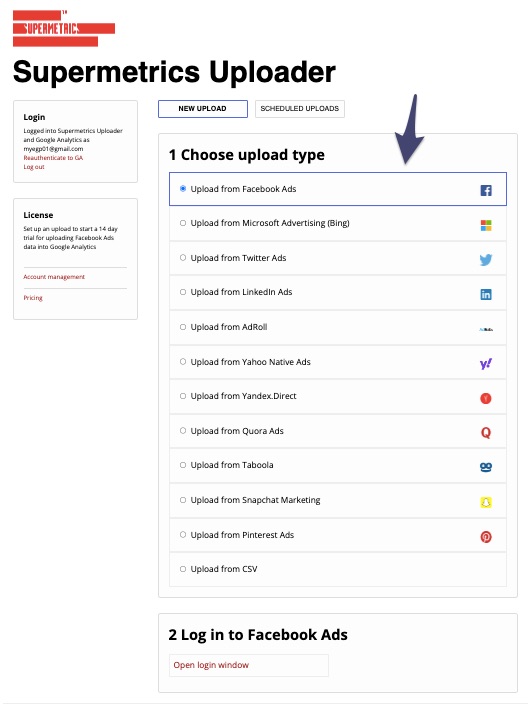 Supermetrics API
Supermetrics calls its API the Query Manager. It's a fully managed data pipeline that simplifies marketing data extraction for data analysts, marketers, and data engineers. So the API lets users get and transfer data.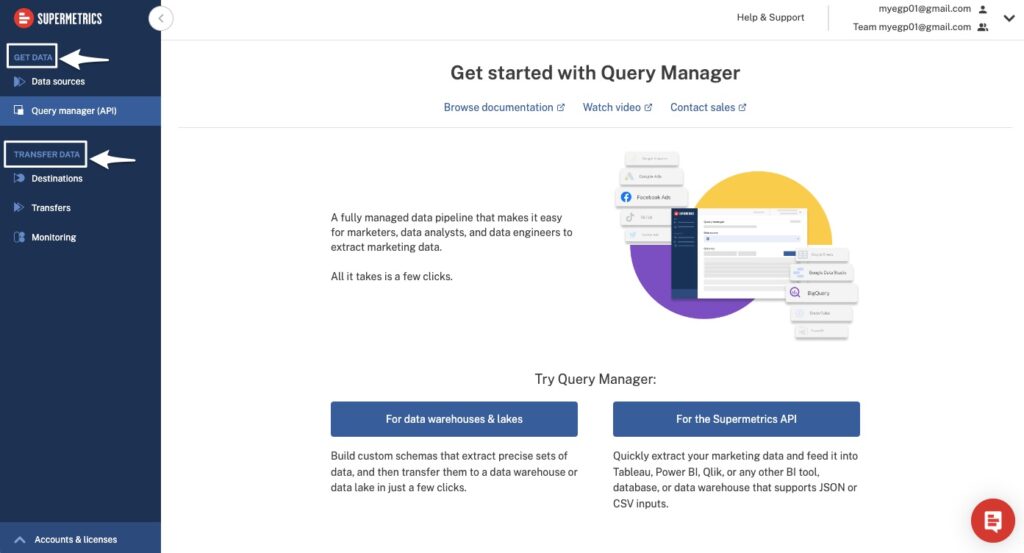 Click Transfers from the sidebar to set up your data source and then the Create New button.

Select the data source from where you'll extract data.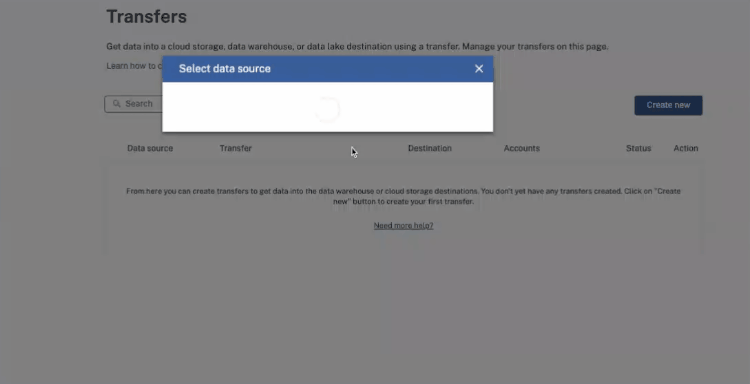 This data pipeline lets you connect data from data sources, including:
Facebook ads, billing data, public data, and insights
Apple public data and ad data
Google search console, analytics, ads, campaign manager 360, and more
Advertising data from platforms like Adform and AdRoll
SEO and PPC tools like SEMrush and Ahrefs
Reviews from Indeed, Google Play, and Yelp
Social media data from Instagram, Snapchat, Pinterest, Twitter, TikTok, Reddit, Tumblr, and others
Plus, you can do custom integrations for your data sources and destinations.
Choose your data source.
And then click the blue OK button.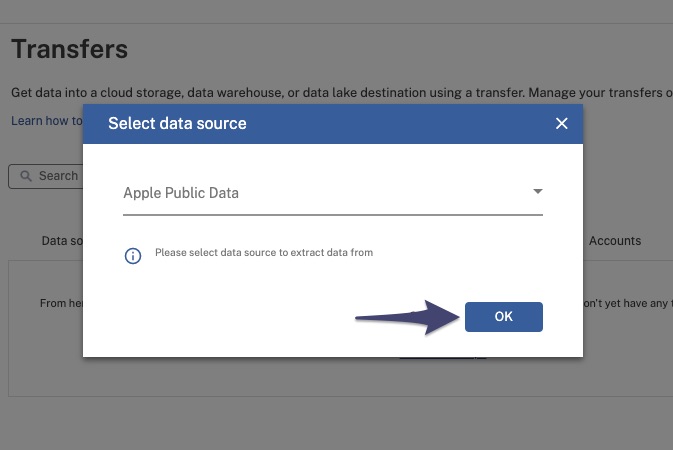 You can send your data to destinations like business intelligence (BI) tools, databases, data lakes, and data warehouses, including:
Power BI
Qlik
Tableau
BigQuery
Snowflake
Azure Synapse
Redshift
Azure SQL Database
Google AlloyDB
Also, you can create queries with the Supermetrics sidebar for Excel or Google Sheets.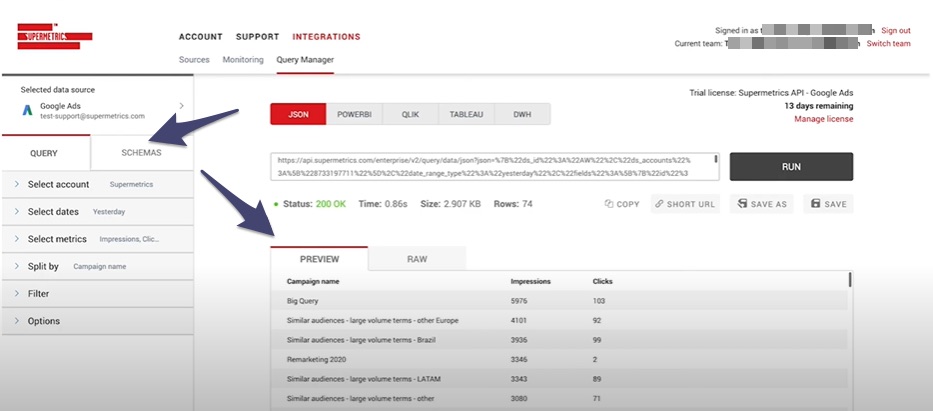 Data Connectors
Supermetrics integrates with carefully selected marketing platforms to help you move and save your company's data. Instead of offering hundreds of connectors that pull a limited amount of datasets, the software focuses on the popular ones.
The software offers customizable templates that are tailored to each data connector source. With Supermetrics, you can quickly move and store your most valuable social media data.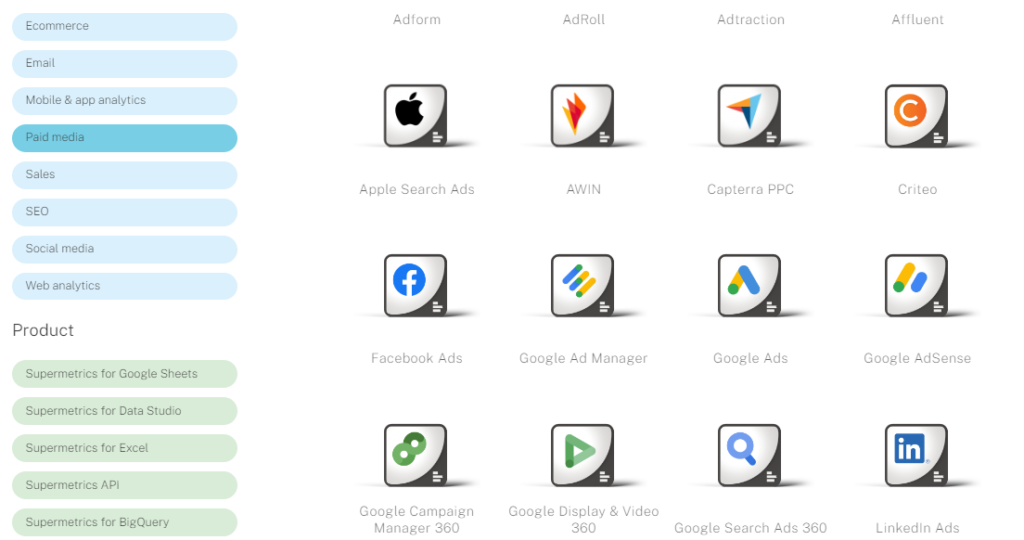 Professional Services
Supermetrics also conducts training sessions, consultations, and dashboard-building services.
The platform offers professional help if you need assistance creating reports or moving data from point A to point B.
You can contact the customer service team by filling in your contact details if you need help building a budget report on Google Sheets.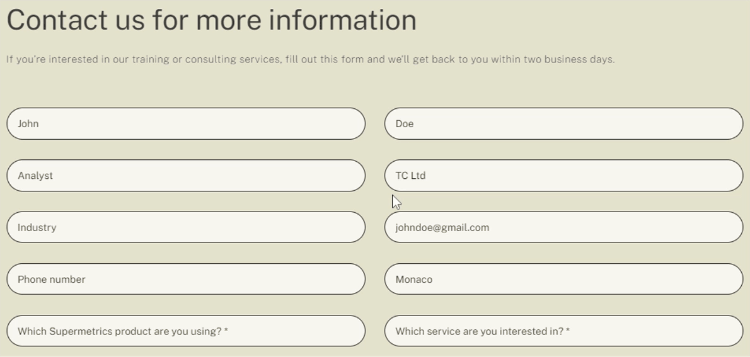 Design / UX
The platform is designed to support efficiency and is intuitive and easy to use. In addition, most of Supermetrics' connectors are simple to integrate and don't require much technical know-how.
Supermetrics designed its software with accessibility and ease of use in mind. This is evident in their custom integrations like the one for Google Sheets.
The Google Sheets sidebar is easy to navigate and has a clear view of different connectors, filters, and options. You'll have more space while creating filters for your queries and a data table that notifies you where to insert your data.
Supermetrics also helps you schedule refreshes with the Schedule Tab, store triggers, manage your actions from the sidebar, and more.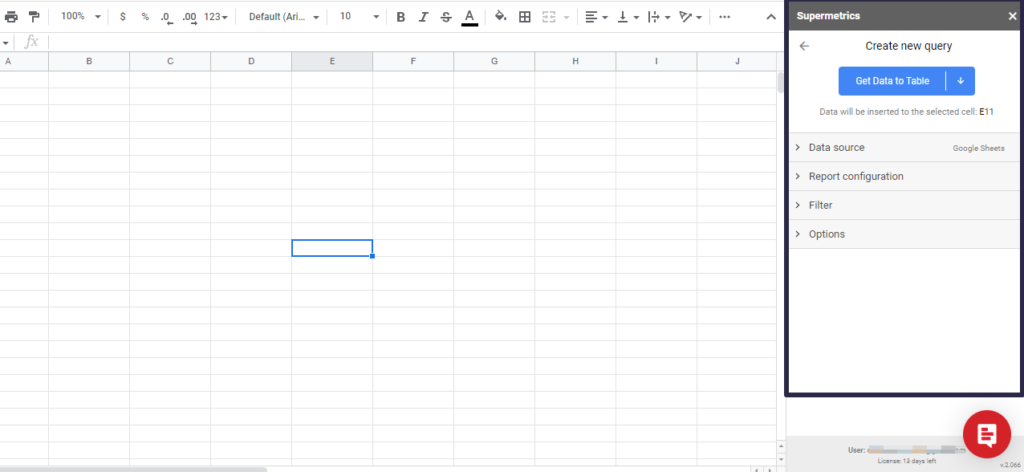 Customer support
Supermetrics offers the following support features:
Live chat
A support portal
Ticket support (via email)
You can find quick answers from the support bots or leave a request with the team by filling out a form.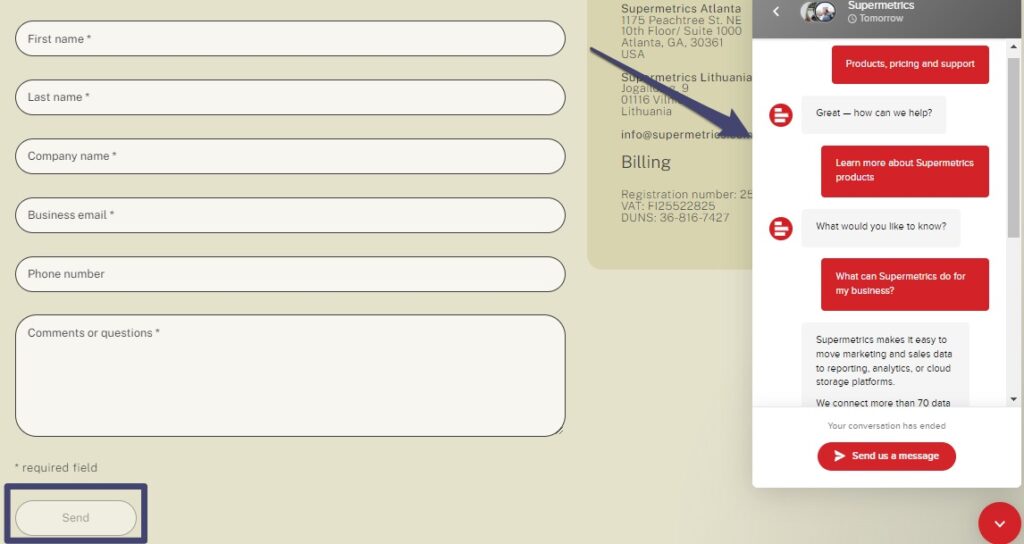 Besides the live chats, Supermetrics doesn't have phone support or helplines to call for quick resolutions.
I've previously spent months trying to resolve simple tickets with back and forth between customer support. This is an area Supermetrics needs to improve.
Pricing
Supermetrics bills users based on the product and destination.
Spreadsheet pricing
This pricing plan applies to Excel and Google Sheets. The spreadsheet plan has four price options billed annually.
Essential is $199 monthly: It supports 10 data sources
Core is $239 monthly: It supports 25 data sources
Super is $579 monthly: Supports 55 data sources
Enterprise: This custom plan offers access to premium data sources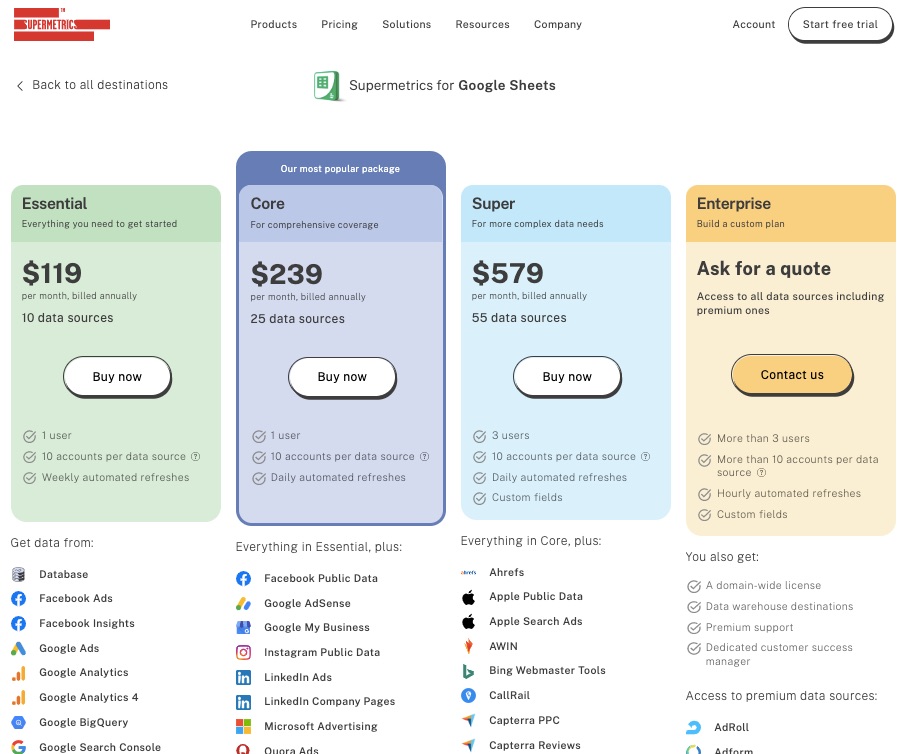 Data Visualization Pricing
Supermetrics offers data visualization solutions for Data Studio only. The data visualization plan has four price options billed annually.
Single connector is $49 monthly: It supports one data sources
Essential is $119 monthly: It supports nine data sources
Core is $239 monthly: Supports 24 data sources
Super is $579 monthly: Supports 54 data sources
Enterprise: Offers access to premium data sources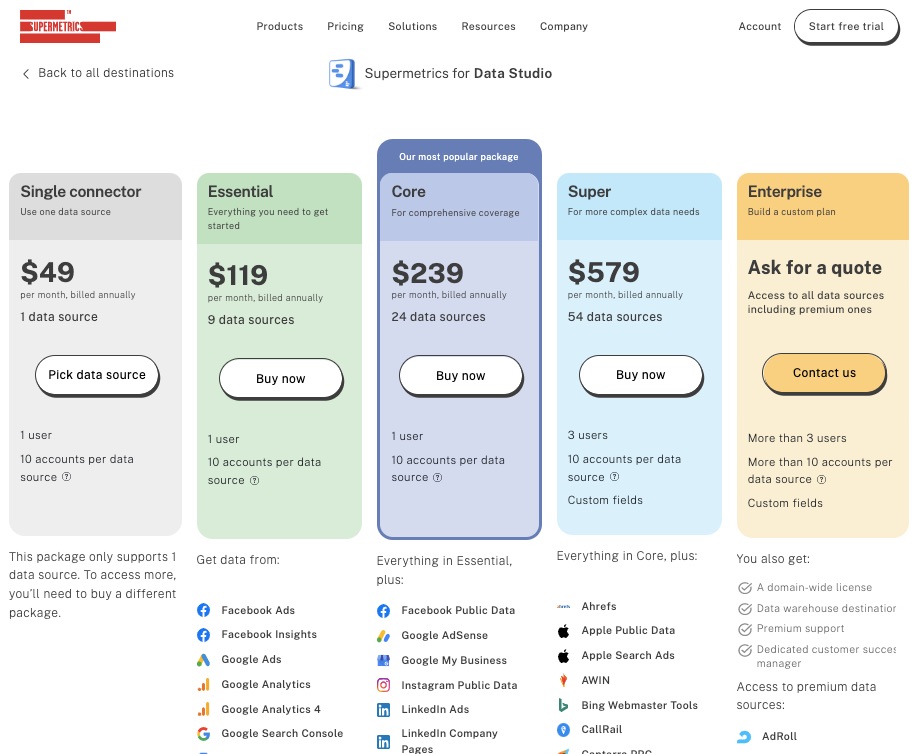 Supermetrics Uploader
You can set Supermetrics Uploader to run one scheduled daily upload. The number of uploads you'll need will usually depend on the number of ad accounts you intend to get data from.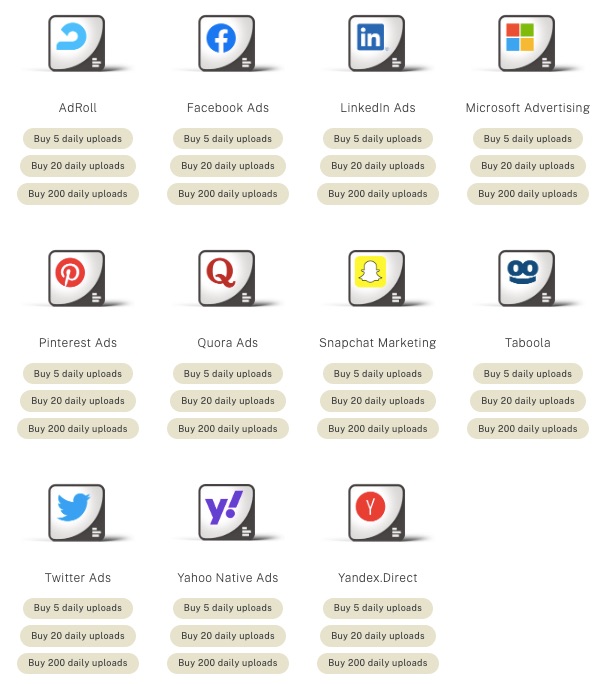 Here's the pricing for uploads regardless of your data source:
Five uploads go for $39 monthly
20 uploads go for $79 monthly
200 uploads go for $299 monthly
Pricing for Other Solutions
For all other solutions, including its API solution, Supermetrics requires users to fill out a form and request a custom price quote.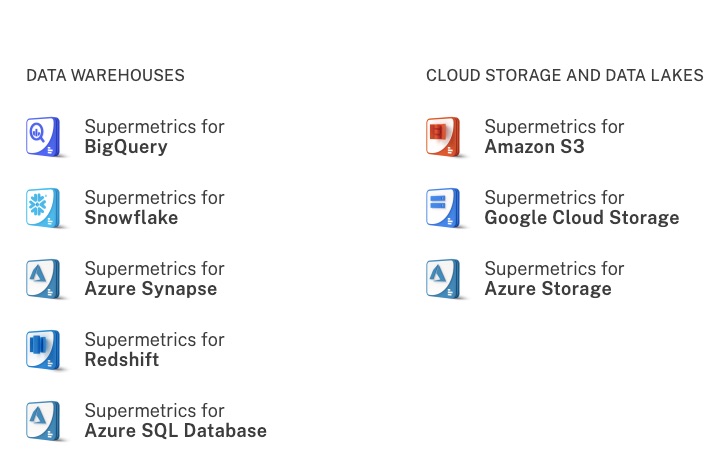 Is pricing fair?
There's no one-size-fits-all when it comes to pricing here.
The amount varies depending on your use case and business needs.
Entry-level costs are cheaper but increase as you scale to bigger data sources. And the best part is that you only pay for the necessary tools.
On the outside, Supermetrics might look pricey, but it's worth every penny if your business would make the most of what it offers.
Is Supermetrics worth the cost?
Absolutely yes, if you're a marketing agency or large organization. However, it's not cost-efficient if you run a small business or work freelance.
You can enjoy the 14-day trial period before making any decisions.
FAQs
Who uses Supermetrics?
Supermetrics has over 17,000 customers across the globe, with more than half a million users, including data analysts, marketers, and data engineers. The tool allows them to move data from platforms like Facebook, TikTok, or Google Ads, to different destinations. 
Is Supermetrics an ETL tool?
Supermetrics is an Extract-Transform-Load (ETL) tool that allows you to extract data from various sources before transferring it to a centralized repository. 
Supermetrics pulls data from several marketing sources into destinations like Excel, Google Sheets, Google Data Studio, data lakes, and warehouses. 
Is Supermetrics easy to use?
Yes, Supermetrics is easy to use. The tool provides user-friendly data analytics tools to extract and transfer data to various accounts, saving time and effort. 
However, Supermetrics can be tricky to navigate for non-technical users. So, your best bet is to learn about the tool's principles before using it. 
How does Supermetrics work?
The software pulls all your marketing data and transfers it to your preferred platform, whether it's a data visualization tool, a spreadsheet, or a data warehouse. 
After connecting Supermetrics to your desired reporting platform, the tool integrates your data from various marketing channels like Facebook, Hubspot, Google Ads, and more.
Final thoughts
Some of the biggest brands rely on Supermetrics for their daily data operations. It makes sense because of its comprehensive products.
The software has helped multiple businesses automate repetitive tasks and analyze data in minutes.
Supermetrics is not for everyone. It's a pricey tool, and their customer service is lacking. But they are still best-in-class for this type of tool.
If you think you'll use the integrations enough, we recommend you go for it.
---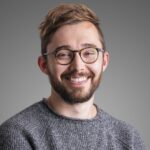 Sam Underwood
Sam is an international Ecommerce SEO Consultant with experience implementing enterprise-level SEO strategies.